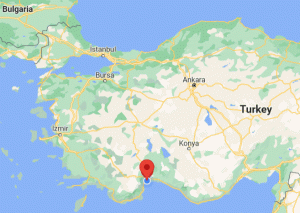 Just like every other settlement along the Turkish coast, the city of Antalya sits atop the ruins of an ancient one, Attalea. With its natural harbour, Antalya has served as both a naval base and commercial centre throughout its history. Lycians, Greeks, Romans, Byzantines, Seljuk Turks and Ottomans occupied the area at various times. At one point, in the early 20th century, even the Kingdom of Italy tried to stake a claim to it. Following the Turkish War of Independence in 1921, Antalya formally became part of the Republic of Turkey. Today it is the 5th largest city in Turkey and the biggest sea resort along the Turkish Riviera (which also includes the cities of Alanya, Kemer, Fethiye, Marmaris, Bodrum, Kuşadası, and Çeşme) and even now, at the beginning of October, is full of tourists. The province of Antalya, of which the city of Antalya is the capital, is home to nearly 2.5 million people and is the fastest growing province in Turkey.
Dollars – We averaged about $112 per day Canadian ($90 USD / €78), which put us slightly over our targeted $110/day budget for the five nights we stayed in Antalya. If we continued with that rate of spending it would extrapolate out to $3,360 per month ($2,695 USD / €2,330). We knew we were going to be over-budget for this stay as we rented a car one day and then we got lazy about cooking at home, eating dinner out every night. Five nights is a pretty short stay for us and had we even stayed two more nights here we could have easily achieved an average of $110/day.
We stayed in a large Airbnb not far from the neighbourhood of Kaleiçi, the "old town." This was a two-bedroom unit, which we didn't need, but liked the location and the balcony running the length of the unit. The downside to the unit was that it was on the 6th floor (no lift) which we figured was our penance for the kilos, literally, of baklava we have consumed since leaving Canada in July.
Our other main expenses were:
Restaurants;
Sightseeing – entry fees and car rentals;
Health Insurance – $11.67/day combined for both of us;
Groceries – breakfast, snacks, and wine;
Transportation – Bus to Antalya, and ride to our Airbnb; and
Turkish Visas – the cost of which we averaged over the full 60 days we planned to be in the country.
Environment – Our Airbnb was in a bustling neighbourhood full of apartments, restaurants and shopping and even with all of this activity was surprisingly quiet at night. We were just a few blocks from Hadrian's Gate (Üçkapılar (ooch·kapilar), The Three Gates" in Turkish) which is the only gateway still standing from the defensive walls that once surrounded the ancient Attalea and its harbour. While the original gate was a full two-stories high, the single remaining storey is still magnificent with a deeply rutted cart path running through the middle arch.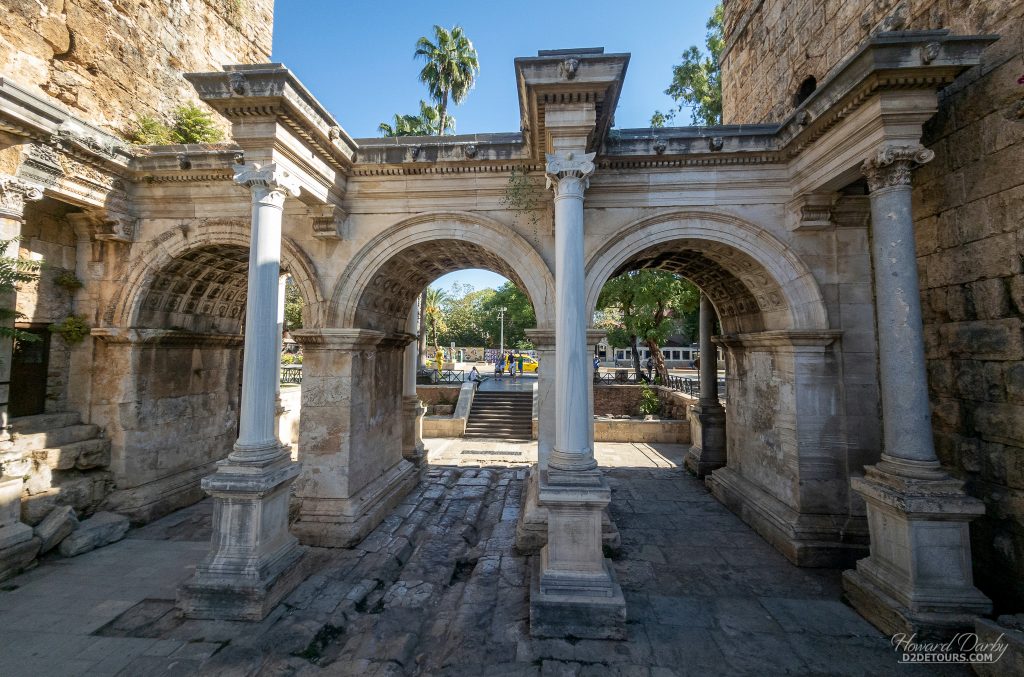 Behind the gate is the historic city centre which is lovely to walk through – narrow, winding stone streets which for the most part are pedestrian-only, full of restaurants, hotels and shopping with hints of Greek, Seljuk and Ottoman architecture throughout.
Heading straight from Hadrian's Gate to the harbour you'll find the Hıdırlık Tower, the origins of which are a bit of a mystery. Originally it may have been a tomb, but given its strategic location on a cliff top, quite likely became a lighthouse or lookout tower. If the tower doesn't interest you, the harbour view from this vantage point is captivating.
Tips, Tricks & Transportation – By complete accident we found the Friday market, tucked away down Değirmenönü Caddesi, just off 1343 Sokak. If we were staying here longer it would have been a great place to pick up groceries with an excellent selection of fruit, vegetables, cheese, nuts and fish.
Antalya is our final stop in Turkey. From here we are heading to Jordan and needed a PCR test. Jordan will only accept lab results from certain pre-approved labs and the Tosun Tıbbi Tahliller Laboratuvarı is one of them. When we were looking for Airbnbs, access to a lab was one of our criteria and the Tosun lab was just a few blocks away. If you are in the area and need a test (which hopefully will soon be a thing of the past), we would recommend this lab. They clearly knew what they were doing and between Google Translate and broken English, we received our test results by email in about 4 hours. We have not included the cost for these tests (each test was ₺200 TL /  $30 CAD) in our expenses for living here as we figured PCR testing is a bit of an anomaly and not everyone staying here will necessarily need COVID testing.
We had our first experience with a somewhat shady car rental company when we were renting a car for a day trip. None of the major rental companies had offices near our Airbnb so Howard checked-out the Google Reviews for the small companies nearby. He thought it rather odd that almost all of them had 5 stars, but when you read the actual reviews they were all dated from several years ago and were roughly the same date as well. However, we needed a car so stopped by one nearby and spoke with them. We were shown a relatively new economy car with a decent daily rate and confirmed we would pick it up the following day. When we arrived the next morning it turned out that particular car wasn't "available" (despite sitting right in front of the office) and we were offered an alternate. At first blush it seemed fine and we agreed to pay cash when we returned the rental at the end of the day. We were a bit surprised they didn't insist on keeping a copy of our credit card on file, which should have been a hint at the type of car we were getting. The odometer had well over 200,000 kilometers on it, frequently the car wouldn't shift into first gear, the air conditioner was almost non-existent and we thought the back window was going to rattle right out of its frame every time we got over 50 km/hr! It did get us where we wanted, and we were relieved it didn't leave us stranded anywhere. Needless to say, upon returning the car, Howard used Google Translate to let the owner know this car was not worth the rate that had been discussed for the original rental, and he immediately offered us a reduction, which we happily accepted. I know we weren't the first people to experience a bait-and-switch, and we probably won't be the last.
If this is the first D2Detours post you've read about Turkey, you should know you will likely need a Visa for entry to Turkey, and we recommend you apply through the government website. Easy to navigate and provided there are no issues with your application, the Visa is granted instantly. Though the application is online and you receive the Visa through email, you will need to show a printed copy of the Visa at any border crossing.
Out and About – More Roman ruins awaited us near Antalya and with our "fabulous" car rental we visited Aspendos and Side (See·day). Situated on the ancient Eurymedon River, about 40 km east of Antalya, is the city of Aspendos. An economic powerhouse in its day (even minting its own coinage) its wealth was evident in its massive 12,000 seat theatre which many consider to be the best preserved Roman theatre in the world. The theatre is fully enclosed with a complete colonnade encircling the back and the scaenae frons or backdrop behind the stage is still intact. Originally a velarium (awning) would have protected the spectators from the elements and the post holes for the supporting poles are still visible along the upper level. Some reconstruction has been required but for the most part the theatre is original and hosts the annual Aspendos International Opera and Ballet Festival. Entry fee to Aspendos is ₺60 TL ($8.25 CAD) and additional ruins can be found on the hillside behind the theatre, including an impressive length of a Roman aqueduct.
From Aspendos we drove another 35 km down the coast to Side. Today Side is a resort town considered to be "family-friendly." In antiquity, it was a rival to Aspendos and it, too, has a well-preserved theatre. As we walked toward it Howard gently asked me how many more theatres I needed to see and while my soul whispered all of them, the rational part of my brain conceded that after seeing Aspendos I could forgo the crumbling theatre in Side (which is unique to the area as Side did not have a convenient hillside that could be hollowed out for seating so the structure is free-standing). There is an entry fee for the theatre which can be combined with a ticket to the museum (₺80 TL / $11.10 CAD combined or ₺30 TL / $4.10 CAD for just the museum), and we did opt see the museum, which is housed in the ruins of the Roman Bath and was worth a stop.
Additional ruins are spread around the old town, including the Temple of Apollo, beautifully positioned on the tip of the peninsula near the harbour. Side in its own right is worth a wander, full of shops and restaurants.
As someone who just can't get enough of Roman ruins, Turkey is paradise and I couldn't help but wonder what this area would have looked like were it not for the seismic activity that plagues this country.
Us (our thoughts on the area) – Antalya had not been on our radar, but it had the best connection to get to Ankara for our flight to Jordan, so here we are. It has the look and feel of a big, resort city and five days were enough for us. That being said, it was the perfect location for a day trip to Side and Aspendos, which would have been a bit too far to visit from Fethiye had we stayed there.
For the next three weeks we will be joining friends for a whirlwind trip through Jordan and Egypt, the cost of which is waaaay outside our current $110/day budget, but we had money set aside for a few trips in 2020 pre-retirement, which COVID derailed, so are using those savings for this excursion. For interest's sake we will have a full summary, including costs, for both of those countries, but you may have to wait until we have some downtime at the beginning of November and can get those written. In the meantime, if you're not already following us on Facebook, please do because we will definitely be posting pictures along the way. Off to see Petra and the pyramids!
Restaurants – As I mentioned earlier, we ate dinner exclusively in restaurants during our stay in Antalya and there was no shortage of choices. The Luna Garden Bistro was a little oasis with very good food, Pizza Argentina Kalekapsis served pizza by the slice, with the slices being prepared when you ordered, yummy! And we found another fabulous baklava shop, Antepia Baklava!
Speech – Useful Turkish words to know are:
Lütfen ("lute'fen") – Please;
Teşekkür ederim  ("tesh'querr ed'err'im") – Thank you (Mersi worked too);
Merhaba ("mare'haba") – Hello;
İyi akşamlar ("ee ak'sham'lar") – Good evening;
Hoşçakal ("hosh'cha'kal") – Goodbye;
Evet ("ev'et") – Yes;
Hayir ("hi'ear") – No;
Ne Kadar? ("nay ka'dar") – How much does it cost;
Hesap, Lütfen ("hes'up, lute'fen")  – The bill, please (in a restaurant);
Giriş – Entrance / Çıkış – Exit (visually these were useful to know);
Özür dilerim ("ouz'ur dill'ear'im") – I am sorry (Pardon worked too)!