We are members of the Facebook Group, Senior Nomads, which is an outstanding resource for information and inspiration from like-minded nomadic travellers. We asked the group for recommendations on where to stay along the coast in Turkey, with the consensus being Fethiye (feh·tee·euh). We love being near water and, in case you hadn't picked up on it, I love ruins, both of which this region offers in abundance, so we stayed here for five fabulous weeks!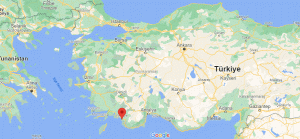 The metropolitan area of Fethiye extends about 11 km along the coast and inland and includes several well known tourist resort villages, Çalış, Ölüdeniz, Hisarönu and Ovacık. It also has a huge British expat community (fish and chips are a staple on most restaurant menus) so lots of businesses spoke English very well. The city was known by its Greek name Makri (Meğri in Turkish) until 1934 when it was renamed in honour of the first Turkish pilot, Fethi Bey, who died in 1914 while attempting to complete an historic flight from Istanbul to Cairo.
Modern Fethiye is located on the site of the ancient Lycian city, Telmessos. I knew nothing about the Lycian civilization so happily spent some time delving into its history. There isn't a ton of information about these people, but apparently their form of democratic governance was greatly admired by the Greeks and one source described them as ancient Switzerland – hard-working, wealthy people, neutral in world affairs but fierce in the defence of their freedom. Interestingly, the Lycians may also have engaged in piracy, as this coastline is often referred to as the "pirate coast" and it wasn't until Roman occupation that these seas were truly considered safe. Lycia was the last territory along the Mediterranean coast to become a Roman province and while Roman ruins are prevalent in the area, many of the Lycian tombs carved into rock faces remain too, and are particularly interesting.
Dollars – We averaged about $101 per day CAD ($80 USD / €69), which kept us under our $110/day budget for a total of $3,644 for 36 nights in Fethiye. That extrapolates out to $3,037 per month CAD ($2,411 USD / €2,078).
We stayed in three Airbnbs and one hotel apartment during our five weeks here, averaging $57.30 C$/night. The first Airbnb was in a terrific location, just a block in from the Marina, but we discovered the pricing was a reflection of the location rather than a well-equipped residence. You can view the Airbnb listing by clicking here. We opted to move a few blocks over to the old town area of Paspatur, and spent two nights in the Midtown Fethiye Residences before the old town accommodation was available, which was fine for a short stay. The Paspatur unit is available through Airbnb, but we booked directly with the owner. This three-storey unit offered a stunning view from the rooftop terrace and was reasonably well equipped and comfortable. However, after three weeks of noise from the neighbour's renovations, the incessant barking from the german shepherd living next door, and the very loud sunrise call to prayer from the minaret 100 yards in front of the unit, we decided to spend our last week away from the marina, in the hillside neighbourhood of Ölüdeniz (pronounced oloo·duh·niz). You can view this Airbnb listing by clicking here. I felt a bit like Goldilocks when we arrived at this Airbnb, because it was "just right" – fully equipped, comfortable, huge terrace and peaceful. It is somewhat isolated (which by this stage of our time in the area suited us perfectly), so I would recommend having a car if you stay here.
Our other main expenses were:
Groceries – breakfast, snacks, wine and most dinners;
Restaurants – a few casual meals, gelato and just a little bit of baklava (we couldn't find any baklava that was even close to what Güllüoğlu served in Istanbul, but that wasn't for lack of trying);
Health Insurance – we had coverage for the first 60 days of our travels but had to buy private insurance for the balance. We chose coverage through SafetyWings and have included the averaged cost in our daily expenses. The combined cost for both of us worked out to $11.67/day, and we started this coverage part way through our stay in Fethiye;
Scuba Diving – three days of diving, six dives total;
Sightseeing – entry fees and a couple of single-day car rentals; and
Turkish Visas – the cost of which we averaged over the full 60 days we planned to be in the country;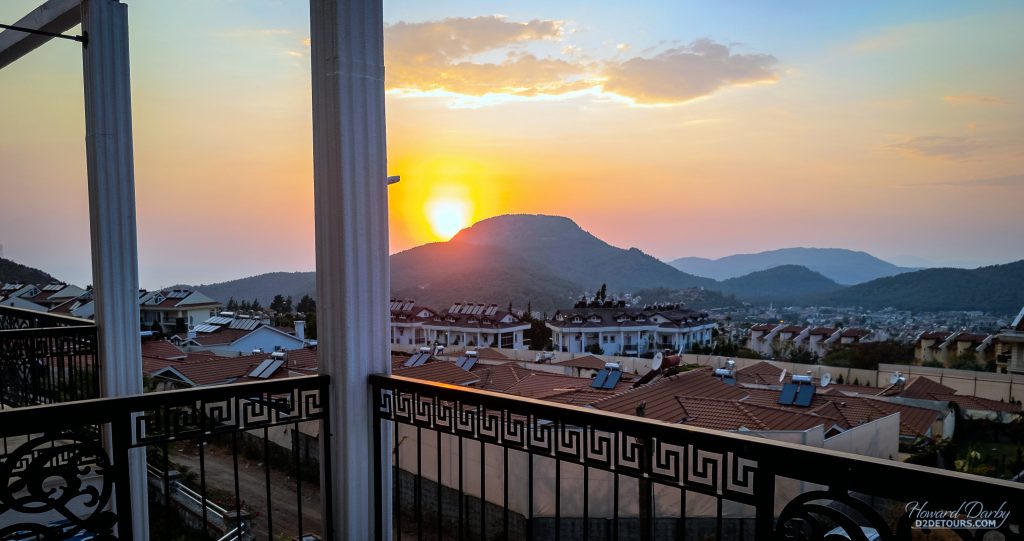 Environment – All of Turkey is prone to earthquakes. The last significant one in this area was in 1957 with thousands of buildings damaged or destroyed. The Paspatur neighbourhood (where we lived for three of our five weeks in Fethiye) was relatively unscathed as the homes here are built into the hillside rising up behind the harbour. So while most of Fethiye has been rebuilt and is quite modern, Paspatur is a bit like stepping back in time and we loved wandering the labyrinth of cobblestone pathways zig-zagging their way up the hill directly behind the old town market. There is a local saying that once you taste the water of Paspatur, you will forever want to return – it is idyllic and I think there's truth to that sentiment.
Paspatur, and the marina section in general, is definitely touristy, but no more than what you would expect from any beach town.There is a wide boardwalk that stretches for several kilometres along the marina and the coastline. The coastline portion of the boardwalk is lined with restaurants offering lovely seating next to the waterfront and a boardwalk walk was part of our regular daily activity. Numerous sightseeing, snorkeling and scuba diving companies operate out of the marina, literally. Few, if any, of these businesses have a brick and mortar operation but instead had someone in a kiosk in front of their vessel (or in some cases you just caught the attention of someone on board if the boat was docked) and arranged your excursion directly with them.
The Airbnb in Ölüdeniz was situated in a residential area, full of multiplexes, all of which appeared to be fairly new construction, with terraces to enjoy the sunset. The main road was paved, but all of the side streets were dirt roads with hens and roosters roaming free – actually quite charming.
We found everyone we interacted with in Fethiye incredibly friendly. The carpet shop owner at the foot of the stairs from our Paspatur Airbnb greeted us regularly with a "hello neighbour" but never pressured us to buy anything, just genuinely wanted to chat. Maybe he sensed some "turk" in my bloodline – the owner of the boat we dove with regularly bore an uncanny resemblance to my younger brother (my brother is on the left)!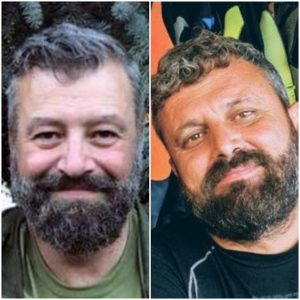 Tips, Tricks & Transportation – Up until this point we had been somewhat perplexed by the lack of well-stocked supermarkets (the BIM and Şok mini markets we found in Istanbul were small, with limited selection) and then we discovered the Migros stores (interestingly Migros owns the Şok markets). Migros supermarkets are categorized as Jet, M, MM, MMM or 5M based on their size and carry groceries, clothing and small appliances, with the added bonus of wine – my benchmark for a good supermarket! Lots of selection (both wine and food) and we also signed up for their discount card which was easy to do in store and saved us several lira on just about everything we purchased. A MM Migros store was within easy walking distance of our accommodation near the marina and Paspatur, but the nearest Migros to our Airbnb in Ölüdeniz required a fairly steep uphill return climb, so we managed with the nearby Şok market while we stayed there.
The pazar alanı (open-air market) in Fethiye is quite close to the marina, just north of 518 Sokak, running along the canal, and houses a large, busy, farmers' market. On Tuesday, the market is even bigger with leather goods, dried herbs, spices, nuts and clothing stalls spreading out from the produce stalls. I thought the produce selection here was better than what we found at Migros, and the honey/sesame seed coated peanuts from one of the nut vendors were delish.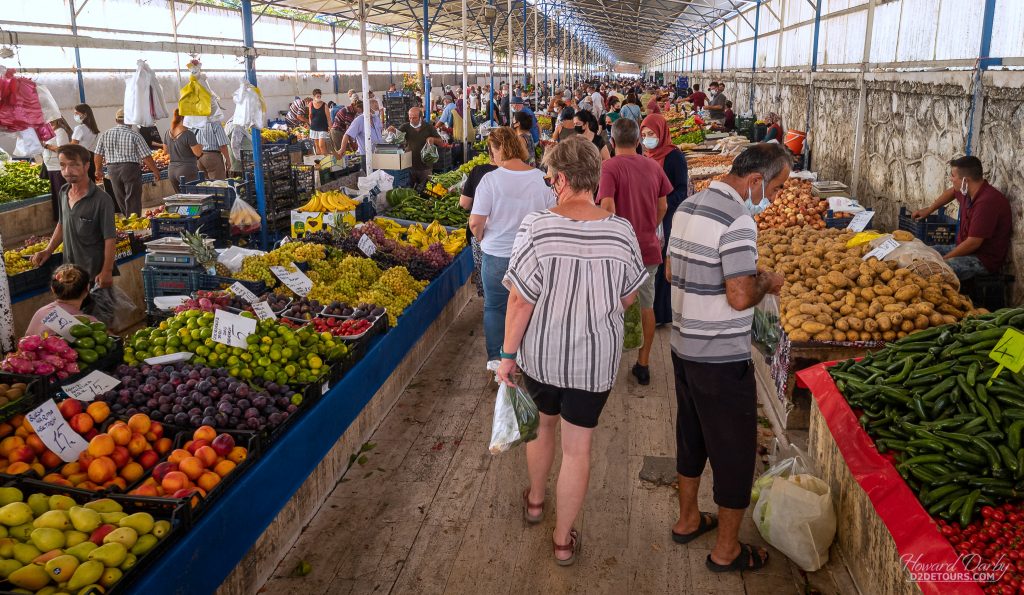 Minibuses, called Dolmuş (dol·mush), are the local transportation system in Fethiye operating various routes throughout the metropolitan region and proved to be an exercise in frustration for us. Bus stops are easily identified by a blue sign marked with a "D" and we purchased KentKarts (loadable cards that you tap on the fare collector each time you board a dolmuş) which we dutifully linked to our HES codes (the passenger locator code the Turkish government requires all tourists and residents to have during the Covid pandemic – click here for a link to the application form), plus there is an app which shows routes and times. Sounds great, right? The reality was that although the dolmuş routes are numbered, rarely are those numbers visible anywhere on the buses, nor do the route names from the app actually match what was displayed on the bus. And to add insult to injury, when we did figure out the right bus (on our third attempt), my KentKart wouldn't work – Aaargh!!!
If this is the first D2Detours post you've read about Turkey, you should know you will likely need a Visa for entry to Turkey, and we recommend you apply through the government website. Easy to navigate and provided there are no issues with your application, the Visa is granted instantly. Though the application is online and you receive the Visa through email, you will need to show a printed copy of the Visa at any border crossing.
Out and About – One of the reasons we were drawn to this part of Turkey was the opportunity to dive the Mediterranean and we enjoyed three days of diving along the coast. We did a separate post on our experience which you can read here.
Our one semi-successful trip on a dolmuş was to Çalış (Chalush), about 7 km up the coast from the Fethiye marina. Çalış is really popular with British expats, and tourists in general, boasting a 4 km stretch of sandy beach. The boardwalk is lined with restaurants, any of which are the perfect place to stop for a drink and watch the spectacular sunsets.
As I mentioned off the top, ruins abound in this region and we started our stay by visiting the very small (two rooms) FREE museum, located in the centre of Fethiye, about a block off the main street (505. Sk. No:4 – the museum does not have a website). Despite its small size, it was definitely worth a quick stop and made more so because we were visiting many of the sites from which the artifacts on display had been unearthed.
Ancestor worship appears to have been an important part of Lycian culture, and while numerous examples of sarcophagi have been unearthed, what is particularly interesting about the Lycians are the burial chambers they dug into hillsides and covered with elaborate facades often carved to represent marble and wood. On the southside of Fethiye, an easy 10-minute walk from the Fethiye Museum, is the Tomb of Amyntas, with a temple-style facade, and dated to about the 4th century BC, along with several other smaller examples of tombs covering the hillside. The tombs are visible from the road, but with a nominal entry fee of ₺12.50 TL ($1.90 CAD) we thought it was definitely worth the climb right up to the top to see the detail and also gave us an impressive, panoramic view of Fethiye.
We found more Lycian tombs during our visit to the necropolis in the ancient city of Tlos about 40 km east from Fethiye (we rented a car for a day trip). The small entry fee of ₺12.50 TL ($1.90 CAD) gave you access to the hillside with numerous, well-preserved examples of house-style and temple-style facades over burial chambers.
Access to the balance of the ruins of Tlos, fanning out from the foot of the necropolis, is free and excavation is ongoing. While we were there a group of archeologists were busy digging and dumping dirt and at one point in a scene straight out of Raiders of the Lost Ark were dragging a massive artifact along one of the pathways. Tlos had been a large, powerful city and typical Roman structures have been excavated there – baths, theatre, stadium, agora, temple, but the highlight for a visit here really is the tombs.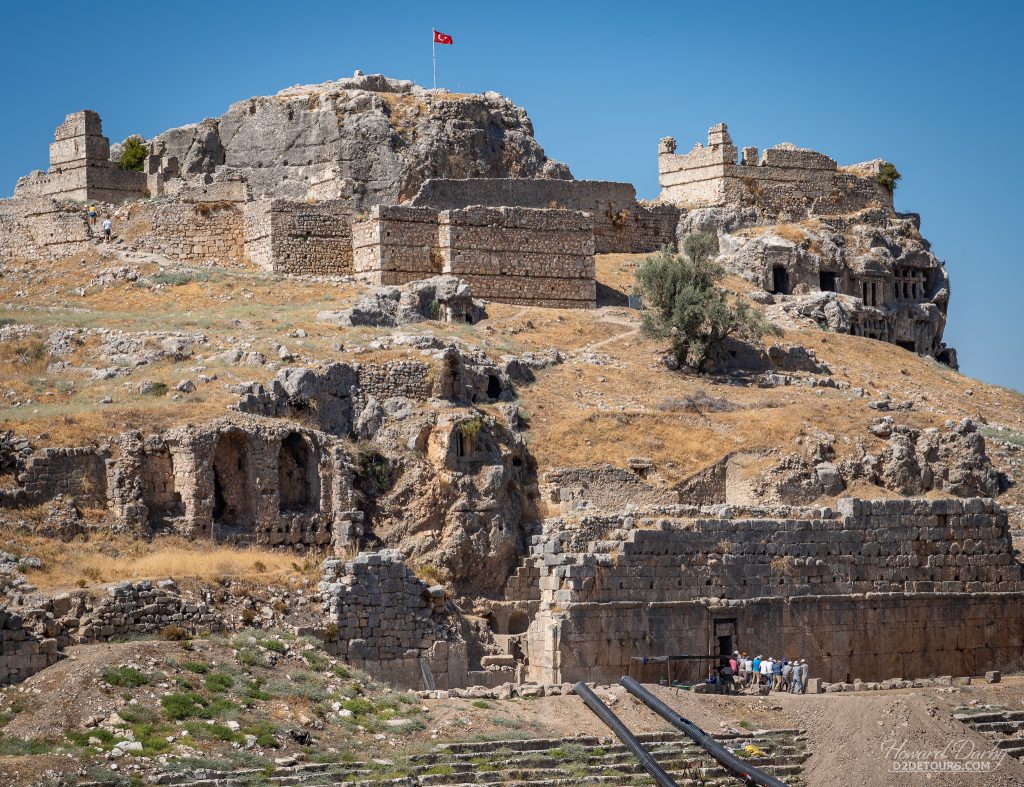 Before heading to Tlos, we started our day at Saklikent (which means "hidden city" in Turkish) National Park, which is about 4 km south of Tlos. The park is actually an 18 km long, 300 m deep canyon, and after most of the snow from the Taurus mountains has melted and run through it, is walkable – at least the first 4 km are – to traverse the entire length you would need some serious canyoning skills. We have done river walks in Utah, USA and love that type of hiking experience. At this time of year (September) most of the walkable portion of the canyon is dry with just a few sections of water to wade through – the deepest part was waist deep. The park is very popular and often packed with people so we arrived soon after it opened (10:00 ish) and were virtually alone as we trekked up the gorge. After following a short wooden walkway at the entrance to the canyon you reach the point where you actually have to wade through rushing water before you can go any further. The rushing water is chilly (some might say numbingly cold) and if you walk the canyon when most of the route is covered with water, closed-toe shoes are probably a good idea to protect yourself from unseen toe-stubbing rocks (you can buy or rent water shoes at the end of the wooden walkway if you didn't bring your own). I was just wearing opened-toed Merrell sandals, which were fine when the water level was so low, and have a good grip. The walk through Saklikent is gorgeous, and on a hot day is a pleasant reprieve, especially with only a ₺10.00 TL ($1.40 CAD) entry fee!
Another of our day trips took us to the ghost town of Kayaköy and the ruins of Letoon, a summary of which we posted earlier and can be read here. Although we just did the two day trips, another good car trip from Fethiye would be Dalyan and with an early start you could even do Pamukkale from here. The ferry to the Greek island of Rhodes is a popular, doable day trip, and we were disappointed that the ferries weren't running due to Covid.
Us (our thoughts on the area) – This lengthy stay in Fethiye meant many of our days were just "at home days" reading, watching Netflix, doing laundry, falling down the time-sucking rabbit-hole of YouTube, etc., and since this is our nomadic trial run, it gave us the chance to take stock of how we felt about this kind of lifestyle. Most days we would wander to Migros, or the market, to buy just what we needed (refrigerators were really small), meander the streets for some exercise, sprinkle in some activities like diving or sightseeing, and just "be." For us, this area checks all the boxes, water, weather and enough amenities – life is good! Off down the coast a little farther to Antalya!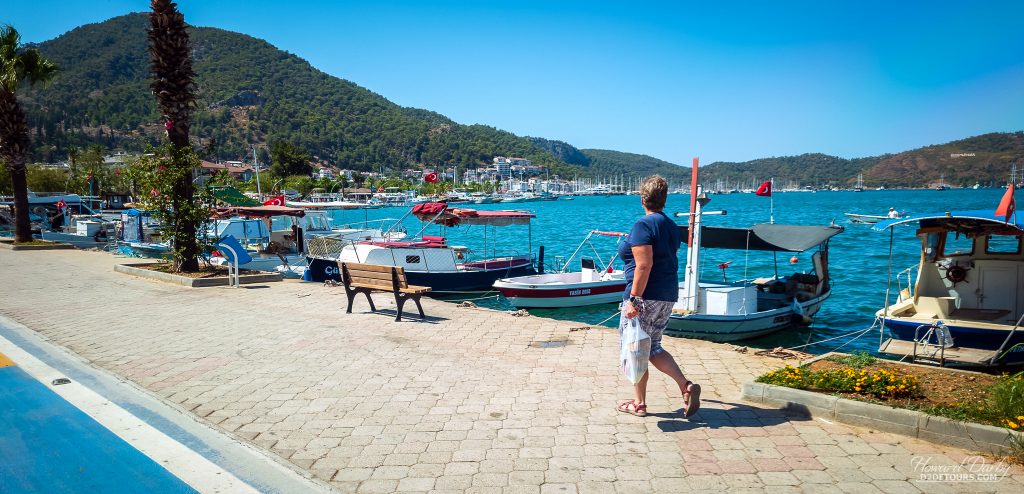 Restaurants – The vast majority of our meals while in Fethiye were cooked at home – the Migros supermarket made that really easy. The one restaurant I will mention is the Golden Wok. During some google searches for good restaurants we noticed a significant number of Chinese food restaurants in and around Ölüdeniz, which we thought was kinda bizarre, and the Golden Wok had 5 stars in Google Reviews. Our favourite type of takeout in Canada is Chinese so following our road trip to Kayaköy and Letoon we figured we had to see what the Turkish version was like. It did not disappoint. The owner of the Golden Wok (who is not Asian) was super chatty and friendly so we asked him about the high number of restaurants. He smiled and said "because of the England." Apparently the British expats here missed Chinese takeout so much it created a thriving restaurant industry!
Speech – Useful Turkish words to know are:
Lütfen ("lute'fen") – Please;
Teşekkür ederim  ("tesh'querr ed'err'im") – Thank you (Mersi worked too);
Merhaba ("mare'haba") – Hello;
İyi akşamlar ("ee ak'sham'lar") – Good evening;
Hoşçakal ("hosh'cha'kal") – Goodbye;
Evet ("ev'et") – Yes;
Hayir ("hi'ear") – No;
Ne Kadar? ("nay ka'dar") – How much does it cost;
Hesap, Lütfen ("hes'up, lute'fen")  – The bill, please (in a restaurant);
Giriş – Entrance / Çıkış – Exit (visually these were useful to know);
Özür dilerim ("ouz'ur dill'ear'im") – I am sorry (Pardon worked too)!