Following our hectic three plus weeks in Jordan, Egypt and Dubai, we decided to relax for a month on the southeastern coast of Spain, in the town of El Campello. After spending so many months melting in the heat, the mild fall temperatures (18-20°C) along the Costa Blanca were most welcome! In the 1950s the term Costa Blanca (White Coast) was conceived in an effort to promote tourism. It worked – the shoreline is nearly 200km in length and is chock full of condos. We gather the beaches are packed in the summer, but by November, El Campello (and most of the small municipalities along the coast) have reverted back to sleepy seaside towns which made for lovely walks along the beach.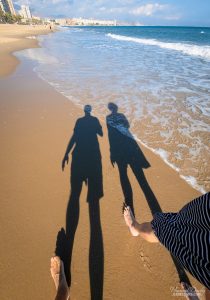 Dollars – When we began planning for nomadic travel we knew western Europe was likely going to require a bigger budget so we upped our retirement budget from $110/day to $160/day for our stay in Spain. We ended up averaging about $139/day Canadian ($108 USD / €96), for 29 nights (one night in Madrid when we arrived and 28 days on the coast), which worked out to $4,170 per month CAD ($3,234 USD / €2,877).
We stayed in a great Airbnb directly across the street from the Muchavista beach. The unit was not an overly large two-bedroom unit, but it was well-equipped and we were very comfortable for a month. Given that this was a long-term stay (as well as being in the off-season) the daily rate of $84.52 was less than half of what it would be for during high season.
Other than accommodation, our main expenses for our stay in El Campello were:
Groceries – we cooked most of our own meals;
Health Insurance – $11.67/day combined for both of us; and
Transportation – train from Madrid, trams, car rental, gas and tolls for day trip.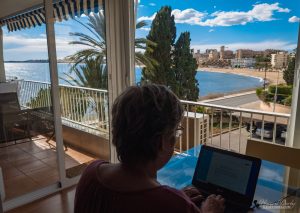 Environment – The City of Alicante, with its population of approximately 330,000, has lots to offer if you're looking for "action," but we wanted a slower pace so elected to stay about 20 minutes up the coast in El Campello. It is clearly a tourist town with condos lining the beach and stretching inland for several kilometres. I can only imagine what the beaches would be like during high season, but in November it was perfect; just a few "seniors" like us, enjoying leisurely walks on the beach or along the well-maintained promenade, with some very brave souls actually swimming! Several days were rather windy and we were entertained by surfers of all stripes – kite, wind and regular board – catching the waves in the bay.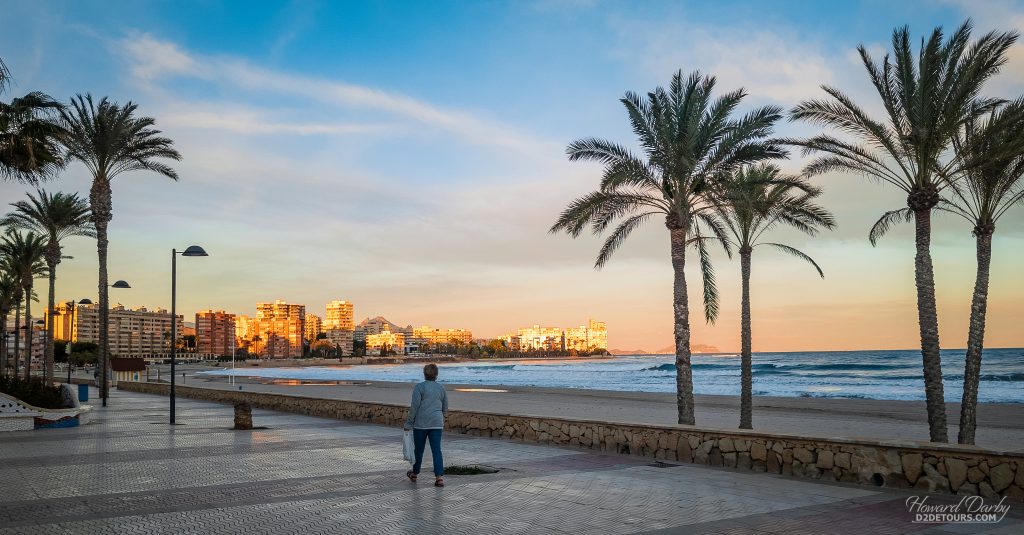 Tips, Tricks & Transportation – We flew into Spain with Emirates. If you ever have the chance to fly with this airline we highly recommend it – what air travel used to be like before so many companies started cutting corners and treating economy class like a cattle car.
Unless you have a car, you'll likely arrive by plane or train into Alicante before heading to any of the small coastal towns.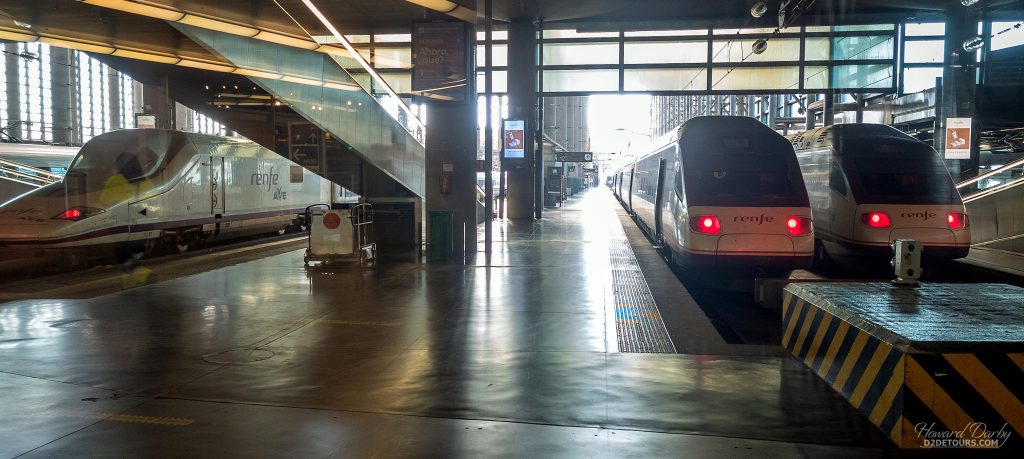 Fortunately, there is a terrific tram system. If you arrive by train the tram station is only a few blocks away from the train station with the added bonus that your train ticket gets you a free tram ticket! The tram runs regularly and was an excellent, economical way to get from our Airbnb in El Campello into Alicante for some sightseeing. We used the transit filter on Google Maps to show us when the next tram would arrive at our desired station, and also found the TRAM d'Alacant App handy for viewing schedules (available for Android or Apple). Fares are based on length of travel and for our trips between El Campello and Alicante each direction was €1.45 / $2.10 CAD.
There was a great selection of grocery stores in El Campello, and other than the Carrefour (which was a bit like a Walmart Supercenter) they were within a reasonable walking distance from our Airbnb and all had a nice selection of regional wines! The Lidl, Hiperber, Mercado and Supercor were all very good supermarkets – Supercor and Mercado probably had the best selection for produce, with the Lidl and Hiperber being more cost effective, and we found it really easy to find everything necessary to cook meals at home (which we did almost exclusively for our stay here).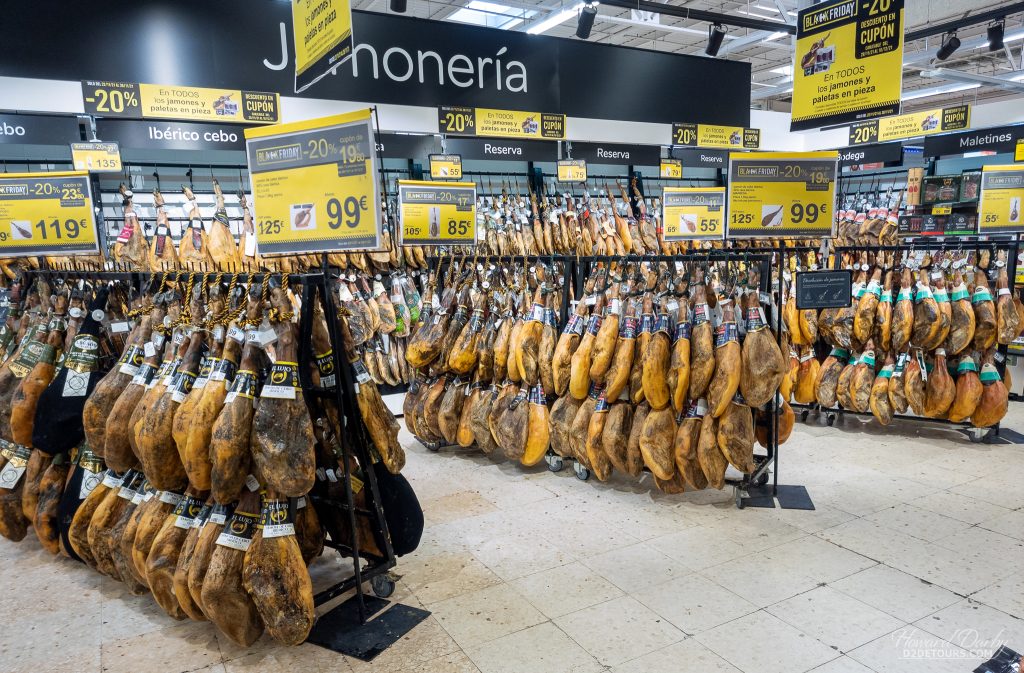 We visited the Mercat Central d'Alacant, near the Alicante harbour, which is a popular (and highly recommended) seafood, meat, cheese and bread market spread throughout two floors of an attractive early 20th century building. I don't know whether it was just a symptom of Covid, or the time of year, but very few of the stalls were actually open and we were rather disappointed with the quality of the vegetables and breads we bought.
Out and About – One of the first things we did upon arriving on the Costa Blanca was to take a free walking tour in Alicante. It wasn't the best tour, mainly because we couldn't hear the guide most of the time, but still worthwhile to get a brief overview of the City and its history. One of the highlights of the tour was the sculpture of St. John by Salvador Dali which features prominently in the City Hall foyer. On a second trip into Alicante we thoroughly enjoyed a stroll down the palm tree lined esplanade running parallel to the harbour; 600 metres in length and paved with over 6 million marble tiles creating a spectacular undulating optical illusion.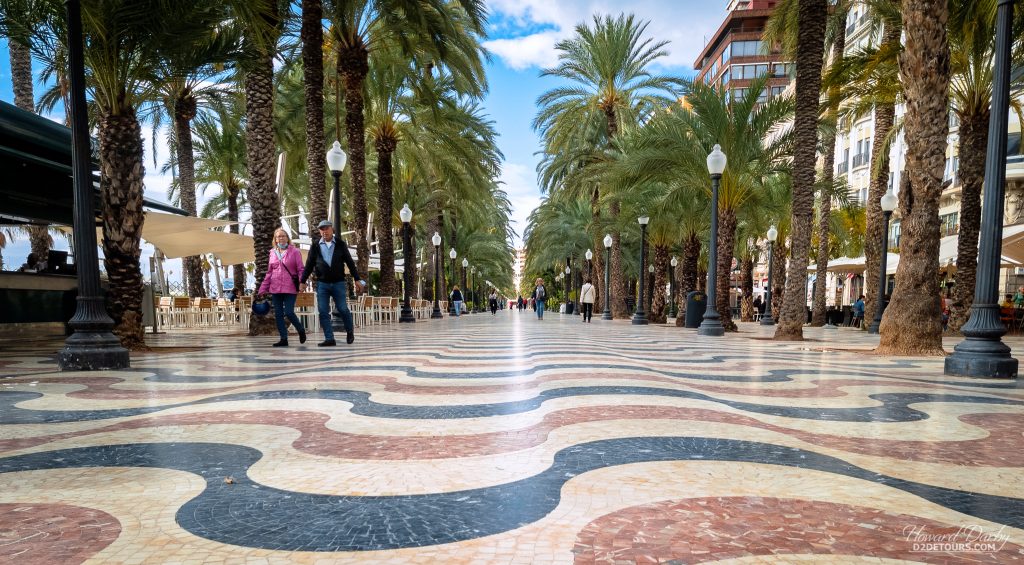 All of the museums in Alicante are free, with the exception of the current temporary exhibit of Etruscan artifacts in the Archeological Museum, which had an entry fee of €3 ($4.30 CAD) and was quite interesting. Much to our surprise, other than the temporary exhibit, the rest of the signage in the archeological museum was only in Spanish and Catalan! It was rather humbling as we have always just assumed English would be universally used in Europe and did make it a bit difficult to fully appreciate the museum.
From the museum we walked up to the Castillo de Santa Bárbara which overlooks the Alicante harbour. For a small fee (about €3) there is a lift available to whisk you up to the castle, but the walk up from the museum and down the other side toward the harbour was not particularly onerous and quite pretty. The castle itself does not have an entrance fee, and all of the signage included English captions! It was originally an Arab fortification (9th century) but was captured by Castilian forces in the mid-13th century. Over time the castle changed hands several times but by the 18th century had been virtually abandoned, though it did occasionally serve as a prison. It is built on Mount Benacantil (really more of a hill than a mountain) and on the southwestern slope is a natural rock formation known as the Moor's Face – with a bit of squinting and the right lighting it does resemble a human face and is memorialized on the City's coat of arms.
We spent one day driving down the coast to Cartagena. We really liked this city's vibe, and my inner geek loved the history. You know you can't read one of our posts without getting some historical facts, so here's my very brief synopsis: in late antiquity, the Carthagenians (from the area of modern day Tunisia) were an extremely affluent, political powerhouse, and their capital Carthage (which means "new city") was an important trading hub on the Mediterranean. They were brilliant mariners, and the Romans HATED them! In 228 BCE they established a foothold on the Spanish coast, named it Carthage (they may have been politically astute but not very creative) and began to spread inland. About 20 years later, the Romans ousted them from Spain and renamed the city Carthago Nova (literally the "new new city"). The Romans and Carthagenians continued to do battle in the Mediterranean for the next hundred years with Rome finally emerging victorious and wiping virtually all evidence of the Carthagenian culture from the earth. Not surprising then, what archeological evidence remains in Cartagena is Roman. During a neighbourhood revitalization project in 1988 the remains of a theatre were discovered not far from the harbour.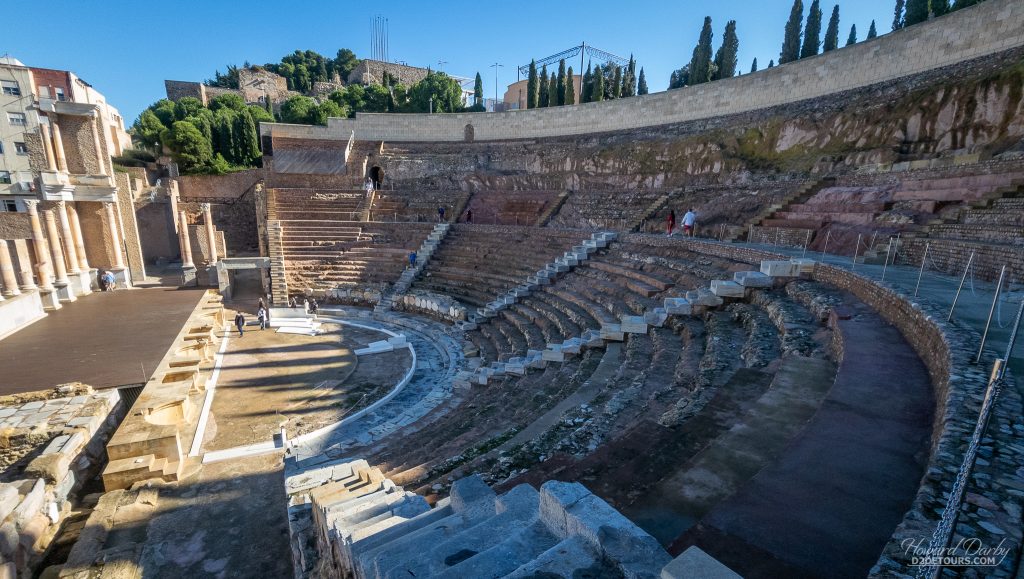 If you find yourself at the theatre, and actually want to go into it, you must enter through the Museo Del Teatro Romano which is located a couple of blocks west of the theatre, in the Plaza Ayuntamento across from the City Hall (trust us, this was not an obvious entrance to locate). The museum was okay (entry fee of €6 / $8.50 CAD) and included English information, but you can get a pretty good sense of the theatre by just looking down into it from the pathway behind.
From the theatre we walked further up the hill to the Castillo de la Concepción, which we didn't go into, but it offered a great view point over the City.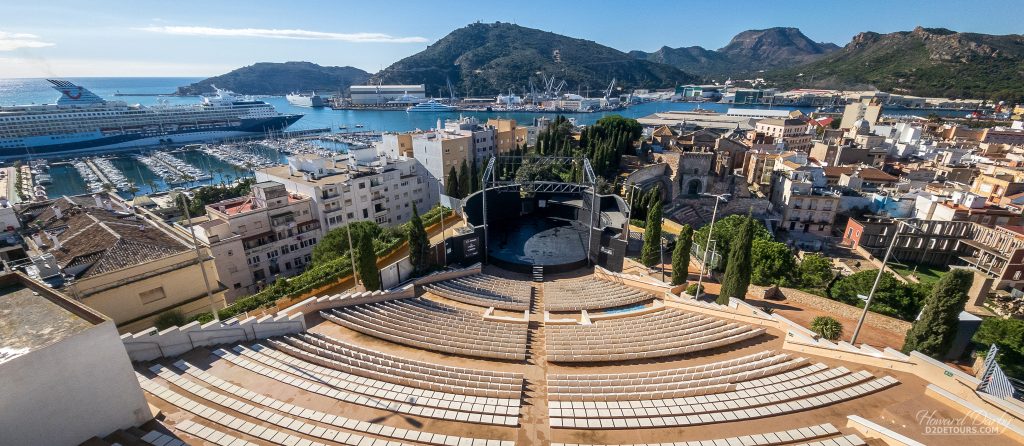 There is a very good naval museum (located on the harbourfront) which was free on the day we visited (I think because of Covid) and we enjoyed learning a bit about underwater archaeology.
Lovely architecture can be found throughout Cartagena's old town and it made for a great day trip.
We popped into Murcia on our way back to El Campello to appreciate the stunning architecture of the Cathedral Church of Saint Mary – worth the detour off the highway.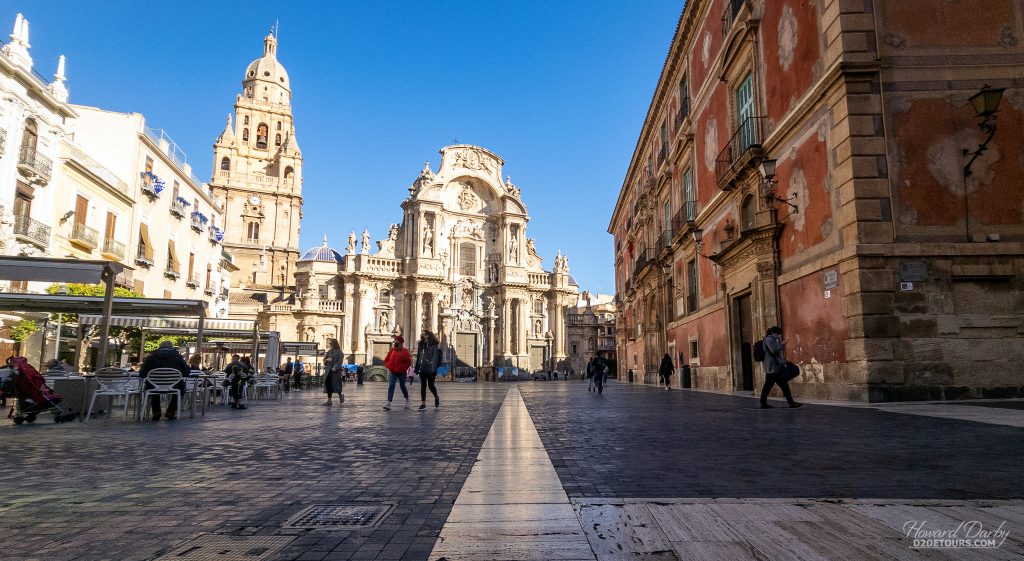 Just before we left El Campello to head inland for our last few days in Spain, we took a quick trip north to Valencia to view a boat some friends of ours were interested in purchasing. We took this opportunity for a quick walk around the old town, which was absolutely charming, although finding parking was quite the challenge – we probably drove around for 15 or 20 minutes before finally finding a spot (and it was a good 15 minute walk from the old town).
Us (our thoughts on the area) – This was not our first trip to Spain, but was the first time in this area and we would happily go back. Food is delicious, wine is excellent, people are friendly, there's history, and beautiful architecture – it ticks all the boxes. Off now on a road trip through Don Quixote country to the city of Toledo.
Restaurants – We traded our penchant for Turkish baklava for chocolate pastry in Spain. Our favourite bakery shop was located right at the south entrance to the Mercado tram station in Alicante – La Masa de Tomasa – nutella filled croissants dipped in chocolate, need I say more.
I was surprised that Spaniards rarely drink what we think of as Sangria. Their version is called tinto de verano which is red wine mixed with lemon soda (usually Fanta) and generally consumed in the summer – I confess, not a winning combination in my opinion.
Dining out often proved to be a challenge as many restaurants in Spain do not open for dinner until 8pm and eating that late is just not part of our regular routine – we managed though and did have a few meals out, but generally (to keep our costs down) choose to cook at home. I was delighted to note that the price of a glass of house wine was often the same as ordering a soda pop, so, naturally, I always ordered wine when we ate out!
Speech – A 2020 survey found that most Spaniards (about 65%) do not speak/understand English, and of the remaining few who do speak it, most admit they don't speak it very well. The more touristy the area, the higher likelihood of some English, however we found very few English speakers during our time in Spain – Google Translate was a godsend! Another interesting note is that in this part of Spain, a 'th" sound is used for the letter "c" – as in Gracias – Grathias / Barcelona – Barthelona).
These were the words/phrases we found most helpful to know:
Hola – Hello (pretty standard greeting throughout the day);
Buenos Dias – Good Morning;
Buenos Tardes – Good Afternoon (used between noon and sunset);
Buenas Noches – Good Night;
Mucho Gusto – Nice to meet you;
Adiós – Goodbye;
Hasta Pronto – See you soon;
Sí – Yes;
No – No;
Por favor – Please;
Gracias – Thank You;
Muy bueno – Very Good;
Estoy perdido(male) / Estoy pérdida (female) – I am lost;
Yo no comprendo – I do not understand;
Uno, Dos, Tres, Cuatro, Cinco, Seis, Siete, Ocho, Nueve, Diez – 1,2,3,4,5,6,7,8,9,10 (very helpful when ordering pastry);
Lo Siento

– Sorry.