After 38 days of fairly quick travel through Northern Europe and the Baltic states we finished our time in Europe this year with a quiet month on the coast of Spain, capped by a few nights in Barcelona. We quite like Spain, particularly in autumn, and have spent a bit of time in that country each year since 2021 (Costa Blanca 2021, Galicia 2022).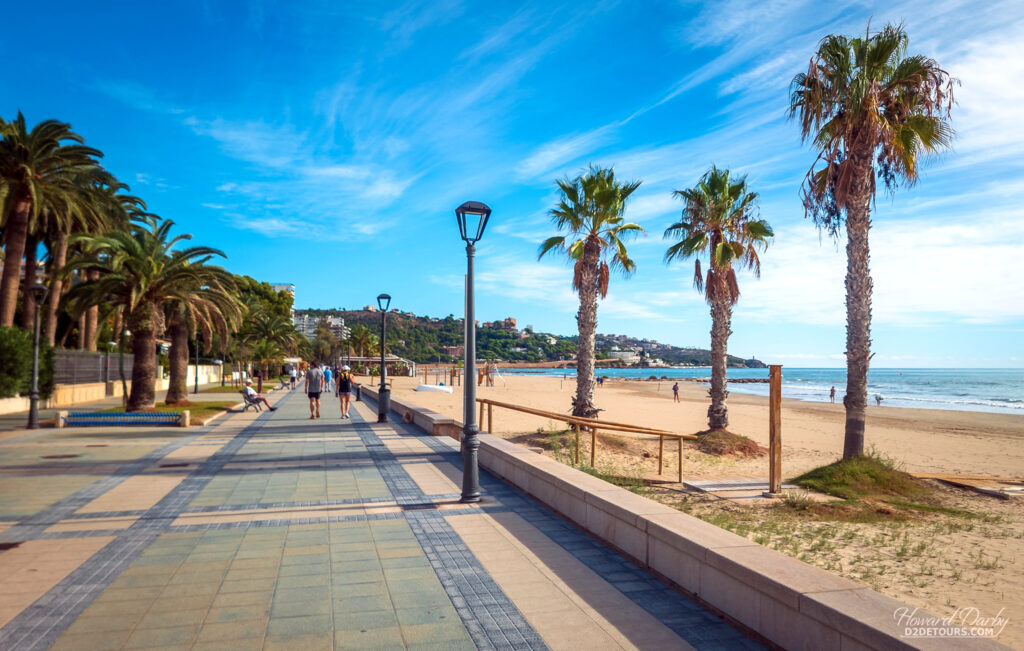 Dollars – Two things worked to our advantage to make Benicàssim accommodation budget-friendly. Firstly, we booked an Airbnb for 29 nights – monthly stays entice hosts to reduce their regular daily rate, often by half. Secondly, we were visiting outside the peak tourist season.  These two things combined made the nightly rate for this Airbnb roughly one-quarter of what the host normally charges. Preparing virtually all of our meals at home helped out the bottom line too, as did the price of Spanish wine!
Benicàssim
Cost / Day (2 people)

What's Included?
All-inclusive nomadic expenses
$140/day Canadian
($101USD / €95)
Transportation to the city, accommodation, groceries, restaurants, beverages, health (including insurance), data packages, local transportation, subscriptions (Netflix and other streaming services, web site hosting, Adobe Lightroom, VPN, misc apps, etc.)
Basic day-to-day living expenses
$109/day Canadian
($79USD / €74)
Accommodation, groceries, restaurants, beverages, local transportation
We weren't quite so lucky in Barcelona – it was rather expensive, by our standards!
Barcelona
Cost / Day (2 people)

What's Included?
All-inclusive nomadic expenses
$238/day Canadian
($172USD / €161)
Transportation to the city, accommodation, groceries, restaurants, beverages, entrance fees, health (including insurance), data packages, local transportation, subscriptions (Netflix and other streaming services, web site hosting, Adobe Lightroom, VPN, misc apps, etc.)
Basic day-to-day living expenses
$204/day Canadian
($148USD / €138)
Accommodation, groceries, restaurants, beverages, entrance fees, local transportation
Environment
Benicàssim: As mentioned above, we got a substantially reduced rate on our Airbnb which allowed us to splurge a bit. At $82.50/night CAD it was at the high end of our desired accommodation budget, yet manageable and totally worth it! We had a three-bedroom, 2-bath unit on the 8th floor (penthouse) of a building two blocks from the beach, with a fantastic view of the Mediterranean.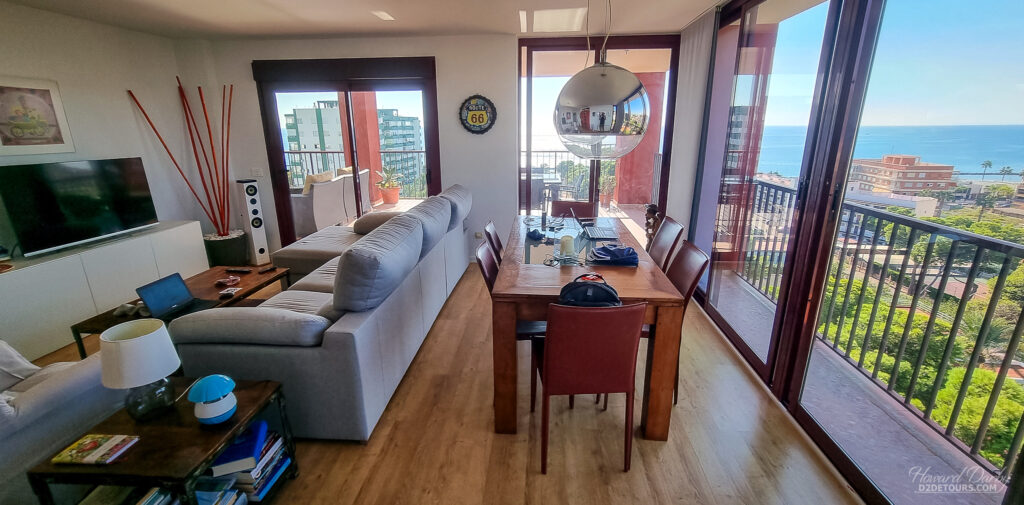 This unit is actually the Airbnb host's home, although he spends most of his time working in a winery in the northern part of Spain. Consequently, it is well maintained, with quality furnishings and appliances. Our favourite spot was the enormous balcony, measuring 30' x 15', which had a second living room, complete with TV, dining room, and hammock.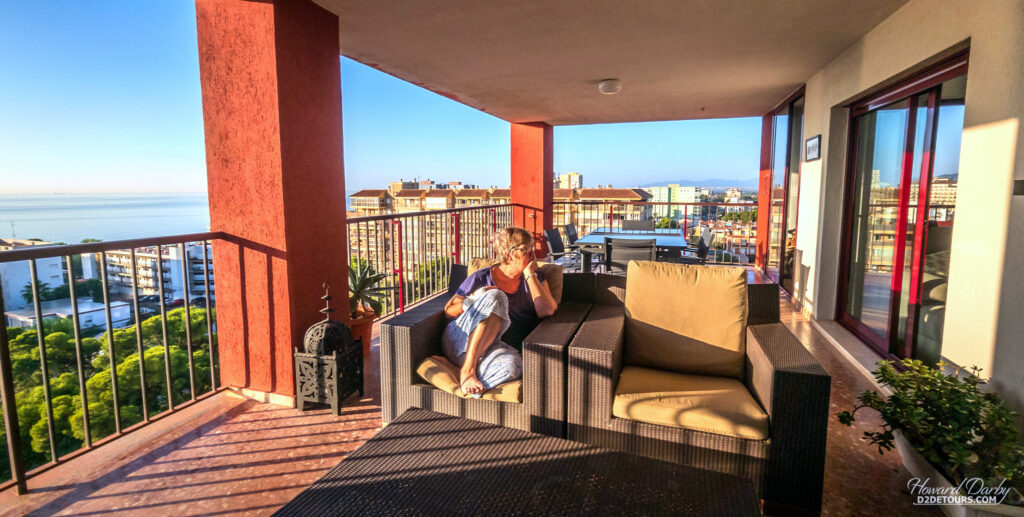 The positioning of the building was such that a spectacular sunrise would greet us while breakfasting on the balcony and with a glass of wine in hand (for me) in the evening we could bask in the glow of the sunset. What a treat.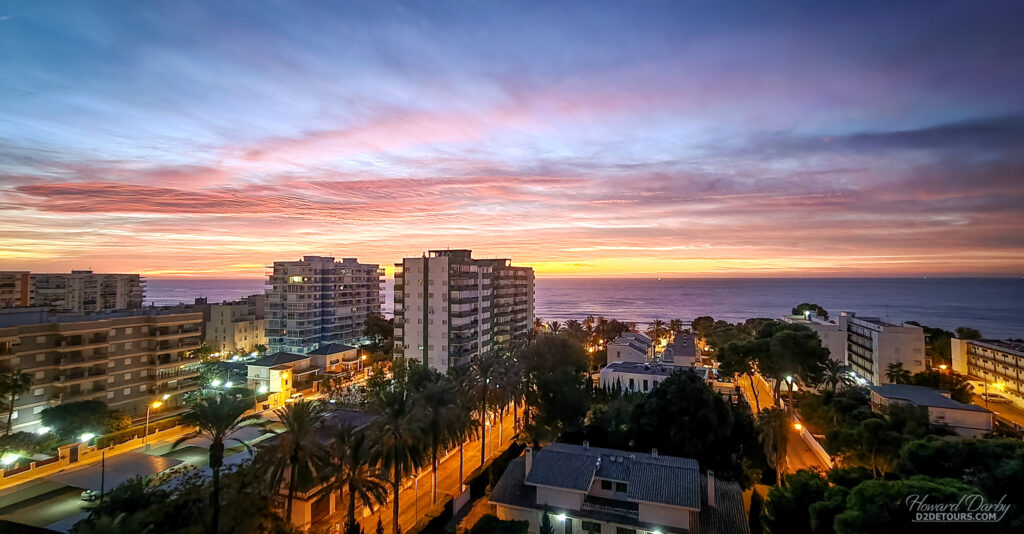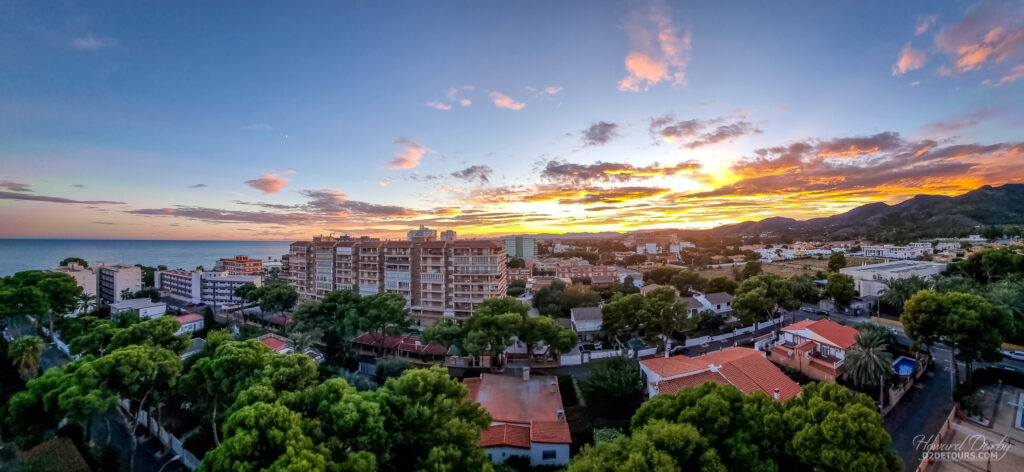 Barcelona: Unless we wanted to stay in a dormitory-style hostel, miles from the center of town, it was impossible to find reasonably priced accommodation, and even the hostels were expensive. We finally settled on a $143/night CAD Airbnb (which is painful when we try to keep our entire daily expenses to $160), about a 30-minute metro ride to the best sightseeing opportunities. It wasn't much of an imposition having to ride the metro and the unit was sparkling clean with all of the amenities we needed.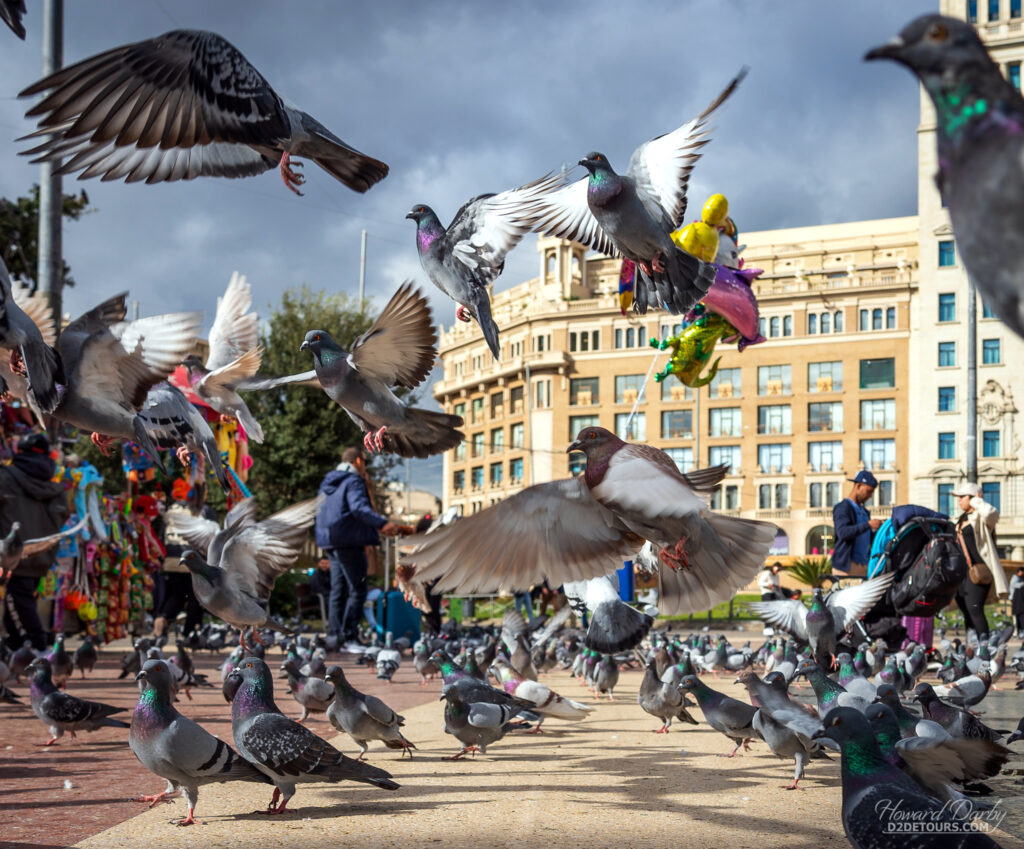 Tips, Tricks & Transportation – You know it's been a bad week when breaking a bone in your hand is NOT the worst thing to happen … I lost my phone! We'd arrived by bus from Andorra and had to take the metro to the Barcelona Sants Train Station to catch a train to Benicàssim. I always carry my phone in my hand, however being down to only one I needed the free hand to pull my suitcase. As we got organized after getting off the Andorra bus, I popped the phone into my backpack and thought I'd zipped it closed; I had not. In the five minutes it took us to buy metro tickets and get to the platform I realized the top of my backpack was open and the phone was gone. Howard immediately retraced our steps, to no avail, and not only was my phone missing, so too were two credit cards and my driver's license as my phone case doubles as my wallet. We looked into replacing the phone while we were in Benicàssim only to find that prices in the stores were 50% more than what we would pay in Canada, and we couldn't order anything online because we did not have a Spanish tax number, a mandatory piece of information which obviously as tourists we can't get. Thus I will be phone-less for nearly seven weeks until we get to Canada – it's been torture!! The good news is my hand is healed, and other than a bit of residual weakness in grip strength, I am none the worse for wear.
Our nomadic lifestyle often means that we're not in a rush to get anywhere. That casual approach to travel definitely paid off when booking the train between Barcelona and Benicàssim. There is a fast train (2 hours) which costs roughly $120 CAD/pp roundtrip. However, if we were willing to meander a bit inland stopping at every small town along the route, and then change trains at one of those small town stops, we could get tickets for only $48 CAD/pp roundtrip. It did double our travel time but we opted for that significant savings and got to see a bit more of the Spanish countryside as a bonus.
There is good bus and commuter train service between Benicàssim and the other coastal towns, what is lacking is taxi service or even Uber. Actually, there really isn't a taxi service in Benicàssim, cabs need to come from Castellón de la Plana about 20 minutes down the coast and, not surprisingly, they are less than thrilled about picking up a fare in Benicàssim. Our train from Barcelona arrived at 8:30 pm and it quickly became clear to us that we were going to be trekking about 35 minutes to our Airbnb, luggage in tow. Thankfully, after some back and forth with our host, his mother, who was waiting for us at the Airbnb with the keys, offered to come get us. Our host booked a taxi for us for the return trip to the train station. It was late in arriving and just as we had decided we were going to have to turn a 35 minute walk into a 20 minute run, it appeared – phew!!
The metro in Barcelona is your typical, crowded, big city system. It is very efficient but pickpocketing is apparently a huge problem and there were frequent announcements reminding passengers to watch their belongings. Our Airbnb host even warned us about pickpocketing everywhere in the city – we didn't run into any trouble.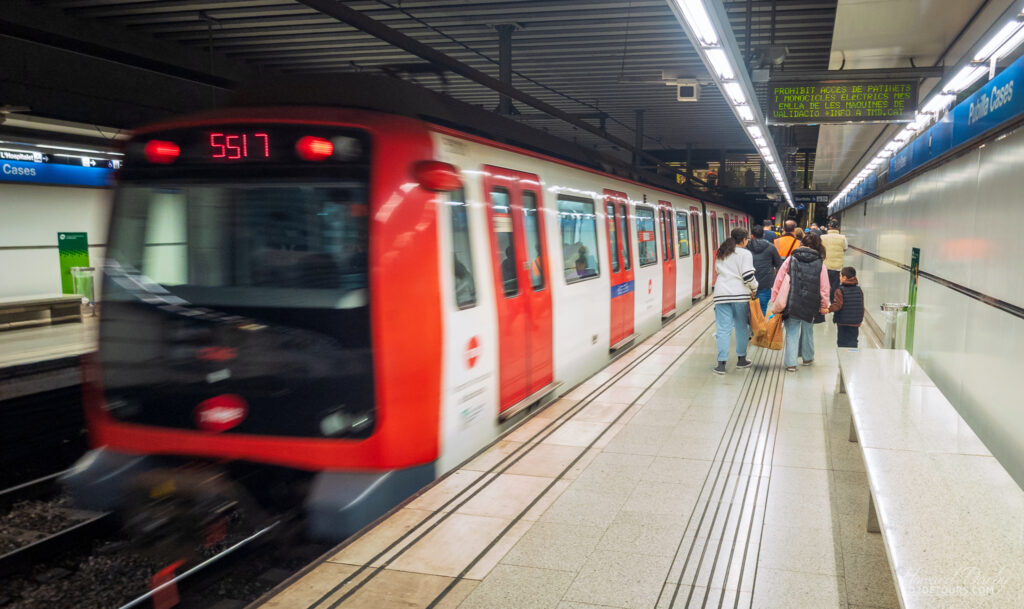 Out and About
Benicàssim is but one of the Mediterranean towns hugging the glorious 115-kilometer (71 miles) Costa Del Azahar (Orange Blossom Coast) and during the Moorish occupation of the Iberian Peninsula (8th – 13th centuries) was home to the Banu Qasim Berber tribe. While the Reconquista, aka the Iberian Crusades, returned this part of the peninsula to the Christians in 1238, nearly 400 years would pass before Benicàssim was officially repopulated. In an effort to secure borders and replenish royal coffers, the kings and large landowners of medieval Spain began granting Carta Puebla letters – municipal charters designed to attract new settlers to underdeveloped regions. In 1603 such a charter was granted to turn a piece of the land at the base of the Serra del Desert de les Palmes mountain range into a township in the hopes that the coastline might be better protected against piracy, and some tax dollars would start to flow.
It was slow going and Benicàssim didn't really hit its stride until the late 19th century when the wealthy industrialists of Valencia, 87 kilometers / 55 miles to the south, recognized the appeal of this pristine bay and began trying to outdo each other with lavish villas on the beach. The Route of the Villas takes one past 50 of these villas with signs explaining their history and differing architectural styles. Half of the route is known as the "Celestial Court" which acknowledges the peace and tranquility of the street, while the remaining 20 odd mansions make up the "Inferno" in reference to the scandalous parties that once took place behind their gates.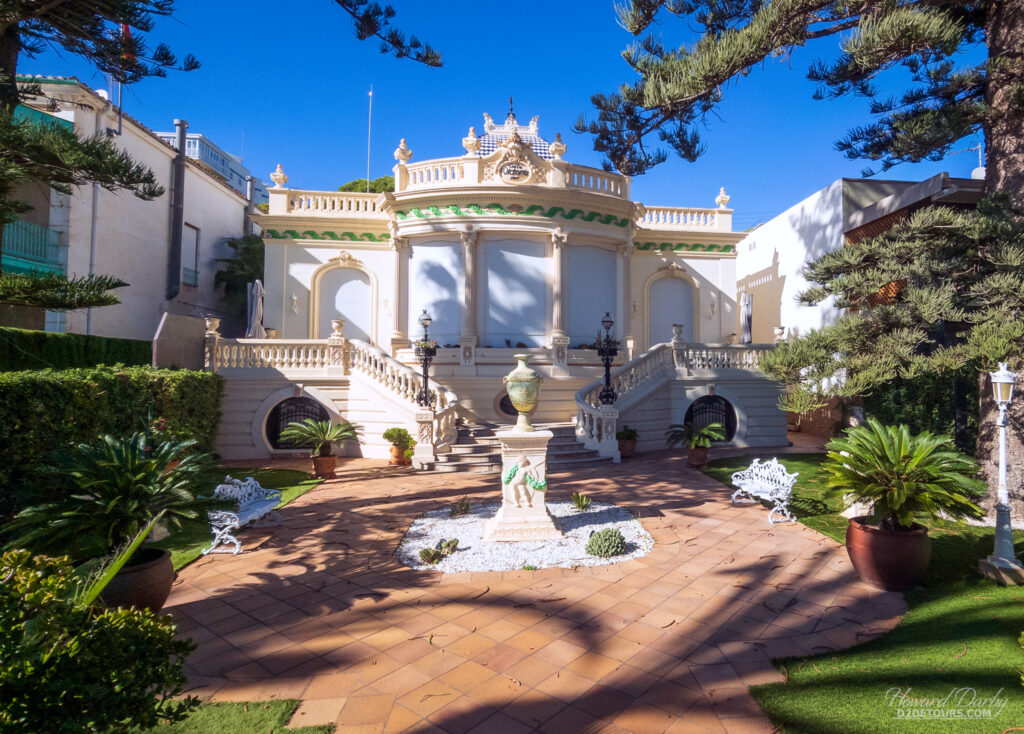 Today Benicàssim is still a popular beach destination with an economy that is almost entirely reliant on tourism. Its population of roughly 20,000 permanent residents swells to more than five times that size during the summer. In October, when we were there, it was quietly slipping back into hibernation. Its 6-kilometers (3.5 miles) of sandy beaches are linked by wooden boardwalks and paved promenades along which we regularly walked.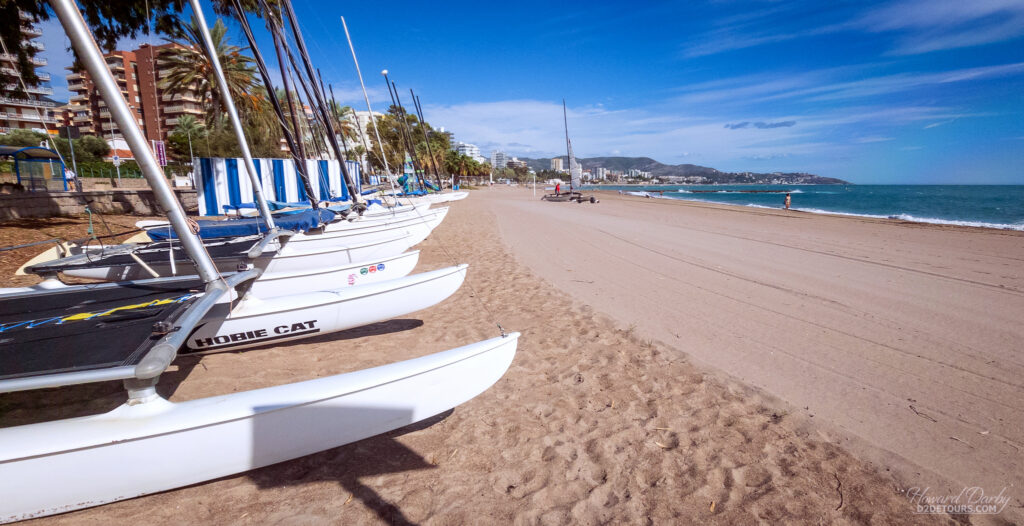 We did a day trip to Valencia to connect with several nomadic couples who were staying in that city. It's a bit of a jaunt on public transportation, just under two hours on a commuter train, but it led to a laughter-filled afternoon with an absolutely fabulous group of people, preceded by a bit of independent sightseeing wandering the labyrinthian streets of one of Spain's oldest cities.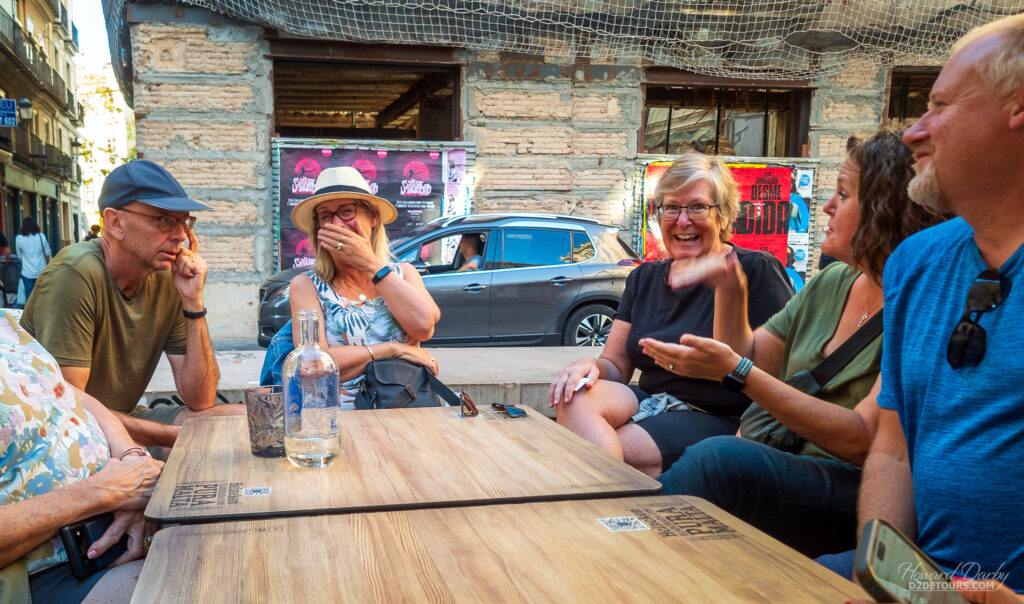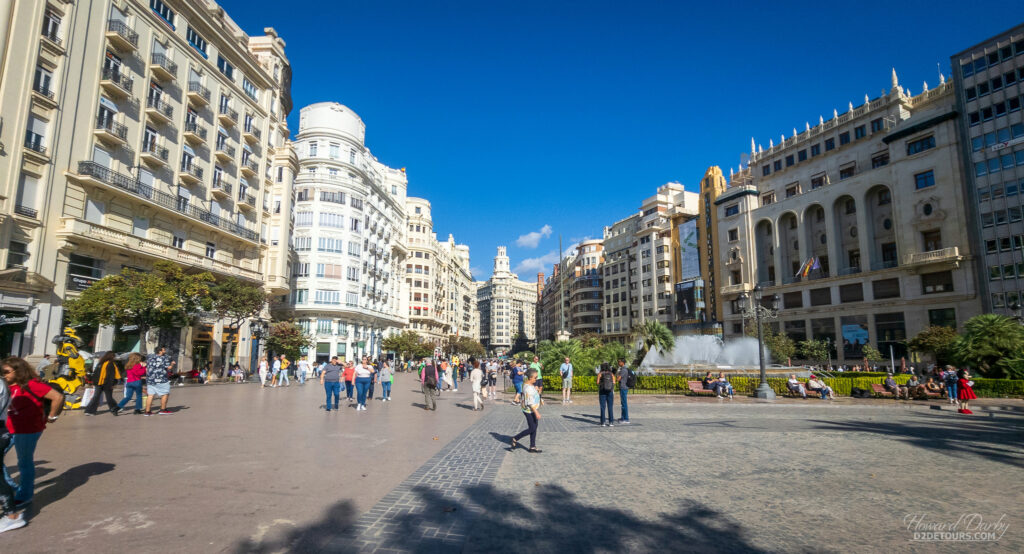 Valentia (the Latin version of Valencia) was founded by the Romans in 138 BCE and flourished as a trading post. Five hundred years of Moorish rule only increased its importance with the introduction of oranges, olives, silk, rice, and ceramics to its ever-expanding list of commodities. The city didn't miss a beat when King Jaume I of Aragon ousted the Moors in 1238, although like much of the rest of Europe the bubonic plague (Black Death) ravaged the city in the mid-14th century. A couple of hours simply doesn't do this city justice but we were somewhat constrained by the train schedule. A few highlights were the 13th-century Valencia Cathedral whose proper name, the Metropolitan Cathedral–Basilica of the Assumption of Our Lady of Valencia, is as extravagant as its blend of architectural styles, and possibly the home of the Holy Grail.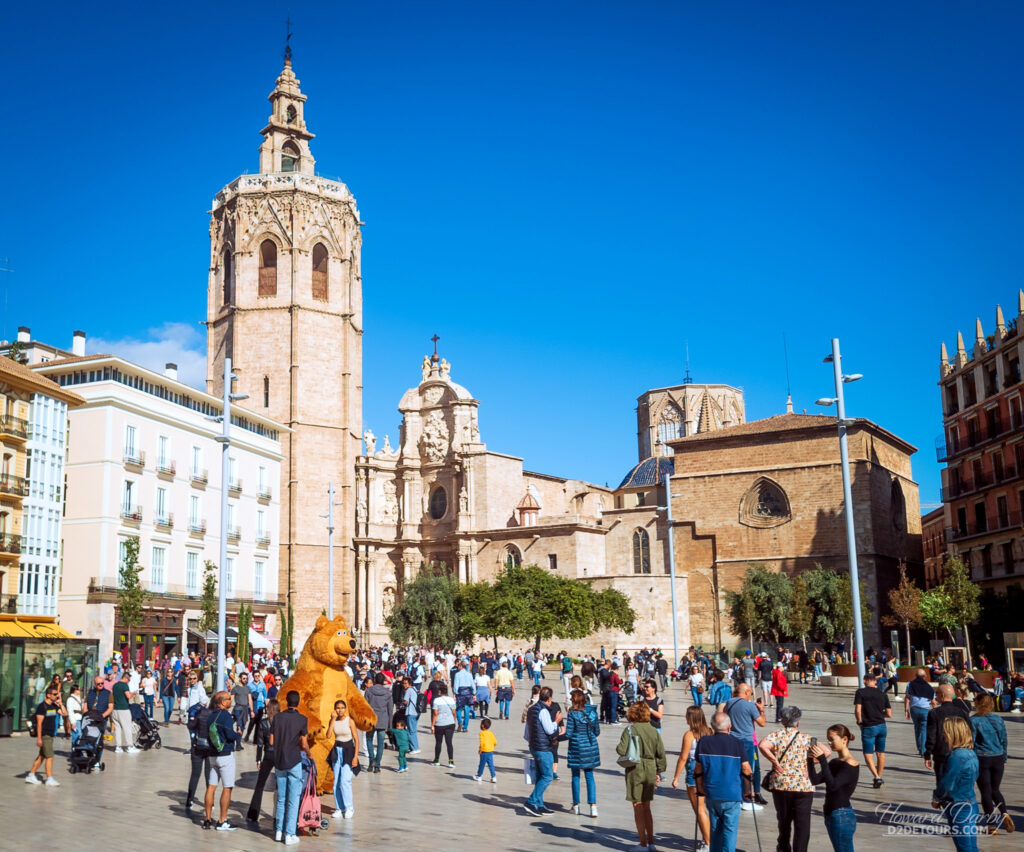 The Estacion del Norte train station and Mercado Central are modernist buildings that gave us a mere glimpse of the style pioneered by Antoni Gaudi in the 20th century, foreshadowing what we would see in Barcelona.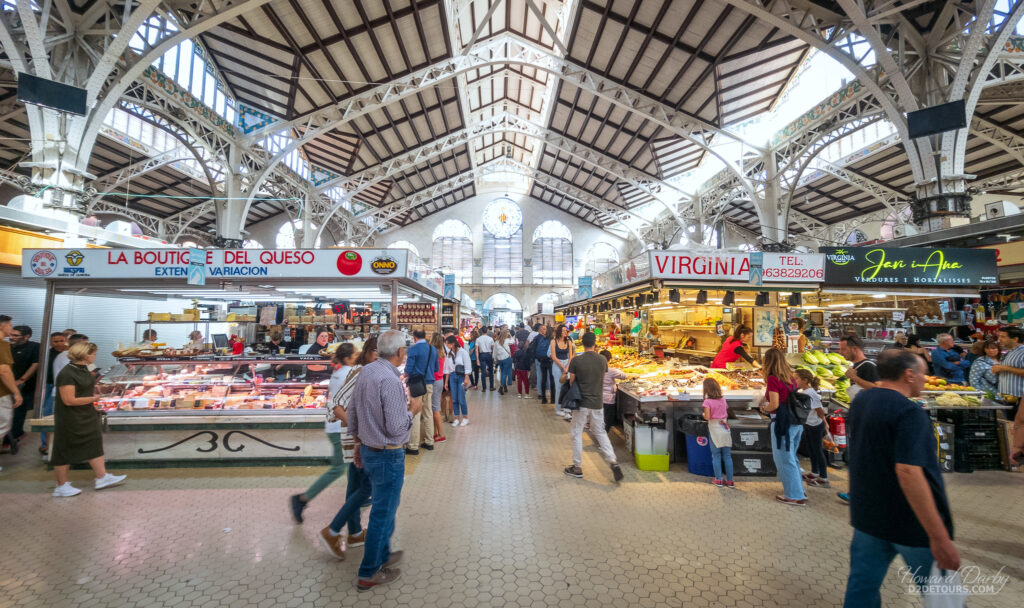 La Lonja de la Seda (the Silk Exchange) speaks to Valencia's wealth and power during its Golden Age in the 15th and 16th centuries; unfortunately, we didn't have enough time to stand in the line-up waiting to see the interior.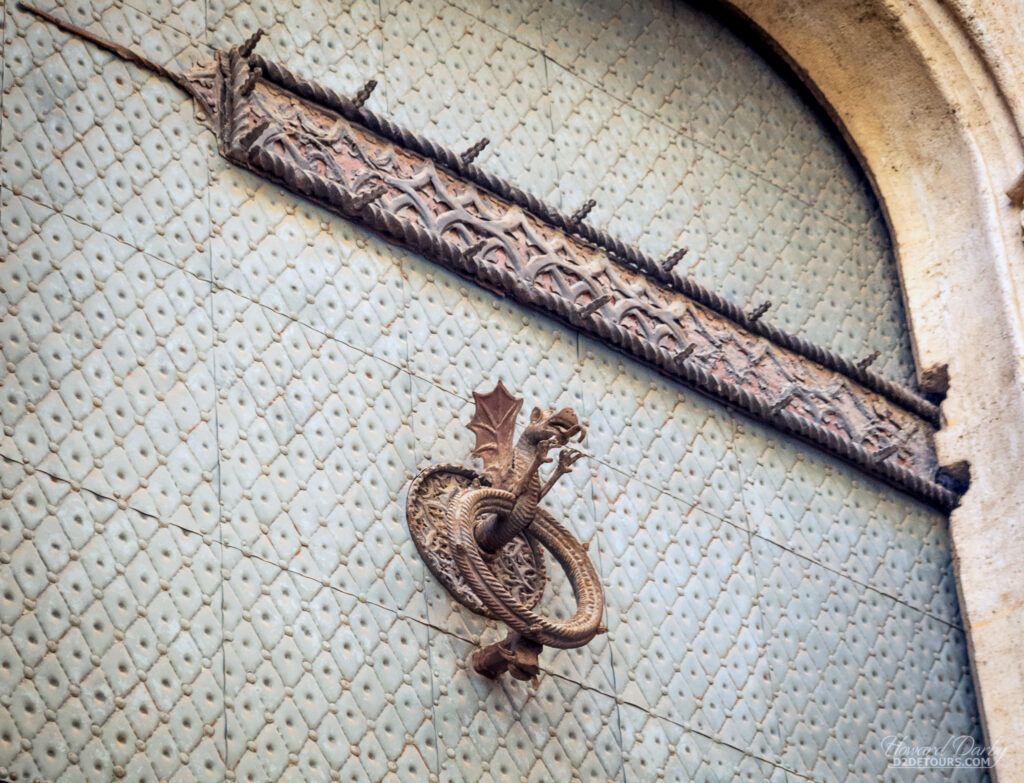 Notwithstanding the impressive array of architecture in Valencia, I think my favourite design feature was its coat of arms, which is visible on multiple buildings and even manhole covers. Who wouldn't be intrigued by a city emblem that prominently features a bat. According to local lore, a bat swooped down and awakened King Jaume I and his troops moments before the Muslims launched a massive offensive against the city. King Jaume emerged victorious over the Moors, and Valencia was reclaimed by the Christians.  How delightful.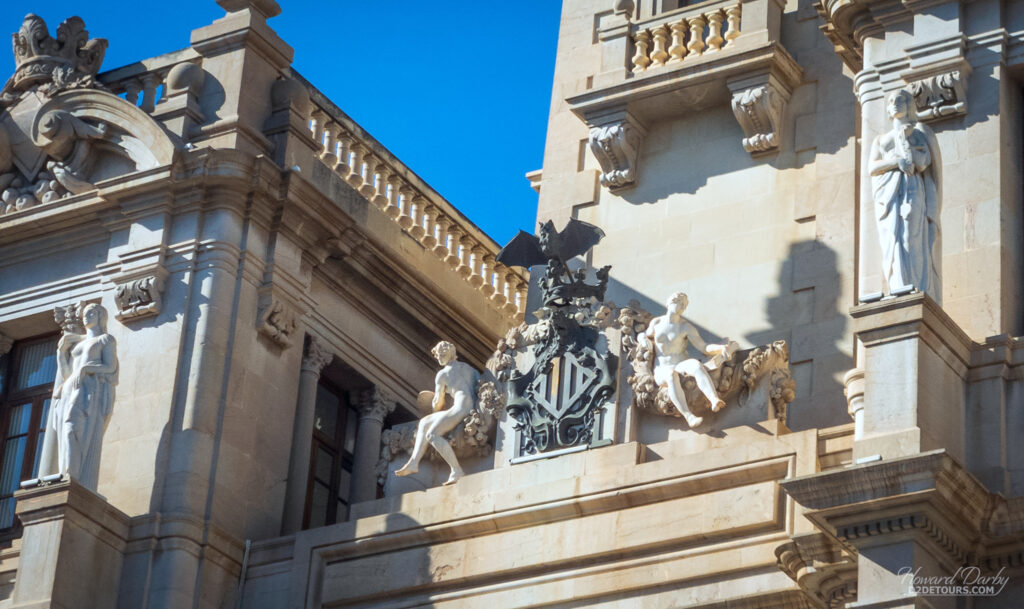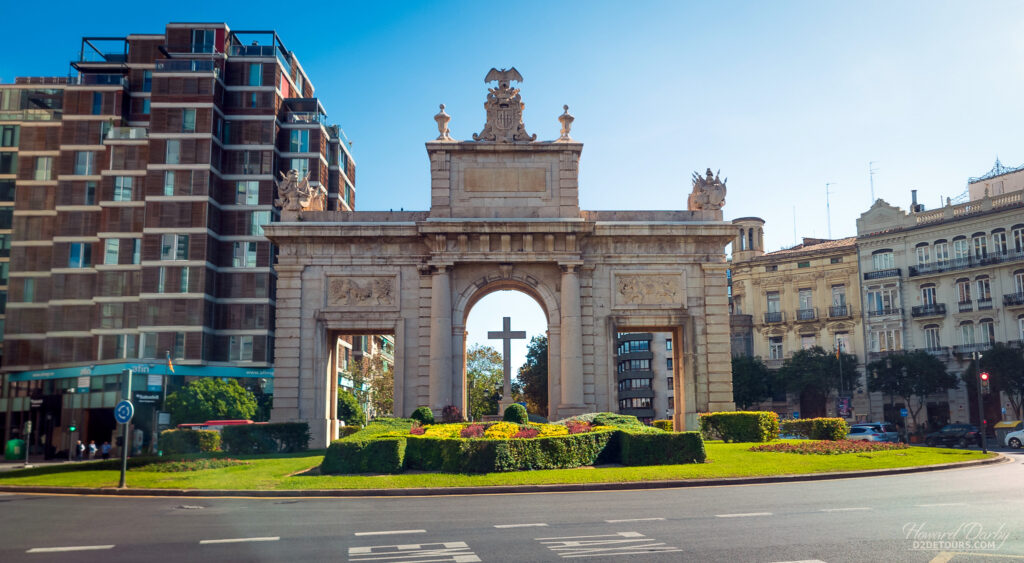 Right beside the train station is the 19th-century Plaça de bous de València. We had a bit of time before heading back to Benicàssim so popped in to see what the interior of a bullfighting arena looked like. No one was taking tickets and we were quite surprised to find the venue full of people watching a bullfight. Bullfighting has a centuries-long history in Spain and is a deeply entrenched cultural tradition. The old adage "to each their own" certainly came to mind as we witnessed the spectacle for about 10 minutes before deciding we'd rather wait the 30 minutes before our train was scheduled to depart by standing on the platform.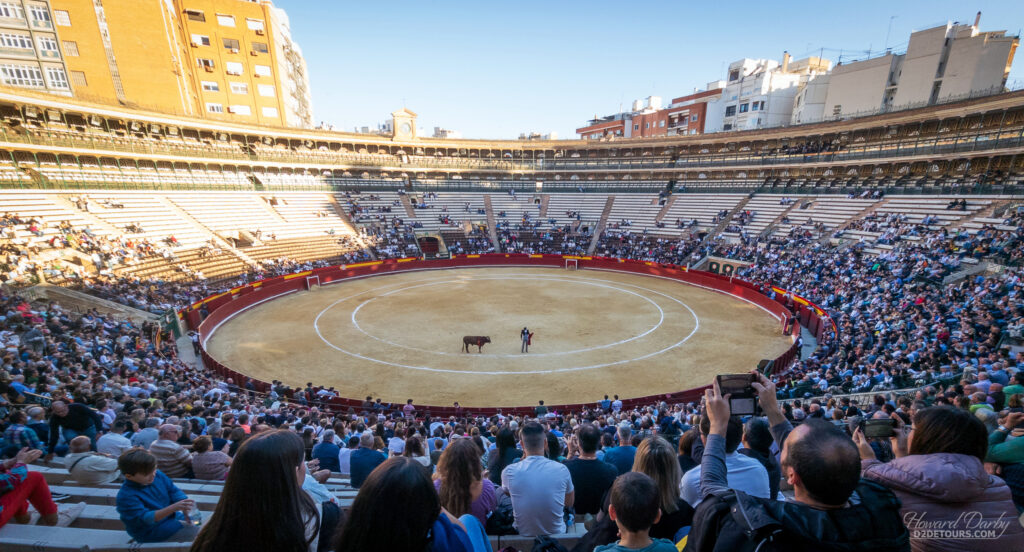 I have always understood that Barcelona is synonymous with WOW architecture so we embraced that notion and set about seeing as much as we could, specifically the buildings of the Modernisme movement. The art nouveau trend sweeping across Europe at the turn of the 20th century took on a personality of its own in Barcelona. This avant-garde aesthetic was the ideal way for the Catalonian artistic community to demonstrate that Catalan culture deserved the same kind of respect as the rest of Europe and the results are magnificent. But before we get to those buildings, a brief summary of Catalonia. In the 9th century, with the support of the holy Roman emperor Charlemagne, the Moors were pushed out of the northeastern tip of the Iberian peninsula. The various counties in this region were unified into the Principality of Catalonia, with the Count of Barcelona at the helm. In the 12th century, it merged with the Kingdom of Aragon yet still retained its autonomy. When the king of Aragon married the queen of Castile in 1469, Catalonia was absorbed into the Kingdom of Spain marking the beginning of a centuries-long rollercoaster ride to retain its identity, culminating in a 2017 referendum in which they declared independence from Spain, although no sovereign nation has stepped forward to recognize said declaration.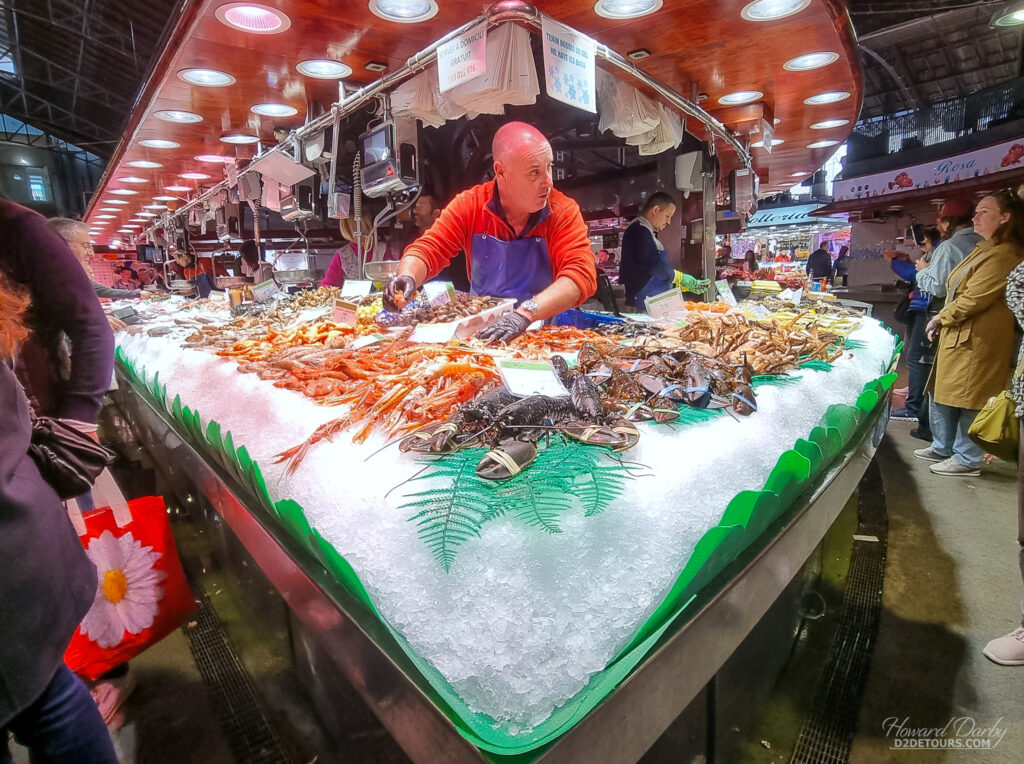 Of the more than one hundred architects who designed Catalan Art Nouveau-style buildings, three are the most well-known:  Antoni Gaudí, Lluís Domènech i Montaner, and Josep Puig i Cadafalch. As contemporary architects, they differentiated themselves with their individual styles with Gaudi choosing an expressionist form, Montaner rationalism and Cadafalch described his work as "stone poetry." An entire blog could be devoted to the Modernist architecture in Barcelona, but we'll just give you a few highlights, starting with Gaudi.
The Catholic basilica, La Sagrada Familia, is Gaudi's most famous, yet unfinished, masterpiece.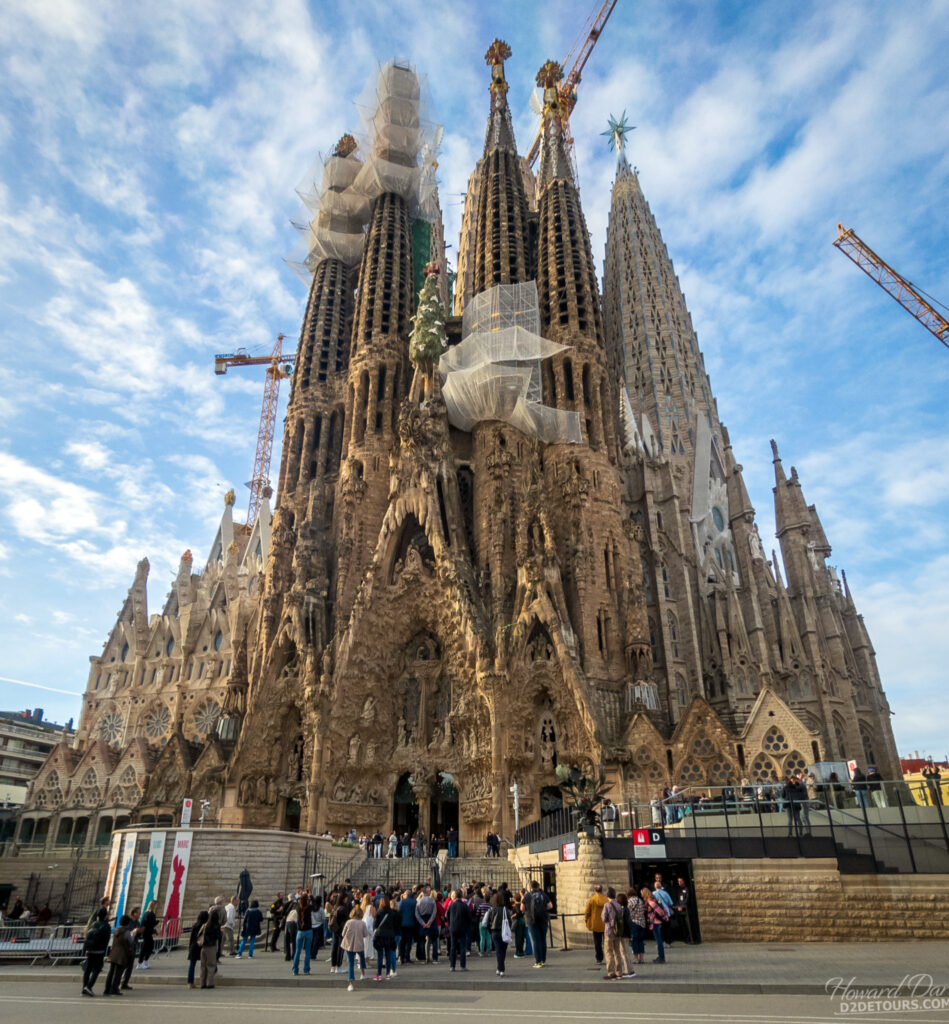 He began designing the building in 1883 and although he knew he would not live long enough to see it completed, he did manage the project for over 40 years before he was hit by a tram and died at the age of 73. Subsequent architects have continued his work with an expected completion date sometime in 2026, 100 years after his death. There is soooo much going on in the decoration of the exterior of this building – I can see why one might think the term "gaudy" originated from Gaudi's work (gaudy actually originates from the 1500s: a gaude was a trinket or ornament).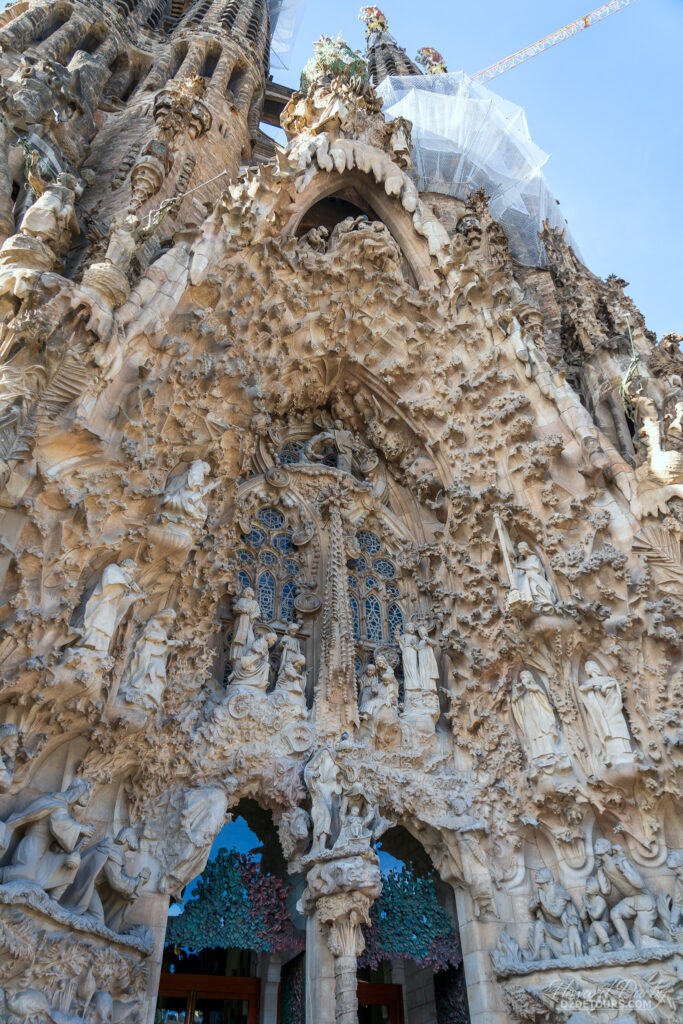 Much of the exterior is beige stone work, but Gaudi did incorporate some pops of colour with his trademark technique, trecandis – broken tile mosaics. This was the only building for which we paid the entrance fee and we agreed it was worth the price of admission (€26/pp / $38 CAD, which included an audio guide included in the app). The interior is magical.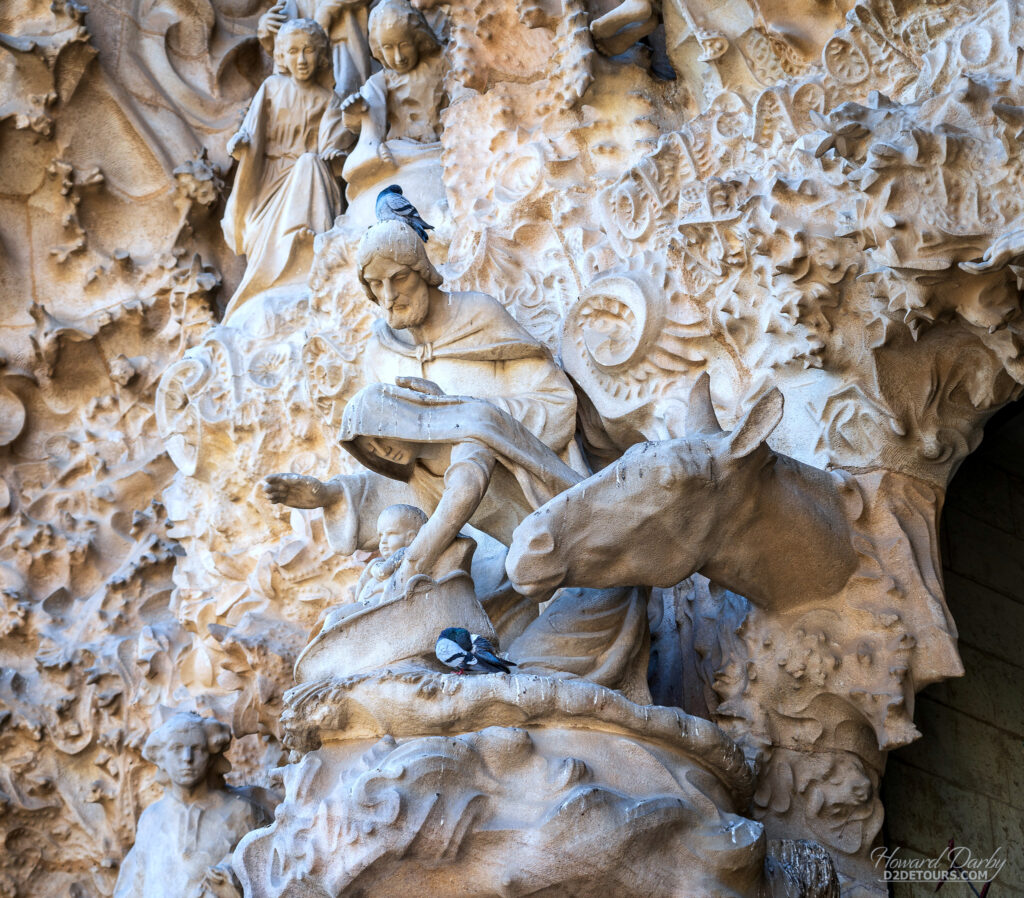 During the summer I understand you need to books tickets weeks (or even months) in advance, that wasn't necessary in November. A weekday visit could be booked a day or so in advance. Our timing put us there on a Saturday and we wanted to be among the first groups of people to enter so did book about a week ahead and got a 9:15 entry time (the earliest entry is 9:00am). By the time we left (we were probably inside for 45 minutes) it was wall-to-wall people.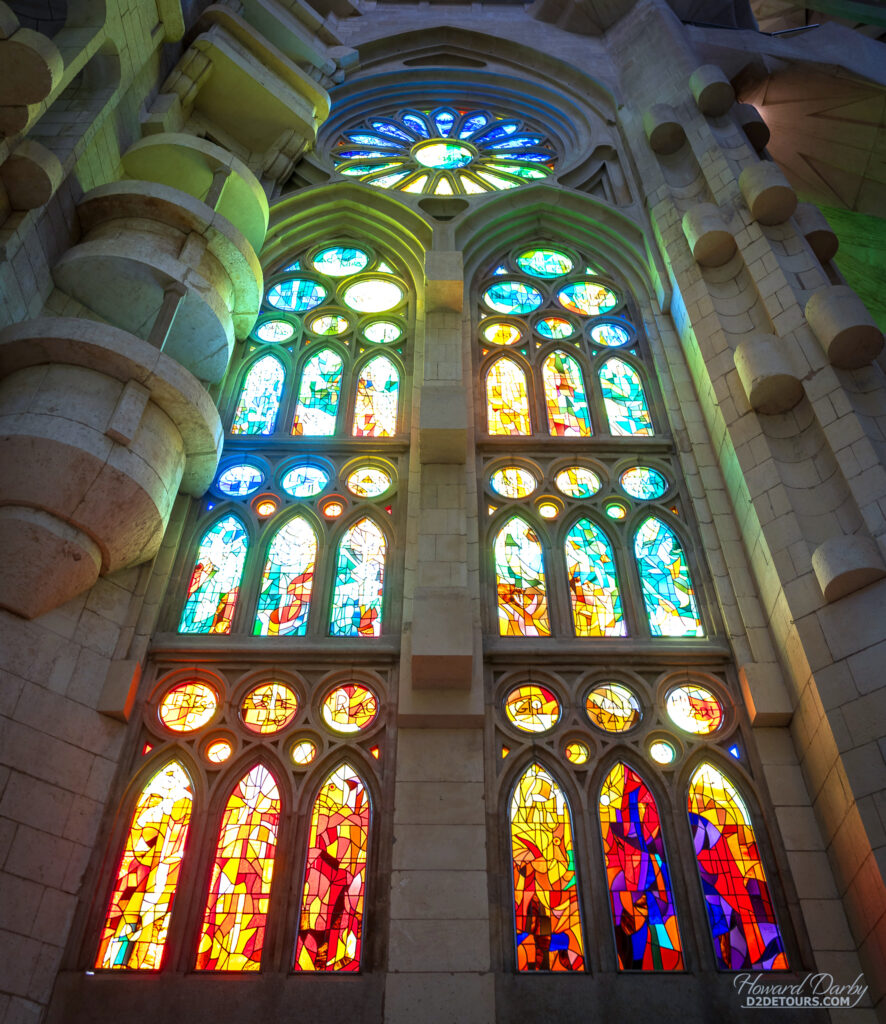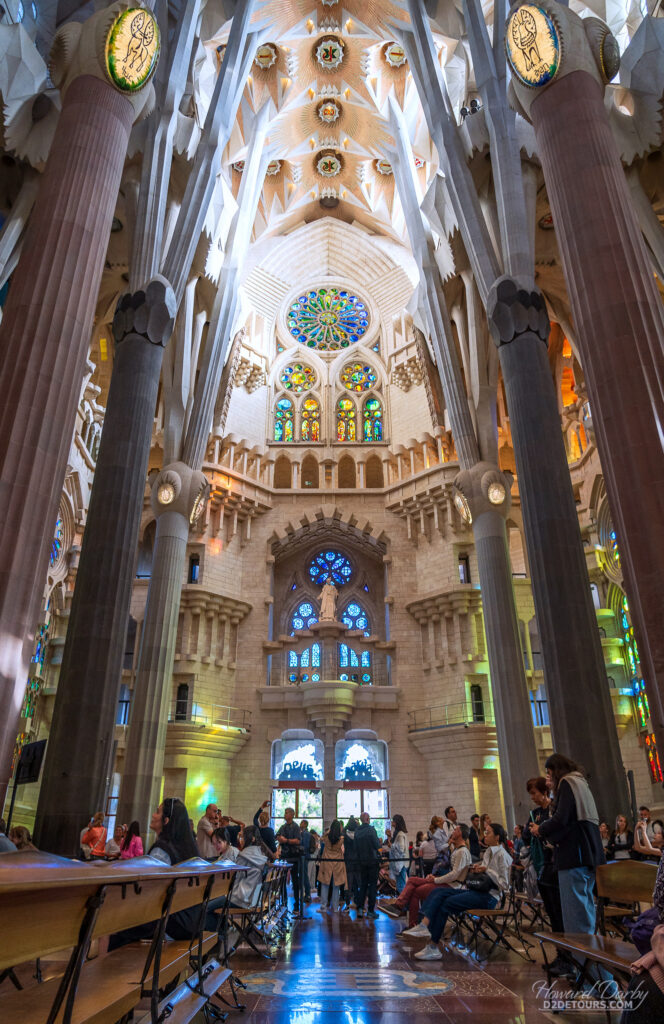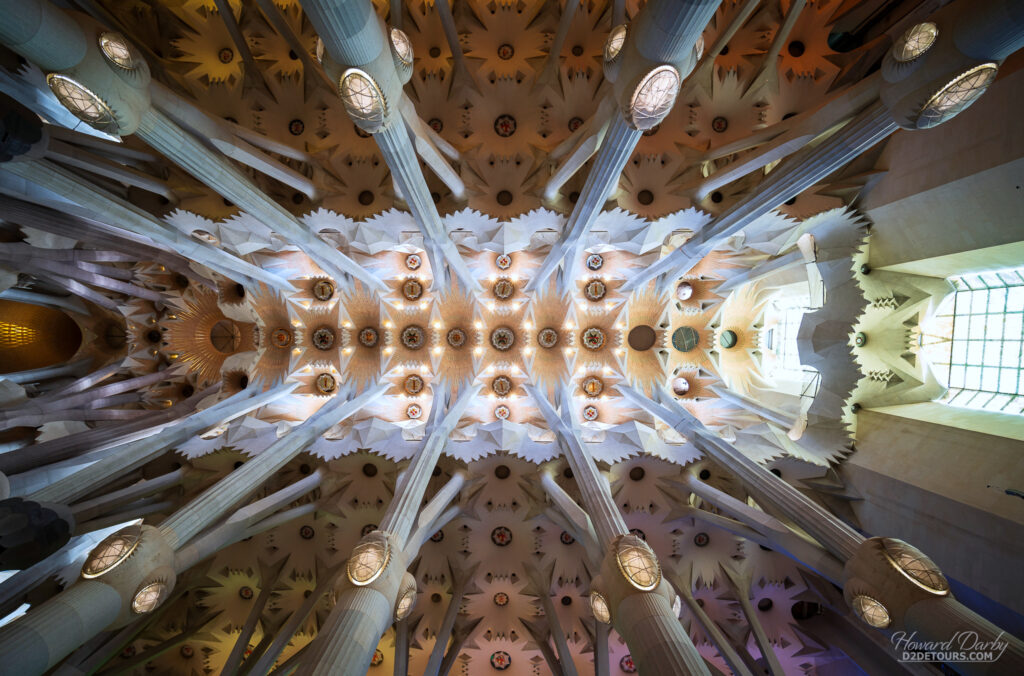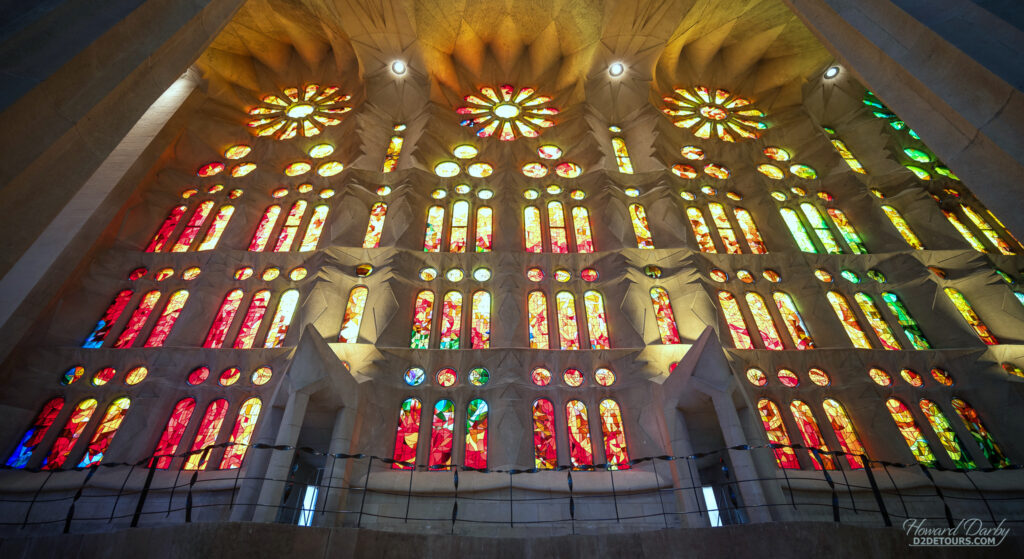 The exterior of Casa Batlló (1904) was inspired by the ocean. It is a ceramic, stone, and iron piece of art.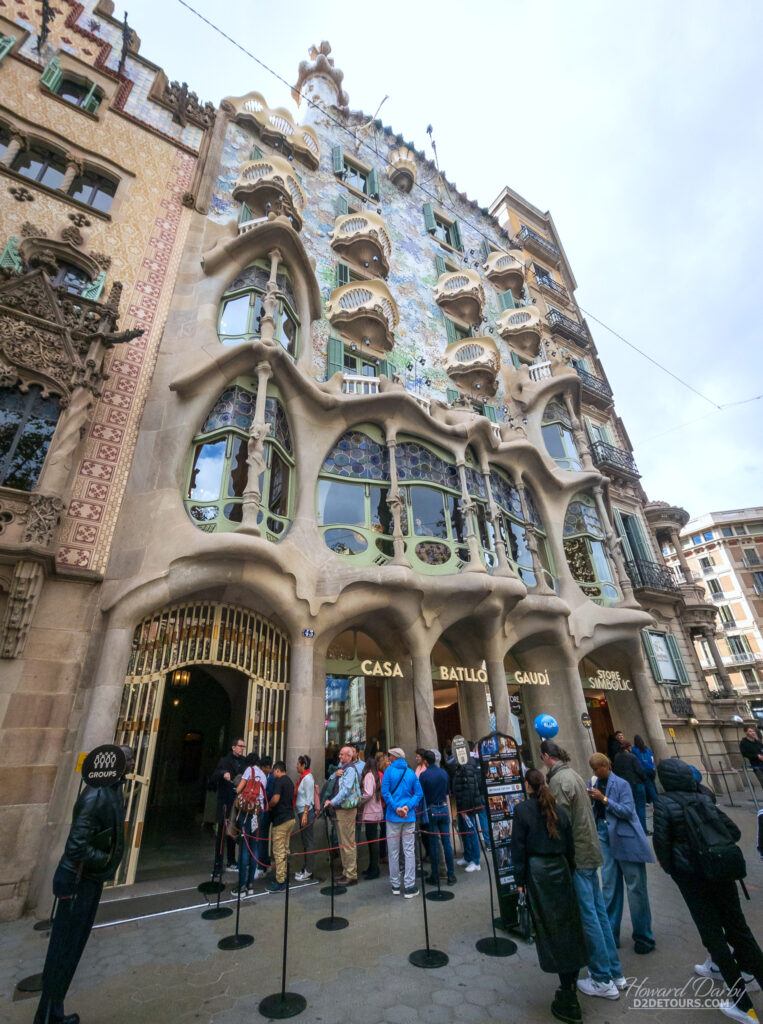 Casa Milà (aka La Pedrera – The Quarry) was the last private residential building designed by Gaudi, the construction of which was commissioned when he was at the height of his career, and was completed between 1906 and 1910. Its unusual undulating facade was the subject of much derision at the time.
In 1898, Josep Puig i Cadafalch designed Casa Amatller for the chocolate industrialist Antoni Amatller. Its facade is a captivating blend of materials and colour adjacent to Casa Batlló on the Manzana de la Discordia (Bone of Contention). Four different architects, each with their own unique style, were commissioned to build homes along this avenue and sought to outshine the others with their grandiose creations.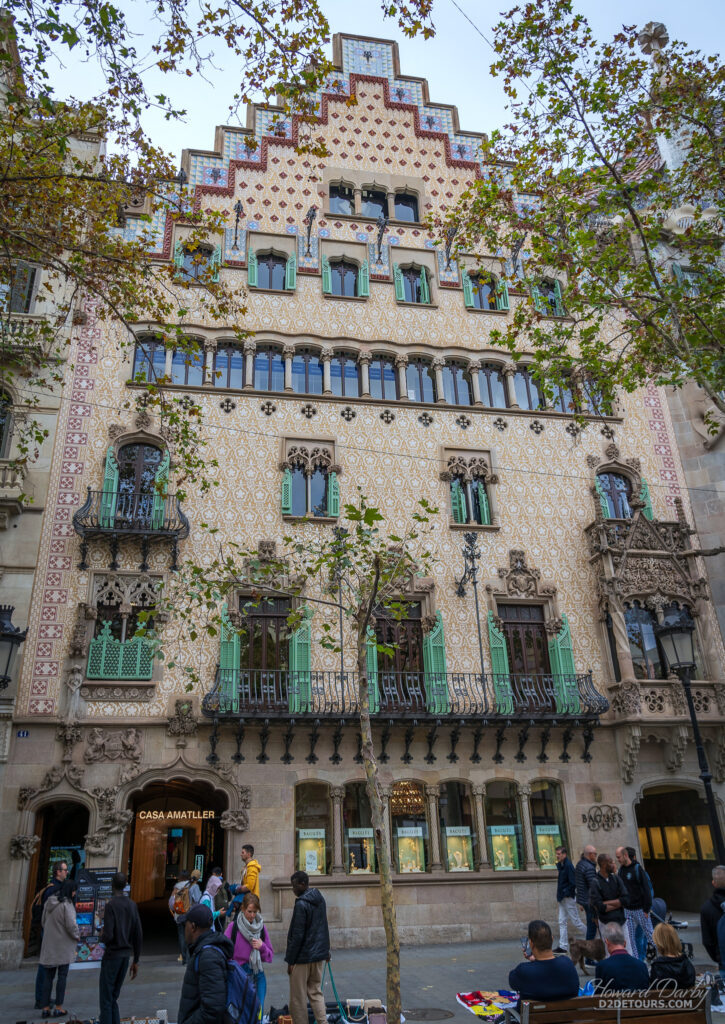 Casa Terradas/Casa de las Punxes (aka the House of Spikes), another Cadafalch structure, was built in 1905. Its inspiration was clearly a medieval castle and much of the building's decoration was inspired by the Legend of Saint Jordi (Saint George), the patron saint of Catalonia.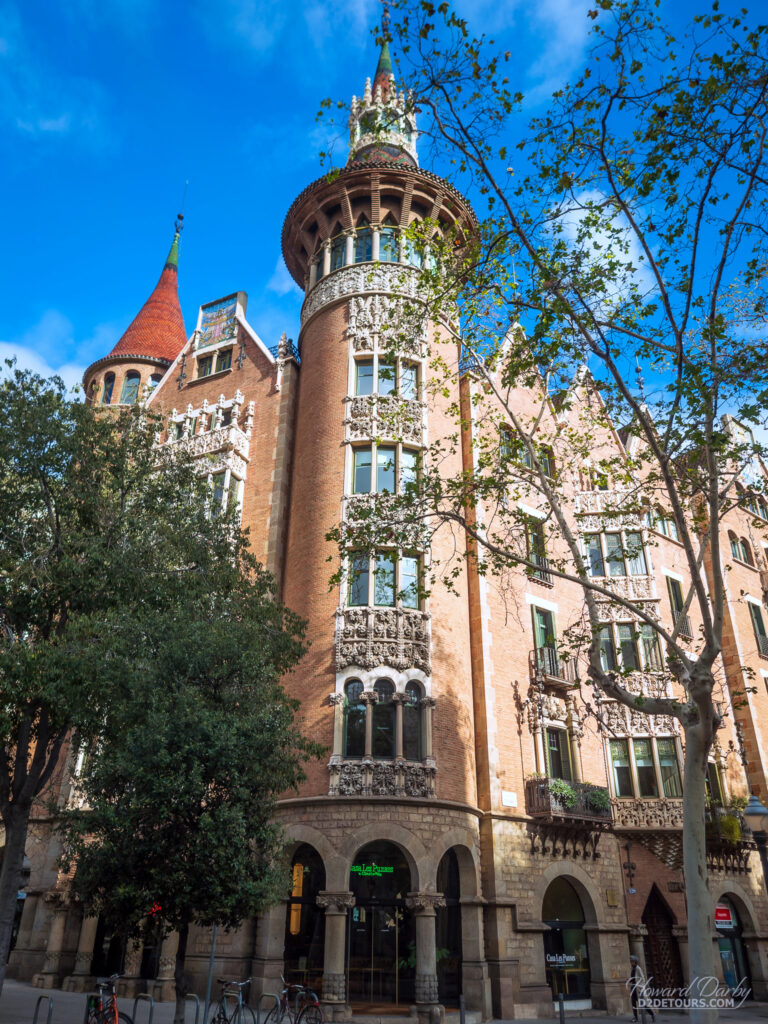 The Palau de la Música Catalana, is a concert hall (still in use today) designed by Lluís Domènech i Montaner in 1908. It is the only auditorium in Europe that is lit entirely by natural light during daylight hours.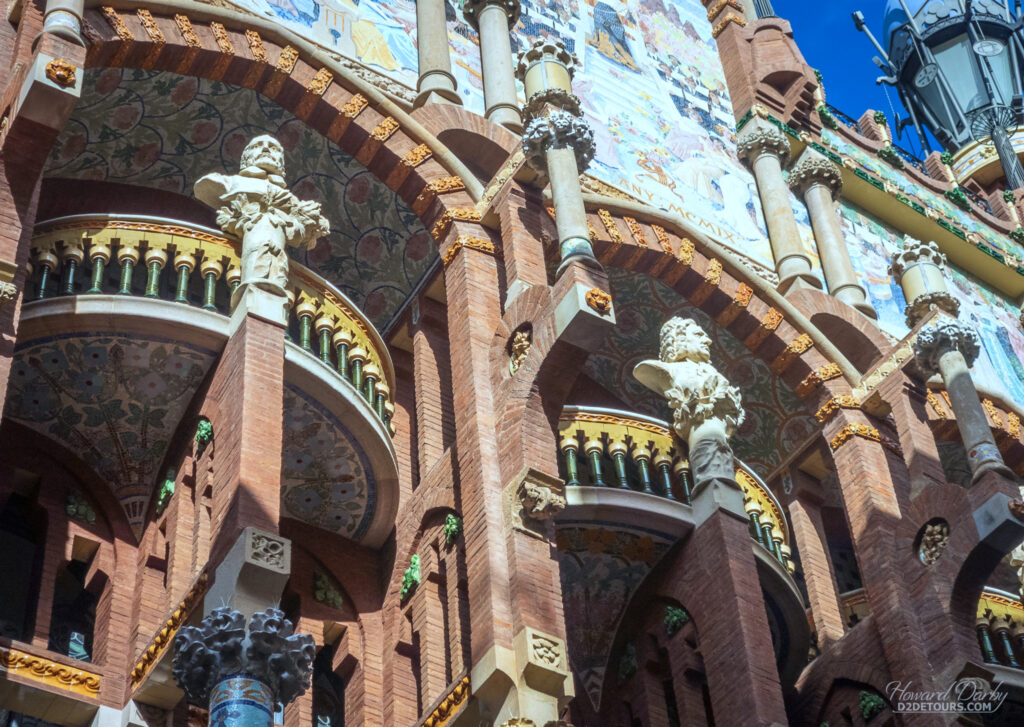 Barcelona is not just fantastical architecture, it has a charming ancient quarter too, full of winding stone streets and the odd bit of crumbling Roman ruins.
Us
Benicàssim is a perfect place for a beach vacation. Even in October, there were many days with weather warm enough for sunbathing – I recall only a handful of days below 20°C (68°F) and most hovered around 25°C (77°F). The downside to this locale, in particular when staying for a month, is there is very little to do other than beach activities – a car would have enabled us to head into the hills of the Desert de les Palmes for some hiking but that's about it. As the month progressed, the wind increased too. Certainly not every day was windy, though when it did blow the gusts were strong enough to knock over the dining chairs on the balcony and even blew the cover off the ceiling light, causing it to shatter on the balcony tiles. It also turned stretches of the beach into a sandblaster – not the most pleasant walking conditions. All that being said, we did enjoy our relaxing month (I think I finished eight books during our stay) aided in large part by the level of comfort in our Airbnb, and don't regret for one minute lazing about for 29 days.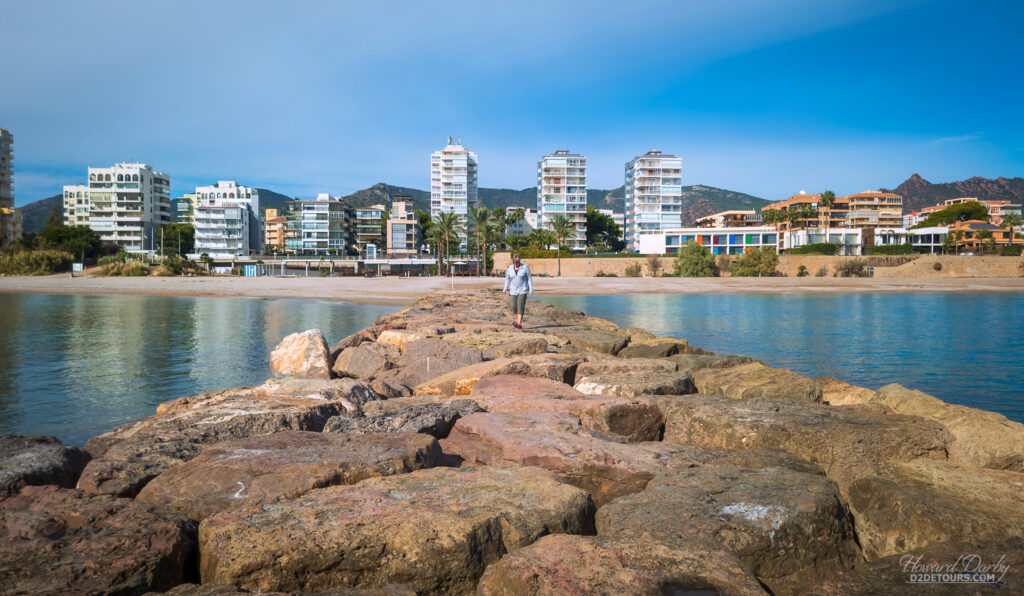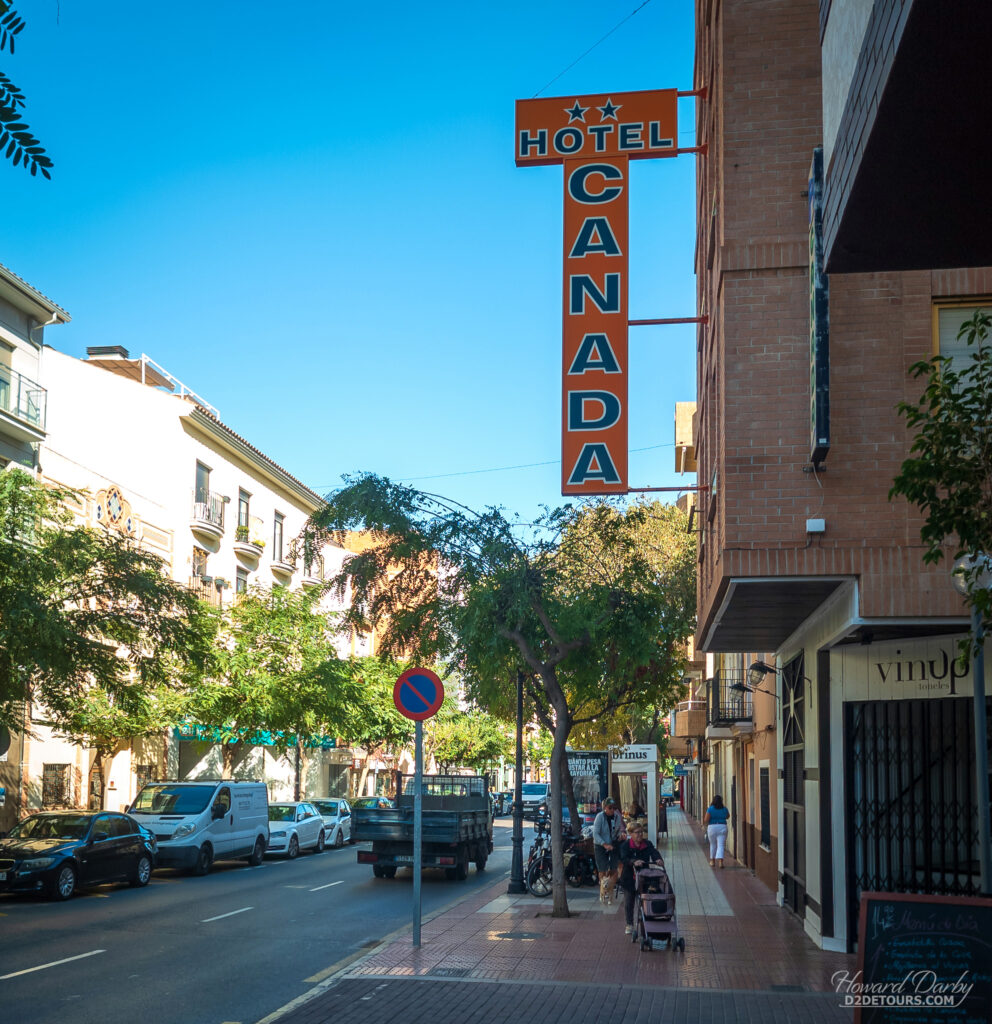 We liked Barcelona and would have spent more time discovering its various neighbourhoods were it not so darn expensive. Off on a Transatlantic Cruise to Tampa!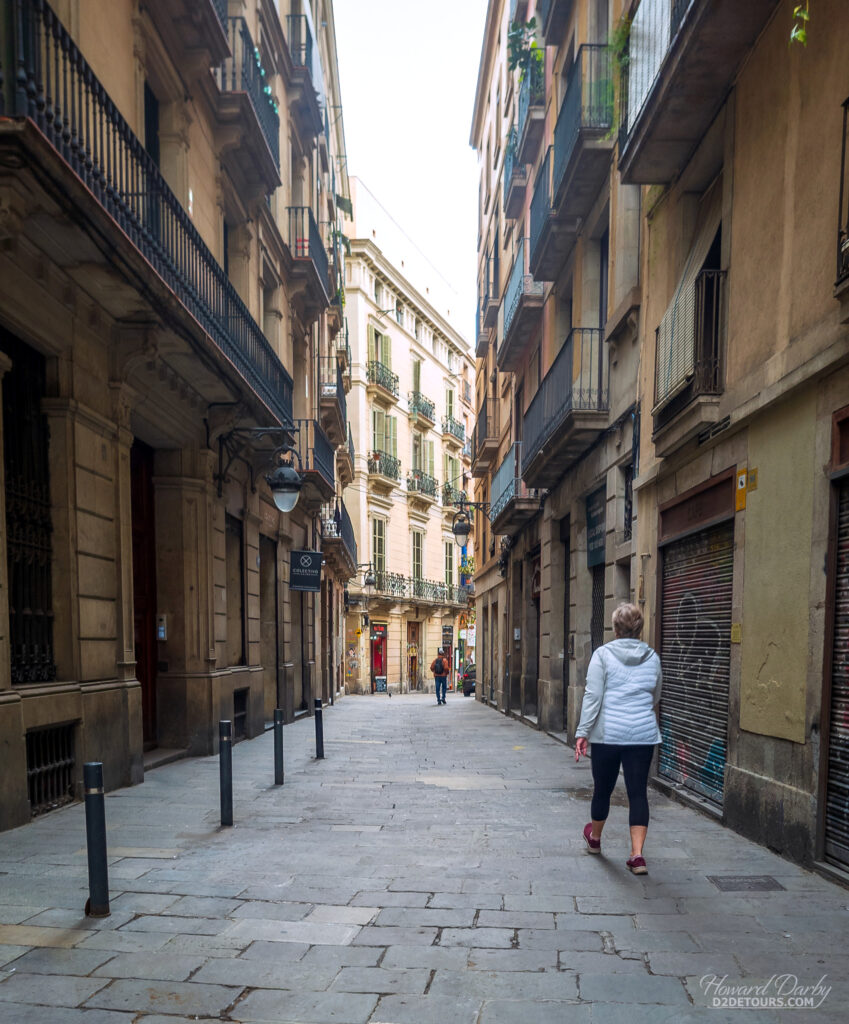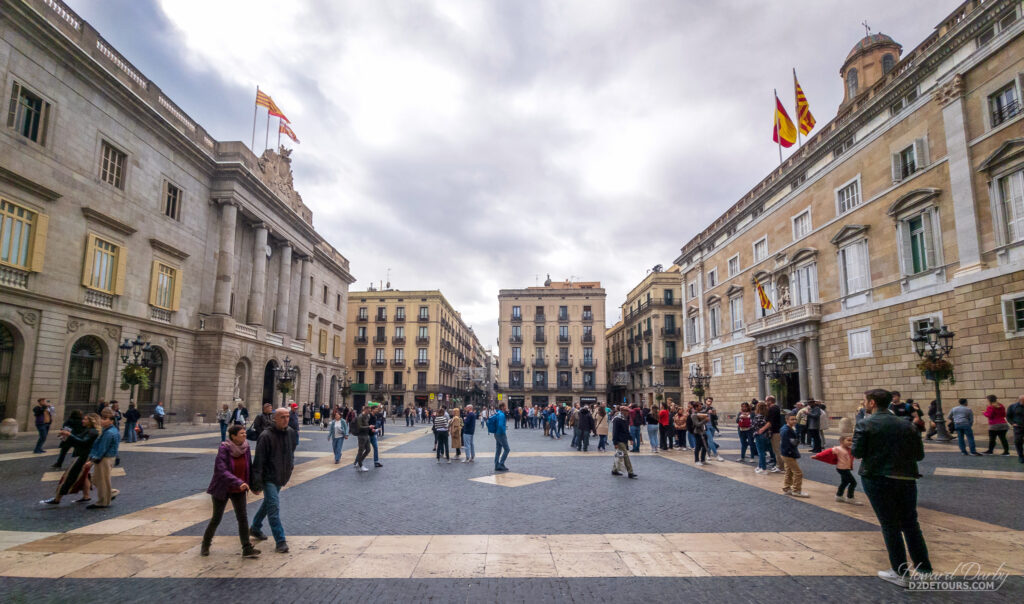 Restaurants – I know we've mentioned before that we are not foodies and I'm sure many of our readers will be horrified to learn that we did not partake in the multitude of gastronomic delicacies available in Spain (which we did do on a pre-retirement trip with friends in 2019). Nowadays, dining out is not where we choose to allocate very much of our budget. And even when we do think a meal out might be nice the Spaniards' habit of starting dinner rather late, often after 9 pm, does not mesh very well with our schedule. Where we do allocate some dining dollars is to gelato, and Gelaaati Di Marco was outstanding. I think this was the creamiest, richest, most flavourful gelato I've ever had, and we've sampled at lot!
Speech – The official language of Spain is Castilian Spanish, and while there are some differences in dialect it is the mother tongue for 85% of the population. However, there are 17 autonomous communities that have the right to self-govern within the confines of the Spanish Constitution, and several of those communities have an additional official language. Benicàssim is in the Valencian Community whose second official language is Catalan  – a romance language similar to Spanish, with French, Italian, and Arabic influences. Signage in the area displays both languages and almost never includes any English. In fact, of all the countries we have visited over the last couple of years, we have found Spain to be the biggest challenge for those of us who have only mastered English.
CATALAN:
Hola (oh-la) – Hello;
Bon dia(BOHN DEE-uh) – Good morning;
Bona nit (BOH-nuh neet) – Good night;
Adéu (uh-THEH-oo) – Goodbye;
Sí (see) –  Yes;
No (noh) – No;
Sisplau (sees-PLOW) – Please (you might also hear this for you're welcome);
Gràcies (GRAH-syuhs) – Thank you;
Parles anglès? (PAHR-luhs uhn-GLEHS?) – Do you speak English;
Em sap greu (uhm sahp greh-oo) – I'm sorry.
Despite being in the autonomous community of Catalonia, Castilian Spanish is spoken by the vast majority of Barceloneses, with roughly half the population also fluent in Catalan. The Spanish in Barcelona reflects one of the dialectal differences with a 'th" sound replacing a soft "c" – as in Gracias – Grathias / Barcelona – Barthelona).
CASTILIAN SPANISH:
Hola – Hello (informal greeting used throughout the day);
Buenos Dias – Good Morning;
Buenos Tardes – Good Afternoon (used between noon and sunset);
Buenas Noches – Good Night;
Mucho Gusto – Nice to meet you;
Adiós – Goodbye;
Hasta Pronto – See you soon;
Sí – Yes;
No – No;
Por favor – Please;
Gracias – Thank You;
Muy bueno – Very Good;
Estoy perdido (male) / Estoy pérdida (female) – I am lost;
Yo no comprendo – I do not understand;
Uno, Dos, Tres, Cuatro, Cinco, Seis, Siete, Ocho, Nueve, Diez – 1,2,3,4,5,6,7,8,9,10 (very helpful when ordering pastry);
Lo Siento

– Sorry.