We drove from Montefiascone, Italy to Malpica, Spain, which is roughly 2200 km (1367 miles).
In Canada Howard would think nothing of an 11-hour day of driving, making a journey of 2200 km a very doable two-day trip. European roads are not so conducive. Vehicles were travelling anywhere between 70 km over the speed limit to 20 km under it, which, although annoying, is manageable with adaptive cruise control. Whenever we wanted to pass a vehicle, however, Howard had to be hyper vigilant about moving into the passing lane because invariably some Mercedes or Audi would appear out of nowhere, barrelling down on us as if we were standing still. For no rhyme nor reason (that we could discern) the highway speed limits themselves would fluctuate frequently too – it would be 120 kph then drop to 80 for maybe a kilometre, then increase to 100 for a few kilometres, only to drop again (sometimes as low as 50) before jumping back up to 120 kph! It was exhausting. Driving like this for five or six hours in a day was plenty, making this a 4-day road trip for us. We debated the merits of an overnight ferry from Naples to Barcelona to avoid some of the driving, then read the reviews for that specific route. While it might have saved us a little bit in gas and road tolls, it wasn't enough to offset the risk of sleeping on dirty sheets in funky-smelling cabins. I also rather enjoyed watching the landscape slip by – it gives one a different perspective of a country versus just visiting cities.
En route to Malpica we stopped briefly in Nîmes, France, mainly so I could get a Roman ruins fix. The Gallic capital city of Nemausus yielded to the Romans in 121 BCE. As a Roman colony it was a wealthy metropolis, complete with an amphitheatre which was constructed around about the same time as the Colosseum in Rome (70 CE), albeit on a smaller scale. It is a superb example of elliptical architecture that owes it state of preservation in large part to being repurposed as a fortress in the Middle Ages and later as grounds for the affluent to build private homes (a 19th century version of a gated-community). Today it is a venue for bullfighting, concerts and sporting events.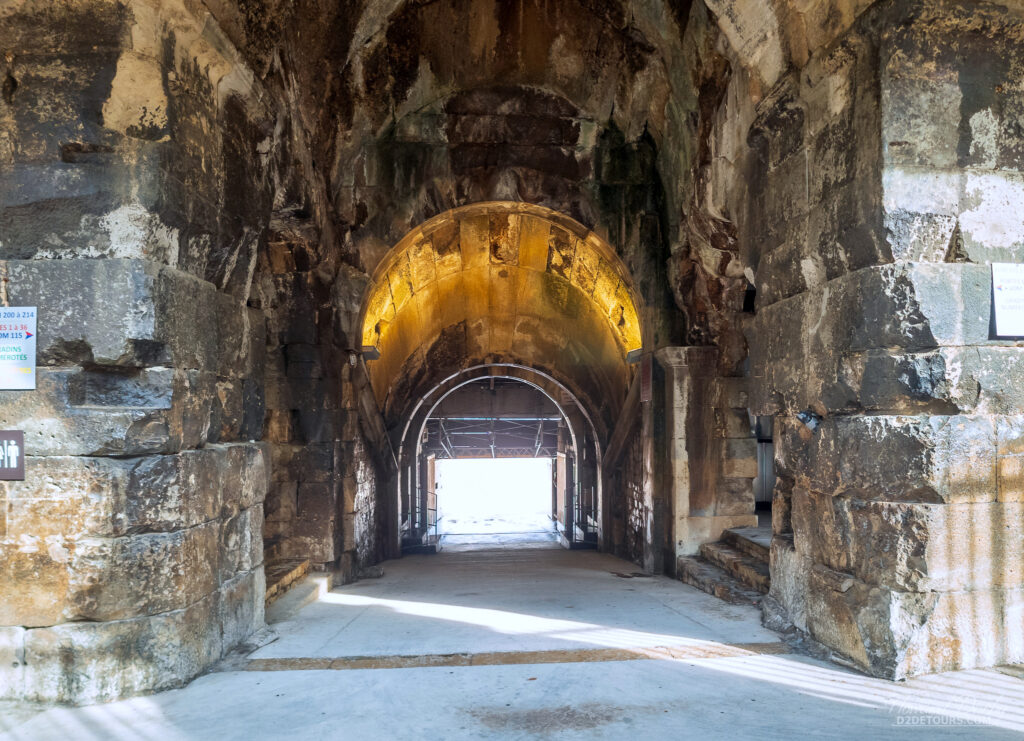 The Iberian Peninsula juts out from the westernmost edge of the European continent. It is composed mainly of Portugal and Spain, with Gibraltar, Andorra and a small portion of southern France completing the territory. As the Roman province of Hispania, the peninsula was divided into three regions: to the west was Hispania Ulterior Lusitania (Portugal); to the south, Hispania Ulterior Baetica (Andalusia), and the north was Hispania Citerior Tarraconensis (Galicia). In 711 CE, Muslims from North Africa crossed the Strait of Gibraltar to invade the peninsula. For nearly 800 hundred years, the Moors (the term ascribed by Christian Europeans to these invaders) were firmly entrenched in southern Spain and their legacy is evident today. Not so in Galicia, on the far reaches of the peninsula. Following the fall of the Roman Empire, the Visigoths laid claim to this portion of Hispania. In 718(ish) CE, their descendants, with some help from the mountainous terrain of the Cantabrian range, successfully repelled an Arab advance and the independent (Christian) Kingdom of Asturias was established. This skirmish, the Battle of Covadonga, has been romanticized as the beginning of the Reconquista (the centuries-long battle to expel the Moors from the peninsula) as Galicia remained a Christian stronghold. Consequently, none of the Arabic influences found in the architecture and nomenclature throughout Andalusia are visible here in the north.
Dollars – We averaged about $170/day Canadian ($125 USD / €118) for this 10-night trip (1 night in  Seborga, Italy, 1 night in Beziers, France, 1 night in Deba, Spain and 7 nights in Malpica, Spain). Car related expenses (gas, lease and road tolls) ate up nearly half of our budget, which I suppose is no surprise when you consider the distance we travelled.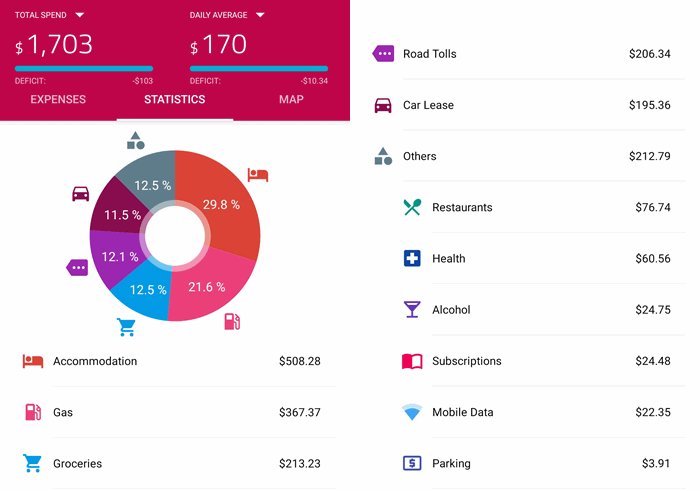 Environment – We had three overnight stays before reaching Malpica where we stayed for a week. The first stop was a bed and breakfast on an organic farm near the village of Seborga in northern Italy. It would be impossible to stay here if you didn't have a vehicle. It is tucked back in the hills, in the middle of nowhere, but if you can get there, we highly recommend it. Delicious meals, comfortable beds, beautiful surroundings and the price was hard to beat – €38/night. The owner was THRILLED when he found out we were from Canada. In 2017 he was in Vancouver marketing his olive oil, and also spent a couple of days in Banff. Unfortunately, if we understood his explanation correctly, Covid brought his oil enterprise to an end and he dreams of going back.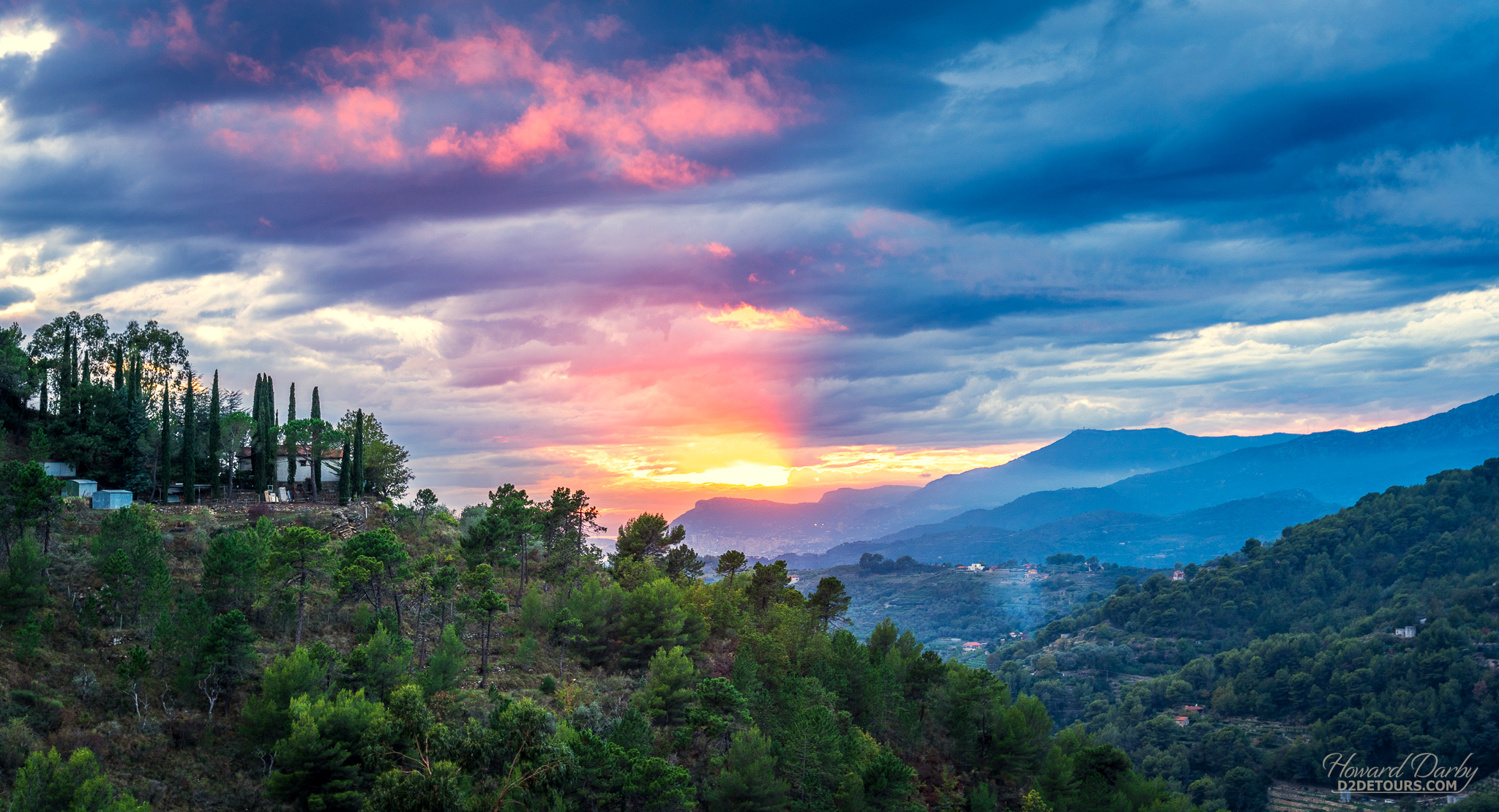 Our hotel in Beziers, France was your typical, run-of-the-mill hotel room and one of the few places we could find for under $100 CAD/night (we paid $70). Our third night on the road was spent in Deba, a small resort town on the Bay of Biscay in northern Spain. By November the town was devoid of tourists which brought the hotel rates down (slightly). We paid $80 CAD/night for a simple room with an "ocean view."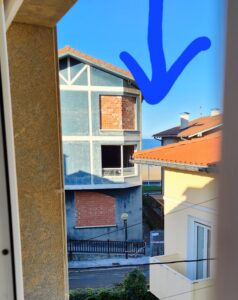 We ended our road trip in the tiny fishing village of Malpica de Bergantiños, on the northwestern tip of the Iberian Peninsula. By staying for 7 nights in this Airbnb we were able to take advantage of a weekly discount and this wonderful two-bedroom unit overlooking the marina worked out to roughly $44 CAD/night. From the cry of the gulls to the late afternoon bell tolling in the fish market, everything about this location was idyllic.
Tips, Tricks & Transportation – We thought gas was expensive in Italy and then we hit France and Spain – ouch! We counted ourselves lucky if we found a station selling gas for €1.75/litre ($2.52 CAD / $1.84 US) as most of the stations along the highways were €1.90 (sometimes as high as €2.05, which is about €8.20 per US gallon!) We did stumble across a station in a small town near Malpica that required us to enter our license plate number first and then inexplicably dropped the per litre price down to €1.55 ($2.23 CAD / $1.63 US) – woohoo!
Road tolls were also BRUTAL! Google maps is useful for showing route options with or without tolls (including the travel time differences) but our cross-country trek pretty much guaranteed we would be on toll motorways. Invariably the toll booths are electronic, with a help button if you run into trouble, and be careful not to use the telepass lanes which are for truckers (and locals).  Italy's toll roads were generally the type where you get a ticket as you enter the roadway and then pay (by credit card or cash) when you exit. France, however, often required you to prepay to travel a stretch of road. I'm not sure which toll version was more painful, the €25 hit every once in a while (Italy) or stopping every few kilometers to pay another €1.50 (France). In any event, over the course of 4 days, we spent more than $200 CAD in tolls! In and around Malpica we did our best to stick to the back roads, which are prettier in any event.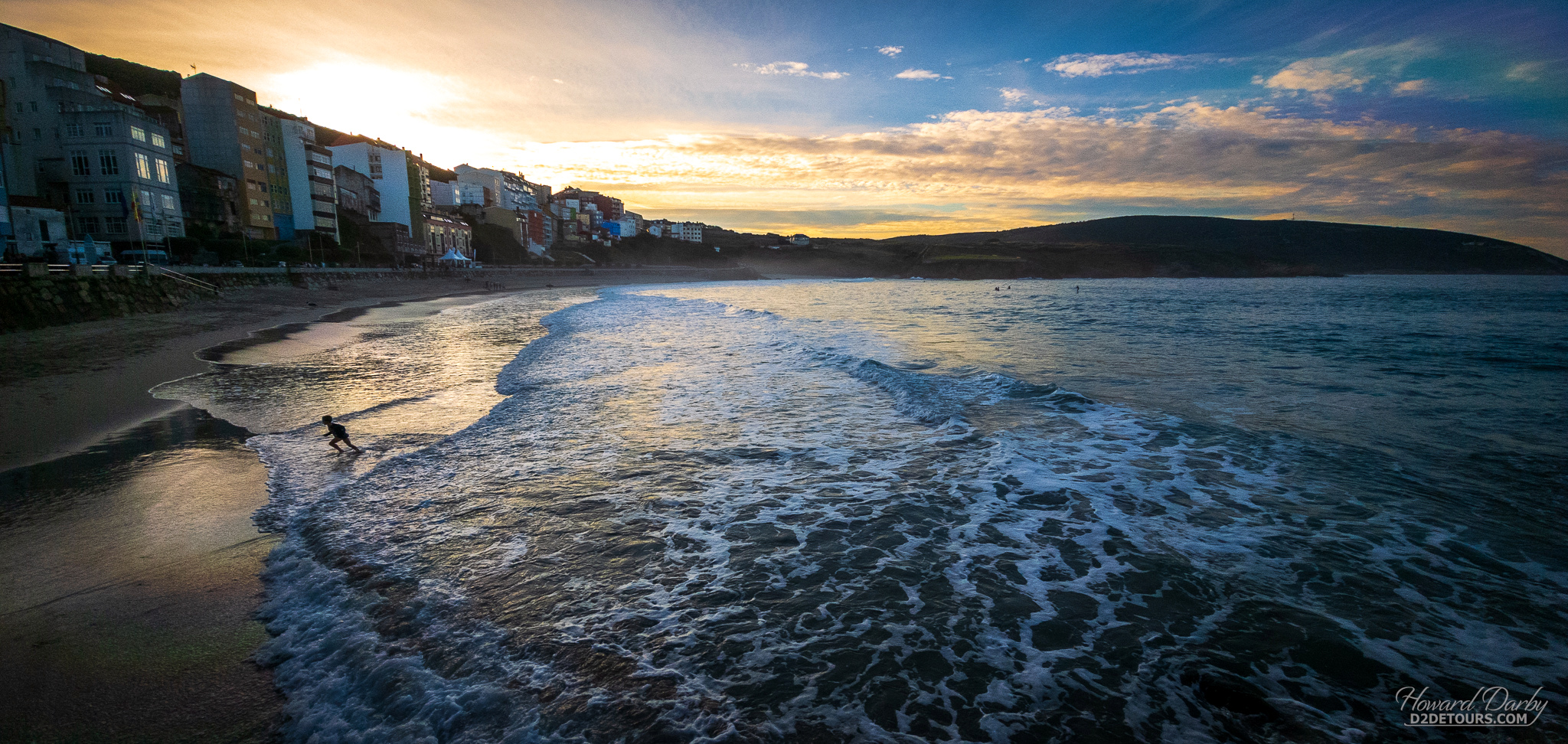 Something else to be aware of in France is the toll related to gas emissions. The Green-Zone app includes a map displaying red (ZFE) and green zones across the country. Montpellier, through which we were passing, is a ZFE zone although, fortunately, that does not extend to highway corridors. However, if you were to leave the highway and enter the city, you would need a Certificat Qualité de L'Air. We didn't look too deeply into how to get one, and likely if you were renting a car in France it would already have the certificate, but if you had a private foreign car (or were leasing like we were), and want to avoid any fines, you might want do some research into whether you need the certificate, and if so, how to obtain it.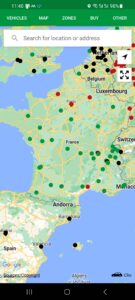 We became quite partial to the Carrefour chain of supermarkets in Spain when we stayed in Alicante last year and were happy to find one in A'Coruña, the biggest city in the Galician region. Then we discovered the Gadis Hiper chain, with a store in the town of Carbello which was much closer to our Airbnb in Malpica, and figured it was equally as good as Carrefour both in terms of selection and price.
Out and About – Driving the rural back roads around Malpica we kept seeing rectangular buildings that were faintly reminiscent of mausoleums. Raised above ground, with a cross above the door on one end and a spire on the opposite end,  some were made of wood, some of concrete or stones, some looked brand-new, others looked ancient, some even had balconies, and they all had slits running along their lengths.
We were completely baffled. Google helped us out – they weren't a unique Airbnb, they are hórreo, granaries typical to the region, the style of which has been in use since the 13th century to protect crops against the damp Atlantic climate and from ground dwelling rodents. There are thousands of them dotting the Galician countryside.
The Muiños da Ribeira (Ardeleiro) are five abandoned stone mills built along the banks of a stream meandering down the hill to meet the sea. Water from the stream was channeled such that it would turn each mill's grinding wheel, but beyond that observation, we couldn't find any information about the origins of the mills. The setting was straight out of a storybook so maybe we were just meant to create our own narrative.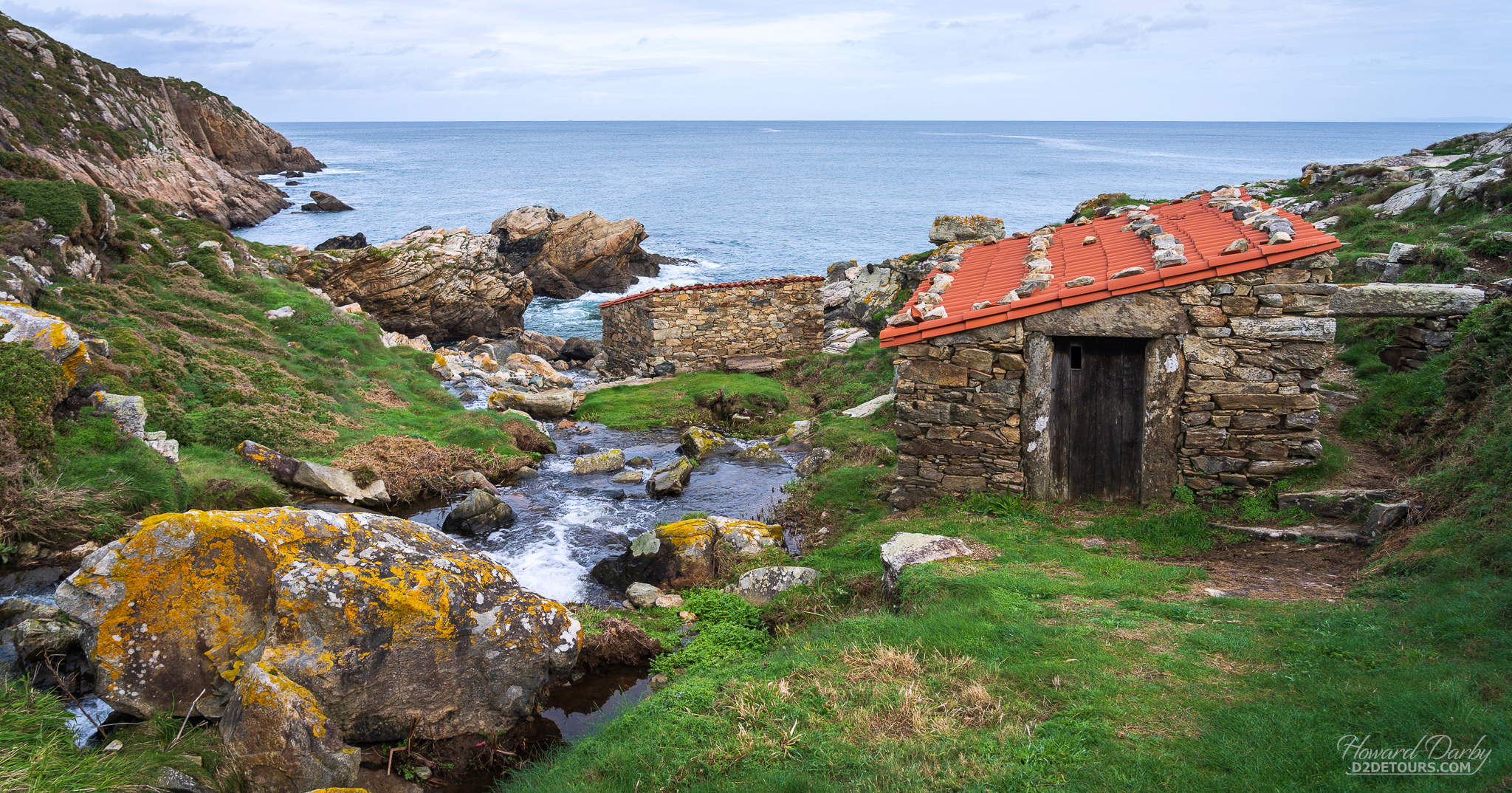 Galicia also offers its fair share of lovely sandy beaches, bays and coves, although the hordes of tourists found in the Costa del Sol haven't yet descended – likely only a matter of time. September to February is the surfing season. The beach in Malpica was hosting a surfing contest one weekend during our visit, which was lots of fun to watch; I marvelled at the riders' agility!
The Galician coastline is incredibly picturesque, but unforgiving. Over the centuries, the Costa da Morte (Coast of Death) has claimed the lives of hundreds of sailors, and their ships. The power of the Atlantic doesn't always end in violence though. Near the village of Laxe, on the Costa da Morte, the ocean has carved a crevice into the rocky shoreline that has filled with sea foam from the waves crashing upon the surrounding rocks. The foam is constantly undulating in the crevice, almost as if it's breathing, and every once in a while some bubbles break free in the wind, quietly floating away.
Here's a video of the Foam Furnace:
Us (our thoughts on the area) – The lush landscape of northern Spain took us by surprise – I understand how it got the nickname España Verde (Green Spain). No high density, resort style buildings like you'll find hugging the Spanish coast along the Mediterranean, this area is home to farmers and fishermen. It is simply stunning and worthy of a return visit. Off to Portugal!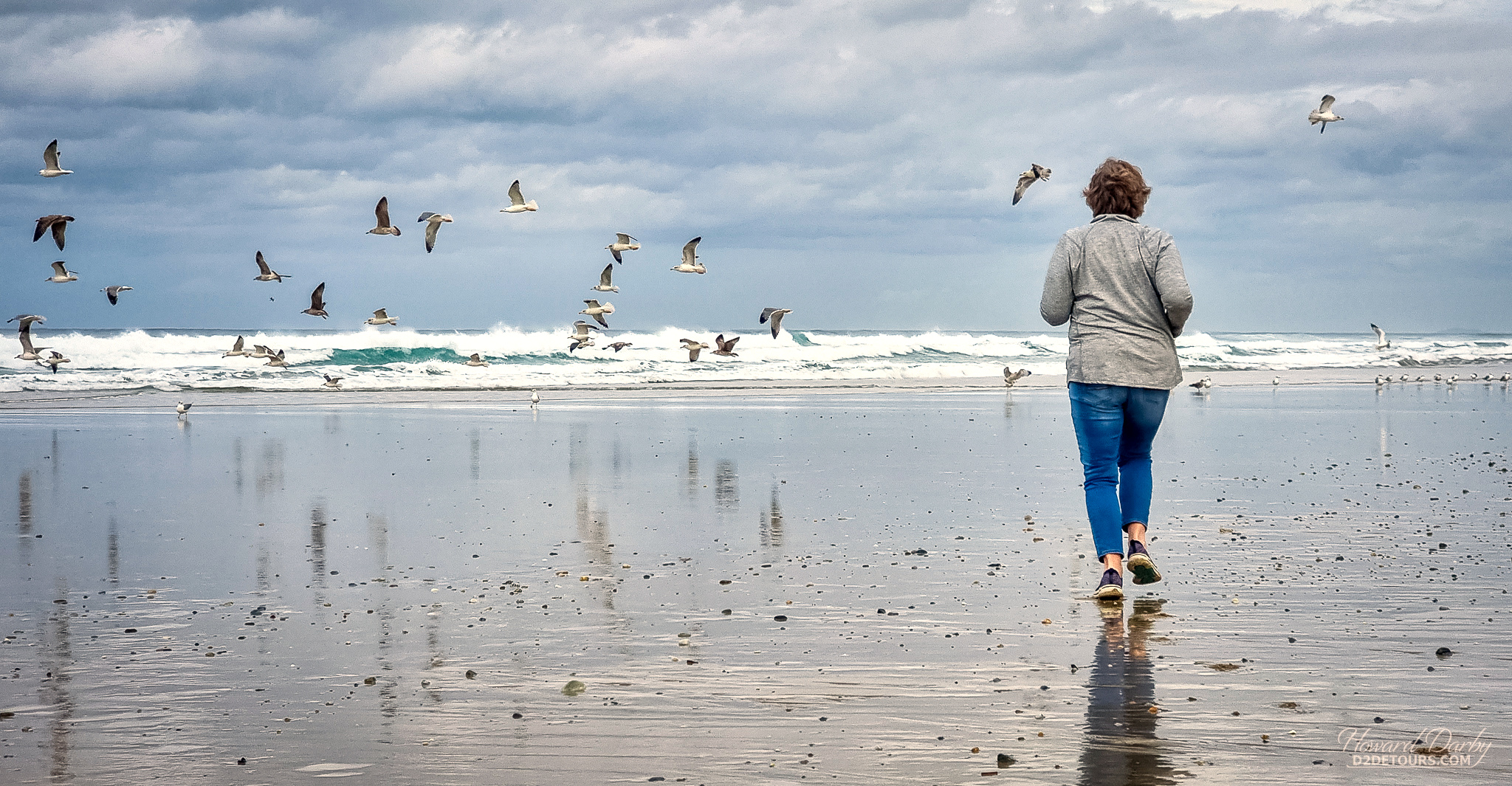 Restaurants – With the expense of gas, road tolls and hotels, we were looking to recoup some costs during our stay in Malpica and opted to prepare all of our meals at home, which worked well with the selection at the Carrefour and Gadis Hiper markets, with one exception. We picked up a take-and-bake pizza from the deli section in Gadis Hiper and I swear I grabbed a queso y jamón, (cheese with ham). Turns out it was atum y bacon (tuna with bacon) – as pizza goes, not a winning combination.
Before getting to Malpica we were treated to exceptionally good food at the B&B in Seborga. I suspect the proprietor of the farm is well aware of how difficult it would be to find a restaurant in the area so he and his wife offer a full course dinner for €23 per couple. A charcuterie board, pasta, and dessert, all of which incorporated fresh ingredients from the farm – delicious! I also tried a glass of his excellent organic wine for an additional €3.  The breakfast the next morning was equally delectable and I was coveting the adorable glass domes covering the muffins, then remembered we no longer own a china cabinet (or a house)!
Speech – A 2020 survey found that most Spaniards (about 65%) do not speak/understand English and of the remaining few who do speak it, most admit they don't speak it well. That was certainly evident in northwestern Spain – Google Translate was a godsend! Unlike southern Spain (in particular the Andalusian region) up here in the north a 'th" sound is used for the letter "c" – as in Galicia – Galithia / Gracias – Grathias / Barcelona – Barthelona).
These were the words/phrases we found most helpful to know:
Hola – Hello (informal greeting used throughout the day);
Buenos Dias – Good Morning;
Buenos Tardes – Good Afternoon (used between noon and sunset);
Buenas Noches – Good Night;
Mucho Gusto – Nice to meet you;
Adiós – Goodbye;
Hasta Pronto – See you soon;
Sí – Yes;
No – No;
Por favor – Please;
Gracias (grathias) – Thank You;
Muy bueno – Very Good;
Estoy perdido (male) / Estoy pérdida (female) – I am lost;
Yo no comprendo – I do not understand;
Uno, Dos, Tres, Cuatro, Cinco, Seis, Siete, Ocho, Nueve, Diez – 1,2,3,4,5,6,7,8,9,10 (very helpful when ordering pastry);
Lo Siento

– Sorry.