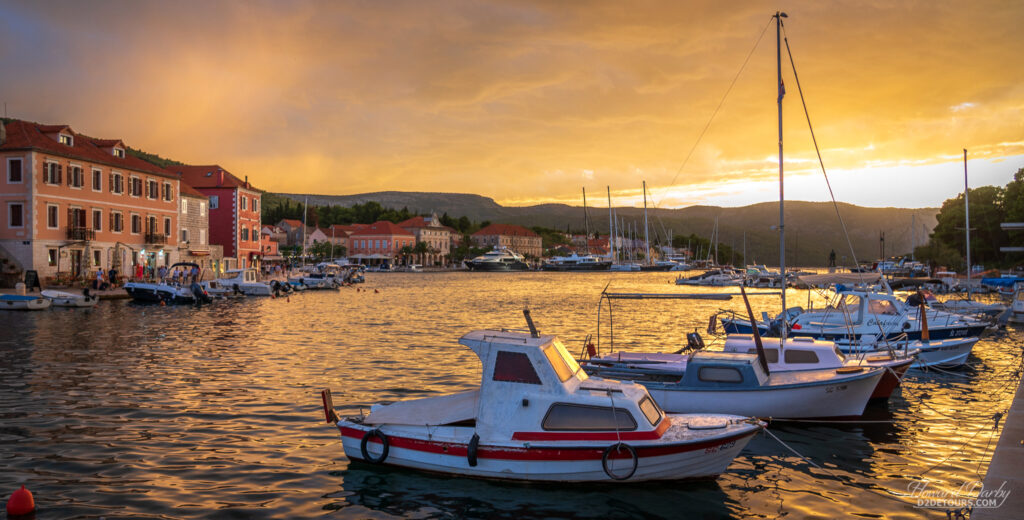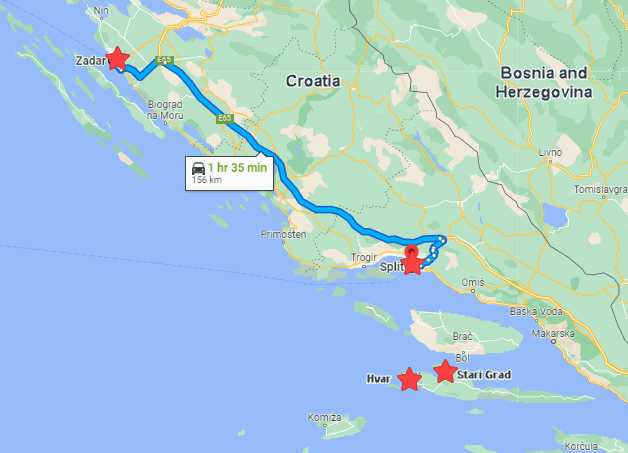 From the Istria Peninsula our next destination in Croatia was the island of Hvar, but we scheduled a couple of overnight stops along the way – Zadar and Split. I won't bore you again with the history of Croatia, since I did that already in our previous post on the Istria Peninsula, but feel I would be remiss if I didn't provide some tidbit about the area. So here you go…
Where the history of the Dalmatia Coast differs somewhat from the Istria Peninsula is that for nearly 40 years, in the latter half of the 14th century, much of it belonged to the Kingdom of Bosnia, although despite their best efforts they could not capture Zadar.
In terms of geography, Croatia's coast is a concordant landform – layers of rock folded into ridges running parallel to the coastline, together with long offshore islands (like Hvar). The beauty of this rugged coastline (in my opinion) is that the beaches are pebbly rather than sandy and the water is crystal clear; the European Environmental Agency has rated 99.2% of the beaches in Croatia as having "excellent" water quality. It truly is a beautiful part of the world.
Dollars – We averaged about $151/day Canadian ($109 USD / €113) for 16 nights on the Dalmatia Coast (1 night in Zadar, 1 night in Split, and 14 nights on Hvar), with accommodation accounting for nearly half of our expenses. We had timed our visit to Croatia to coincide with their shoulder season, when rates are starting to come down, but we still found them pretty steep. Actually nothing about Croatia is budget-friendly – a very simple lunch for two of us (no alcohol, just entrees) in the town of Hvar was $57! Accordingly, we prepared most of our meals. The cost of the car ferry to/from Hvar (approx. $151 CAD roundtrip) wouldn't be an expense everyone would have, but we felt having a car on the Island was kind of a necessity. With a daily average of $151 CAD, a month in this part of Croatia works out to approximately $4,530 per month CAD ($3,274 USD / €3,339).
Environment – We found a very affordable hotel in Zadar ($58/night). The husband and wife who operate the hotel also live there and were very friendly. The room itself was simple yet comfortable, and just a block from the marina with the Gradski Most (pedestrian bridge) over to the old town. There was a bakery right next door and we enjoyed a couple of their yummy pastries for breakfast.
In Split we managed to find a great hotel for under $100/night (it was $98) just outside the old town walls. Unfortunately, it did not offer any parking and we had to find paid parking several blocks away. All's well that ends well though. This was a municipal lot behind the police station and the parking attendant couldn't be bothered to figure out what to charge us since we'd pulled into the lot mid-afternoon but stayed overnight, meaning different rates applied (daytime versus nighttime), so he settled on charging us for a few daytime hours (kn24 / $4.18 CAD). We didn't argue.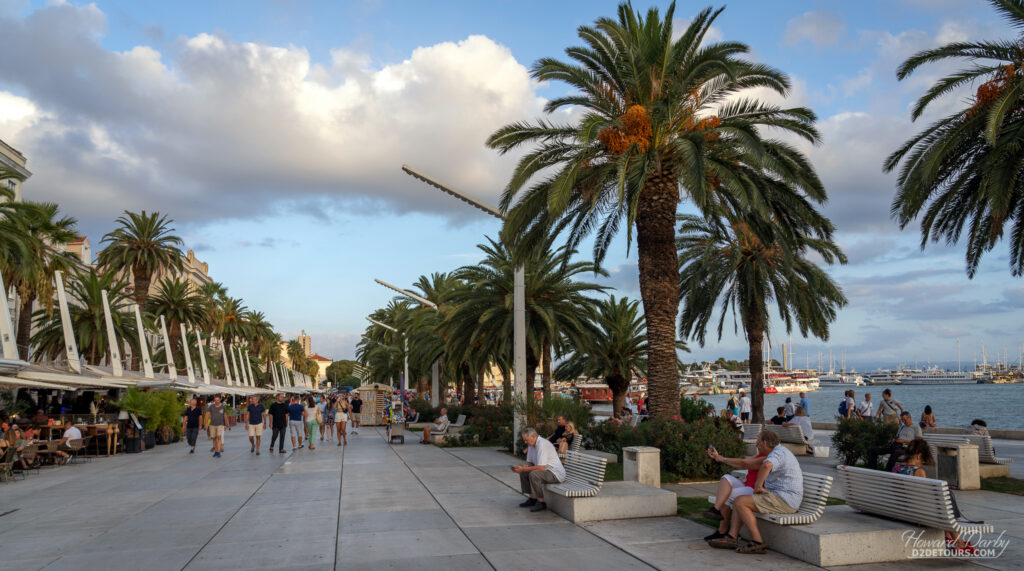 The island of Hvar had lots of options for places to stay, all of which surround harbours. We chose Stari Grad and thought it was perfect. We split our time between two units (upper unit/lower unit) in one building because neither was available for two full weeks. They were both owned by the same lady, who was a wonderful host, and were identical in terms of layout, but the upper floor unit had slightly more updated finishings and, consequently, a higher nightly rate. The amenities were the same otherwise, and we really liked both units. Because we divided our stay between the two units (and had the benefit of a weekly discount), the nightly rate averaged out to $74/night. It was a great location, easy walk down to the marina (for an all too frequent gelato), with easy access to the highway to visit the rest of the Island.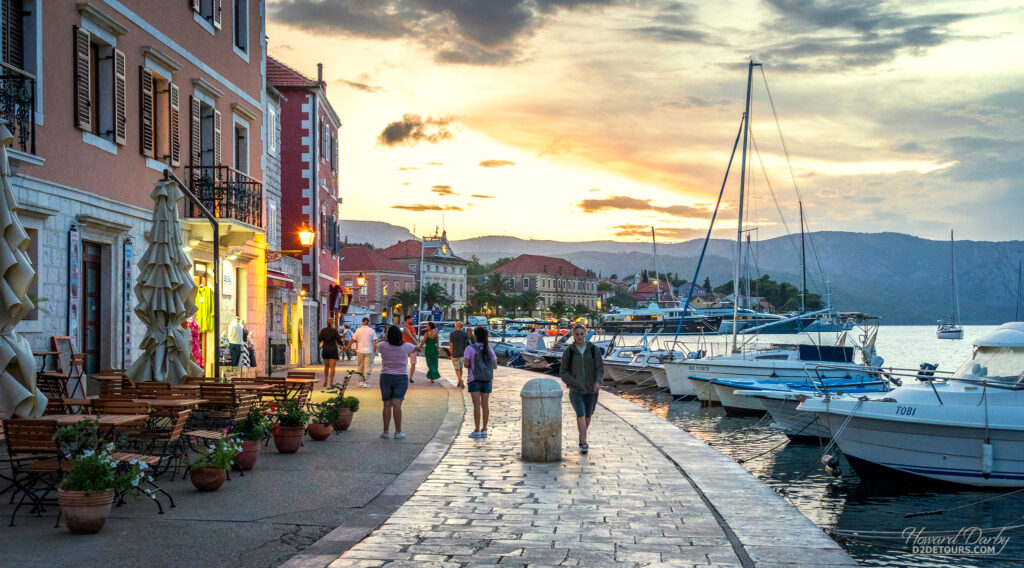 If nightlife appeals to you, the town of Hvar is probably a better location; Stari Grad certainly has lots of restaurants but is much quieter.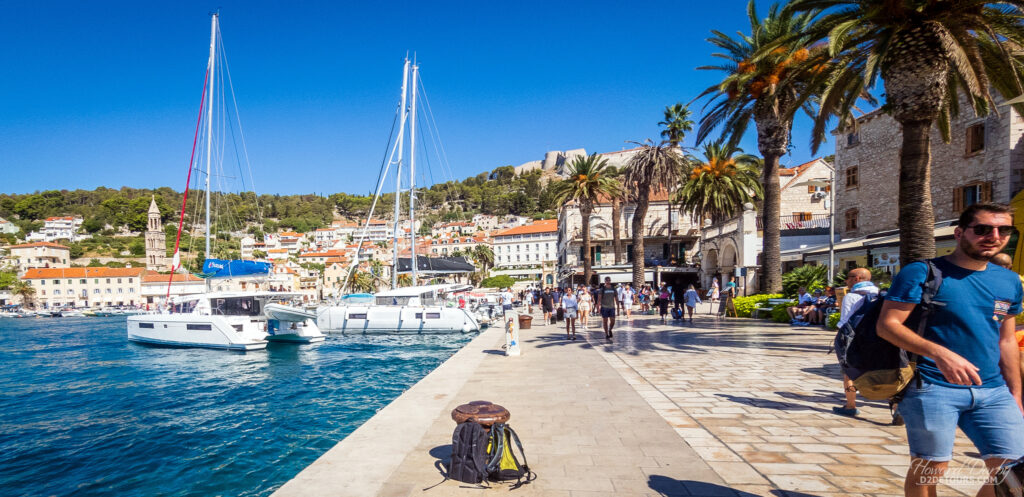 Tips, Tricks & Transportation – If you are not planning on spending a significant time on any of the islands off the coast, then having a car in Split is not necessary. Parking is really hard to find, and if you aren't in a parking lot, many of the street parking machines only take cash. I think Split is a pretty walkable city and has reasonable public transportation, including ferries to the islands that you can use as a walk-on passenger, if you just wanted to spend a day experiencing island life.
Speaking of ferries, we bought our ferry tickets from Split to Hvar online, directly from the Jadrolinija website, and I'm glad we did as it was not readily apparent to us where you could buy tickets at the port (although you must be able to as we saw people providing paper tickets to the boarding agent versus our mobile version).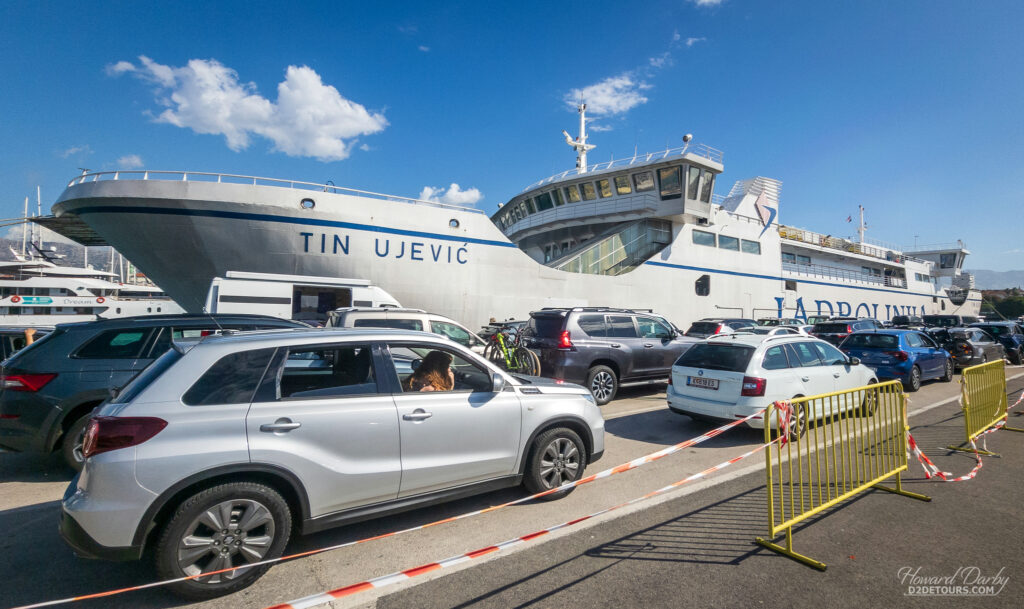 The whole system seemed incredibly inefficient with a single agent checking tickets as you board the ferry (at no time prior to driving our car into the queue for boarding did anyone ask for our ticket) and we were sure it would never depart on time, but somehow it all works as we pulled away from the dock as expected, and two hours later were on Hvar.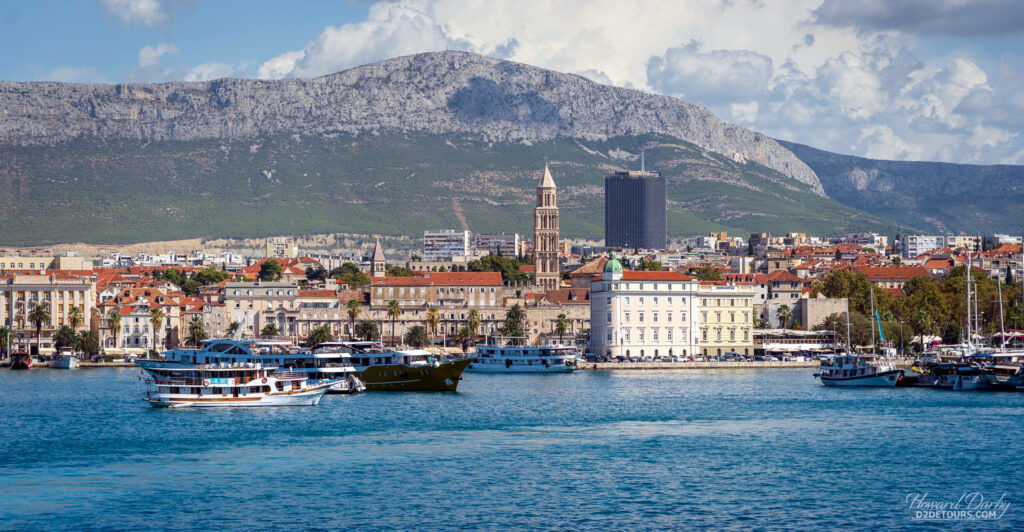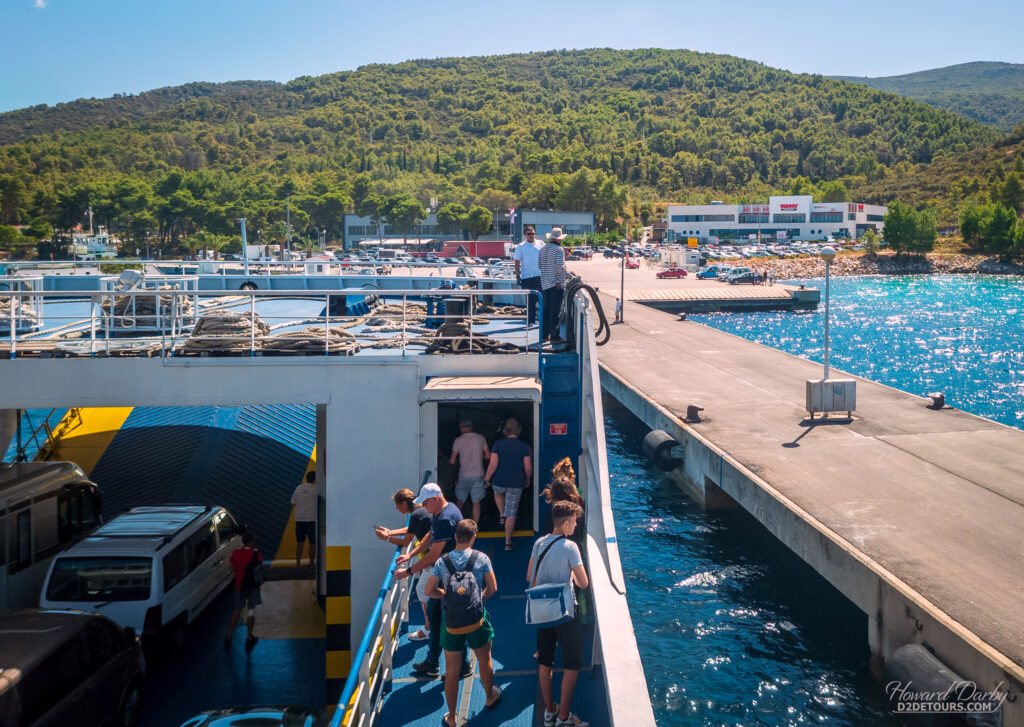 The Jadrolinija line is the main ferry company in Croatia and operates out of the four major ports – Rijeka, Zadar, Split and Dubrovnik. It also connects Croatia with Italy and we'll be taking one of their overnight ferries from Dubrovnik to Bari in a few weeks – we'll be sure to let you know what that was like. The inter-island ferries are quite comfortable with a snack bar (with expensive snacks) and clean washrooms.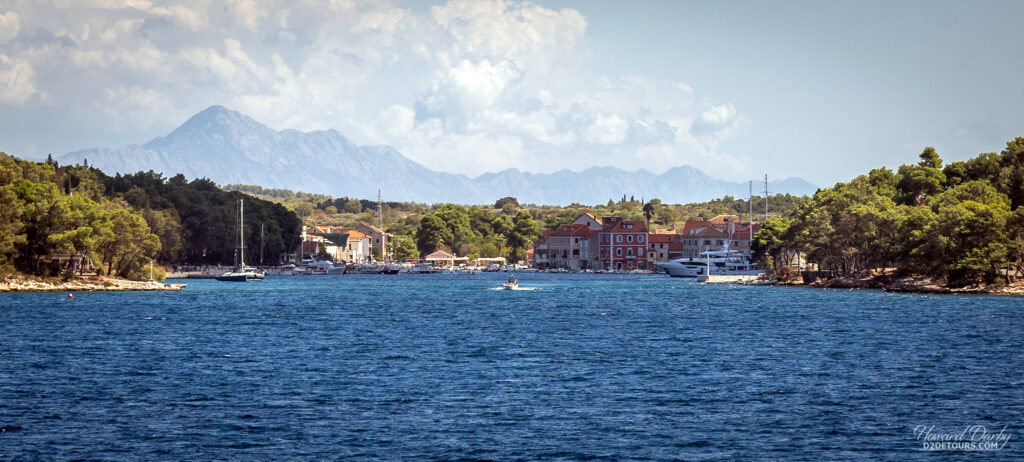 Right outside the ferry terminal in Stari Grad is a Tommy Hypermarket where we stocked up on groceries for the first week; a smaller Tommy store was also at the marina in Stari Grad and an easy walk from our Airbnb. There is a Plodine store in Jelsa with a slightly bigger selection of fruits and vegetables, but we thought their prices were slightly higher than Tommy.
September was the ideal time to visit Hvar. The tourist season runs from May to September, with the bulk of people arriving in June, July and August. Crowds have thinned significantly by mid-September, the weather is lovely (average of 27°C) and the sea is still warm enough for swimming. While you could certainly still visit in October, a good many of the restaurants will have closed for the season and, weather-wise, it is colder and rainier.
We had a very positive experience with the health care system on Hvar. Howard woke up with a rash that had all the hallmarks of a tick bite – bullseye rash (about 6″ in diameter) and hot to the touch plus we'd recently been walking thru some brush on the Stari Grad Plain. Our lovely Airbnb hostess suggested he head to the urgent care clinic in Jelsa (not far from where we are staying in Stari Grad). After about 10 minutes he saw a doctor who determined it was just an infected mosquito bite (phew) and prescribed antibiotics. There was no charge for the doctor visit and $13 (CAD) bought a round of antibiotics and antihistamines!
Out and About
Zadar
The city of Zadar seems to fly a bit under the tourist radar, but that may not last long as it's got a trifecta of touristy draws: beaches, culture, and history. The old town sits on a peninsula poking into the Adriatic, and it is old, dating from the 9th century BCE when it was a Liburnian settlement called Jadera. Beginning in the 9th century CE, the Republic of Venice was working its way down the Croatian coast annexing cities and towns as it went. On several occasions they had a foothold in Zadar but in the mid-14th century (under the Treaty of Zadar) were forced to relinquish all of the Dalmatia coast to the Kingdom of Hungary, only to regain it 20 years later as Hungary was dealing with some internal struggles. The Venetians held the coast for the next 400 years, likely because they fortified many of the cities within their Republic. During the 16th and 17th centuries they built bastion forts, which became the standard for defensive systems throughout Europe until the 19th century.
UNESCO has collectively named Zadar, along with Bergamo, Peschiera del Garda and Palmanova in Italy, Kotor, Montenegro and Fort of St. Nikola near Šibenik, Croatia as Venetian Works of Defence. Today, within Zadar's fortified walls, you'll find pedestrian-only cobblestone streets, Roman ruins, medieval churches and the unusual Pillar of Shame to which the guilty were chained and subjected to public humiliation. It's a rather unobtrusive pillar and if I hadn't previously read about it, it would have simply blended in with the rest of the medieval structures in the People's Square.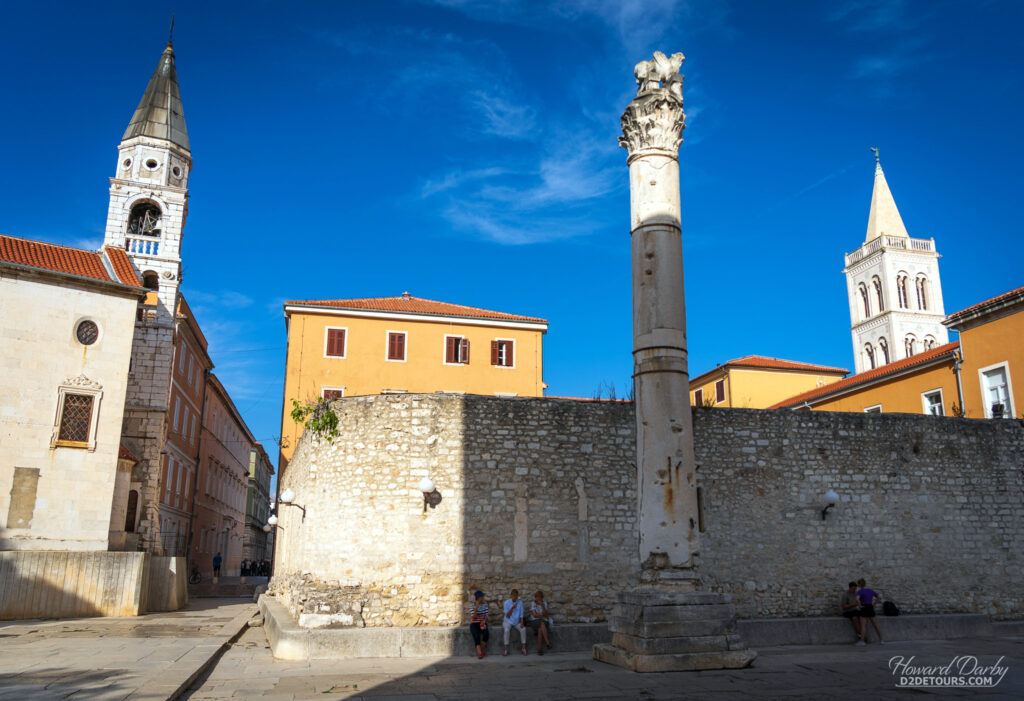 Urban development in the 19th century, when Croatia was part of the Austrian Empire, saw the destruction of some of the city walls in order to open Zadar to the sea and the Riva (promenade) was built. Two of Zadar's modern attractions are located on the Riva – the Sea Organ and the Greeting to the Sun. The Sea Organ stretches about 70 m (330 ft) along the Riva and consists of a series of tubes, varying in length and diameter, positioned underneath perforated steps leading to the sea. The sea waves push air into the tubes creating a continuous, somewhat haunting, harmony.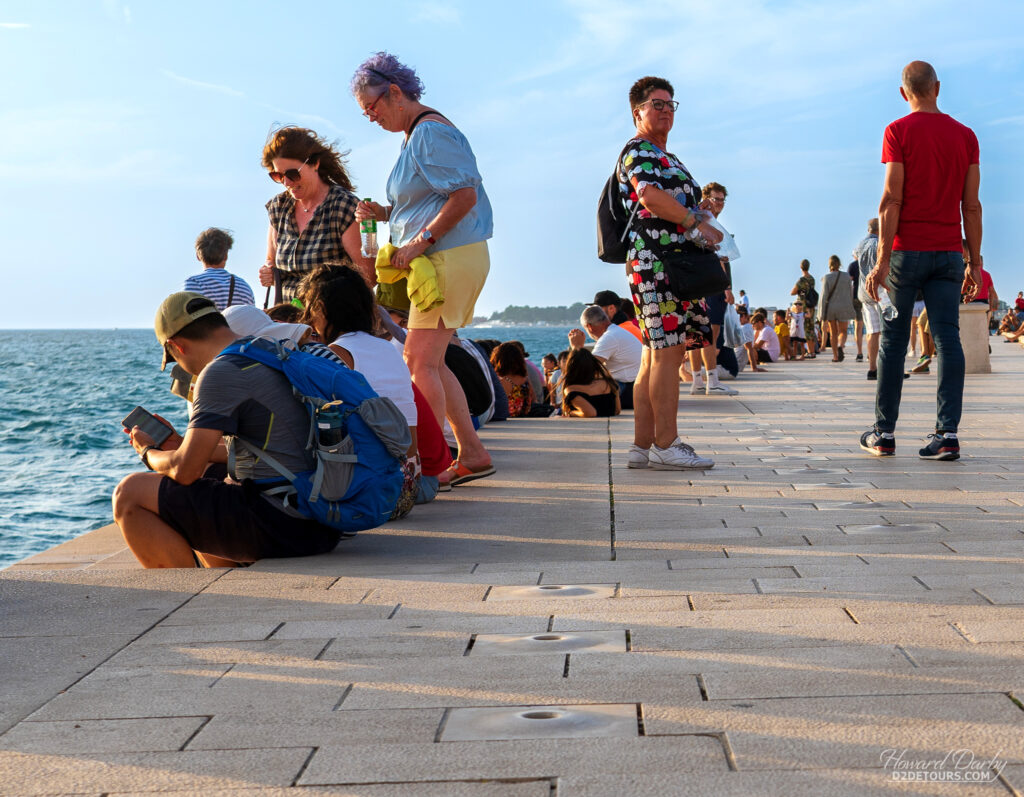 The Greeting to the Sun actually has to be experienced after the sun sets. Embedded in a 22 m (72 ft) circular plate on the Riva are 300 photo-senstiive glass plates that absorb sunlight to create a dazzling night-time light show – it made me think of a disco dance floor (not that I'm old enough to know what that would look like).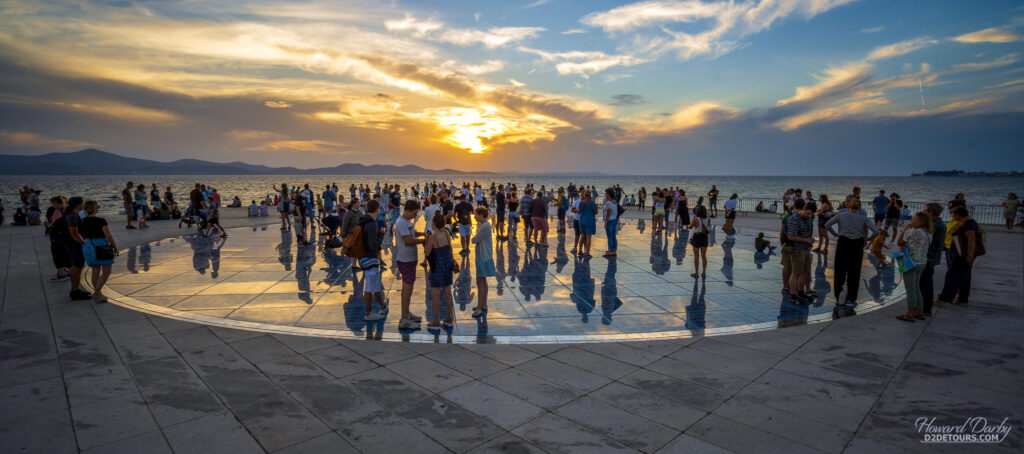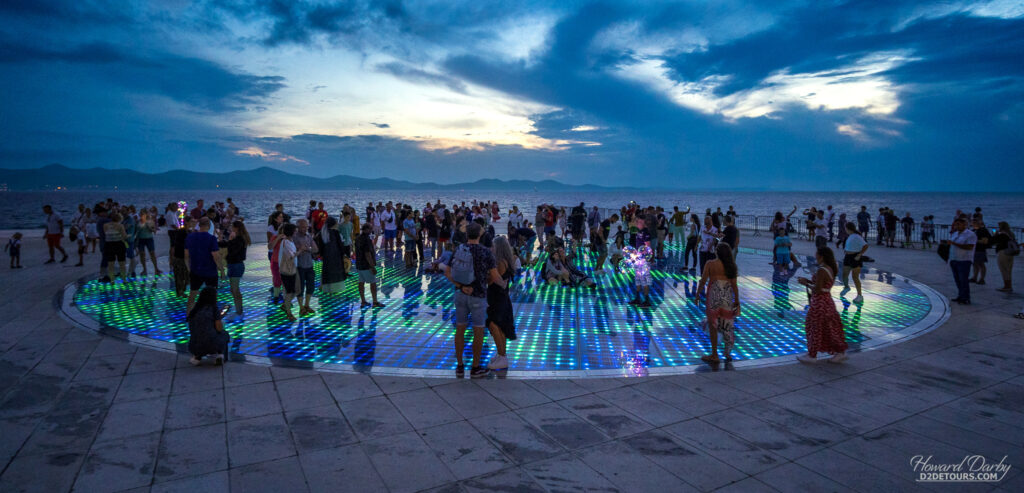 Split
Split is the second largest city in Croatia, after the capital of Zagreb, with a population of 161,000. It began as a Greek colony in the 3rd century BCE and with its beautiful coastal location it's no surprise that in 305 CE the Roman emperor Diocletian had his retirement home built on the seashore. The remains of Diocletian's palace are one of the big draws for tourists to the City.
We have been to Split before – it was a port of call during a 2014 Adriatic cruise. Croatia had only officially joined the EU the previous year, so even though we were there in August, the City didn't feel overly crowded. According to recent data, Croatia had 4.6 million visitors this August (2022) and I think they might all still be in Split. It was crazy! We were staying just the one night in order to catch the ferry to Hvar so I will confess we did not feel the need to spend much time battling the masses to retrace our steps from 2014.
We did enjoy meeting up with fellow travellers with whom we had connected through the Facebook Group Go with Less, and shared stories over drinks on the Riva.
The Island of Hvar (pronounced Far)
Hvar is sometimes called the lavender island. Its sunny, dry climate is perfect for growing this flowering plant and during June and July the hillsides burst with purple patches. The annual lavender festival, hosted by the tiny village of Velo Grablje, is held in late June but no matter what time of year you visit the Island, if you like the scent of lavender, you'll be able to find lots of souvenirs.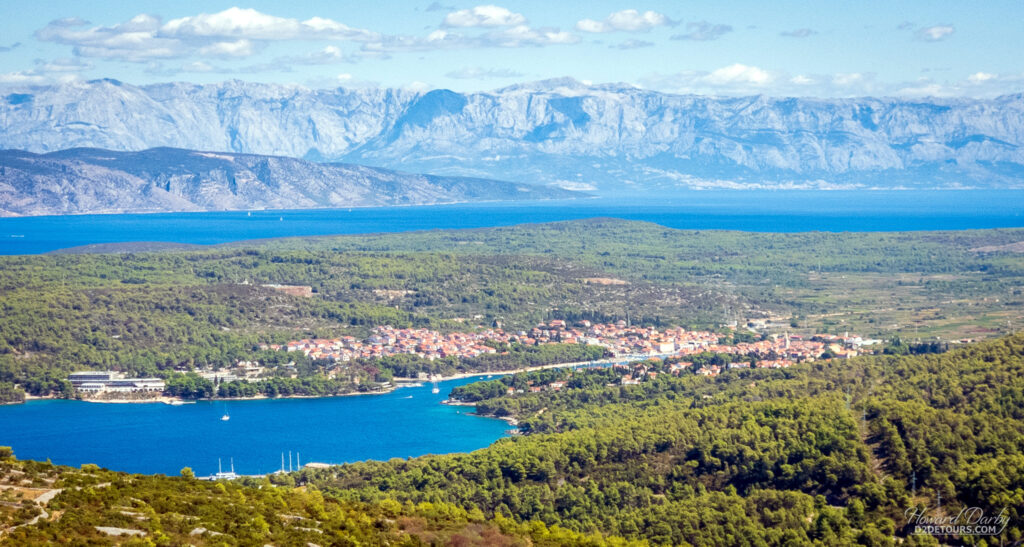 Stari Grad
The car ferry from Split to Hvar arrives at the Stari Grad port, the main seaport for the Island. Fortunately, the Stari Grad seaport is not in the actual townsite.
The town of Stari Grad is about 2 km away and has its own, very picturesque, harbour. Stari Grad (which means "old town", so you'll see stari grads everywhere throughout the Balkans) is, in a word, charming. The Riva around the harbour is wide and walkable, lined with restaurants and shops.
The narrow stone streets leading away from the harbour are quiet and lined with residential buildings. It truly felt like we were stepping back in time.
There is a very small museum in Stari Grad located inside the Biankini Palace (kn20/pp – $3.50 CAD). It doesn't house a very large collection, but does have an outstanding explanation of the suhozidi (dry stone walls) which you will see everywhere on the Island. We drove the old highway from the town of Hvar over the hill to Stari Grad and thought we were driving through the remains of some huge ancient village, only to realize they were dry stone walls following our visit to the museum.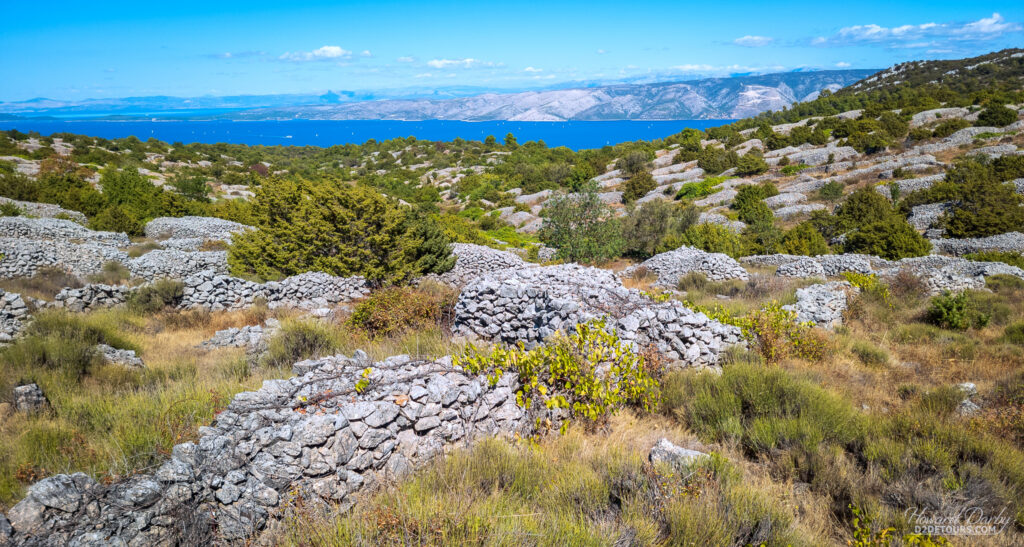 Dry stone walls are built without the use of any binding (mortar) material and if constructed properly, will stand for decades, even centuries. The walls define boundaries and prevent soil erosion, which is critical on the hillsides of Hvar. Using the same dry stone technique, small buildings called kažun, or trims, are built near the walls to store tools and shelter people from the elements. Cisterns for rainwater are also built as Hvar has virtually no natural surface water.
One of the more understated ancient sites we've visited, but no less compelling, was the Stari Grad Plain. In the 4th century BCE, Greek colonists established the settlement of Pharos on the site of modern day Stari Grad. These colonists were farmers and on the fertile land next to the sea began planting olive trees and grapevines, separating the parcels with dry stone walls. More than 2400 years later the same crops are still being cultivated within the original walls, and in 2008 UNESCO declared the 6 km x 2 km (3.7 miles x 1.2 miles) Plain a World Heritage site. It is free to visit.
The Plain is not just farmland though, mixed into the landscape are some archaeological sites too. Lots of people choose to see the Plain on a bicycle, but the idea of broiling under the sun in a cloudless blue sky was not terribly appealing, so we elected to drive the dusty roads, going a bit deeper onto the Plain, and then walking a short distance to one of the archaeological ruins. With grasshoppers leading the way we trekked up to the watchtower (Maslinovik) ruins which had formed part of the defensive system for the colony of Pharos.
Nearby there were also several crumbling stone buildings that were definitely "newer" ruins, but there was absolutely no signage to tell us what they were, likely farmhouses, and I would have liked to know when they were built.
Grad Hvar
As part of the Republic of Venice, the town of Hvar, with its natural bay, played an important role in the naval and shipping activities of the Republic. Needless to say, a fortress and strong town walls were built to protect the port, and these ancient walls still stand, snaking their way up to the remains of the fortress. In 1776, the Venetians decided to move their naval base from Hvar to their bastion fort at Kotor, Montenegro on the mainland, and the whole island suffered economically. One hundred years later, The Hygienic Society of Hvar, in an early example of medical tourism, began to rejuvenate the economy by touting the health benefits of Hvar's climate. And the rest, as they say, is history; Hvar consistently ranks as one of the best islands in Europe.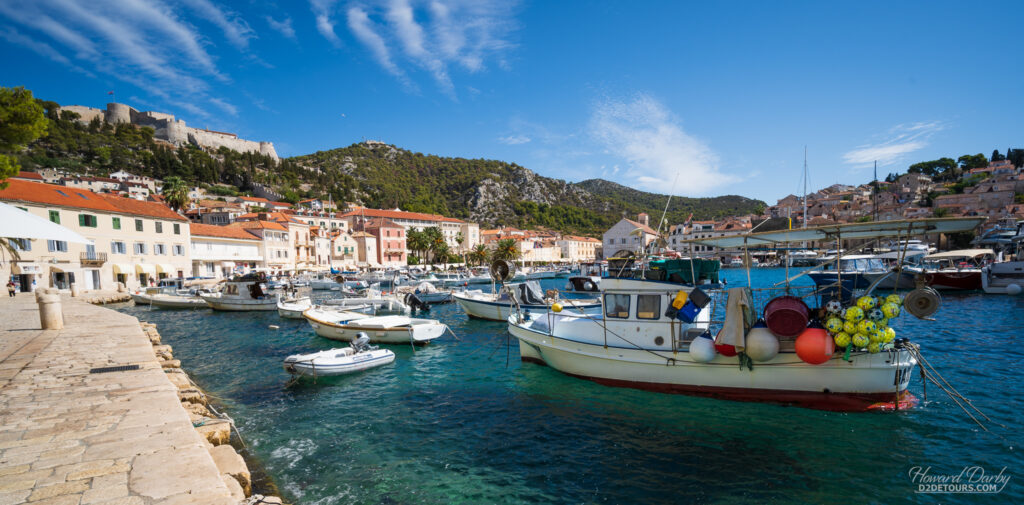 Beaches
We knew no trip to the island of Hvar would be complete without at least one beach day and Howard determined that Bay Lučišća near the town of Sveta Nedjelja was the best beach on the Island. Getting there was no easy task. The drive to Tunnel Pitve was fairly straightforward, but I should have taken the tunnel as a bit of foreshadowing of the dicey journey yet to come. In 1962, the army carved a tunnel through the rock to transport water, although it was never used for that purpose, instead becoming a road tunnel. It is 2.3 m (7'6") wide, 1400 m (4593 ft) long and the only light inside comes from your car headlights; fortunately, it is a straight shot from one end to the other. There is a traffic light system at both ends of the tunnel which indicate when it's safe to enter. In the off-season, however, the traffic lights aren't in operation and the rule is if you enter the tunnel and see headlights, back out and wait! It is quite the experience.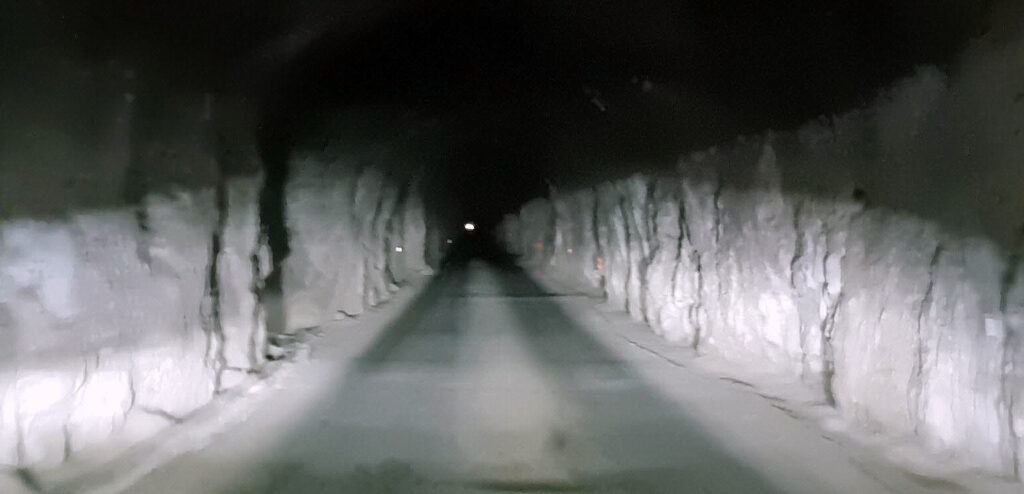 After exiting the tunnel, Google maps sent us down several impassable roads (one of which was so narrow we had to back out rather than turn around) before we got to the "right" route which was a narrow, dusty, rocky, winding road hugging the hillside high above the coastline. Once you get to the beach, you just park along the road, getting as close to the edge as possible so cars can continue to get past, and then hike down to the water. I will confess, the drive was worth it – an absolutely gorgeous setting! It's not a very large beach, and is one of the more popular beaches on the Island, so I cannot begin to imagine what it's like traveling that road on a weekend, but on a weekday in the shoulder season, we were sharing the beach with only about 20 other people, including one nudist couple!
Us (our thoughts on the area) – Zadar on the whole seemed less expensive than elsewhere in Croatia, and if you're looking to spend time on a beach, it would be a good, economical place in which to base yourself and you'd have your pick of a different beach everyday. I like Split, but it is swarming with tourists. It would be interesting to visit again in the off-season and see if the city reverts back to some semblance of normalcy. The island of Hvar is fabulous! Could I live there, probably not forever, but for a month or so it would be hard to beat; access to water, English is universally spoken, good wine and good food, but it is a bit pricey! Off to Bosnia & Herzegovina!
Restaurants – After some extensive research over the years, we believe aROMA Gelato Boutique in Stari Grad has the best gelato (to date). Fresh ingredients and unusual flavour combinations like fig and pistachio or ginger and orange, but also traditional chocolate (milk, dark and extra dark). That deliciousness does come at a cost though, a single scoop is kn21 ($3.75 CAN) which is almost twice the price of the next best shop in Stari Grad, Pekara (one block away).
The Stari Grad Plain is the oldest continually-cultivated wine region in the world and our Airbnb host gifted us with a bottle of wine made from the Plavac Mali grape (plavo means small, mali means blue in Croatian). This grape produces a robust red wine that is often quite high in alcohol and tannins and I recommend trying some.
Chicken, in particular chicken breast, has always been a staple in our diet and I have to say the quality of the chicken we've had throughout the Balkans is exceptional. It is tender, never dry or rubbery and has FLAVOUR.
Speech – While it's always nice to know some words in the local language, we found EVERYONE spoke English (and spoke it well) along the Dalmatia Coast. But if you do find yourself off the beaten path, these words/phrases are helpful:
Dobar Dan (do-BAR dan) – Good Day;
Zdravo (ZDRAH-voh) – Hi;
Dovidenja (doh-vee-JEH-nyah) – Goodbye (Ciao works too);
Molim (Mo-leem) – Please;
Hvala (hVah-lah) – Thank you;
Da / Ne – Yes / No;
Izvini (EEZ-vee-nee) – Excuse Me;
Pričati li Engleski? (PREE-cha-tee lee EN-gles-kee?) – Do you speak English?
Ne razumem (neh rah-ZOO-mem) – I don't understand;
Koliko je košta? (KOH-lee-koh ye KOH-shta?) – How much does it cost?
Račun (RAH-choon) – Bill (in a restaurant);
Izvinite (EEZ-vee-nee-teh) – Sorry.