The best laid plans… Upon returning to Canada, following our successful "nomadic" trial run in the latter part of 2021, we began our transition to a full-time nomadic lifestyle. In early February we listed our house and sold it quickly in the hot Calgary market. I had elective surgery scheduled for mid-April and the buyers agreed to a May 1st possession date to allow me some time to convalesce before we headed to the west coast to visit family.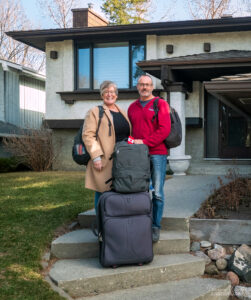 Even in the tough rental market in the City both of our boys found ideal condos (including extra storage for a few boxes of our things). We found an awesome seat sale on a direct flight to Rome, departing in early June, where the car we leased through Renault would be waiting for us and then, at the end of March, we caught Covid! We are vaxxed and boosted, had travelled through Bulgaria, Turkey, Jordan, Egypt, the UAE, Spain and Africa in the past year without so much as a sniffle, yet a pub in Calgary brought us down. Thankfully, neither of us were sick beyond mild cold symptoms but it postponed my surgery resulting in a domino effect with the rest of our plans. Fortunately, I was able to reschedule surgery for early June, Renault agreed to push the start date on our lease back to the end of July, Westjet was still offering their seat sale so we re-booked those tickets, which just left us to figure out living arrangements now that we had an extra seven weeks in Canada! We decided an Alaskan Cruise would be a perfect way to spend at least one of those weeks and found a last minute deal with Holland America (roundtrip from Vancouver.)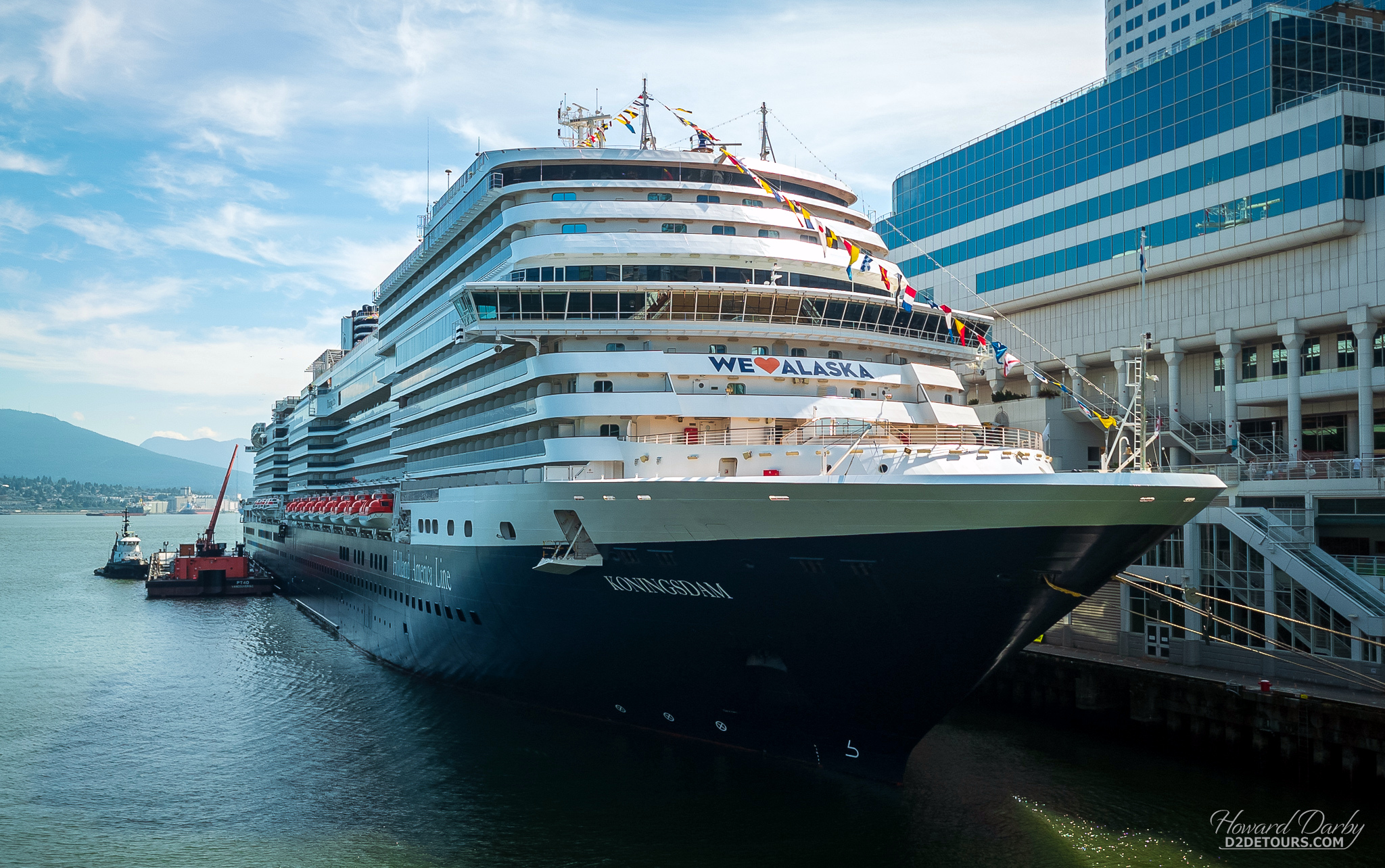 On past cruises we usually opted for a cabin with a balcony, or at the very least an ocean-view. We have, however, been reading about full-time travellers using repositioning cruises as an economical way to see a bit of the world while slow travelling from one side of the globe to the other, and how cost-effective those can be when staying in an inside cabin. We figured this would be an opportune time to see whether we felt an inside cabin was too claustrophobic.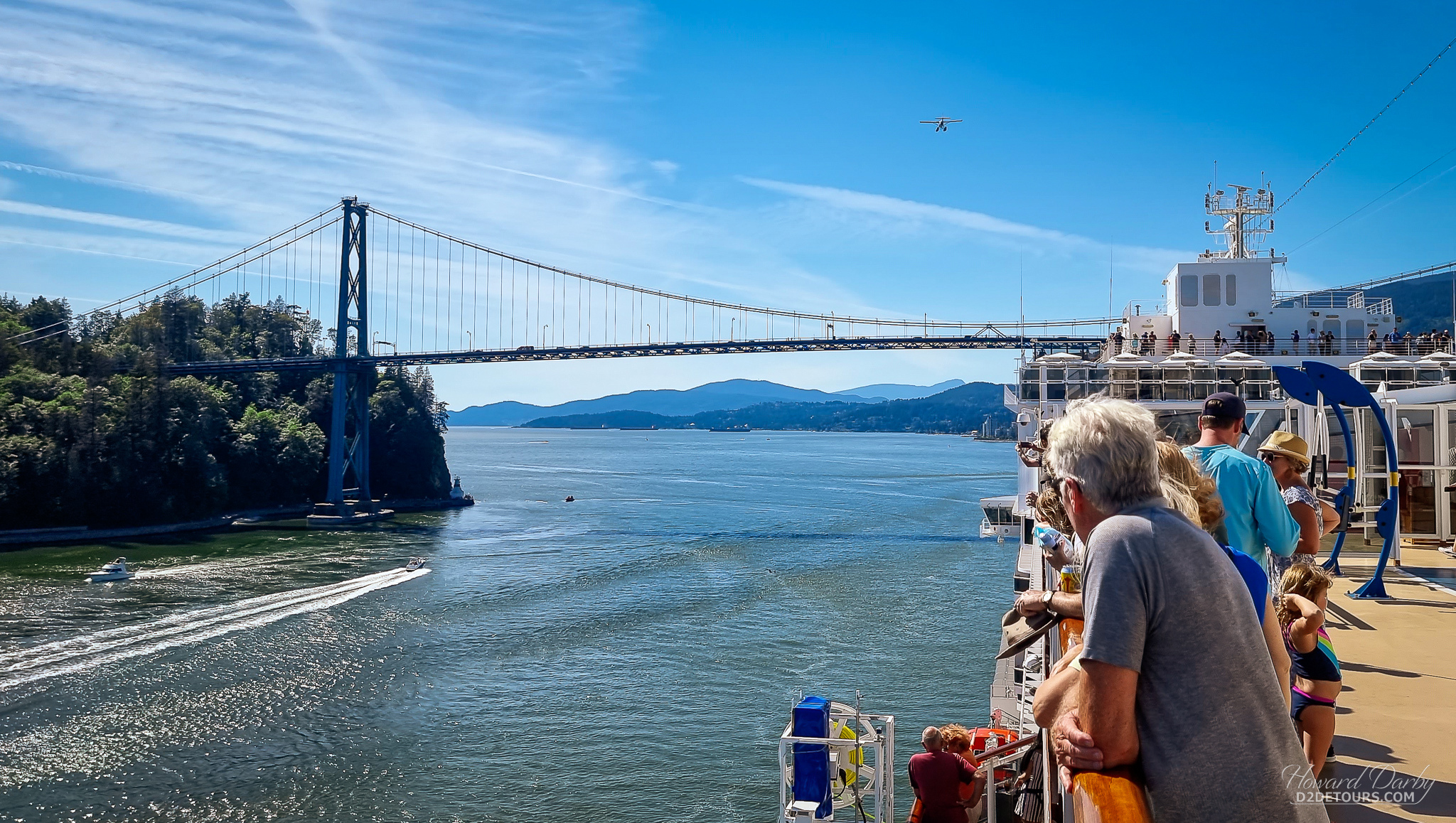 The itinerary for this cruise departed from Vancouver heading to Southeast Alaska with stops in Juneau, Skagway and Ketchikan, plus cruising through Glacier Bay. We lucked into amazing weather on our week-long cruise, with sunny skies, above-average temperatures, and while we saw lots of spectacular icebergs we didn't hit any, unlike one of the other cruise ships!
Tracy Arm Inlet – Cruise ships are too large to enter this fjord just south of Juneau, but as they sail past the inlet in the morning (on their way to Juneau) the ship stops long enough for a few passengers to disembark onto a smaller boat and take advantage of a shore excursion meandering past towering snow-covered mountains to the twin Sawyer Glaciers (North and South – we went to the South Glacier).
The South Sawyer Glacier is a 31-mile long tidewater glacier (a glacier that flows into an ocean) and is about a mile wide along its face. The weight of the ice is so extreme that most of the air bubbles have been squeezed out giving the glacier a striking blue colour. It is an active glacier with lots of calving (chunks of ice falling off the face of it) creating quite the obstacle course through which our boat captain carefully navigated. Katabatic winds blow off the glacier and we were close enough to frequently experience a blast of very cold air.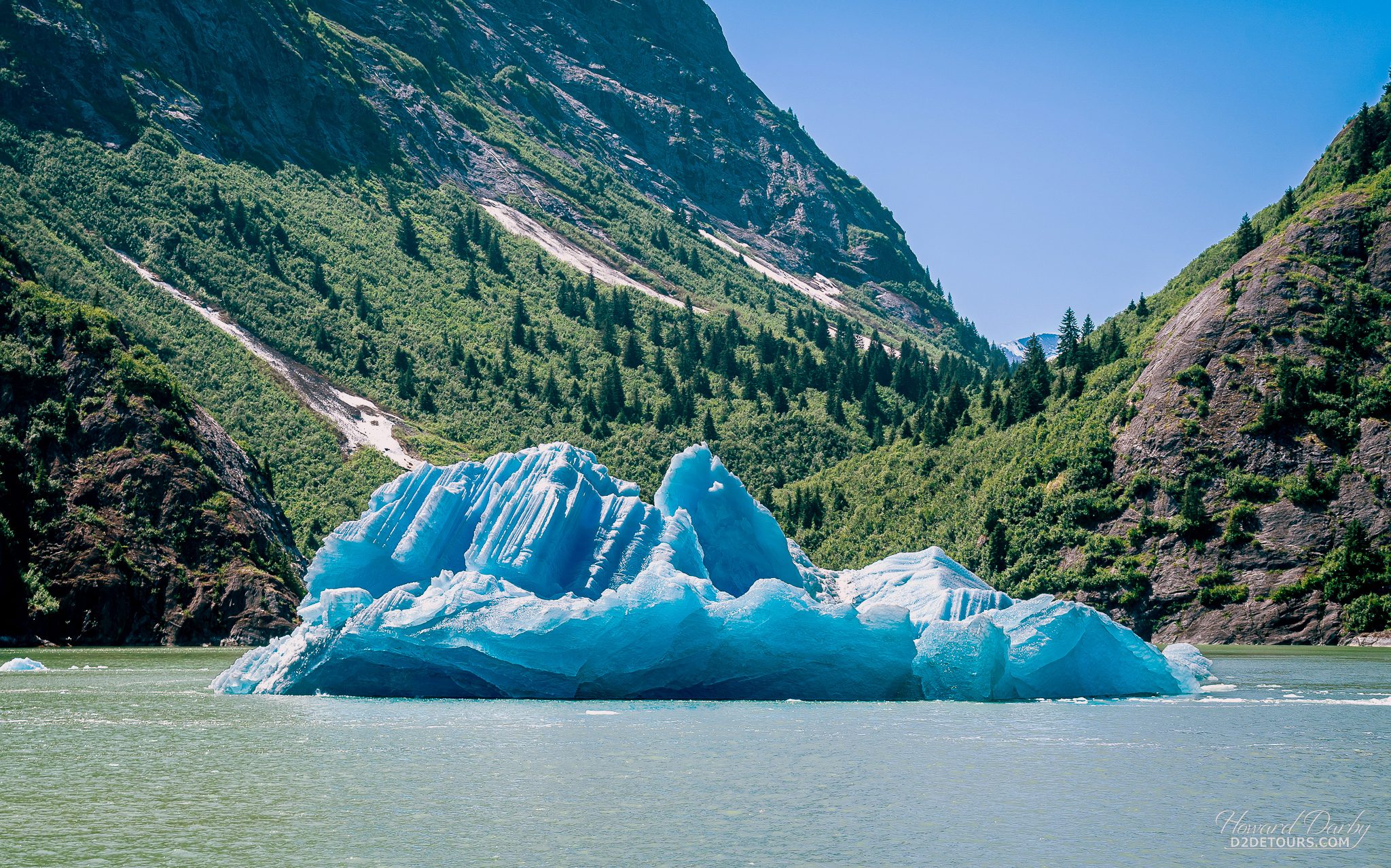 The Tracy Arm Inlet is part of the Tongass National Forest (America's biggest national forest covering 5.7 million acres) and is full of stunning surroundings and wildlife. Humpback whales spend the summer months feeding in Alaskan waters before heading to Hawaii for the winter breeding season and while it is unusual to find them very far into the waters of Tracy Arm, we did spot one nestled up against the shoreline, feeding. What you will find in abundance in the inlet are harbor seals as pupping season runs from May to mid-July and the ice floes from the calving glaciers make perfect platforms for moms and pups.
Juneau – After dropping us for our shore excursion up the Tracy Arm, the cruise ship continued on to Juneau where it docked for the afternoon and evening, and we rejoined it in port mid-afternoon.
Juneau is the capital of Alaska and despite its location on mainland Alaska, the rugged terrain surrounding it (icefields and dense wilderness) means there are no roads connecting it with the rest of North America; in terms of transportation it is an island since all goods coming in or out must go by boat or plane. We were on an Alaskan cruise 15 years ago so have been to Juneau before and didn't feel the need to retrace our touristy steps, but I can recommend taking the tram up Mount Roberts for an impressive view of the area and access to walking trails (which we did on our previous cruise).
The weather was unseasonably hot (28°C / 83°F) for Juneau and after exchanging our jackets and long pants, which were necessary on our shore excursion, for shorts and t-shirts, we wandered the streets for a bit before finding a bar with lots of fans and wifi!
Skagway – Between 1896 and 1899 tens of thousands of crazed stampeders, hoping to strike it rich in the Klondike gold fields of Canada's Yukon territory, landed at the port of Skagway – the gateway to a 600-mile journey in search of riches. Traversing the Coast Mountains is the first leg on the route from Skagway. There were two choices – The White Pass Trail directly from Skagway, or the Chilkoot Trail from Dyea (about 9 miles inland from Skagway). Each trail was a steep, icy, narrow 33-mile nightmare to Lake Bennett in Canada and whatever pass you chose, you wished you'd tried the other. At Lake Bennett the Northwest Mounted Police mandated that each prospector entering Canada must have one ton of supplies to ensure they could survive the winter, so it wasn't one trip up from the Skagway area it was often more than twenty!  AND from Lake Bennett these intrepid prospectors still had to buy or build a vessel to sail the rest of the way to the gold fields of Dawson City, Yukon. There had to be a better way.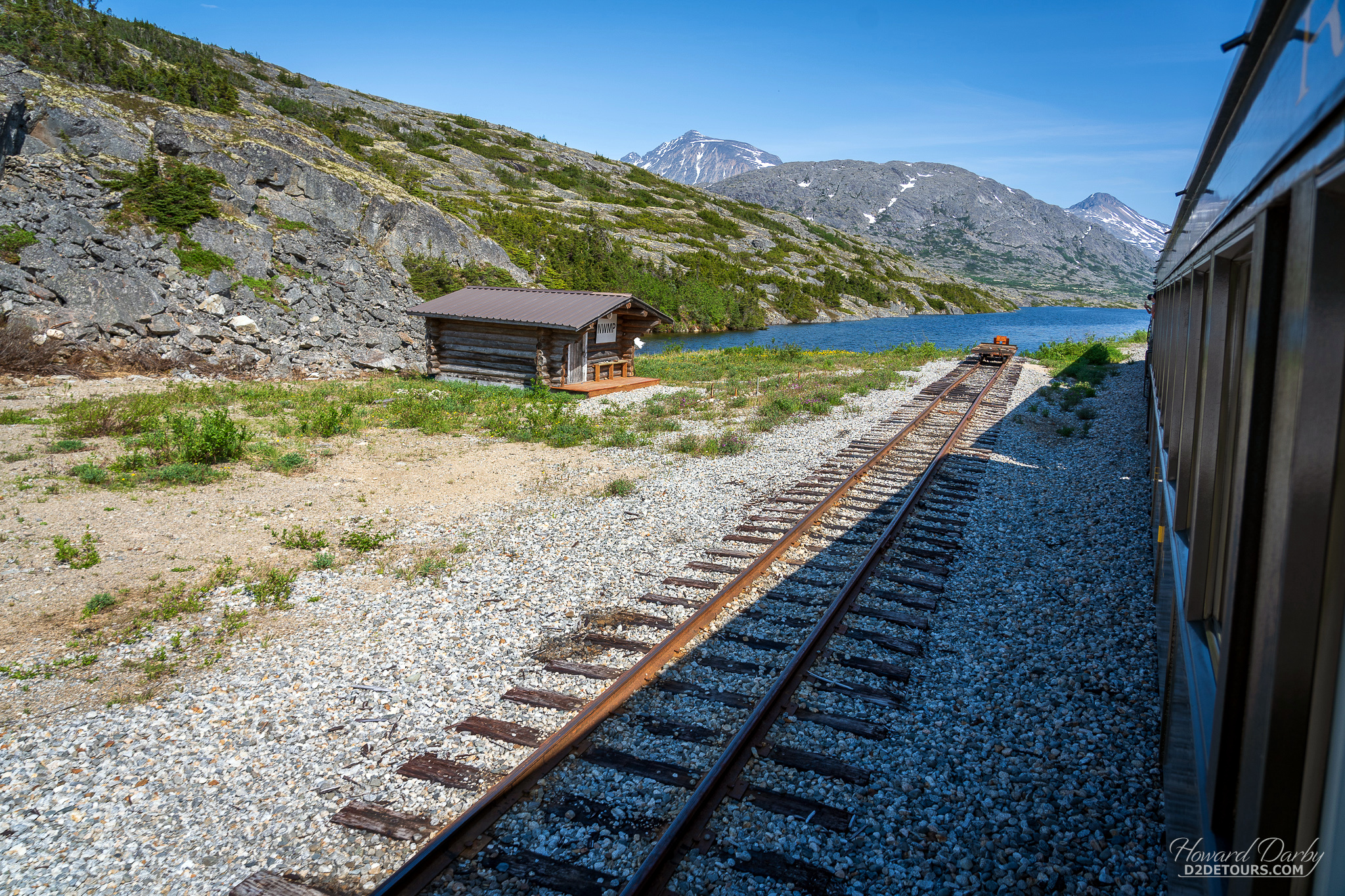 The 19th century was the age of the railroad in America. A chance meeting in Skagway between a representative for some English investors and Michael J. Heney, an experienced railroad contractor, brought the dream of a rail route to fruition. Heney is famously quoted as saying "Give me enough dynamite and snoose and I'll build a railroad to Hell" (just in case you were wondering, snoose is chewing tobacco). Work began on this narrow gauge railroad (rails were three feet apart on a 10-foot wide bed) in April 1898 and was completed in 1900. Over the course of construction thousands of men worked for the White Pass & Yukon Railroad Company in brutally cold, snowy conditions to build an engineering marvel climbing almost 3,000 feet in just over 20 miles, and running 110 miles from Skagway to Whitehorse, Yukon. The irony is that by the time the White Pass & Yukon route was finished, so was the gold rush.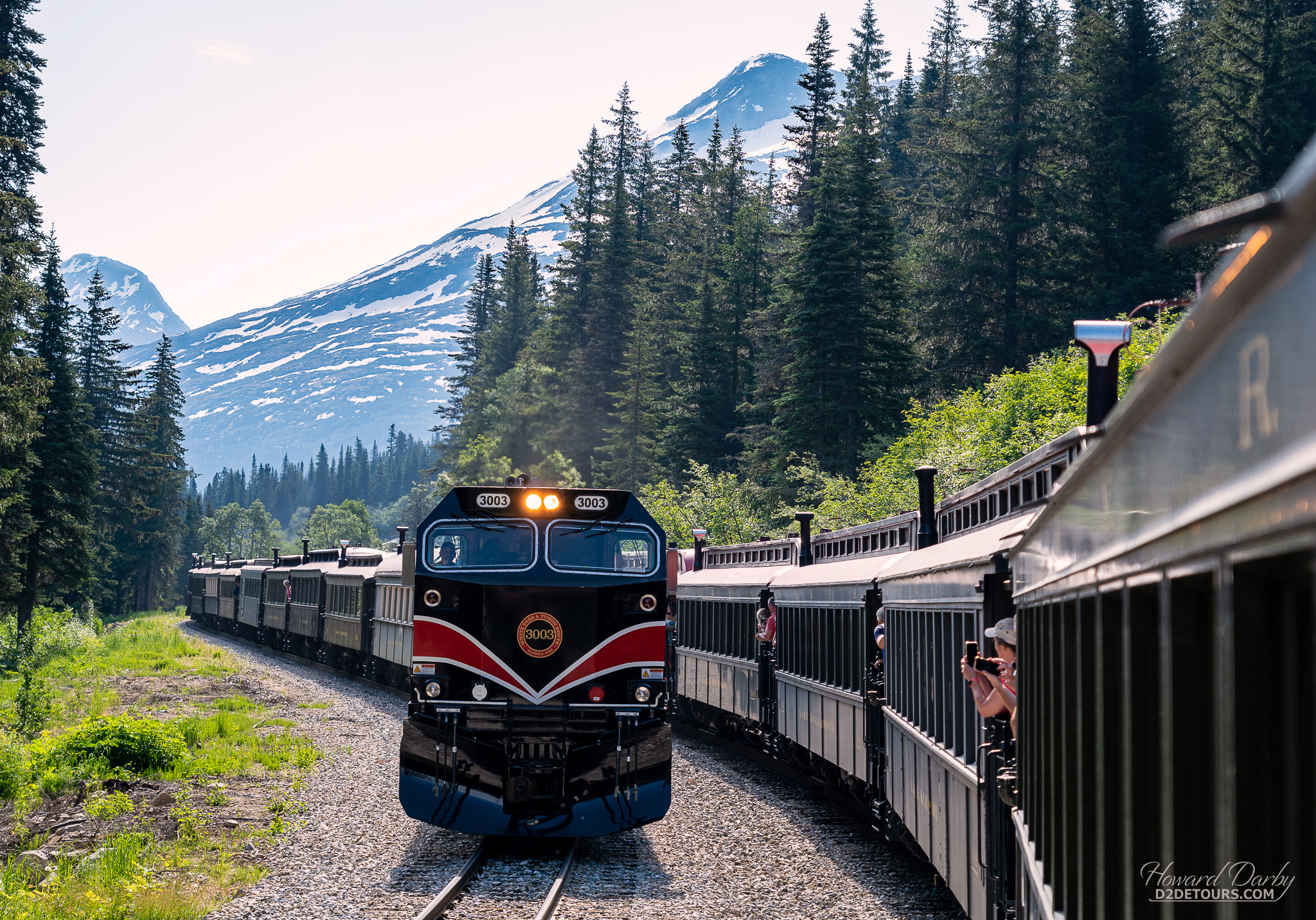 Despite the end of the gold rush, over the following decades the WP&YR evolved into a fully-integrated (land and marine) transportation company carrying passengers and freight. In 1955, WP&YR tested and pioneered the world's first container shipping system – the type of system still in use today. By 1982, however, the mining boom had collapsed and the WP&YR route was closed. Happily, the closure was only short-lived and in 1988 the line was reopened as a tourist destination.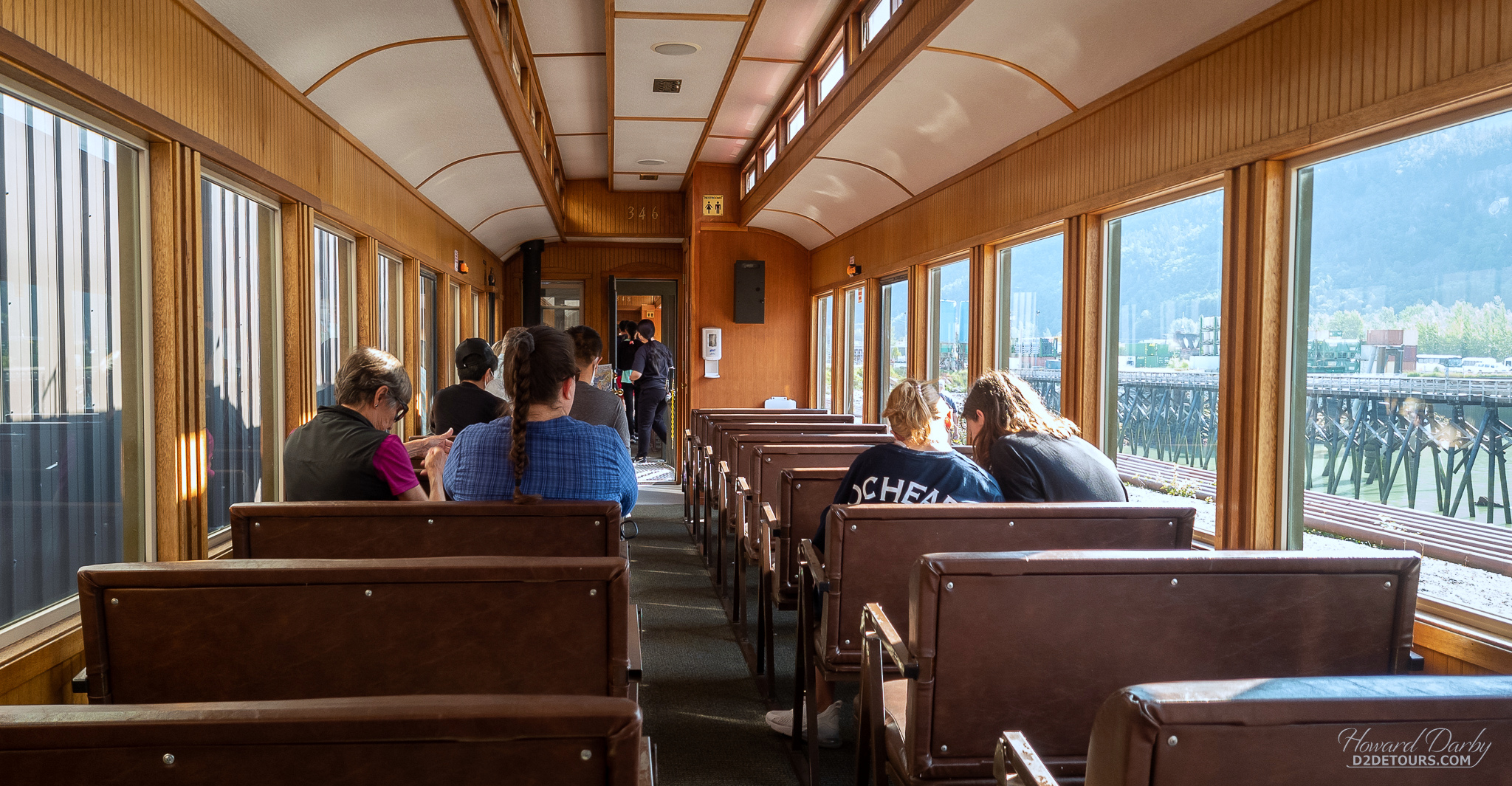 During the 1920s, Howard's grandfather was a stationmaster for WP&YR in Whitehorse, so it was a real thrill to be able to ride the same line almost 100 years later! The landscape along the route is GORGEOUS and a tiny bit terrifying at times as the narrow route carved out of the mountain is just wide enough for the train, and as you peer out the window the land immediately falls away. I found myself constantly shaking my head trying to imagine the fortitude necessary to trek this route (on foot, over and over again) in search of a dream, particularly learning that of the roughly 100,000 people who tried to reach the Klondike gold fields, less than half of them succeeded and while several thousand did strike gold, it is believed only a few hundred became rich.
Glacier Bay – Approximately 100 miles northwest of Juneau is the entrance to Glacier Bay, a product of the Little Ice Age. Roughly 230 years ago, when Captain George Vancouver sailed past this fjord, it was simply a solid river of ice thousands of feet deep, 20 miles wide in places and extending more than 100 miles back to the St. Elias Mountain Range. Today the glacier has retreated some 65 miles up the valley, leaving behind smaller inlets with their own tidewater glaciers. There are 16 active (calving) glaciers in the Bay and our cruise ship took us up the west arm of the Bay to the John Hopkins Glacier at the end of an Inlet with the same name and up the Tarr Inlet to the Margerie Glacier. Just a little note on glaciers, the amount of calving doesn't necessarily mean a glacier is retreating. As long as the snowfall at the higher elevation of a glacier can accumulate and form new glacial ice faster than calving occurs, the glacier will either be stable or possibly advance. The John Hopkins Glacier is once again slowly advancing. It is about a mile wide, reaching 250 feet above the waterline with a further 200 feet below sea level, and is about 12 miles long.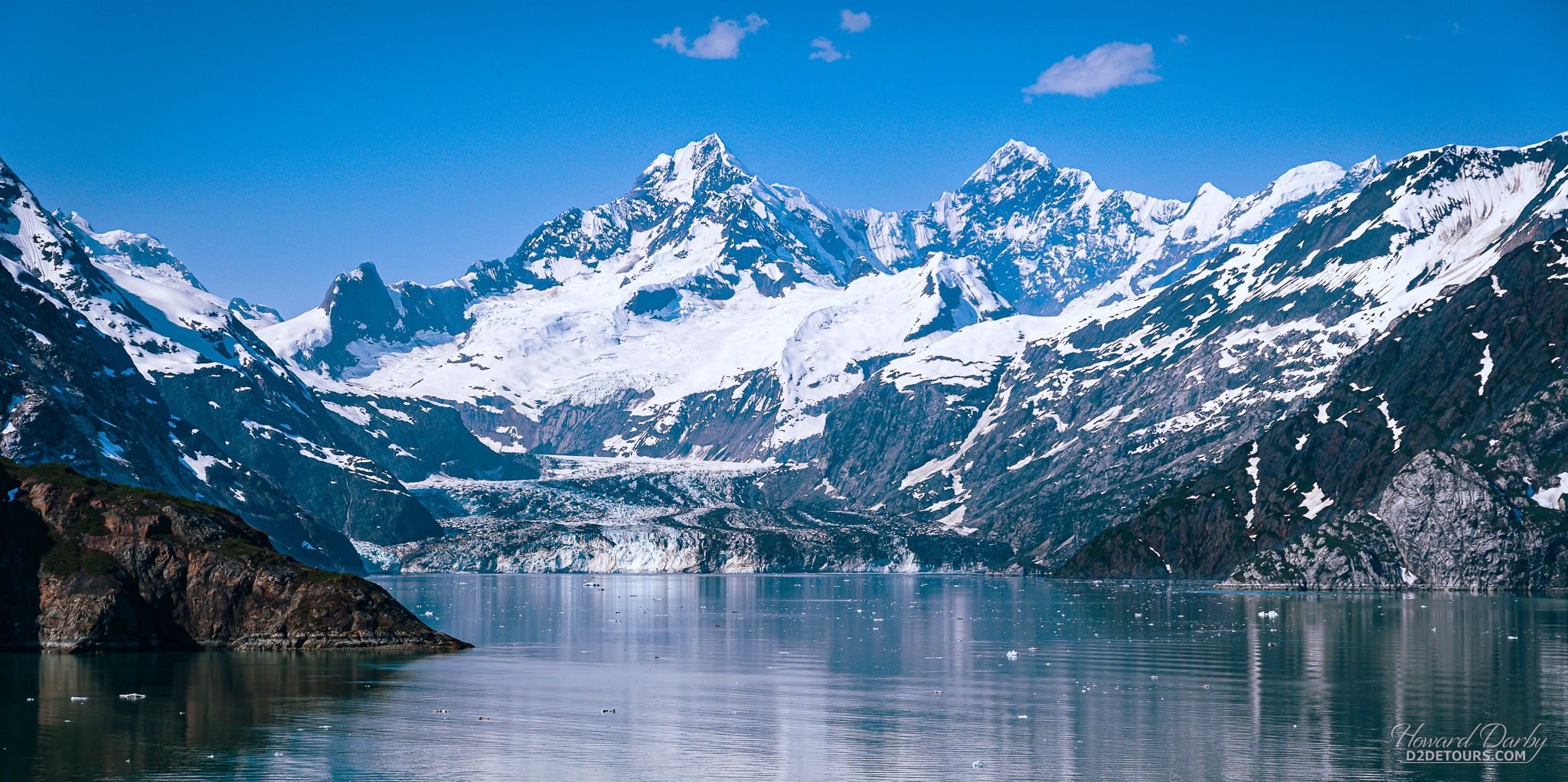 The Margerie Glacier has become a stable glacier, neither growing nor receding, and is nearly 21 miles in length. Similar to the John Hopkins Glacier it is about one mile wide, with a face measuring 450 feet, 350 feet of which are visible above the water line. Both glaciers exhibit lots of calving activity, and similar to the Sawyer Glaciers, the ice floes are dotted with seals. Unlike the South Sawyer Glacier, because we were on a cruise ship rather than a smaller vessel, we were between one mile (Margerie) and six miles (John Hopkins) from the face of each glacier – even at those distances they are still incredible to behold. The Bay is home to abundant wildlife, including a large bear population and we spotted several brown bears patrolling the shoreline (to really see them clearly, you need binoculars, or a good telephoto lens on your camera).  Sea otters, once nearly obliterated by hunters, have made a remarkable comeback. Beginning in 1995, when just a handful of otters were again spotted in the Bay, their numbers now have grown to an estimated 8,000 and we spotted numerous otter rafts in front of the Margerie Glacier (again binoculars would be handy).
Ketchikan – Ketchikan, the self-proclaimed Salmon Capital of the World, is a charming city stretching for 31 miles along the southwest corner of Revillagigedo Island, but never extending more than 10 blocks inland. "Where the salmon come to spawn, and so do the men," many cheerful buildings along the Creek Street boardwalk sport plaques regaling readers with their colourful days as bordellos.
The Married Man's Trail is a shaded walk through the forest along the rocky gorge of the Creek, and for years served as a discrete entrance to the red-light district. Now this street on stilts is home to art galleries, gift shops, bookstores and restaurants, and from mid-July to mid-September is a perfect vantage point to watch the salmon working their way up the river and ladders to spawn.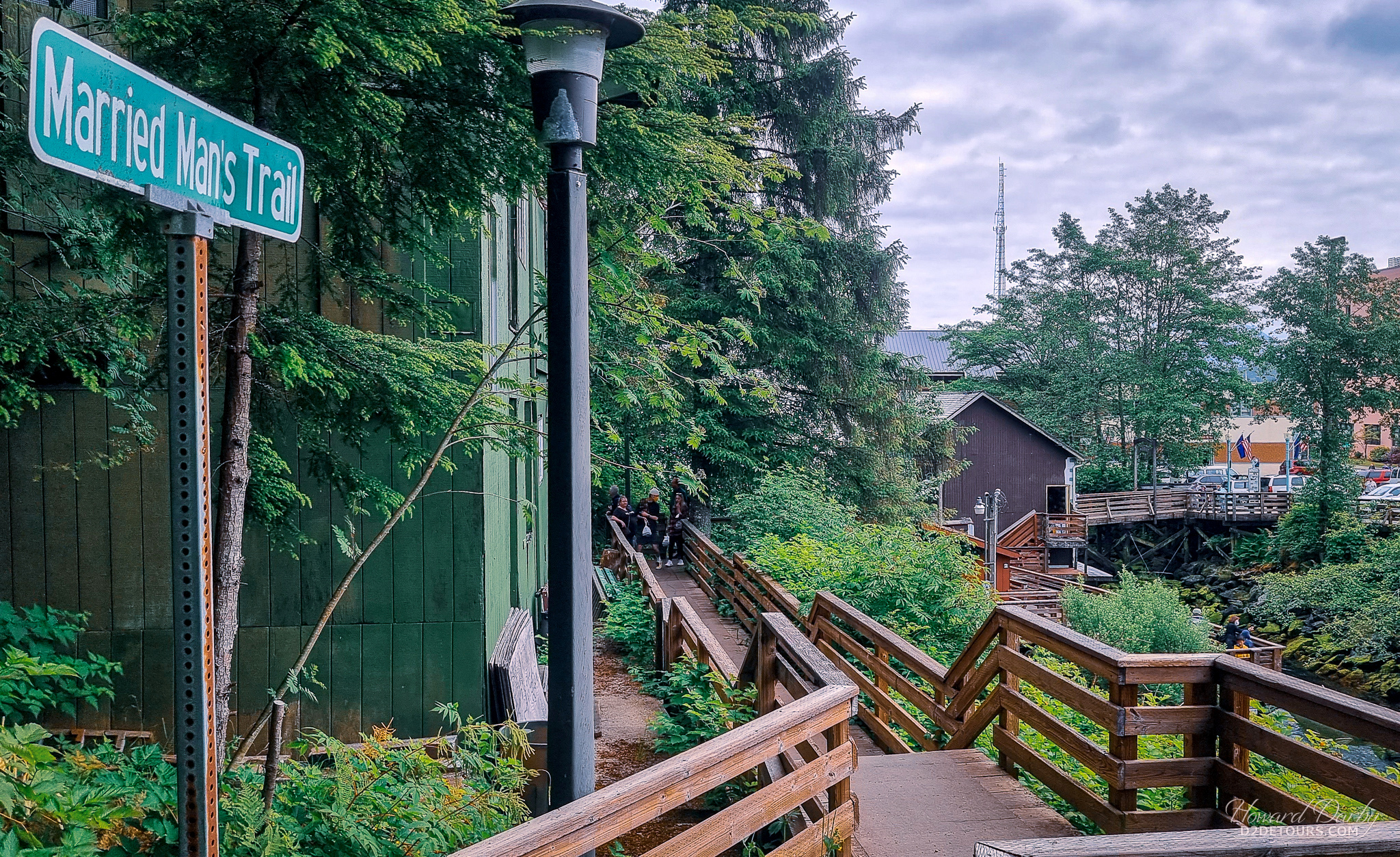 After leaving Ketchikan our cruise ship slowly made its way back to Vancouver via the Inside Passage which is a network of channels weaving through the coastal islands along the Pacific Northwest from southeastern Alaska through western British Columbia, Canada, to northwestern Washington state. The calm waters of this route can be heavily trafficked with cruise ships, fishing boats, pleasure crafts and ferries when the open ocean becomes too rough, but during our passage there was very little traffic. The scenery along the Passage is beautiful and the only time I thought a cabin with a balcony would have been nice. On most cruises you are often out at sea, but a good portion of an Alaskan cruise has the ship well within sight of land, and in particular when navigating through the Inside Passage. It was, however, equally lovely to sit up in the crow's nest bar and watch the land slip by, hoping to catch a glimpse of a killer whale pod.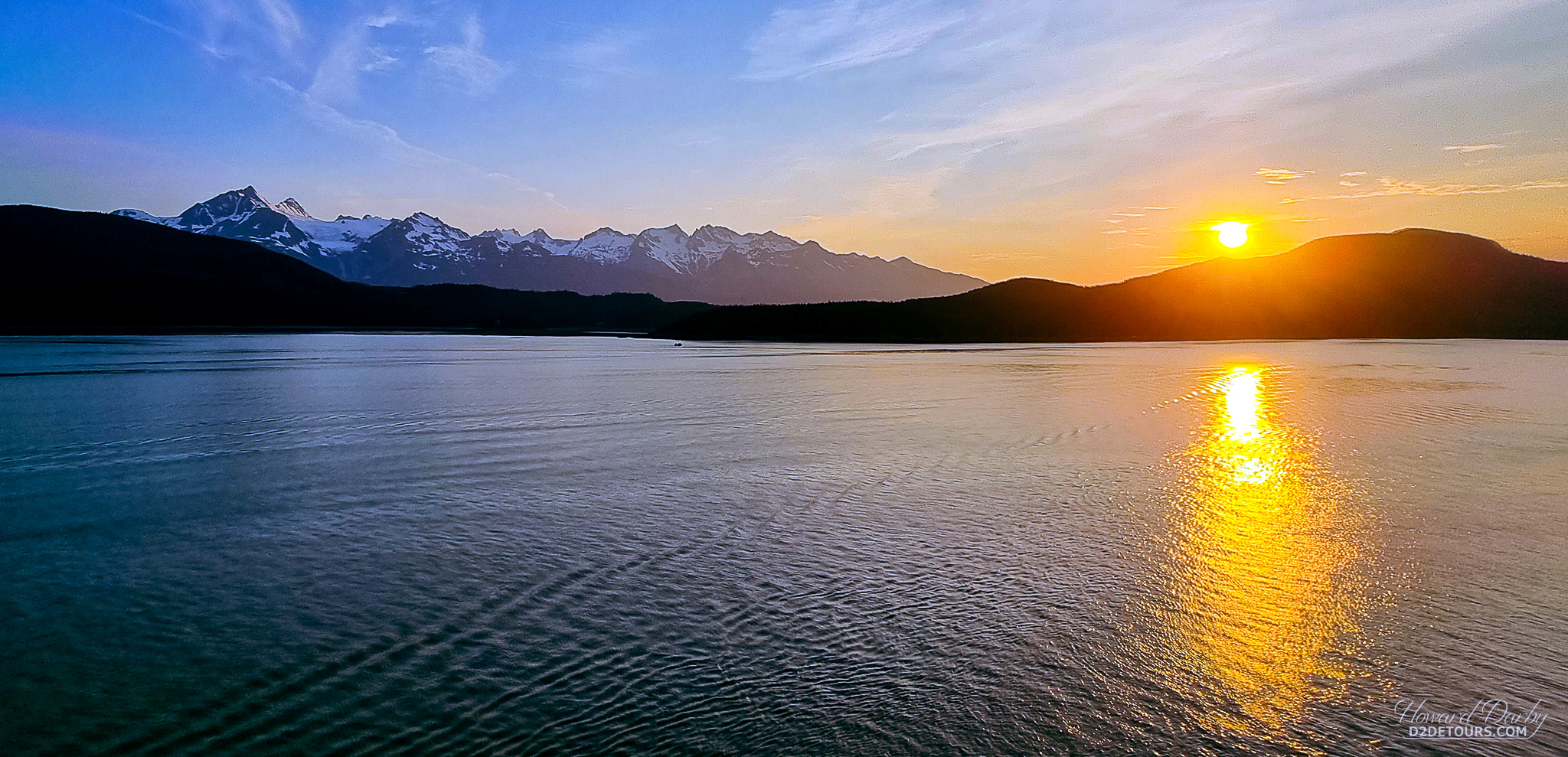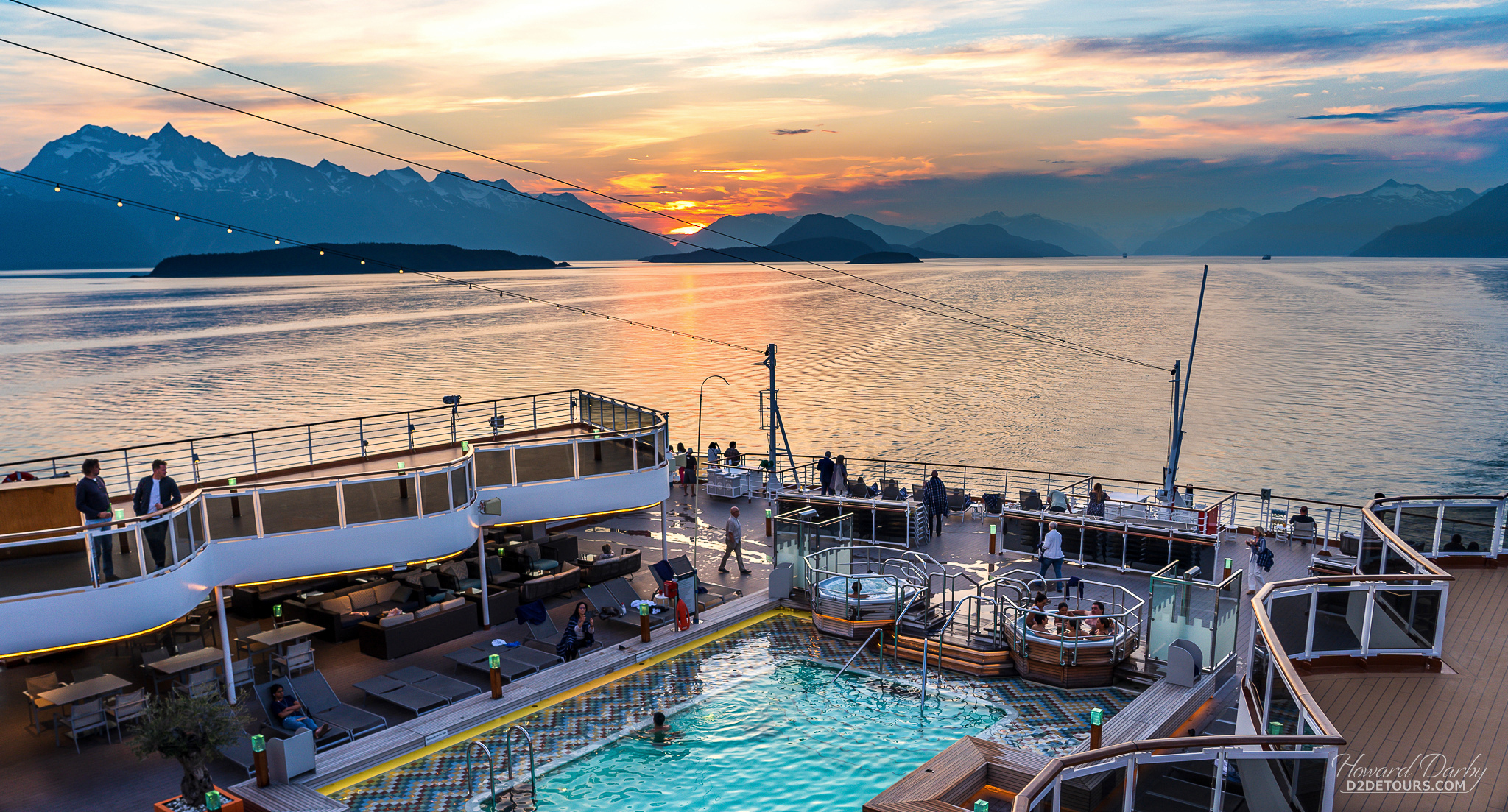 We thoroughly enjoyed cruising with Holland America. The food was excellent and if you're hungry on a cruise ship you're doing something wrong!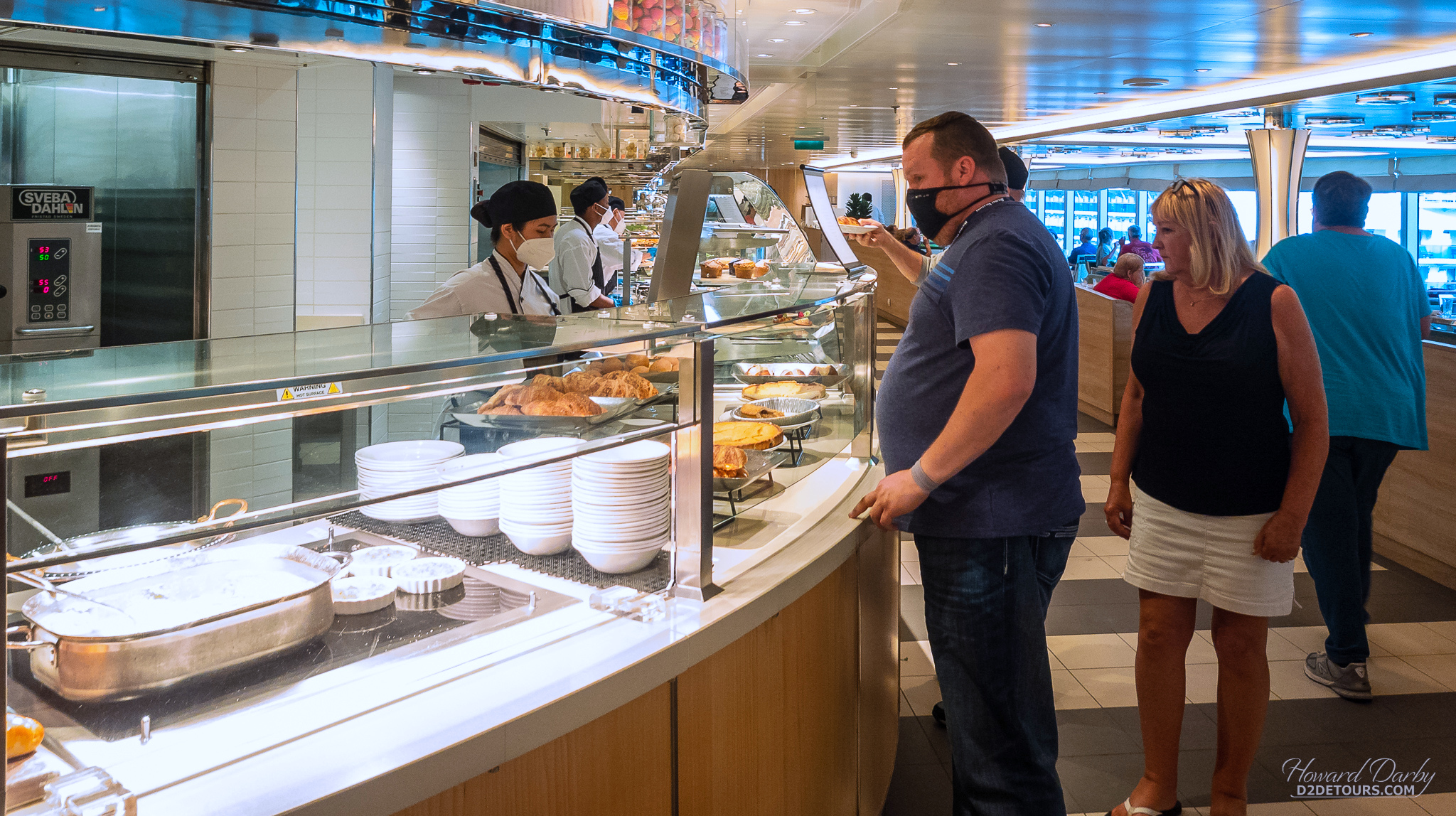 Although pandemic restrictions had been lifted, all crew members wore masks and passengers were encouraged to wear them inside in any close quarters (music/entertainment bars, theatres, dining hall), but the majority of people were maskless. There were also hand washing stations and sanitizer throughout the ship.
At the time of our cruise, Holland America was still keeping their capacity at 60% of full occupancy, which was wonderful; no lineups for anything on board, and disembarking in any of the ports of calls, or at the end of the cruise, was a breeze. We decided we didn't mind being in an inside cabin. We felt it really was just a place to sleep, and we spent all of our time in lounges on the upper decks with floor to ceiling windows and comfortable chairs, and choosing that level of stateroom certainly made for a reasonably priced experience. That feeling was especially helped by the "bow-cam" channel on the large flat panel TV in our cabin which was just as good as a window!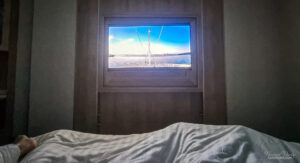 At the end of July we'll be heading to Europe and travelling around the region for the balance of 2022. Details can be found on our Next Steps page; make sure to let us know if you have some "must visit" sites we should see along our way.