Yay – we are back travelling again and will meander our way through Europe over the next five months. We have leased a car through Renault which will give us more flexibility on where to go and how to get there, but is also going to have an impact on our budget, given the current price of gas.
There are some tricky distinctions that one needs to be aware of in terms of the time tourists may stay in "Europe." There are 45 countries considered to be part of Europe. Of these, 27 countries are members of the political and economic union known as the EU (European Union) and 26 of those EU countries are also members of the Schengen Zone, the border-free area of the EU which allows for the free flow of people between countries. The amount of time a tourist may spend in the Schengen Zone is 90 days out of every 180 days. So while an individual country may allow a tourist to stay for 90 days, the Schengen time limit is the trump card. For example, you cannot stay in Italy for its allowable 90 days and then move on to France for an additional 90 days because both of those countries are members of the Schengen Zone and its 90 day time limit supersedes all others. This map is a great tool for a quick overview of the area. There is also a handy online calculator to help you determine your "legal" length of stay. There are consequences to overstaying your time in the Schengen Zone (fines, immediate deportation or even a ban on re-entering the Zone), so it's best to be mindful of the time constraints. All that being said, there are ways to apply for long-term visas, but that was not our focus.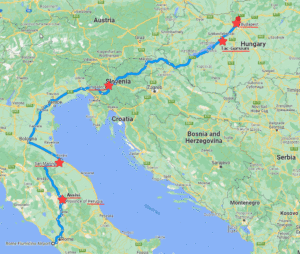 As we began mapping out our timeline for Europe, we had a few factors to keep in mind. Firstly, we wanted to enjoy the warmer climes of Spain and Portugal at the end of the year (November/December, respectively). Secondly, despite arranging to pick up our leased Renault in Rome (the closest pick-up location to Romania and the Balkans), we knew we didn't want to spend a lot of time in Italy during the expensive summer season, but did want to ultimately wend our way slowly around the Mediterranean towards Spain. Accordingly, we needed to be cognizant of when the clock started and stopped on our time in the Schengen Zone. We also had a couple of limitations in terms of countries into which we were allowed to take our leased vehicle. I would have been more than happy to head back to Turkey for some of our non-Schengen time, but Renault said no, and with the advent of Brexit, the UK was out of bounds too, so we couldn't visit any of Howard's family. Taking all of that into consideration, we decided to arrive in Italy, take a few days to acclimatize to the jet lag, and then as quickly as possible beetle our way over to Romania (an EU member, but not in the Schengen Zone). We would head back to the Zone in October, by way of a few of the Balkan states, which tend to be easier on the budget.
Dollars – The cost of our 5-month car lease averages out to $24.42/day and for simplicity's sake we opted to stick with a $160/day Canadian ($125 USD / €121) budget across the whole five months rather than changing it based on country. This 8-day/7-night exodus left our budget in tatters and was definitely a learning opportunity; moving this much burns through gas, toll roads get expensive, and we opted to stay in the heart of Budapest, Hungary which necessitated paying for parking – $30/day!! We averaged $215/day CAD ($168 USD / €163) on this journey, of which a big chunk ($640.92) was car related as well as one rather expensive "activity" – more on that later.
Environment – We have been to Rome previously and knew we did not want to be driving in that City. Fortunately we could pick up our car from the Renault location near the airport before heading north to Perugia (puh·roo·jee·uh).  We struggled to find an affordable Airbnb with both air-conditioning and wifi, finally deciding that wifi was more critical. We were rather worried we would regret that decision when we saw temperatures for our stay in Perugia were upwards of 37°C (99°F)! Thankfully, the unit had fans in every room, with no direct sunlight through any of the windows, and it was quite comfortable for sleeping. We also did not prepare any meals that required the use of the oven in an effort to keep the unit cool.
It is approximately a 15-hour drive (1,579 km / 980 miles) from Perugia to Sebeș, Romania and although we wanted to get out of the Schengen Zone quickly, we figured since we were going right past Budapest, Hungary we should factor a few nights in that City into our calculations. We overnighted in Logatec, Slovenia enroute to Budapest, in a very basic hotel room – which was the most expensive accommodation during this leg of our travels and the least comfortable, but at least it was clean.
We had a great Airbnb in Budapest, right in the heart of the old town, with tons of restaurants nearby, grocery stores, and within easy walking distance (for us) of the Danube and the iconic sights of the City (plus air-conditioning, thank God!).
Tips, Tricks & Transportation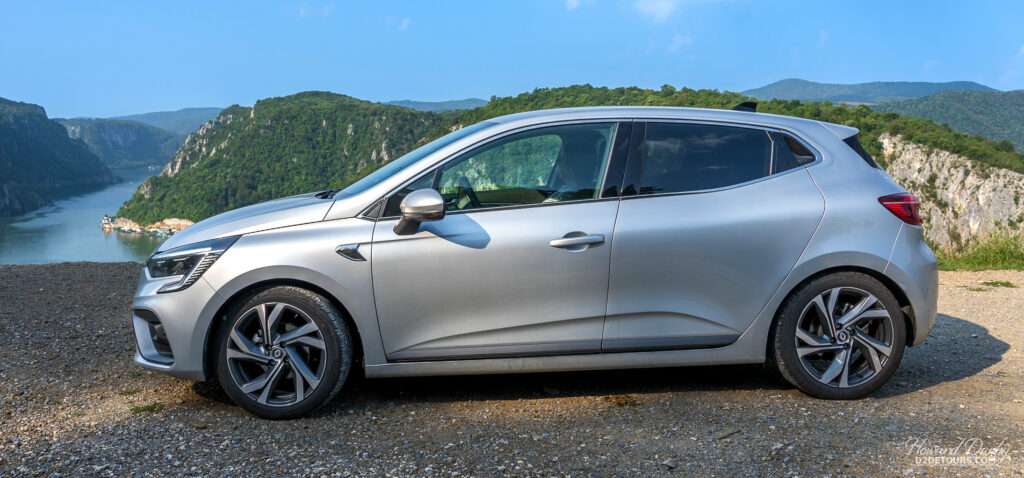 Renault Eurodrive – Renault offers a very attractive long-term lease program for non-EU residents. The cost of the lease includes a brand-new vehicle (we have a Clio, which is the ideal size for driving and parking in Europe), unlimited mileage, 24/7 roadside assistance, and insurance (full-comprehensive, liability, with zero-deductible collision). The term of the lease can be anywhere between 21 and 185 days – the longer the lease the more cost-effective. For all intents and purposes you are the owner of the vehicle, but Renault guarantees to buy-back the car at the end of the lease. And finally, you can pick-up (or drop-off) the vehicle in a number of EU countries, although depending on what location(s) you chose there may be an additional charge.
We then compared the cost of the lease against the costs we would likely incur moving between destinations, either by way of a car rental, plane, bus or train, and figured the costs were fairly close. Additionally, having a car at our disposal would allow us to stay outside the more expensive city centers, move from place to place without worrying about carriers' schedules, and enable us to visit places off the beaten path without the need to join a tour, hire a private driver or do one-day car rentals. We'll see whether our strategy pays off when we average out all of our costs at the end of the year – we're off to a rather expensive start, LOL.
Toll Roads – There are lots of toll roads in Europe. In Italy there are physical toll gates where you can pay with either cash or credit card. Slovenia and Hungary both have electronic (vignette) systems linked to your car registration and license plate. You can purchase these vignettes online and away you go – easy and super convenient.
General Driving – There really are no border crossings within the EU – the only way we could tell we had left Italy and entered Slovenia was because the road conditions improved greatly! With no formal crossing, I did really wonder how they handled enforcing Covid restrictions when those were in place.
Italians like to drive fast, regardless of the type of road – the 130 kph (80 mph) posted speed limit on the highway was clearly just a starting point and the 70-90 kph (40-55 mph) limits elsewhere must have just been suggestions. On the highway, drivers were either hugging the white lines between lanes or straddling them – it looked like they were hedging their bets on which lane would be going the fastest.
On our drive up to Assisi from Perugia, GPS took us cross-country, on winding back roads through small villages with cobblestone streets – a very pretty drive. Our assent up to Assisi was on a narrow, winding road that we were sure could only be meant for one car (plus we didn't meet any oncoming traffic) so when the GPS directed us to a different narrow, winding road going down from Assisi, we felt safe in our assumption – WRONG – we came within inches of a head-on collision with a truck (a truck!) on one corner – one of us yelped (it wasn't me) – while the truck driver appeared unperturbed.
Driving in Budapest was about what one would expect in a large European city, with our only dashboard-gripping moment coming when we did not realize that buses must have the right of way when turning corners as the corner is so tight they need both lanes to complete the turn. We suddenly found ourselves (along with the car in front of us) forced into the oncoming traffic lane which, happily, was empty at that point. All in all, it's been nice having the car.
Out and About
Perugia, Italy – The hilly city of Perugia, the capital of the Umbria region, is about 164 km (102 miles) north of Rome. It is home to two prestigious universities – the University of Perugia, founded in 1308, and the University for Foreigners, where foreign students study Italian language and culture.
Perugia has quite the history with the papacy, including eleven popes having attended the University of Perugia. The City had long been a papal residence while still retaining its status as an independent municipality, however that changed in 1370 when Pope Gregory XI claimed rightful ownership of the City and incorporated it into the Papal States. Despite this change in status, Perugians continued to enjoy a certain degree of autonomy including an exemption from the salt tax, which according to some sources accounted for nearly 50% of papal revenue. This Perugian privilege didn't always sit well with the papacy and after a disastrous salt harvest in 1539, Pope Paul III saw this as an opportunity to levy a new salt tax on every papal state, much to the displeasure of the Perugians, who, in 1540, rebelled, unsuccessfully. The result of this unsuccessful insurrection was construction of the Rocca Paolina (the Pauline Fortress), built not so much for the protection of the City's citizens but, as Pope Julius III described it, "to get rid of the opportunity to rebel against the Holy See." For centuries, the fort was viewed as a symbol of oppressive papal rule.
Hundreds of structures were destroyed to make way for the fortress, turning many of the former city streets into underground passageways. Today the remains of the fortress are open to the public and the City of Perugia has installed a series of elevators which end inside the fortress and connect the newer sections of the City lower down the hillside, with the upper historic section. It is an interesting area to walk around with some signage explaining various historical aspects of the structure and a perfect area in which to cool down before venturing further into the historic city center.
Perugia is also home to the Casa del Cioccolato, established in 1907 (now owned by Nestle). In addition to their chocolate bars, they produce Baci chocolate kisses, with which you may be familiar – I know I've seen those in Canada. For anyone who knows Howard, you know he has a fondness for chocolate. In fact, I think it is the rare day that goes by that he hasn't consumed some sort of chocolate yumminess. The Perugina factory offers tours of their operation but when we learned it also has the Scuola del Cioccolato, well, it was a "no-brainer" that we would become students. Our instructor was none other than the Chocolate Master whose picture is displayed on the back of every Perugina chocolate bar. The class is not offered in English unless they have at least 14 english-speaking students (during our class there were only 5 students, including us, and we were the only English-speakers). Luckily, our instructor did know a few English words and was very good with his hands-on demonstration, so we had no difficulty following along. During the theory portion of the class (a more in depth discussion of chocolate properties), one of the english-speaking tour guides from the factory popped in and kindly translated for us, which was fabulous. It was not an inexpensive afternoon activity (€55/each) but was fun, informative and we each ended up with a bag of delectable chocolate creams, personally created with our own hands – worth the price of admission!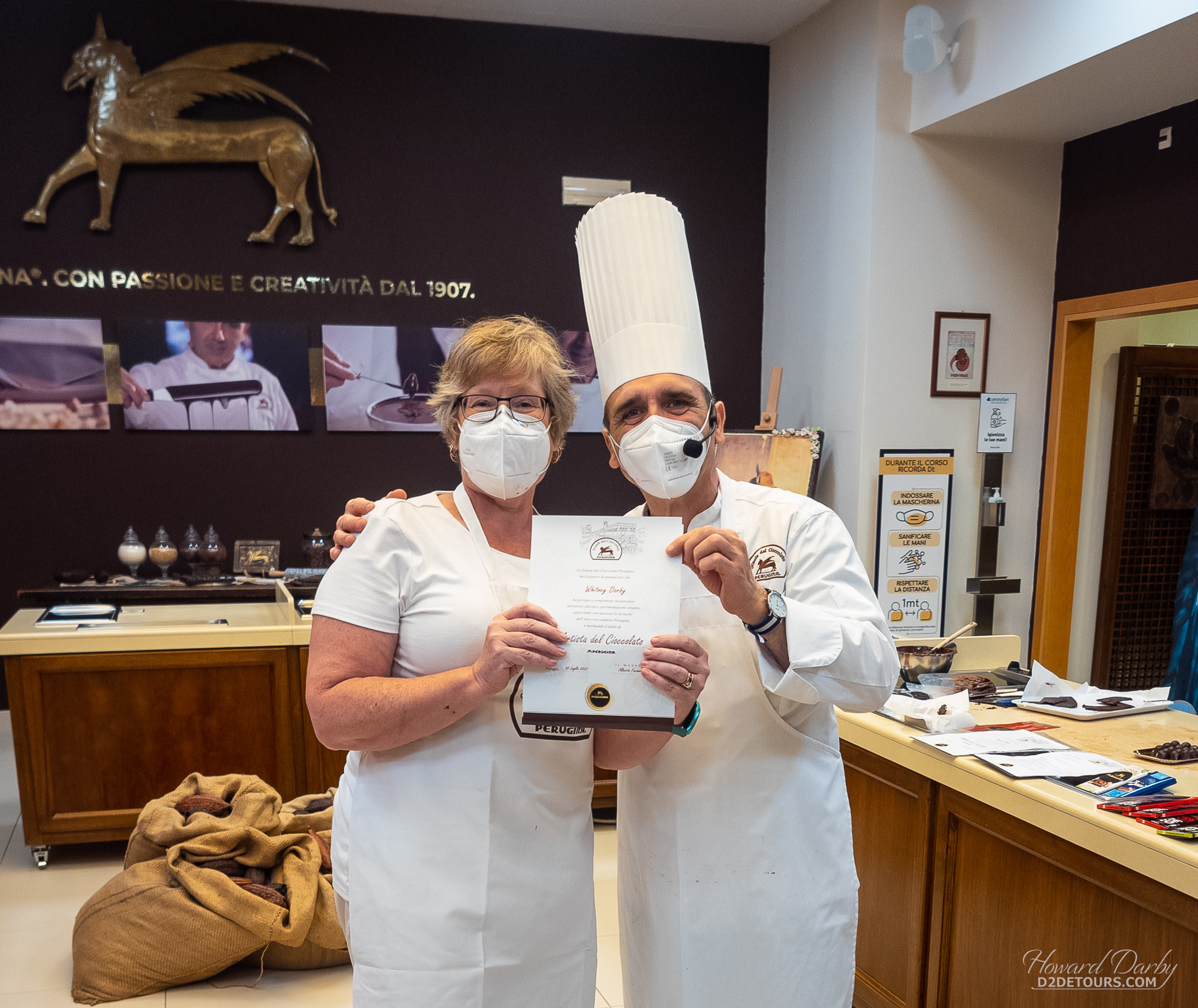 Assisi, Italy – Approximately 19 km (12 miles) east of Perugia is another picturesque Italian town perched atop a hill. Assisi was a beautiful contrast of sandstone coloured buildings stepping their way up the green hillside.The birthplace of one of Italy's patron saints, St. Francis (1181- 1226), Assisi is a popular pilgrimage site. Full of haphazard, narrow, cobblestone streets, striking medieval structures, and a few Roman ruins too, it was an interesting place to spend an afternoon.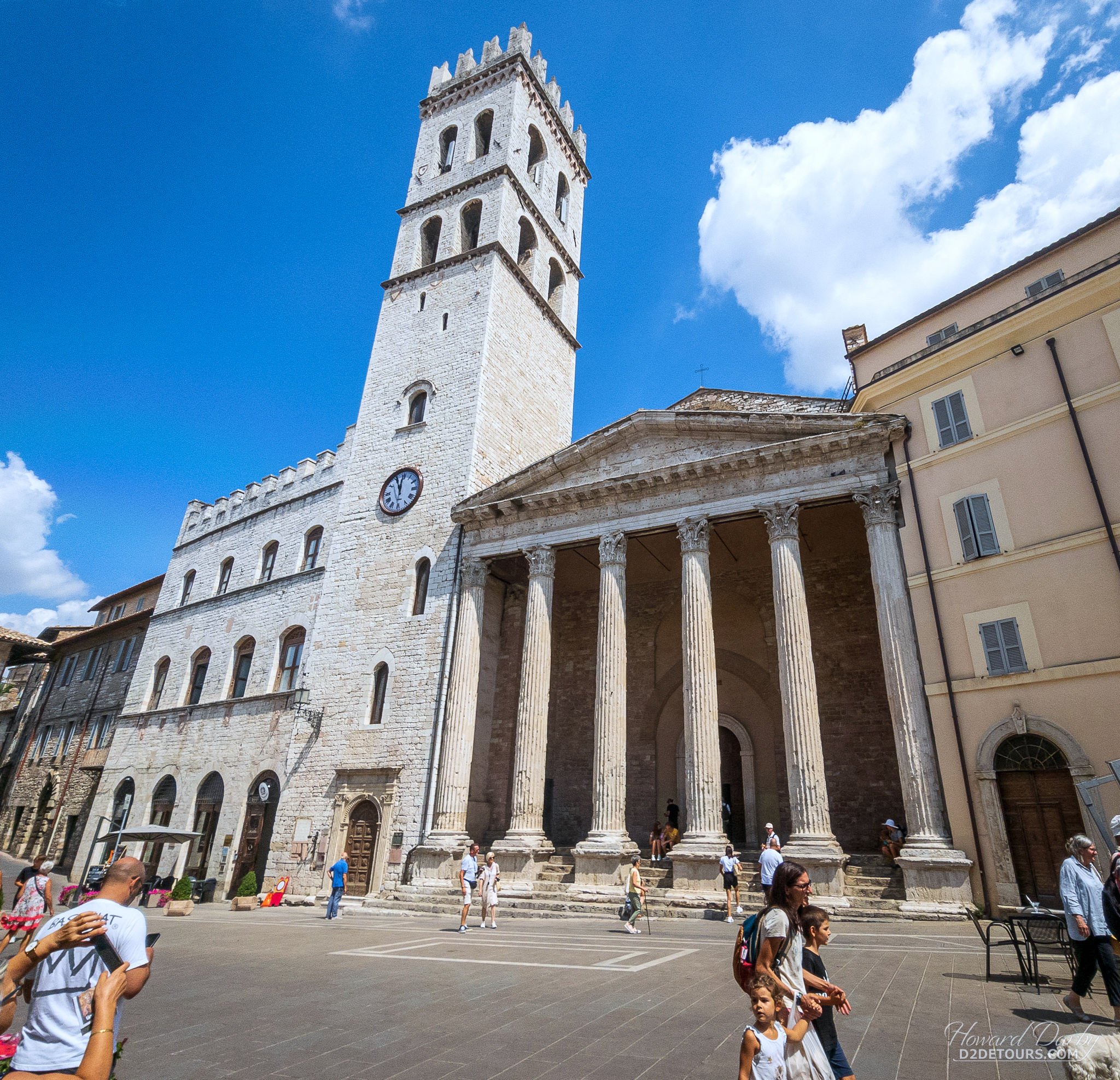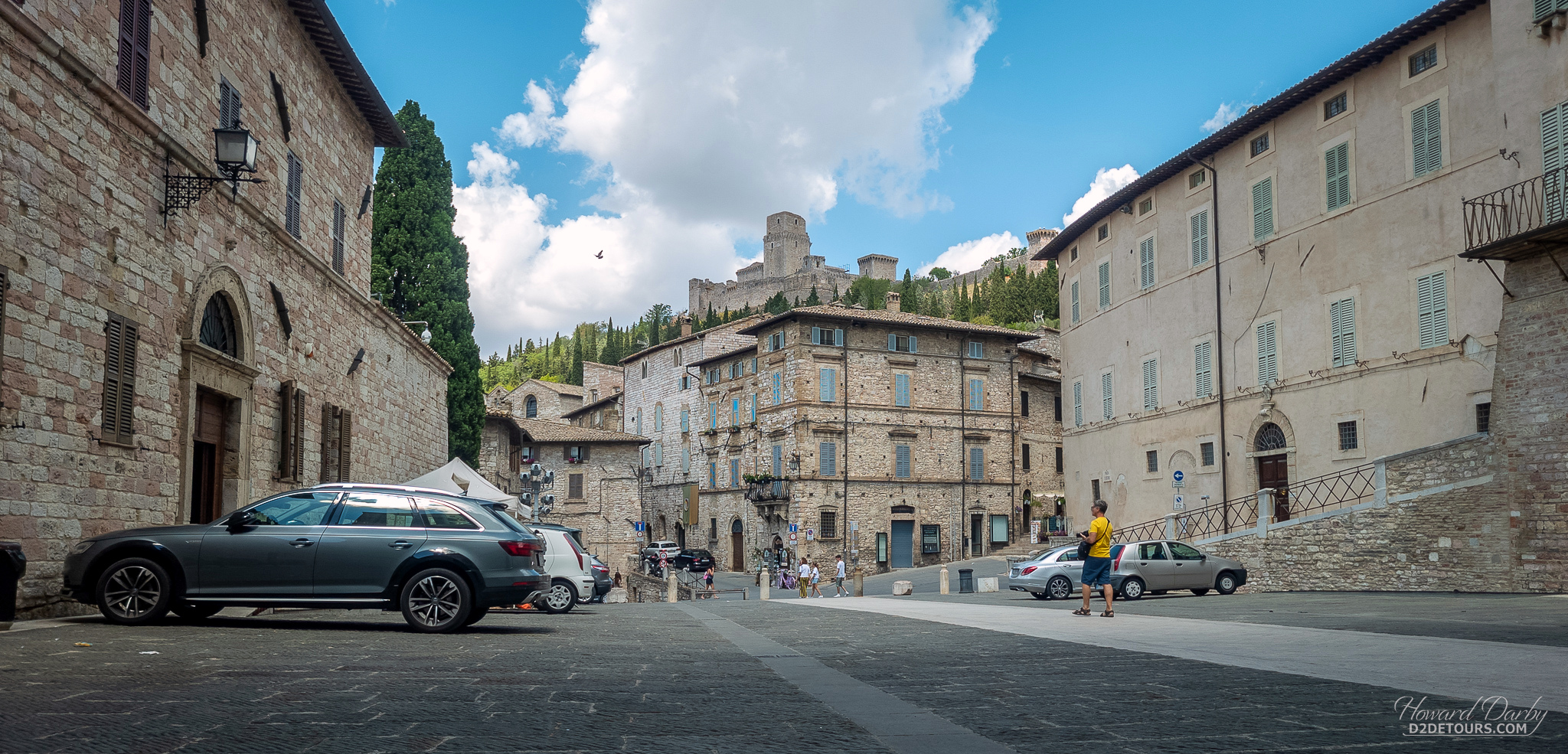 Republic of San Marino (aka the Most Serene Republic of San Marino) – City-states were fairly common in the medieval regions of modern-day France, Germany and Italy, however most were ultimately absorbed into those larger nations. San Marino managed to retain its sovereignty becoming one of six microstates in Europe (Andorra, Liechtenstein, Malta, Monaco and Vatican City are the other five). How they maintained their independence through the years is a much longer discussion for another time. Today San Marino is a landlocked area approximately 10 km (6 mi) inland from the Adriatic Sea and covering  61 sq km (24 sq mi) on the slopes of Monte Titano. It is about a 2.5 hour drive northeast from Perugia so we built a stop there into our route to Budapest. Honestly, I was somewhat disappointed with it. There isn't any sales tax in the Republic making it an attractive shopping destination and most of the walled old town was made up of clothing stores, which I thought detracted greatly from the medieval charm.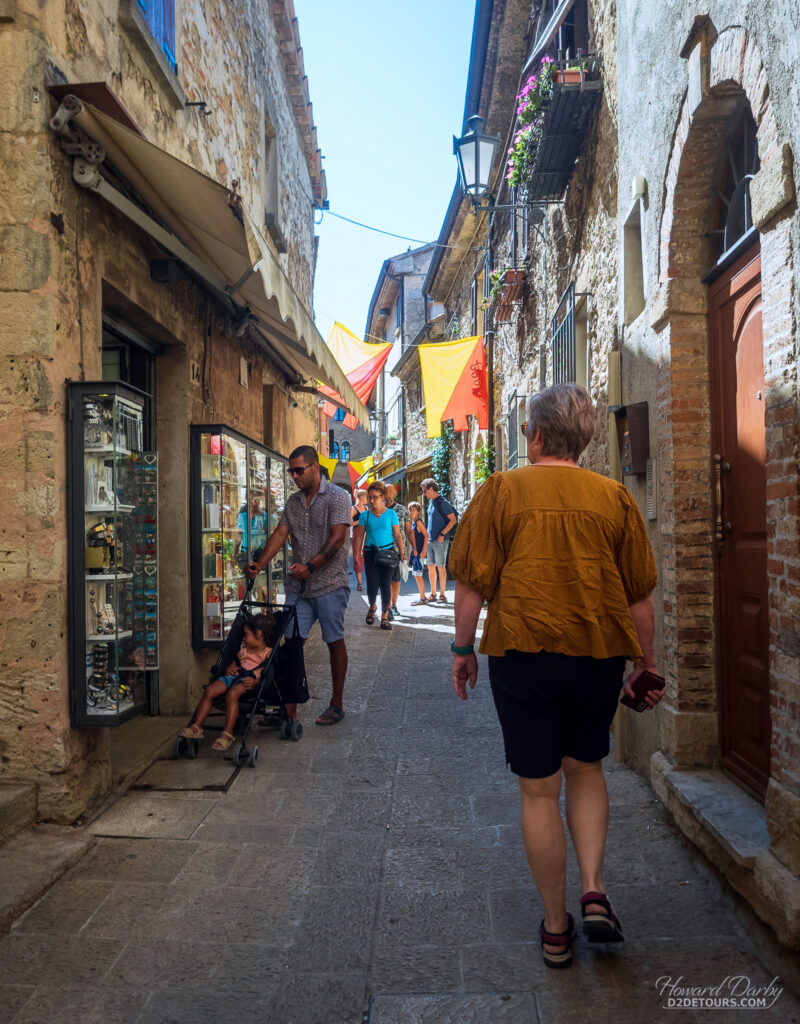 Tác, Hungary (Gorsium) – Enroute from Logatec, Slovenia to Budapest we stopped in the small village of Tác, near the ruins of Gorsium-Herculia. Gorsium began as a military outpost, eventually becoming Herculia, the largest Roman settlement in the region.These are definitely "ruins," but it is an interesting walk along the excavated streets lined with the remaining walls of military barracks, shops, temples and a palace. There is also a cemetery located outside the original city walls. The small museum does not have any English signage but Google Translate worked reasonably well deciphering the text. Admission was only 1,200 HUF/pp ($3.90 CAD) making it a worthwhile stop.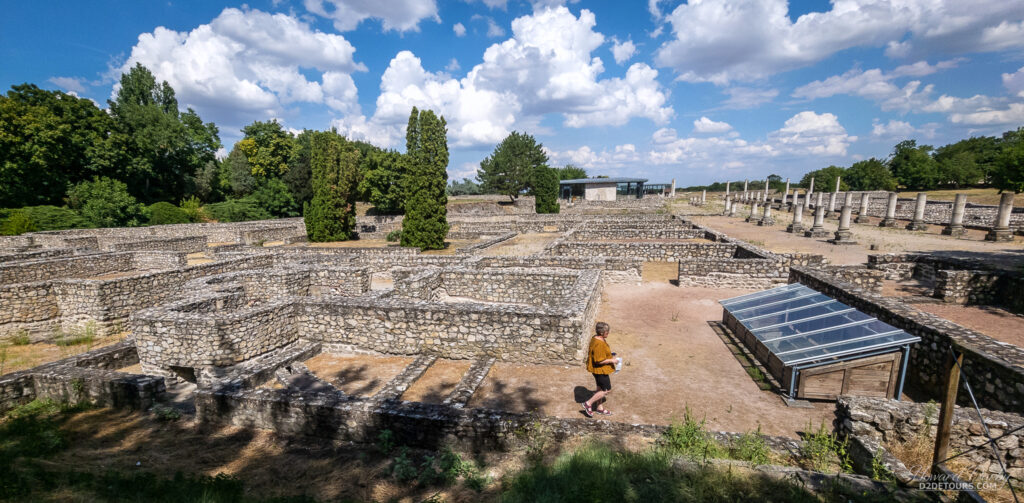 Budapest, Hungary – In 1873 the towns of Buda, Óbuda, and Pest were officially unified and renamed Budapest (Boo·da·pesht). Spread across both banks of the Danube, this City boasts some stunning architecture and is very walkable. We spent two full days in the City soaking up the sights.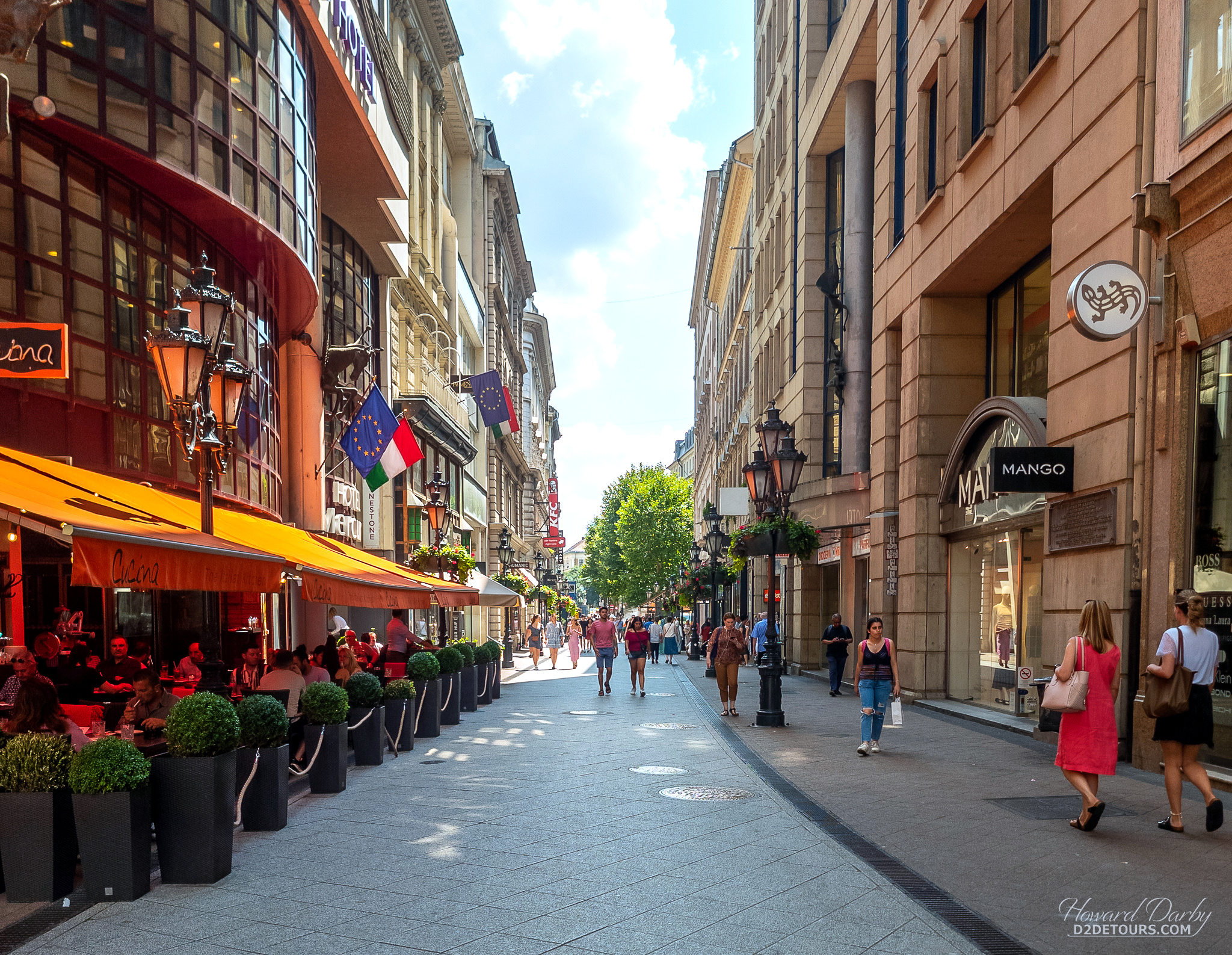 On our first day, we took the bus across the river to the hilly "Buda" side of the City, beginning with a visit to the Buda Castle grounds. Originally constructed in the 13th century, with further expansion to the complex occurring in the latter part of the 18th century, much of it lay in ruins following WWII. The rebuild by the communists was far less ornamental than the original and is what we see today. The castle now houses the Hungarian National Gallery and the Hungarian National Museum.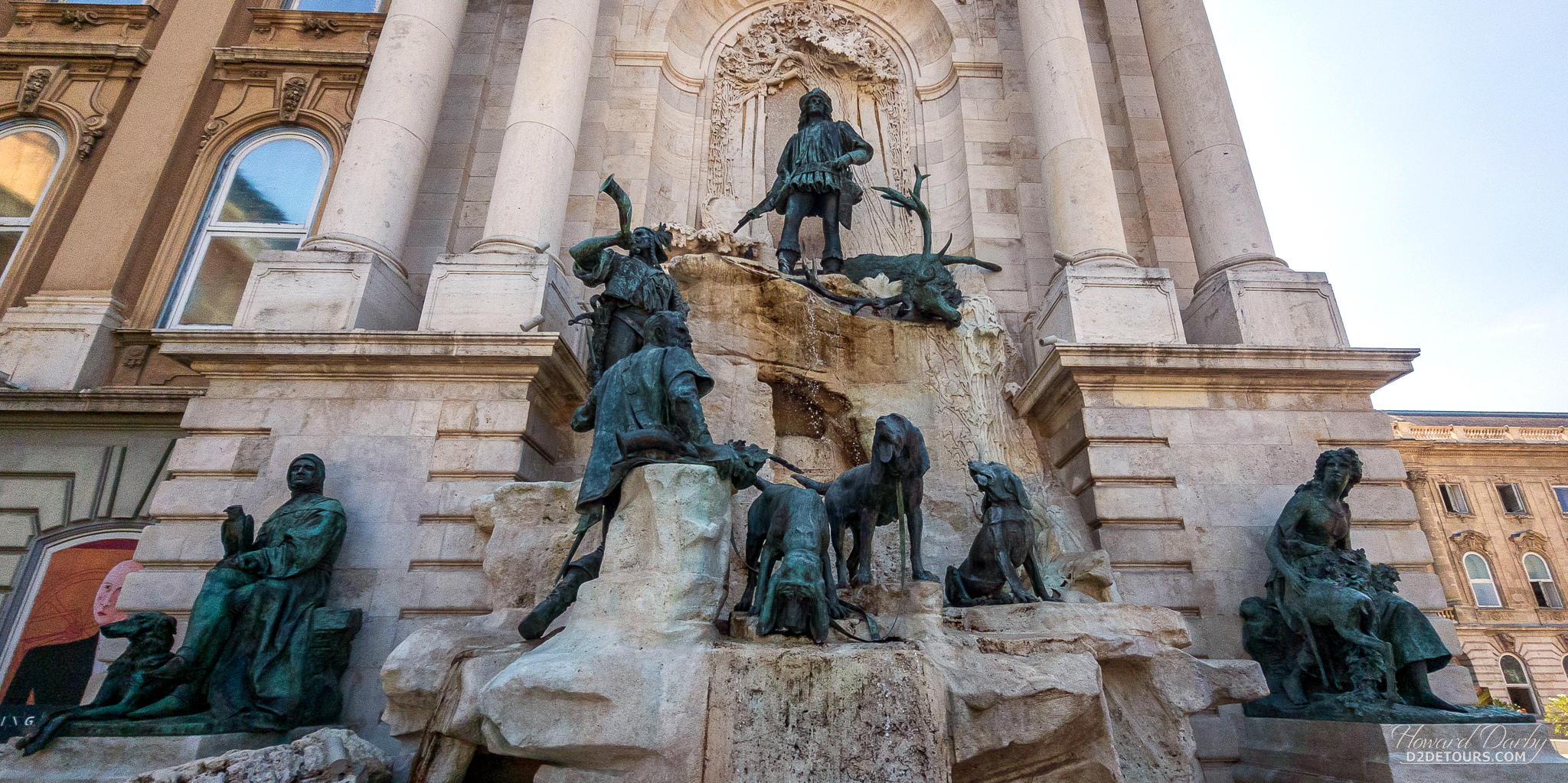 From the castle we headed to The Church of the Assumption of the Buda Castle, better known as Matthias Church. While there is some evidence of a church on this site around 1015, the current structure was built in the second half of the 14th century with extensive restoration undertaken in the late 19th century. I rarely feel the need to go inside Catholic churches, but I sure do admire their exterior architecture; the tilework on the roof of this church is spectacular.
We wandered down the hill from the Matthias Church to see the Széchenyi Chain Bridge. Opened in 1849, it was the first permanent bridge in Hungary to cross the Danube and is an iconic Budapest symbol that was sadly shrouded in scaffolding, undergoing restoration work. So instead we walked back to our Airbnb by way of the Elisabeth Bridge, which is the only bridge in Budapest that could not be rebuilt in its original form following its destruction in WWII. Side note: during the Siege of Budapest, near the end of WWII all seven Budapest bridges crossing the Danube were destroyed. The towers of the Széchenyi Bridge remained standing and it was rebuilt, reopening in 1949. Other bridges could be salvaged too, but nothing remained of the Elisabeth Bridge and a new cable bridge was finally erected on the same location between 1961 and 1964.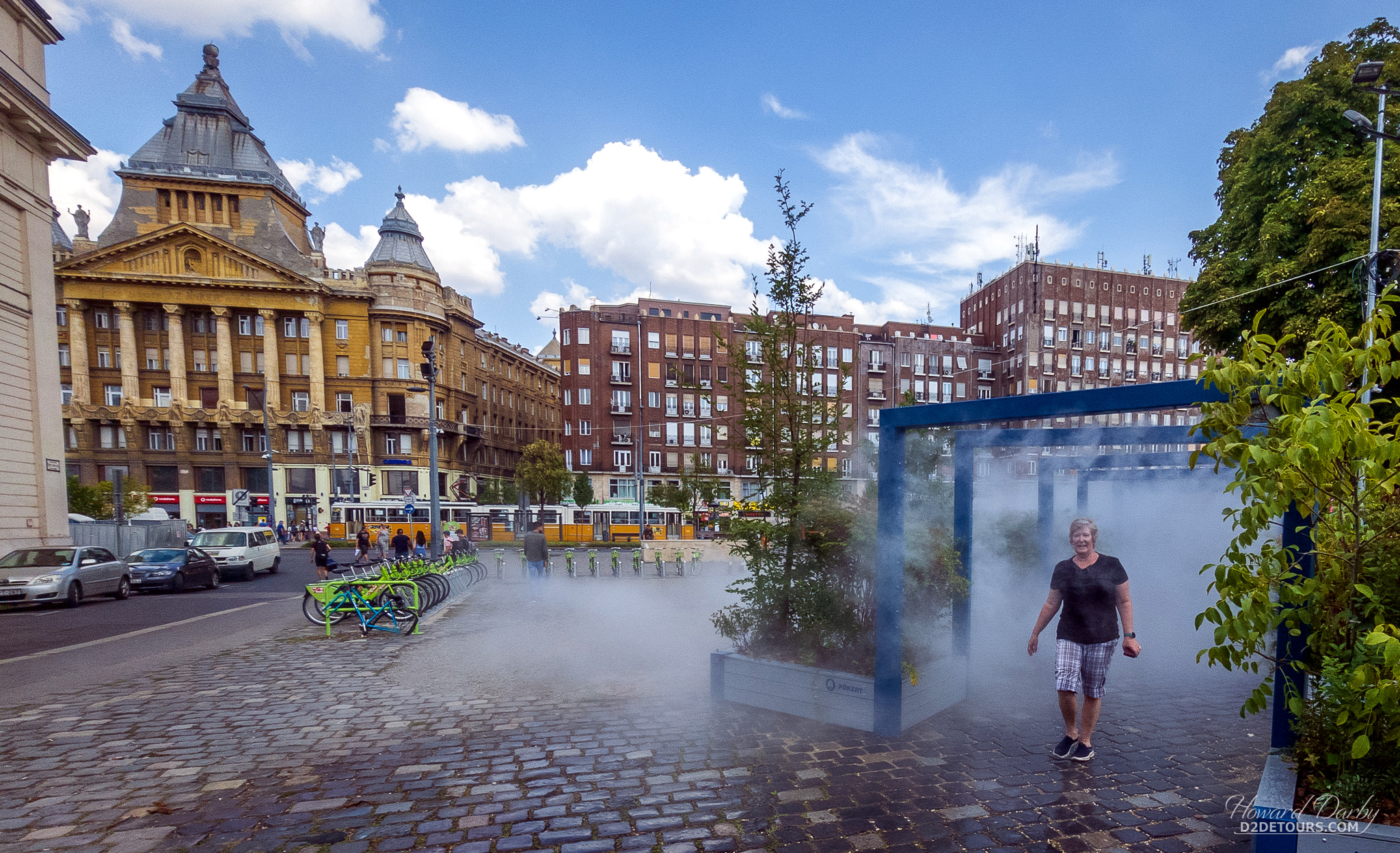 On our second day in Budapest we stayed on the Pest side of the river and wandered past St. Stephen's Basilica on our way to Kossuth Square and the impressive Hungarian Parliament Building, built on the bank of the Danube.The largest building in Budapest, it took 17 years to complete construction, opening in 1902, and is the 3rd largest parliament building in the world. There are 691 rooms, 10 courtyards and 20 km (12.5 miles) of stairs!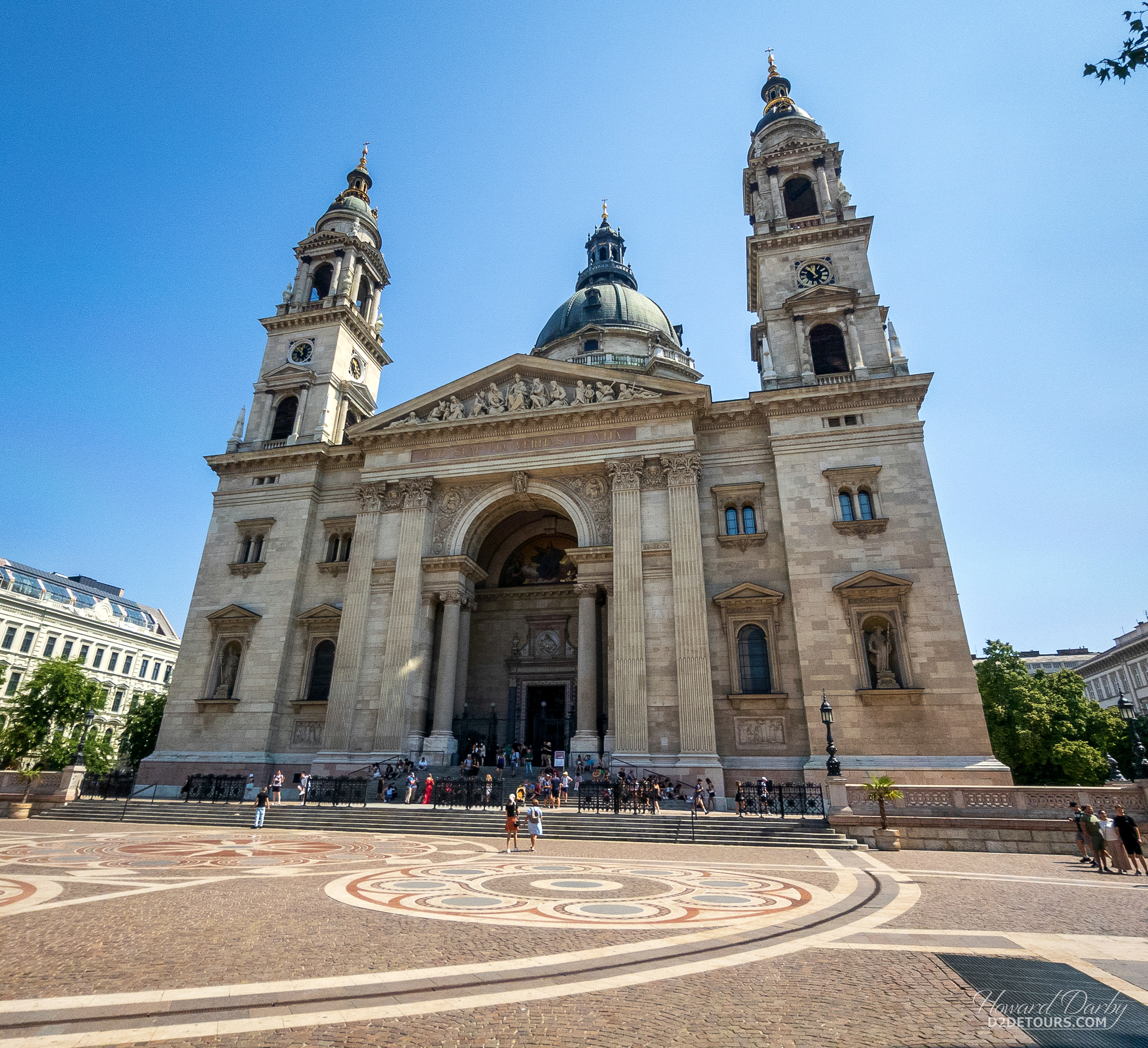 The stonework on the exterior of the parliament building is magnificent but wind, rain and pollution have taken their toll on the condition of the stones and in 2002 extensive restoration work was undertaken. Some of the original pieces removed during restoration, along with a chronology of the construction, can be found in one of the old ventilation tunnels that has been turned into a lapidarium on the north side of the Square.
One of the truly surprising things we found in Budapest were the bronze statues of Ronald Reagan and George H. Bush, both found in Liberty Square. Unveiled in 2011, the statue of Reagan was erected in appreciation of his efforts in ending the Cold War. During a 1989 visit to Budapest, George H. Bush was asked what three things he wished for Hungarian children, his response was freedom, happiness and a long life. His commemorative statue was unveiled in 2020 to mark the 30th anniversary of the end of communist rule in Eastern and Central Europe. Huh, who knew.
Us (our thoughts on the area) – I have always been a fan of road trips; I love watching the countryside pass by with the added bonus of stopping whenever I need a bathroom break, not when the bus schedule allows for one! Case in point, although we whipped through Slovenia we thought it a lovely landscape – lush green rolling hills, dotted with small villages of whitewashed buildings with orange terracotta roofs. Off to Romania – wish us luck at the border where we understand the delays can be painfully long!
Restaurants – Cured meats are a staple in Umbrian cuisine. We had a delicious meat tray lunch at Mr. Norcy (aka Antica Norcineria) in Perugia, which is a small, self-serve restaurant located in the base of the Cattedral di San Lorenzo around back. I don't think the business is actually "licensed" as a restaurant so you place your order at the counter, wait for them to prepare it and then take it to your table to enjoy.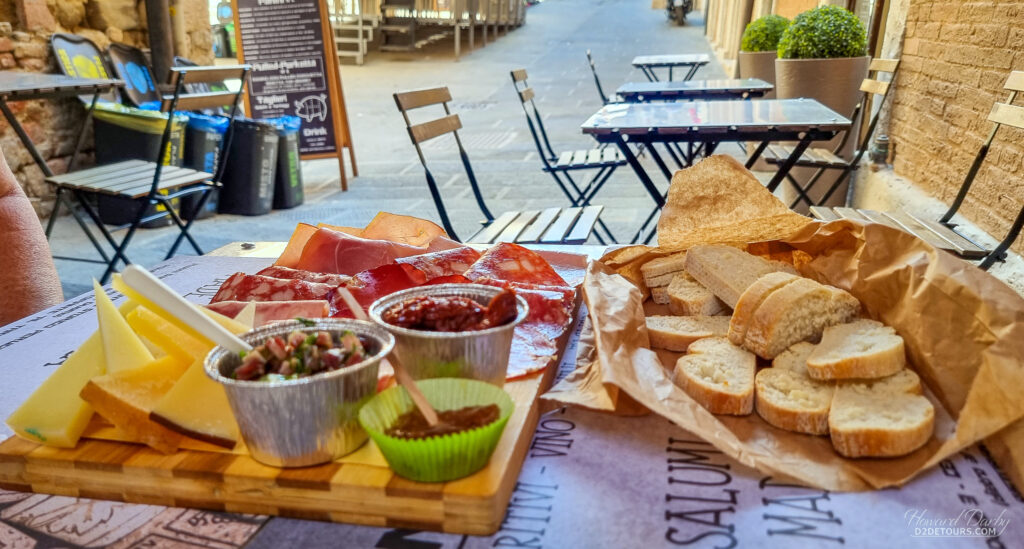 Being Italy, the pasta is amazing and we had another excellent meal (including truffles) at Osteria Mangiafuoco in Perugia.
The area around our Airbnb in Budapest was chock full of restaurants with an interesting variety of choices: Lebanese, Hawaiian, Thai, Korean, Vietnamese, Italian, English Pubs, plus a huge number of eateries self-described as "street food." We tried the street food from Tölcsibe (a name derived from the Hungarian slang for cone (tölcsi) and chicken (csibe), which is breaded, marinated chicken served in a waffle cone – pretty yummy! And, of course, we had goulash, though it was from a small eatery near the river and I don't recall the name – good, hearty, peasant food. We also had some really good food from Im-oon Thai.
Speech – A few basic words are certainly helpful in Italy, but in Budapest, we were surprised at the amount of English – storefronts, menus, etc., and invariably, without even opening our mouths, the locals would start speaking to us in English – clearly something about us screams "tourist!"
These were the Italian words/phrases we found most helpful to know:
Buon Giorno (Bwohn-johr-noh) – Good Morning (although it seemed acceptable any time of day);
Ciao (Chow) – informal form of Goodbye;
Si (See) – Yes;
No – No;
Per favore (Pehr fah-voh-reh) – Please;
Grazie (Grah-tsee-eh) – Thank you;
Parla Inglese? (Parh-la een-glay-zeh) – Do you speak English;
Non capisco (Non kah-pee-skoh) –  I don't understand;
Prego (Preh-goh) – You're Welcome;
Scusi (Skooh–zee) – Excuse me for attention;
Permesso (Pehr-mehs-soh) – Excuse me to pass by;
Mi dispiace (Mee dees-pyah-cheh) – I'm sorry.