In the last half of 2021 we had done a test run of nomadic living, spending four months travelling through Europe and a bit of the Middle East, deciding this is what we want to do full-time. We returned to Calgary, sold our house and all our possessions, and hit the road at the beginning of May, 2022. We did a swing through western Canada and down to Idaho for 3 months to visit friends and relatives before heading overseas at the end of July.
We decided to hit Europe again because Asia was still mainly shutdown, and we also decided to do it with a car to see as much as possible.
Our Route:
Trip Stats:
We're pretty happy with only leaving behind two chocolate bars while moving around so much, but they were VERY good chocolate bars, so I'm still pretty bummed about it 😉
Costs by Location:
As seen in this chart, we spent a total of $22,747.95 for the five months, which extrapolates out to $56,101 Canadian$ for a full year ($41.1k US$, €38.9k). Our max budget is $60k CDN$/year, so we're pretty happy about being under that mark even with the high cost of a leased car, gas, ferries, road tolls, and usually not being able to take advantage of weekly or monthly rental discounts due to being on the move so often.
What Did We Spend It On: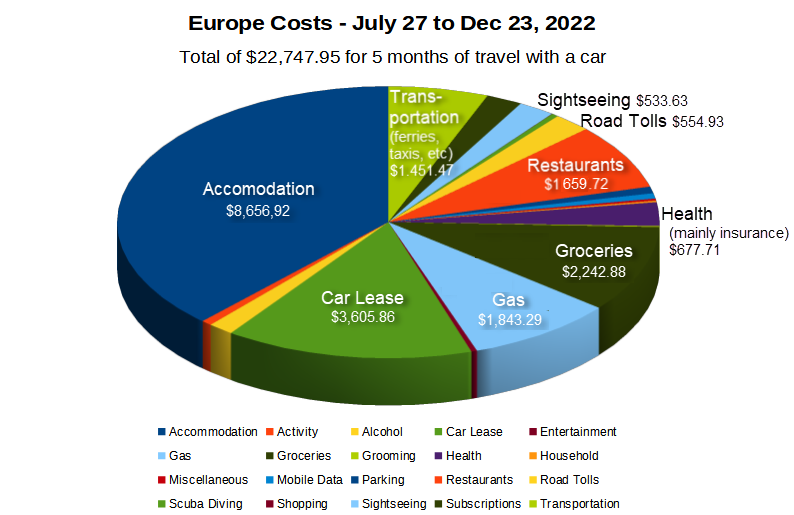 Car Lease with Renault Eurodrive: Renault offers a very attractive long-term lease program for non-EU residents. The cost of the lease includes a brand-new vehicle (we decided on a Clio, which is the ideal size for driving and parking in Europe), unlimited mileage, 24/7 roadside assistance, and insurance (full-comprehensive, liability, with zero-deductible collision).
The term of the lease can be anywhere between 21 and 185 days – the longer the lease the more cost-effective. For all intents and purposes you are the owner of the vehicle, but Renault guarantees to buy-back the car at the end of the lease. And finally, you can pick-up (or drop-off) the vehicle in a number of EU countries, although depending on what location(s) you chose there may be an extra charge (for us it was an additional $400 to pick-up in Rome, and drop off in Lisbon). The length of our lease was 149 days, which worked out to $24.19 CDN$/day ($18 US$, €17).
Before this trip we had tried to compare the cost of the car lease, gas, and tolls against the costs without a car where we would be moving between destinations using a short car rental, plane, bus or train, plus the costs of local transportation, and figured the costs were fairly close. Additionally, having a car at our disposal allowed us to stay outside the more expensive city centres, move from place to place without worrying about carriers' schedules, and enable us to visit places off the beaten path without the need to join a tour, hire a private driver, or do one-day car rentals. We believe it did cost us more to travel with the car, but it sure made up for it in the freedom to go where we wanted and see things we probably wouldn't have otherwise.
Road Tolls & Things to Know About Driving in Europe: There are lots of toll roads in Europe – $555 for us during our 13,000 km, 13 country road trip. In most countries you just have to make sure to watch for the toll booth lane where you can pay by cash or credit card, which is identified by signs with credit card or currency symbols displayed above some of the booths. The other lanes are reserved for people who have the local automated system linked to their license plate or an on-board sensor that allows you to zip through the toll booth without stopping. Since we were in each country for a short time we didn't bother registering for these services, and used our credit card for all tolls.
By the way, there are always non-toll options that you can take. These are normally through the small towns along the way which the higher-speed highways avoid, so can take a lot longer – often double what it would be on the toll roads. However, when using these highways you often miss discovering the more interesting locations, so you have to choose what you want to do. For us, when time wasn't an issue we often used the "Avoid tolls" option in Google Maps to try to save money and see more interesting locations, otherwise I'm sure our toll amount would have been 2 or 3 times more. When we did take the toll highways it was because we had to make good time to reach a destination. One other point is that you would usually save on the gas (which is quite expensive in Europe) using the more direct toll highways, so there's a partial trade-off on the cost of using the toll roads.
If visiting Slovenia or Hungary be aware that they have electronic (vignette) systems linked to your car registration and license plate. You can purchase these vignettes online and away you go – easy and much more convenient than trying to find a place to buy the vignettes after entering the country.
Something else to be aware of is that in France there is a toll related to gas emissions in some major centres. The Green-Zone app includes a map displaying red (ZFE) and green zones across the country. Montpellier, through which we were passing, is a ZFE zone although, fortunately, that does not extend to highway corridors. However, if you were to leave the highway and enter the city, you would need a Certificat Qualité de L'Air. We didn't look too deeply into how to get one, and likely if you were renting a car in France it would already have the certificate, but if you had a private foreign car (or were leasing like we were), and want to avoid any fines, you might want do some research into whether you need the certificate, and if so, how to obtain it.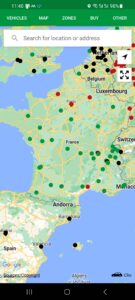 Where We Stayed: Our general rule of thumb is that if we're only staying for one or two nights we book through Booking.com, check the listings on Google Maps, or search through some other booking sites where we can find a good deal on a hotel. Most of our stays are closer to a week or more, which we normally book through AirBnB to take advantage of weekly or monthly discounts, although occasionally VRBO, Booking.com, or a few other sites have good long-term deals as well.
When staying more than one or two nights we're normally looking for a highly rated and well reviewed place with the following amenities:
A decently outfitted kitchen. We cook most of our own meals, but we're not that fancy, so as long as there are some pots and pans, glasses, dishes and utensils we're normally fine.
A defined bedroom (not a studio, although we have done them for shorter stays if choice is limited).
A comfortable seating area with a couch and TV. We're not on vacation with our travels – this is our life – so relaxing watching Netflix is a normal evening activity. We also check the pictures of the TV on the listing to make sure it's relatively new so we can attach our Firestick to use our own streaming accounts, along with news and other apps. Quite often the only stations you can get on the TV are in the local language, so it's nice to have a consistent source of news and entertainment we can understand.
A work area where we can set up our laptops with accessible plug-ins. Usually this is the kitchen table.
Having said the above, every once in a while we come across a listing where the view is so incredible that it's the deciding factor for where we stay. If it also meets the list above we're as happy as clams.
Our favourite views from our accommodations during our Europe road trip (links to accommodations below):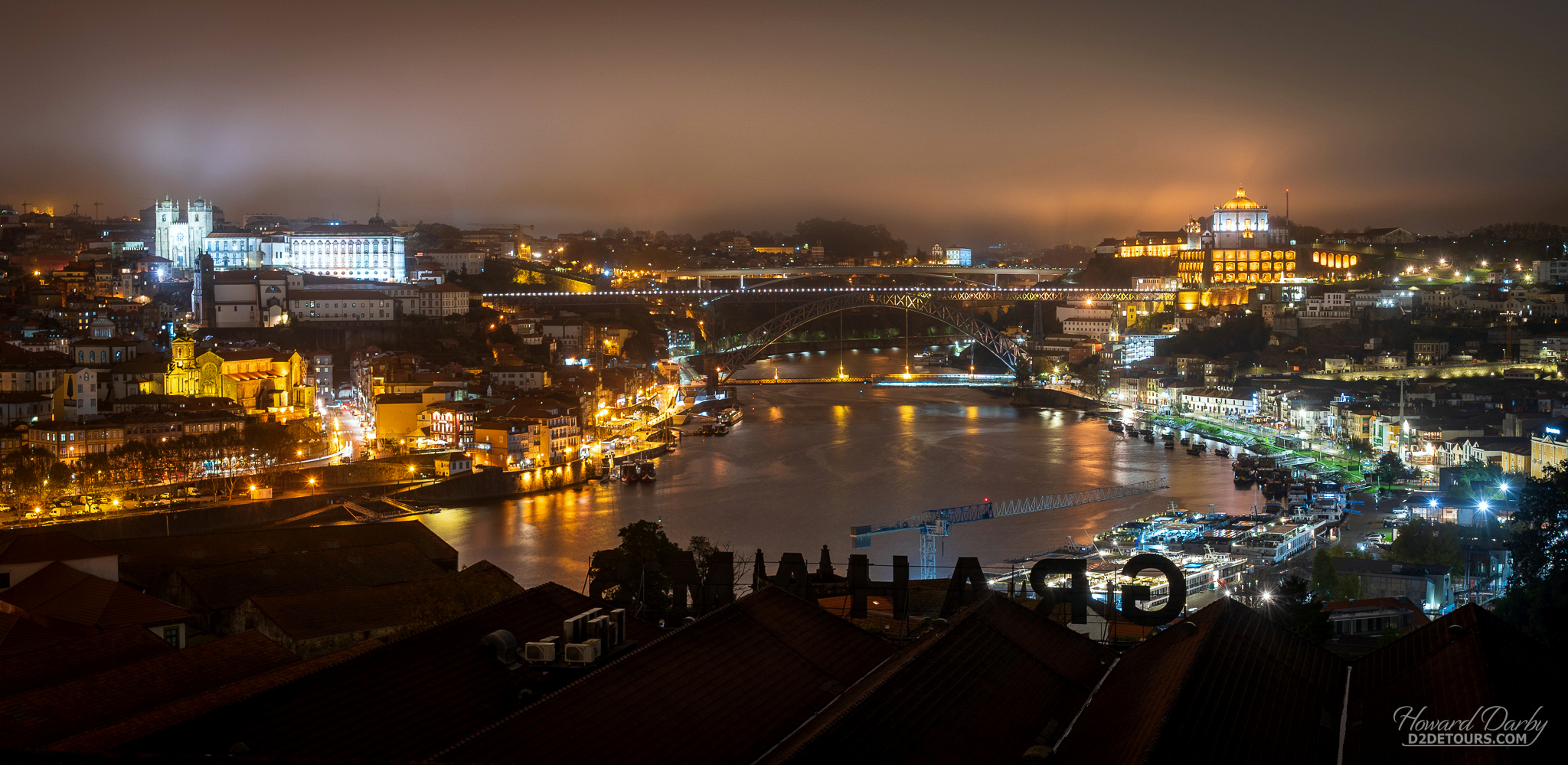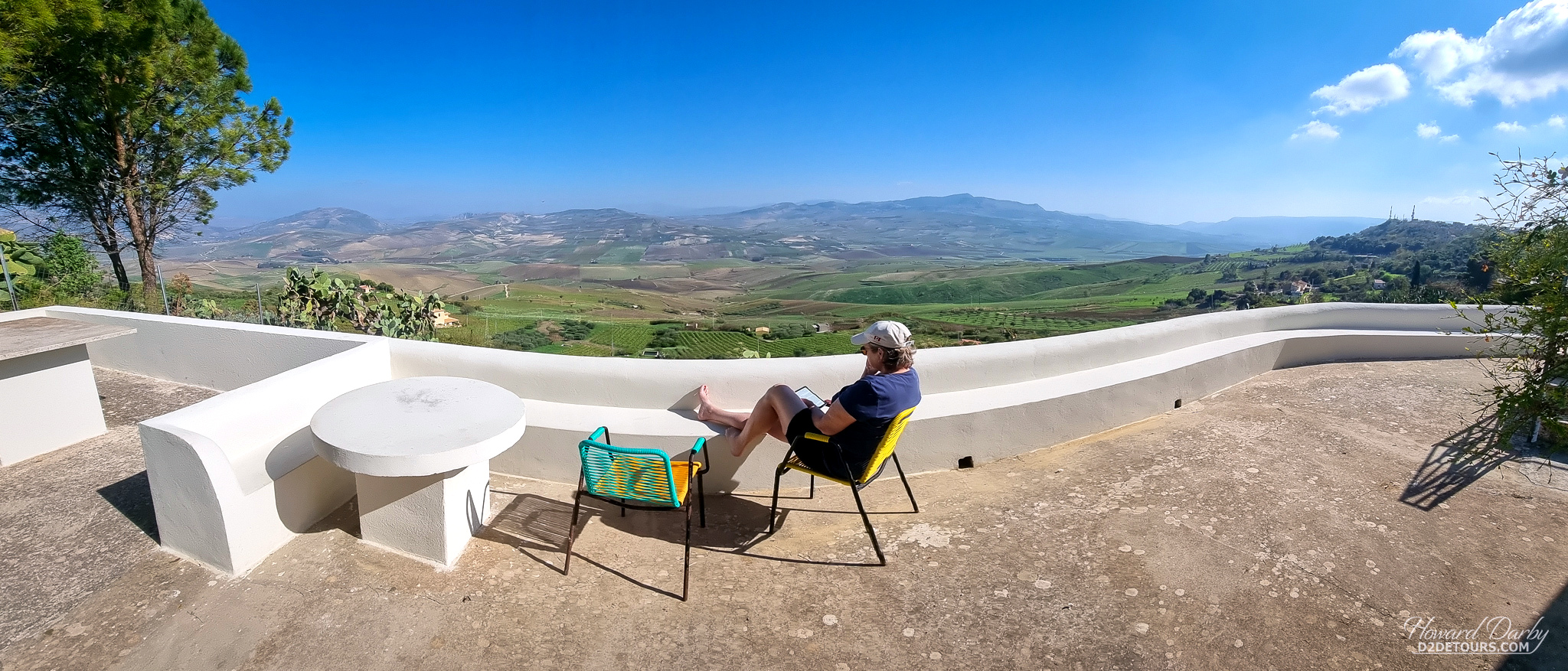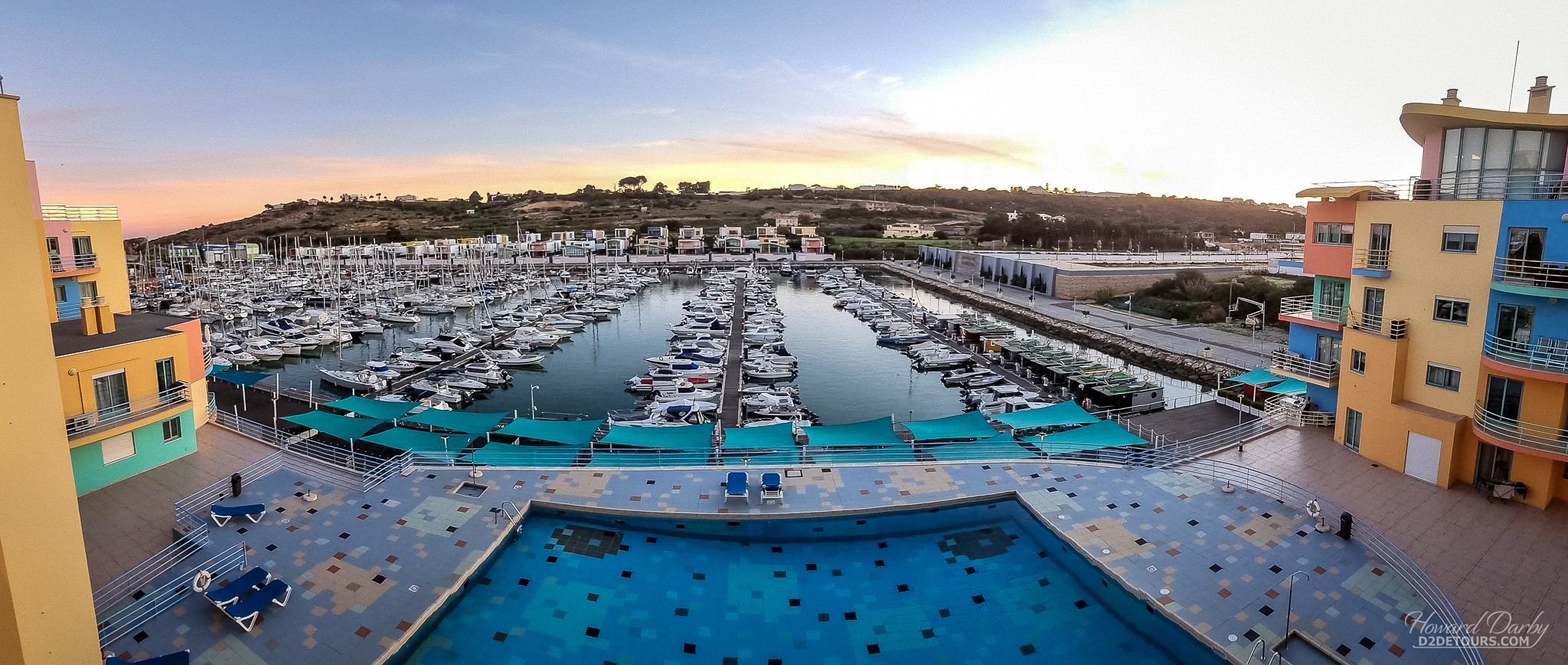 Links to these accommodations: Porto, Malpica, Santa Margherita di Belice, Kotor, Albufeira
Our Top 5 Favourite Locations: One of the thoughts behind all the travelling we did this year was to see as much as possible to decide where we'd like to go in the future for longer stays, and we accomplished that! Out of the 35 places we stayed, and many others we visited, here are our top five locations from our travels in Europe (click the name to view our write-up on that location):
Honorable Mention: Budapest, Hungary – We only stayed 3 nights in Budapest, but really enjoyed our time there, and it's the one major city we stayed in that we'd like to go back to explore some more.
Tips and Our Observations:
Parking – In most major cities or tourist locations you'll mainly only be able to find paid parking, but in the few places where there is free parking you'll often find someone directing you to an open spot. These are people looking for a tip from you for pointing out the spot, and they can get quite belligerent if you do park in the spot and don't tip them, even though you probably saw the empty spot before they pointed it out to you. I'd also be concerned about what they'd do to the car when I left. When I knew the parking was free I deliberately ignored these people and found my own spot to park.
Most Disorganized Country – We drove through 13 countries on this trip, and in our experiences we found that Italy was by far the least organized country, and as a bonus it had the worst roads. Things like no signage at ferry terminals, a free-for-all when it came to loading and unloading ferries, dog poop all over the sidewalks, and piles of garbage thrown out of vehicles at any roadside pull-out, it made Italy a country where it seemed there are very few social guidelines. However, it's Italy, so you have to look at all of this as part of the attitude and "charm" that makes it a unique place to visit.
Cell Phone Data Plans – Last year I purchased sim cards in each country, but this year I moved on to eSims. These are virtual sim cards that newer phones can use (click here to check if your phone can use eSims). It took a bit of a learning curve, but I've finally figured it out. eSims are close to the price of a physical sim card without the hassle of having to visit a shop to buy them, and have worked just as well for me. I make sure to buy a new eSim just before I leave the prior country, then it's ready to use when I enter the new country. I'm currently using Airalo, which has the lowest in-country plans of the major eSim companies I've researched, although I hear that the coverage by Ubigi is better in Japan (their price is also low … actually quite a bit lower in Japan than physical sim cards), so I may be using that company when we visit there in February. By the way, if you want to try Airalo you can use code HOWARD6863 to get a $3 credit when you sign up at https://ref.airalo.com/xz6Q or apply the code at checkout.
Make sure to read the Road Tolls & Things to Know About Driving in Europe section above if you'll be driving through Europe.
What's Up For 2023? We're currently staying with relatives in the Palm Springs area of California where we had Christmas, with our sons flying down from Calgary to join us for a few days. From here we travel to Japan in early February where we'll spend a month exploring that country, then South Korea for a week, then Vietnam for a month. We have rough plans for the rest of the year, with most of it being in southeast Asia. Make sure to subscribe here or follow us on Facebook or Instagram to come along!
Favourite Photos From 2022: You can view all my favourite photos from the year on my Howard's Favourite Photos From 2022 blog post, but here's a handful of them …