I wonder how different the world would look if the Portuguese hadn't been such intrepid explorers. Their maritime empire lasted for nearly six centuries and touched every continent save for Antarctica. Expansion began in 1415 with the conquest of Ceuta in North Africa and, ended in 1999 when they transferred sovereignty over Macau back to China. Simple colonization, however, wasn't the impetus for their exploration, it was trade and sourcing those commodities in highest demand – gold, ivory, sugar, spices, and slaves.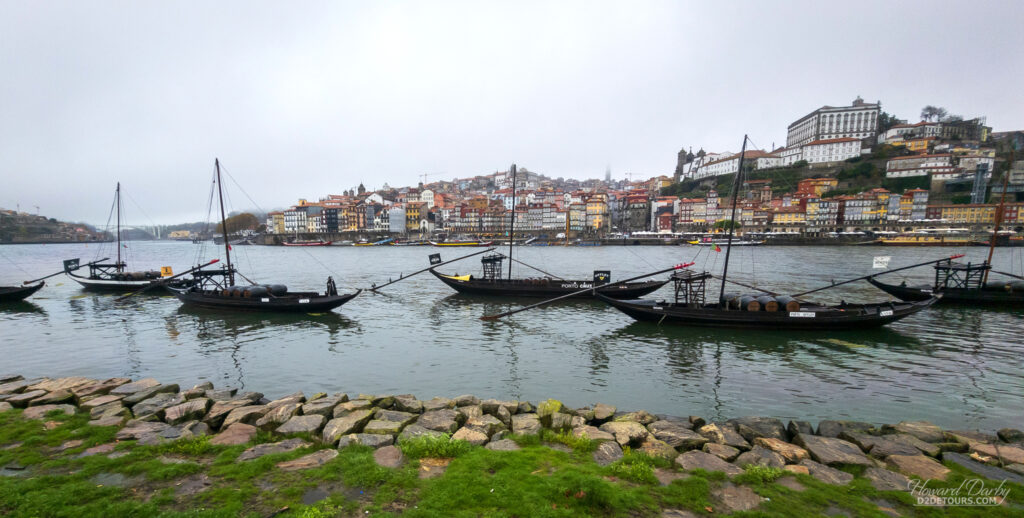 After Ceuta, the Portuguese set sail into the open ocean and soon had a thriving sugar cane industry on the Madeira archipelago. A successful sugar cane plantation required a massive labour force and these profitable operations on Madeira soon became the blueprint for plantations elsewhere, notably across the Atlantic, resulting in the horrific history of human trafficking. Continuing expansion during the 15th century saw the Portuguese establish gold and ivory trading posts in West Africa and in 1498 they sailed around the Cape of Good Hope, into the Indian Ocean, hoping to gain access to the spice trade. A network of African, Indian, and Arab traders had been running the spice route from the East Indies through northern Africa for centuries and were not keen on sharing. The Portuguese attempted to use their superior ships and fire power to remove the infidels from these waters but by 1506 had to content themselves with the gold trade in Mozambique. The allure of the spice trade continued to beckon and from Mozambique they pushed across the Indian Ocean to Goa. Much to their surprise, the local inhabitants were not particularly interested in trading spices for what they deemed to be useless European goods which forced the Portuguese to dispense with diplomatic solutions and forcibly seize jurisdiction over the route. The route alone wasn't enough. They wanted a monopoly; they needed to control the source – the Maluku Islands in Indonesia. In 1511 they got their wish when they captured the city of Malacca on the Malay peninsula, the port through which the Spice Islands conducted most of their business. The Portuguese tried very hard to maintain their monopoly through custom duties, trade licenses and sheer force of will, meeting with success for many decades, however they were not the only seafaring empire. By the late 16th century the Dutch and English were encroaching on the spice trade, with the Dutch ultimately emerging victorious after decades of battles.
The Malay peninsula was not the easternmost Portuguese outpost. The colony of Portuguese Nagasaki was established in 1571, giving Portugal access to Japan's silver resources. For 65 years ships regularly sailed back and forth from Lisbon to Nagasaki before the Japanese government instituted an isolationist policy and expelled all foreign nationals.
Portugal's reach even extended to our homeland, Canada. Under the Treaty of Tordesillas, signed in 1494, the lands newly discovered by Columbus were divided between the Portuguese and Spanish Empires, giving Portugal the territorial rights to North America, including the right to tax cod fishing in the coastal waters. Between 1501 and 1502, the Corte-Real brothers, on behalf of the Portuguese crown, charted what would become known as Newfoundland and Labrador, bestowing the name Baía da Conceição (Conception Bay) on one of the bays open to the Atlantic Ocean. A couple of small Portuguese settlements still exist today: Portugal Cove-St. Philips, a small community outside St. John's, Newfoundland was one of the first villages established in the New World and St. Peter's, Nova Scotia was a 16th century Portuguese trading post named Santo Pedro before it was abandoned to the French in the mid-17th century.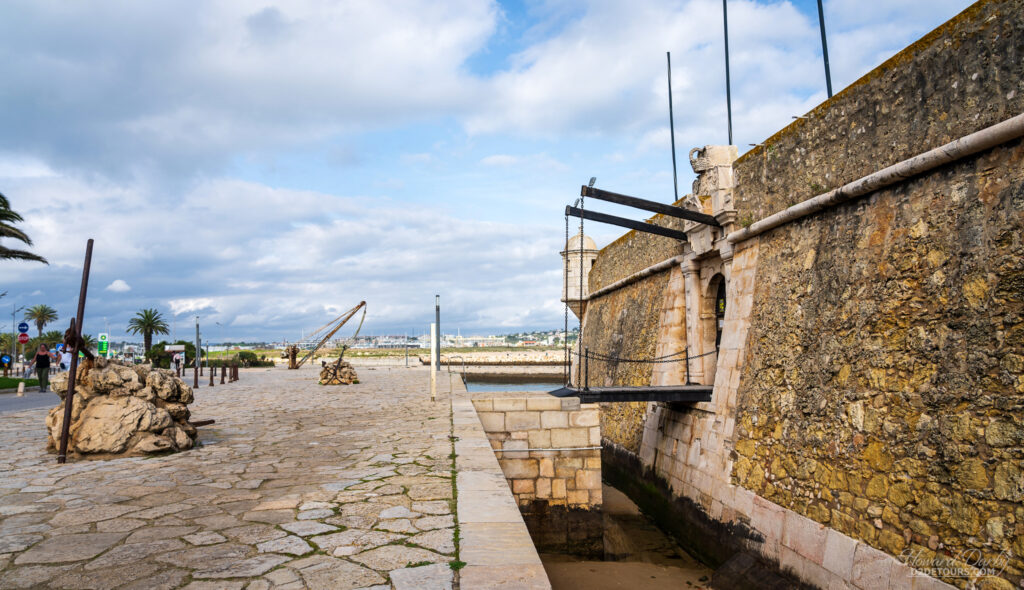 And finally, no summary of Portuguese exploration would be complete without mention of, perhaps, their most important colony, Brazil. An expedition enroute from Lisbon to India around about 1500, accidentally sailed too far southwest and found themselves on the shores of an undiscovered land rich in natural resources: hardwoods, sugar, tobacco, precious gems and gold. It didn't take the Portuguese crown long to capitalize on this happy accident and they began by exporting the pau (wood) brasil (reddish) trees which, in addition to producing a sap highly valued for dyeing cloth, was a nearly indestructible timber useful in ship building. Serious colonization began in the 1530s with sugar and tobacco plantations leading the way. Near the end of the 17th century, and well into the 18th century, tens of thousands of pounds of gold was being exported to Portugal on a yearly basis and diamond production was on a scale rivaling the world's largest producer at that time, India. Brazil proclaimed their independence from Portugal in 1822 and was formally recognized in 1825.
Dollars – We averaged just over $138/day Canadian ($103 USD / €96) for our 35 nights in Portugal (4 nights in Porto, 3 nights in Terrugem and 28 nights in Albufeira). Lumping our short stays in Porto and Terrugem into the budget for our entire time in Portugal skewed the daily average somewhat, given that short stays are generally less cost-effective. If you were to carve out those expenses, then our month in Albufeira would have averaged out to $128/day Canadian or $3,593/month ($2,652 USD / €2,472), which is pretty good and an extended stay in this area becomes even more economical if you don't have the additional expense of a vehicle. Our car-related expenses (lease and gas) for the month in Albufeira amounted to nearly $800 CAD and there were many days when the car was sitting idle. There is good bus service between the Algarve towns – we drove around because we could, but a vehicle is certainly not necessary to enjoy this area and renting occasionally if wanted to do some exploring further afield is always an option.
Environment
Porto – We actually stayed in the city of Gaia, which is on the opposite bank of the River Douro from the city of Porto. It was a bit of a jaunt from the historic section of Porto (about a 20-25 minute walk, the last portion of which is uphill) but we didn't find it particularly onerous. It poured rain throughout most of our stay and we did opt for an Uber a couple of times to get from our rental unit in Gaia into Porto (approximately €6 – totally worth it to stay a little bit drier!) The unit was enormous (2-bed/2 bath), far more space than we needed, with the most incredible views from every window and for the size very reasonably priced – roughly $83/night CAD, including the tourist tax of €2/pp per day.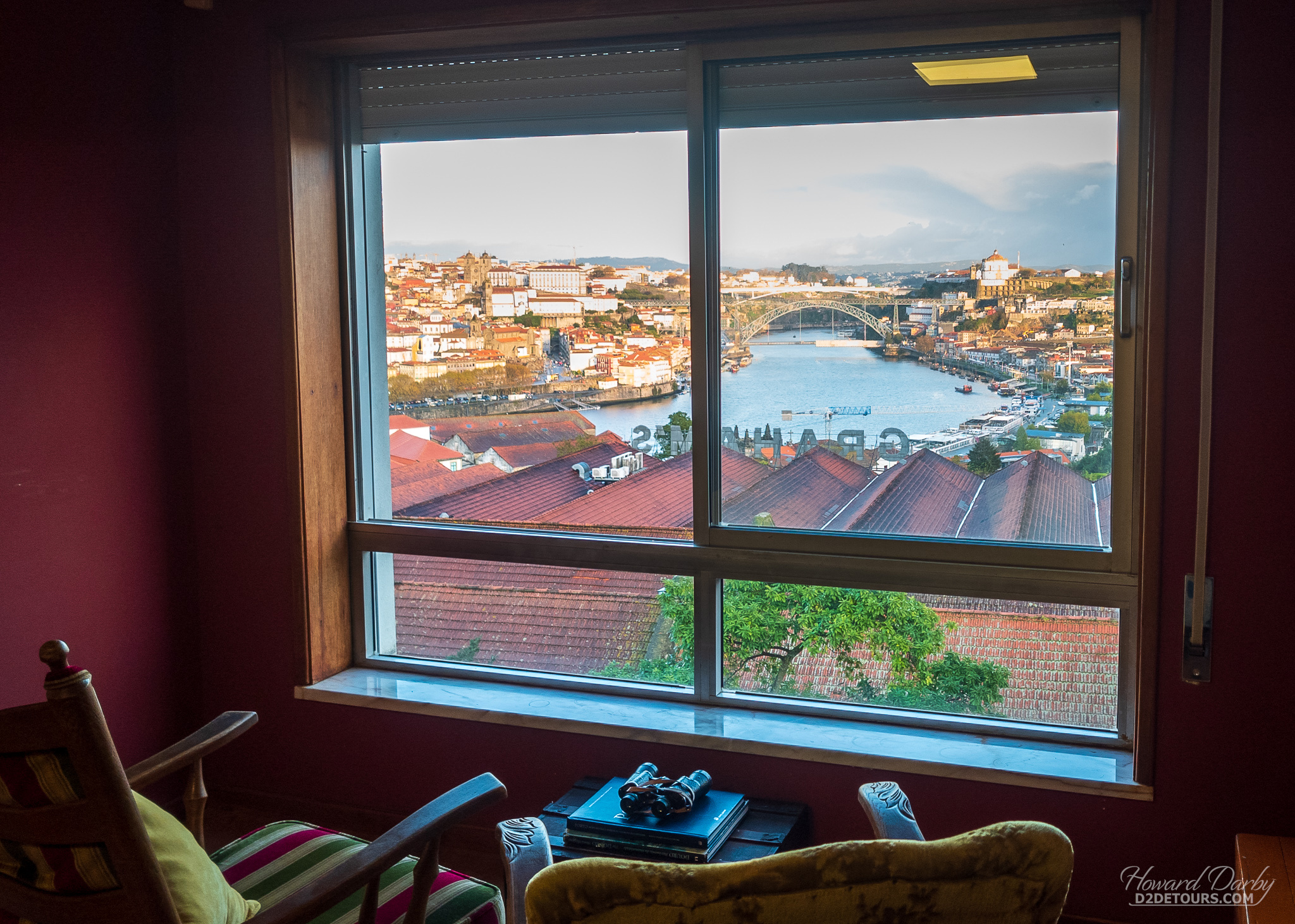 Terrugem/Sintra – We wanted to visit the town of Sintra but found most of the decent accommodation was cost prohibitive. We took advantage of having a vehicle and looked for places in some of the surrounding villages, settling on Terrugem (which was still a whooping $88/night CAD – high by our standards). This was a cute, self-contained unit that likely began life as the garage for the main house.
Albufeira – We stayed in Albufeira for 28 nights and this particular Airbnb was offering a very attractive discount for a month-long stay, which, when coupled with the off-season rate, worked out to $46/night CAD – nicely offsetting the higher rates we paid in Porto and Terrugem. The unit had a large living space with plenty of comfortable seating, a well-stocked kitchen and a firm mattress on the queen-sized bed – all crucial elements for an extended stay. We overlooked the marina which we understand can get quite noisy during the summer months when the bars and restaurants are full, though that was definitely not the case in December, and the little bit of noise that did filter up was completely muffled by closing the external blind in the bedroom. While it was well outside the historic center of Albufeira (and the beach) both were within reasonable walking distance and we were quite happy with the location.
Tips, Tricks & Transportation – The motorways in Portugal are well maintained and Howard quite liked zipping around the countryside – he felt the conditions were more akin to those in North America. A potential negative to driving in Portugal is their CTT toll motorways which have electronic tolls versus the traditional ticket booth toll. Portugal does have both systems but we inadvertently ended up on a fully electronic toll road when we entered Portugal from Spain.

Signs for this type of toll road include this symbol, the meaning of which we did not twig to until we'd driven several miles (duh, I know it's a wifi type symbol, but it just didn't occur to us it meant no actual booth with a pay by cash option). We pulled off the highway and tried to figure out how to: a) register our vehicle; and b) how to pay the tolls we now owed, with no success. The online portal for registration would not accept the formatting of our French license plate which was 2 letters 3 numbers 2 letters versus Portuguese plates which are 2 letters 2 numbers 2 letters, nor was there any way to pay online any toll already accrued (you had to physically attend a CTT office or post office) so we have crossed our fingers hoping our license plate will be unreadable to the cameras on the motorway and there won't be an onslaught of tickets arriving in our mailbox back in Calgary AND we avoided these toll roads for the rest of our time in country!
Buying groceries in Portugal was a pleasure with several chains from which to choose; our preference was Continente, which we thought had the best selection. Pingo Doce stores were easier to find, we just didn't care for their selection as much, and Intermarché (a French supermarket chain) was okay too, it just seemed to have slightly higher prices.
Out and About
Porto – In 136 BCE, the Romans established a city on the banks of the River Douro and named it Portus Cale, Latin for "warm port." Later the Portuguese just called it O porto – "the port or harbour" and time has shortened it further to simply Porto. While the entire metropolitan area is often collectively referred to as Porto, technically Porto is the city on the northern banks of the River Douro, and the city of Gaia is situated on the southern bank and it is in Gaia where one finds the port lodges/houses whose cellars contain the product that has become synonymous with Porto.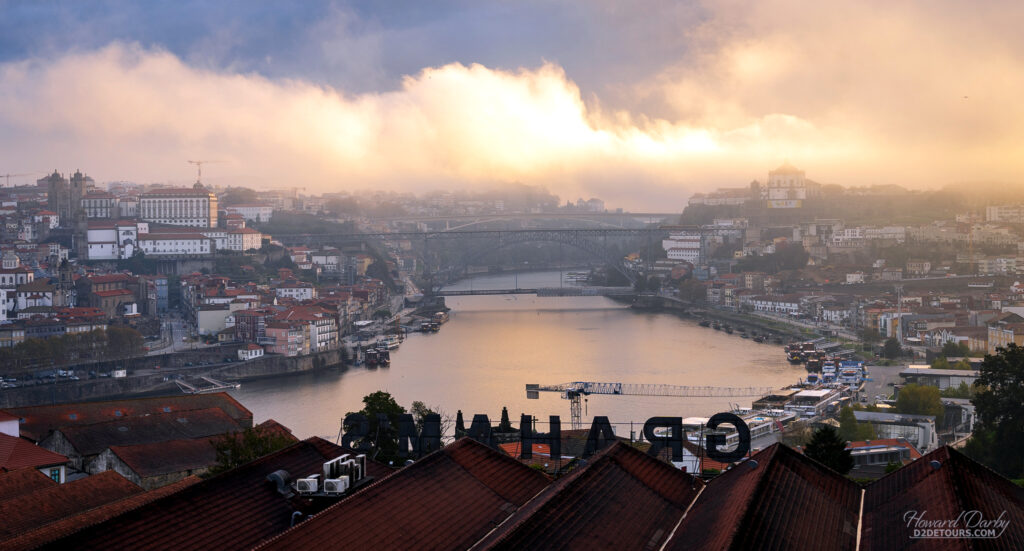 The Cais (Pier) de Gaia is a history lesson in the port (fortified wine) trade, with the oldest house, Kopke, dating back to the 1600s. All of the houses lining the waterfront (Calem, Sandeman, Ferreira, to name a few) offer a variety of tastings and/or tours but Howard does not drink so rather than dragging him along on an expensive tour, we just stopped in one of the bars along the pier, Casa Do Galo, and I sampled a flight of red, rosé, and tawny port from a couple of different cellars (Ferreira and Offley). I opted for their "ladies choice" selection which was very reasonably priced at €7 ($10 CAD) for the three glasses and found them all to be smooth, sweet and very pleasant to sip – I'm not sure I could pick a favourite, though I did buy a bottle of the rosé to enjoy over the next several evenings.
I confess the rain dampened my enthusiasm for Porto. I find weather greatly affects my mood and I struggled to understand why so many people rave about this city – the guide on our free walking tour with Porto Walkers (which by the way was a great tour) commented that Porto gets more rain than London! On our second day in the city, as the sun managed to penetrate the gloom, I started to see its charm as we strolled the warren of narrow streets and stairs in the Ribeira district, finding pops of colour from the azulejo (blue and white) tiles decorating churches, random walls and the interior of the train station, which itself is magnificent.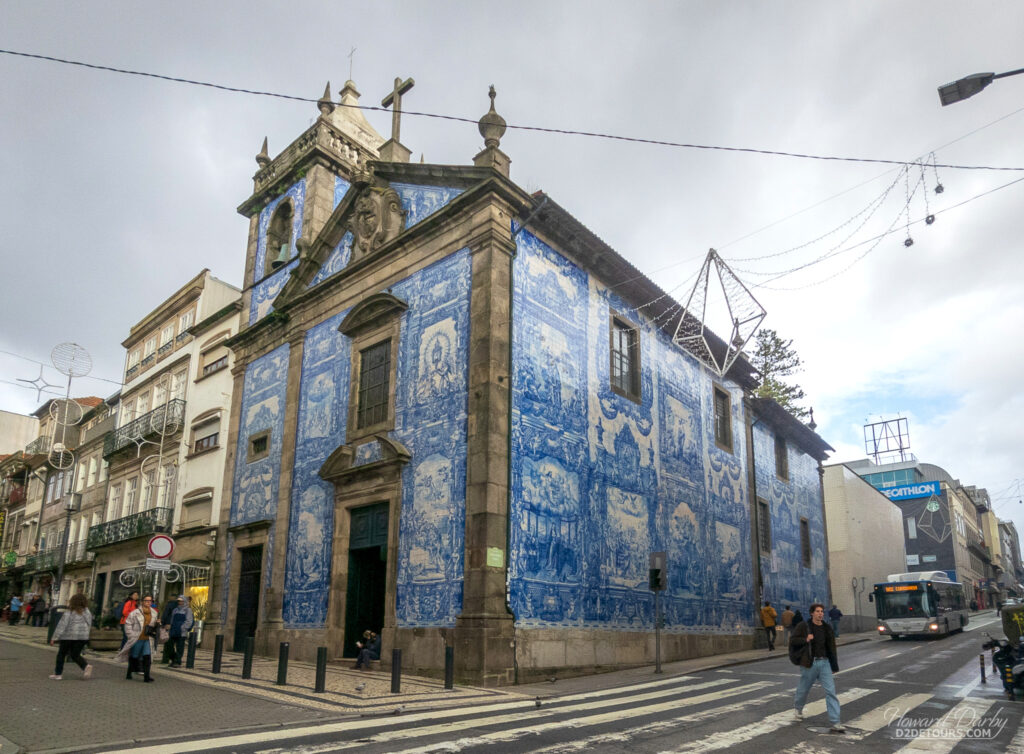 Connecting Porto and Gaia across the River Douro are six bridges, the most famous of which is the Dom Luis I Bridge, designed by Téophile Seyrig, a student of Alexandre Gustave Eiffel (yes, that Eiffel). At the time of its completion in 1886, this two-tiered metal bridge was the longest in the world. Today the metro runs along the upper deck with the lower deck handling road traffic, and pedestrians (who aren't afraid of heights) may cross on either level to admire the view.
Sintra – In 1995, the town of Sintra was designated a UNESCO Cultural Landscape due to the architectural style of several of its landmark palaces and gardens. We spent a few hours walking through the grounds of Quinta da Regaleira, which, despite the gray pall cast by the drizzly weather, were quite enchanting. In 1892, a wealthy Brazilian-Portuguese businessman, Carvalho Monteiro, acquired 4-hectares of land near the historic center of Sintra and set about having an eclectic array of buildings and gardens built to reflect his ideologies, including alchemy and freemasonry. Over the ensuing decades subsequent owners renovated portions of the estate incorporating their personal quirks and by 1997 the Sintra Town Council owned the property. Extensive restoration work was undertaken by the Council to turn the grounds into a "public interest property" which can be experienced after paying an entrance fee of €10 ($19 CAD).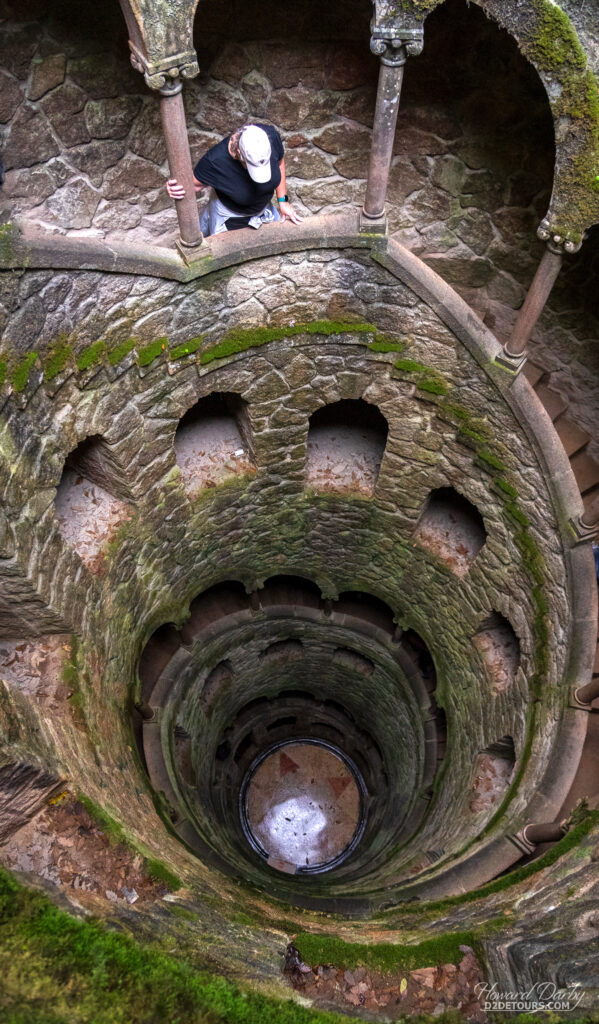 Before we left Sintra I spotted someone selling ginjinha (Portuguese liqueur made from ginja berries) and had to stop for a shot. The liqueur is served in small chocolate cups which you toss all together into your mouth for a yummy taste treat. I have partaken of this sinful delight in the past (on a previous trip to Lisbon during fiesta time) and felt very self-righteous that I held myself to only one shot which is pretty impressive considering each shot is a measly €1 ($1.50 CAD); experience has shown that price is dangerously low.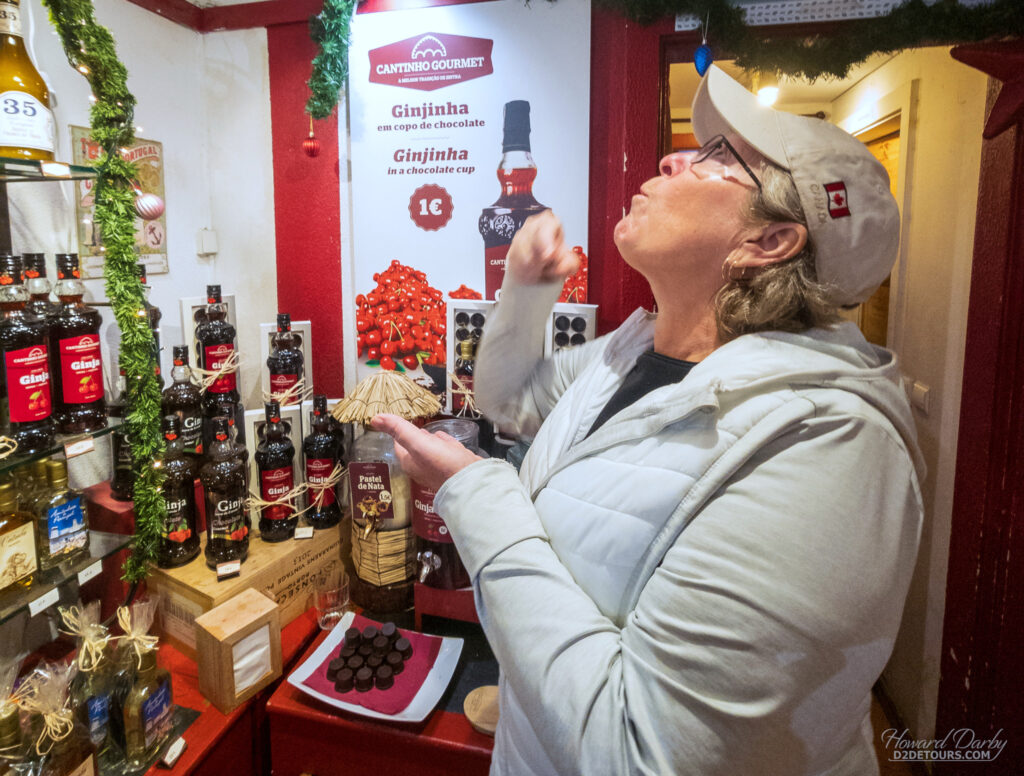 Albuferia – As we visited different spots along the Algarve coastline, I can see why people thought these cliffs rising out of the sea must be where the known world ends – standing on the edge there is nothing but vast ocean as far as the eye can see.
While the ocean may not offer much in the way of a stimulating view, the coastline is mile after mile of rugged beauty begging to be explored, although you may not want to venture too close to the edge as erosion is ever present. If you were so inclined I suspect you could find new sections of coastline to appreciate every day – our highlights were the cliffs around Albufeira and west to the towns of Sagres and Lagos, especially those around the beach of Praia do Ninho de Andorinha and the cliffs at Ponta da Piedade.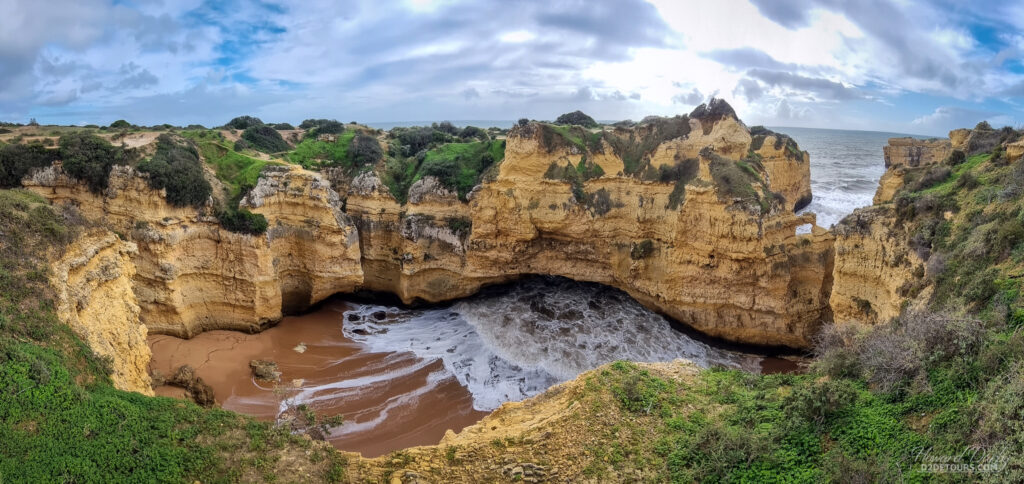 Here's a video of the beach and cliffs at Praia do Ninho de Andorinha: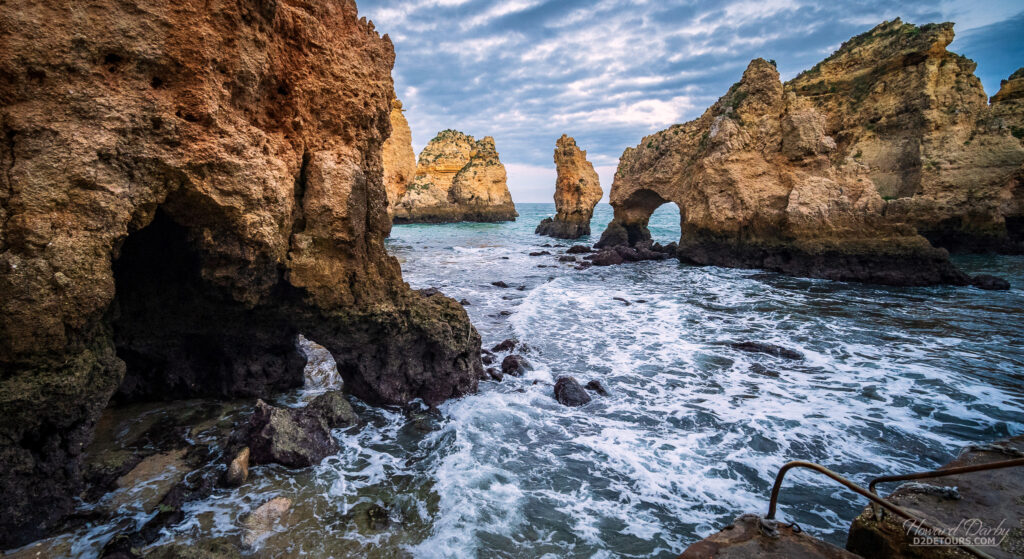 The Benagil cave may be one of the better known vistas and is only accessible from the water. With every single tour operator offering boat rides I imagine during the summer its beauty is marred by throngs of people – we walked the pathway system above the cave, which was pretty in its own right.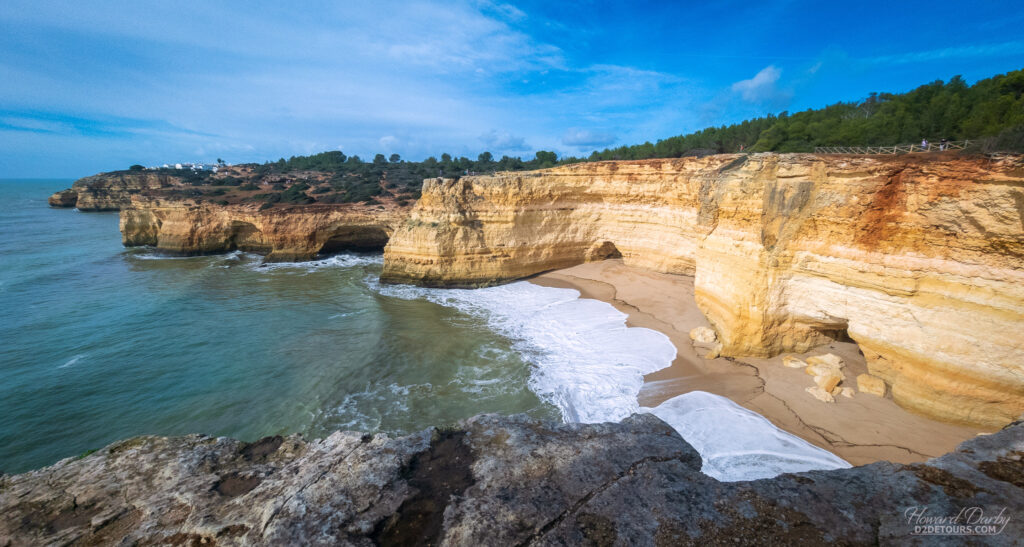 Exploring the cities of Albufeira, Lagos and Faro the historic centers are easily identifiable by the geometric patterns of black and white (and sometimes red) stones paving the narrow streets and walkways – so much prettier than asphalt.
As we meandered the streets of Albufeira one Saturday afternoon we passed a long line of tables running the length of one street, turning the corner and continuing up the next, laid with a single, continuous row of cake. We later learned the cake was bolo-rei, a brioche-like bread filled with nuts and fruit (Portuguese Christmas cake) and the area was being staged for a charity event.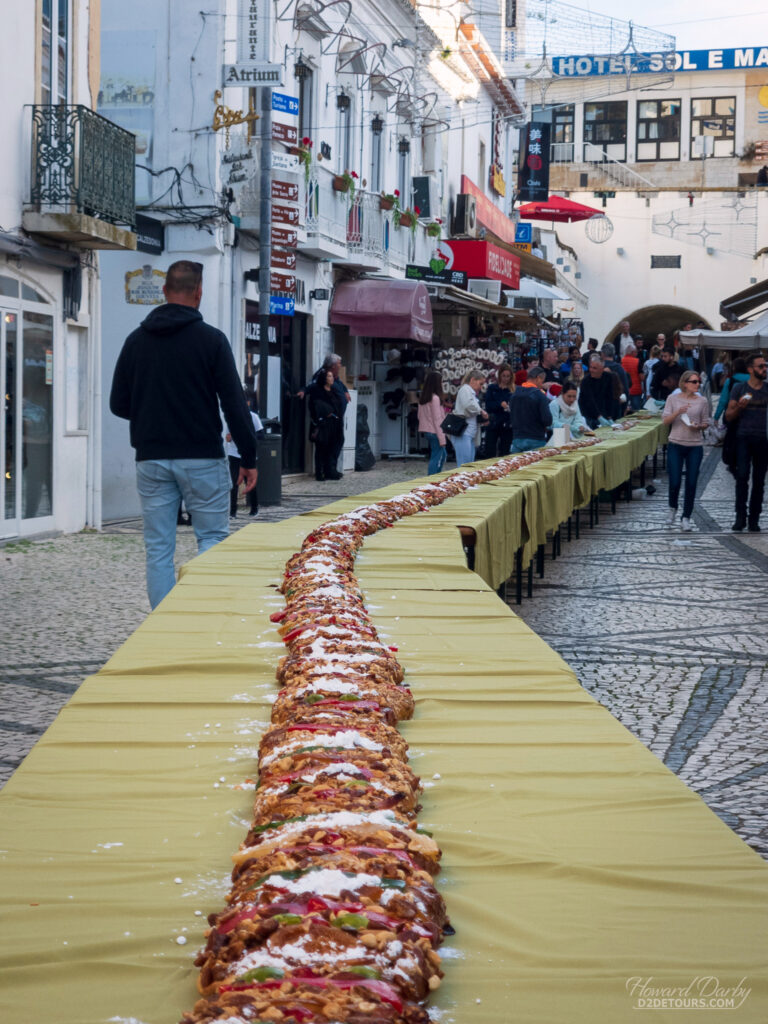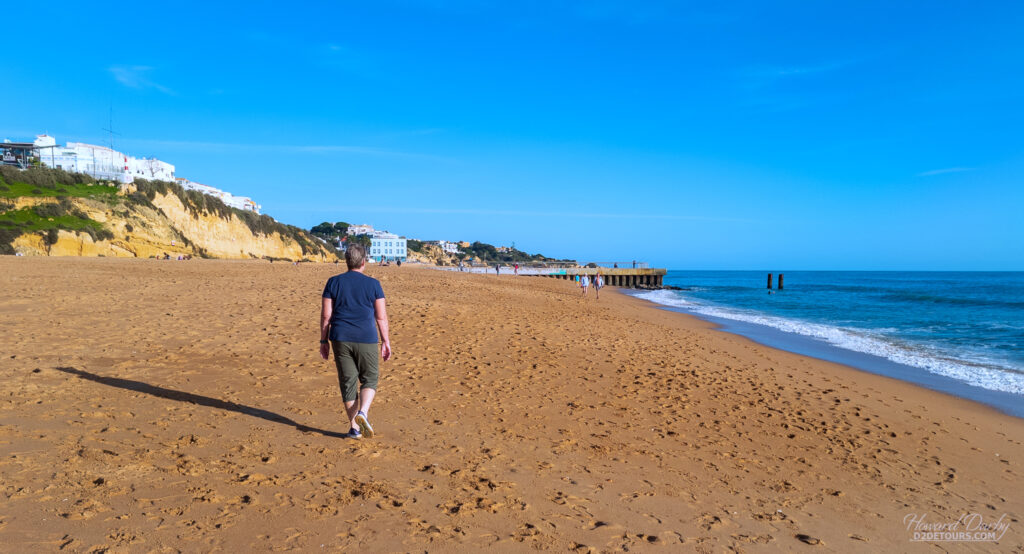 Lisbon – We had an early morning flight out of Lisbon that became a bit of a logistical nightmare after several flight changes by the airline, the details of which we won't bore you with. Suffice it to say, we had time to kill before the midnight appointment to return our leased vehicle to the Renault representative at the airport, so we spent the evening wandering along the city waterfront, enjoying the Christmas lights.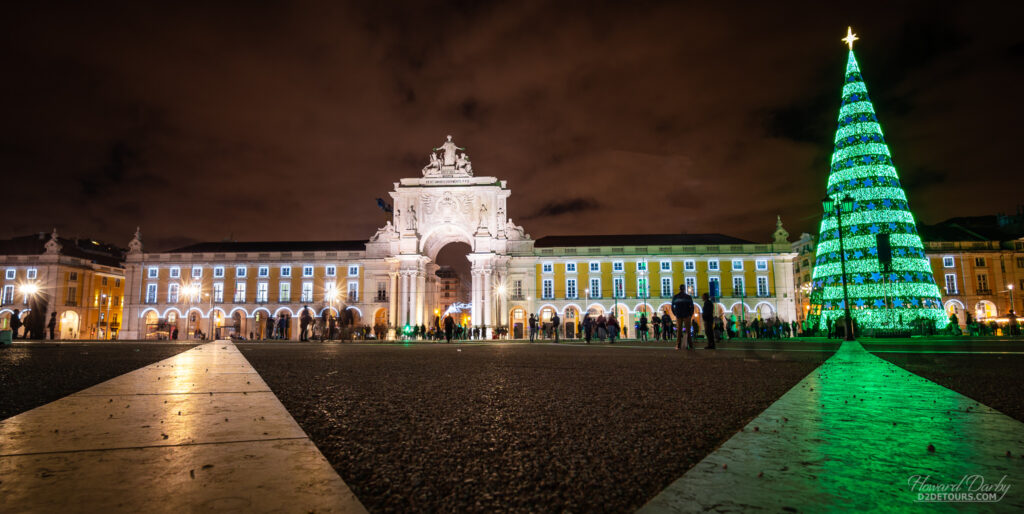 Just a quick comment on leasing a vehicle through Renault. We chose the smallest model Renault offers, the Clio, which was the perfect size for navigating European roadways and over the course of five months clocked nearly 13,000 kilometres. The lease agreement included unlimited mileage, full comprehensive coverage, 24-hour roadside assistance (which thankfully we never needed) and was a convenient, economical way (averaging out to $24.42 CAD/day) to experience the continent; we highly recommend Renault Eurodrive. More details can be found on our Europe Roadtrip wrap-up post.
Us (our thoughts on the area) – Portugal often tops lists of ideal retiree locales. We spent just over five weeks in the country to see whether we agreed with the proverbial "they say," and YES, we do – at least in the Algarve region (FYI, it is pronounced Al-garv not Al-garv-eh – I was corrected). It has a temperate winter climate, and although there was some rain, the sunny days far outnumbered the gray days. We liked the feel of all of the coastal towns, but thought the central location of Albufeira made it the ideal base, so much so that it made our 2022 Top 5 destination list, and is a place we'd definitely consider for a longer stay in the future. Off to Palm Springs, California to visit family before we head to Japan in February.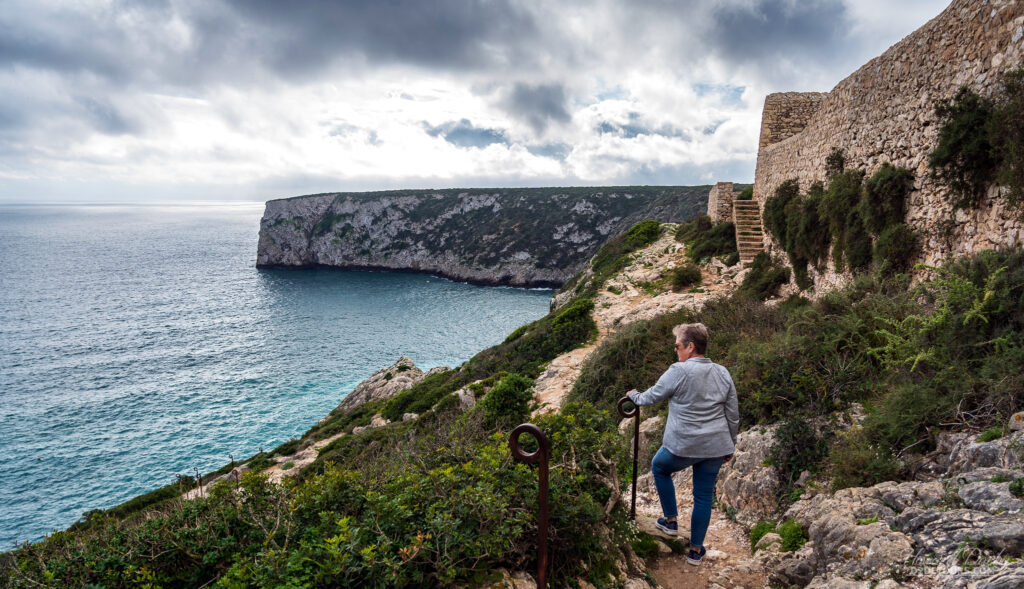 Restaurants – Francesinha is the iconic sandwich of Porto, and restaurants everywhere claim to make the best version. A medley of meats: cured ham, linguiça (chili-seasoned smoke-cured pork sausage), and freshly roasted steak is sandwiched between thick slices of white bread, topped with melted cheese and a fried egg, then covered with a liberal dose of a spicy tomato and beer sauce. Our Porto walking tour guide felt quite strongly that no one restaurant really served the "best" sandwich, and if you stuck with his suggestion on price point you could be guaranteed an authentic, delicious version. His guideline was to never pay less than €8 for the sandwich, as it would likely be missing one of the meats, and more than €12 for a sandwich was price-gouging. Near our Airbnb was a tiny restaurant called Perto Do Cais with a wood burning oven which they claimed made their francesinha a step above the rest. At €9 it met the price test and we shared one as they are huge!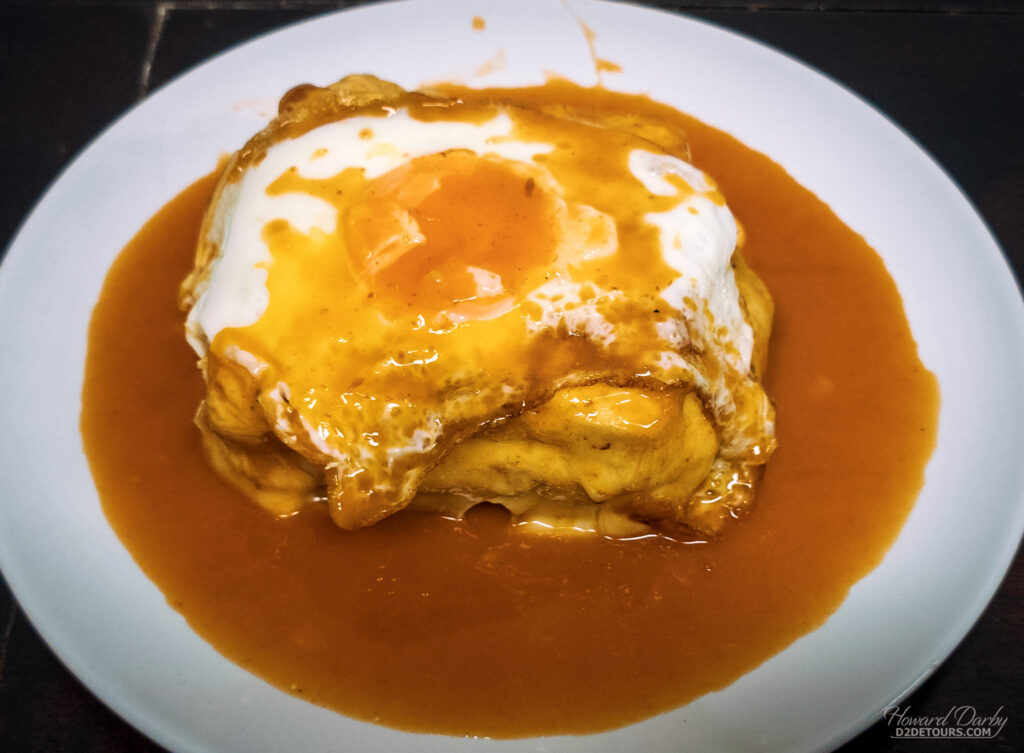 Meh, after all the hype I have to confess to being completely underwhelmed; it's a lot of meat (and I am a carnivore) plus the combination of flavours, in my opinion, didn't work well together. Now the Portuguese hot dog we had at the teeny tiny pub/restaurant named Gazela was scrumptious, though my opinion might have been aided by the prodigious servings of excellent white wine which only set us back $2.62 CAD per glass. If you need an additional recommendation for this restaurant it comes from none other than Anthony Bourdain, who featured it on one of his shows – we were completely unaware of that when we stopped by.
Speaking of wine, in Portugal you'll see white (branco) red (tinto) and green (verde) wine listed on menus. Green wine is a style of white, with just a hint of bubble to tickle your tongue, that is light and wonderfully refreshing.
Not at all in keeping with an authentic experience, we had a thai dinner at Azia Restaurant in Lisbon before our flight to Palm Springs that was really, really good, topped off with gelato from Gelateria La Romana that ranks among the best gelato we've had on our travels.
By the way, I hesitate to mention McDonald's in a section on restaurants, but Porto has one you might be interested in checking out. The  Imperial McDonald's has been ranked by Atlas Obscura as "the most beautiful place in the world to grab a Big Mac." It was an iconic coffee house in the early 1900s and they've kept the original Art Deco and other ornate features, making it quite an impressive fast food joint.
Speech – English is widely spoken in Portugal although if you do want to add a few Portuguese words to your international vocabulary, an online search will most likely net you results for Brazilian Portuguese (including Google Translate) rather than European Portuguese, purely because there are more Portuguese speakers in Brazil alone than the rest of the world. To the non-speaker the two languages might seem interchangeable, there are however some distinct differences in grammar and pronunciation. People who have studied both generally believe that Brazilian Portuguese is easier to learn because every single syllable in pronounced – "tel-e-fone" (telephone) whereas European Portuguese tends to drop vowels – "tlefone." The "s" at the end of a word is pronounced as "ss" in Brazil whereas it's "sh" in Portugal (Two – Doiss /Doi-sh, Three – Trêss / Tre-sh). The letter "t" also has a different pronunciation between the two countries: quente (meaning hot) is pronounced as quentchy) in Brazil and kent in Portugal.
We found these basic words and phrases fairly easy to pronounce and understand:
Por favor (por fa-vor) – Please;
Obrigado (ob-re-gah-doh – used by male speakers)– Thank you;
Obrigada (ob-re-gah-dah – used by female speakers) – Thank you;
De nada (de na-dah) – You're welcome;
sim (sim) / não (naoum)  – Yes / No;
Olá (oh-lah) – Hello (informal, standard greeting used throughout the day);
Bom dia (bom dee-ah) – Good morning;
Boa tarde (bo-ah tar-deh) – Good evening;
Boa noite (bo-ah noyt) – Good night;
Adeus / Tchau (a-de-us / chow) – Goodbye (chow chow is used amongst friends);
Não compreendo (naoum kom-preh-en-doh) – I don't understand;
Fala inglês? (fa-la in-gles) – Do you speak English?
Como está? (ko-mo es-tah) – How are you?
Bem, obrigado (m.) / obrigada (f.) (behm ob-ree-gah-doh/dah) – good, thank you;
Quanto custa … ? (kwan-toh kos-tah) – How much is … ?
Vinho Tinto / Branco / Verde (vin-yo tin-to / bran-ko / ver-day) – Red / White  or Green Wine;
A conta, por favor (a kon-tah por fa-vor) – the bill, please (in a restaurant);
Entrada (en-tra-da) / Saida (sigh-da) – entrance / exit;
Com licença (kom lee-sen-sah) – Excuse me;
Desculpa (des-kool-pah) – Sorry.