For the sixth year in a row, according to the World Happiness Report, Finland is the happiest country in the world. Their joy must be internal because, to the casual observer, they are amongst the most stoic people we've ever met.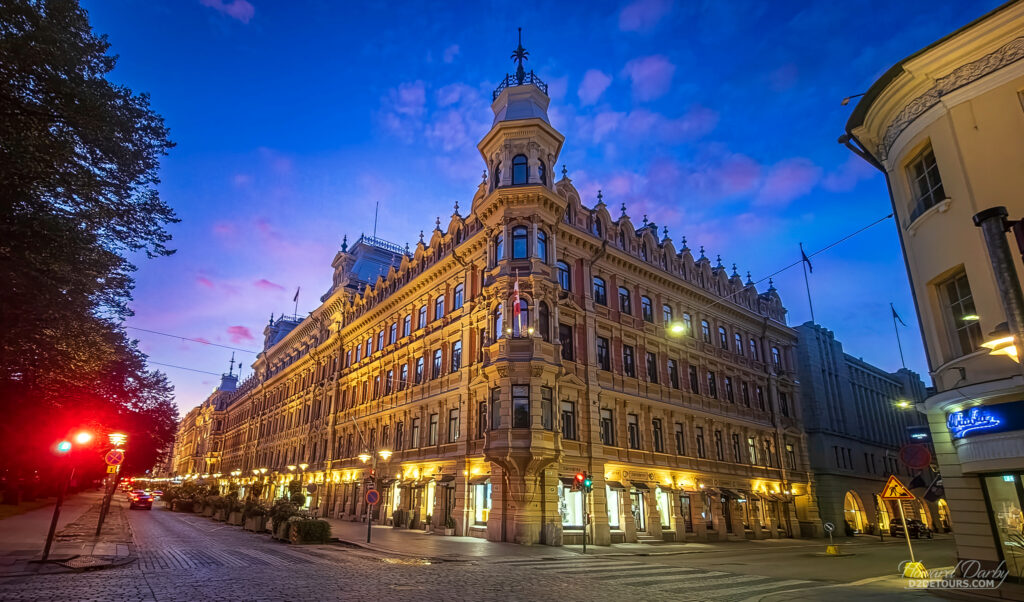 Although the Finnish tribes traded extensively with their neighbours to the west, they were not Vikings themselves and no concrete evidence of Viking settlements has been unearthed in Finland. However, the Swedish kingdom that emerged in the 12th century, following the Viking Age, soon recognized the considerable value in finlandi, the land between their kingdom and the Russian empire to the east, quickly adding it to their holdings. It wasn't just the appeal of increasing their economic power in the region, the Swedes also sought to save souls, introducing Christianity, in the form of the Roman Catholic Church, to the last pagan holding in the north. Following the Protestant Reformation in the 16th century, Lutheranism was adopted as the official religion and continues to be the religious affiliation for roughly 65% of the population.
While Sweden would rule Finland for nearly 700 years, Russia was always looming on the horizon with the occasional skirmish breaking out. Early in the 18th century, it found itself increasingly at odds with that Empire, with the Russians successfully occupying large sections of the coastline. As the 19th century dawned, Sweden's influence worldwide was diminishing. The Finns were becoming less and less enamoured with their non-existent role in Swedish politics, and the shifting alliances within the forces fighting in the Napoleonic Wars opened the door for Russia. The Finnish War, fought between February 1808 and September 1809 ended with Finland becoming an autonomous duchy within the Russian Empire. The capital was moved from Turku on the west coast across from Sweden to Helsinki, a fishing village established in 1550 that had grown into an important harbour, complete with a fortress, on the south coast, across from St. Petersburg. Territory the Swedes had ceded to Russia in the past was also restored to Suomi, the Finnish word for their homeland. In return for the fealty of the Finnish people, the Russian tsar would recognize the Diet of Finland (although it would take another tsar, Alexander II, to actually convene this legislative assembly in 1863) and respect the local Lutheran faith. Oh, and anyone who gave aid or comfort to a Swedish or Finnish army would be declared a rebel. Finland was quite prosperous as a Russian duchy. Wood manufacturing, timber export, shipbuilding, and merchant shipping were all lucrative endeavours operating in towns along the coastline.
Despite the new semi-independent version of Finland that emerged in the mid-19th century, Swedish was still the sole language of governance. There was virtually no Finnish literature available, and teaching at the post-secondary level continued to be conducted in Swedish alone. Under Alexander II (1855-1881) the first Finnish-speaking grammar school was opened in 1858. He went further by issuing a decree that after a 20-year interim period, Finnish would be recognized as an equal language in both public administration and the law courts (in reality, it took closer to 40 years for that to occur).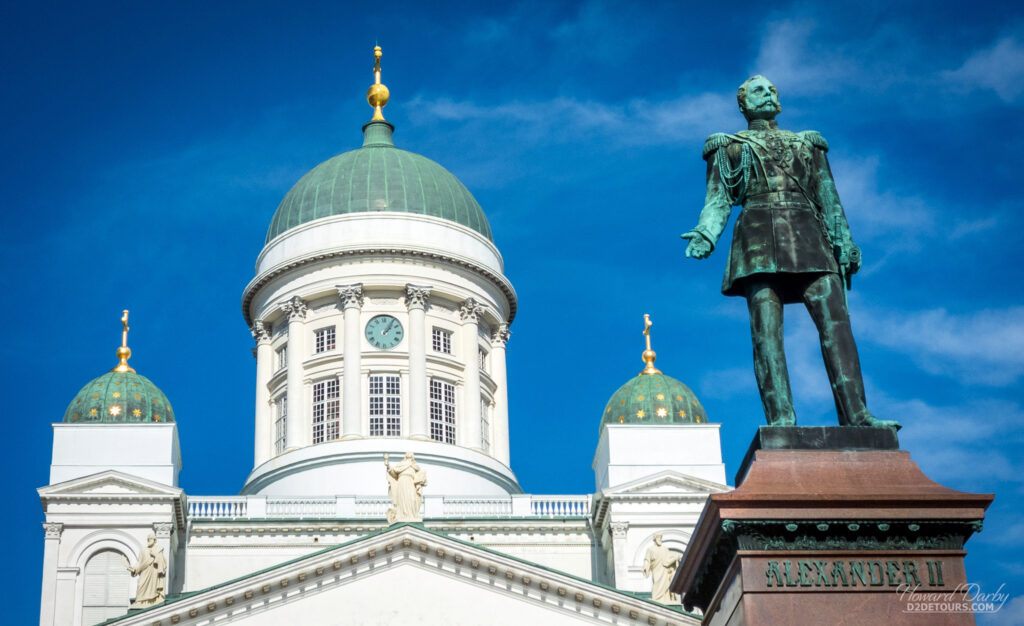 In addition to giving the Finns back their language, he also allowed them to adopt their own currency, the markka. In 1906, the universal right to vote was granted to every Finnish citizen, including women! Nationalism was growing. With Mother Russia embroiled in the Russian Revolution, Finland saw an opportunity and capitalized on the chaos, declaring independence on December 6, 1917, which was quickly acknowledged by the Bolsheviks.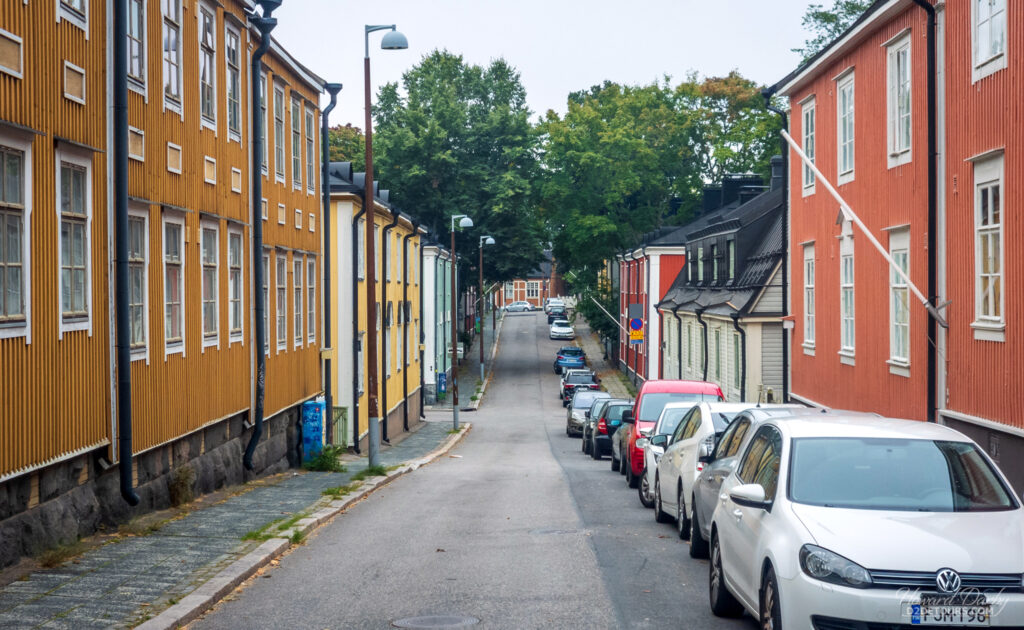 Dollars – Our budget continued to take a beating, which we knew would happen in this part of the world – good thing we saved so much while traveling through SE Asia. Our all-inclusive nomadic travel expenses for 8 days were $209/day Canadian ($155 USD / €144), which included the flight from Bangkok (prorated over all our Nordic and Baltic destinations), the overnight ferry from Stockholm to Helsinki, along with a few incidentals. Our basic day-to-day living expenses for the 7 nights actually in Helsinki (Airbnb, food, activities, local transportation, etc.) averaged out to $157/day Canadian ($116 USD / €109). And in an effort to keep our costs more manageable, we once again tried to "eat in" as much as possible. The biggest impact on our daily average was our Airbnb, which was just under $102 CAD/night.
Environment – Our Airbnb unit was in a refurbished building dating from the 1930s in a somewhat sketchy, yet up-and-coming, neighbourhood; at no time did we ever feel unsafe. The unit was described as "cozy" (the Airbnb euphemism for tiny) – the bed in the loft was so close to the ceiling that your hair would brush it whenever you sat up. The shower, sink, and toilet filled the 6' x 5' L-shaped bathroom leaving barely enough room for manoeuvrability, and in the kitchen, only one of us could wedge ourselves into the space between the 3' counter and the pantry. No stove, just two hot plates and a microwave for cooking. It had a half-fridge and a stainless steel surround housing a rusting semi-circle sink that might have been the width of a dinner plate but was at least a foot in depth. Dirty dishes had to be washed in a separate plastic basin supplied by the host with the sink just where you dumped the dirty dishwater. And we got it all for the bargain nightly rate of $101.88 CAD. All that being said, it was sparkling clean and just fine for a short stay. The host was terrific, even coming by with a €20 gift card from a local bakery/cafe to apologize for the snafu with getting the keys (the service holding the keys said they didn't have them and it took about 30 minutes before they realized they'd been misplaced).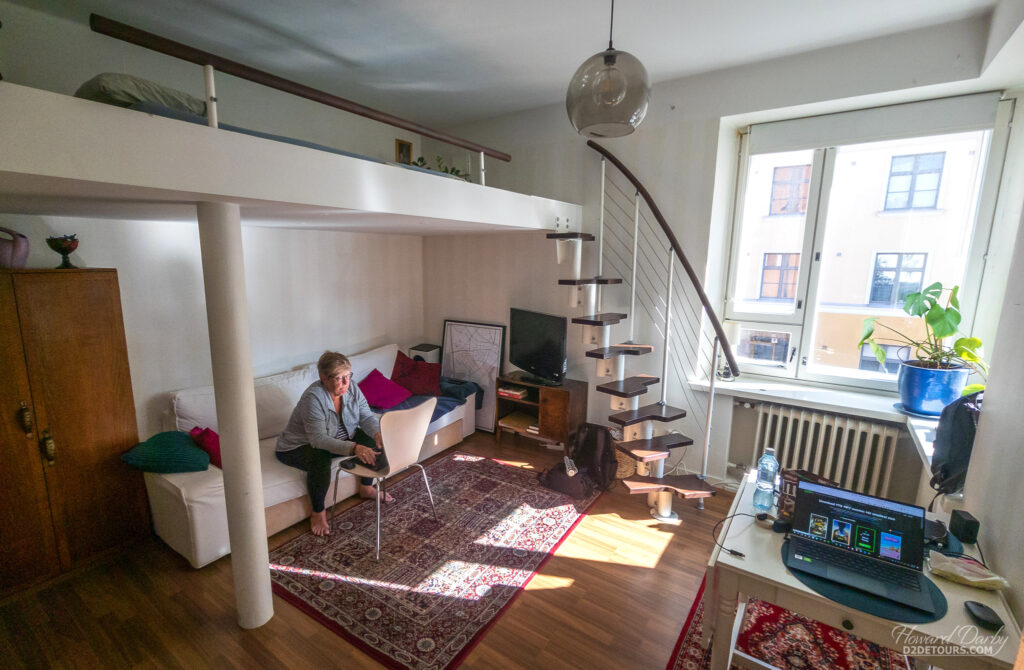 Tips, Tricks & Transportation – We crossed from Stockholm to Helsinki on the Silja Line, an overnight ferry that proved to be an ideal way to get between the two cities.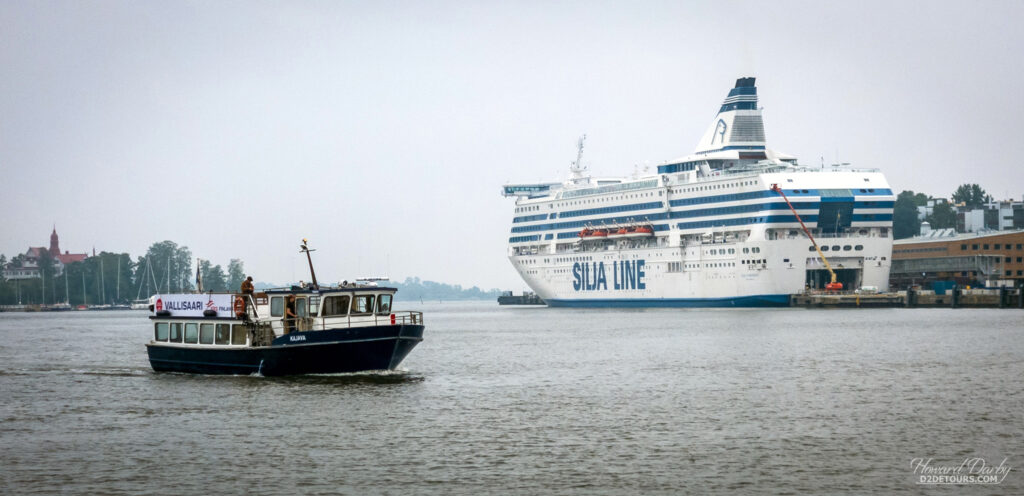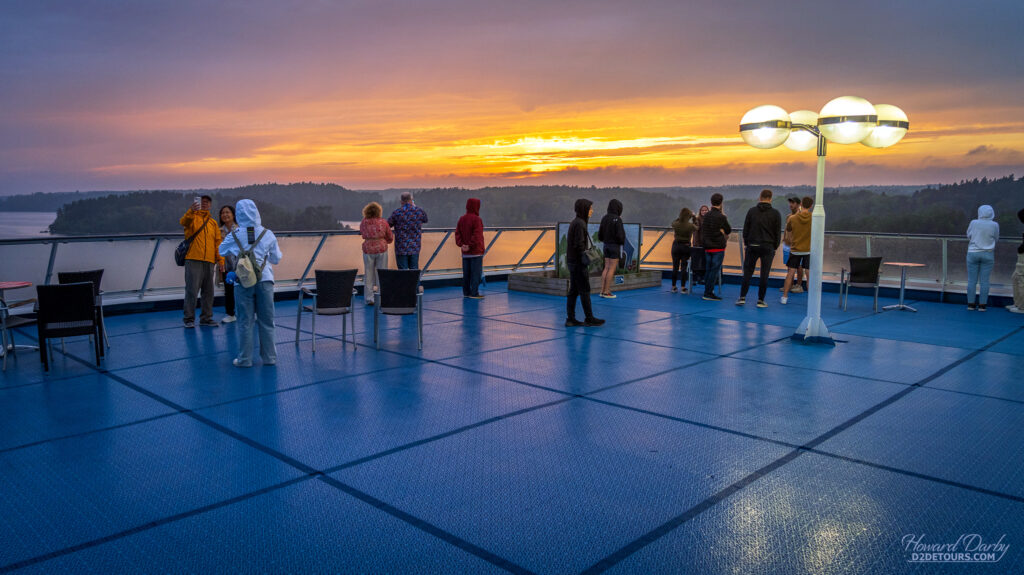 It wasn't much more than what a flight would have cost us and with a cabin for the eighteen-hour crossing it was like a mini-cruise on the Baltic Sea.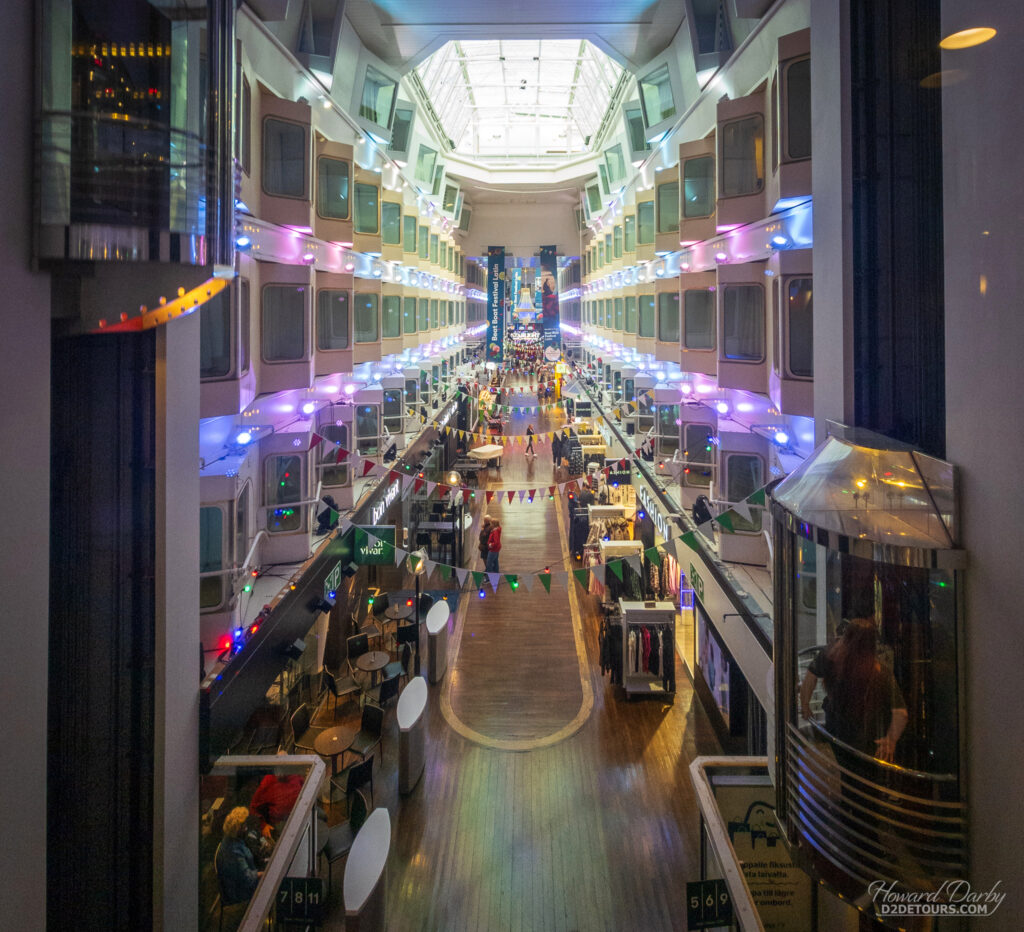 The ship did have several restaurant options (pricy options) so we'd planned ahead and brought aboard our own light dinner although we did avail ourselves of the duty-free shop for some chocolate and wine. I think what I was most impressed with was the orderliness of it all. Such a contrast to our experience with Italian ferries. The crew was polite and helpful and while the ship docked at 10:30 am we did not need to vacate our cabin until 10:45, unlike the crossing between Palermo and Naples where we had to be out of our cabin 30 minutes BEFORE docking and no one would confirm for us when that docking might occur because "unforeseen circumstances" can affect the timing of a crossing. And, word of caution, on Italian ferries if you do happen to still be in your cabin past the exit time the cabin stewards do not wait for you to answer the door, they simply walk in.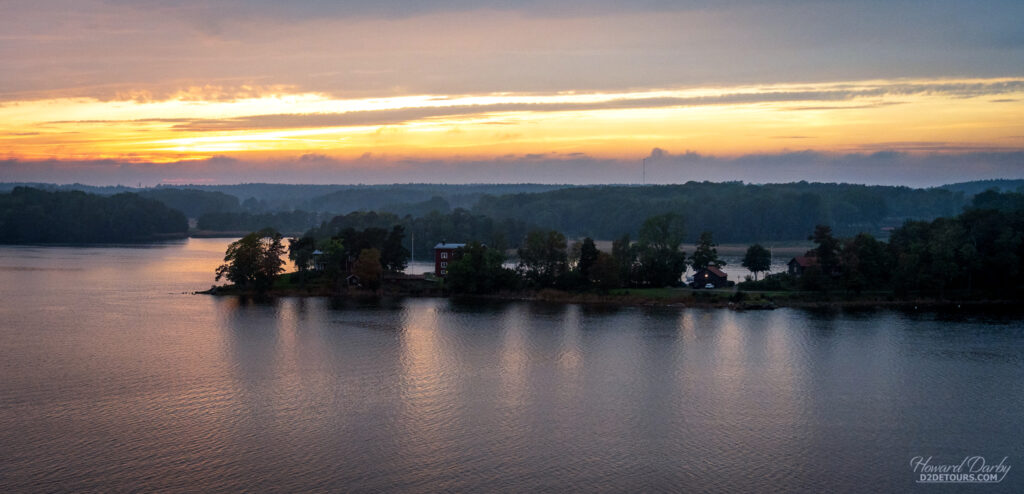 Helsinki has excellent public transportation, the HSL system, which includes local buses, trams, metro trains, ferries, and commuter trains. Fares are dependent on the distance traveled but the handy dandy phone app that you use to purchase and store tickets, also includes a travel planner (just like Stockholm!) Once you've determined your route, click to buy your ticket and the price is calculated accordingly. Unlike every other metro we've encountered on this side of the pond, having a ticket in your possession is a bit of an honour system – there is no barrier gate to pass through before entering a station, just signage warning of a fine (€80) for being caught without a valid ticket.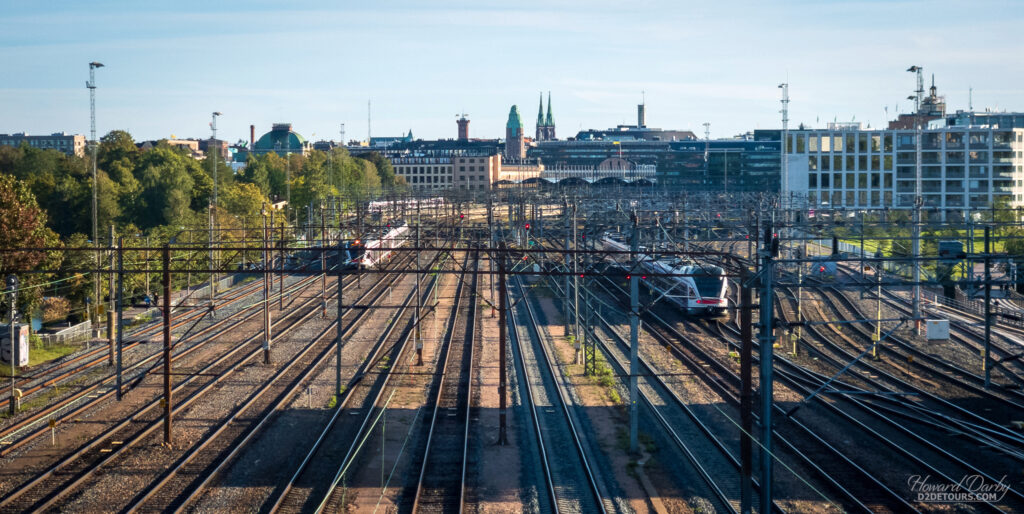 We had a Lidl and an S-Market close to our Airbnb for groceries. The S-Market was closest to us and very nice, however getting through the doors was an experience. Finland decriminalized public drunkenness decades ago. The S-Market was right next to the metro station and the pavement in front was clearly a gathering spot. No one was ever aggressive towards us, but we did have to dodge around the stumbling bodies (we later learned from our tour guide that we were, in fact, staying in one of the worst sections of town). Lidl stores have a bit of a discount warehouse feel to them but we are very familiar with their products from our travels through Europe and they serve our needs nicely. In particular, they always have a bakery with fresh baguettes!
Out and About – After spending our first day wandering Helsinki independently, we thought it would be worthwhile joining a walking tour to get some background on the city and its buildings. Guruwalk is our go-to for free tour listings and we had our choice of several people offering walks in Helsinki. Free walking tours are tip-based, i.e. there is no charge for the tour itself, but if you're happy with the guide, a tip at the conclusion of the walk is appreciated – we generally tip between $20 and $40 CAD (for both of us). We have had a mix of fantastic and mediocre guides, with a few dreadful ones where we slipped away shortly after the tour began when it quickly became clear this was not the tour for us (like the one in Bangkok where the guide's voice did not project at all well and he spent the first 20 minutes telling the group about all the sites we would NOT be seeing). The length of a tour is usually between 1.5 hours and 2 hours, depending on how quickly the group moves, and the tours we've joined have had between 10 and 30 people. As it turned out in Helsinki, we were the only participants that day and both thought to ourselves, this better be good 'cause we won't be able to graciously ditch this guide. Kari did not disappoint and we spent nearly 3 hours learning about Finland's past and present.
The highlights of the tour were:
Senate Square (Senaatintori): In honour of Helsinki being named the capital of the Grand Duchy of Finland in 1812, a majestic new square was designed emulating the grandeur of St. Petersburg, albeit on a smaller scale. The most important government buildings would surround the square, and still do, including the Governor-General's office, the House of the Senate, the University of Helsinki, and the Helsinki Cathedral.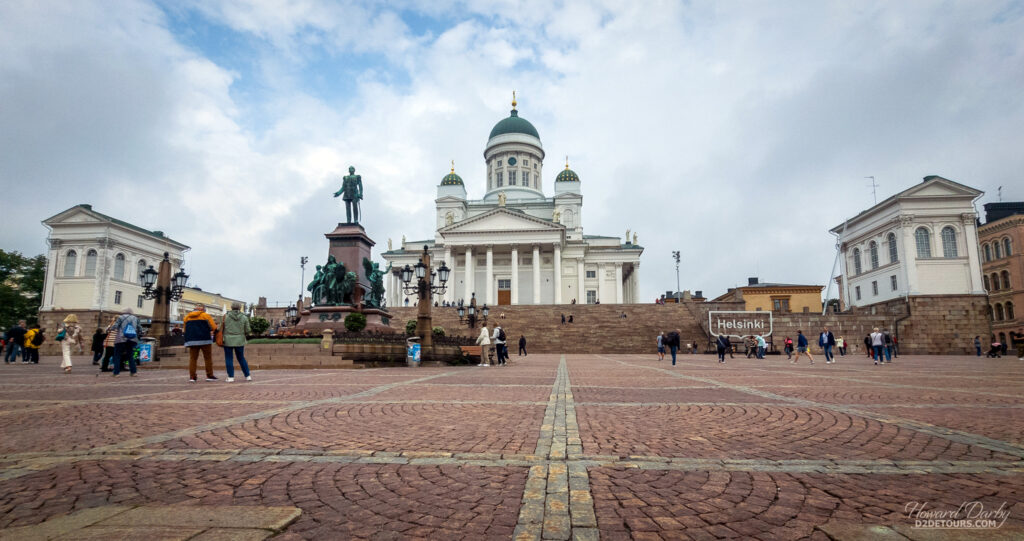 Helsinki Cathedral: This dazzling white Lutheran church is perched 43 steps above the Senaatintori dominating both the plaza and the Helsinki skyline. Built between 1830 and 1852, the neoclassical church was originally called St. Nicholas Church and Great Cathedral in tribute to Tsar Nicholas I of Russia, Grand Duke of Finland, being renamed Helsinki Cathedral after Finland gained their independence from Russia in 1917. We even got to slip into the basement of the church to admire the old brickwork, which is not normally part of the tour – the perks of a "private" tour.
Statue of Alexander II – While not quite on the same scale as the cathedral, this statue is no less prominent. Positioned to be exactly in the center of the square, in line with the main entrance doors to the Senate and the University of Helsinki, the statue was unveiled on April 29, 1894, the emperor's birthday, although he'd been assassinated 13 years earlier. While it may seem odd to find a statue of a Russian tsar still holding a place of honour in an independent Finland, the reforms instituted by Alexander II helped lay the groundwork for ultimately achieving that independence in 1917, and the Finns will never forget.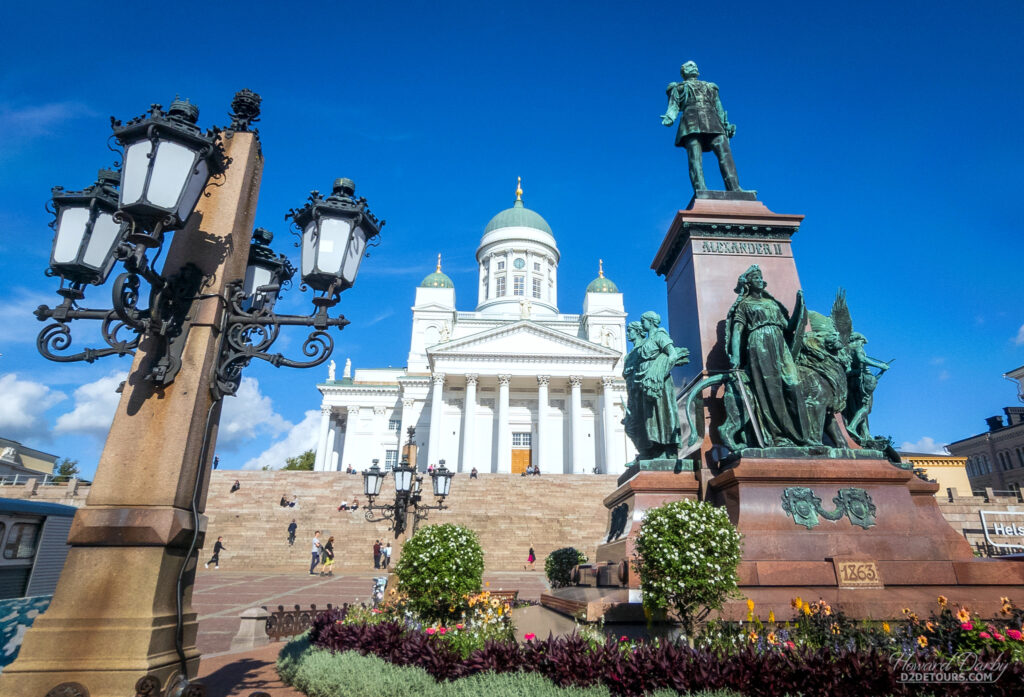 The National Library is the repository for Finland's cultural heritage, not to mention home to the most comprehensive collection of books published in the Russian Empire. It is a research library and while any person who lives in Finland may view the library's materials, they are not loaned outside the library. It has a breathtakingly beautiful interior with the oldest section dating from 1844 (an extension was completed in 1906) and the bulk of the collection is stored in the Kirjaluola (book cave), a 57,600-cubic-meter (2,030,000 cubic feet) bunker drilled into the granite rock bed roughly 18 meters (59 ft) below the library.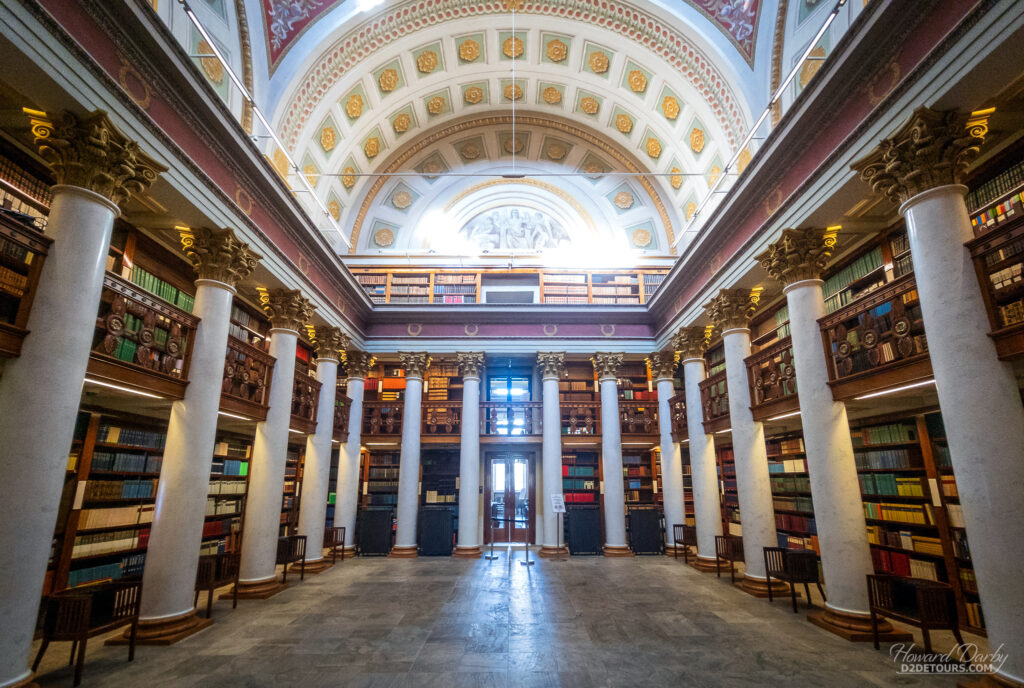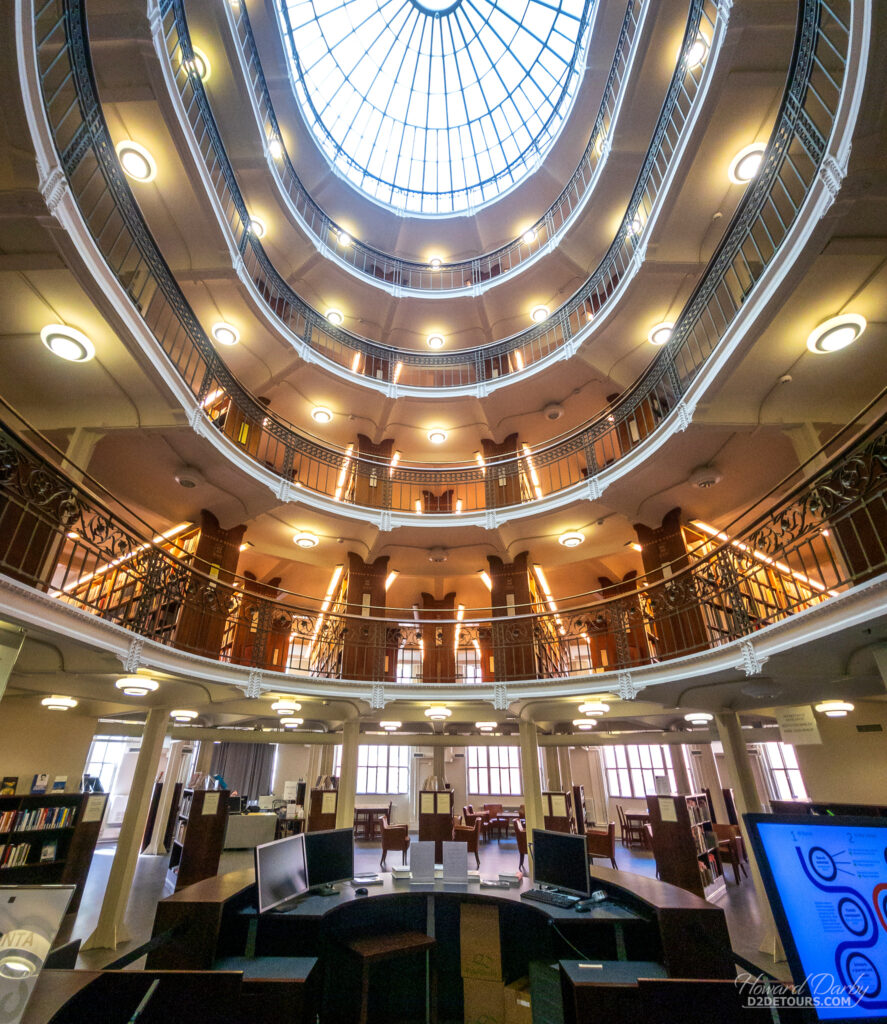 Oodi is a modern public library in Helsinki. I haven't been in a library for years so maybe they all look like this now, but in addition to books, the second floor of the Oodi is an urban workshop with 3D printers, laser cutters, vinyl cutting machines, sewing machines/sergers, recording studios, virtual reality gaming rooms, meeting rooms, even a kitchen space which can be booked for gatherings. Most of the space is available free of charge but they had to institute a fee for the 3D printers and laser cutters because too many people wanted to use them and the line-ups were unmanageable. So now there is a €0.70 fee and no one uses them!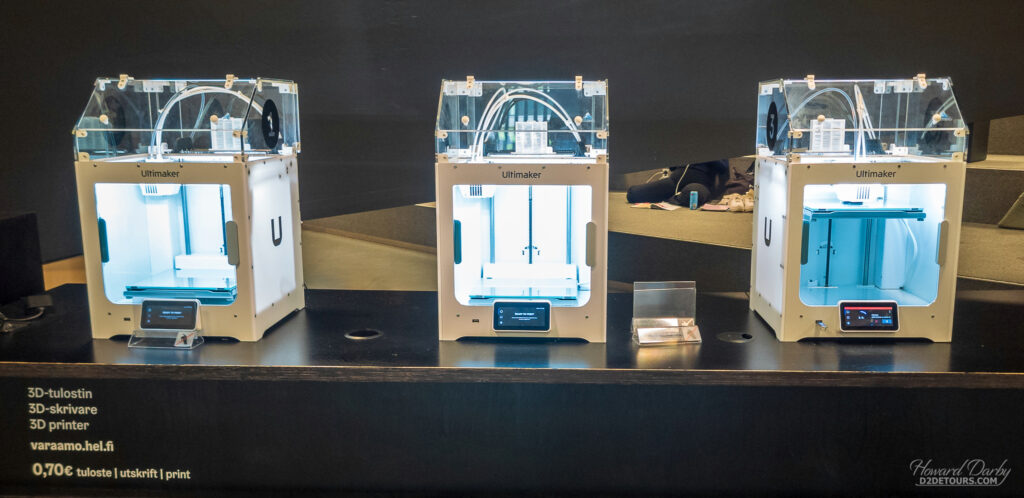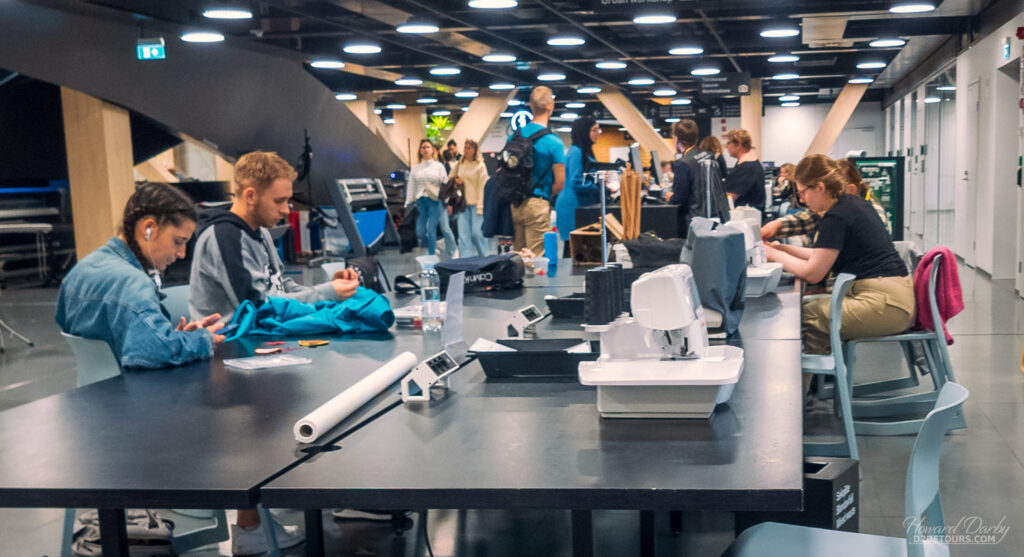 Uspenski Cathedral: Concurrent with the construction of the Lutheran cathedral, an Orthodox church (Russian) was also commissioned. Inaugurated in 1868 it may not sit as high as the Helsinki Cathedral but is no less imposing.
In addition to the history lesson in Helsinki, Kari talked about everyday life now in the city (and country) and explained a bit about their income security programs and healthcare system, which have some similarities to Canada but are more extensive. At first blush, all the assistance sounds amazing (national pension plans, child care, maternity leave, unemployment insurance, sickness insurance, child allowance, housing assistance for everyone, post-secondary education), but he did point out that roughly two-thirds of a person's salary goes to taxes.
Before the tour, we'd been unable to find an ATM that would accept our bank card to withdraw cash for a tip, so asked Kari if maybe he knew of a bank along the route where we could stop. Success, we got cash, but the bank only dispensed €50 bills so Kari got a very nice tip that day (roughly $70 CAD)! Totally worth it.
The National Museum of Finland has an entry fee of €16 ($23 CAD) but is free on Fridays after 4:00 pm. We were not the only people taking advantage of this freebie and it was a busy spot. It is a well-organized, informative museum covering Finnish history from the Stone Age through to present day.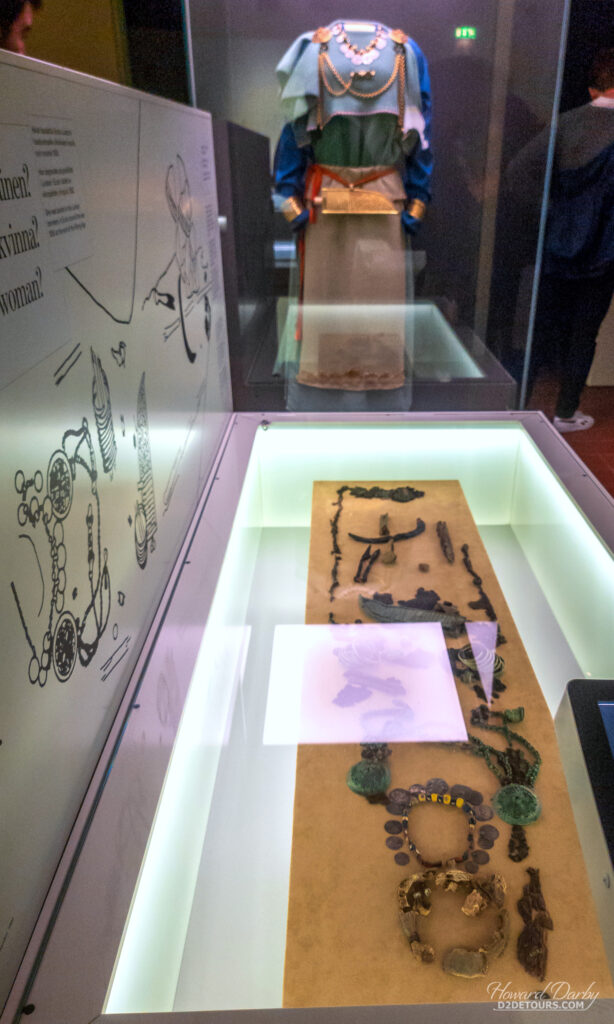 Part of the HSL transit system includes the ferry to the Suomenlinna Sea Fortress, an 18th-century complex of six fortified islands, connected by bridges, with close to 6 km of defensive walls, rusting artillery, and even an old submarine, the Vesikko, which served in the Finnish navy between 1933 and 1946.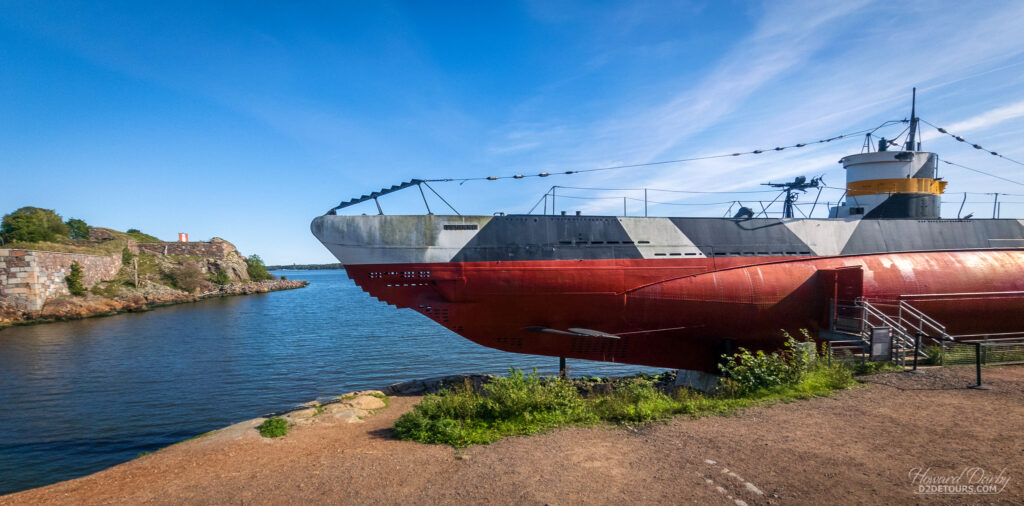 Originally built in 1748 to defend the Kingdom of Sweden against the Russian Empire, the fortress was surrendered to Russian forces in 1808, leading to more than 100 years of Russian occupation. In 1917 when Finland gained its independence, the fortress continued to serve as a garrison and harbour but after WWII was slowly converted into civilian housing.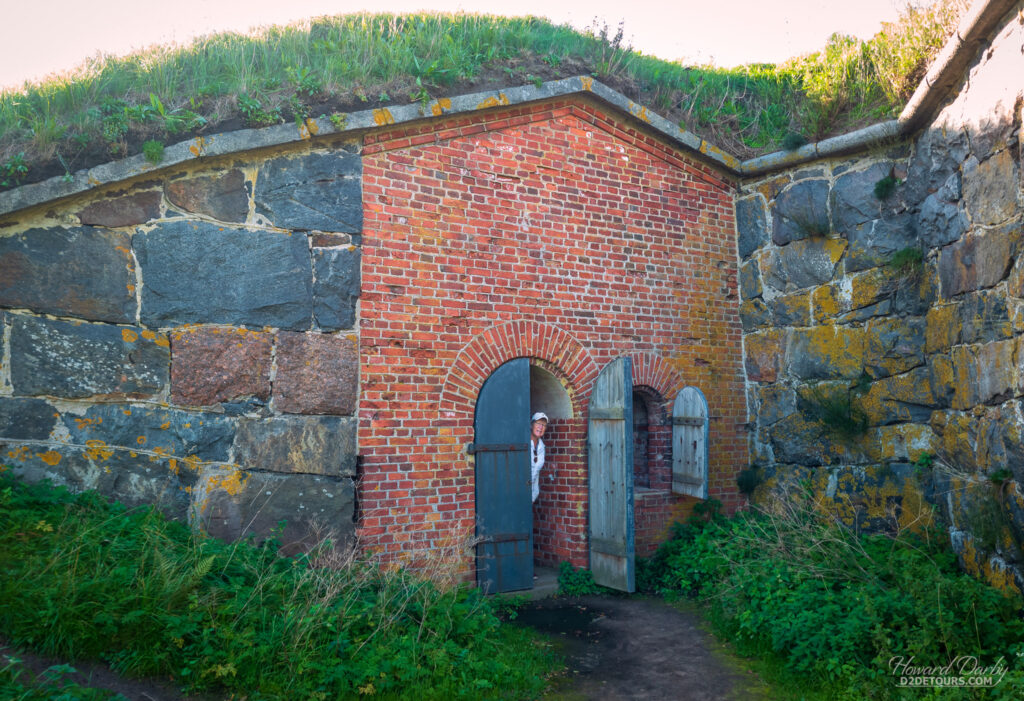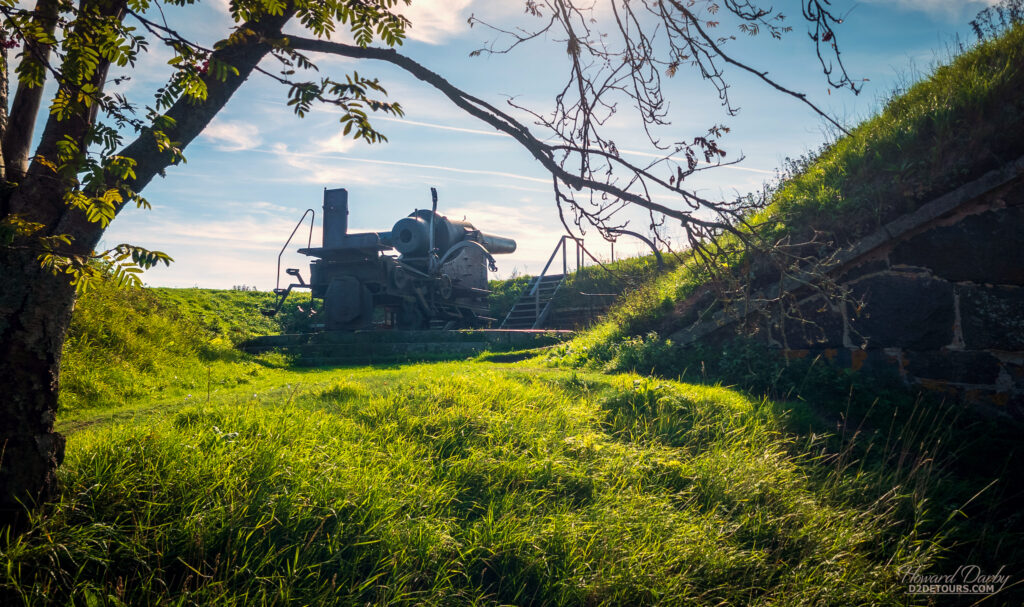 The Viapori shipyard was constructed in 1751 to maintain the Swedish-Finnish fleet. It continues to operate on one of the islands of Suomenlinna making it one of the oldest continuously operational dry docks in the world, although its expertise is now put to use refurbishing traditional sailing ships.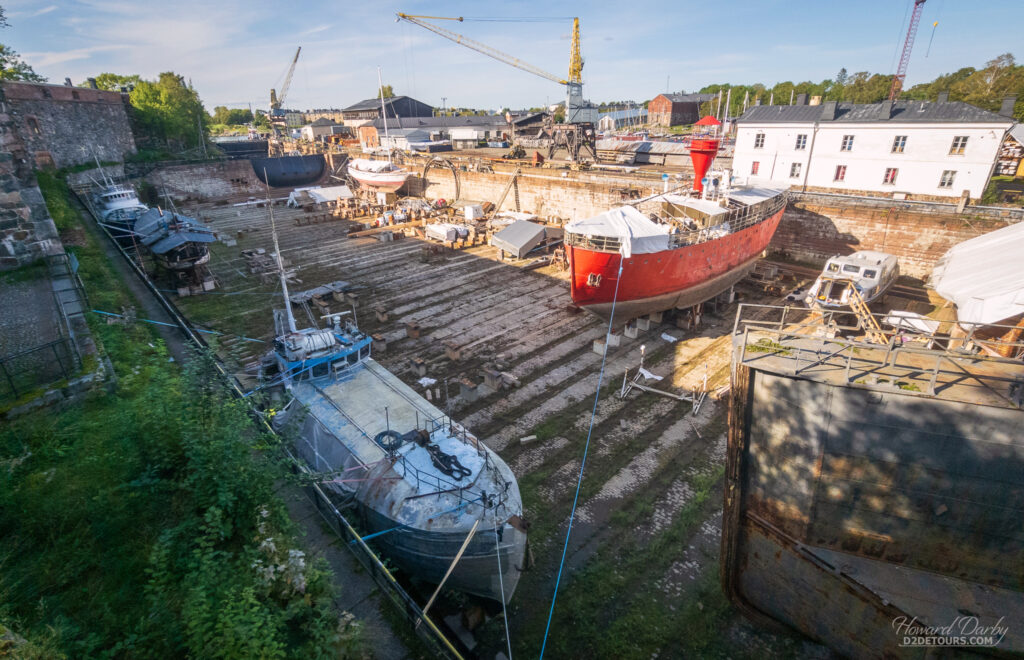 Us – Although we enjoyed our visit to Helsinki, it will not make our list of favourite places (sorry Eric). We stayed for seven nights and in hindsight five would have been sufficient. It is very walkable but doesn't exude the same charm as other European cities we've visited. We were very glad we'd done the walking tour as it did manage to bring more life to the city for us. Off to Tallinn, Estonia!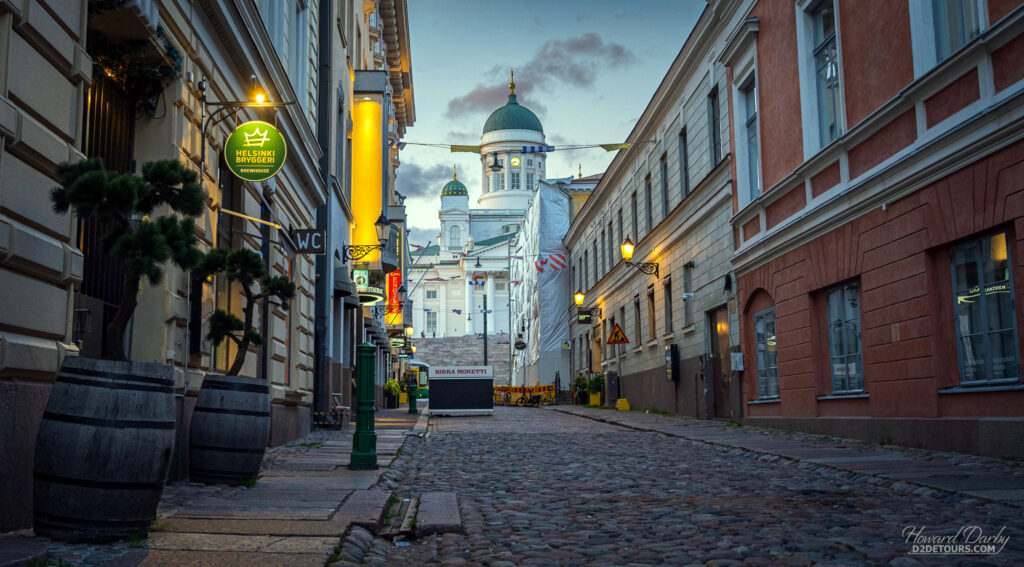 Restaurants – Fish soup, which is traditionally made with salmon, is comfort food in Finland. Milk or cream is often added to a broth lightly seasoned with dill; onions or leeks, root vegetables, usually potatoes, complete the dish. We tried a store-bought version, which was okay, but devoured the bowl served at the Meli Cafe & Bakery (courtesy of our Airbnb hostess) – exactly what you need on a gray, rainy day (the chocolate filled, delicate croissant was pretty darn good too).
Not necessarily a Finnish delicacy, but we tried a carrot ginger hummus from the Lidl (alongside a freshly baked baguette). Not a combination of flavours I would normally associate with hummus, but so scrumptious with the zing from the ginger hitting just right – we may have eaten it more than once.
Speech – Finnish and Swedish are the official languages of Finland, and we gather many Finns feel about this the way many western Canadians feel about French. The majority of the population (roughly 90%) are native Finnish speakers with only about 6% of the population having Swedish as their first language. Finnish is a Uralic language completely distinct from the Indo-European languages found throughout much of the EU region (including Sweden) and until roughly the 15th century was purely an oral language. It is notoriously difficult for English speakers to master; fortunately, roughly 70% of the population can also speak fluent English.
Moi or Moi Moi – Hi/Hello (casually, this will also work for goodbye);
Hyvää huomenta (huu-vaa hoo-oh-mehn-tah) – Good morning;
Hyvää yötä (huu-vaa uu-euh-ta) – Good evening;
Hyvää iltaa (huu-vaa eel-tah) – Good night;
Kiitos (kee-tohss) – Thank you;
Ole hyvä (oh-lay huu-va) or eipä kestä (ay-pa kehss-ta) – You're welcome;
Kyllä (kyl) – Yes (you might hear Yo too, but that is very informal);
Ei (eh) – No (add Kee-tohss if you are refusing something);
Anteeksi (ahn-teh-xee) – Excuse me/I'm sorry;
En ymmärrä (ehn-ummar-ra) – I don't understand;
Please – there is no direct Finnish translation but using kee-tohss at the end of a request is the closest approximation.