We had originally planned to spend all of 2023 in Asia, primarily SE Asia. By early May we realized that our Canadian bodies, particularly my well-insulated physique, were not designed for heat and humidity; we were finding the temperatures quite unbearable. There were still places we wanted to see in the region, but decided to shorten the length of our stay in each place and started looking at where we might spend the Fall. With Bangkok as our departure point, we used the mapping tool on Google Flights to find the cheapest flights to Europe. Much to our surprise, there was a direct flight from Bangkok to Stockholm that was significantly less than flying into any other European city. So here we are starting a tour through part of Scandinavia before heading to the Baltic states!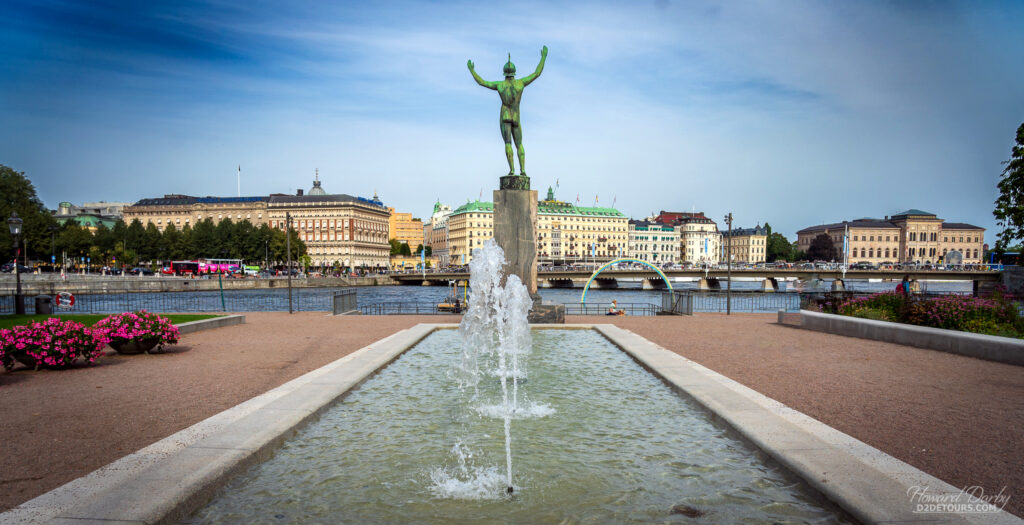 If you are like me the first thing that comes to mind when one mentions Scandinavia is the Vikings, who called themselves Northmen, or Norsemen, Danes, Götar, and Svear. A patchwork of small settlements, they shared a common language (Old Norse) and held many of the same religious beliefs and customs. They were a fearless people skilled in trade, navigation, and shipbuilding. Before they set their sights on expansion to the west, they were trading their timber, whale and walrus ivory, iron, furs, and amber for silver and gold, precious jewels, wine, salt, and slaves from their neighbours to the east, specifically Russia, but there is also evidence of trade routes extending as far as Baghdad. Beginning near the end of the 9th century and continuing until the late 11th century, the desire for land pushed them westward. Newfoundland (Canada), Greenland, Iceland, Ireland, England, Scotland, and France all bear evidence of visits from the Norsemen.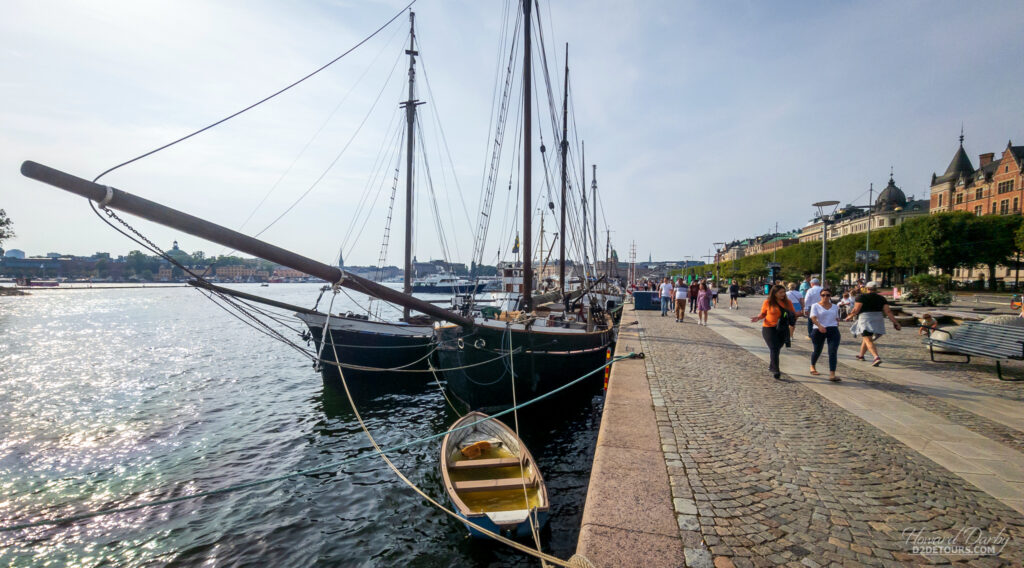 Near the end of the 11th century, three kingdoms would emerge from the mishmash of Viking settlements: Norway, Denmark, and Svealand. For more than a century three families would compete for the throne of Svealand before the Folkunga dynasty finally swept away their rivals and Birger Jarl was recognized as king. In 1252, he founded the city of Stockholm, the capital of Sweden.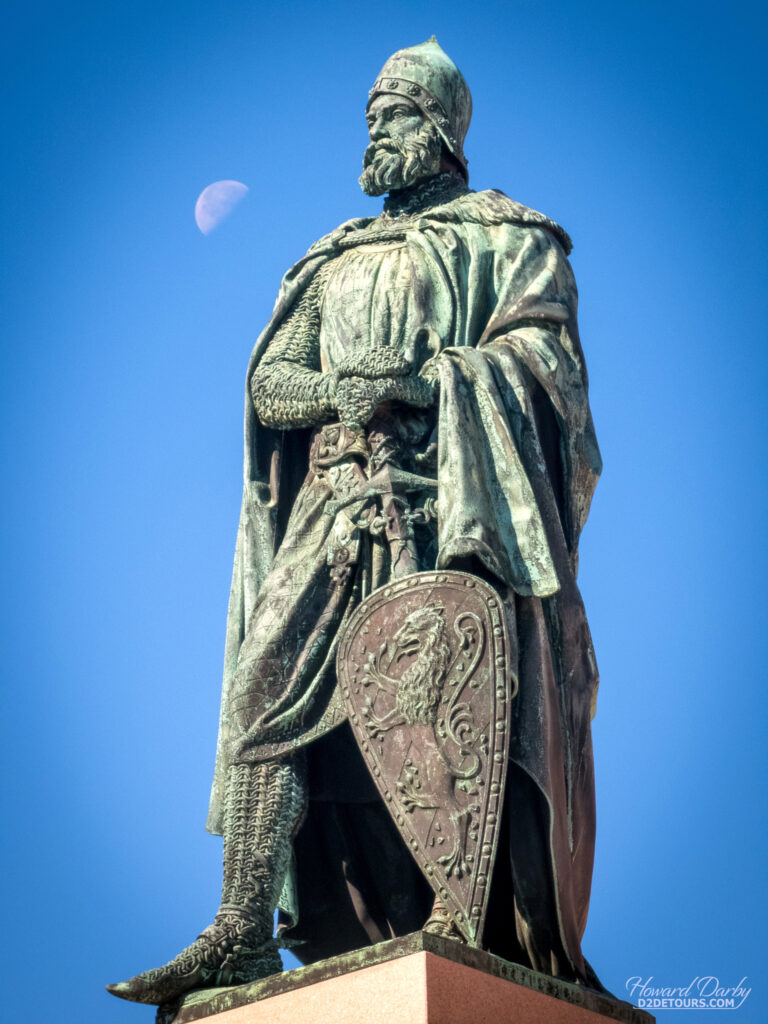 City names are frequently the stuff of legend and Stockholm is no different. At the end of the 12th century, the town of Sigtuna, north of present-day Stockholm, was burned to the ground by marauders. The townsfolk gathered whatever valuables could be salvaged, packed them into a hollow log, and sent it floating down the river. Stock (log) Holm (small island) sprang from the spot on which the log landed. Not only did a log establish a city, but the abundance of trees also determined the building material for homes and businesses. Almost from the moment of its inception in the 13th century, Stockholm was plagued by fire. In the 16th century, a local ordinance decreed that only stone homes could be built within the city walls, however there were still enough wooden structures left in yards (outhouses, sheds, etc.) that its citizens remained on nightly fire watch until well into the 19th century.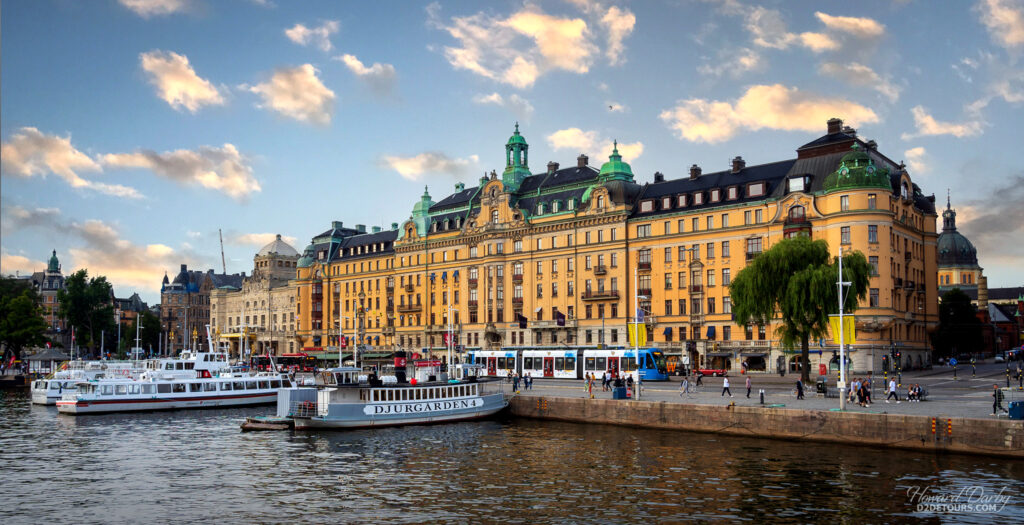 Stockholm is the most populous urban region of the Nordic nations (Denmark, Norway, Finland, Sweden) with just under a million people calling the capital home. Despite being situated much farther north than our hometown of Calgary, its average winter temperatures rarely fall below freezing.
Dollars – Sweden is one of seven members of the EU that still uses their own currency (Bulgaria, the Czech Republic, Denmark, Hungary, Poland, and Romania are the other six non-Eurozone countries). The krona SEK is the national monetary unit and, in stark contrast to Asia, Sweden is for the most part a cashless society which we appreciated and didn't leave the country with several bits of unused currency still in our pockets – those can start to add up over time!
After enjoying the low cost of living in SE Asia for the last six months our pocketbook definitely took a hit in Stockholm. Initially, we were horrified at the prices but soon recognized that our time in SE Asia was seriously skewing our perception, and the cost of living in Stockholm was probably on par with that of many Canadian cities (although wowzers was gas expensive – $2.60 CAD liter/$10.40 CAD US gallon). Our all-inclusive nomadic travel expenses for 8 days were $202/day Canadian ($149 USD / €139) which included a portion of the flight from Bangkok and all the expenses associated with a travel day although we weren't yet in Stockholm. Our basic day-to-day living expenses for the 7 nights actually in Stockholm (Airbnb, food, activities, local transportation) averaged out to $150/day Canadian ($111 USD / €103). And in an effort to keep our costs more manageable, we prepared most of our meals in our Airbnb.
Environment – Another way we tried to keep our expenses down was by not staying in the city center. We found an affordable Airbnb that turned out to be one of the nicest units in which we've ever stayed, about 32 kilometers northeast of Stockholm, in the municipality of Kungsängen. It was just a 30-minute train ride from Stockholm's Central Station, with very regular train service.
The Airbnb was a self-contained, walkout unit beneath the garage on the homeowners' property (which was gorgeous overlooking a lake – we had a bit of a view of the lake too from our unit's deck). The suite had been intended for family members but currently isn't needed, so they've turned it into an Airbnb. It looked like something straight out of an IKEA showroom, and frankly an Airbnb in Sweden that wasn't furnished in its entirety with IKEA merchandise seems sacrilegious! In addition to a great living room with a large couch and an armchair, it had a huge eat-in kitchen with a stovetop, oven, microwave, dishwasher, fridge, coffee maker, toaster, pots and pans, and even an air fryer! Tons of dishes, cutlery, glassware, even spices – we were really impressed. And the hostess was lovely, inviting us over for fresh-baked apple pie, made with apples from her trees, on our first evening there. The nightly rate was just under $92 CAD/night, which for the Stockholm area was a steal.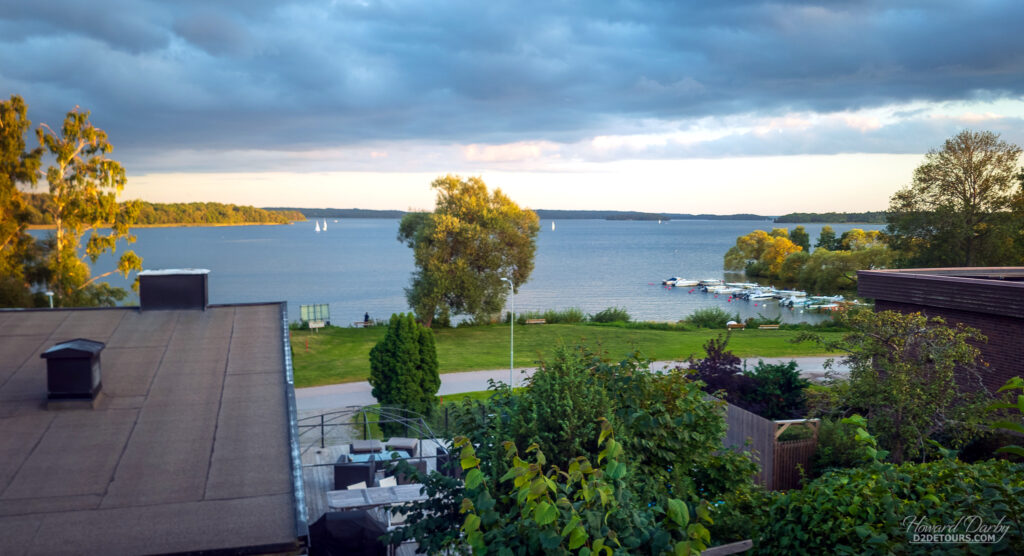 Tips, Tricks & Transportation – As we approached the Arlanda airport immigration counters, all foreign passport holders were being directed off to the side to wait until Swedish, and German, citizens had been cleared. Whether this was standard operating procedure or just a reflection of understaffing was unclear, although we noticed that Swedish passport holders continued to be fast-tracked after we were finally allowed to queue for immigration. It was close to 20 minutes that we stood waiting in the foreign passport holding pen. Once the lines did start moving for us, the immigration officers were intensely questioning certain nationalities and closely scrutinizing their passports, even occasionally calling over another officer with a magnifying lens to examine the pages – we breezed through.
The SL is Stockholm's public transport system and covers buses, the metro, commuter trains, trams, and some of the ferry lines. A single-ride ticket is 39 SEK (roughly $4.80 CAD) and is valid for 75 minutes in any direction, on any mode of transport. If you were staying right in Stockholm, buying single-use tickets would likely be sensible. We knew that by staying outside the city we would be spending a fair amount of time on public transit, so opted for their 7-day pass (430 SEK/$53 CAD) which paid for itself after 12 trips (we took the equivalent of 15 single tickets). We downloaded their SL app onto our respective phones which then became our "ticket." Super efficient system. The app also includes a travel planner. We have become so accustomed to using Google Maps to plot out transit routes that we didn't even look at the SL travel planner which proved to be an error (more on that down in the out-and-about section).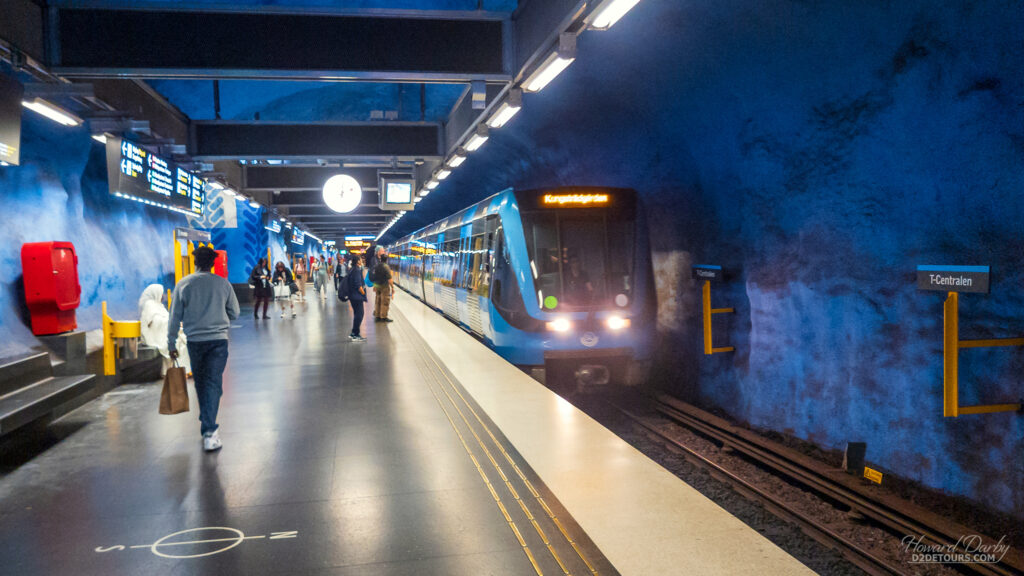 Everything we needed to prepare meals was readily available in the local supermarkets: Coop, ICA, or Lidl. Coop and ICA were pretty comparable in pricing; Lidl is definitely cheaper but those stores were harder to find. Alcohol is sold in state-run stores, Systembolaget, and I was delighted to find a fabulous selection of reasonably priced wine. I confess I have really missed finishing my day with a glass of wine; imported wine is certainly available in SE Asia, but yeesh, is it expensive!
Out and About – The city of Stockholm encompasses fourteen islands and is wonderfully walkable with 57 bridges connecting the islands. The cobblestone streets of the old town crisscross the island of Gamla Stan, fronting colourful buildings dating from the 17th and 18th centuries. The Royal Palace is also situated on Gamla Stan where one can witness the changing of the guard ceremony every day (Mon-Sat at 12:15 pm/Sun at 1:15 pm). Forty minutes of pomp and circumstance complete with a marching band. It is very popular and finding a suitable viewing spot was a bit of a challenge.
Not far from the Royal Palace is the bridge connecting Gamla Stan with Riddarholmen island. One of the oldest buildings in Stockholm, dating from the 13th century, the delicate lacey spire of the Riddarholmskyrkan, a burial church that began life as a monastery, takes your breath away as you cross the Knights Islet Bridge. Just down from the church is a lovely promenade along the waterfront.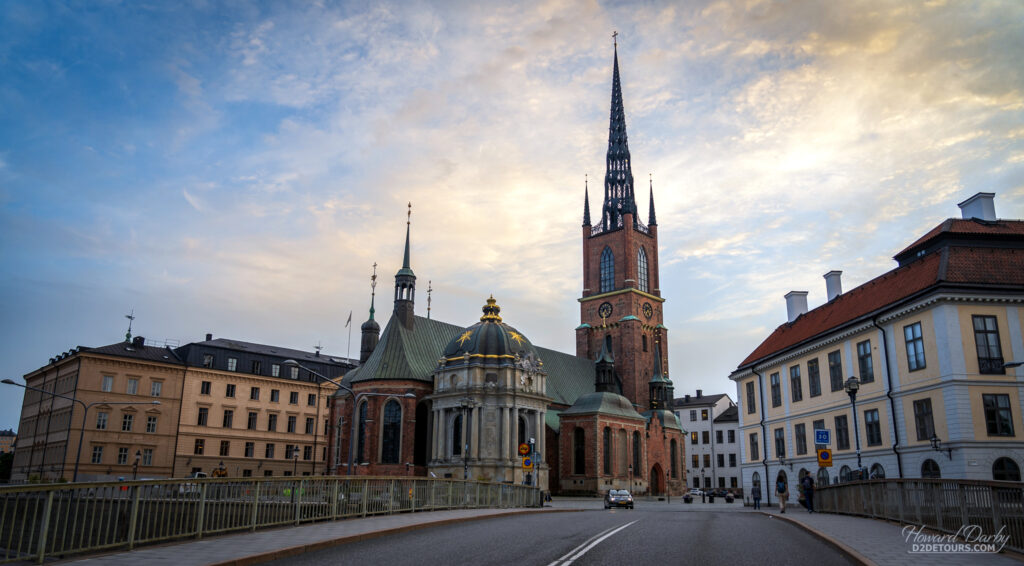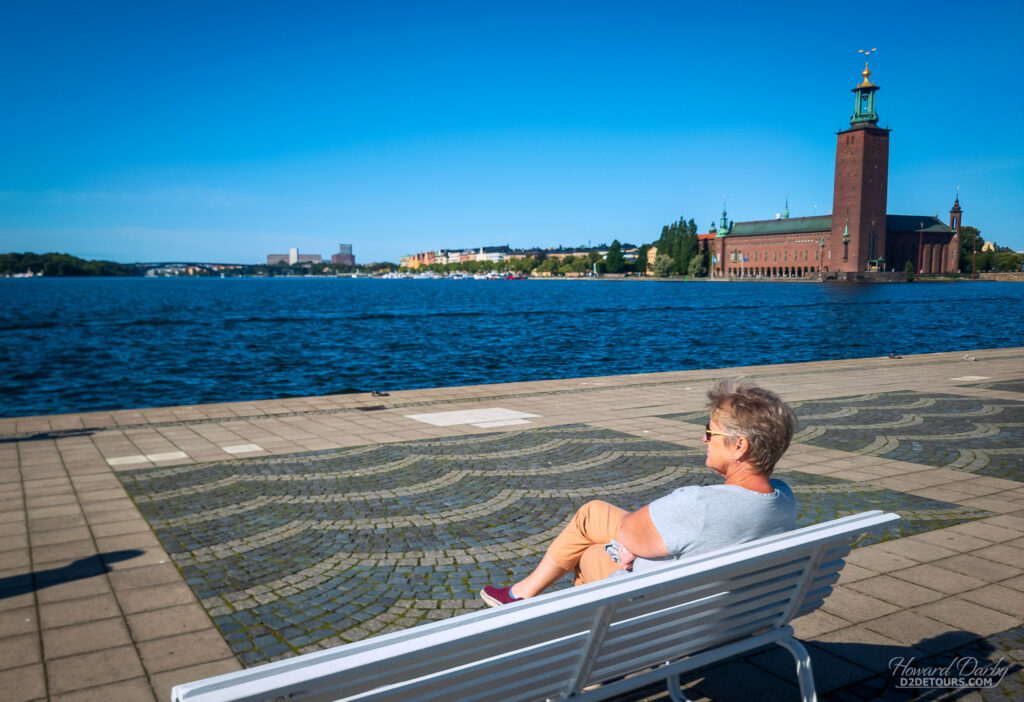 We visited two museums, both of which were free and full of interesting information.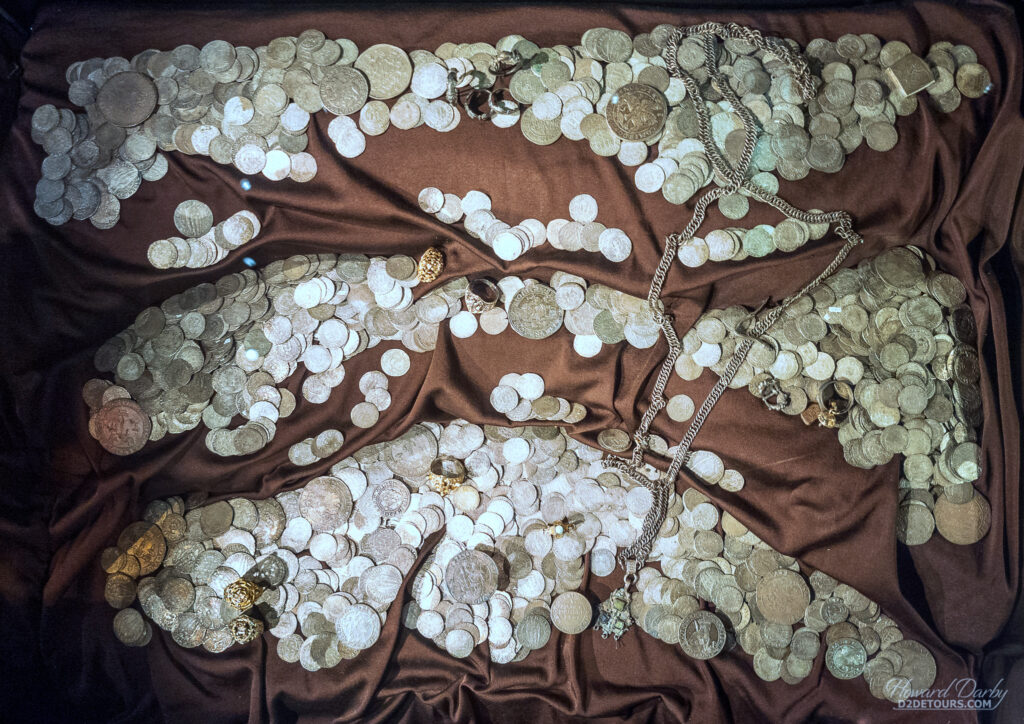 We were really impressed with the Stockholm City Museum, in particular the exhibition of photographs depicting sections of Stockholm from the turn of the century juxtaposed with photos taken in the last several years. Fascinating to see the changes that have (and haven't) occurred over time. I also found the bits of anecdotal narrative accompanying many of the exhibits delightful. For example, the Nordiska Kompaniet (colloquially NK) was the first department store in Sweden, opening on September 21, 1915. One of its many fabulous features was the country's first escalator. Unfortunately, soon after the escalator was installed it had to be removed (and was sold to a company in Germany) because there was "too much mischief" occurring on it!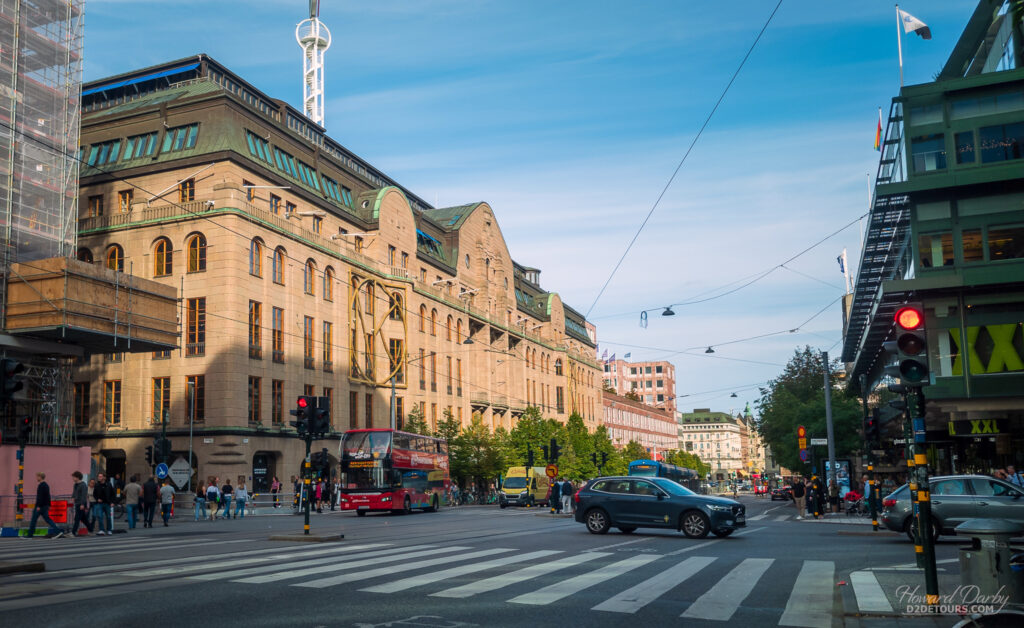 In the mid-1970s, renovation work began on the parliament buildings, including construction of a new underground parkade. Very early into the excavation, a portion of the 16th-century city wall was unearthed along with a trove of artifacts dating back to the 13th century: boats, coins, building foundations, ceramics, and even a graveyard with roughly 1300 skeletons were just a few of the finds. The parkade plan was ditched with an underground museum taking its place, the Stockholm Medieval Museum.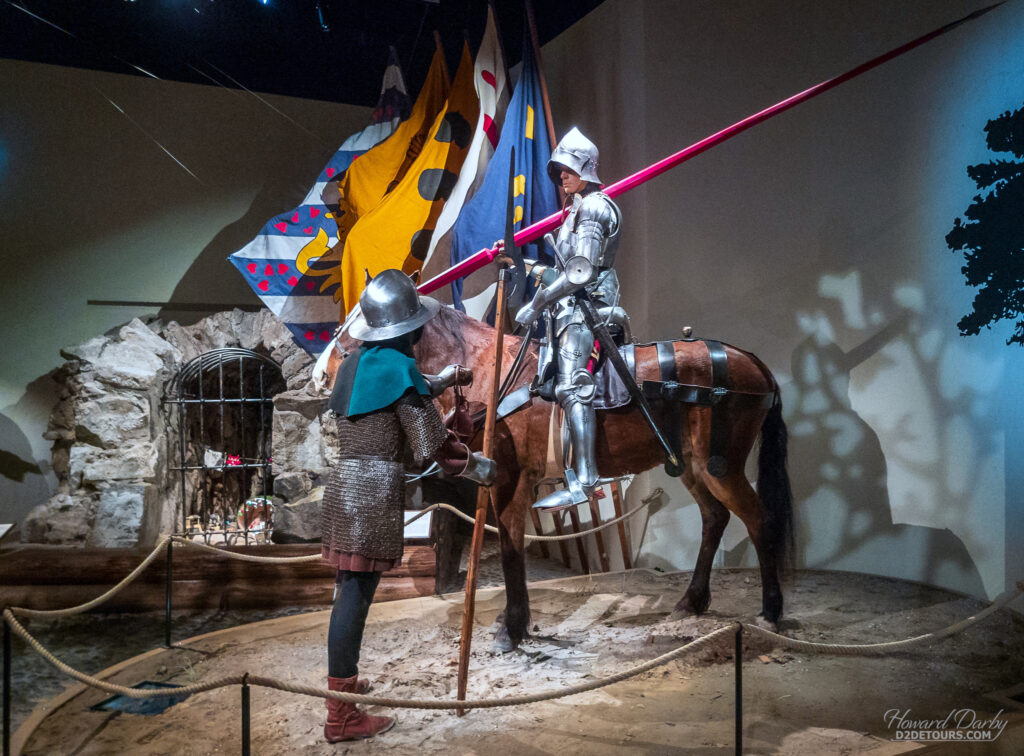 Having done a bit of research ahead of time, we knew about a runestone embedded in a wall along one of the street on Gamla Stan, otherwise we would have easily walked past it – there is zero signage explaining its significance.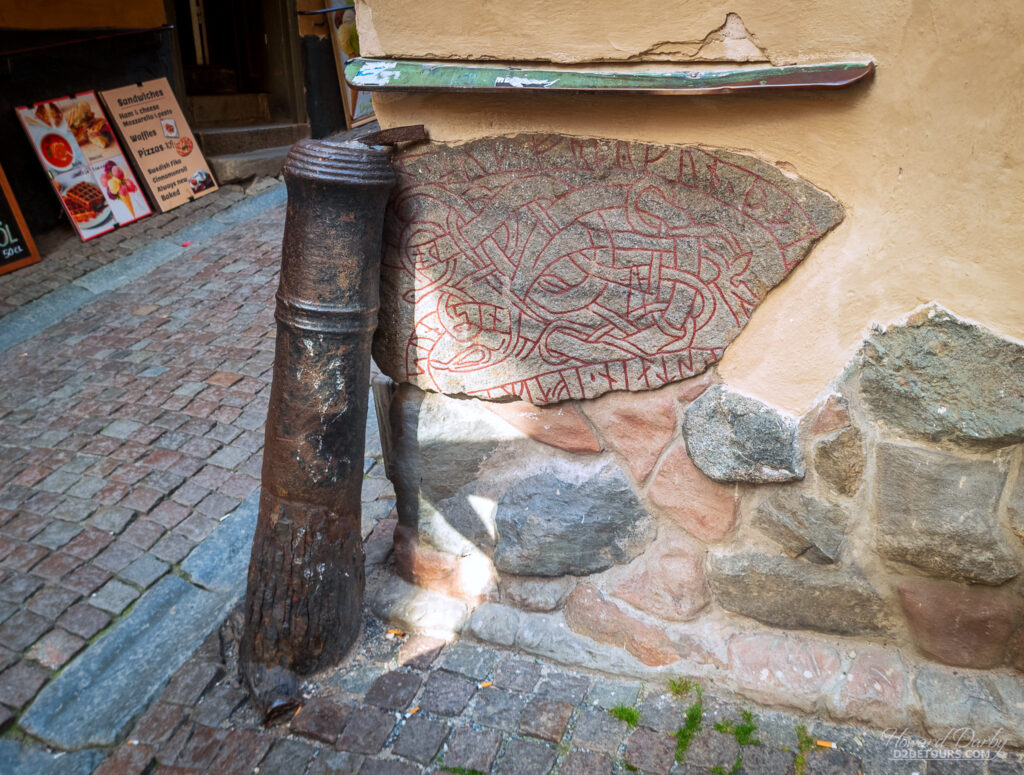 Runestones were an 11th-century/12th-century craze that spread throughout Scandinavia and the British Isles after the Danish king, Harold Bluetooth, erected one to commemorate his parents. They are not gravestones as they weren't generally located anywhere near burial plots, rather they were like a billboard meant to be seen by everyone, sometimes even used as self-promotion in anticipation of one's demise. The bright red inscriptions always followed the same formula: the name of the commissioner, the name of the deceased, what this person achieved in life, a prayer, and the rune carver's signature. By the 11th century, many of the Vikings had long abandoned their pagan beliefs in favour of Christianity so, while spotting a runestone may evoke a romantic sense of Nordic mythology, their decoration more often than not incorporated crosses and references to God, Jesus, and the Virgin Mary.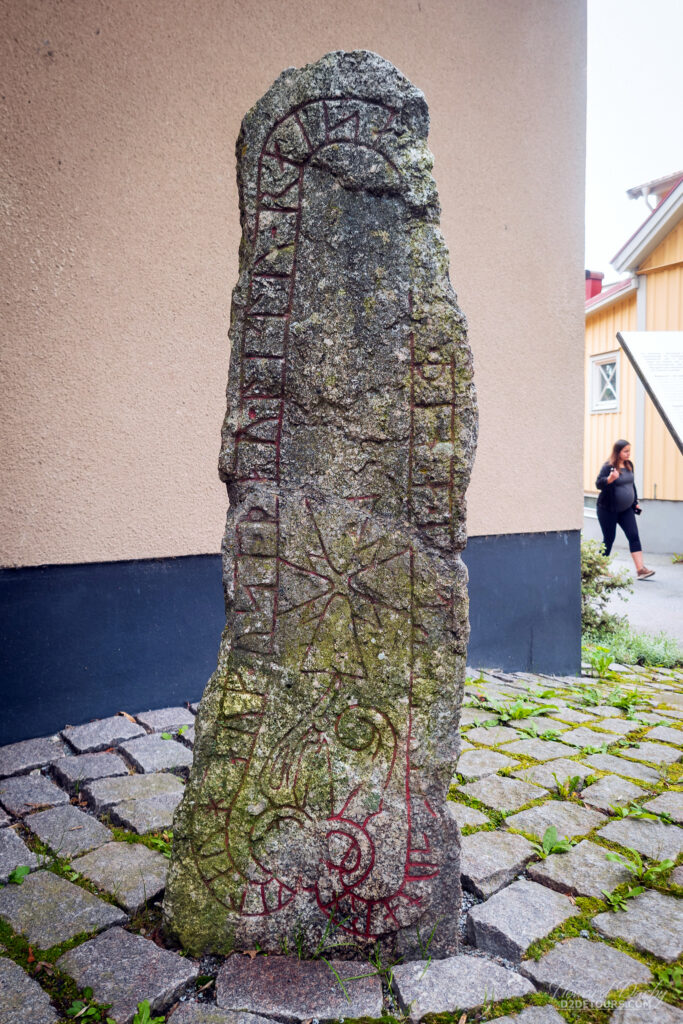 Because they weren't pagan in nature, when the practice was no longer fashionable the stones were frequently re-purposed as construction material, often in churches. In recognition of the artistic nature of the stones, builders would ensure that the inscriptions remained visible.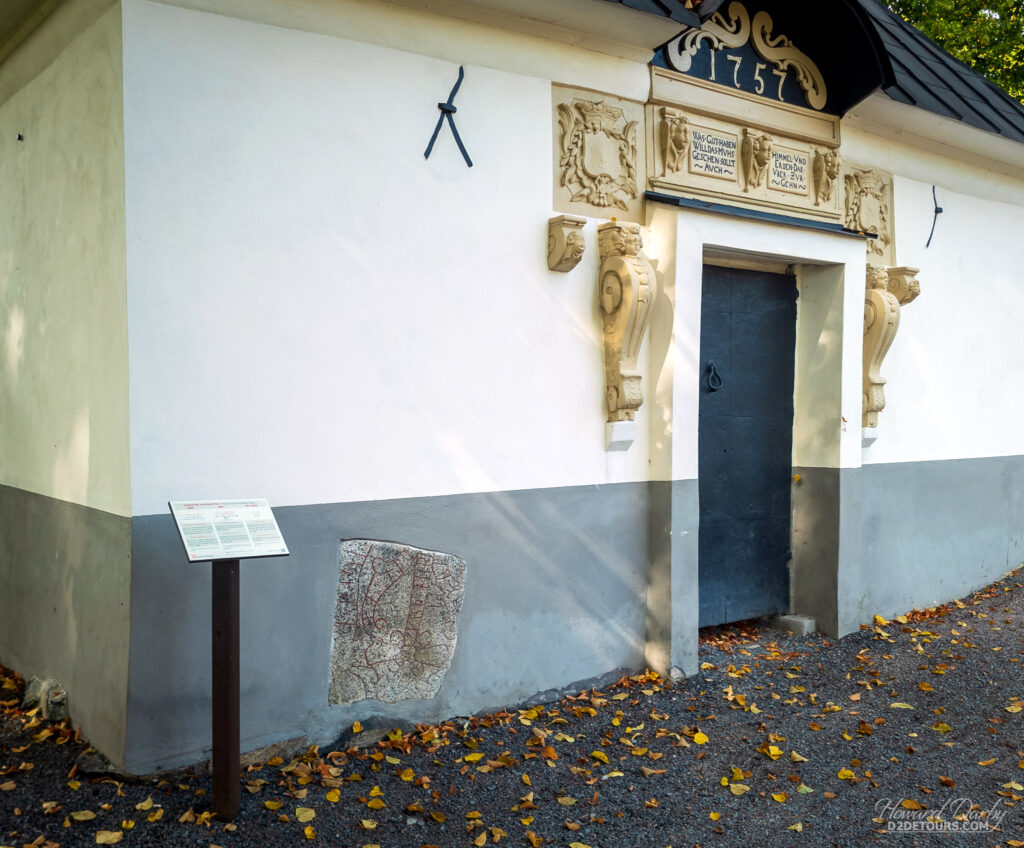 More than 2500 runestones have been found across Sweden and their locations have been logged in online databases. We thought the Swedish Rune Map was the best one. Several well-preserved stones are located in Sigtuna, roughly 50 kilometers northwest of Stockholm (about 2 hours on public transportation passing through very pretty countryside). Founded in 980 CE, Sigtuna is the oldest town in Sweden, and according to Norse mythology was home to the god Odin. It's an attractive village with multiple historical buildings sporting plaques explaining their heritage. One of the information boards outside the crumbling remains of the 12th-century Sankt Per's church had what I thought was the most eloquent conclusion to describing the various restorations the church has undergone – "After a fire in the 1600s it began its life as a ruin."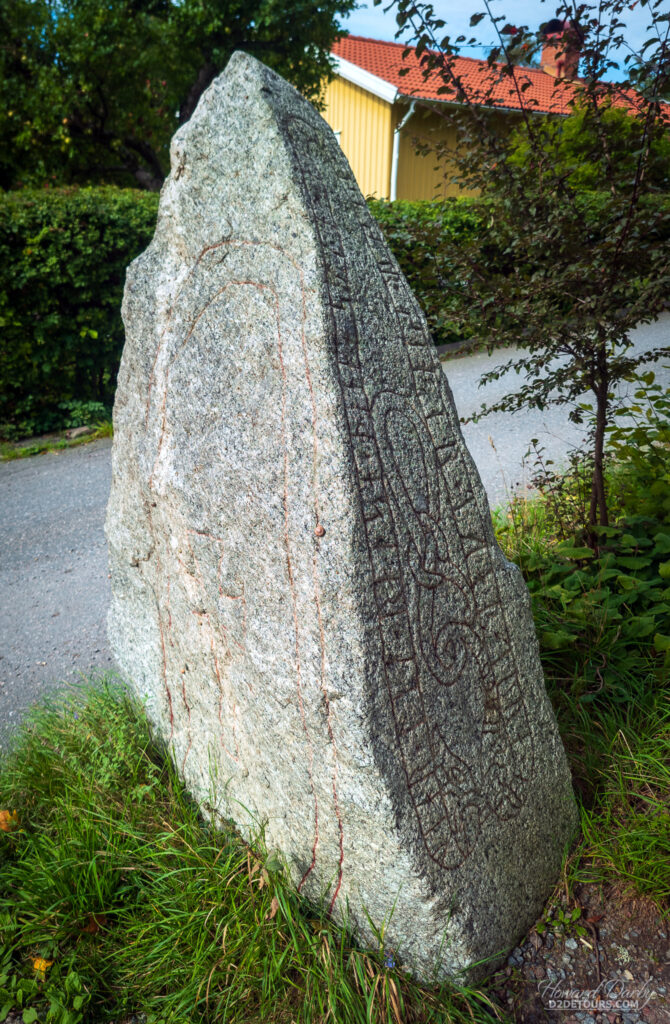 While we used the runestone databases, in conjunction with Google maps, to find the runestones around Sigtuna it wasn't necessary as there is a map in the village with the stone locations. Still, we thought it was more fun using Google maps to show us we were getting close to finding a stone and it brought memories of Howard geocaching with our boys around Canada and the US. After trying to use one of the more detailed databases to find some elusive runestones in Stockholm's city park, we came to the conclusion that the databases log the location of where runestones have been "found" not necessarily where they are still situated.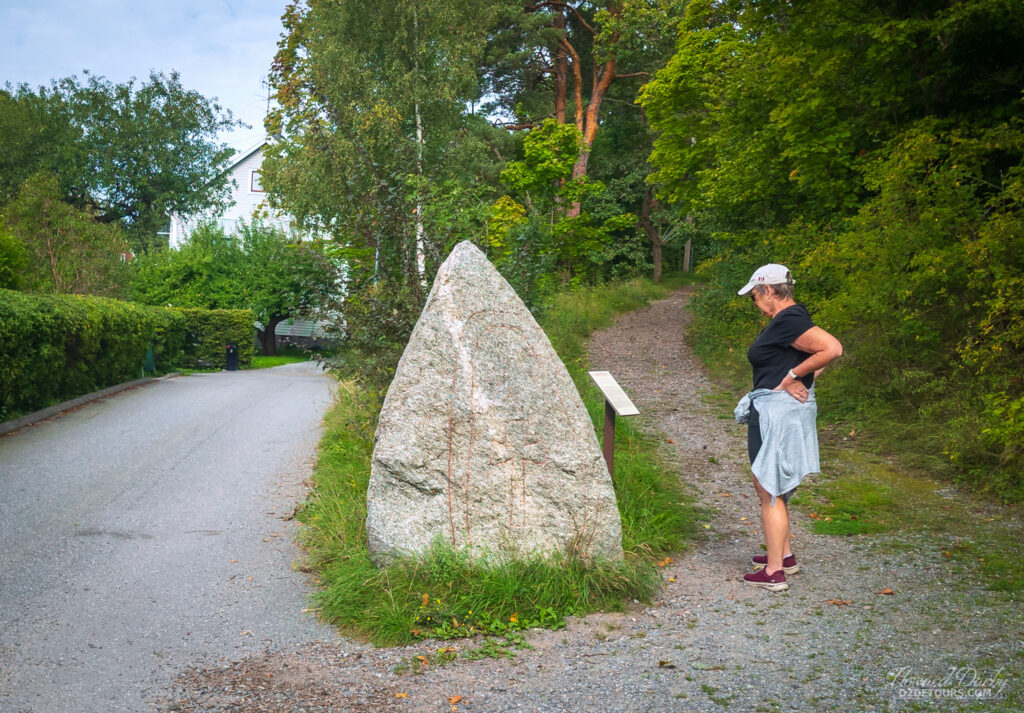 Another good day trip from Stockholm is the "city" of Vaxholm. It is only about 35 kilometres east of the city, but took close to 2 hours on public transit – again a lovely jaunt through the Swedish countryside. Vaxholm grew up around the fortress built in 1549 to defend Stockholm from ship-borne attacks.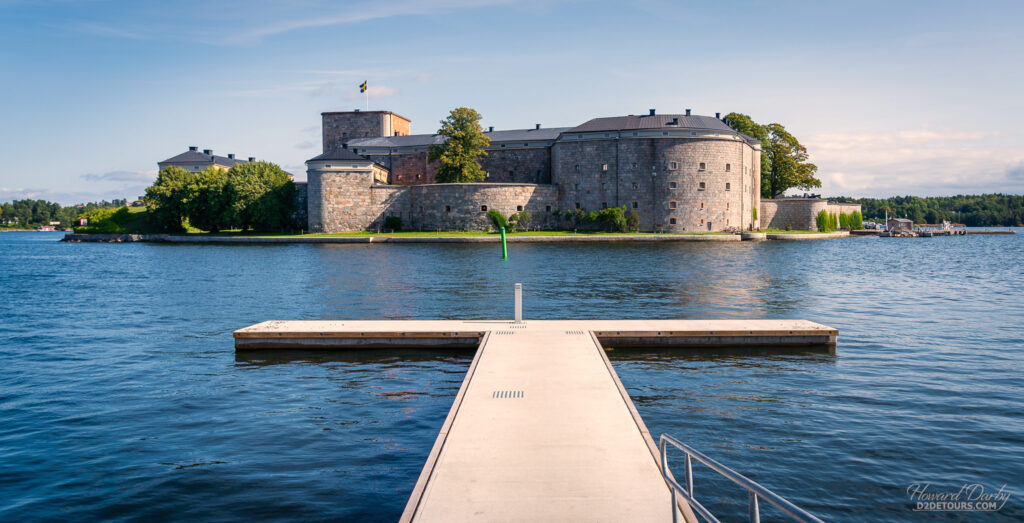 It has historically been called a city but in reality only has a population of 6,151 and is utterly charming. Until 1912 all of the homes could only be constructed with wood which, combined with a colour palette consisting of shades of yellow, green, blue, and rust, gives the village and surrounding area a storybook quality.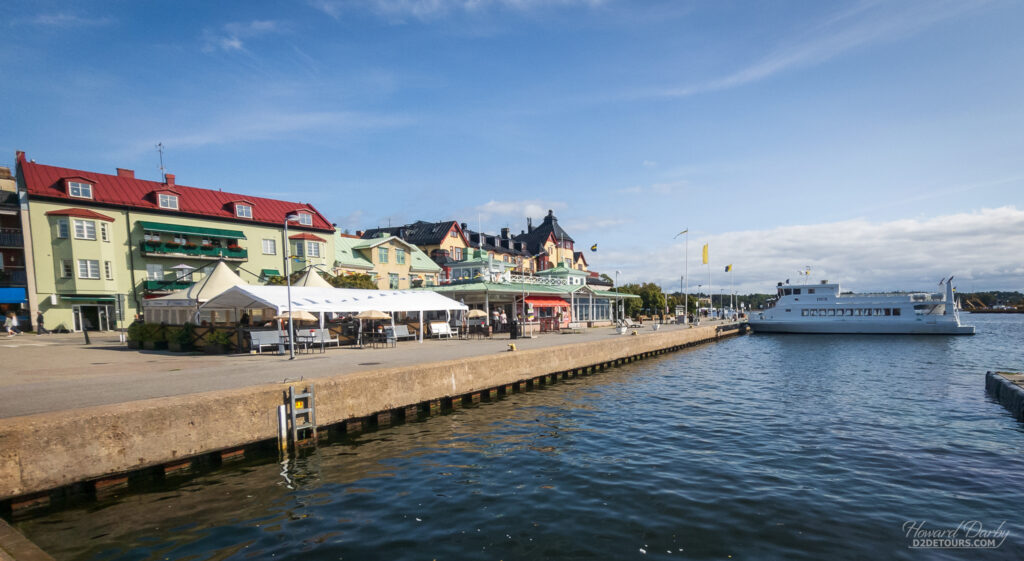 We tried to go to Uppsala, 70 km north of Stockholm, and this was where Google maps failed us. Uppsala is in another county. Consequently, our transit pass on the SL system doesn't cover that region and a separate ticket is required to cover the last leg of the journey. The SL travel planner explained that; Google did not. Fortunately, we realized it just before we were about to board the second last leg of our journey and when we registered that it was going to cost us an additional $24 CAD each for that portion of the trip, we decided we didn't need to see the Uppsala region that badly and happily spent another day wandering through Stockholm.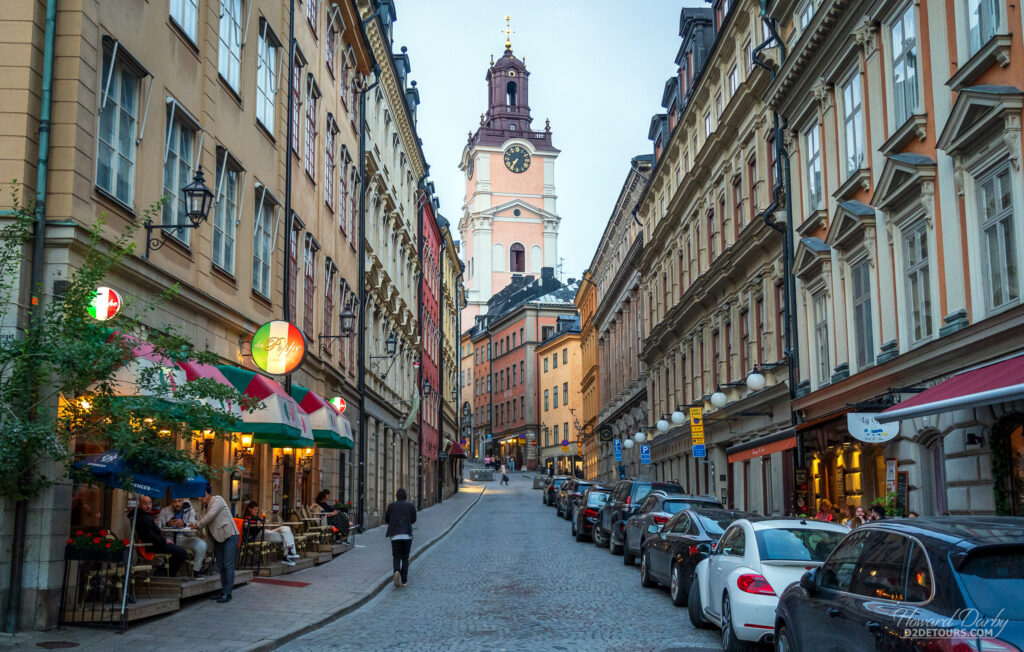 Us – We really liked Stockholm and the surrounding area, although we may be slightly biased in our opinion. It felt like we'd come home, right down to the mosquitos who found us very tasty. The landscape was very reminiscent of Vancouver Island with coniferous trees and lots of lakes. Some of the villages felt like rural Alberta and even the old town reminded me of Quebec City. Too bad its cost of living is also on par with Canada or it would be a very appealing place for a long-term stay. Off to Helsinki!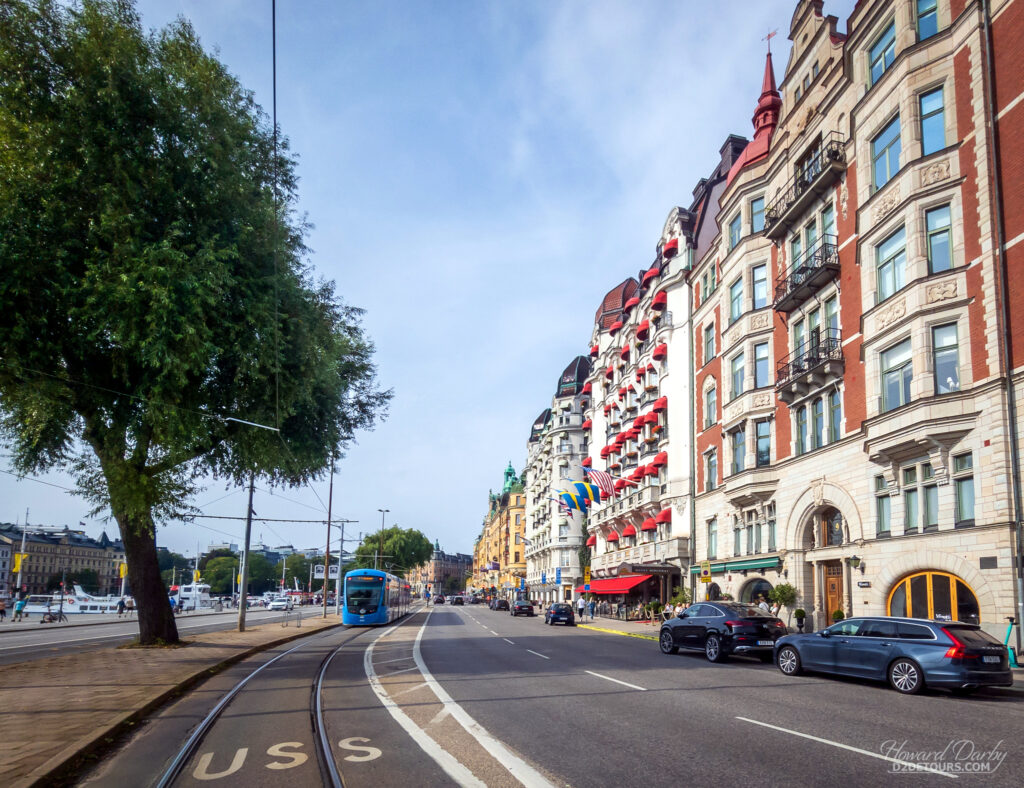 Restaurants – A "must-do" stop in Vaxholm is the Hembygdsgårds Café. Situated on a picturesque headland on the Kodjupet strait this cafe is known for its freshly made sandwiches and dessert buffet. We shared a sandwich with shrimp piled so high they seemed to defy gravity, and picked separate desserts to satisfy our respective sweet tooths. Dee-licious, and the setting was spectacular!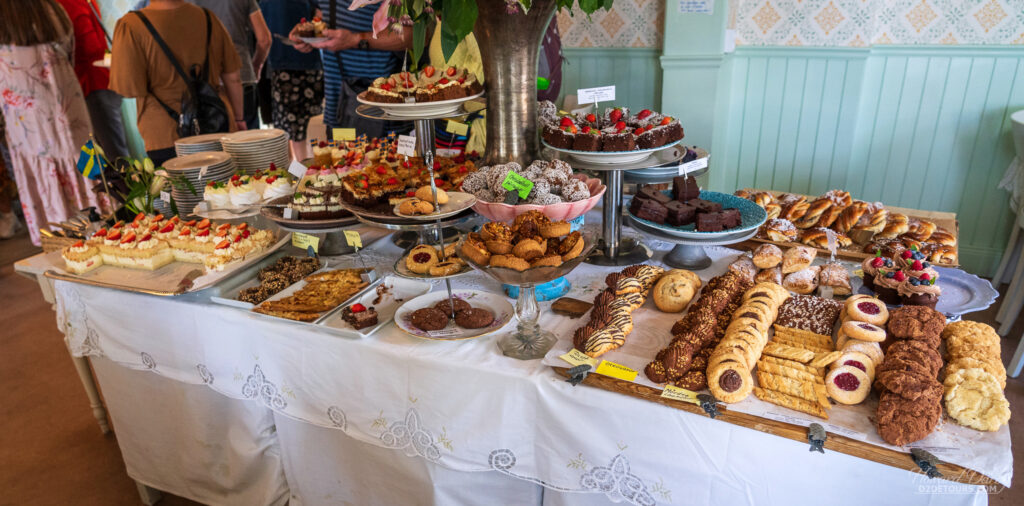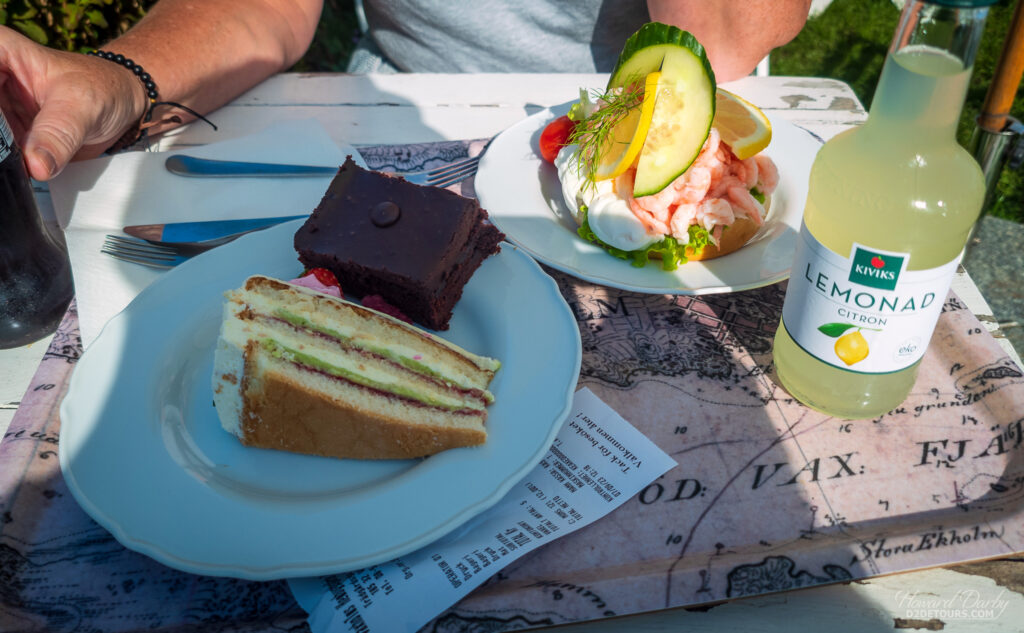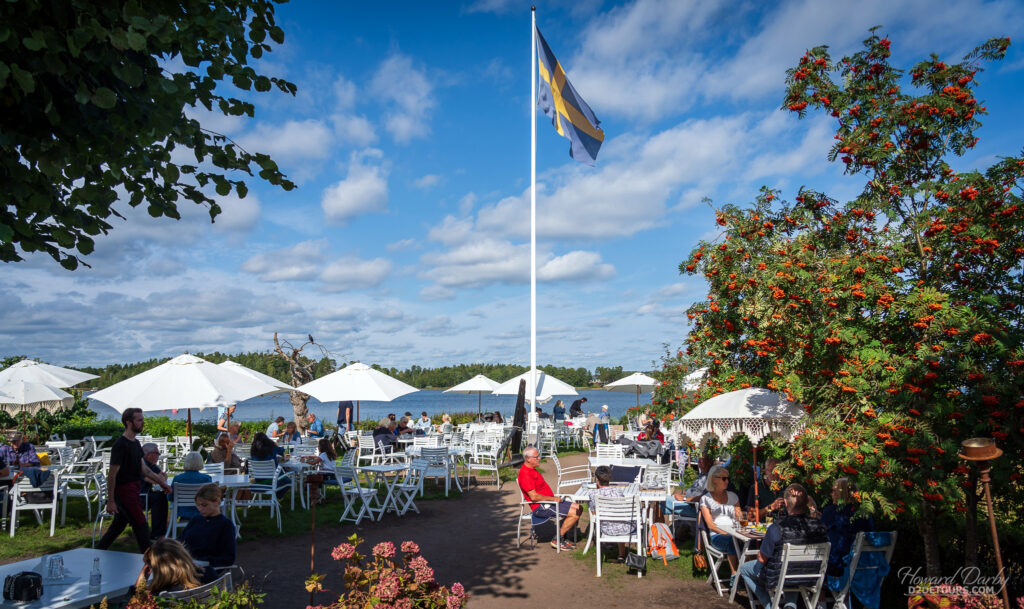 Speech – While in Asia it was obvious we were foreigners, and were treated as such with people generally addressing us in English. In Sweden, we clearly blend in. Without fail however, the moment someone realized we didn't understand a word coming out of their mouths they would instantly switch to English, very good English. Interestingly though, unlike Asia where lots of advertising and signage are in both the local language and English, that is not the case in Stockholm – even announcements on public transit were often only in Swedish.
Swedish is a Germanic language but is also related to English and I found if I said the written words in my head I could occasionally pick up the gist of something, like du är här (you are here) or plock upp efter din hund (pick up after your dog). After someone addressed us in English if I threw in a "tack" as we were leaving, it would always elicit a smile.
Hej Hej (Hey Hey) – Hello;
Hej då (Hey dough) – Goodbye;
Ja (yah) – Yes;
Nej (neigh) – No;
Snälla – Please;
Tack (Talk) – Thank you;
Förlåt (furlough) – Sorry/Excuse me.