After seven months in Asia we decided to make central Thailand our final destination, with stops in Bangkok and Hua Hin (Wha Hen), in particular because Bangkok is an airline hub, plus who doesn't like a bit of beach time!
Bangkok and Hua Hin are located in the area that was once part of the wealthy maritime kingdom of Ayutthaya (1351-1767). That the region became known as Siam has various theories. Siam may have come from the Sanskrit word for dark, syama, or it may have been derived from xian, which is how Chinese immigrants referred to the region. Its entry into western nomenclature, where it would become entrenched, likely occurred in the 16th century when the Portuguese launched a diplomatic mission from their recently acquired position on the Malay peninsula (Malacca), and subsequent documentation included notations about the "road of Syam." The country would be known as Siam until 1939 when the name was formally changed to Thailand – "Land of the Free."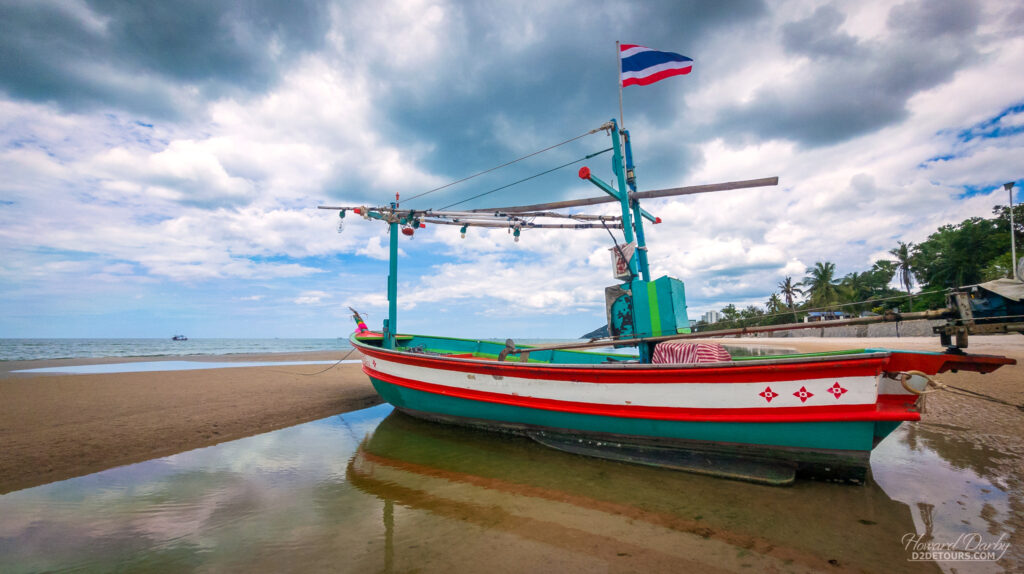 While Bangkok would one day become the capital of Thailand it was just a lowly trading post within the Ayutthaya kingdom whose capital, also called Ayutthaya, was about 80 kilometers/50 miles north of Bangkok. Throughout much of its history, the Ayutthaya kingdom battled for supremacy with its neighbours: the Lan Na to the north (the area around Chiang Mai), the Burmese (Myanmar), and the Khmer (Cambodia). In 1767, the Burmese finally established dominance and sacked the city of Ayutthaya. They didn't stick around long enough to institute any sort of governance, in large part because their forces were needed back home to repel a Chinese invasion, and the region dissolved into small fiefdoms fighting for crumbs. In the wake of the Burmese retreat an Ayutthaya aristocrat with a military background managed to wrangle these broken pieces, along with the Lan Na people to the north, into a single unified kingdom and the short-lived Thonburi kingdom (1767-1782), on the banks of the Chao Phraya River, was established. In 1782 a coup d'état occurred marking the beginning of the Chakri dynasty, with Rama I being crowned king (the current king of Thailand, Rama X, ascended the throne in 2016) and the capital was moved across the river from Thonburi to Bangkok. The legacy of the Ayutthaya kingdom is evident in modern Thailand. The first king established Theravada Buddhism as the official religion and enacted a code of law that remained the basis of Thai law until the late 19th century.
Interestingly in the first half of the 20th century, as the Western world was actively engaged in acquiring land in Asia, Thailand remained untouched. The Dutch had Indonesia, the US was in the Philippines, the French had colonized Vietnam, Cambodia, and Laos and the British had laid claim to Malaysia and Burma (Myanmar). While the simple answer might be that France and Britain entered into a gentleman's agreement to keep Siam as a neutral buffer between their two empires, the more likely explanation is the reforms instituted by Rama V (1873-1910). He centralized the government, formally memorialized the country's borders and established a standing army, all of which made the region less susceptible to foreign occupation.
Unfortunately, Thailand didn't escape Japanese occupation during WWII. Concurrent with the attack on Pearl Harbour on December 7, 1941, Japan invaded Thailand and soon had more than 100,000 troops stationed on Thai soil. The British colony in Burma was soon seized as well. While the British had noted the benefits of a rail route between Thailand and Burma, they had deemed it an undertaking too difficult to tackle. After suffering defeat at the Battle of Midway, Japan wanted to avoid the perils of supplying their troops in Burma by sea, and felt a rail line from Bangkok to Rangoon was a reasonable alternative. Thus, six months after occupying Thailand and Burma, work began on the Burma Railway, colloquially known as the Death Railway, a 415 km (250 miles) line traversing hilly jungles and crossing multiple rivers. Completed in roughly 16 months it was an engineering marvel accomplished with a horrific human toll. We took a day trip to the River Kwai during a 2017 visit to Bangkok, and rode the train over a portion of the railroad. Beautiful scenery, tragic history.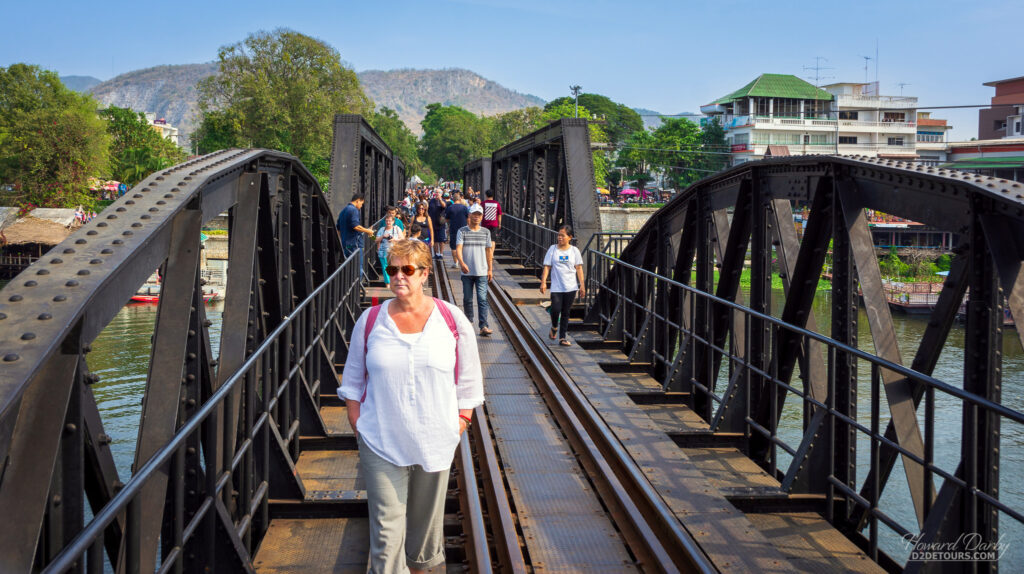 Hua Hin has happier roots. In the 1920s Rama VI built a summer residence for his family to escape from the stifling heat in Bangkok. The locale proved to be so enticing that Rama VII commissioned his own summer home. We keep asking ourselves if Thai people ever acclimatize to the heat and humidity because it is killing us, and I guess that answers our question, they find it oppressive too!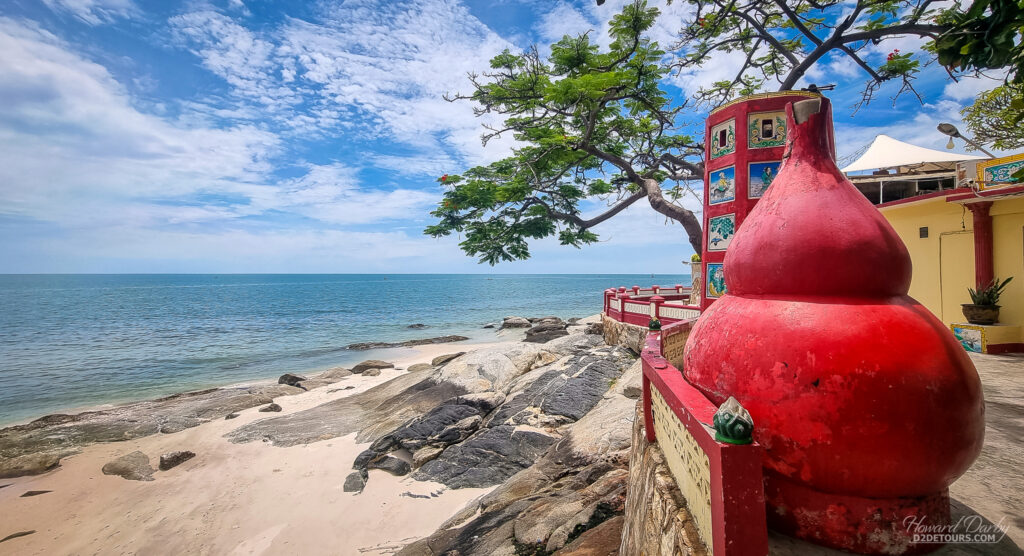 Dollars – Although we've combined Bangkok and Hua Hin into this single post, to get a clearer picture of what it might cost to stay in each city, we've separated our expenses as follows:
Bangkok
We spent 6 nights in the capital of Thailand. Our all-inclusive nomadic travel expenses, which included a portion of the flight from Hong Kong (we prorated that figure over both Bangkok and Hua Hin), the cost of shipping our luggage from Chiang Mai, and some miscellaneous personal expenses, averaged out to $159/day Canadian ($117 USD / €108). Basic day-to-day living expenses (hotel, food, activities, local transportation) averaged out to only $120/day Canadian ($88 USD / €82) which included a splurge on a Muay Thai fight night.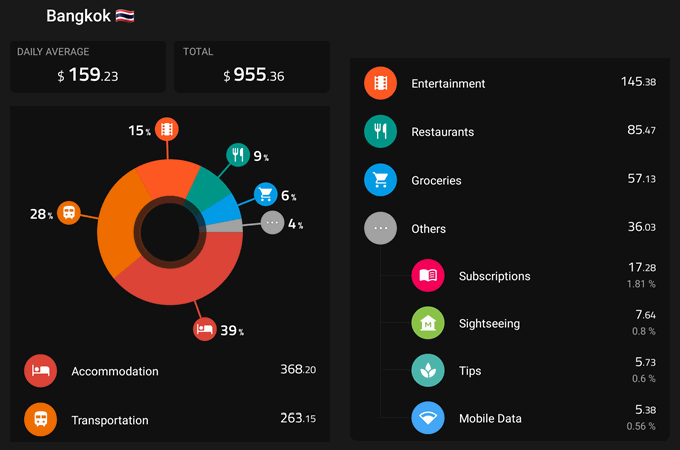 Hua Hin
August is the low season for tourism in Thailand and consequently the price of our accommodation was very attractive, although generally we found the cost of food to be slightly higher than in Bangkok. Our all-inclusive nomadic travel expenses for 17 nights averaged out to $84/day Canadian ($61 USD / €57). Basic day-to-day living expenses averaged out to only $69/day Canadian ($51 USD / €48). If spending some time in a resort town appeals to you, Hua Hin would be a superb choice.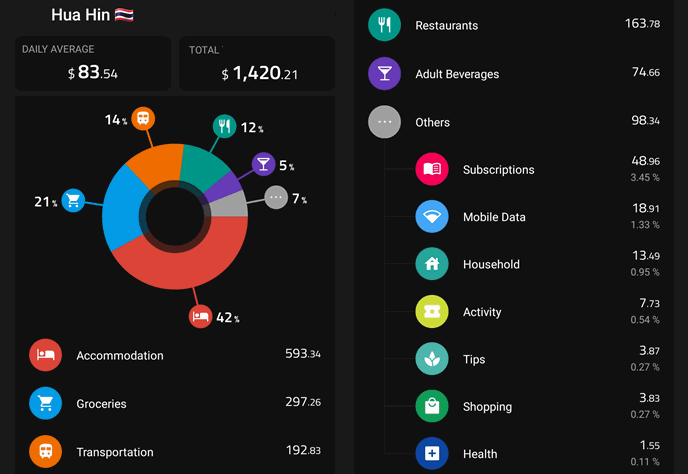 Environment – Notwithstanding that we were in Bangkok during low season, we thought accommodation was a bit on the pricey side. We found a newly opened hotel in Chinatown that fit nicely within our budget, and despite only having a couple of reviews (albeit good ones) we booked it hoping the fact that it was new and they were working toward building their reputation would mean the fixtures, linens, service, etc. would be in good shape. It did. Everything was clean, the bed was comfortable, and it's in a great location. My only criticism was that while it had a small kitchenette there was not a single dish or piece of cutlery, just two coffee cups! It did have a fridge which was helpful, and finding places to eat in Bangkok really isn't a problem. We quite liked the neighbourhood.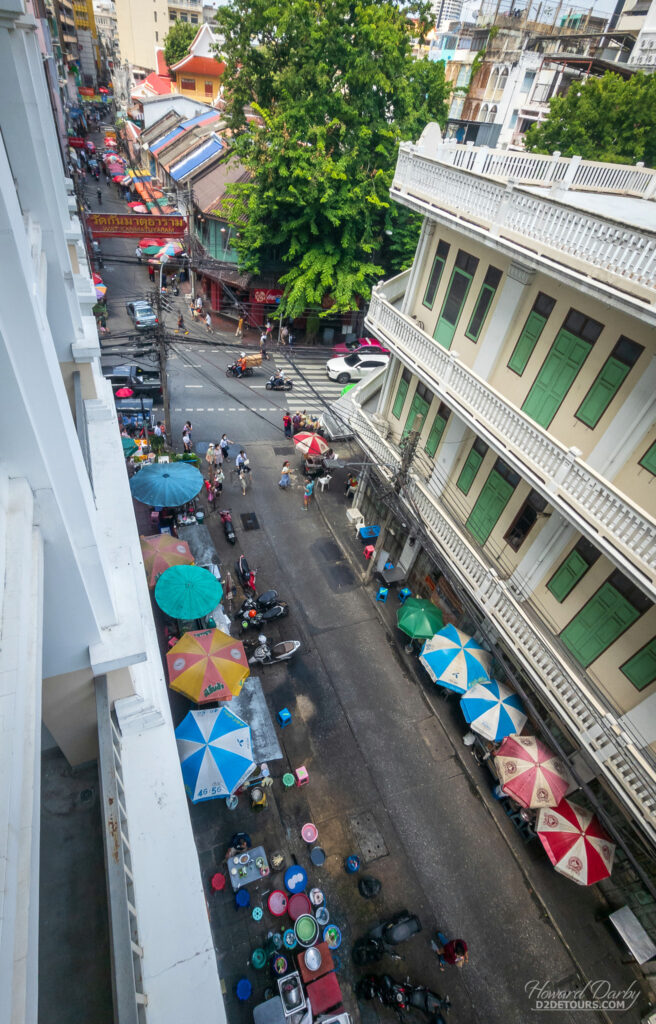 Multiple people had warned us that Chinatown was crowded and noisy and generally not a choice locale to stay. We totally disagreed. Yes, it was busy, (seriously though, what part of Bangkok isn't – it's got a population of 10M!) but we thought the hustle and bustle was just people going about their lives. None of the shopkeepers or hawkers were the least bit aggressive, and we thoroughly enjoyed the lively atmosphere.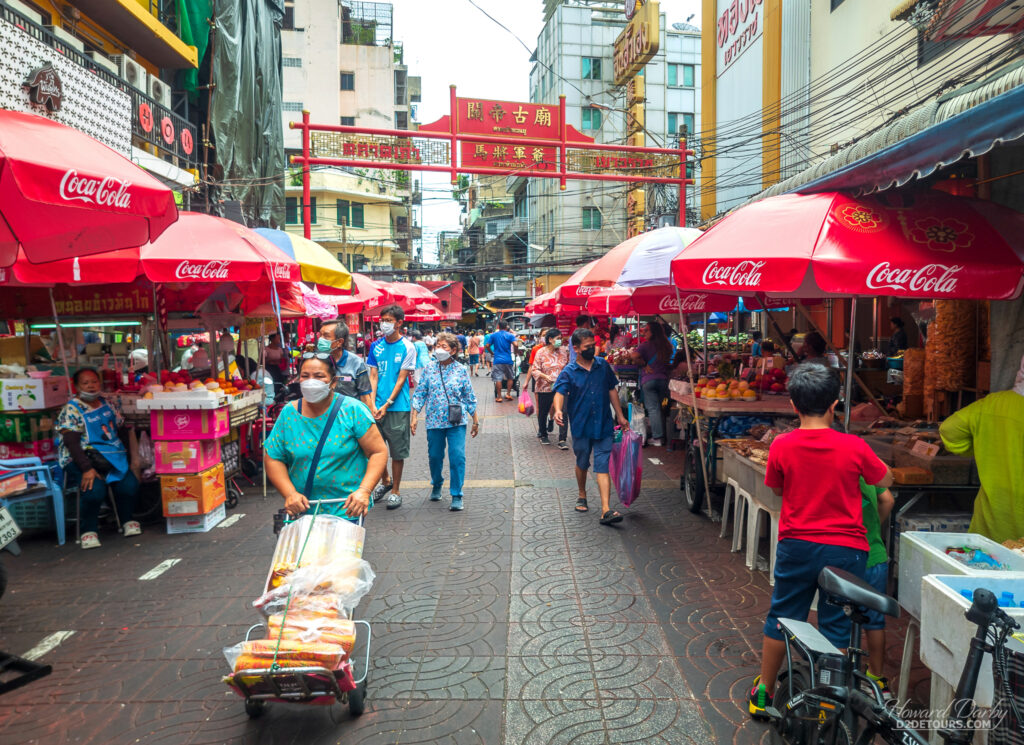 Hua Hin is a resort town sporting a gorgeous 8-kilometer (5-mile) beach with powdery white sand that oddly squeaks under the pressure of your footsteps. The waters of the Gulf of Thailand are clear and oh, so warm, and for the most part we were alone whenever we walked in the surf (one of the perks of travelling in the off-season). Our Airbnb was a couple of blocks from the beach with a lovely pool area, which we overlooked. It is a large complex and I suspect very noisy during the summer, however, in August it was quite quiet. The unit itself was small yet met all our needs including a well-equipped kitchen enabling us to prepare many of our meals at home.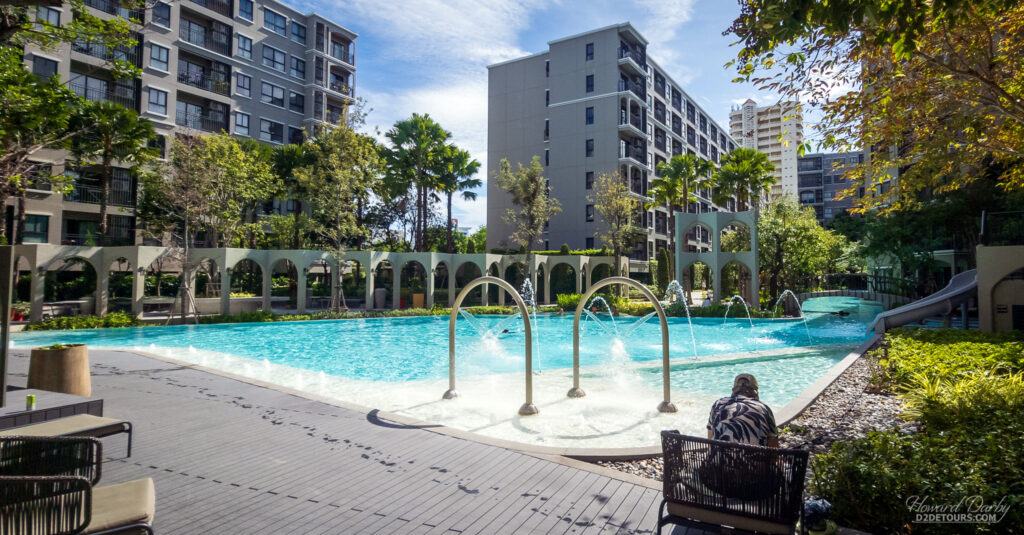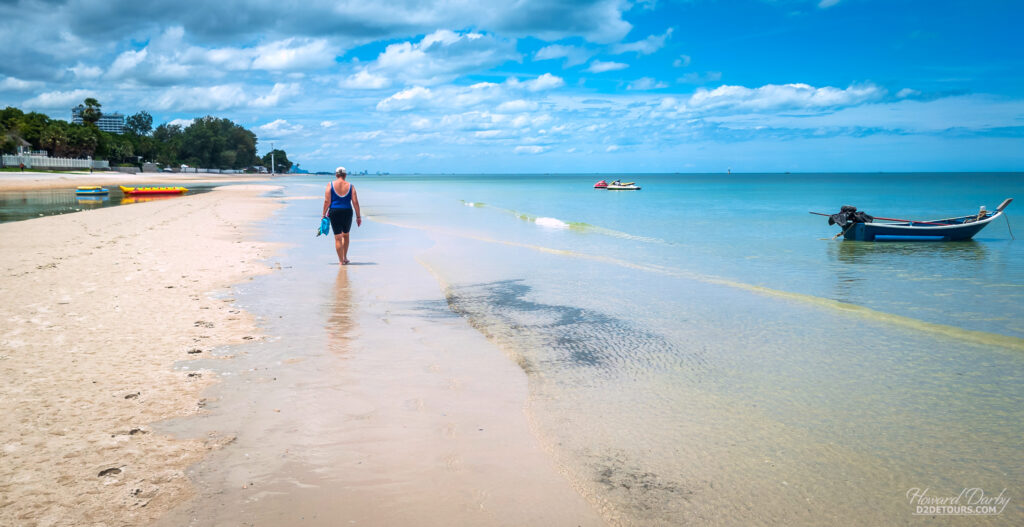 Tips, Tricks & Transportation – After our visa fiasco (see our post on Chiang Mai) we were heading to Bangkok following our short (3 days/2 nights) border run to Hong Kong. Although our suitcases are carry-on size, they exceed the in-cabin weight limit (7kg) for most low-cost Asian air carriers. To avoid the rather steep checked bag fees and, more importantly, because our last day in Hong Kong had us checking out of our hotel at 11am with a departing flight at 10pm and we wanted to take advantage of one more day of sightseeing without having to drag bags behind us, we opted to ship our suitcases from Chiang Mai to our hotel in Bangkok. Kerry Express came highly recommended. All items being shipped must be boxed and our suitcases were slightly too big for the standard boxes, but the agent did a masterful job cobbling together two boxes to create custom packages for us. We then said a prayer to the travel gods and waved goodbye to all of our worldly possessions, save for laptops, dive computers, and a few pieces of clothing we would take in our backpacks for our hop to Hong Kong. Happily, our bags were waiting for us when we checked into our Bangkok hotel. The cost of shipping both bags was $32 CAD, which included a tip for the agent's boxing skills; checked baggage fees would have been more than double that, so definitely a win!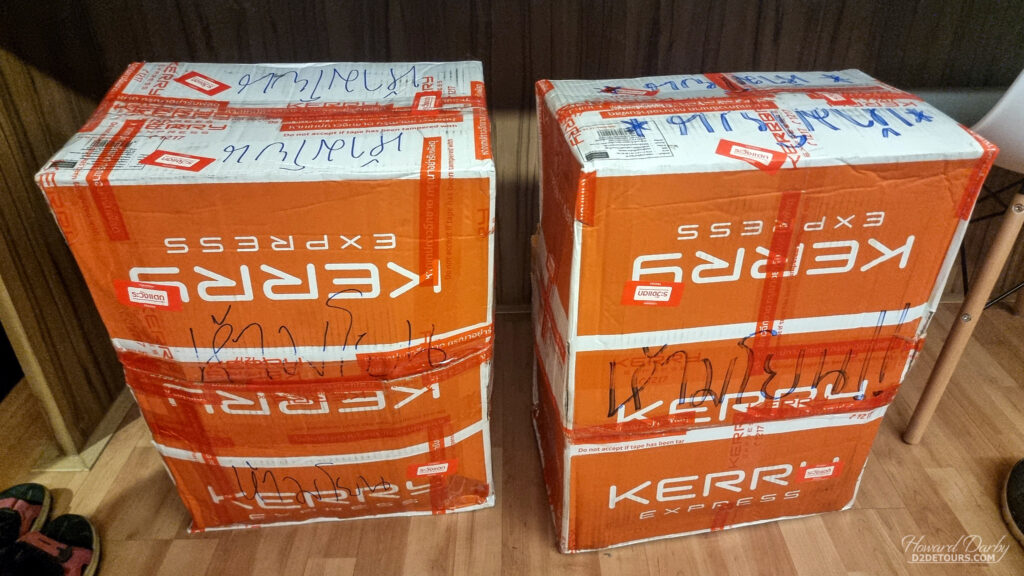 Getting around Bangkok is super easy. It is very walkable, although you do need to watch where you step as the sidewalk surfaces are frequently, shockingly, uneven. It also has great public transportation options. The metro is modern and inexpensive, with a single ticket price between 17 Baht and 43 Baht ($0.66 – $1.66 CAD) depending on the distance and number of stations passed. We did a couple of short trips and each fare was 21 Baht/pp (about $0.80 CAD). They don't use paper tickets, rather you're given a plastic token to tap when entering through the turnstile and then you drop it in a slot to lift the gate at the metro station exit. We did wonder whether the tokens go through any sanitizing process between trips.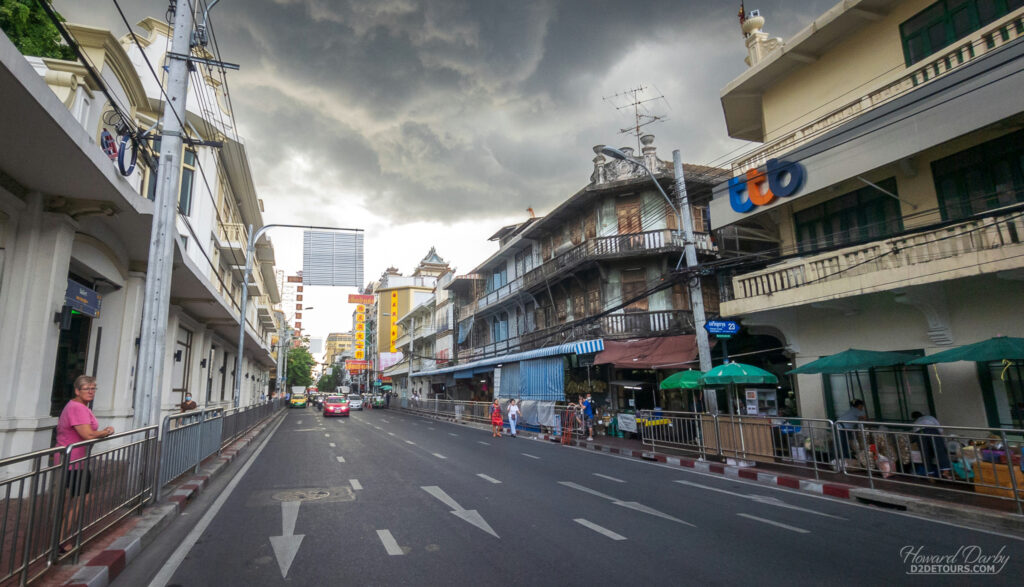 The river taxis on the Chao Phraya River are a much prettier way to travel. There are very inexpensive small local boats running up and down the river (10 Baht / $0.40 CAD) but we chose to use the Blue Flag (tourist) boats. They are large modern boats with an open upper deck, air-conditioned enclosed lower deck, with all announcements are in both Thai and English, plus there are multiple crew members directing passengers. The Blue Flag boats are akin to hop on/hop off boats as you can purchase a day pass for 100 Baht ($4 CAD) whereas a single trip ticket (regardless of distance) is only 30 Baht ($1.15 CAD). We enjoyed riding it during the day (in the air-con) and at night up top taking in the lights of Bangkok.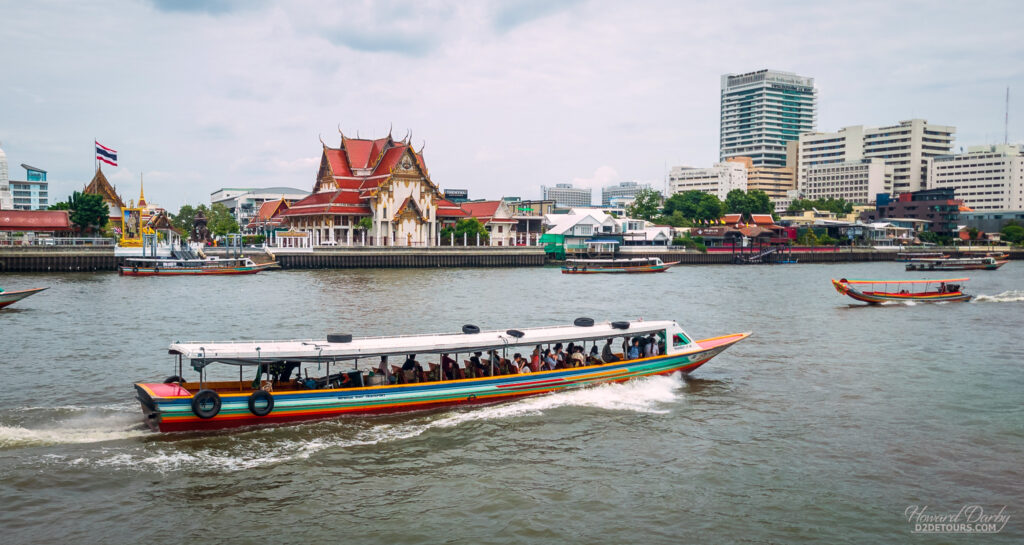 We didn't cook in our Bangkok hotel, but did pick up a few things for breakfast and thought the Lotus chain of grocery stores was very good (which is interesting because the same chain in Malaysia was awful). In Hua Hin we were preparing meals at home and had our choice of supermarkets within easy walking distance. Lotus, Tops, and Gourmet Market all seemed to carry the same products with virtually no price difference – it really just came down to which direction we wanted to walk.
We had originally planned to take the bus from Bangkok to Hua Hin. Unfortunately, although the price was appealing (375 Baht/pp / $14.50 CAD), the logistics were not. The bus ride itself is about 4 hours and departs from the Suvarnabhumi Airport (BKK airport code) which would have necessitated an hour-long ride on public transportation, combined with some walking with our bags, to get from our hotel in Chinatown to the airport so we splurged on a taxi service (2000 Baht / $77 CAD) which was only a 3-hour trip, door-to-door. When booking our transport back to Bangkok, we were much more fiscally responsible and took the bus. A frugal decision aided in large part because we were flying out late on the same day so being dropped at the airport was ideal.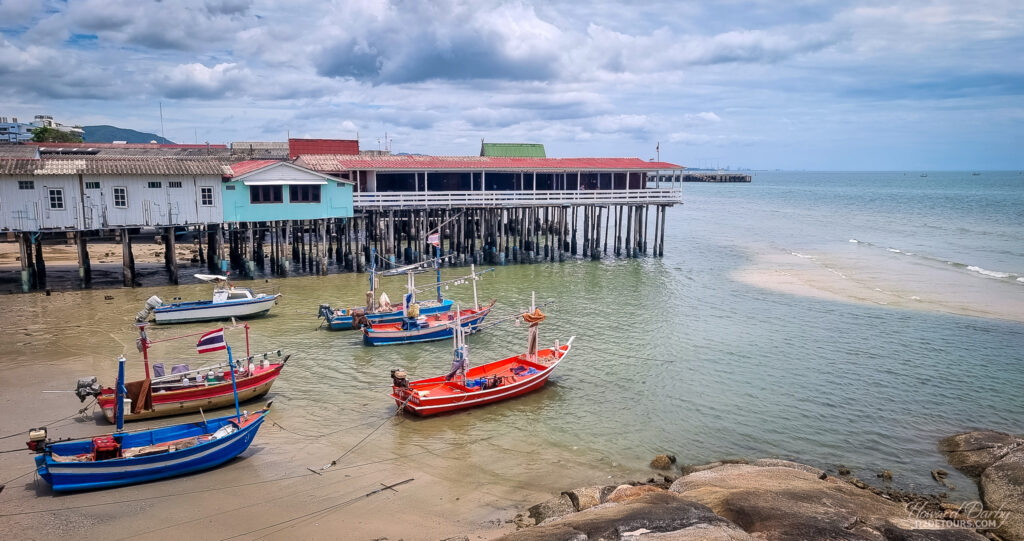 Out and About
Bangkok
According to the Guinness Book of World Records, the traditional name for Bangkok holds the title of longest place name: Krung Thep Mahanakhon Amon Rattanakosin Mahinthara Ayuthaya Mahadilok Phop Noppharat Ratchathani Burirom Udomratchaniwet Mahasathan Amon Piman Awatan Sathit Sakkathattiya Witsanukam Prasit. Not surprisingly no one uses the full name, and Krung Thep Maha Nakhon (Bangkok) is considered the official name. How "Bangkok" entered the lexicon is a bit vague. One theory suggests that it is simply a derivative of Bang, which means village on a stream, and Ko, which means island. Regardless of its origin, it slips off the tongue much easier than the traditional, or even official, alternatives.
I will confess that by the time we arrived in Bangkok we were feeling a bit of wat (temple) overload, and didn't plan to spend much time touring any more. Wat Arun Ratchawararam Ratchawaramahawihan (try saying that ten times fast, fortunately, it is commonly known as just Wat Arun) did, however, pique our interest. As far back as the Ayutthaya kingdom a temple has stood on this spot, but the stunning porcelain encrusted prangs (spires) for which it is known today date from the early 19th century.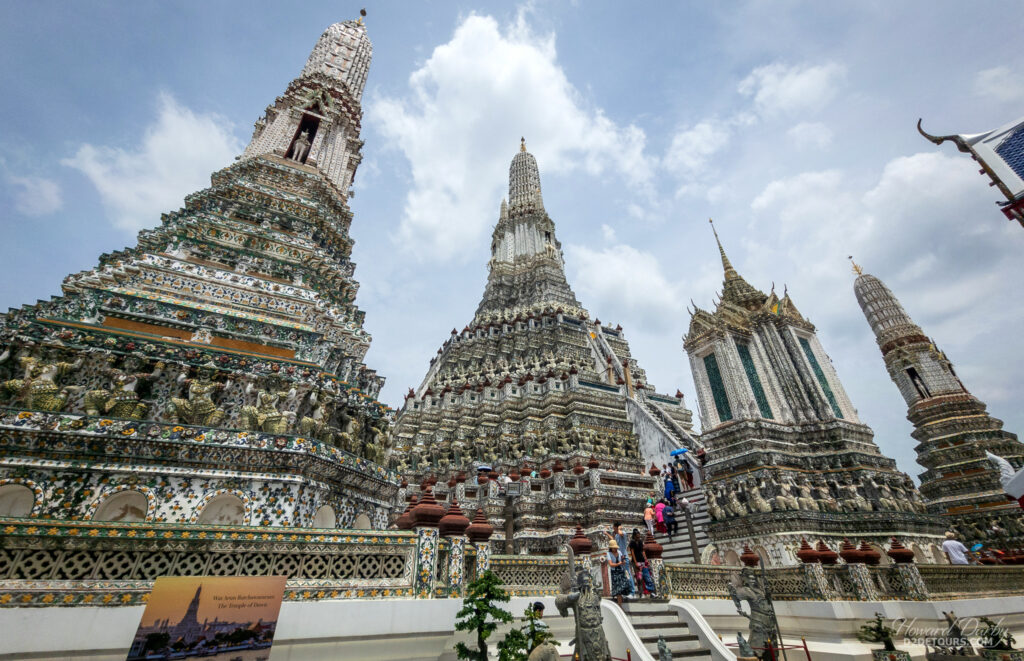 Foreigners pay a 100 Baht ($4 CAD) entry fee which includes a bottle of water. This is not the first temple we've visited in Thailand that provided water with the entry fee which is a really lovely touch in the heat. The entry ticket also had printed on it the rules for visiting the complex, most of which were the standard "be respectful," but the "do not dangle any doll" was a new one!
In 1925  Rama VI donated several acres of his private property (roughly 140 acres) for the creation of a public park, the first in Bangkok. Lumphini Park is a welcome spot of greenery within the city grime, and is as popular with two-legged creatures as it is with some of the four-legged ones – there are close to 400 monitor lizards who call the park home. We spotted a couple, one in the water and a huge one waddling across the path in front of us! While they are a bit startling, they aren't really any danger to humans – if you leave them alone, they'll return the favour.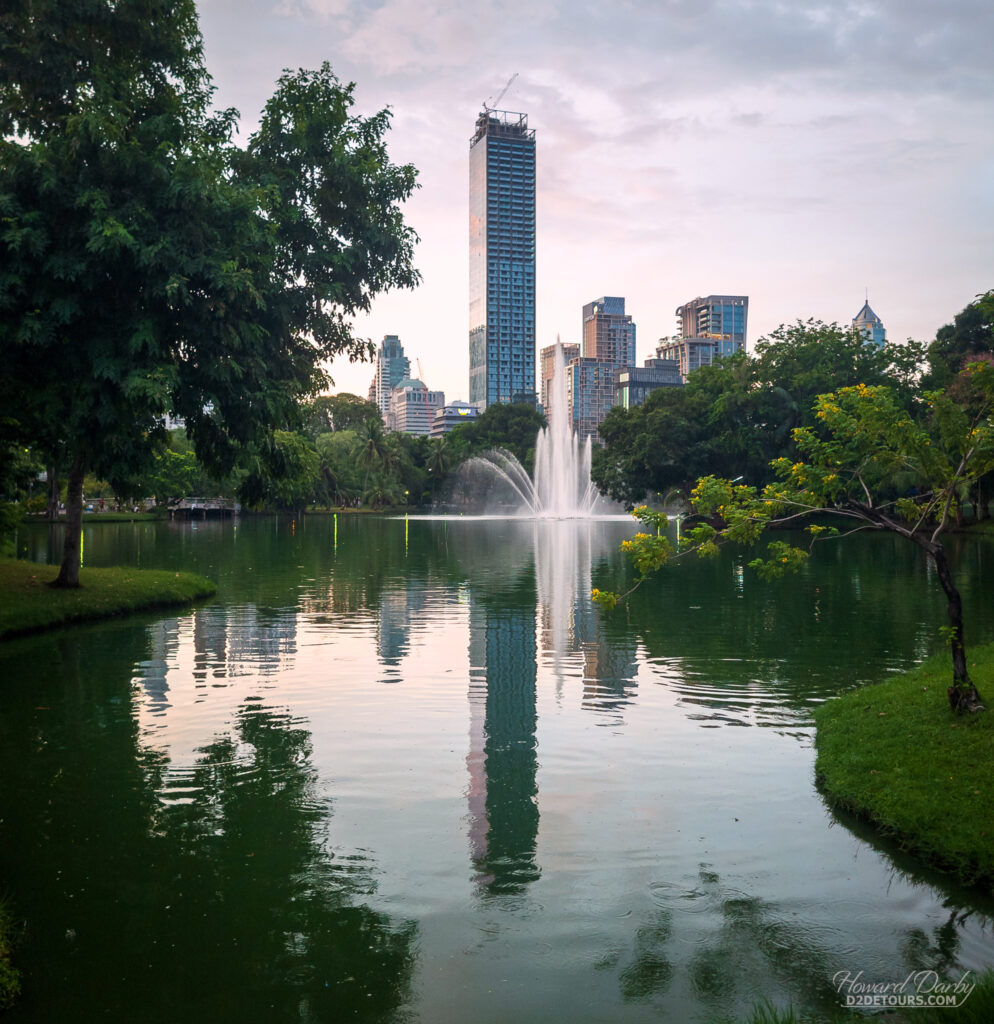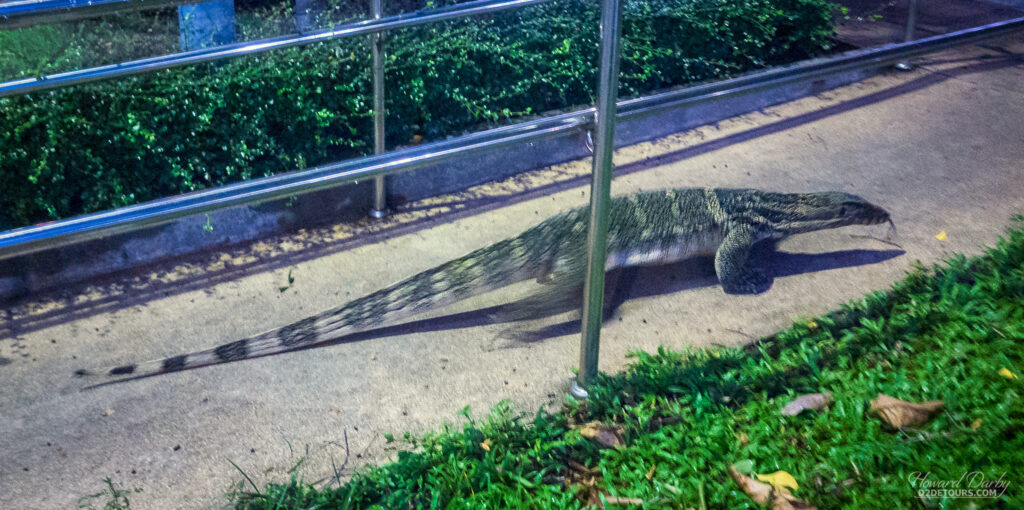 Bangkok is home to the world's first Muay Thai stadium, Rajadamnern Stadium, built in 1945. The crowning achievement in a Muay Thai fighter's career is to fight in this stadium.
What is Muay Thai? It is combat sport dating from the late 17th/early 18th centuries. The literal translation is Thai boxing or the "art of eight limbs," and out of deference to its position as the national sport of Thailand, the words are always capitalized. There are some similarities to regular boxing, but the stance is somewhat different and it incorporates the use of elbows, knees, and shins too. Although Howard enjoys watching MMA, I wouldn't normally choose boxing as entertainment, but an evening of Muay Thai fights is unquestionably a spectacle. The Rajadamnern Stadium clearly understands that it will be attracting a significant number of tourists, and as such is extremely well organized. There is a separate section with fairly comfortable seating, food service to your seat (standard fare like hot dogs, popcorn, beer, pop), attendants seating you, and everyone spoke English. Not only was the service at the stadium top-notch, but when Howard realized he accidentally purchased tickets online for the wrong night he was able to get that rectified through a Whatsapp chat, and the representative from the ticketing agency even met us at the stadium (on the right night) to be sure it was sorted out correctly for us. Seated as we were in the tourist section we got to watch the locals in the cheap seats actively engage in the evening.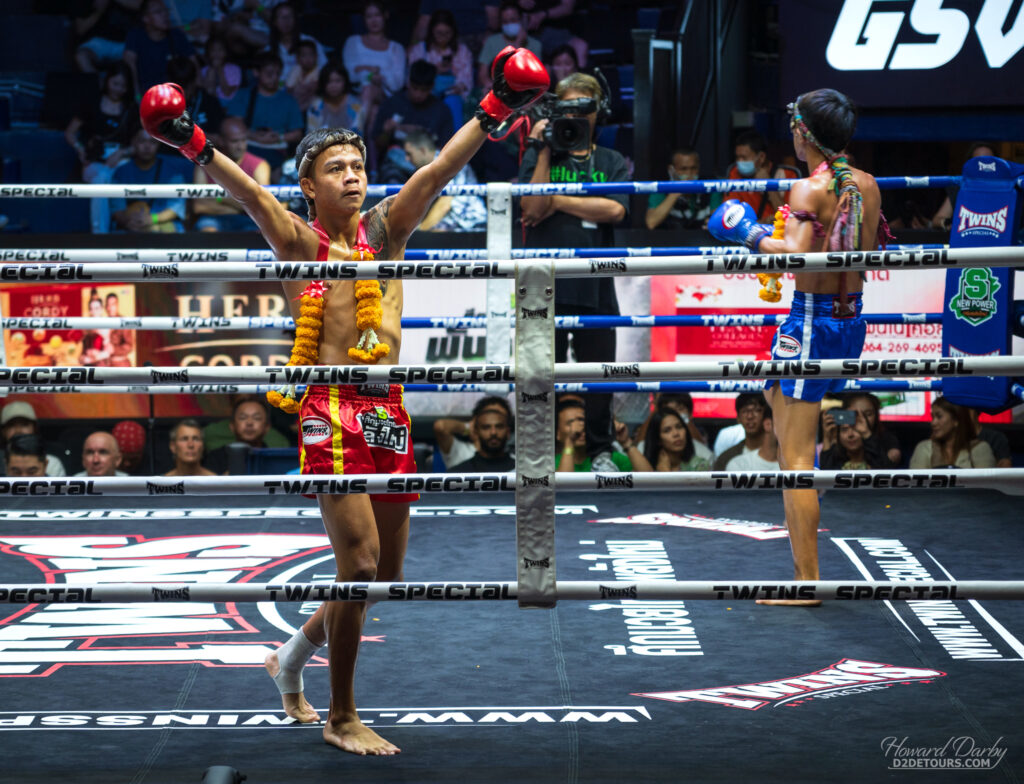 Each fight (there are eight in an evening) consists of five, three minute rounds, and betting occurs before every round. It was total chaos, I don't know how the bookies collected the bets and then paid them out properly. During the fights, the atmosphere is absolutely electric. Various blows (i.e. with a leg, or a fist, or a knee) would elicit a different cry from the crowd. Between rounds some spectators would come down closer to the ring to yell at the coaches and fighters, and I thought we might witness a stroke or two from the coaching staff as they were losing their minds during the fights. It was quite the night. Our two tickets cost us $145 CAD and we spent about $10 CAD on some snacks – in typical concession food fashion the food was stupidly overpriced, a bottle of water was twice the price of what you paid in a restaurant and close to four times the grocery store price, admittedly it was still pretty cheap at about $1.50 CAD.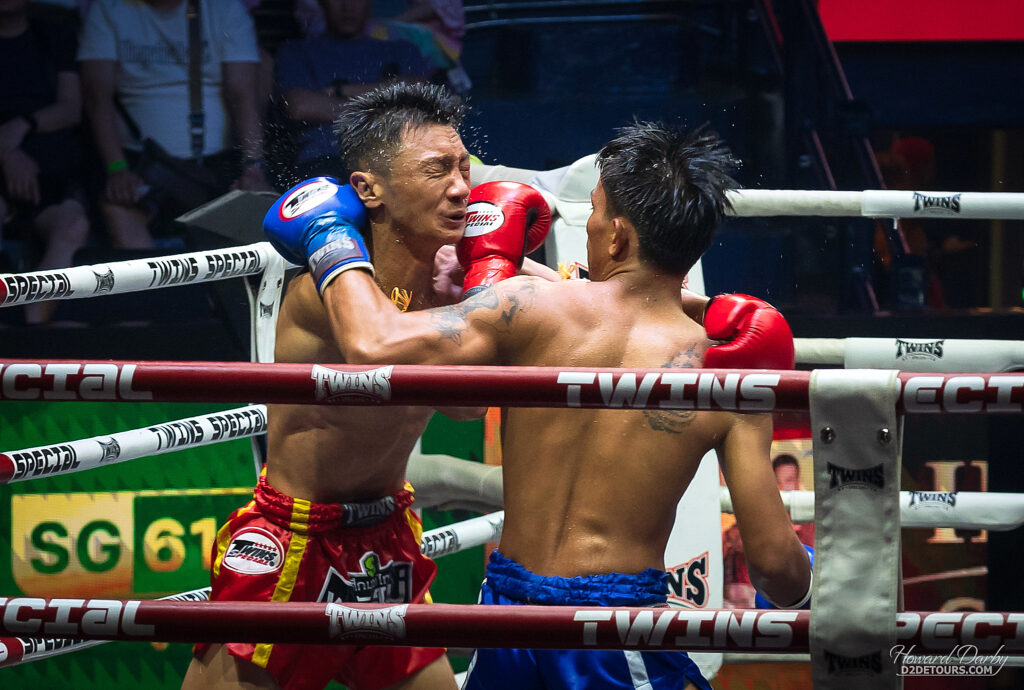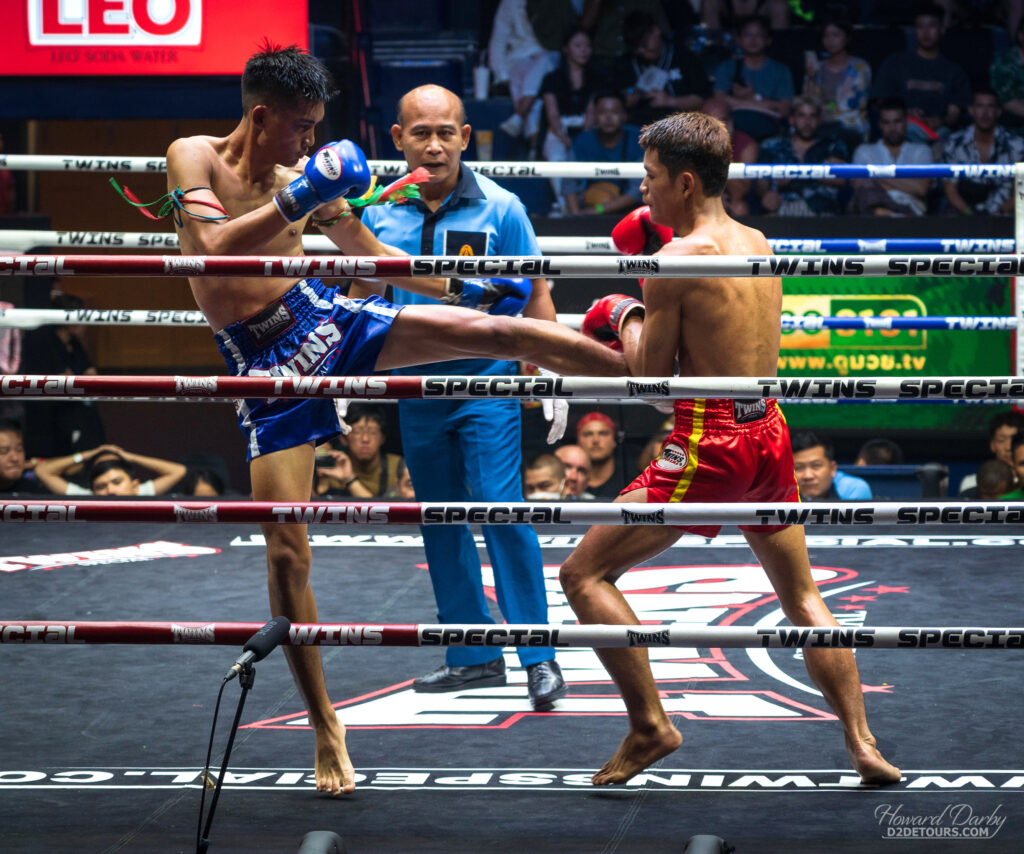 Asiatique: The riverfront. Touted as a tourist destination, it is really just a big open-air mall with shops and restaurants and 100% not our thing. The most interesting part for me was learning that it occupies the space from which the East Asiatic Company, a Danish conglomerate from the late 19th century, ran its operation.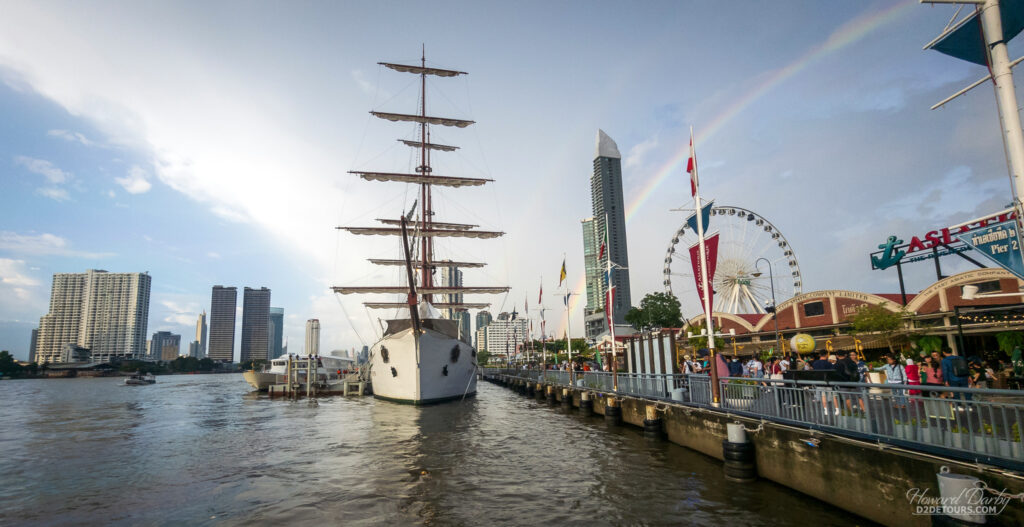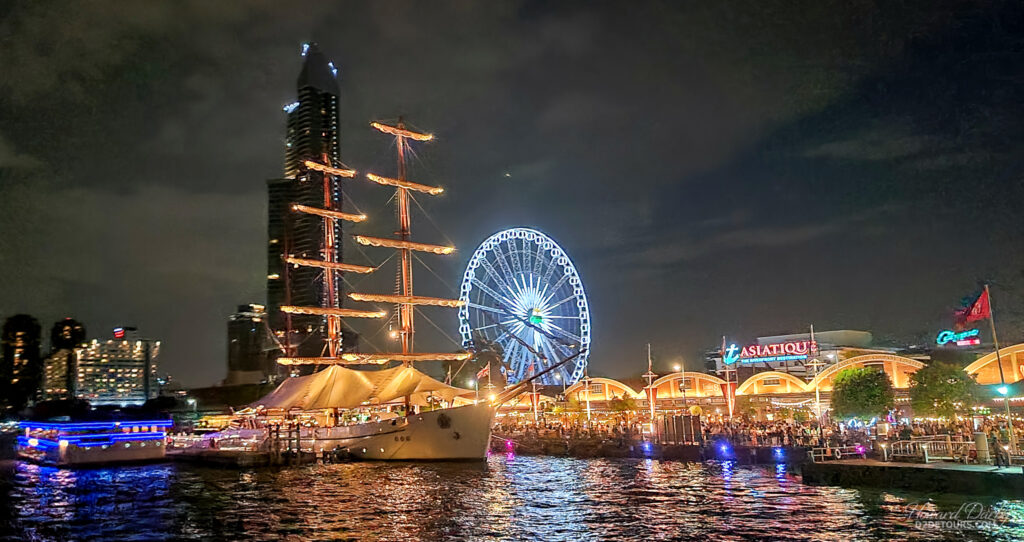 We have not included it in our travel costs but we decided to avail ourselves of the excellent medical system for which Thailand is known and had full physicals at the Bangkok Hospital. You can see the various check-up packages offered by the hospital here. In addition to the typical lab work, we also had chest x-rays, abdominal and artery ultrasounds, EKGs, eye exams, hearing tests. I also had a mammogram, which included an ultrasound, and finished with personal consults with a physician to discuss the results. We came away with a CD (which we will ultimately transfer to a USB stick) containing all of the x-ray and ultrasound images, and a 40-page report with all of the test results arrived later by email. It was not an inexpensive exercise, in particular as we are Canadian and most of these exams/tests would be covered under our provincial health care, but the entire check-up was completed in a single visit (about 5 hours in length). We felt the entire procedure was more thorough than any physical we've had in the past and didn't require a follow-up appointment to discuss the results – one-stop shopping! We were impressed and, bottom-line, confirmed that we are in good health for our age plus now have a detailed baseline for comparision with future physicals.
Hua Hin
Our time in Hua Hin was fairly relaxed, with lots of walking on the beach, interspersed with some fun evenings with new-found nomad friends.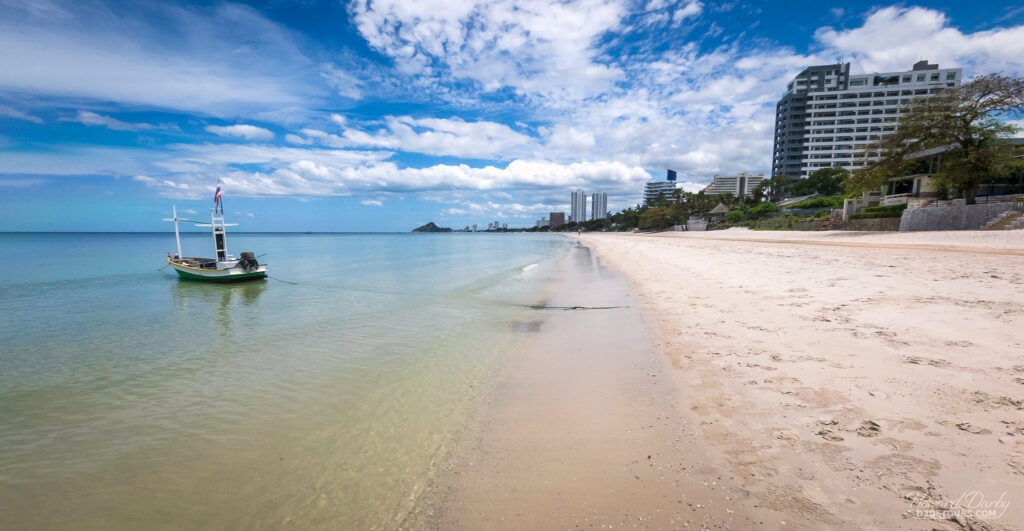 The Bangkok Beatles perform at Father Ted's Irish Pub every Wednesday night and their Beatles covers were outstanding (click here to see one of their many TV appearances). It always amazes me how singers can sing phonetically while their speech is still heavily accented and hard to understand. Bangkok's John, Paul, George and Ringo were fantastic and the whole bar sang along with every song – it was a really fun night which we shared with our new Hua Hin friends.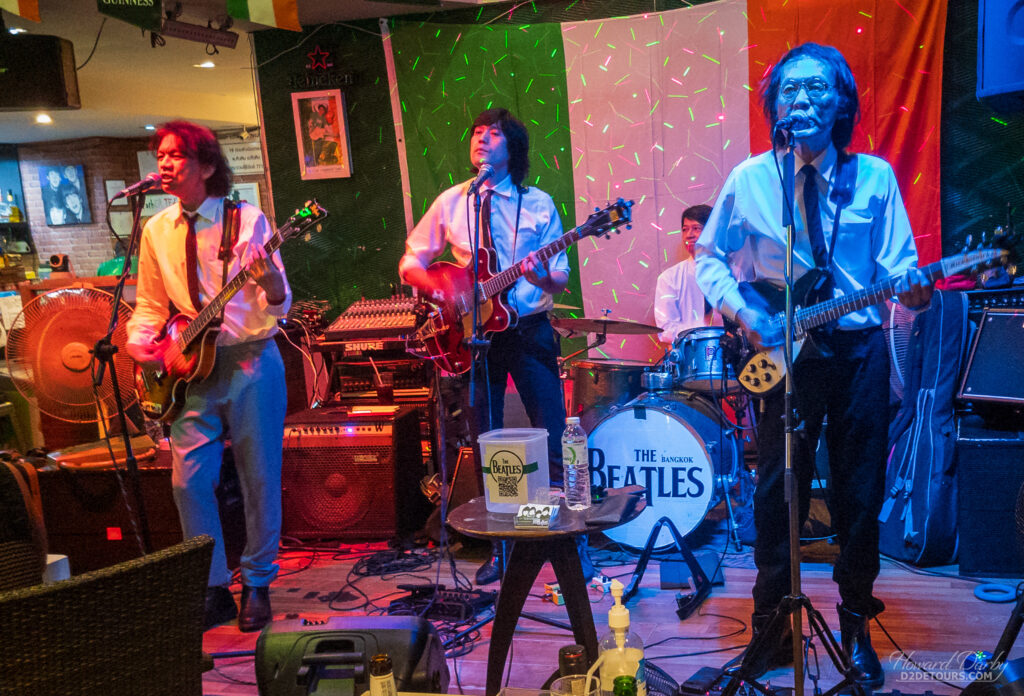 You learn something new everyday. In Hua Hin we learned about hash running (or walking). Back in the 1830s lots of English schoolboys played a game they called hares and hounds or paper chasing. The "hares" would set off and leave a trail of paper for the "hounds" to follow. Years later a group of British officers stationed in Kuala Lumpur were looking for ways to recover from wicked weekend hangovers and decided a long run was the best cure. Recalling their childhood game of hares and hounds they came up with a set of rules to govern their runs and named themselves the Hash House Harriers (Hash House for where they ate dinner every night, and Harrier is a nickname for cross-country runners), with the tag line: a drinking club with a running problem. Since 1962 this schoolboy game has grown to thousands of Hash House Harrier chapters around the world, all of which espouse the same four core values:
Promote good physical health;
Get rid of a weekend hangover;
Work up a good thirst for a satisfying beer; and
Persuade older members that they aren't as old as they feel.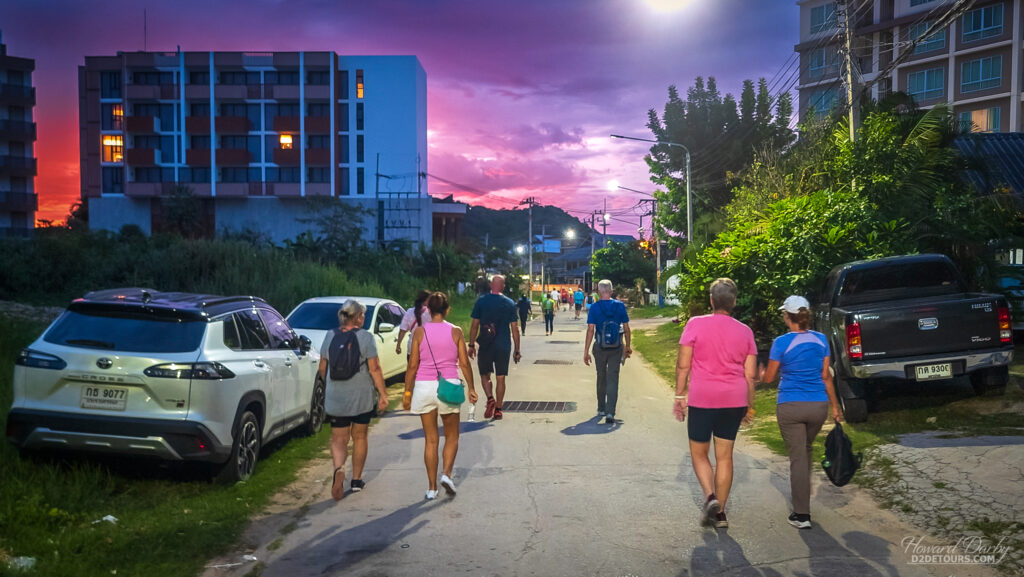 The club in Hua Hin may not be a full fledged Hash House chapter. Rather they are a laid-back group of people who have created their own concept of a hash with a monthly Full Moon Hash. The organizers lay out a different 5km trail each month on the Thursday closest to the full moon, marking the trail with chalk arrows on lamp posts, sidewalks and roads, or clumps of paper left in the grass when the trail becomes dirt. Sometimes there is a fork in the trail with arrows going off in each direction which requires the runners at the front of the pack to make a choice. If their choice turns out to be a false flag they return to the fork, chalk an x through the wrong arrow, and with a yell of "On On" set off on the right track. Those of us at the back of the pack benefited from the early runners! It was a fun evening, much of it in the dark which necessitated flashlights to find arrows or paper, and was a great way to see some of the back alleys and side streets of Hua Hin, with a cold can of beer as a reward.
Night markets are very popular in Asia. The Cicada and Tamarind weekend markets (they are right beside each other) were two of the nicer markets we've seen in Asia with food hawkers, vendors selling clothing, art, jewelry, handmade goods and even cocktails, as well as a couple of different stages with live entertainment. These markets are only open on Fridays, Saturdays and Sundays from 5pm to 11pm, and were a great place to spend a few of hours.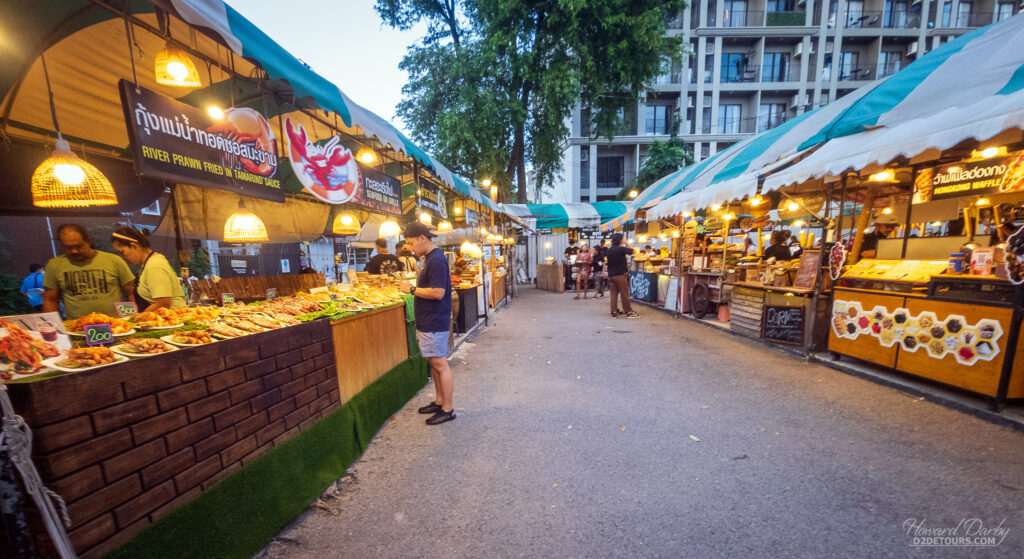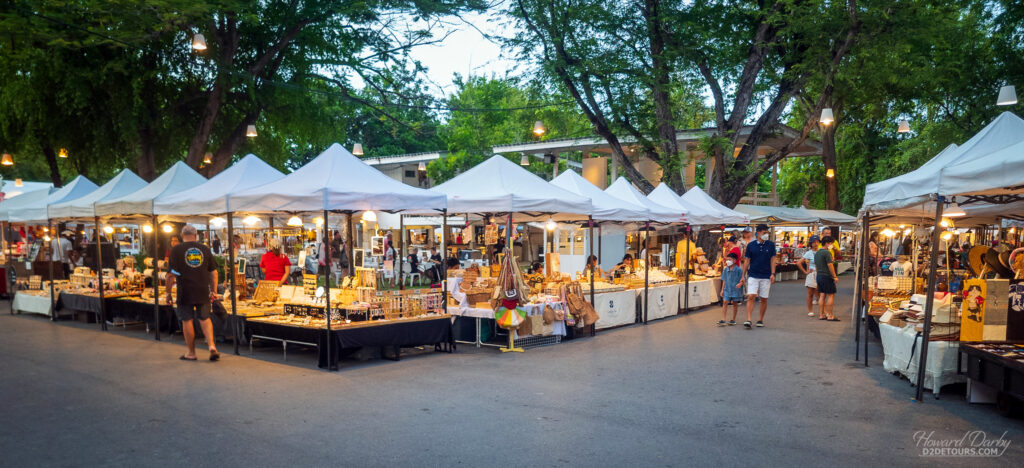 Us – We spent several days in Bangkok about six years ago and came away feeling it was a dirty city, in every sense of the word. Since then we've heard so many people rave about it that we felt we should give it another try. Second time around we understood better why people like it. Thrumming with energy and visually impressive, walking the streets is its own form of entertainment and the food is delicious. August is rainy season but typically the rain only fell in the late afternoon, and while often very heavy it never lasted long.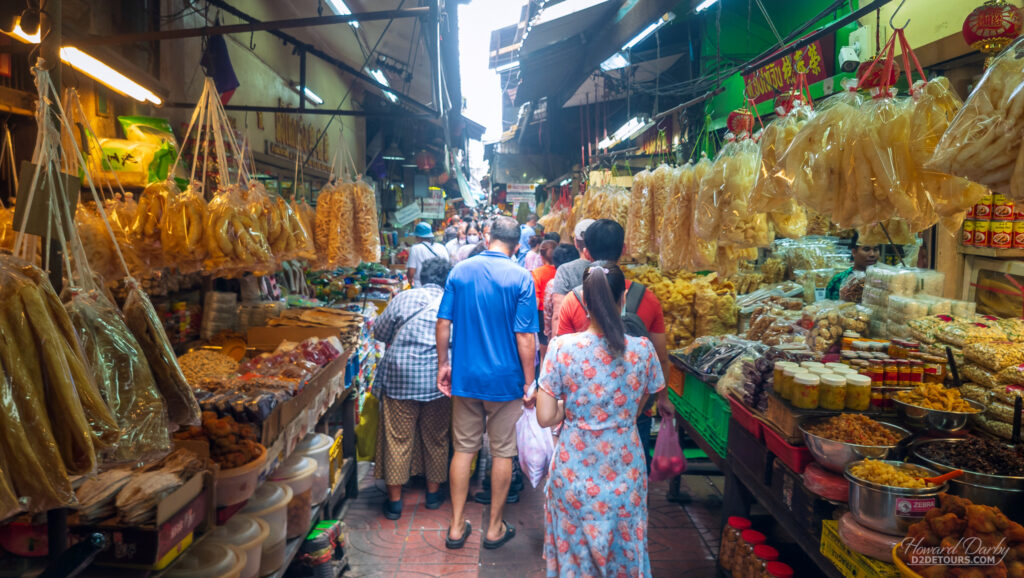 Hua Hin was a complete contrast to Bangkok, at least in August – it felt a bit like an abandoned resort town. Not a bad vibe, but there isn't a lot to do other than strolling the beach, sitting by the pool, or drinking in the bar. Frankly, I'm not sure there would be much more to do even in high season, you'd just be battling hordes of tourists who want to do the same thing. We only had the occasional afternoon rain shower, and overall thought as a beach destination in August it was perfect. Off to Stockholm!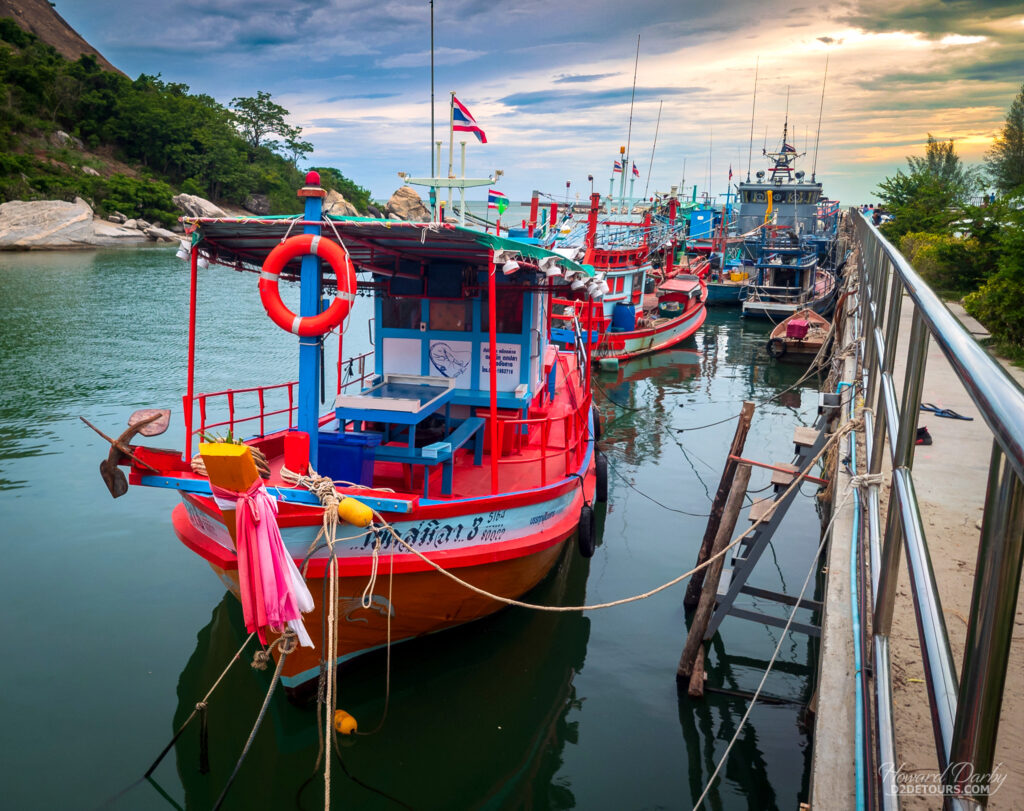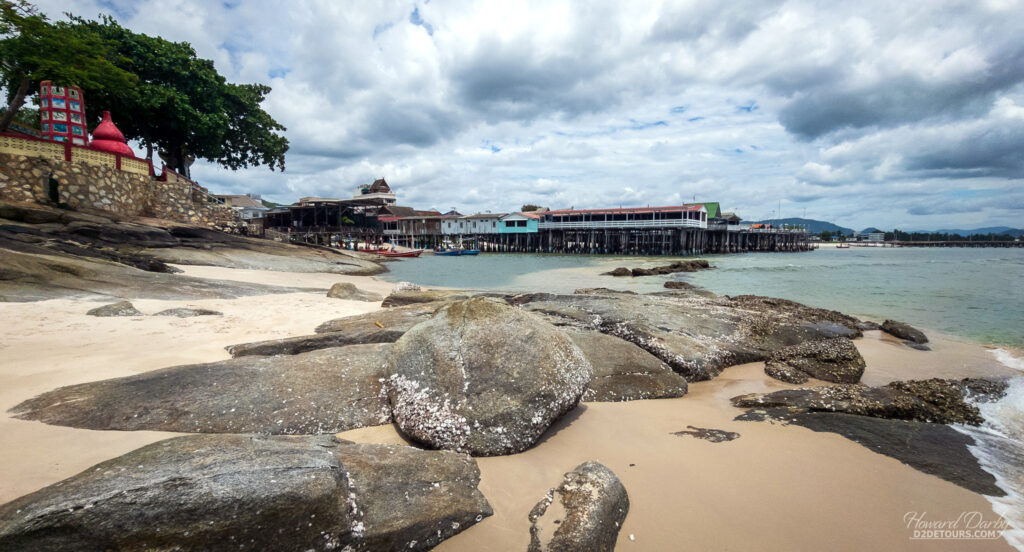 Restaurants – Staying in Bangkok's Chinatown the dim sum options were endless. After sampling several, Howard decided that HKN (Hong Kong Noodles) served the best pork buns. Most of our restaurant choices were not designed for leisurely dining. The bill was often delivered to the table along with the food, and once you were finished the expectation was clearly that you would pay and vacate your spot for someone else.
Satay Jae Aeng is a sidewalk hawker stall that has been serving grilled satay sticks since 1989. Although pork liver and pork intestines were on the menu, we stuck to the less adventurous choices of pork and chicken satay and could see why this was such a popular stall.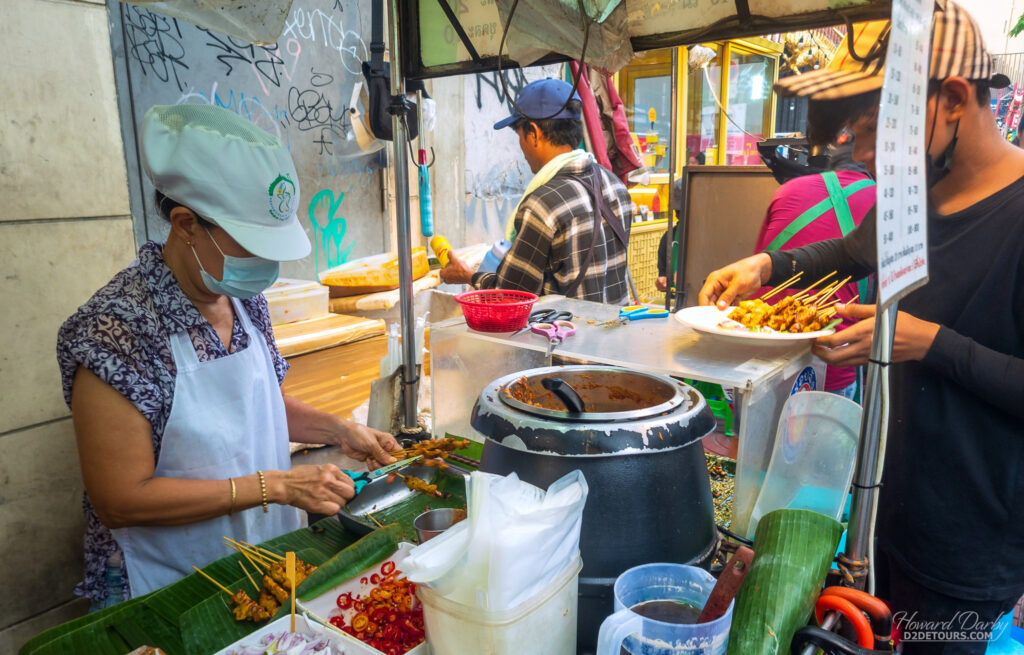 Ten sticks of tender charcoal-grilled bits of meat are served alongside a lightly spiced peanut sauce and salad for only 60 Baht / $2.30 CAD. This was the definition of roadside dining. The first time we stopped for a meal (yes, we ate there more than once) all the tables set up in the shadow of the buildings were full so they grabbed a folding table from the stack beside their grill, found a couple of plastic stools, and plunked us down right on the curb!
Howard celebrated his birthday while we were in Hua Hin and instead of a birthday cake tucked into a triple chocolate banana split from Swenson's. Swenson's franchises started operating in North America in 1970 and we both remembered eating ice cream in one of their parlours in West Edmonton Mall in the late 80s, but couldn't recall seeing one since. It might be an extinct franchise operation in North America, but is thriving in Asia with about 350 stores spread throughout Brunei, Cambodia, Laos, Malaysia, Myanmar, Singapore, Taiwan, Thailand, and Vietnam.
Speech – English is a mandatory part of the Thai school curriculum; we didn't encounter anyone who didn't speak some English. Learning a bit of Thai for an English traveler, however, is somewhat challenging as it is a tonal language with many of the sounds not even found in English, and the written language, while beautiful, is impossible to decipher (สวัสดีฉันชื่อ = hello, my name is).
Thai people don't use "please" the same way we do in the western world, but good manners are still immensely important. Adding a kap (said by men) or ka (said by women) at the end of every sentence is the best way to be respectful and when in doubt, a smile will go a long way in garnering a bit of goodwill, after all Thailand's nickname is the Land of Smiles.
Swat-dee (kap/ka) – Hello or Goodbye (combined with a "nop" – a bow with hands clasped together in prayer);
Chai (kap/ka) – Yes;
Mai (kap/ka) – No;
Khop khun (kap/ka) – Thank you;
Mai bpen rai (kap/ka) – You're welcome;
Pet mai? (kap/ka) – Is it spicy?;
Mai pet (kap/ka) – No spice;
Pet nit noy (kap/ka)– A little spicy;
Ah roi (kap/ka) – Delicious;
Kor thoad (kap/ka) – Sorry/Excuse me.