Similar to neighbouring Laos, the area of northern Thailand was settled by Tai immigrants from China. In the mid-13th century CE several smaller kingdoms, scattered throughout the region that would later become Burma (Myanmar), Laos and the Thai highlands, were unified as the Kingdom of a Million Rice Fields, the Lan Na Kingdom. The royal residence was established in Chiang Mai (new city) where it was protected by moats and gated walls, restorations of which still surround the old quarter.
The new city became the capital of the kingdom, aided in part by its strategic location on the Ping River, a major tributary of the Chao Phraya River which flows directly into the sea (Gulf of Thailand). Wedged between the Pagan kingdom (Burma) and the Ayutthaya kingdom (Siam), the Lan Na were frequently forced to defend themselves from the ambitions of their neighbours. In the mid-16th century the kingdom finally fell to Burma where it would remain a vassal state for roughly 200 years. In 1774, the Lan Na joined forces with the Siamese to push out the Burmese, with the net result of simply trading one overlord for another as they became subjects of Siam. While Chiang Mai did retain a certain degree of autonomy from the Siam capital of Bangkok, 700 km to the south, the last vestiges of the once powerful Lan Na kingdom gradually disappeared and it was formally annexed by Siam in 1932. In 1949 Siam officially became known as Thailand.
Chiang Mai is almost always near the top of any list which touts ideal locales for nomadic living because it is supposed to have inexpensive accommodation, good infrastructure, and fantastic cheap food. It's true; it ticks all  of those boxes!
Dollars – We were in northern Thailand for 29 nights (1 night in Chiang Khong and 28 nights in Chiang Mai).
Our basic day-to-day living expenses in Chiang Mai alone (hotel, food, activities, local transportation) averaged out to only $74/day Canadian ($55 USD / €50).
Our all-inclusive nomadic travel expenses, which included flights and some miscellaneous personal expenses like a haircut, averaged out $98/day Canadian ($73 USD / €66).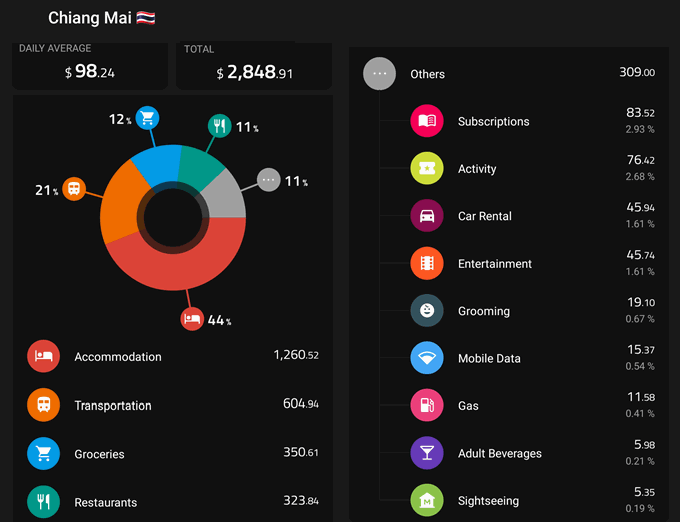 Either way you calculate the cost, northern Thailand is a budget-friendly place to stop and stay for a while.
Environment – We stayed in an Airbnb in one of the Astra Condos (there are three of them in Chiang Mai) and they are clearly targeting short-term travelers rather than permanent residents. The building is a few blocks from the historical center of the city, yet well within walking distance of it. Restaurants and grocery stores were close by and its location was such that anything not easily reached on foot was just a short Grab (or tuk tuk) ride away. This was one of the more comfortable units in which we've stayed during our travels. Maybe not the best for cooking elaborate meals, with only one tiny saucepan and an equally small frying pan, but we are quite partial to Thai food so didn't really mind! It had a well-thought out floor plan which maximized the small space, wonderful king-sized bed with a memory foam topper, solid pillows that weren't filled with broken bits of foam, silky smooth bed linens, plush bathroom towels, a second set of pool towels, air-conditioners in both the bedroom and the main living space and was nicely decorated, making us feel less transient.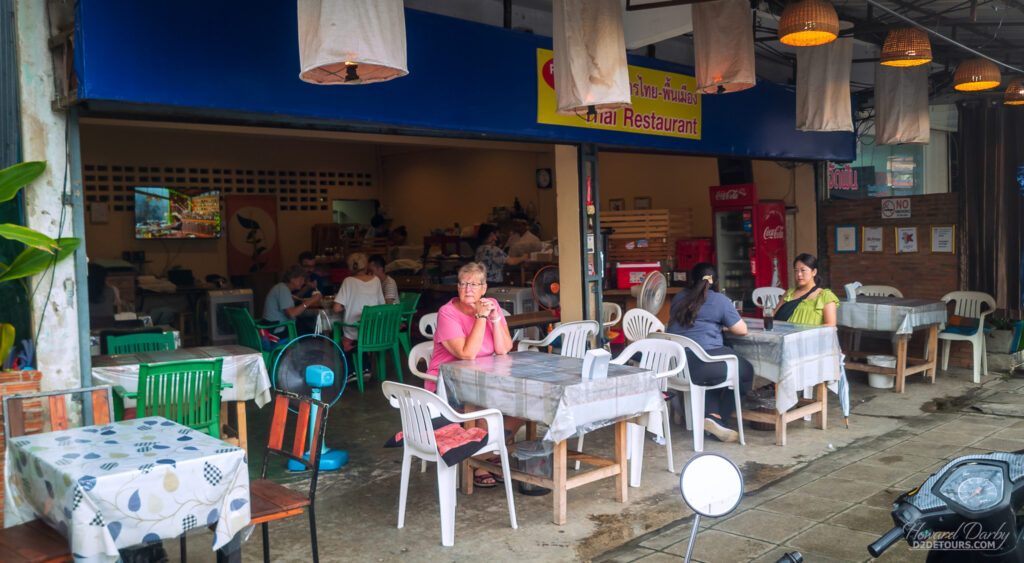 Tips, Tricks & Transportation – Thailand has a 30-day visa exemption for many foreign nationalities, Canada being one of them. Multiple online sources (and people we know) have stated that once you are in the country you simply visit an immigration office and, for a ฿1900 baht ($75 CAD) fee, can extend your stay for an additional 30 days. Armed with that information, we planned our 55 days in Thailand. Then we discovered that you could apply (online) for a 60-day tourist visa and with a fee of only $65 CAD not only would that save us a few bucks, we didn't have to make a special trip to an immigration office. We have had great success applying for visas online for numerous countries: Turkey, Jordan, Egypt, Vietnam, Indonesia, Laos – Thailand was an epic fail!
According to the Thai government portal we were eligible to apply for the visa online – the questions were nationality and permanent residency/current location. From the pull-down menu under permanent residency/current location you can only select one country, so I assumed the logical choice was where we have permanent residency (Canada) which had me applying through the Thai Consulate in Vancouver. I filled out the application and provided all the supporting documentation (which was not insignificant: bio page from passport, photo within the last 6 months, photo of me holding my passport with the bio page displayed, pages from my passport showing travel within the last 12 months, proof of residency (driver's license), proof of accommodation in Thailand, proof of financial stability (ie a bank statement) and flight information, which I took to mean proof of onward travel). Done, paid the NON-REFUNDABLE $65 CAD visa fee (x2 as I then completed Howard's application). The next day I got an email asking me for a copy of our flight details INTO Thailand. We were coming from Laos (up the Mekong) crossing at a land border, so I sent our flight confirmation into Luang Prabang and the Mekong cruise details showing when we would arrive at the Laos/Thai border (FYI one of the sections of the online application relates to border crossing and the options under the pulldown menu specifically included the land border at which we would be crossing). I received an email back advising that the consulate in Vancouver could not grant us the 60-day visa because we were not flying directly from Canada into Thailand, instead we could apply (in person) at the consulate in Laos, which was located in the capital of Vientiane (we were not going to Vientiane). So that was $130 down the drain, and now we would have to shell out the ฿1900 baht for an extension. I thought, out of an abundance of caution, I would just confirm my understanding that this type of an extension was possible and was told in no uncertain terms, by the Thai Consulate in Canada, that that was NOT allowed. So now we had a problem. We'd booked and paid for travel arriving in Thailand on July 11th and departing on September 5th, well outside the 30-day visa exemption period. We knew countless people who had recently obtained the 30-day extension, but when a governing body whose responsibility it is to deal with visa applications tells you you can't do something, you figure they know, so that meant our only option was to do a border-run (exiting the country and re-entering, which would get us another 30-day visa exemption). We figured if we were going to have to do that we may as well make it worth our while so we booked flights to Hong Kong (which is an autonomous region of China and does not require a visa) and will spend a couple of nights there before returning to Thailand for another 25 days. We have since talked to numerous people who upon arriving in Thailand have extended their stay for an additional 30 days (some have even done that extension multiple times) and have also heard from a few Canadians who had no trouble getting the 60-day visa online even though they were not flying directly from Canada – one couple was coming from the UK into Thailand and another from Australia, so why we were denied the visa (and misinformed on extensions) is anyone's guess, but we're pretty excited about our detour to Hong Kong.
After disembarking from our Mekong cruise in Chiang Khong we had to make our way southwest to Chiang Mai and took the bus. It was about a nine-hour bus ride and reasonably comfortable although a bit of a milk run picking up (and delivering) both people and packages at small roadside stops. "Stop" might be an overstatement, the bus would honk its horn as it slowed to a rolling stop but if no one came running out it would pick up speed and carry on. There were a couple of formal bus station rest stops to stretch our legs or avail yourself of a clean washroom, and we couldn't complain about the fare – a whooping $12/pp CAD which included a bottle of water and a pastry snack.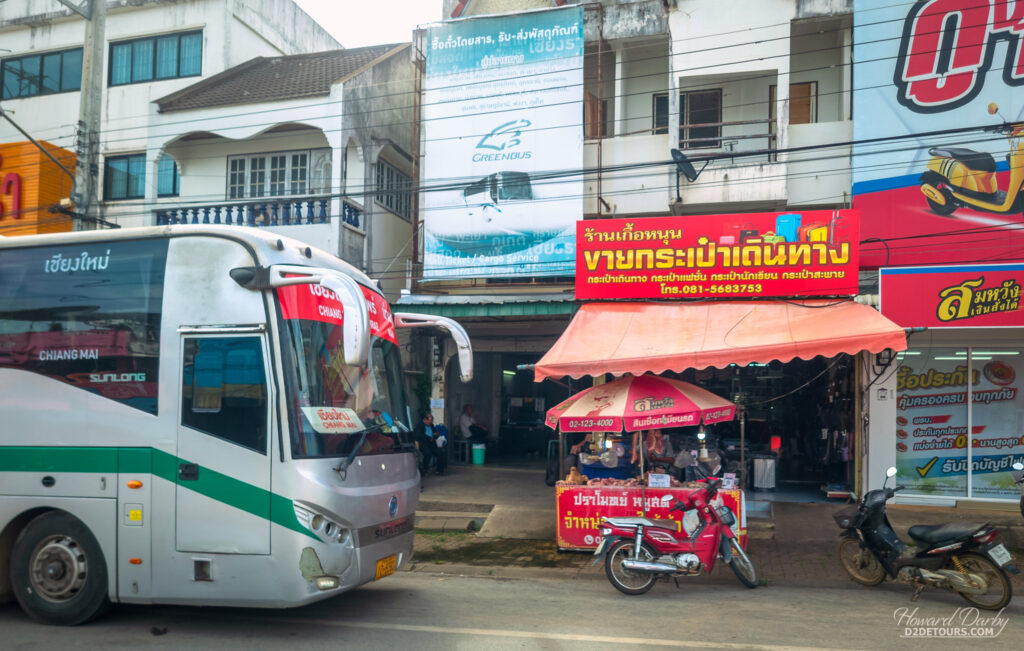 Thailand has a reputation as a good place for tourists who want to drive themselves around. Judging from our bus ride from Chiang Khong we agreed that the highways looked pretty good (of course our perception of "good" might be skewed somewhat after navigating the roads in Bali!) so we rented a car to do some sightseeing (Wat Ban Den and Nam Phu Chet Si National Park) outside the city of Chiang Mai. The car rental was a reasonable $46/day CAD (cash), though gas was not a bargain, albeit on par with North American pump prices ($1.50 CAD/liter / $4.50 USD/gallon) and the roads were great.
We ate all of our dinners out, but did do breakfasts in our Airbnb. We liked the Tops grocery stores which were full of recognizable products, even Kirkland! We splurged a bit and bought containers of Kirkland pistachios and chocolate covered raisins, and while the price was obscene by local standards it was actually about 20% less than we would have paid in Canada. Tops prices for snacks (like chips, chocolate and pop) were on par with the prices for the same products at convenience stores like 7-11 and interestingly were slightly lower than some other local supermarkets. (Insider tip – 7-11s have THE best air-conditioning and are in abundance around the city so if you need a reprieve from the heat, pop into one.)
Oh and by the way, don't waste your money on Thai fruit wine, which I know would seem surprising given that Thailand is such a well-known wine producing region (not). It was awful, like a really thin port wine that had been left open on the counter for far too long.
Out and About
Chiang Mai was historically the cultural and religious center of the Lan Na Kingdom and is still home to hundreds of Buddhist temples (wats), most of which are highly ornate, magnificent structures. Many of the wats are located within the crumbling walls of the old city and these are the ones we found most interesting:
Wat Sri Supan (the Silver Temple). Even if you aren't a fan of religious structures, or you feel if you've seen one, you've seen them all, this one-of-a-kind building is worth a visit. The complex dates from the early 16th century, although what stands today is a renovation completed between 2008 and 2016, and the entire temple, inside and out, is covered in handcrafted stainless steel and silver panels. It shimmers in the daylight and is spectacular at night. This was the only wat we visited that had an entry fee – a measly ฿50 baht ($1.90 CAD) which included a bottle of water and a key chain!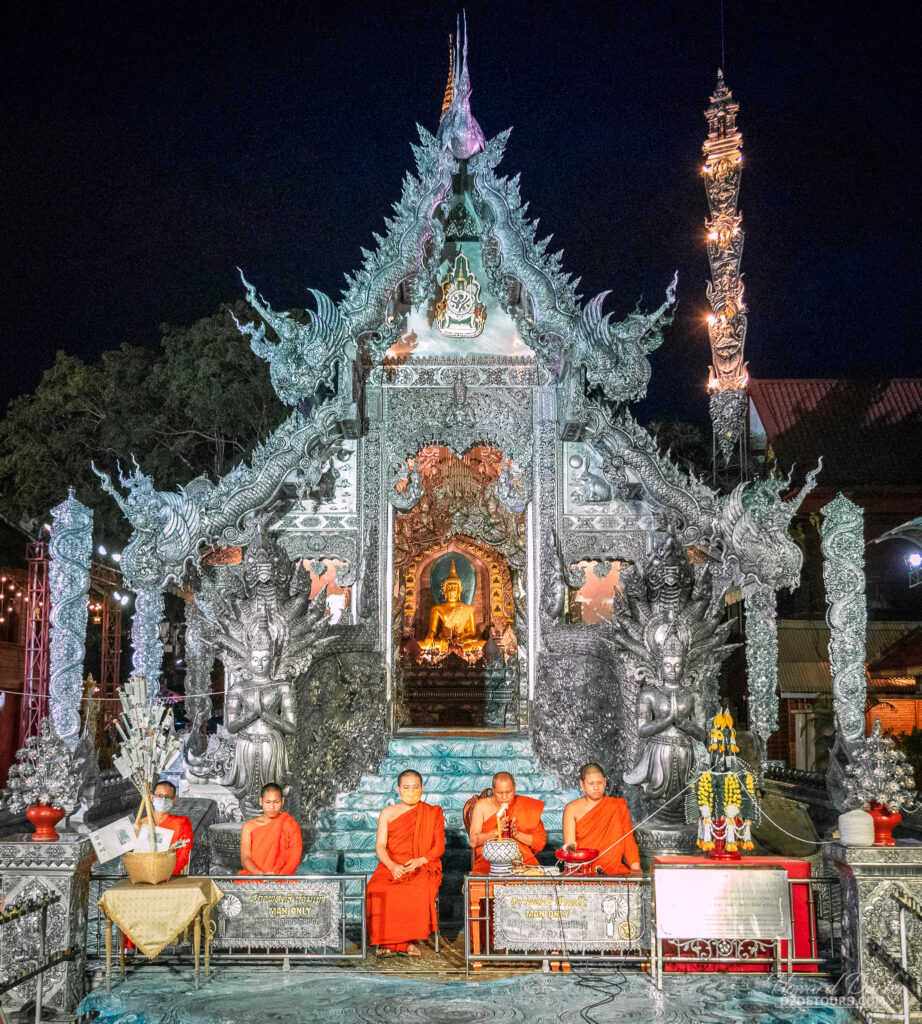 Wat Phra Singh Woramanhawihan is a 14th century Buddhist temple and one of the most important wats in Chiang Mai, with a massive gilded stupa/chedi (a mound-like Buddhist shrine) and home to the venerated Phra Singh (Lion Buddha). Restoration work was first begun on the temple in the 1920s, with further work being undertaken in 2002.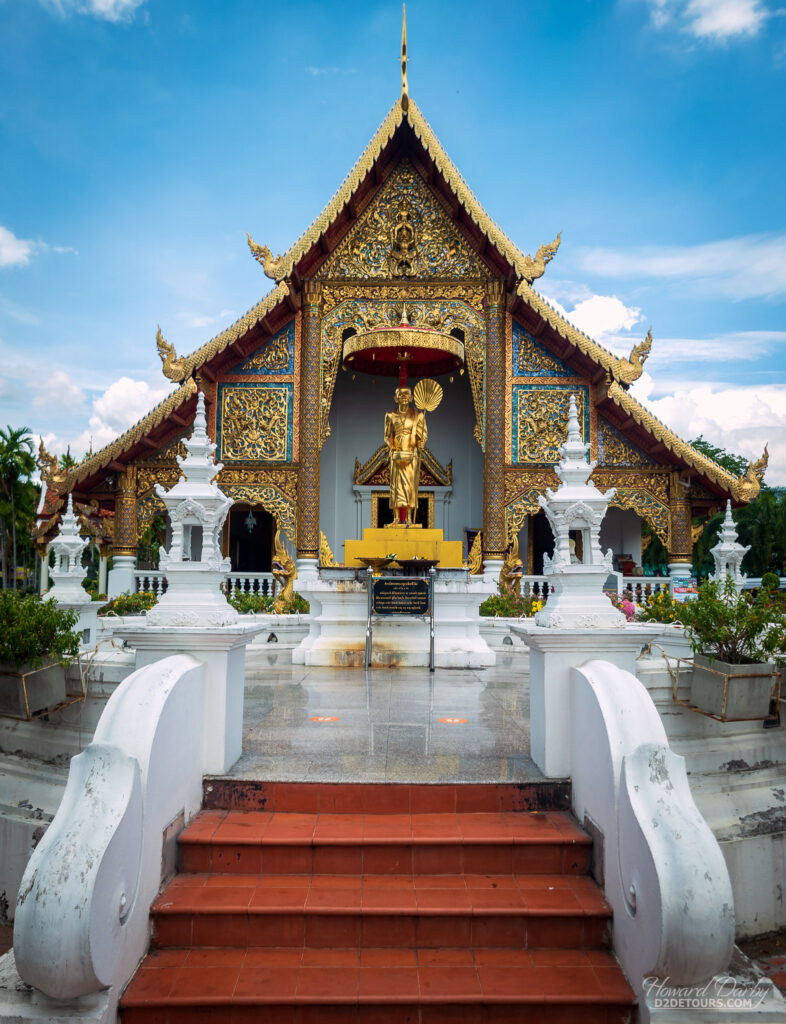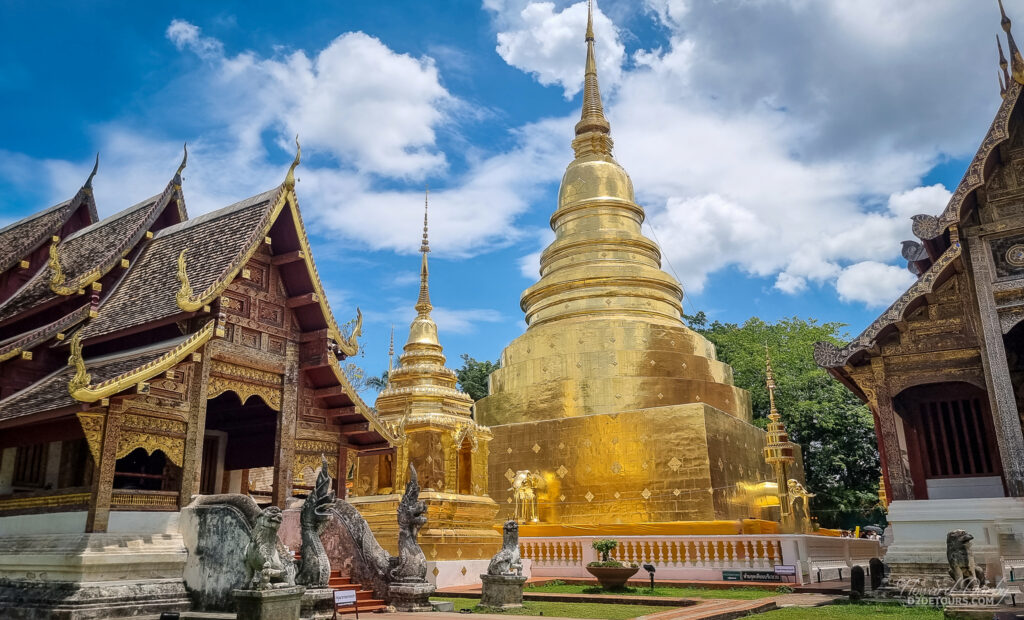 Wat Hua Khuang. We stumbled across this wat on our way to another and thought the buildings were exquisite. It's not a temple that gets a lot of attention and we were completely alone as we walked around the grounds.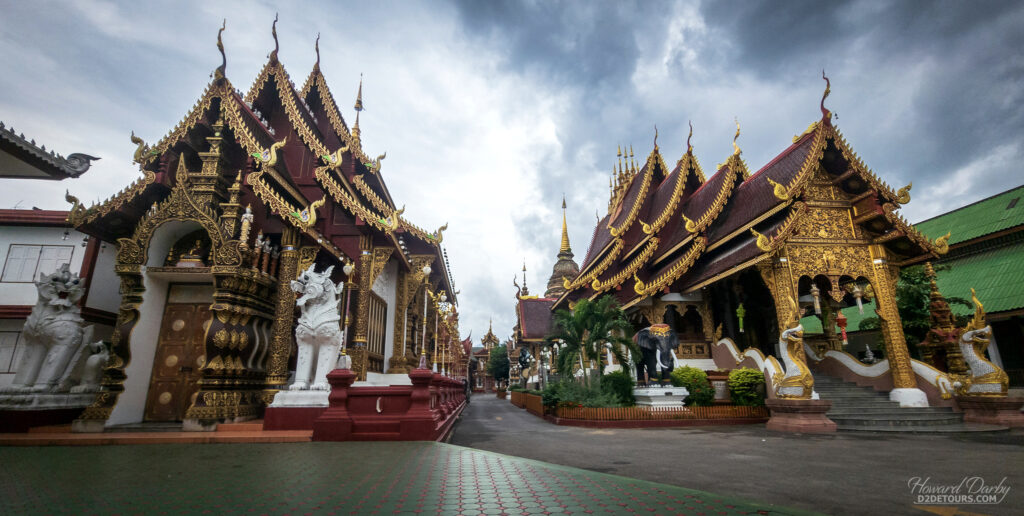 Wat Chiang Man. This is the oldest temple complex in Chiang Mai and was built shortly after the city was founded in 1296 CE. The oldest building is the Chang Lom Chedi (stupa surrounded by elephants) and was definitely the most intriguing structure in the compound.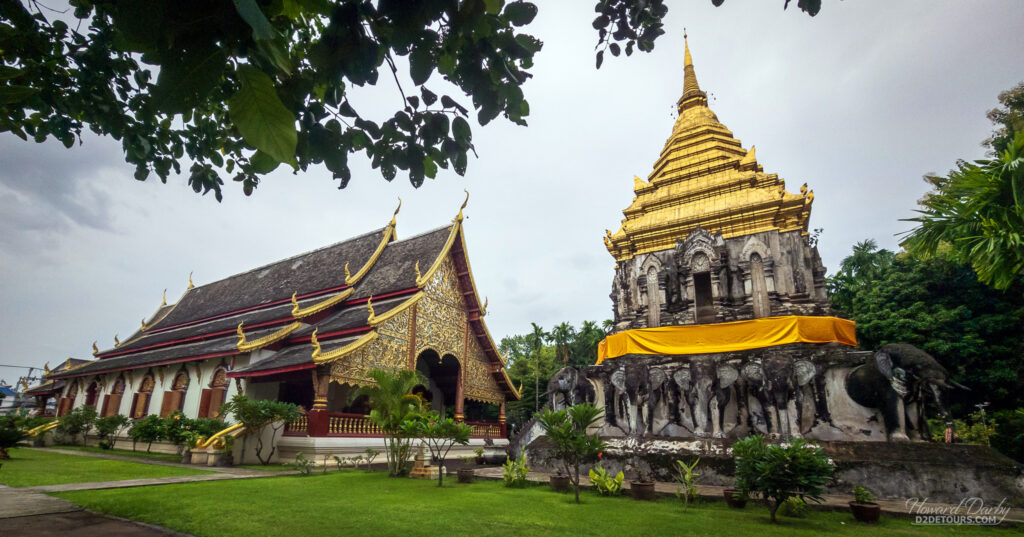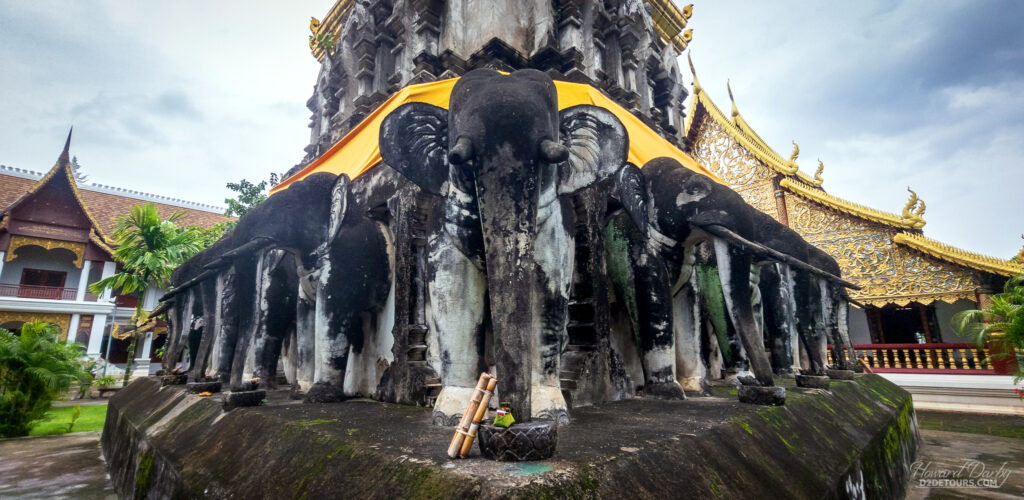 Wat Lok Moli. Located just outside the northern city walls, this was one of the less ornate wats in terms of materials used, but I think that might be why I found it the most visually compelling and calming. Originally the site of a royal palace (mid-14th century) by the turn of the century the area had been converted to housing for visiting Burmese monks spreading Buddhist teachings. The grounds remained largely unchanged until the mid-16th century when the brick chedi and assembly hall were constructed.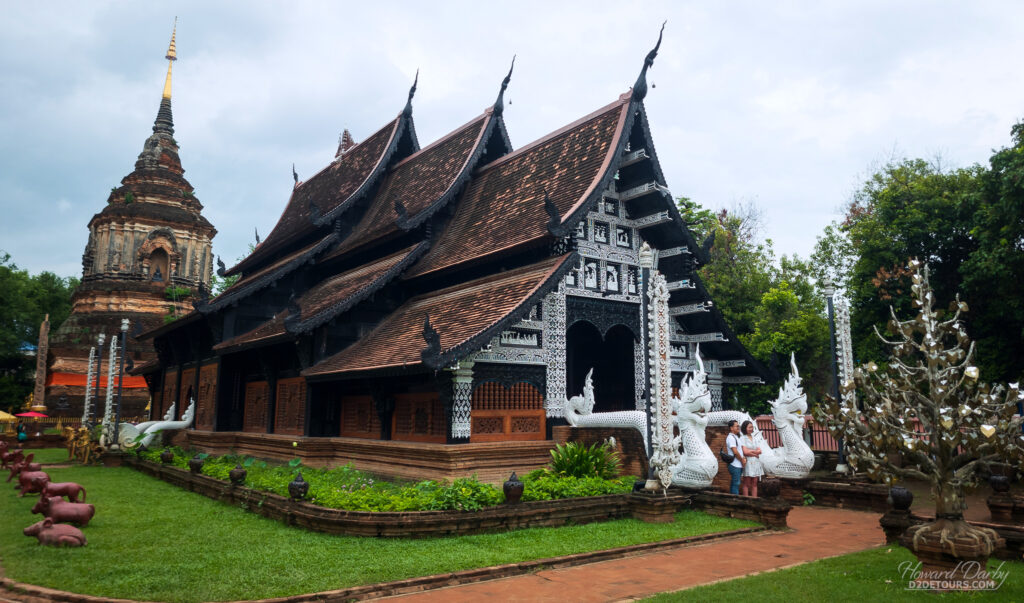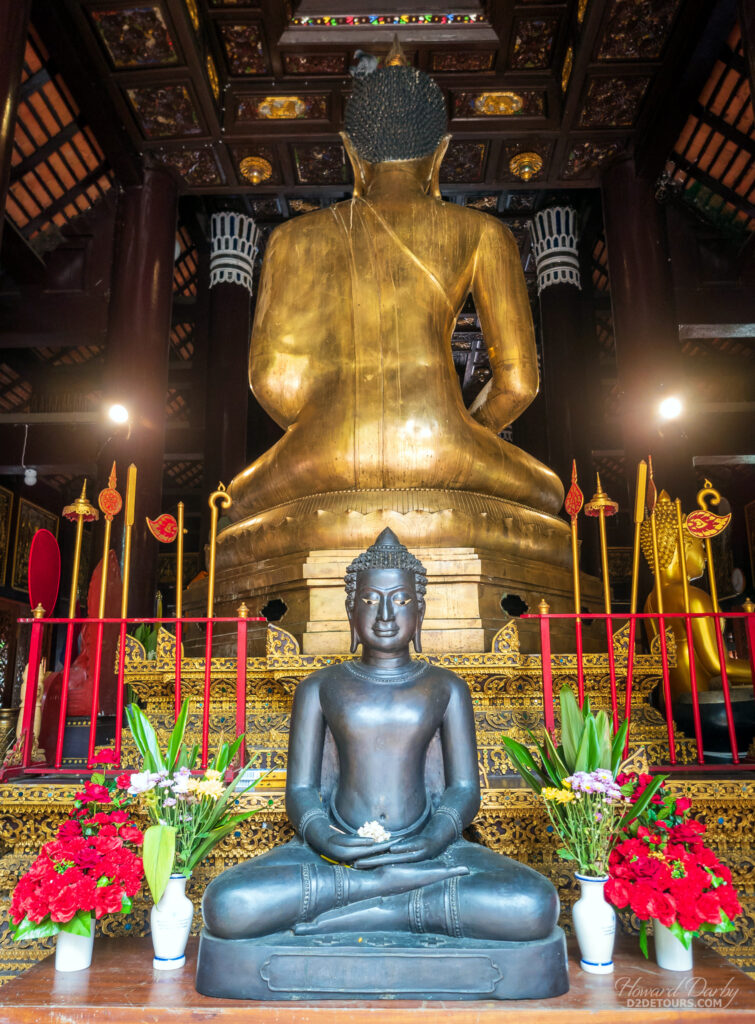 Wat Ban Den. This temple complex is about 30 km outside the city of Chiang Mai and is a feast for the eyes. Statues and buildings of dazzling white, gleaming gold and vivid colour mingle together for an over-the-top experience. Like all wats in Thailand there is a dress code (some wats are a bit more strict about enforcing the code, with Wat Ban Den being one of them) which requires both men and women to cover their knees and shoulders. Given this complex is outside the city limits it doesn't get a lot of tourists, instead it was full of locals, most of whom were dressed beautifully. The women were wearing richly coloured linen skirt and jacket sets (teal, magenta, crimson, yellow, peacock blue) and the men were often in complimentary silky pantsuits. We'd brought along sweatpants to slip over our shorts for our visit and I felt grossly under-dressed.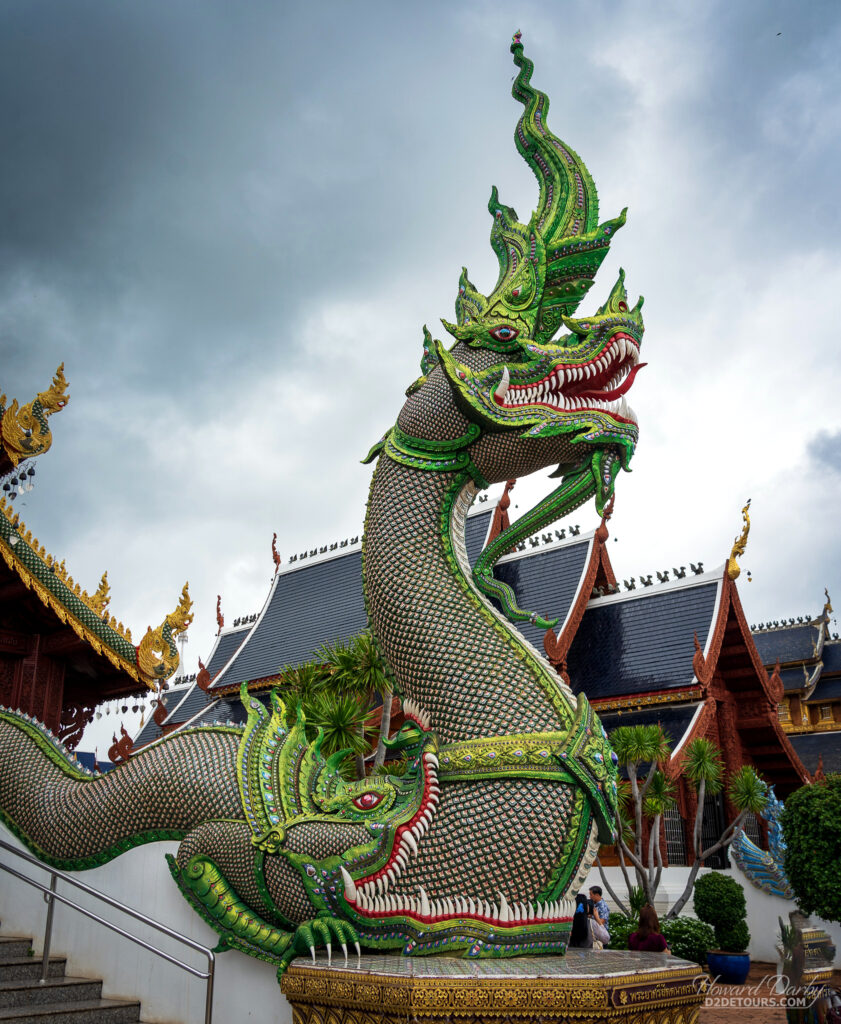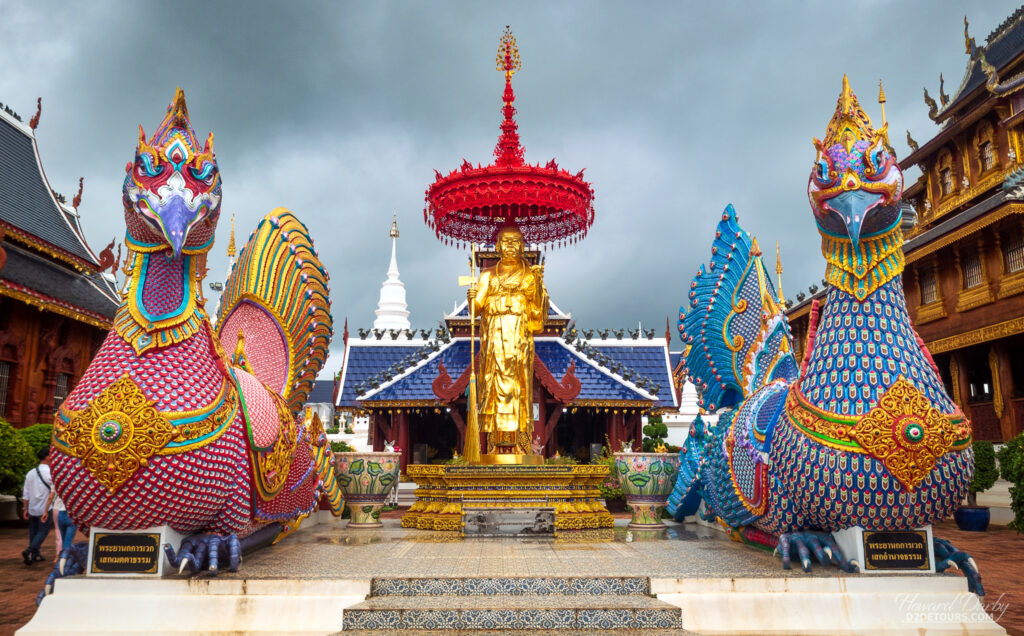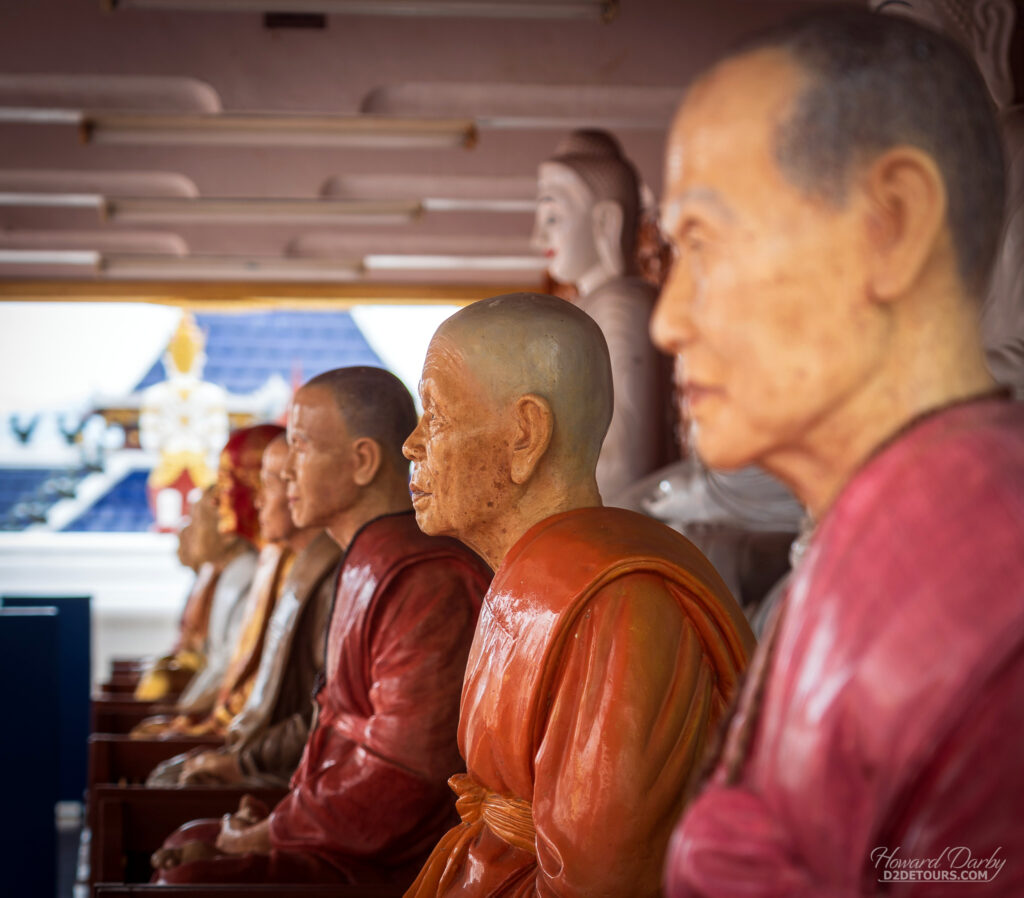 Rivaling the number of wats in Chiang Mai might be the number of markets. There is the Chiang Mai Night Bazaar, Wua Lai Walking Market (aka Saturday Night Market), Sunday Night Market, Chiang Mai Gate Nightly Market (which includes food stalls), Pavilion Night Market, Anusarn Night Market, Florist Market (daily), Warorot Market (daily) and those were just the ones we visited. We noticed the vendors at the Saturday and Sunday markets appeared to be the same, just a different location and the Pavilion and Anusarn markets are fixed, covered markets – the silver rings at the Anusarn market were about ฿200 baht less than the same rings being sold at the Saturday and Sunday markets.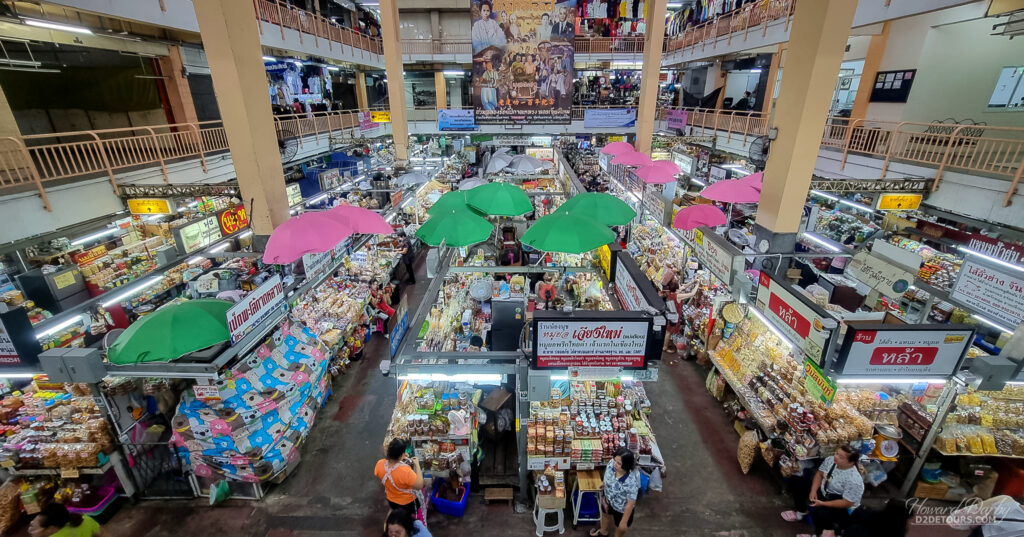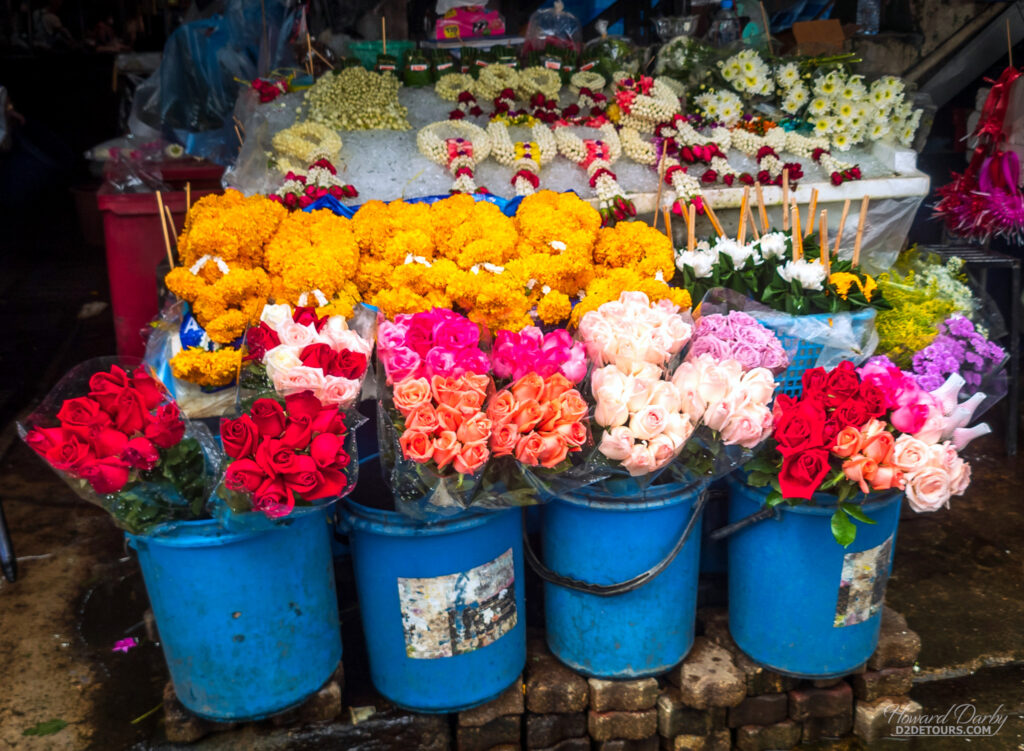 The Highland People Discovery Museum, a short Grab ride from our Airbnb, was a welcome change from touring wats. It is an ethnographic museum highlighting the history and culture of northern Thailand's hill tribes, specifically the Akha, Karen, Khamu, Lahu, Lua, Lisu, Hmong and Mien, who, while a part of the Lan Na Kingdom, retained their own unique cultures and languages. The only portion of the museum available to us were the indoor exhibits of clothing, jewellery and various artifacts. We'd understood there was also an excellent video presentation about tribal life which unfortunately was not in operation that day, nevertheless what we did see was informative. I don't think the museum gets many guests and they were thrilled with our presence, even asking us to pose for a picture with the staff! Entrance is free, but donations are welcome.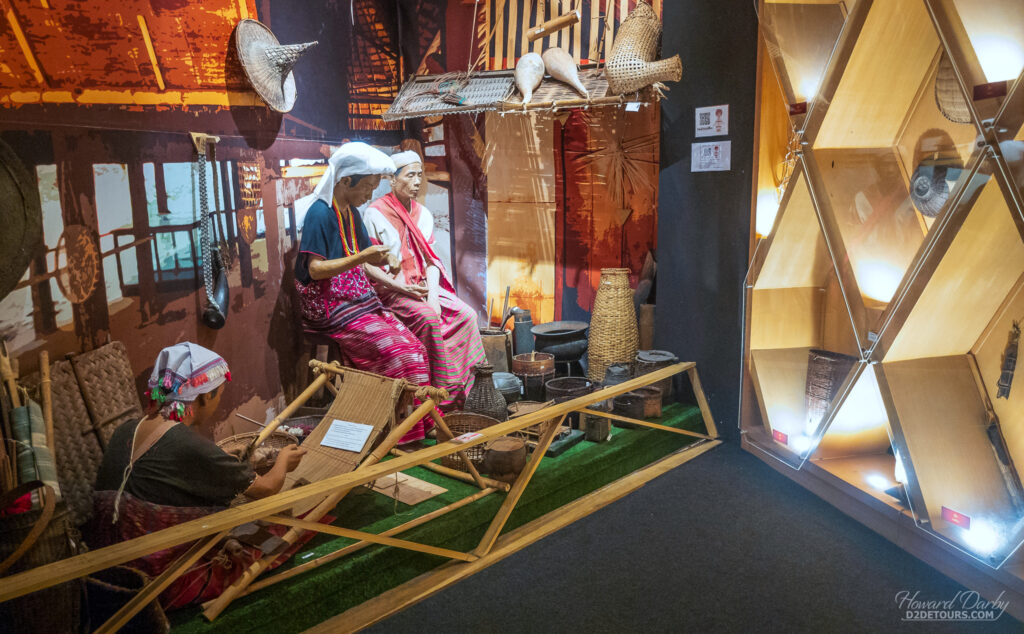 The Rama IX Lanna Park, located next to the road leading to the Highland People Discovery Museum, is a tranquil setting perfect for a stop either before or after you visit the museum (we recommend before and then you can cool down in the air-conditioned museum). Much like the Discovery museum, I'm not sure this park sees very many visitors; we had the place to ourselves and even had to clear cobwebs crisscrossing the labyrinth footpath.
A bit of nature that does see a lot of visitors (at least in high season, it was reasonably quiet when we were there) is the sticky waterfall (Namtok Bua Tong) in Nam Phu Chet Si National Park. The water from a nearby natural spring is full of calcium carbonate and over the years as it flowed over the limestone rocks (and tree roots) a high-traction residue was left behind. Algae has laid claim to some of the rocks in the falls, which makes for treacherous footing, so keep to the buff-coloured stones, and avail yourself of the various ropes dangling down the path if necessary, and you will have a blast trekking up these waters. There is no entry fee to the waterfall however you do have to make your way there (it's about 1.5 hours from the city). We had rented a car, but tours are available and we saw numerous red songthaew (Chiang Mai public buses) coming and going from the parking lot so I don't think it's difficult to get there and in my opinion the sticky waterfalls might just be a "must-do" in northern Thailand.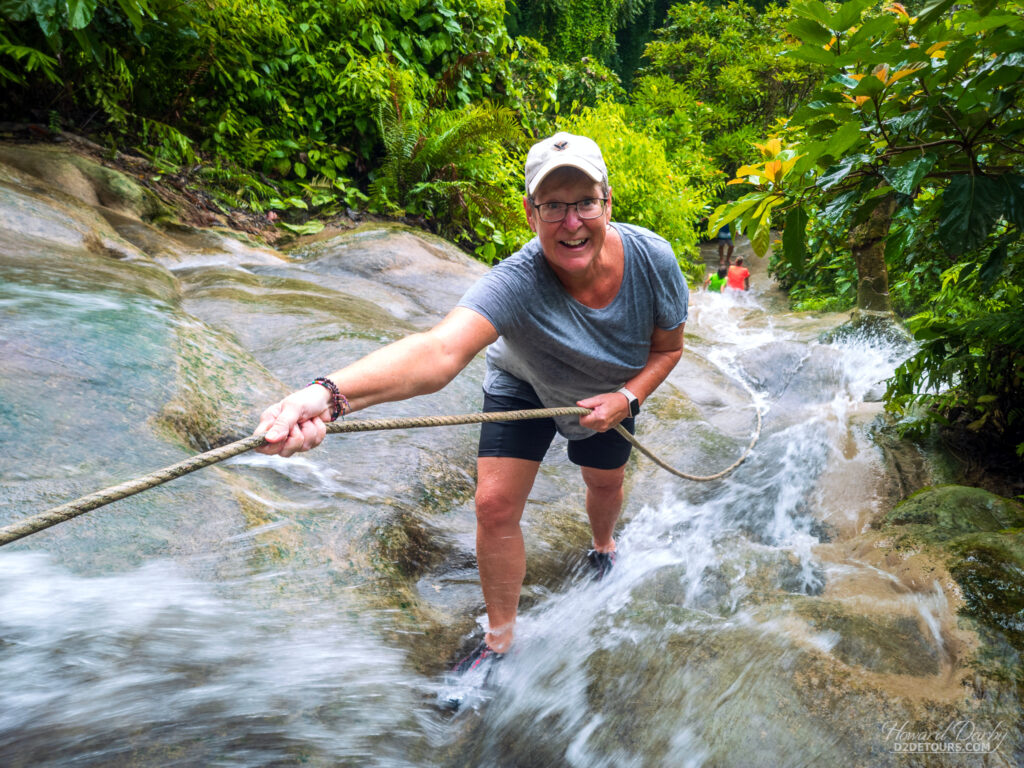 We were in Chiang Mai for a month so went to several movies as part of our entertainment budget (one of which was because the power was off in our building for seven hours as they did some work on a transformer, and seven hours trapped inside without air-conditioning seemed horrifying). The theatres were large with seats that were a bit like a gentle rocking chair. Each movie was preceded by 20 minutes of trailers and commercials which concluded with the King's song during which patrons were requested to stand – we only ever saw one elderly couple actually rise.
Us – We very much enjoyed our month in Chiang Mai; a modern city that still retains many of the charming aspects of its past. It is eminently walkable with an amazing array of food options, and we thought July was the perfect time to visit. The burning season is well in its rear-view mirror (February-April), the peak tourist time is November through February, the air temperature starts to cool in May, and while July marks the beginning of the rainy season, the monsoon rains don't arrive in earnest until mid-August and into September. We had moments of torrential rain, that maybe lasted 10 minutes, but could always find an overhang to wait out the burst, and the weather didn't ever prevent us from doing something we wanted.
Restaurants – We love Thai food, and Chiang Mai is known for offering a ton of options for cooking classes, so naturally we went to cooking school. We picked the Tom Yum Thai Cooking School which happened to be just around the corner from our Airbnb, and serendipitously was one of the lower priced schools – ฿900 baht/pp ($35 CAD). It's shoulder season in Chiang Mai (July) so while the class can accommodate 10 people, it was just the two of us and we had a great time, with very personalized attention. The half-day class (am or pm, we opted for the am class) starts with a quick trip to a local market to learn a little about the ingredients (if an in depth market visit appeals to you, this would not be the cooking class for you, we really hustled through the market, which was fine with us, we were more interested in cooking).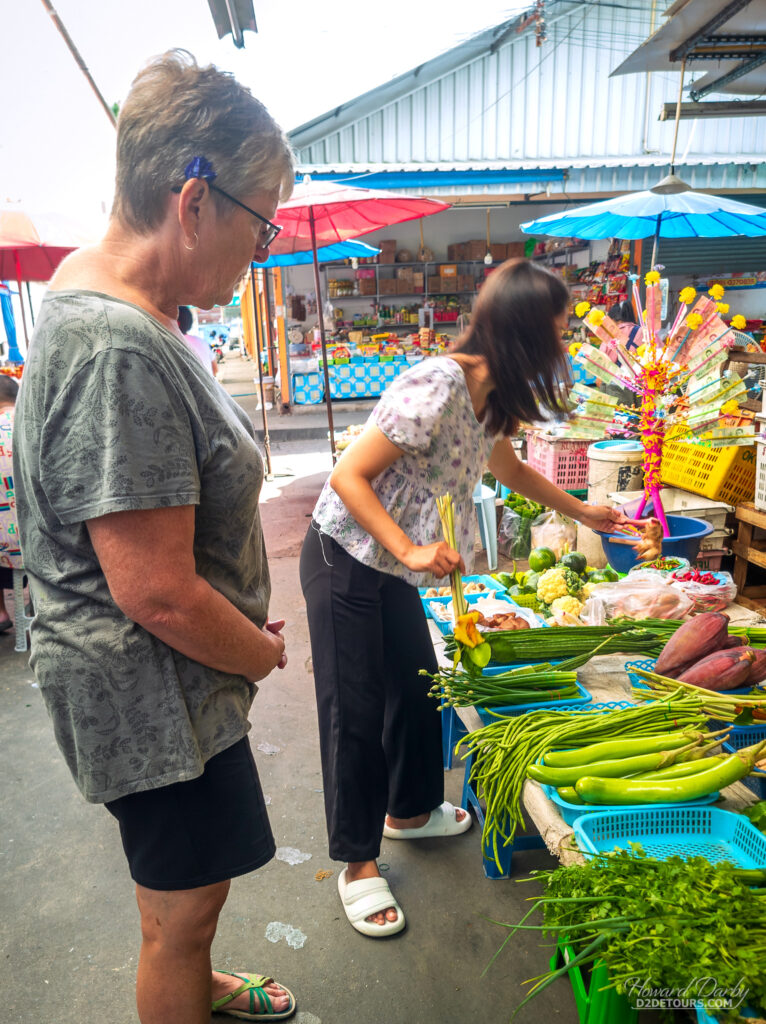 Back at the school we sliced and diced, pounded with mortar and pestle, sauteed and deep-fried seven different dishes, plus two curry pastes.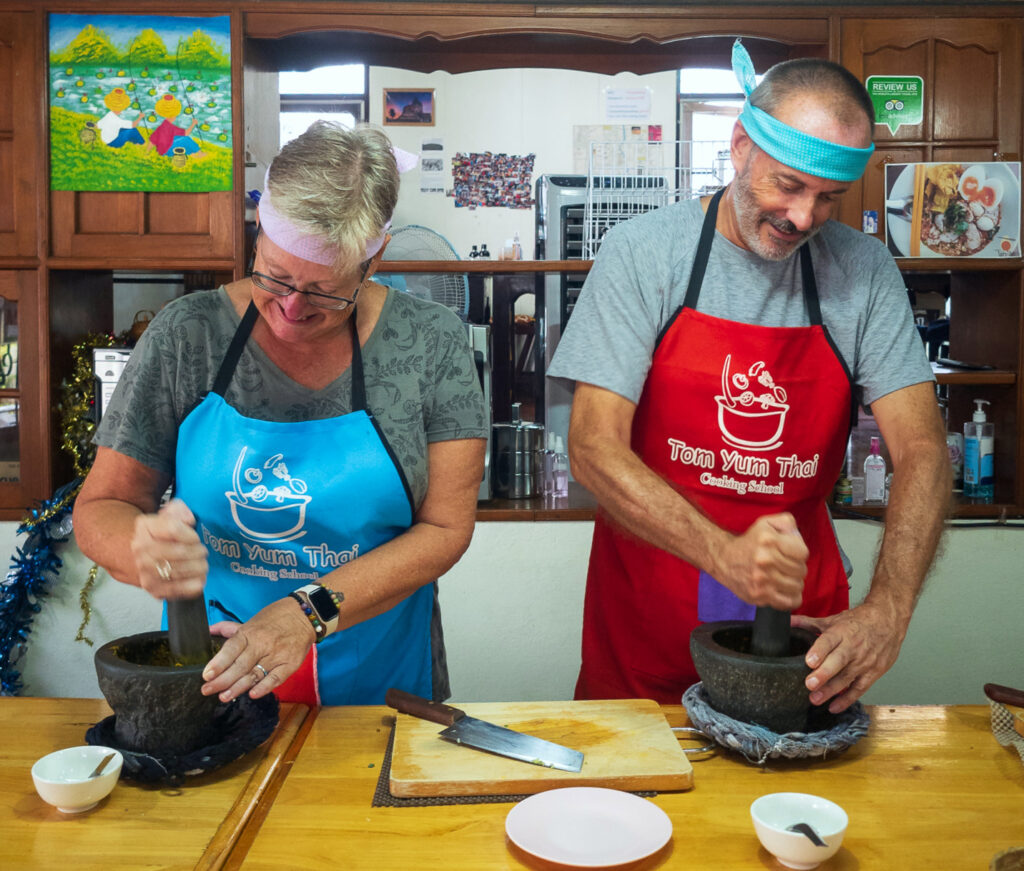 Between the two of us we made: pad thai, cashew chicken, tom yum (soup), papaya salad, spring rolls, green curry, panang curry (both from pastes we'd made from scratch) and sticky mango rice for dessert.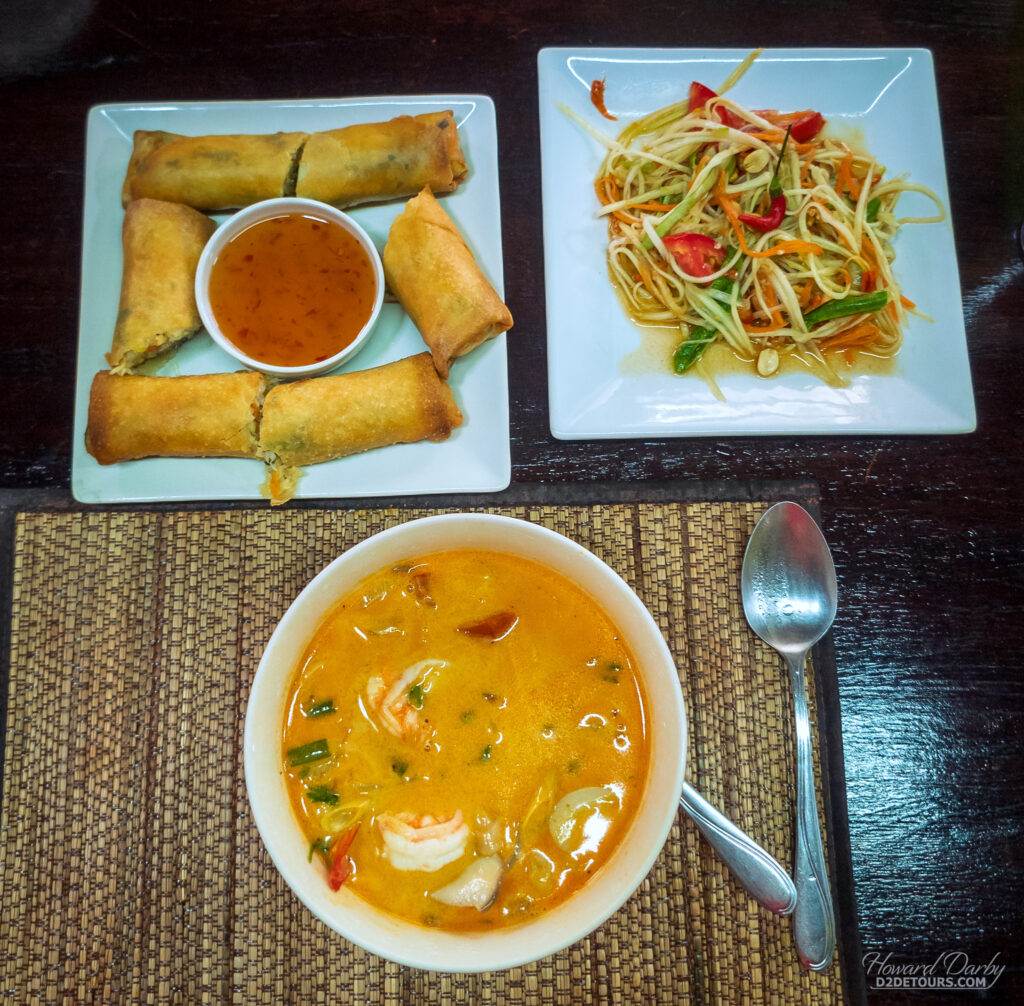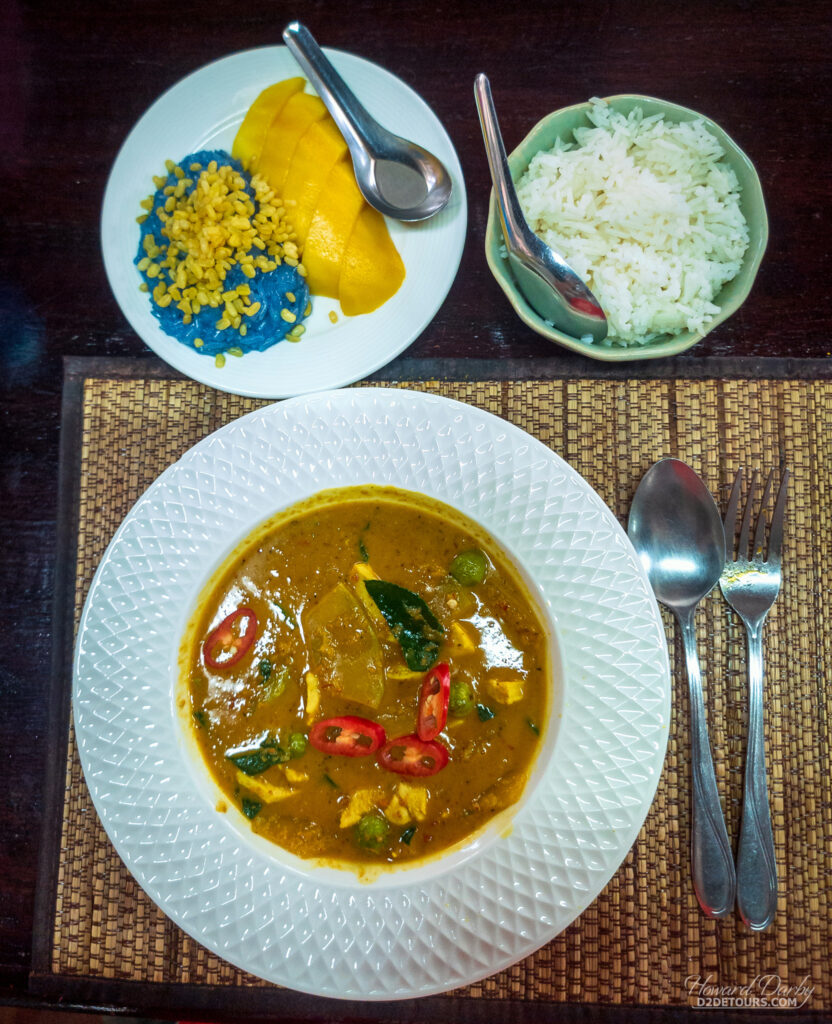 There was soooooo much food, thankfully they kindly packaged up the leftovers for us and we had lunch the next day. We highly recommend this school, it was fun, the owner and his chef were personable, with great English, and we also now have a fantastic cookbook – too bad many of the ingredients that make Thai food so good are only grown in Thailand! We also discovered the Thai people's affinity for sugar. In some form or another it was an ingredient in every dish we prepared in our cooking class, and invariably when we were sampling the finished product our instructor asked if the dishes were sweet enough!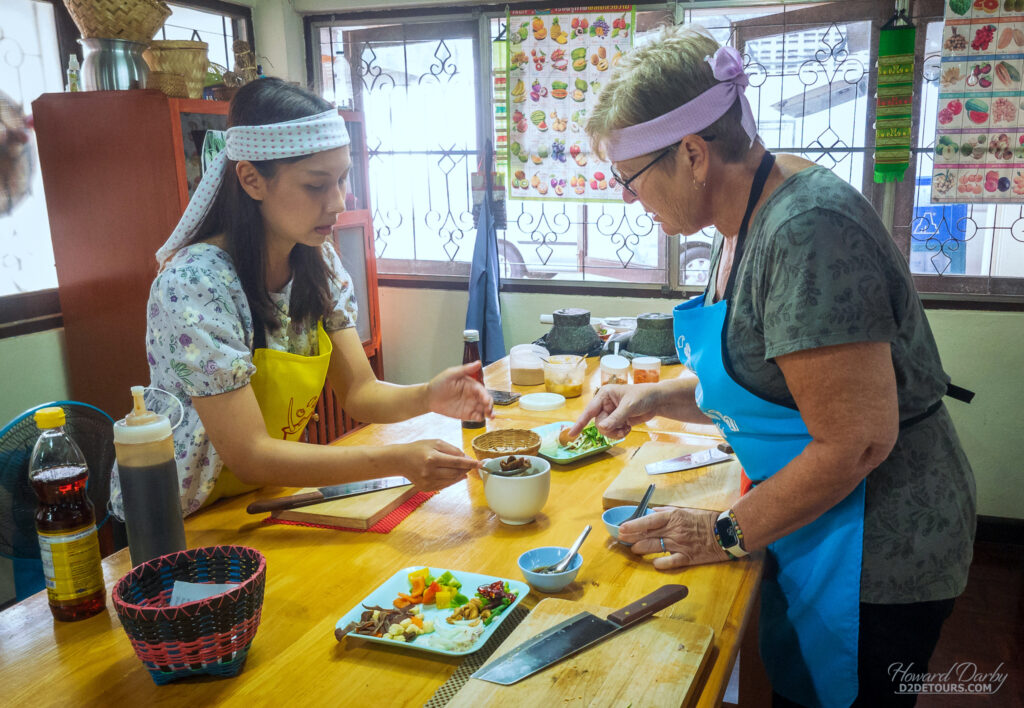 Despite now knowing how to cook Thai food, it was just so darn cheap to eat out that we did so every night, with many of our restaurant bills totalling only $6 or $7 CAD, although over the course of the month we averaged out closer to $11/meal.
After extensive research, we determined Massaman Curry, and in particular the one served at Pakorn's Kitchen, was the best dish in Chiang Mai (possibly in Asia – during our last week in the city I think we ate dinner there every other night!)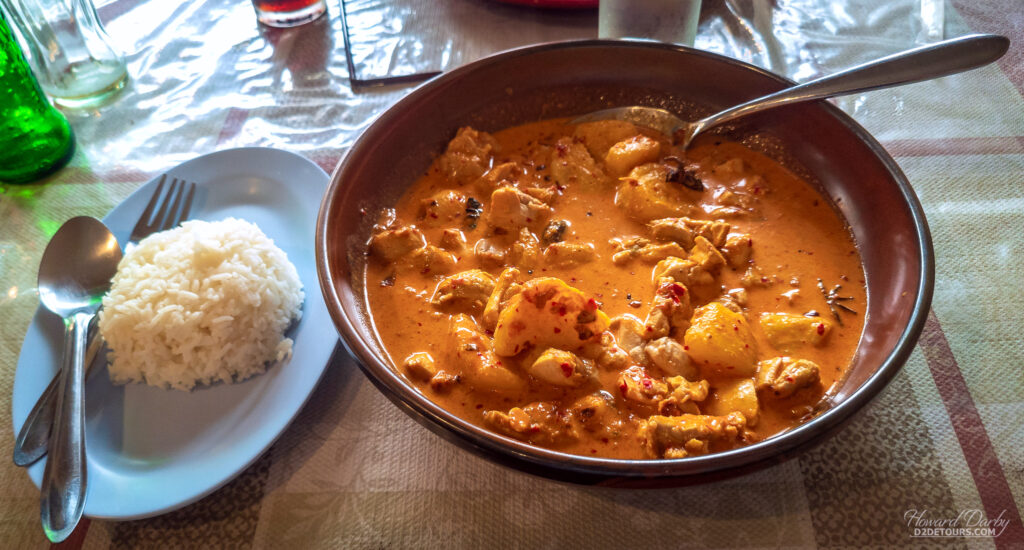 Next on Howard's list of favourites would be Red or Panang curries. Curries start with the same broth (coconut milk or water) and contain either meat or seafood, alongside various vegetables, but it's the paste that makes the difference. Red and panang curries are quite similar to each other, with panang being a bit creamier and peanuttier, and both tend to be a bit higher up on the spicy scale than massaman due to the number of chilies involved. Massaman curry borrows from the Indian spice palette with coriander, cinnamon and star anise simmering with a few chilies. Knowing the phrases mai pet (not spicy) or pet nit noi (a little spicy) is helpful, although I asked for a Green Curry to be pet nit noi and it still almost killed me! I preferred Pad Thai (rice noodles, shrimp or chicken, peanuts, scrambled egg or tofu, and bean sprouts) to most of the curry dishes. I also tried Pad See Ew (similar to pad thai with thicker noodles, Chinese kale and a soy sauce base) and Khao Soi (a highly spiced, not spicy, noodle curry with chicken and garnished with fried noodles, pickled mustard greens, shallots and lime) but kept coming back to pad thai. Regardless of the restaurant we picked, all of the curries and noodle dishes were scrumptious. Word to the wise … tamarind (sometimes called an Indian date) is the "heart and soul" of pad thai and has some laxative properties which may or may not have played havoc with my digestive system until I built up a tolerance – proceed with caution.
Speech – English is a mandatory part of the Thai school curriculum; we didn't encounter anyone who didn't speak some English. Learning a bit of Thai for an English traveler, however, is somewhat challenging as it is a tonal language with many of the sounds not even found in English, and the written language, while beautiful, is impossible to decipher (สวัสดีฉันชื่อ = hello, my name is).
Thai people don't use "please" the same way we do in the western world, but good manners are still immensely important. Adding a kap (said by men) or ka (said by women) at the end of every sentence is the best way to be respectful and when in doubt, a smile will go a long way in garnering a bit of goodwill, after all Thailand's nickname is the Land of Smiles.
Swat-dee (kap/ka) – Hello or Goodbye (combined with a "nop" – a bow with hands clasped together in prayer);
Chai (kap/ka) – Yes;
Mai (kap/ka) – No;
Khop khun (kap/ka) – Thank you;
Mai bpen rai (kap/ka) – You're welcome;
Pet mai? (kap/ka) – Is it spicy?;
Mai pet (kap/ka) – No spice;
Pet nit noy (kap/ka)– A little spicy;
Ah roi (kap/ka) – Delicious;
Kor thoad (kap/ka) – Sorry/Excuse me.