As we plotted out our travels through SE Asia, we decided to make Thailand our last destination. Cost-wise it wasn't ideal to throw a few days in Laos in between our time in Bali and Thailand, but we'd heard it was a beautiful country and logistically it worked nicely to fly to Luang Prabang and then take a slow boat up the Mekong to Northern Thailand. It was an excellent decision!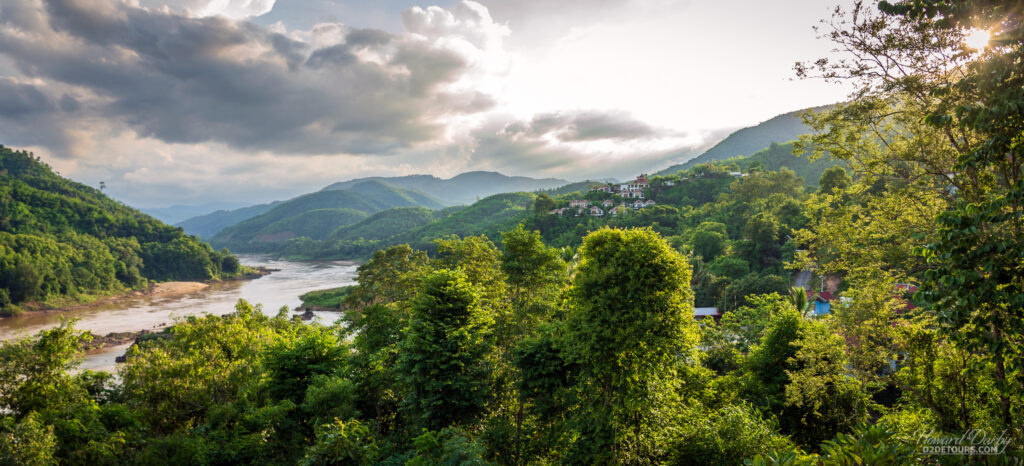 A landlocked country bordered by Myanmar and China to the north, Vietnam to the east, Cambodia to the south, and Thailand to the west, the area that would become Laos was a haven for Chinese (Tai) migrants who began moving south in the 7th century with their numbers increasing dramatically in the mid 12th century as Mongols swept through China. The resulting Lan Xang (land of a million elephants) kingdom laid the foundation for the Laotian cultural identity; roughly 53% of the Laos people have Tai ethnicity. With its central location, the kingdom was a hub for overland trade (it is the only landlocked country in southeast Asia) and between 1353 and 1707 CE it was one of the largest and wealthiest kingdoms in southeast Asia.
Internal conflicts in the early 18th century fractured the realm into three separate kingdoms – Luang Prabang (north), Vientiane (central), and Champasak (south). Over the ensuing decades the kingdoms of Luang Prabang and Vientiane were often used as pawns by the neighbouring kingdoms of Siam (Thailand) and Burma (Myanmar), who were bitter rivals, and these alliances only strengthened the animosity between the Lao kingdoms. By the 19th century Vietnam was also at odds with Siam over control of the Indochinese Peninsula (in effect the region of southeast Asia) and these continuous conflicts laid the groundwork for France to claim the territory. In 1893, the three Lao kingdoms were added to the colonial territories of French Indochina and the modern borders of Laos (a term coined by the French for the Lao people, which in turn was a truncated form of Lan Xang) were established. FYI – the "s" in Laos is not silent if you are a native English or French speaker, but you won't hear it from a local.
Laos experienced a flicker of independence following the WWII Japanese occupation but was quickly re-colonized by France. In 1953, aided in part by the turmoil in Vietnam and the efforts of Ho Chi Minh to expel the French from his country, formal independence from France was achieved through a constitutional monarchy. Six years later civil war erupted in the Kingdom of Laos, with the Soviet Union supporting a communist insurrection. At this point in time the United States was fully embroiled in the Vietnam War and was concerned that Laos might fall to the communists, or at the very least would provide the Viet Cong with a base to stockpile supplies from the Soviets, so they (the CIA) offered support to the monarchy. Much of that support came in the form of cluster bombs dropped over Laos in an effort to disrupt the communist supply lines. One news source states that "the United States eventually dropped the equivalent of a planeload of bombs every eight minutes, 24 hours a day, for nine years." Hundreds of thousands of Lao people died or were injured (along with countless elephants) and there still remains a significant amount of unexploded ordnance in the country. In 1975, the US pulled out of Laos and a socialist, one-party government, the Lao People's Democratic Republic, was formed, which is still in power today. In 2016, Barack Obama became the first sitting US president to visit Laos. At that time he pledged millions in aid to support the LPDR's efforts to remove unexploded munitions.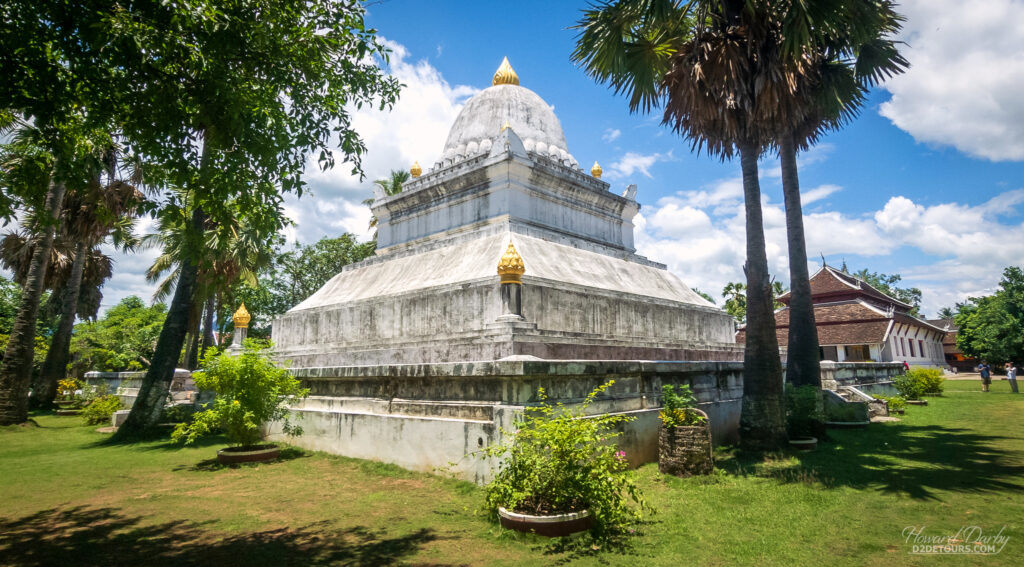 Laos opened its borders to tourists in 1989 and that industry is still very much in its infancy. That being said, it is the country's second-highest earning industry (agriculture is number one although Laos does still have to rely heavily on foreign assistance) which means there are great options for hotels and restaurants, with the bonus of not yet being overrun with vacationers.
Dollars – We spent a total of 6 nights (7 days) in Laos (five nights in Luang Prabang and one night in Pakbeng as part of our two-day slow boat cruise up the Mekong). Unlike some other destinations in southeast Asia, I wouldn't say Laos in a bargain, but if we hadn't done the cruise it would have still been well within our budget.
We've broken down our costs for this country into three categories: Basic day-to-day living expenses in Luang Prabang (hotel, food, activities, local transportation and visas), the Mekong Cruise, and All-inclusive Nomadic Travel (which, in addition to basic living expenses, also includes a portion of the airfare from Bali to Luang Prabang, data plans, subscriptions like entertainment services/web hosting, etc).
Basic Living in Luang Prabang (5 days) – Averaged out to just under $125/day Canadian ($95 USD / €85)
Mekong Cruise (2 days) – Averaged out to just under $233/day Canadian ($177 USD / €159)
All-inclusive Nomadic Travel (7 days) – Averaged out to just under $206/day Canadian ($156 USD / €141)
The Mekong cruise included breakfast and lunch both days and one night hotel accommodation in Pakbeng. Because it was off season we did get a reduced rate of $300 USD ($403 CAD). On top of that cost, we paid for dinner in Pakbeng and tipped the boat crew, luggage porters and our guide.
Environment – Luang Prabang is utterly charming with chickens roaming free, the occasional dirt road and a single terminal airport that services on average eight flights per day. We stayed in the Thongbay Guest House, with a room overlooking the Nam Khan River, a tributary of the Mekong. This was a lovely hotel. They offered free airport pickup/drop off, a shuttle bus service to/from downtown Luang Prabang, daily breakfast served on our terrace, a swimming pool, large rooms with king-sized beds, bottled water and the use of bicycles to explore independently. Nothing was too much trouble for the manager and in addition to the outstanding breakfasts, the hotel had delicious dinner options.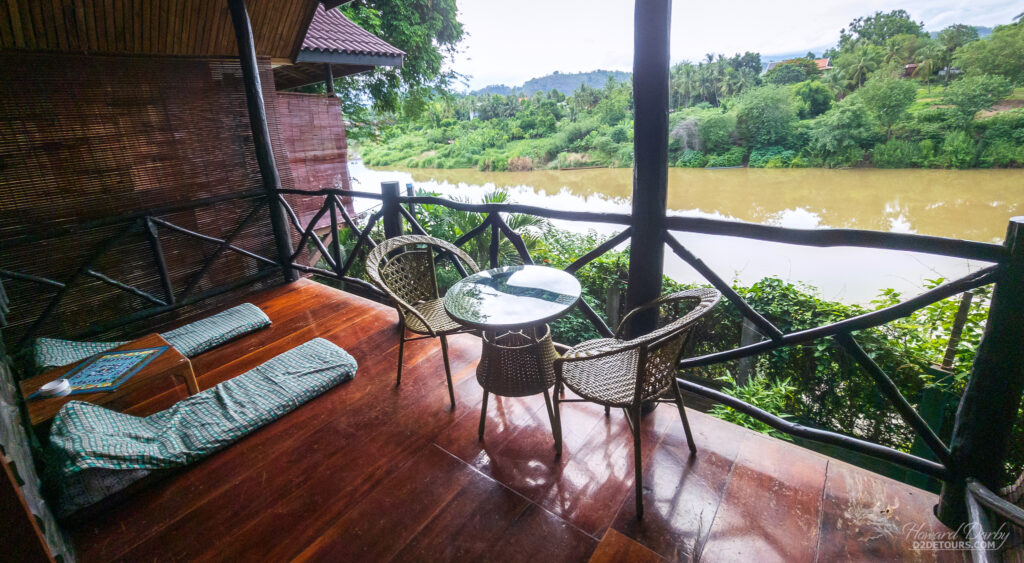 Tips, Tricks & Transportation – Most foreigners require a visa for entry to Laos. Visas are available on arrival (VOA), but the government has recently introduced an evisa option too. The cost of a visa is a bit weird. The fee for a VOA depends on your nationality with Canadians being charged the highest fee – $42 USD (most other countries were $30 or $35!!!).  The line-up was crazy long, there was only a single immigration counter open, and in addition to the completed form you needed to provide two recent passport-type photos. The evisa is a more expensive option with a flat rate of $50 USD per person regardless of nationality, plus a small administration fee (our two visas were $103.50 USD), but it made for a much smoother arrival process as there were four counters open for evisa holders and we moved very quickly through the line. In addition to a visa you also need to fill out an immigration form, which apparently was being passed out on the flight but we weren't paying close enough attention to decipher the garbled instructions over the plane's PA system so had to stop and complete one before joining one of the evisa immigration lines. The form is two parts, entry and exit, and don't lose the exit piece as you need that when you pass through immigration upon leaving the country. The final step to leaving the country is an exit fee – 10,000 LAK/pp ($0.70 CAD).
Interestingly, the US dollar was listed on many menus, tour packages, hotel rates etc. Being a communist country we found that extremely odd. Apparently the value of the Laotian kip fluctuates so much the tourism bureau has decided it's just easier to use US dollars and let the tourists figure out that conversion into their home currency.
Out and About
Luang Prabang

The city of Luang Prabang, with a population of 56,000, was the capital of the Luang Prabang kingdom, and upon Laos gaining its independence in 1953 became the royal capital and seat of government for the Kingdom of Laos (Vientiane is the current capital of the LPDR). The old city, the "Town of Luang Prabang," (pop. 24,000) has been designated a UNESCO World Heritage Site. It is a wonderful collection of French colonial buildings and an interesting blend of rural and urban development.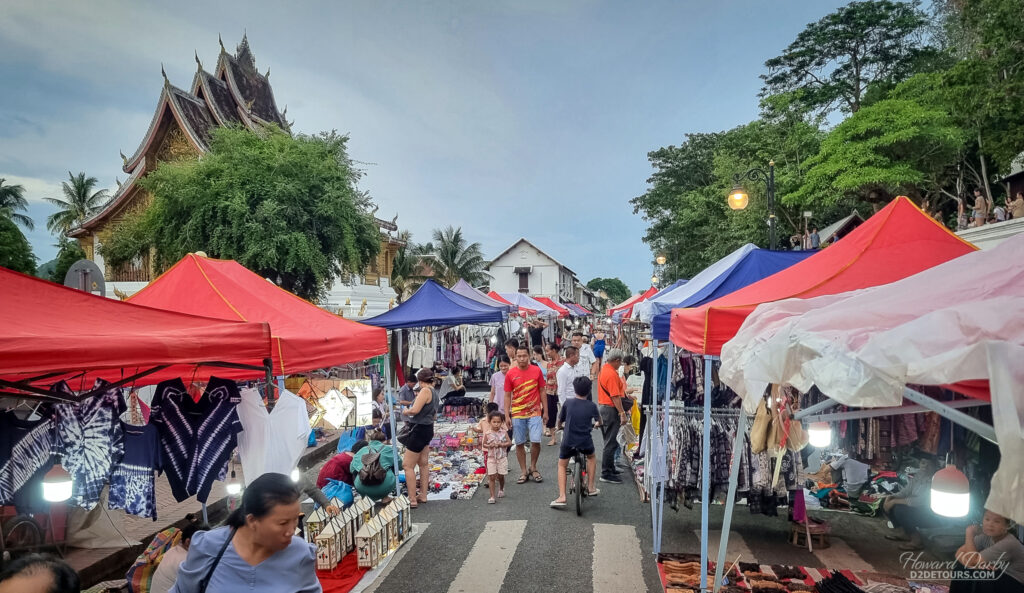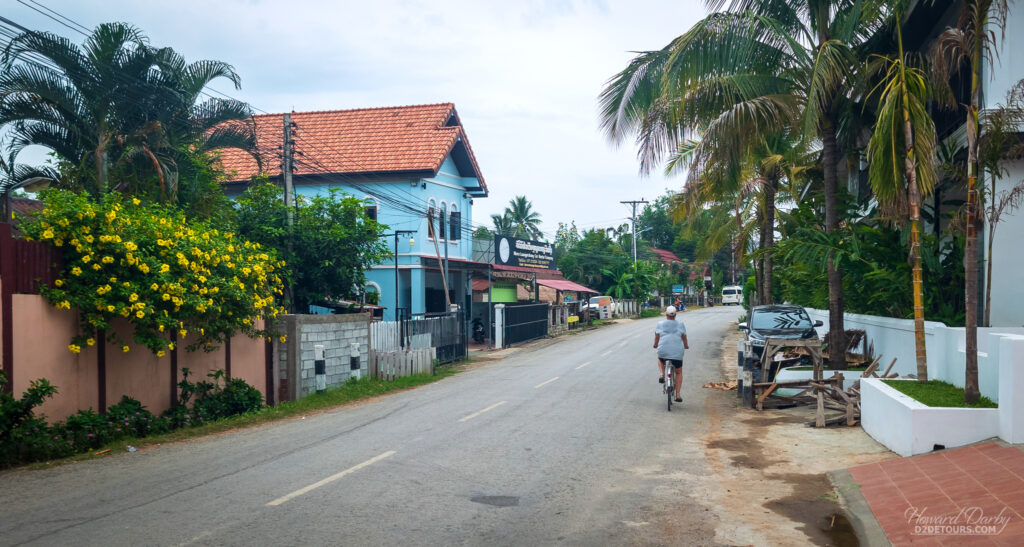 The "Old Bridge" dates from the 1920s when the French colonial government was attempting to improve some of the infrastructure and, in particular, wanted a better trade route to its neighbouring (and more urbanized) colony in Vietnam. Even by 1920 standards the bridge was not well constructed and little has been done to update it. The deck consists of horizontal wooden planks laid between iron supports with additional wooden planks placed lengthwise to provide a surface of maybe three feet for vehicles to traverse. Today only two-wheeled vehicles are allowed on the bridge and no one goes very fast, which is good because we were crossing on bicycles!
Phousi Hill
Mount Phou Si is a 100 m (328 ft) high hill in the center of the old town of Luang Prabang. Wat Chom Si, the Buddhist temple at the top, is visible from several spots around the old town and the 360° view of the city, the Mekong and the countryside, that you get after climbing 300 steps to the summit, is spectacular. Entrance is 20,000 LAK/pp ($1.40 CAD).
Kuang Si Waterfalls
The manager at the Thongbay Guest House arranged transportation for us to the Kuang Si Waterfalls, roughly 29 km (18 miles) south of Luang Prabang. We shared a jumbo tuk tuk (a small, single cab truck, with covered benches in the truck bed) with another couple from the US. Twenty-nine kilometres doesn't seem very far, but it was close to an hour on a bumpy, dusty road (at one point we were a bit concerned we weren't going to make it up a hill and the driver actually had to roll back down to get a longer running start!) No complaints though, it was fun and once again we laughed to ourselves at the things we've seen that would NEVER be allowed in North America!
Kuang Si (which translates to deer dig) is a three-tiered waterfall with shallow swimming pools of turquoise water. It is breathtakingly beautiful. Legend tells of a wise old man who dug a hole at the base of the rocks to summon the water with the resulting falls being so captivating that a golden deer, one of Buddha's past incarnations is a golden deer, stopped and made its home under one of the rock formations. The water really is that colour – Howard has not doctored the pictures at all.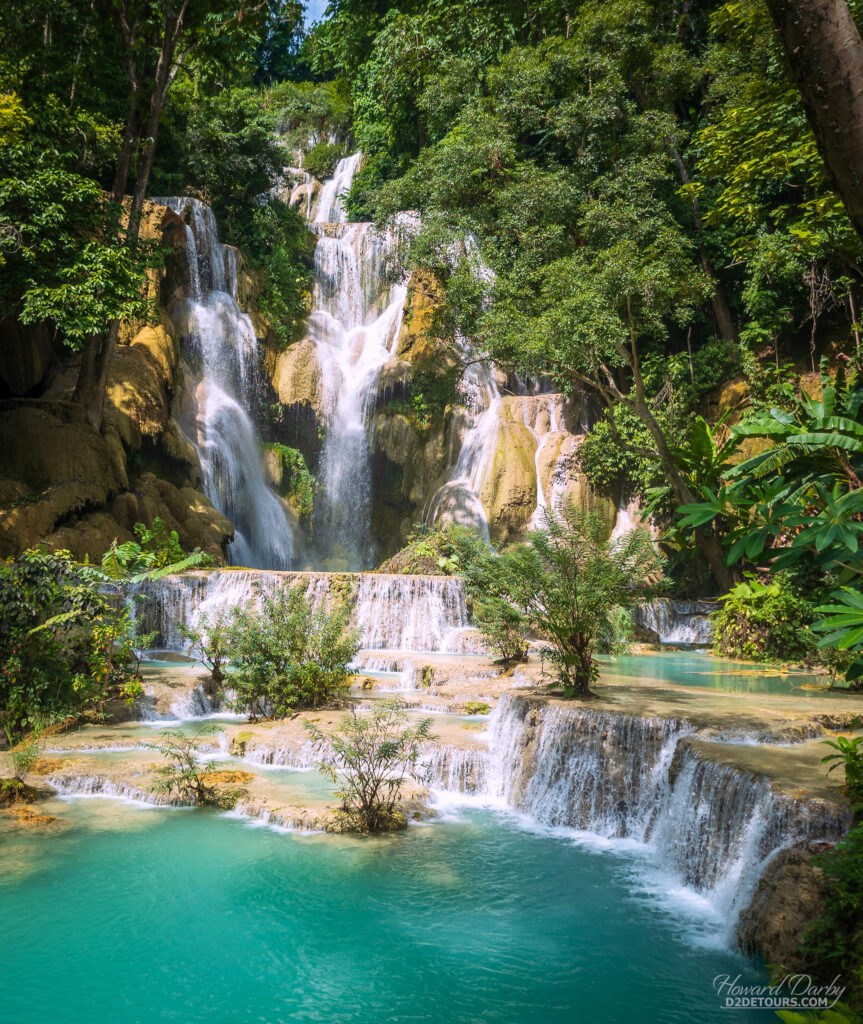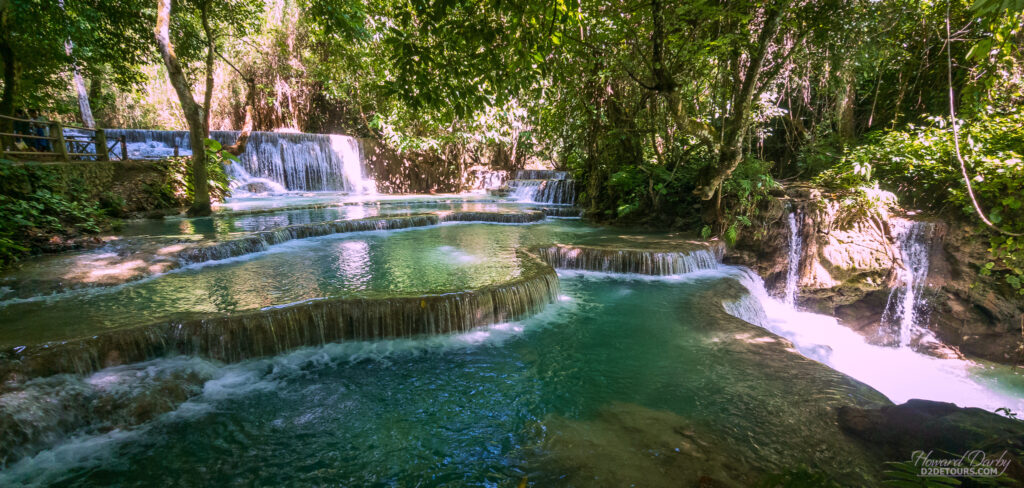 It was suggested that we arrive at the falls just after the park opened (9am) to avoid crowds – good call, we were practically alone and vehicle after vehicle passed us heading to the falls when we were on our trip back. Crowded is probably a relative term, even at their busiest, I doubt we would consider anywhere in Luang Prabang as crowded. Bring a towel, some water shoes, and you can paddle in a piece of paradise.
And if you don't have water shoes you will get to enjoy a free pedicure as the pools are full of fish that like to eat the dead skin on your feet if you stand still for any length of time. I had water shoes, Howard did not and thought the nibbling fish was a VERY weird sensation!
At the entrance to the trails to the waterfalls is the Tat Kuang Si Bear Rescue Centre, home to moon bears rescued from poachers, tourist attractions, and bile farms, a ghastly system of extracting bile from live bears for use in Chinese medicine. This sanctuary is an organization worthy of a donation. Entrance to the falls and the bear refuge was 20,000 LAK/pp ($1.75 CAD) – the cost of the tuk tuk was 350,000 LAK/per couple ($25 CAD).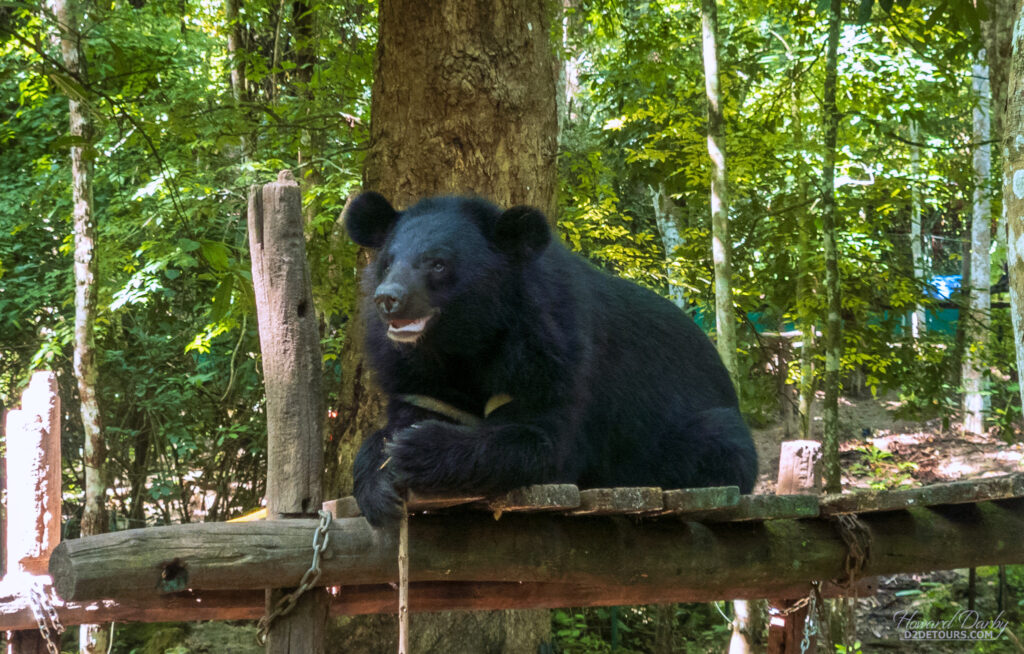 Mekong Upstream Cruise
Rather than fly, we took a slow boat from Luang Prabang to Chiang Khong (Thailand). It's a two day journey meandering up the Mekong, with an overnight stay in a hotel in Pakbeng. What a marvelous way to travel! There are different options for slow boats, several are just bus seats bolted to the floor of the boat, but we chose a company offering a more upscale version with dining tables and a couple of places to stretch out and read a book.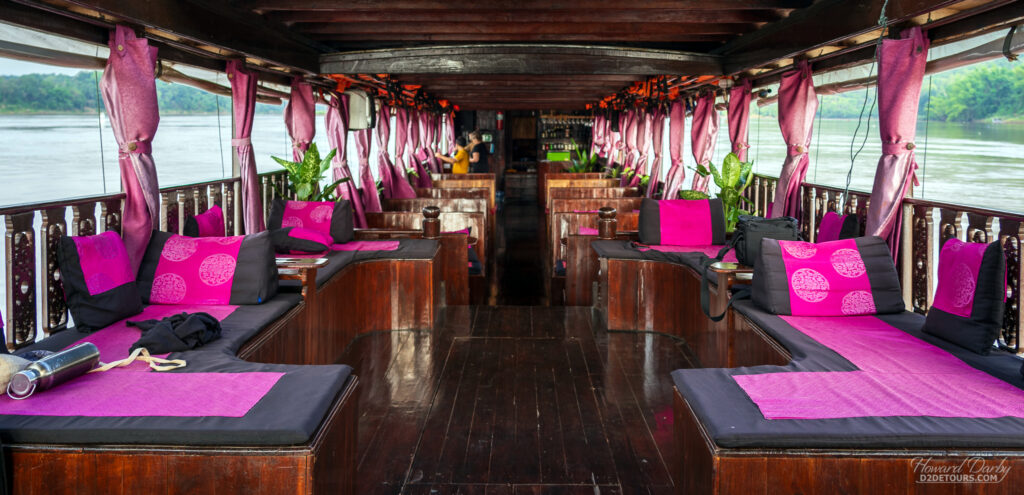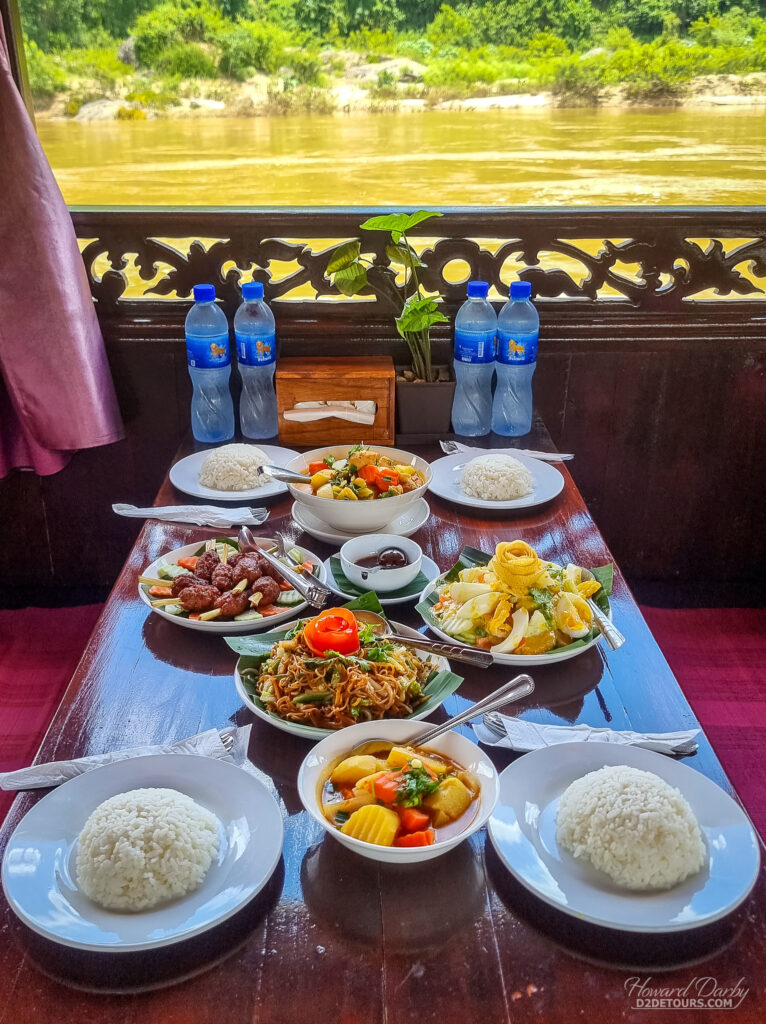 The downstream route from Thailand to Laos is the more popular route with the boats (regardless of layout) always at, or near, capacity (40 passengers). Our trip upstream included us and one young couple from Tasmania, who I think the boat crew assumed were our children. Even at the height of tourist season, this route is usually only half capacity; if your travel plans allow, we highly recommend doing the upstream route.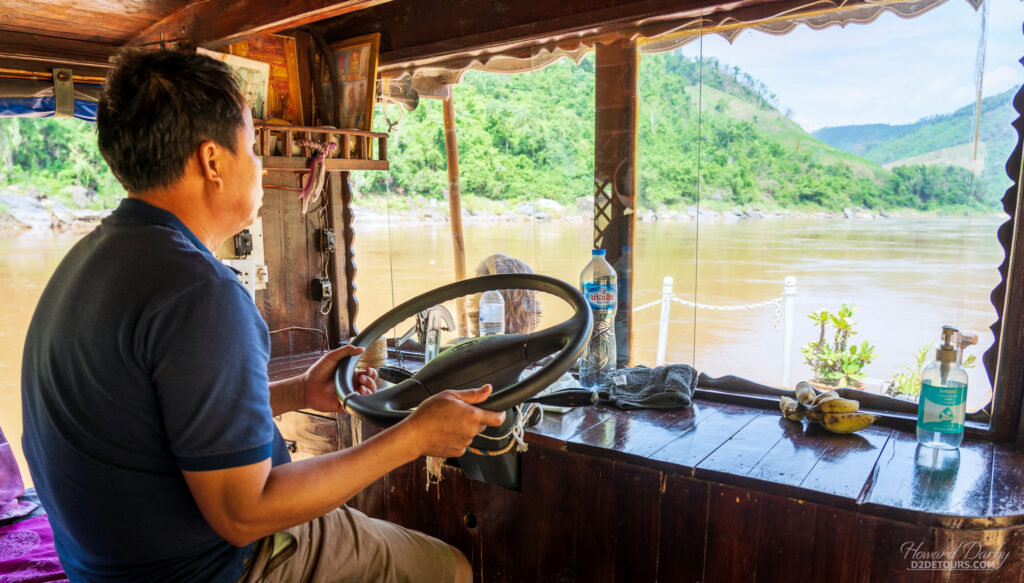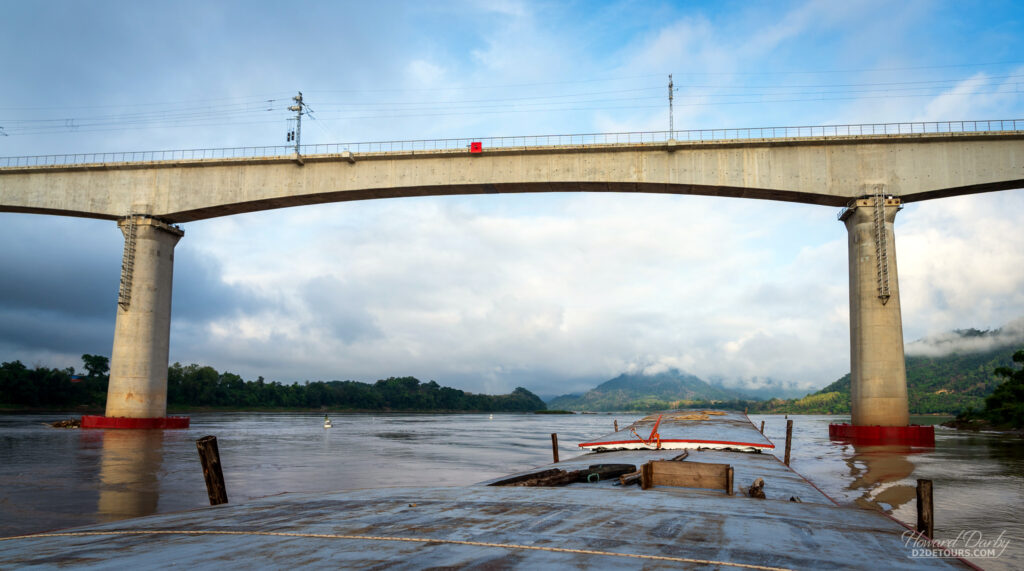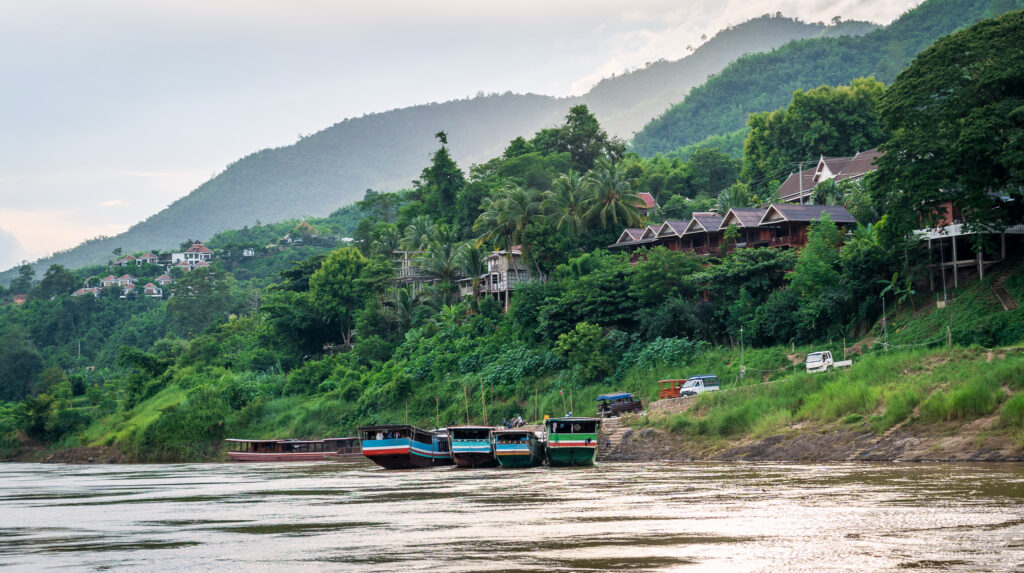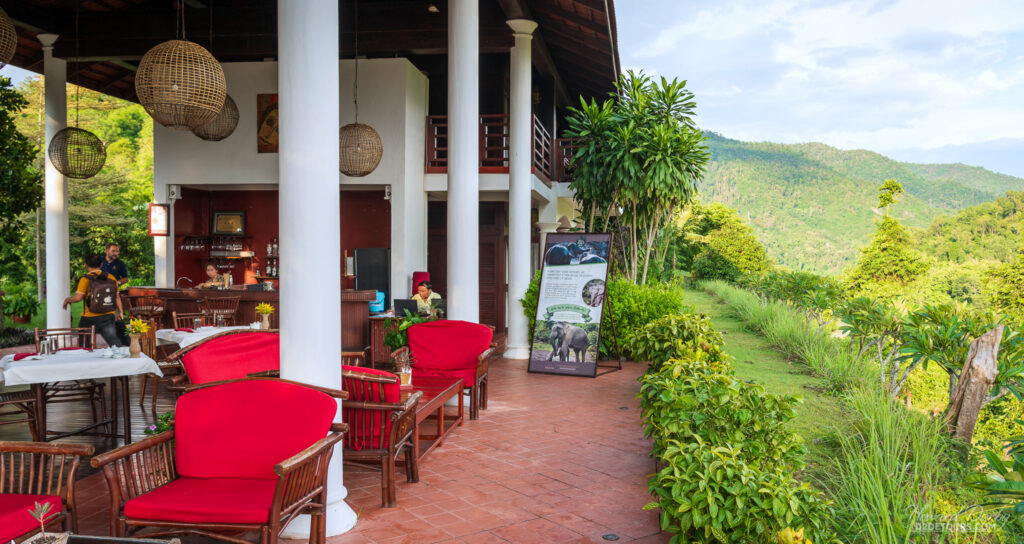 Both days on the boat were about 10 hours on the water and I had really hoped we might spot an elephant bathing but sadly the number of wild elephants in the land of a million of elephants has dwindled to less than 400 (deforestation being the biggest culprit although the bombing during the Vietnam War didn't help). Instead we sailed past lots of water buffalo (pink and gray varieties), fishing boats (and just nets hanging off rocky outcrops), people panning for gold, small villages, and farm land, much of which is devoted to sticky rice cultivation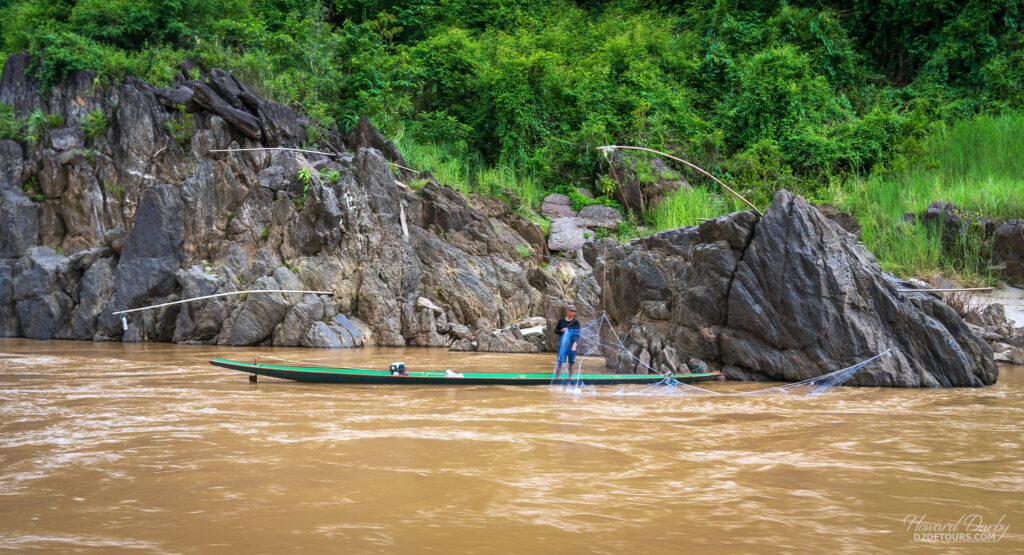 I didn't realize that sticky rice was actually a variety of rice (like basmati or jasmine); I thought it referred to a cooking technique. Lowland farmers in Laos do plant it in flooded paddies but sticky rice requires less water than other varieties making it ideal for growing on Laos' mountainous terrain where the stalks blend in with corn, sugarcane and chili pepper crops. Many of the rice fields we saw were not owned by corporations but belong to the nearby villages and the rice is harvested by hand, an arduous task to be sure, and critical to the survival of the families living along the banks of the river.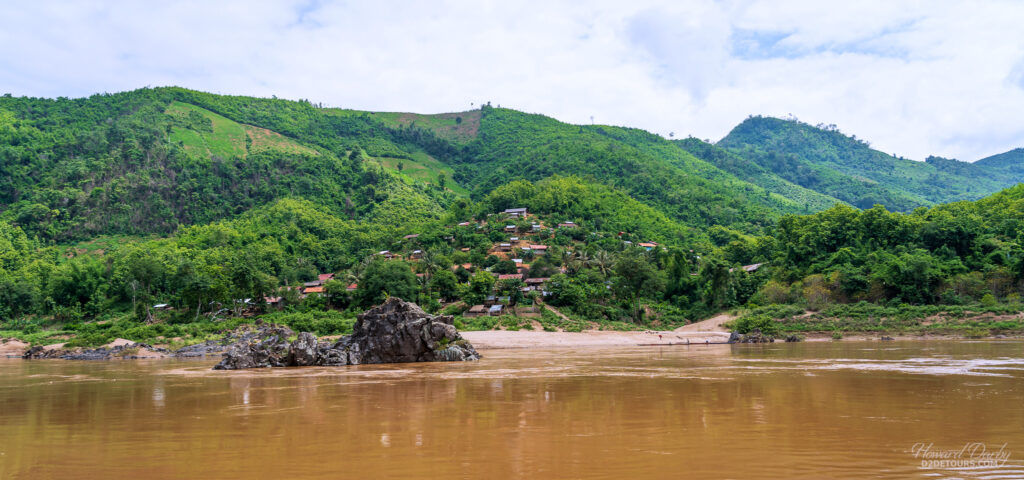 As part of our Mekong cruise we stopped in one of the villages. Honestly, I didn't really enjoy walking through the village – it felt very intrusive poking our noses into people's homes and having their lack of basic amenities explained to us (many of the villages along the river do not have running water or electricity). Despite my discomfort the group of children who accompanied us on our tour appeared delighted with our visit and one of them clearly felt I was in need of her assistance as I climbed down a three-rung bamboo ladder so she grabbed my hand in support.
The other stop on our trip was Pak Ou Caves, two caves containing thousands of Buddhist statues. Before the advent of Buddhism the caves were shrines to the river spirits but when the royal family adopted it as the national religion, around about the 16th century, the King, along with an entourage of worshippers, would make an annual pilgrimage to the caves thus converting them to a Buddhist shrine. They have remained a place of worship with people leaving Buddhas as an offering for safe passage along the Mekong and others leaving their used or broken statues as a gift to the caves rather than discarding them. If you are not on a cruise, there are many companies offering day trips to Pak Ou Caves from Luang Prabang.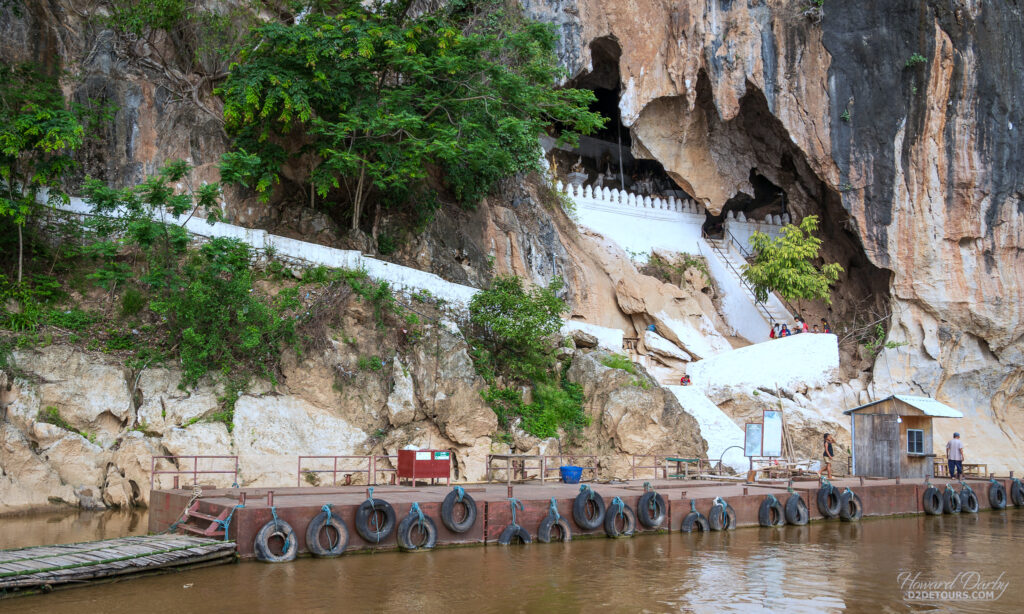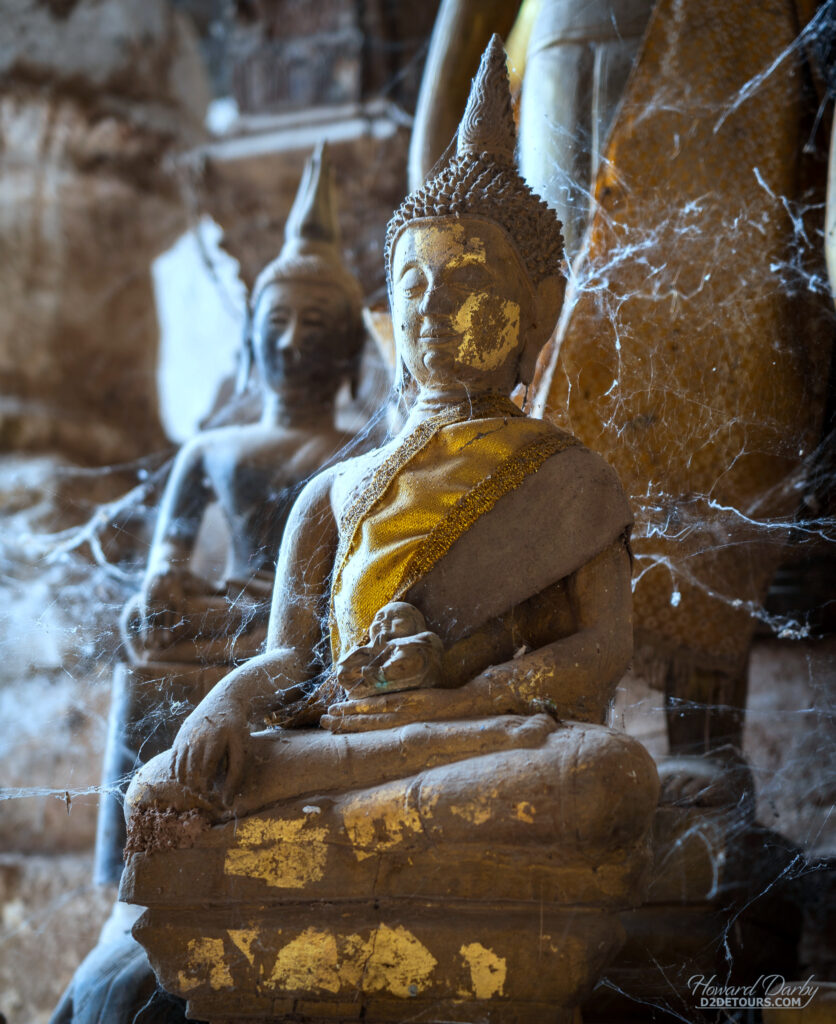 Our Mekong trip finished in Huay Xai where we were then bused to border control. After passing through Laos immigration, we boarded another bus to cross the Friendship Bridge into Thailand – all of which was included in the price of the boat trip.
We booked our trip through Naki of Mekong. Our guide on the boat, La Keophaseuth, was delightful and you can also book directly through him. As we cruised up the Mekong we passed an ugly bit of modernization – a dam. Funded primarily by the Thai government, work is underway to dam the Mekong in order to generate more electricity for the surrounding countries. It is anticipated that the project will be complete within the next four years and include a series of locks for ship passage, but whether boats will continue to cruise the length of the Mekong is uncertain, so book a trip now!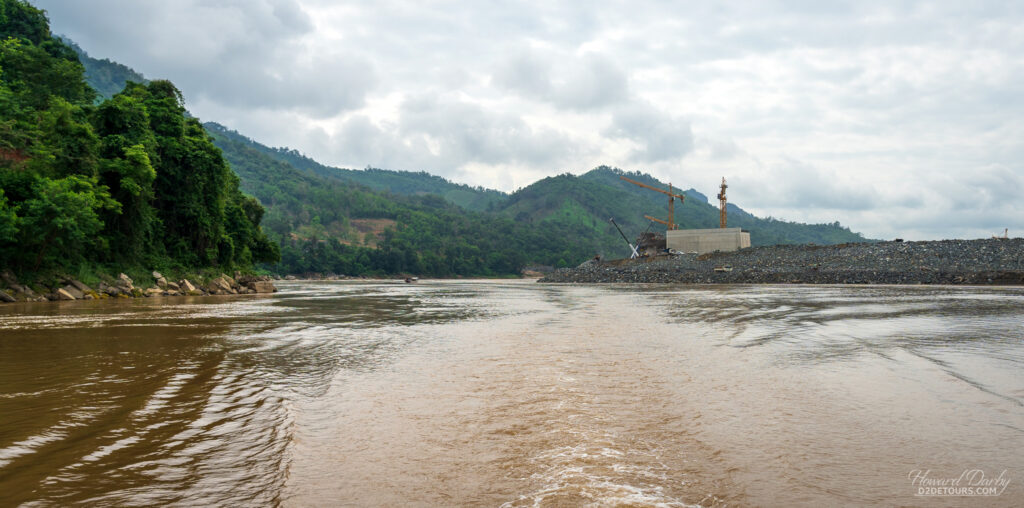 Us – We really liked the little bit of Laos we saw. We visited during the early part of the rainy season (July) so everything was lush and green and the air was fresh. Don't let the term "rainy" season dissuade you from planning a visit. We experienced a bit of rain (the biggest downpour was on the Mekong) and the rain, while heavy, is short lived and more often than not falls during the night.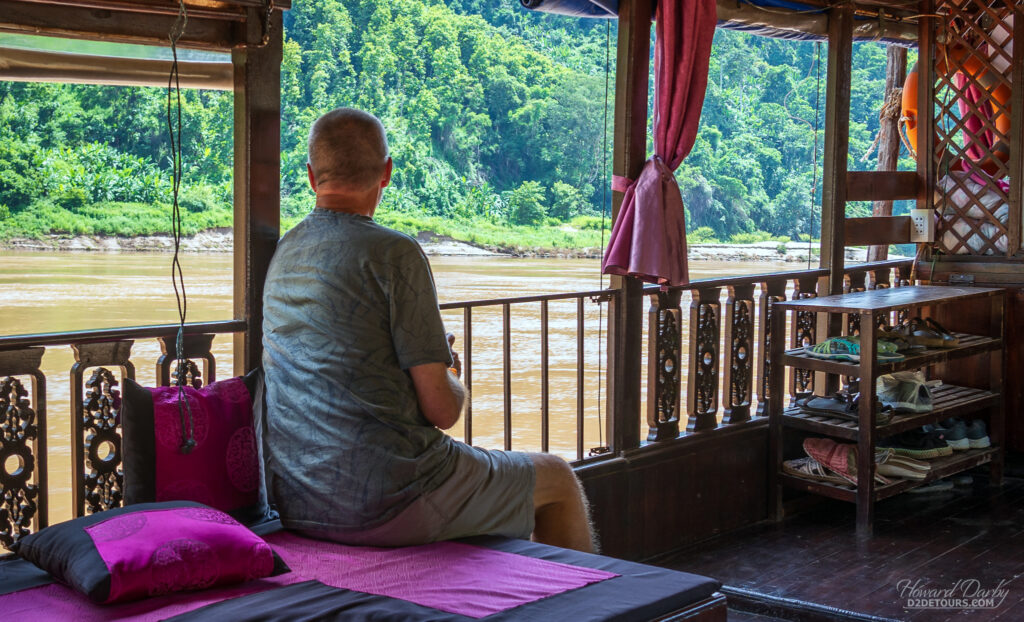 Restaurants – The influence of Indian, Thai, and Chinese cuisines is evident in Lao dishes. These are amongst our favourite flavours so we didn't have any trouble finding great restaurants. The food at our hotel was exceptionally good and the view from our balcony was pretty hard to replicate in any other restaurant so we ended up "eating in" three out of our five nights in Luang Prabang.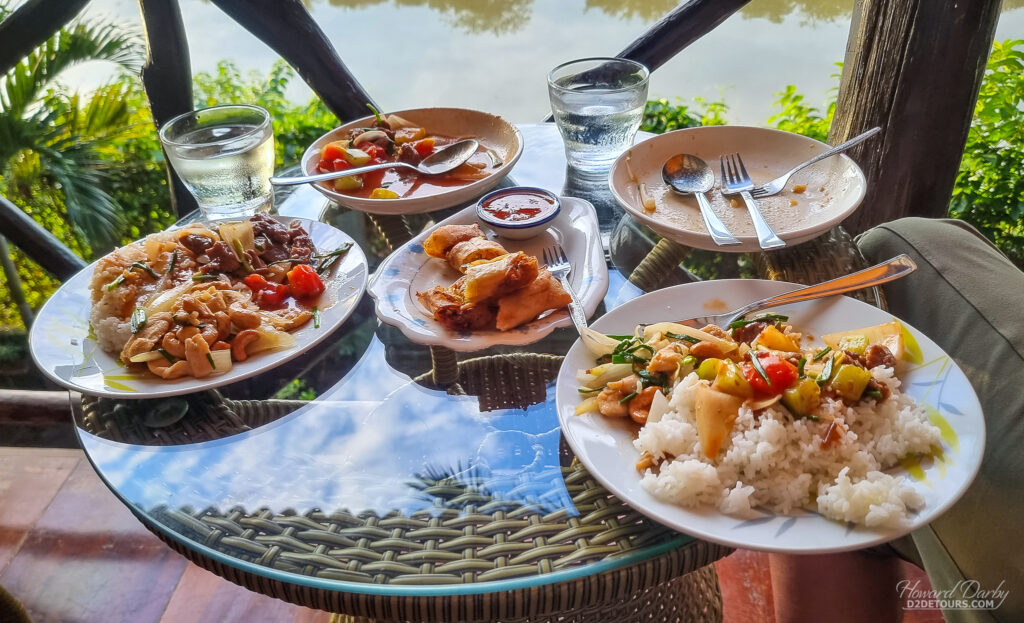 A staple of the Lao diet is sticky rice – Laos actually has the highest consumption of sticky rice (per capita) in the world, roughly 171 kilos (377 lbs) per person annually! Not only is it a dietary staple, it is a deeply ingrained part of the religious tradition, cultural and national identity of Laos; you might even hear someone refer to themselves as luk khao niaow – descendants of sticky rice.
Speech – As we've found in many countries, the younger generation has a fair bit of English, and in Laos pretty much anyone involved in the tourism trade speaks English quite well. Given that it was a French colony (and lots of the signage still includes French), a few words in that language will also get you by. But as always, a few local words are nice to have:
Suh-bye-dee – Hello (combined a "nop" – a bow with hands clasped together in prayer);
La Gon – Goodbye;
Kaluna – Please;
Kwop Chai – Thank you (add lai lai on the end for "very much");
Baw Pen Nyang – You're welcome;
Doi / Baw – Yes/No;
Sep Lai – Delicious;
Khaw Toot – Excuse me or a close approximation of I'm sorry for us Canadians.