In October, 2020, we took a quick trip to Vancouver Island, British Columbia on Canada's West Coast. Tofino can be expensive. Our travel costs for this trip were higher than our intended budget for retirement travel, but since we were both still working at that time, we splurged a bit and the information below will give you an indication of what you might expect for a visit to this region.
Dollars – We spent $1,937 for 4 days/3 nights, averaging $484/day ($381 US$), or $242/person/day ($191 US$). Accommodation was $407/night ($318 US$) and we should note that October is their shoulder season so you can expect higher hotel rates during the summer months.
Our roundtrip flight from Calgary to Comox was $658 for the two of us ($515 US$), which is not included in our "Dollars" since travel costs will vary significantly depending on your starting point.
Environment – We stayed at the Long Beach Lodge Resort on Cox Bay, which is just south of the town of Tofino. On a couple of previous trips to the area we've stayed at the Pacific Sands Beach Resort, also on Cox Bay, but it was full when we tried to book this time. Both resorts are lovely and the beach here is fantastic for walking and watching all the surfers. While most of the rooms at the Pacific Sands face the ocean, you will need to book a room in the main lodge at the Long Beach Lodge Resort and specifically request an ocean view room.  We'd recommend trying to get the top floor (3rd) of the lodge to enjoy the best view. This was ours!
Aside from the main lodge, accommodation at the Long Beach Lodge Resort consists of small cottages nestled in the rainforest along the road leading to the lodge. If you are travelling with a family, these would be your best bet.
Tips, Tricks & Transportation – Commercial airlines do not fly into Tofino, although there are some small charter carriers that fly into the Tofino-Long Beach Airport (YAZ), or float planes that fly into the harbour. Most likely you will fly into either Comox, Nanaimo or Victoria and rent a car. Comox and Nanaimo are both about a 3-hour drive to Tofino, and if you are coming from Victoria, you're looking at a 4.5-hour drive. Vancouver Island is beautiful and the drive just gives you more scenery to enjoy!
Tofino gets VERY busy in the summer. Vancouver Island has the most temperate weather in Canada, so even a trip in the spring or fall will be pleasant – you will avoid some crowds and likely save some money on accommodation and airfare.
Out and About – Cox Bay is gorgeous with a huge sand beach and LOTS of surfers. If you've ever wanted to try surfing, this is an ideal spot and both the Pacific Sands and the Long Beach Lodge Resort offer lessons. Several years ago I took a lesson with Surf Sisters and while I never did successfully stand on the board, it was great fun.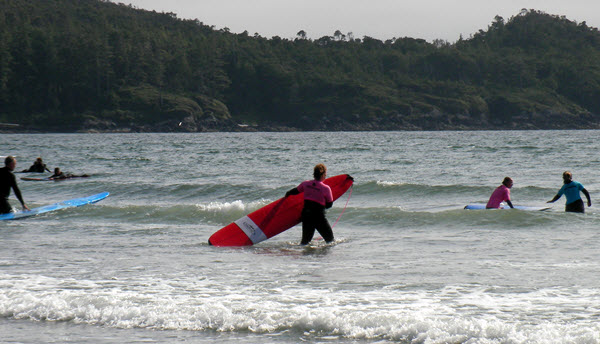 Hiking through the rainforest in and around Tofino is definitely a highlight. We did the Tonquin Beach Trail and walked all the way to Middle Beach. It is an easy walk and the trails are very well maintained.
We also did a harbour island sea kayak trip with Tofino Sea Kayaking. Lots of paddling with this tour but it gave you a different view of the area. Tofino Sea Kayaking supplied rubber boots and rain gear which was a really nice touch.
Us (our thoughts on the area) – Tofino is pretty laid back and the place to be if you want to get close to nature, although there are lots of neat little shops showcasing local artisans, if you're looking for souvenirs.
Restaurants – Tofino is full of good restaurants, unfortunately we were there during the Covid-19 pandemic so most were operating at lower capacity and reduced operating hours so finding a table often proved to be challenge. As a result, for two dinners, we just ended up ordering room service back at the Long Beach Lodge Resort, enjoying the view and the fireplace in our room.
Speech – Canada has two official languages, English and French, with about 75% of the population speaking English as their first language, including almost all of the west coast. We say "sorry" a lot in Canada, as a general apology or to avoid looking confrontational!
Some of the more uniquely Canadian words you might hear in the area are:
Toque pronouced "tuke" – a knitted wool cap to keep your head warm;
Loonies and Toonies – one and two-dollar coins;
Pop – we mean a carbonated beverage like Coke, soda means soda water to us!
All of the picture below were taken at Cox Bay where we stayed, a few kilometres south of Tofino. Please click on them to view larger versions in a slideshow.