Back in July we had booked a week long vacation in the Dominican Republic, as a final family trip before embarking on our nomadic travels. Sadly, like countless other travellers, the Covid-19 pandemic altered those plans! While I appreciate this may sound like self-serving logic, we wanted to do our part to support the struggling travel industry and decided to move our family cohort of four from Calgary to Mexico and spend Christmas in Cabo San Lucas at the tip of Mexico's Baja California peninsula. Cabo was one of the first tourist destinations to receive the World Travel & Tourism Council's Safe Travel Stamp signifying that it is a safe place to visit from a safety and hygiene perspective. Additionally, the Calgary airport is participating in the Alberta Government's Covid-19 Border Testing Pilot Program which allowed us to partake in Covid-19 testing upon arriving back in Calgary to reduce the 14-day quarantine requirement for returning international travellers. So, off we went!
Dollars – I'm not sure how helpful this section will be for anyone trying to budget for a future trip as we found vacation package prices had huge variances. Normally, trips during the Christmas season are ridiculously expensive (often doubling in price for travel beginning in mid-December) but when we booked our trip the price was no higher than what one would expect to pay at any other other time of year and then we noticed a week after we booked our trip, they dropped the price by a further $450 (!$&#). In any event, for 7 days/6 nights we paid $7,162 ($5,570 US$) for an all-inclusive WestJet Vacation Package for four (we had two rooms, one for us and one for our boys) or $3,581 ($2,785 US$) per couple. Howard and I also did a day of diving for a total cost, including equipment, of $496 ($386 US$).
Environment – We stayed at the Sandos Finisterra which was likely only at 40% capacity making it very easy to maintain social distancing. All of the resort employees wore masks and were cleaning constantly. Resort guests were requested to wear a mask when entering any of the resort restaurants but otherwise were not required when at the resort. Masks are mandatory everywhere in the town of Cabo.
Sandos Finisterra is divided into two sections, with the older section of the resort having ocean view rooms in the 7-storey building behind the pools. We stayed in the newer section which has been built into the hillside and offers marina views. Personally, we loved being on this side of the resort; like being in a small village with rock-paved pathways. We should note that these rooms are right beside the entertainment stage, so even if you are not watching the show, you will hear it in your room. Fortunately everything was shut down by 11:30pm so it was never an issue for sleeping. There are three pools in the resort, the first one closest to the ocean view rooms and the one closest to the beach are both "family" pools – the middle pool is adults-only and has the swim-up bar. We spent all of our time at the pool nearest the beach and never had any trouble getting drinks from the constantly circulating servers, nor finding pool chairs – at one point, mid-day, we counted 30 people around the pool (including us), with lots of lounge chairs still available! The pools were FREEZING (in my opinion) but the hot tubs were the perfect temperature! You cannot swim in the ocean on this side of the peninsula, but there were hammocks and lots of beach chairs available if you wanted to hangout on the sand. It was a bit of a jaunt from our rooms on the backside of the resort over to the pools and beach, but we found once we were at the pool, we were there for the day and only headed back to our room to shower and change for dinner. Overall the staff everywhere at the resort were friendly, helpful and appeared genuinely pleased to have us as guests.
Tips, Tricks & Transportation – We flew with WestJet as part of a WestJet vacation package and used their transfer service between the airport and the resort. For anyone who has travelled lately, you will already be familiar with the mandatory mask requirement in airports and on airplanes and the Cabo airport was no different.
If the Covid-19 pandemic is still an issue when you decide to travel to Mexico, before leaving on your trip each member of your party must complete and print out the Risk Factor Identification Questionnaire in Travellers. The completed form must be provided to the Mexican authorities before you can leave the airport.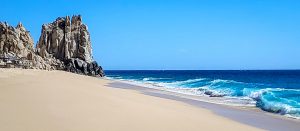 The Pacific side of the Baja peninsula, where the Sandos Finisterra resort is located, is NOT safe to swim. There are extremely strong riptides that kill a few people every year. The beach has a very steep slope down to the water and even on a relatively calm day, the force of the waves can race forty or fifty feet up the slope knocking people off their feet and sweeping them out into the water. Be VERY cautious if you are walking along the beach on this side of the peninsula.
Out and About – Howard and I did a 3-tank Cabo and Corridor dive with Manta Scuba Diving. Manta was a great outfit. We brought our own wetsuits, dive computers and masks, but rented everything else from Manta and were delighted when our divemaster offered to set up our tanks, etc. for us on the boat – I have to admit we have been rather spoiled by diving in Hawaii where the boat crew takes care of everything for you. The highlight of our day was watching a large school of rays (well over a hundred) glide 50′ below us as we were doing our safety stop before surfacing.
While I was more than happy to stay by the pool and drink all day, Howard and our eldest son, Connor, needed a bit more variety and wandered around the marina area one afternoon. It's a pretty typical touristy area with bars and restaurants and people trying to entice you into their establishment or sell you souvenirs. Apparently, when the two of them were walking beside each other, they were only offered mundane things like fishing trips, cigars or trinkets, but Connor said on a couple of occasions when they got slightly separated, his choices got a bit more interesting with strippers, weed and coke being offered!
Another afternoon, the two of them trekked down the beach in front of the resort to Land's End – the iconic rock formations and arches at the very tip of the Baja peninsula. In order to get to Divorce Beach and Lovers Beach, the beaches that surround the rock formations, a bit of rock climbing was required. Howard had previously researched the best path to follow, and confirmed the timing of low-tide since you can't get over the rocks if the tide is too high. It took them about 15-20 minutes to climb over the two rocky outcrops, which included a five minute break midway as Howard slipped twice, landing flat on his back on the rocks both times! He had no long term injuries – just some spectacular bruising on his arm and a sore butt. He figured that while his sandals had a good tread on them, the soles were too stiff causing them to slip on some of the rocks, barefeet might be your best bet. Accessing Land's End from this side of the peninsula was an adventure but not one either Howard or Connor felt the need to retrace and they negotiated a $20 boat ride back to the marina. By the way, if you're going to visit Lovers or Divorce beach be sure to bring insect spray. In the short time Howard and Connor were there waiting for their ride back to the marina, they ended up with sand flea bites all over their feet and ankles that were itchy for days.
Us (our thoughts on the area) – If you are looking for a low-key, tropical vacation with easy access from western Canada, Cabo is a pretty good choice (4.5 hr flight from Calgary). The diving was great and the weather was beautiful, but there really isn't much in the way of sightseeing (although Howard did find what may be the "best view from a urinal" in the men's washroom near the Cupcake Cafe at the resort)!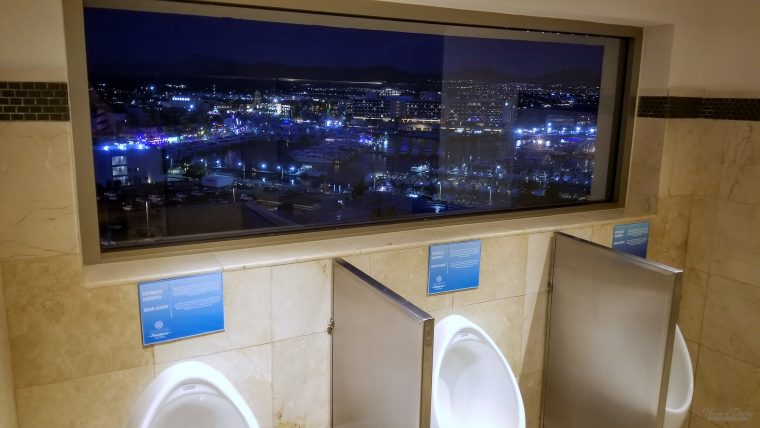 Restaurants – Breakfast was only served in the Don Diego restaurant and was the only buffet option, although Don Diego did do a buffet dinner on Christmas day (including turkey) which was very good. Given the pandemic, the breakfast buffet was not your traditional layout with multiple food stations, rather it was a reduced version with one counter of breakfast basics (eggs, bacon, sausage, hashbrowns, french toast, pancakes, omelettes) and was dished-up for you by staff behind the counter. Fruit and pasteries were available in individual cups set out on tables from which you could serve yourself. The Christmas buffet was a bit more elaborate as shown in the pictures below.
Lunch options were the Agave restaurant, which was part of the swim-up bar, or a pizzeria (which our boys ate at daily) by the pool closest to the beach. For dinner, the restaurants varied by cuisine (Emiliano's Osteria – Italian / Tortuga Beach – Seafood / Agave – Steakhouse / Don Diego – Mexican) and none of the restaurants were opened every day. For example, Emiliano's was only open Mondays through Wednesday. The Cupcake Cafe coffee shop was open daily serving (this will shock you) cupcakes and other pasteries, as well as a pretty decent cafe mocha along with other hot and cold coffee drinks. The food in general at the resort was okay, not outstanding but comparable to most all-inclusives, and we never went hungry.
Speech – Most everyone we interacted with spoke English but the following are definitely useful words to remember:
Hola – Hello;
Buenos Dias – Good Morning;

Buenas Noches

– Good Night;

Gracias pronounced grahs/yahs (not grassy ass!) – Thank You;
Perfecto – an informal alternative to gracias;
Da Nada – You're Welcome;
Uno, Dos, Tres, Cuatro – One, Two, Three, Four (no matter how hard I tried I kept saying cuatro when I meant tres);
Lo Siento – Sorry (we're Canadian we need to know how to say sorry in every language)!