We left Calgary early in the morning on Sunday, July 18th and arrived at our Airbnb in Sofia almost 35 hours later. We will do a full summary of our time in Sofia when we leave on August 2nd, but here's what we've been up to since we arrived.
You might ask, why Bulgaria? Well, it ticked several boxes for us. Firstly, it was accepting vaccinated travellers without additional testing – when we arrived and were moving through their entry screening process, as soon as they found out we were from Canada they didn't even look at our proof of vaccination, just stepped aside and with a warm smile welcomed us to their country, which was an unexpected bonus. Secondly, Bulgaria was affordable during the summer high-season unlike most other European countries that increase their accommodation rates substantially during the summer. Thirdly, it is not on many (if any) European destination lists, so cost of living expenses are low. Finally, it is not insanely hot in the summer and it has history!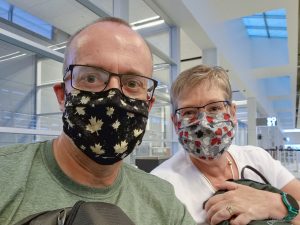 We flew with Air Canada to Toronto and then continued with their partner airline, Turkish Airlines, to Istanbul and finally Sofia. Air Canada is not my favourite airline and once again they met all my expectations. Check-in was painfully slow. Although we had already checked-in online we still had to get in the physical line to speak with a ticket agent to be sure we had all of the necessary paperwork. One would think as partner airlines, and the fact that our bags were checked through to our final destination, that the airline would know which countries we were transiting through as well as our final destination and would be familiar with the current Covid entry requirements. Wrong! The agent could not find Bulgaria on the map so we helped her with that, and then she slowly started reading the rules. It was a good thing we had researched the entry requirements otherwise we would have been panicked by both the Calgary and Toronto agents who initially insisted we needed a PCR test, before they continued reading down to the exemptions for a PCR test, one of which is being fully vaccinated. In these strange times, I highly recommend you are VERY familiar with the rules for your final destination as well as the rules for any country through which you are transiting as the airlines clearly do not know them. The Calgary agent also thought we needed a health entry form for Turkey even though we were simply transiting through the Istanbul airport and were not leaving the airport; we did not need that form.
We had a ten hour layover in Toronto, ugh. Fortunately, a friend told us about the UP Express (the Union/Pearson train) which leaves right from Terminal 1 where Air Canada lands at the Pearson airport. The train is about $12.50/ticket and takes you within blocks of the Toronto Harbour waterfront where you'll find lots of great restaurants and outdoor space to enjoy – so much better than sitting in the airport for ten hours. The train ride is 25 minutes with trains running at the top and bottom of the hour.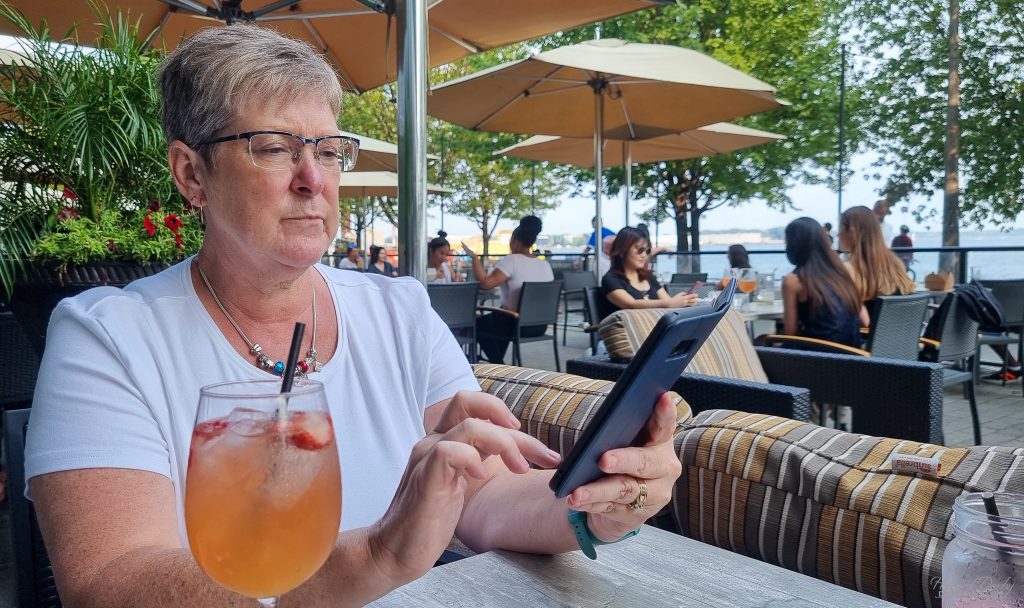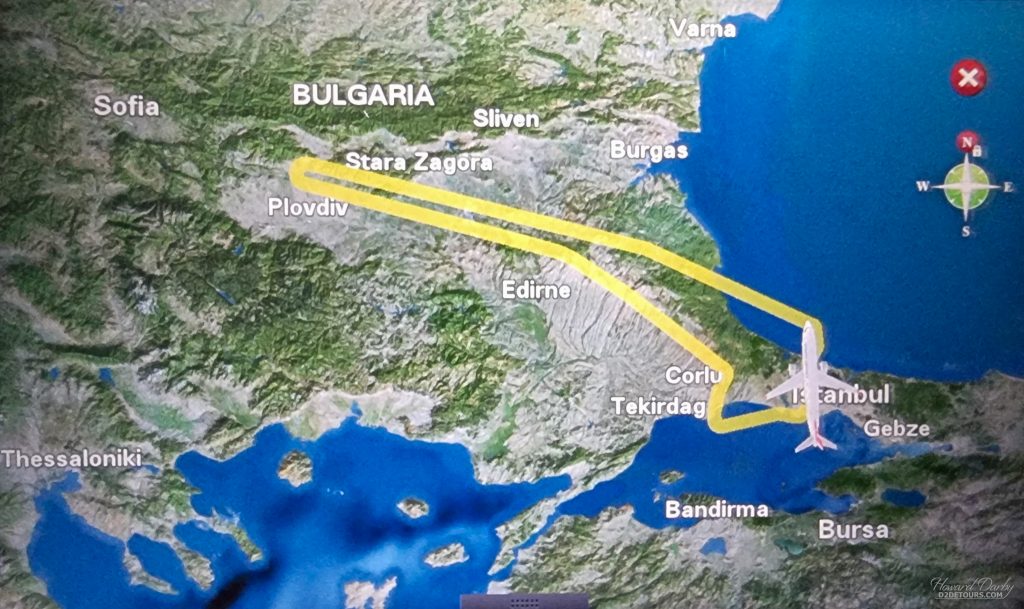 Our next two flights were with Air Canada's partner, Turkish Airlines. We were quite impressed with Turkish Airlines. Air Canada only offered minimal beverage service on our 3.5 hours flight Calgary to Toronto. Turkish Airlines handed out hygiene bags with masks, wipes and antiseptic hand lotion, as well as toiletry bags containing slippers, socks, sleep mask, lip balm, toothbrush and toothpaste. Plus they fed us! We had dinner and breakfast on the Toronto/Istanbul leg which was almost ten hours in length. The Istanbul to Sofia flight was slightly over one hour and they provided us with another hygiene bag and fed everyone a light lunch. We were within 20 minutes of landing in Sofia when we were diverted back to Istanbul because of a lightning storm. By the time we got back to Istanbul the weather cleared so they refueled to head back to Sofia and the airline fed us another light lunch!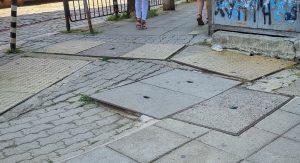 Sofia (pronounced Soph'ya not Soph'e'a) is an interesting city with a remarkably long history.  There has been a settlement here for 7000 years. It was under communist rule for nearly 40 years after the second World War, so much of the infrastructure is lacking – the sidewalks are treacherous and I've rolled my ankle twice! Our Airbnb is located just north of the city centre in an area which is older and a bit more rundown but a few blocks south there are lively neighbourhoods with restaurants, bars and parks.
We have taken advantage of a couple of city tours, which were outstanding and I would highly recommend them both. The Balkan Bites Food Tour took us to five restaurants where we got to sample some of the local food and wine – and the tour was FREE! With respect to wine, Bulgaria's wine history dates back to the mysterious Thracians (that's a history lesson for another time) who occupied much of the Balkan peninsula in the 6th to 3rd centuries BC. During the 1970s and 80s Bulgaria was the 4th largest producer of wine in the world, albeit a state-run, socialist monopoly with 90% of the wine produced being shipped to Russia, so most of the world was unaware of their excellent wines. With the collapse of the Soviet Union, winemaking suffered but Bulgarian wine is making a comeback with many of their varieties winning tasting awards. And, perhaps more importantly, it is affordable. Actually, "affordable" might be an understatement as it is downright CHEAP. I've been sampling various Rosés with price points between $3.60 and $8.00 /bottle (CDN$) and everything has been very drinkable – light, tart and refreshing.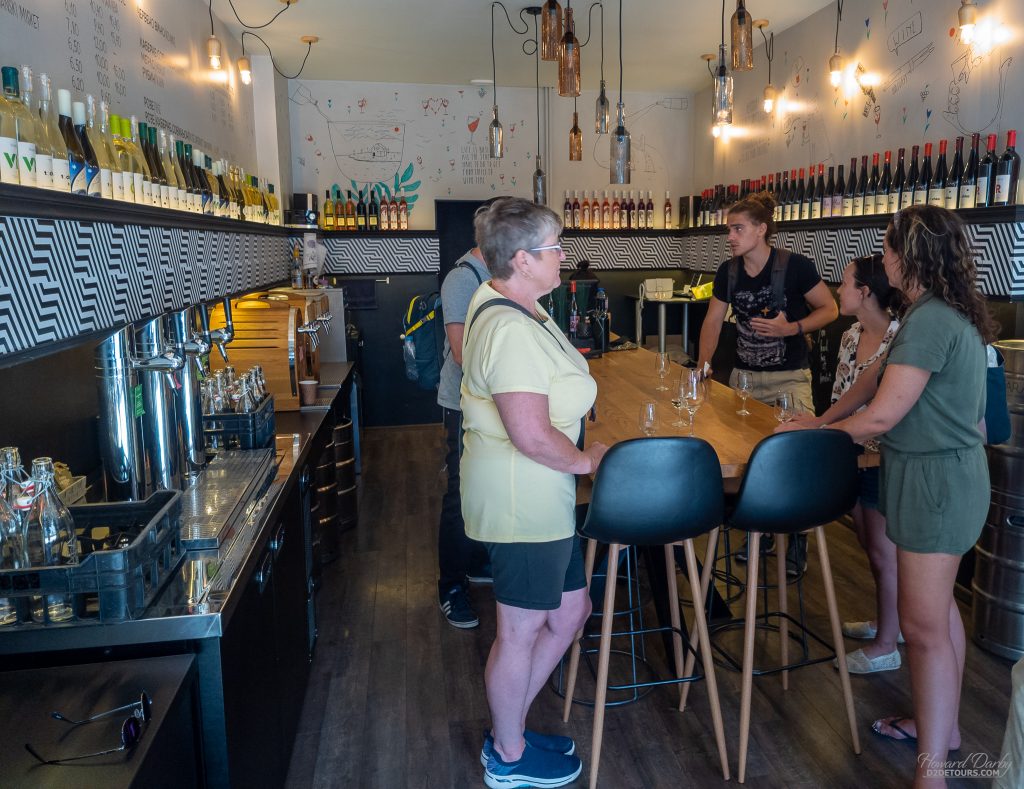 The second tour we did was a Sofia City Walking Tour (also free) which was a short, but very informative history of Sofia from the Roman city of Serdika in 177 BC through to communist rule in the last half of the 20th century.
All of the coming week is supposed to be hot (38°C/100°F) so we plan to visit a couple of indoor museums and take a day trip to the Rila Monastery, a 10th century Orthodox monastery in the mountains about 2 hours from Sofia. The Olympics have started too, so since this is our life now rather than just a holiday we don't feel like we need to be out sightseeing everyday, and plan to spend some of our remaining time in Sofia relaxing in our air conditioned Airbnb cheering on Team Canada, interspersed with at least one walk a day to get baklava and cheap wine.