I don't know if you've noticed, but I'm kind of a history nut. Sometimes it's a bit overwhelming trying to distill thousands of years of history into a manageable chunk, and Vietnam's past was one of those challenges; I kept getting lost in minutiae. So I finally admitted defeat and what follows is just a snippet of their colourful story.
Modern Vietnam is an s-shaped strip of land on the eastern edge of mainland Southeast Asia. It measures roughly 1650 km (1025 miles) north/south, and at its narrowest point is only 50 km (30 miles) wide.
Much of the early history in the northern territory (roughly 111 BCE to 1428 CE) is one battle after another fighting with the Chinese for supremacy, often with the Chinese on the winning side. Finally, in 1428 CE, the Dai Viet kingdom successfully declared their independence. While the north was struggling with the Chinese, the land to the south was the realm of the Kingdom of Champa, a powerful maritime culture that flourished between the 4th and 14th centuries CE and was heavily influenced by Hinduism. In 1471 CE, the Dai Viet kingdom invaded the south and Champa became a vassal state until 1832 when it was formally annexed.
A unified and independent Vietnam didn't last for long. The Cochinchina campaign (1858-1862) was a joint military expedition between France and Spain that resulted in nearly a century of French colonial rule in Vietnam. Resistance to the French "civilizing mission" began almost immediately but it wasn't until 1954 that the Vietnamese people, led by Ho Chi Minh, took back their country, well, a portion of their country. During the ensuing peace talks, it was agreed that Vietnam would be divided into Communist Northern Vietnam and Southern Vietnam. France had relied heavily on financial and military support from the United States in the final years of its battle against the Viet Minh (the Vietnamese resistance movement). When they were soundly defeated in 1954 they withdrew their military, leaving control of South Vietnam to the Americans and many of us know how that played out.
The Vietnam War began on November 1, 1955 and ended with the fall of Saigon on April 30, 1975. The new government of the now unified country of Vietnam implemented several programs designed to create a socialist utopia, but after a decade it became clear their plan was a failure.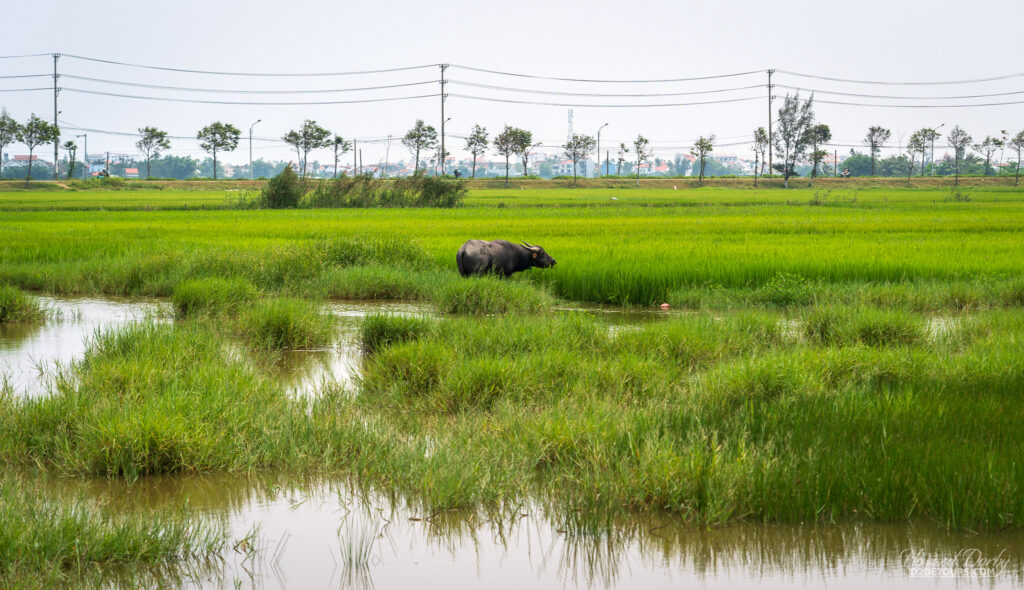 In the mid-80s an economic reform program known as doi moi (renovation) was introduced, which encouraged the growth of private business and sought to attract foreign investment. It worked. Over the next few decades Vietnam grew from one of the poorest countries in the world to one of the fastest growing economies – median household income quadrupled. It is the second largest producer of coffee (just behind Brazil), 5th largest producer of rice, 6th largest procedure of tea and coconuts, and the list goes on. Manufacturing (textiles, footwear, electronics, chemicals) accounts for nearly 20% of the GDP (Samsung produced 40% of its phones in Vietnam) and tourism is exploding. In 2000 only 2.1 million international visitors travelled to Vietnam. By 2019 that number had risen to 18 million and its popularity (especially with expats) only continues to grow.
Dollars – We averaged just under $117/day Canadian ($87 USD / €80) for our 30 nights in Vietnam (5 nights in Hanoi, 18 nights in Da Nang and 7 nights in Hoi An). Airfare from Seoul, Korea to Hanoi and then from Hanoi to Da Nang ($761 CAD total) accounted for a little over 20% of our total expenses, whereas our day-to-day expenses were extremely budget friendly. Food averaged out to roughly $26/day and that included one splurge of $43 to celebrate my birthday otherwise most of our dinners were under $20. And while wine was rather pricey, if you could even find it, ordering a beer was on par with pop, roughly $1.50/can and right around $1/can if you purchased them in a grocery or convenience store. Our accommodation (five different units) averaged out to $46/night, with Hanoi being the most expensive at $61.50/night. We left Vietnam with a nice little surplus in our bank account.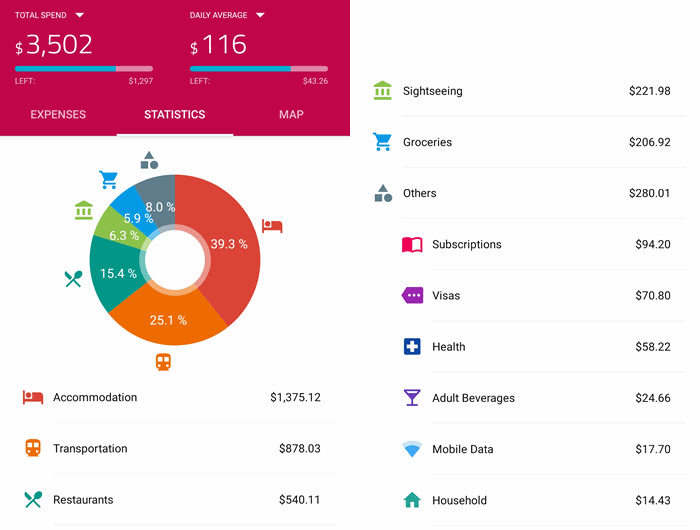 Environment
Hanoi: We stayed in an Airbnb on the edge of the old quarter, about three blocks east of Hoàn Kiếm Lake. The unit was at the top of five flights of stairs that became progressively narrower the higher we climbed – the last two flights were barely two feet wide (good thing we now only travel with carry on sized luggage)!
It was a very large studio suite, had a wonderful mattress with a bamboo memory foam topper and a covered balcony with a bar-type ledge overlooking the street. We spent several late afternoons perched on the stools enjoying the ambiance.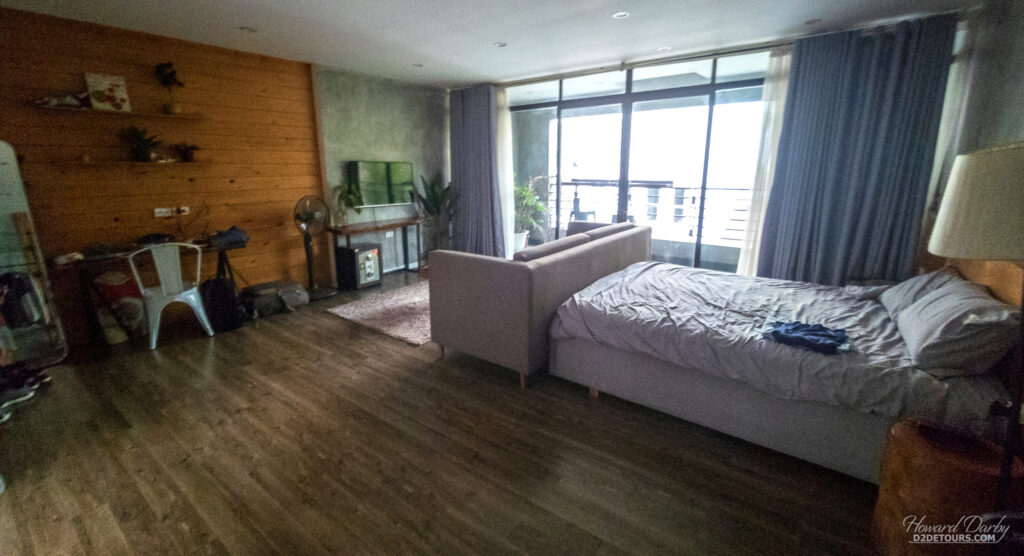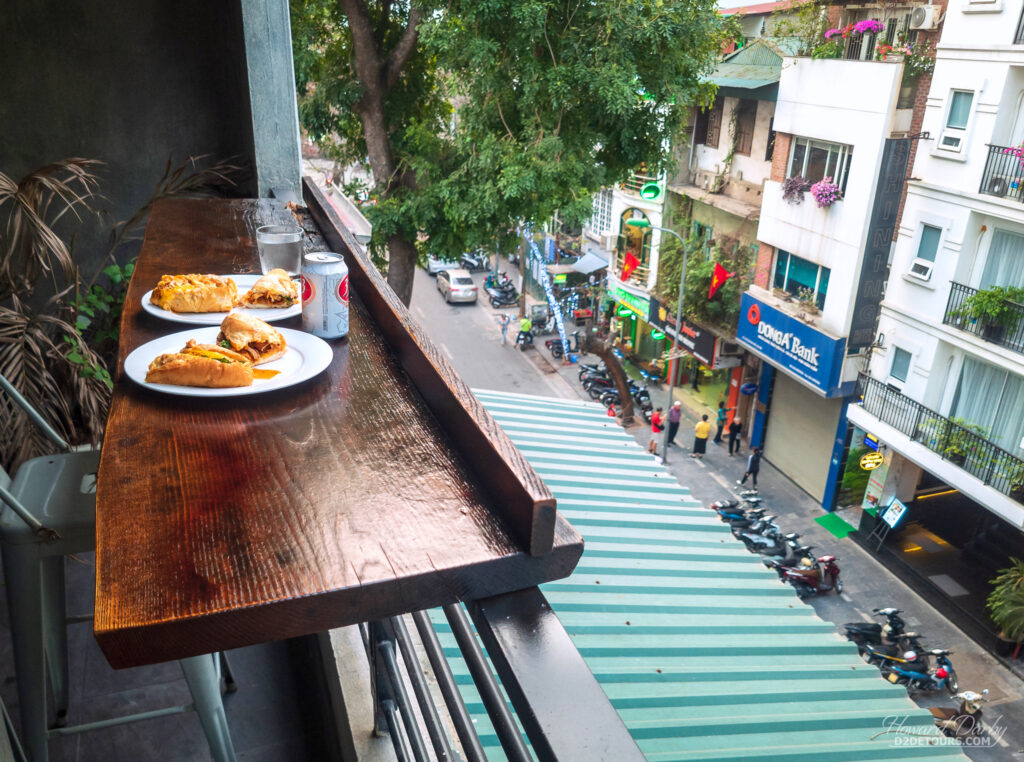 Da Nang: We planned on spending just over three weeks in Da Nang, hoping that a long stay would net us a really good deal in one of the ocean-side condos. Several people in the various Facebook groups we follow had mentioned they only booked a hotel for a night or two upon arriving in Da Nang and then found crazy cheap accommodation by actually stopping by various apartments and speaking with the front desk. So armed with this "advice" we booked a room at the Oasis Hotel (several blocks from the ocean with a price that reflected its location, $27/night CDN) and spent a few hours traipsing up and down the streets near the ocean, meeting with zero success. The best deal we could find was $58/night CDN for a studio with a partial view of the ocean (if you stood with your face pressed up against the windowpane) and to secure that rate we would have to pay for 28 days (we only needed 23). Feeling rather discouraged, we spent several more hours scouring online at Booking.com, Agoda and Airbnb finally settling on a one-bedroom unit overlooking the Han river, just a few blocks from the Dragon Bridge. The view from the unit was spectacular at night as many of the buildings along the river light up as the sun sets, giving the whole area a bit of a party-vibe.
That vibe was evident in the god awful, eardrum bursting karaoke serenading each evening that, thankfully, shut down at 9:30pm on the dot. Our failure at finding cheap accommodation turned out to be a blessing in disguise as we opted to split our time in Da Nang with a stay just down the coast in the ancient town of Hoi An, and when we came back to Da Nang for our last week in Vietnam we found the perfect unit at the Sekong Apartment, not to be confused with the Sekong Hotel which is owned by the same company but are just hotel rooms. The apartments are furnished, with kitchenettes, a balcony, floor to ceiling windows running the length of the unit (the rooms on the front of the building have a view of the ocean) and a POOL.
Da Nang in March/April is hot, hot, hot and humid (which just about kills a Canadian who grew up on the prairies) and we spent every afternoon paddling in the cool pool water, it was heaven. The building is only a block from the ocean and the beach, with lots of restaurants nearby, and at just under $42/night CDN was the deal we had been hoping to find!
Hoi An: We stayed at the Hoa Vang Riverside Villa, a small (six room) family-run business with breakfast included in the price (eggs, any style, juice, coffee and bread) and has bicycles available for their guests.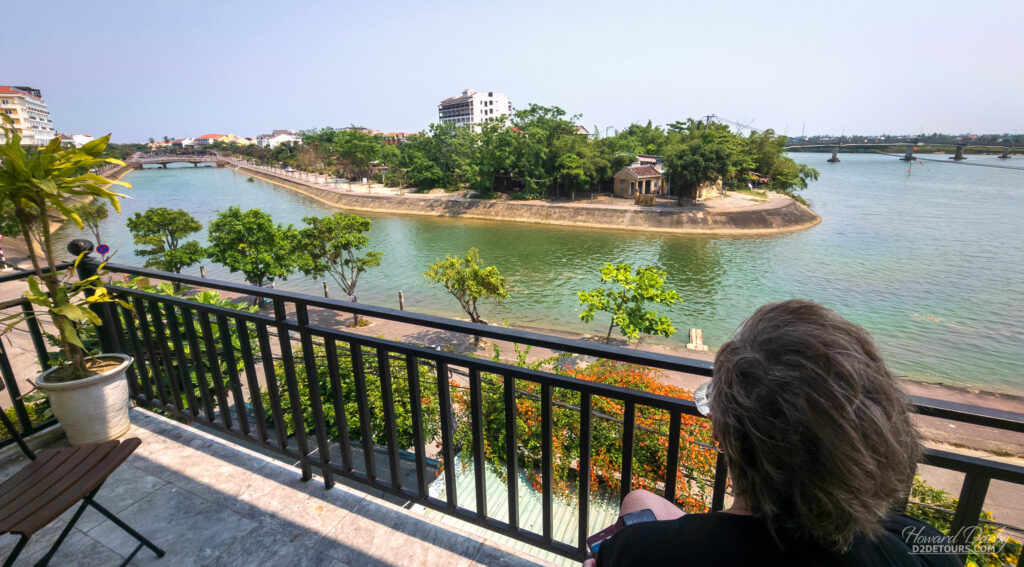 The Hoa Vang Villa is a couple of blocks from the ancient quarter which lowered its nightly rate ($40/night CDN for one of the two river view rooms) and meant it was fairly quiet at night. Most visitors only stay in Hoi An for a couple of days, but we thought it was a perfect place to spend seven nights. The matriarch of the family was thrilled that we stayed for so long and did her best to make us feel like we were part of the family during our stay.
Tips, Tricks & Transportation – Canadians, along with 45 other nationalities, require a visa to enter Vietnam. When we visited (March, 2023) a single stay visa valid for 30 days was the only option available and an e-visa was easy to get through the government online portal. It must be obtained before arrival and took about three days to land in our inbox, at a cost of $25 USD/per person. The e-visa cannot be extended, however many people do monthly "border-runs" (exiting the country and immediately re-entering) to obtain a new 30-day single entry visa. We spoke with one Canadian couple staying in Da Nang who have been doing just that for the last four months using Lynn Visa to manage the logistics. It's a long day (about 10 hours taking the bus to/from the Laos border) but a relatively economical and convenient way to extend your stay in this beautiful country.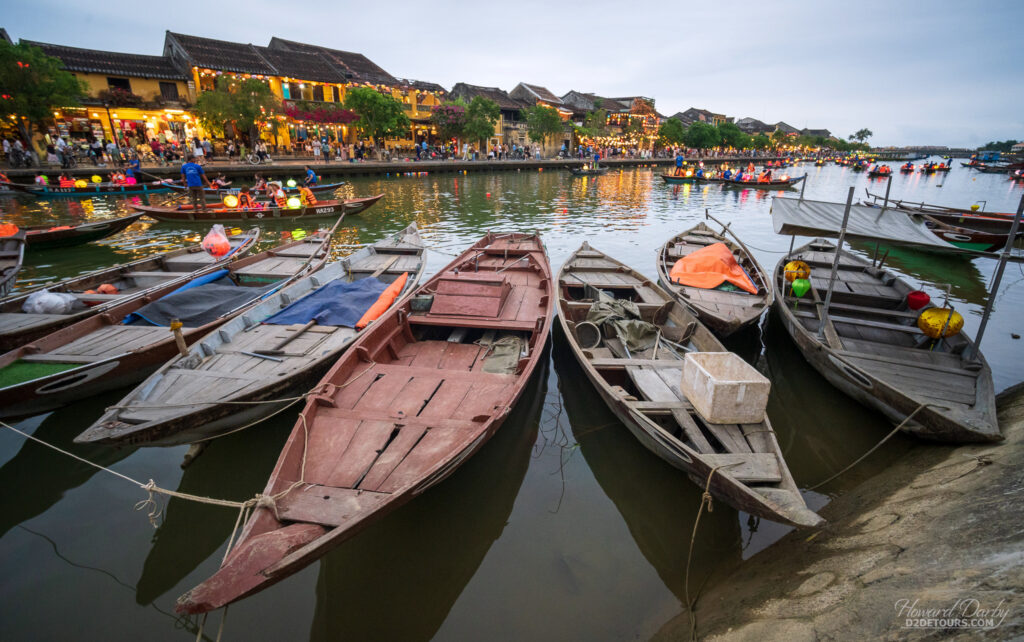 Grab, Southeast Asia's version of Uber, is the best way to get around, plus they also offer restaurant food delivery. Similar to Uber, you have your choice of the comfort level (luxury or standard car or even a motorbike) and you know immediately what the cost will be … no need to "remind" the taxi driver to start the meter, or haggle over the price. Occasionally a road toll or airport access fee will appear as an additional charge at the end of the trip, but they are nominal. Most of our rides only cost a couple of bucks and was a great way to arrive at a restaurant feeling refreshed versus a puddle of sweat. We even took a Grab from Da Nang to Hoi An ($20 CDN). Again, like Uber, it's an app for your phone and there is a huge pool of drivers in Vietnam, so make sure you're walking out the door when you order one – invariably a car arrived within a minute of us making a request!
FYI, cash is king in smaller cities like Hoi An. If you are using a credit card there don't be surprised to have a 3% service charge automatically added to your bill (a similar charge never appeared on our bills in Da Nang and Hanoi).
Out and About
Hanoi: We previously visited Vietnam in 2017, staying in Hanoi, Hoi An and Ho Chi Minh City (Saigon). That visit was a private tour which included all of the Hanoi highlights: Hao Lo Prison, (aka the Hanoi Hilton), the National Museum of Vietnamese History, The Ho Chi Minh Mausoleum, the Military History Museum, Temple of Literature and the Imperial Citadel of Thang Long, all of which are absolutely worth seeing but this time we spent our days just wandering the old French quarter soaking up the sights and sounds and smells.
We did trek over to the Ngọc Hà neighbourhood where the wreckage of a B52 bomber shot down in 1972 still sits in the waters of Huu Tiep Lake.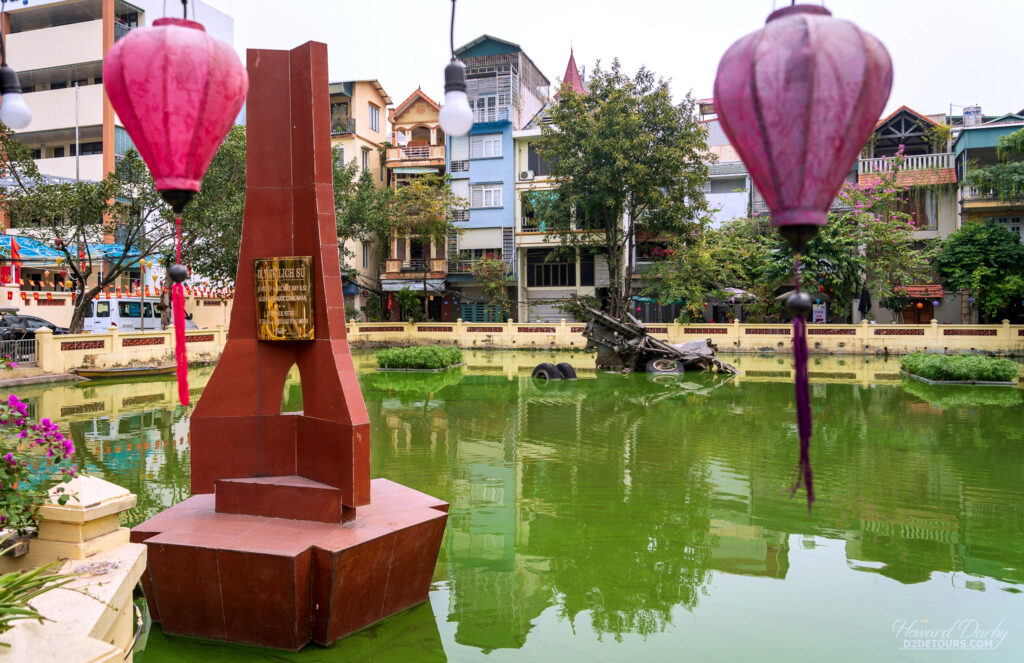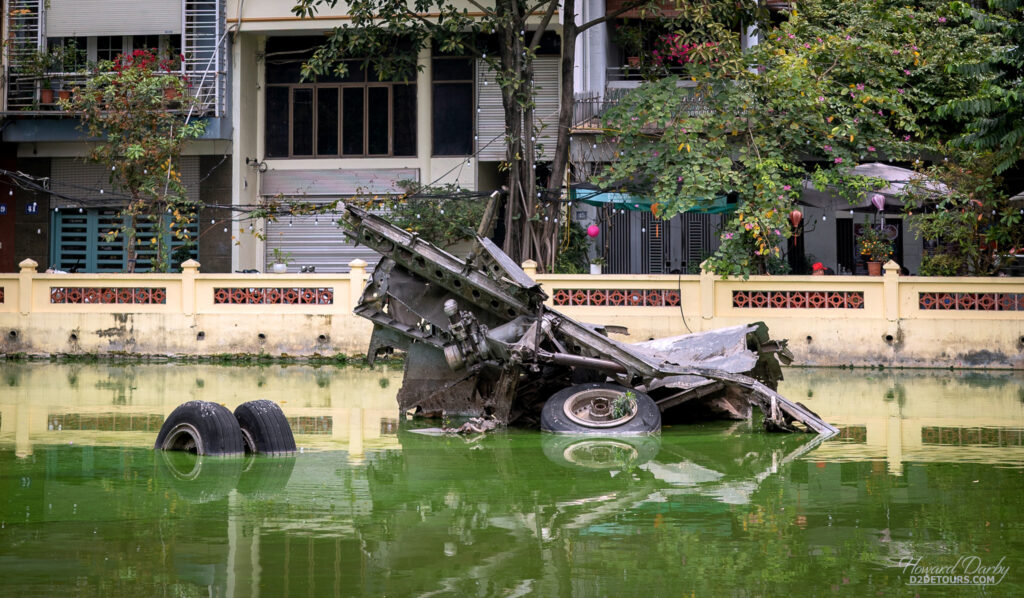 Our route took us past the impressive north gate of the Imperial Citadel, which still bears evidence of French cannon fire from a 1882 battle.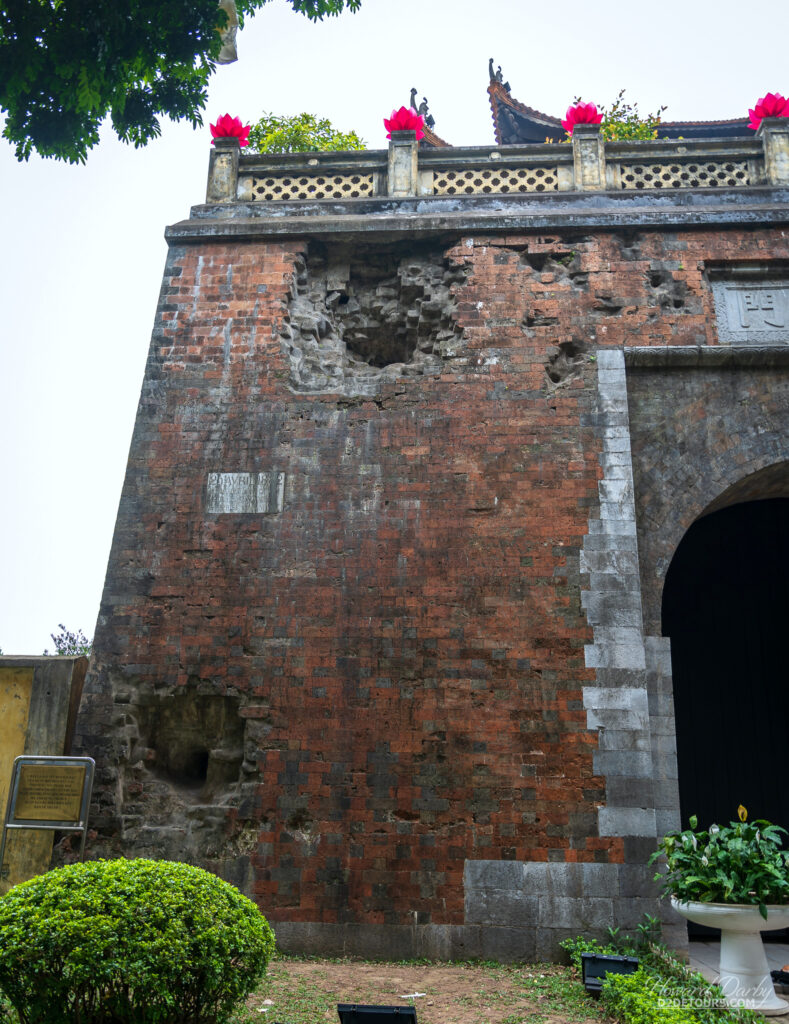 We detoured through the Hanoi Botanical Garden, thinking there was an exit on the far side which would make for a prettier walk than the noisy sidewalks, but those exits were barred so we had to circle back to the front entrance and carried on along the street (it was only $0.11/pp to get into the garden so not a very expensive detour!)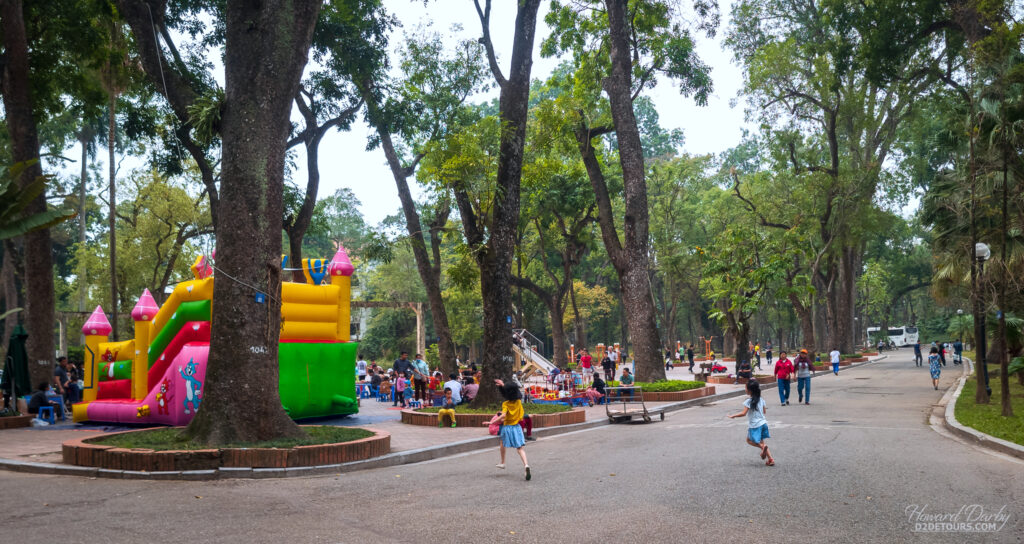 Our Airbnb was near Hoàn Kiếm Lake, a freshwater lake in the historic center of Hanoi. Legend says the King of Vietnam fashioned a sword from a piece of metal caught while fishing on the lake and used that sword to defeat the occupying forces of the Ming army (15th century ish). Following the battle, the king was again fishing on the lake when a golden turtle rose from the waters imploring the king to return the sword to the dragon king. At that time the lake was known as Lục Thủy (green water, a very apt name), but upon restoring the sword to its rightful owner, the Vietnamese king renamed it Hoàn Kiếm – Lake of the Returned Sword. It's a wonderful area to walk around, both during the day and at night, Friday, Saturday and Sunday nights in particular when several of the surrounding streets are closed to traffic and a massive night market pops up.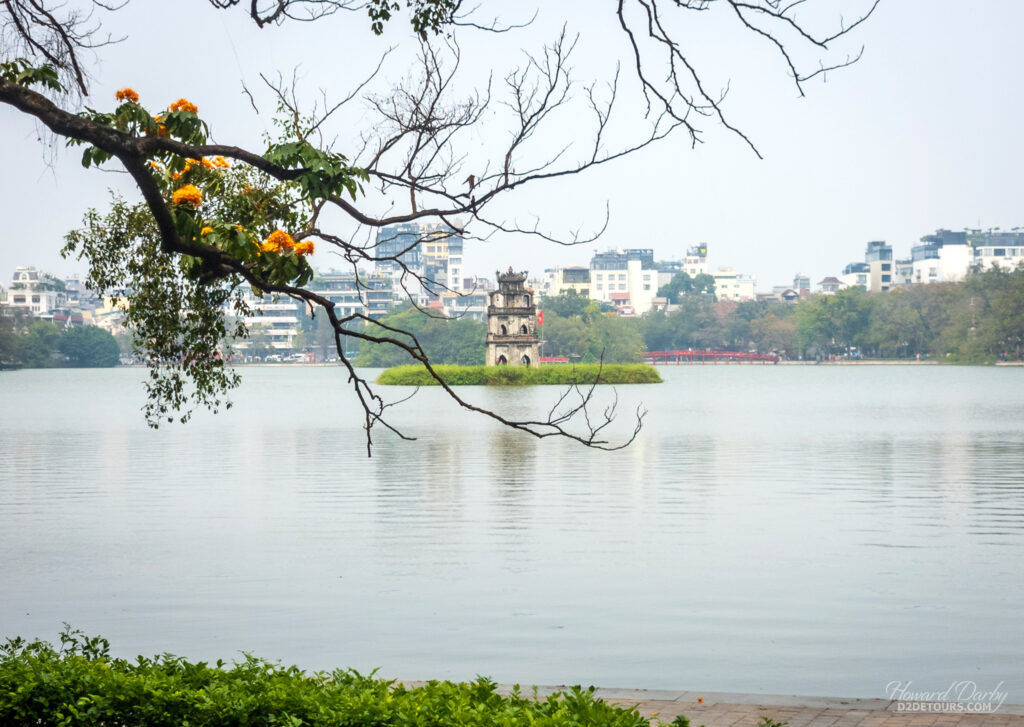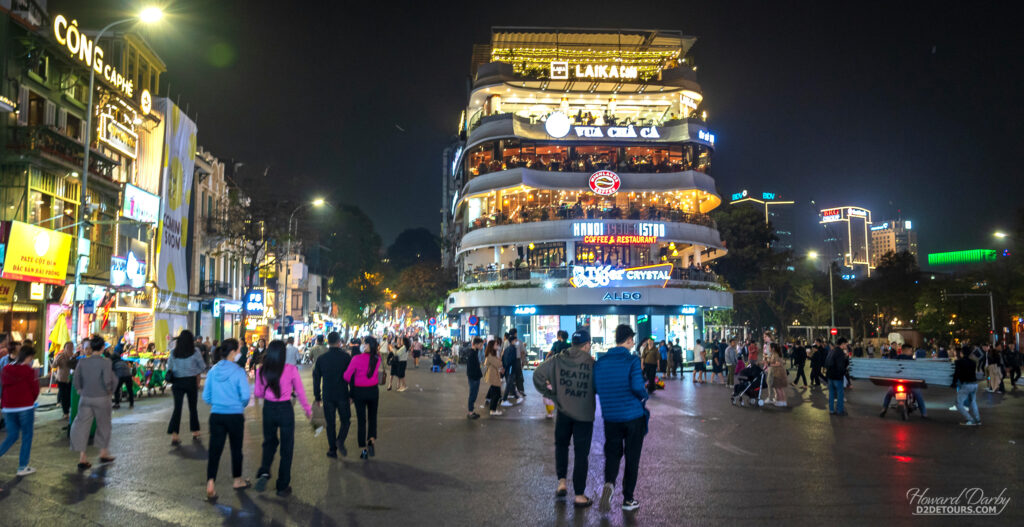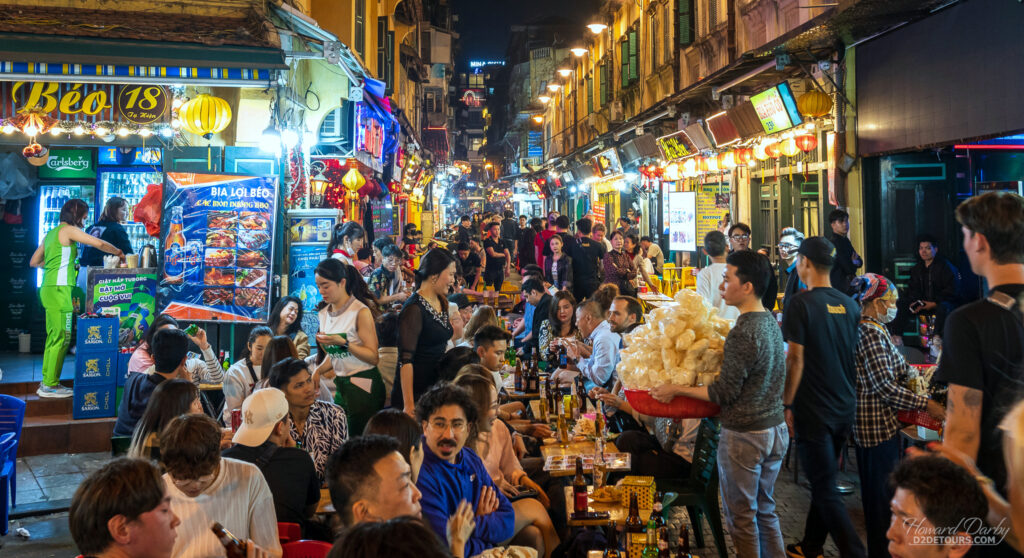 Navigating the streets of Hanoi is an adventure and takes a certain degree of courage. The cars, of which there aren't very many, do pay attention to traffic lights but the scooters/motorbikes, of which there are literally millions (in a city with a population of 8 million, there are 5.6 million motorbikes), follow their own path. Once you've committed to crossing a street, don't hesitate, keep moving forward, trust that the bikes will weave around you, and they will! And the motorbikes aren't just on the road, they park on the sidewalks often leaving no space to walk, forcing pedestrians to walk on the street, beside the sidewalk!  Hanoi is an experience, albeit a good one.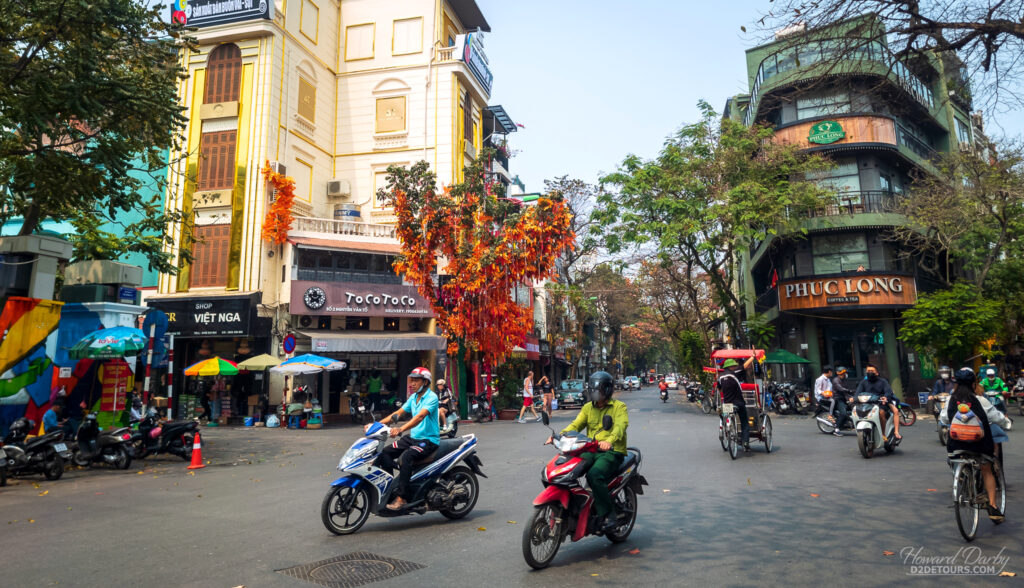 Da Nang: My Khe beach on the South China Sea (or, as the people of Vietnam prefer to call it, the East Sea) is quite lovely. Soft white sand and warm water. During the midday sun only a handful of crazy tourists venture out in the scorching heat, to play in the waves.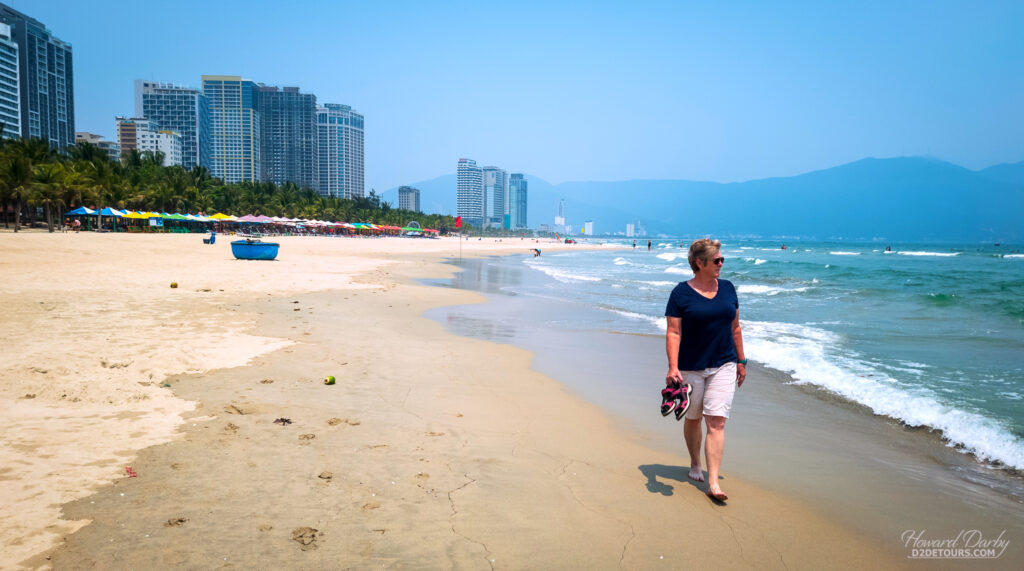 It's a different scenario once the sun sets. People are shoulder to shoulder in the small sections of water marked out for swimming, beach volleyball nets appear on the sand and clusters of line dancers stake out a spot on the promenade. Restaurants and bars are full; the energy is palpable.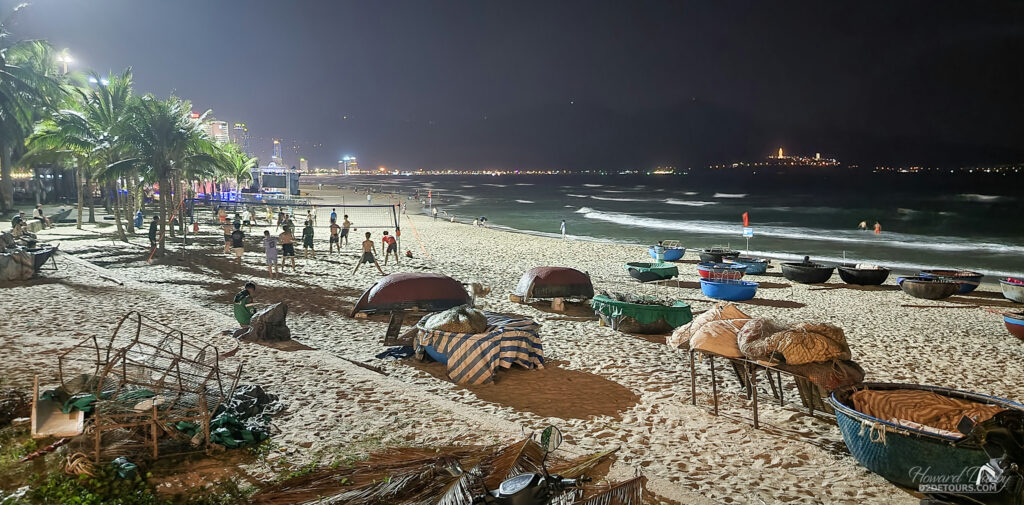 Several blocks from the beach the evening atmosphere along the river is no less lively.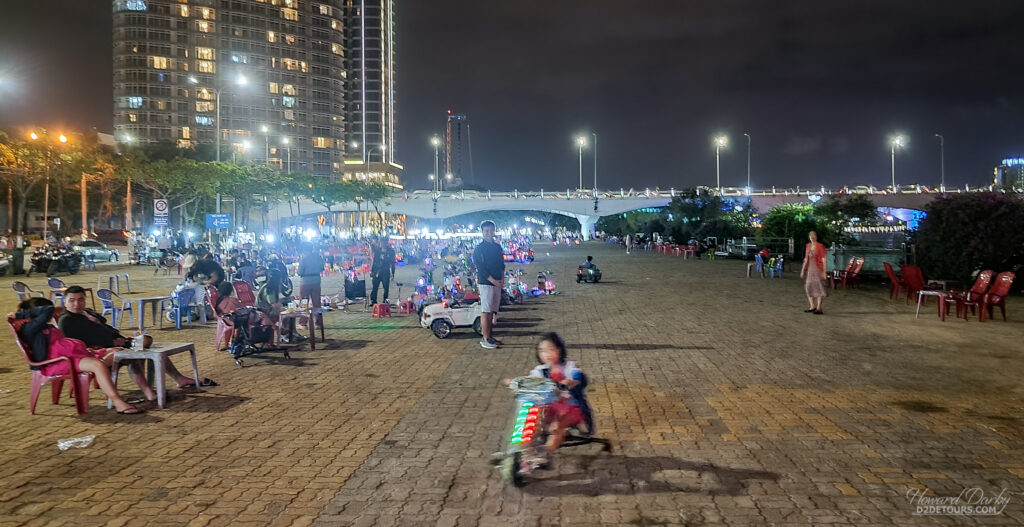 Pop-up restaurants and ceramic painting stalls run the length of the river promenade, illuminated river boats cruise the Han River, music and lights are everywhere and at 9pm every Friday, Saturday and Sunday night the spectacular Dragon Bridge comes to life, breathing fire and water – Wow!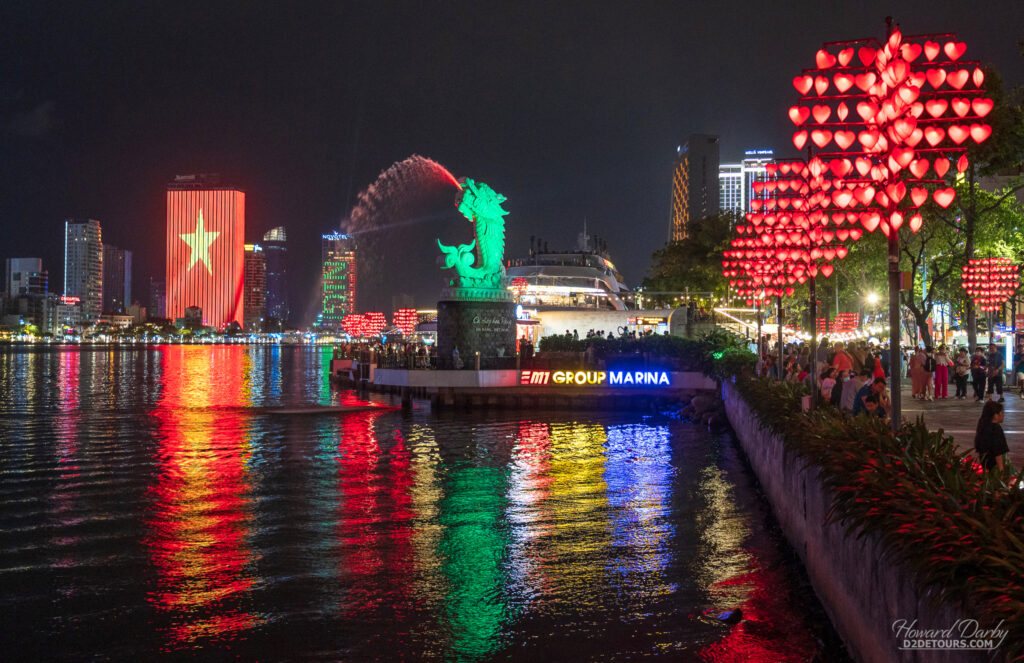 A more serene side of Da Nang can be found at the Linh Ung Pagoda on Son Tra Peninsula where Lady Buddha resides. Rising from a courtyard filled with bonsai trees and spiritual sculptures is the tallest buddha statue in Vietnam – on a clear day you can see it from Hoi An. At a height equivalent to a 30-storey building, the dazzling white Lady Buddha offers her protection and strength to the local fisherman.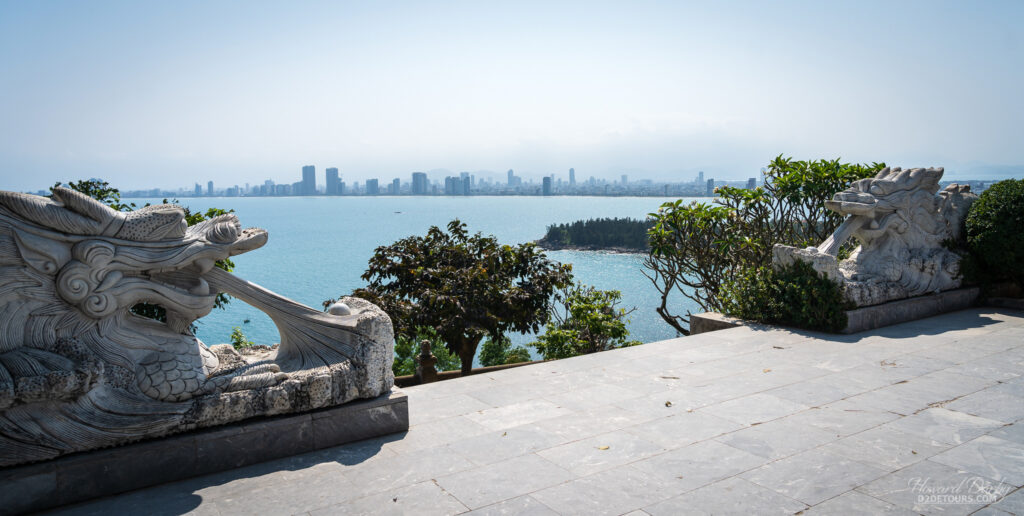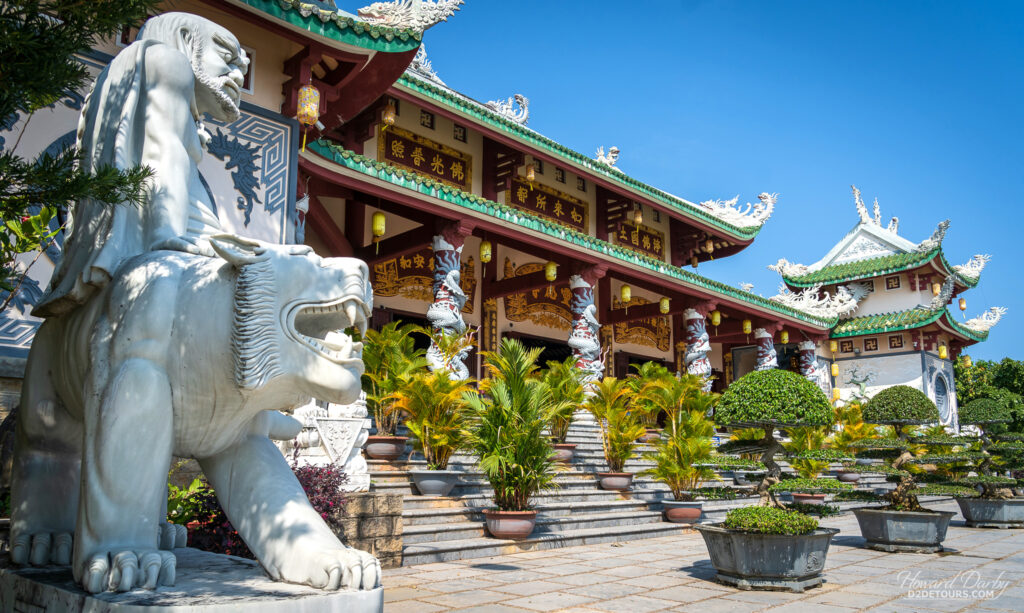 The Marble Mountains, five marble and limestone hills located just south of the city, shelter several caves with Buddhist and Hindu sanctuaries. The hills are named for the five elements of nature: Kim (metal), Thuy (water), Moc (wood), Hoa (fire) and Tho (earth) and only one, Thuy Son, is accessible to tourists. A flight of 156 stone steps leads to its summit with many more stone steps awaiting you as you explore the mountain. I highly recommend you take the available lift to the summit and enjoy the walk down the steps at the end of your visit. The entrance fee is đ40,000 VND/pp ($2.25 CDN) and a one-way ride on the lift is đ15,000 VND/pp ($0.85 CDN). The Marble Mountains are a popular attraction and getting there earlier in the day was wise both to avoid the heat and the crowds. A Grab ride is the easiest way to get there, roughly $6.50 each way from our hotel near the beach.
While Grab is an economical way to get around the urban areas, using it to get to some of the sites outside city limits is a bit inconvenient. Lots of people in Da Nang offer their services as private drivers and we were given business cards several times just walking near the beach. While in Da Nang, and Hoi An, we crossed paths with several nomadic couples we'd met through Facebook and everyone seemed to have contact information for drivers! We did a day of sightseeing with a couple we'd first met in Romania last year and used their driver to take us to Ba Na Hills and the Linh Ung Pagoda. We were rather disappointed when we'd agreed on one price at the beginning of the day and then he demanded more money at the end of the day, although it was hard to be too indignant when it only cost each couple $30 for about six hours of sightseeing. The main impetus for this day of sightseeing was to go to Ba Ha Hills, an amusement park with a world-famous, instagrammable bridge, the Cau Vang (Golden Bridge) and the only entrance to the park is by cable car. But not just any cable car… the world's longest cable car system. Is the Golden Bridge a sight to behold, sure, it's pretty photogenic and the ride in the cable car above the canopy of trees was gorgeous. Was it worth the nearly $50 CDN/pp entry fee … not in our opinion. It is not a historical site, everything is modern fabrication (it's Vietnam's version of Disneyland), but the bridge is "iconic" and we certainly enjoyed sharing the day with friends.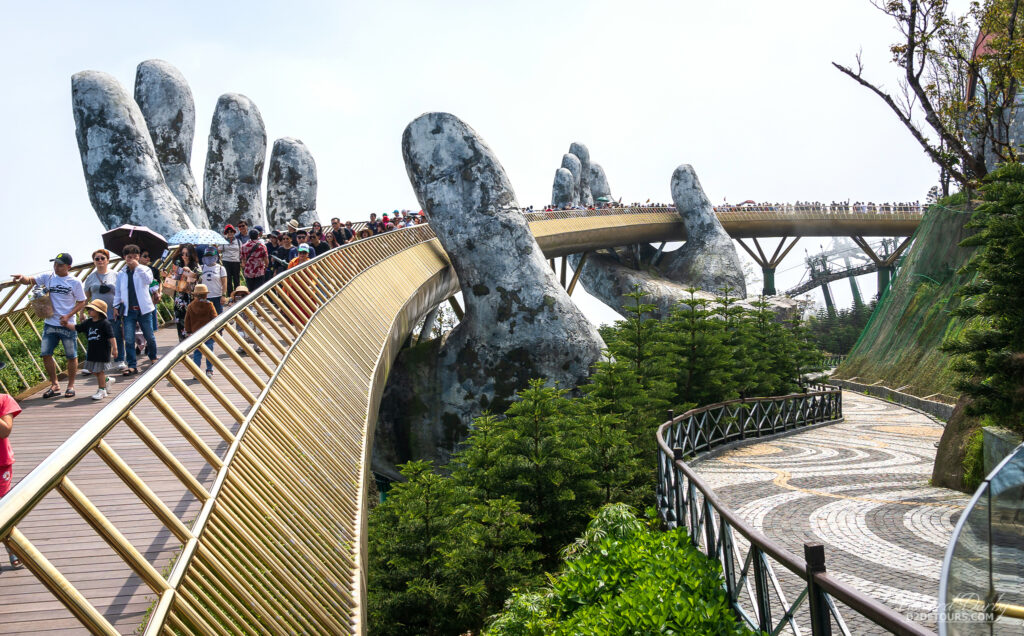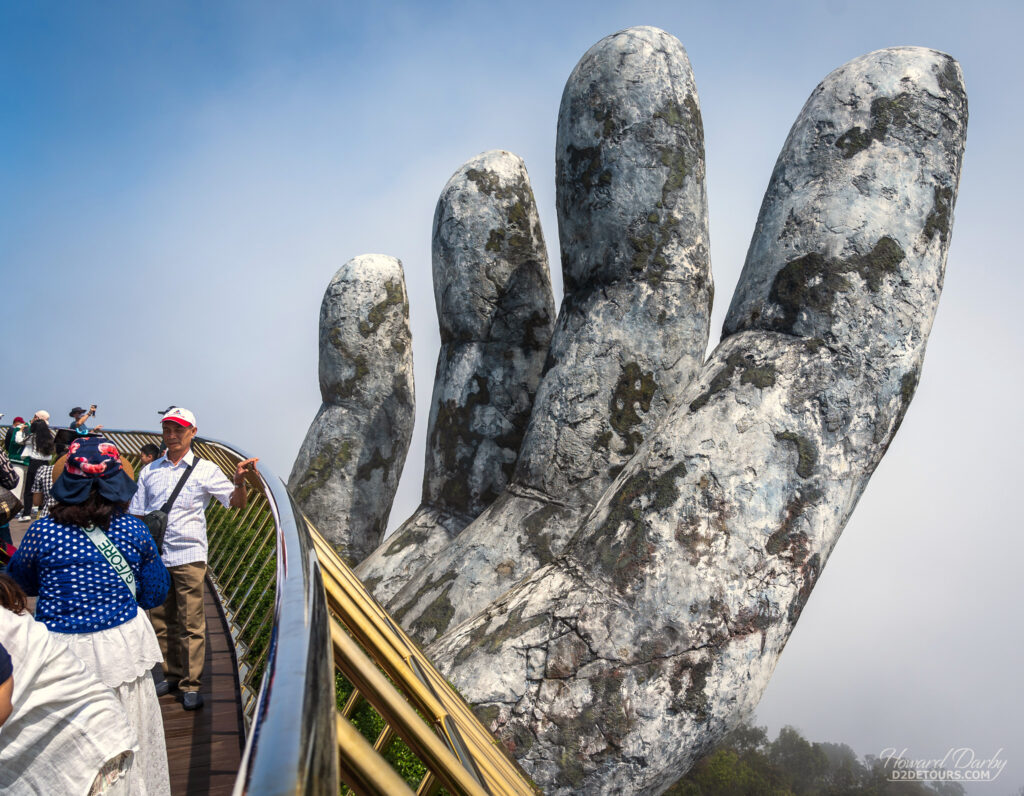 Far less of a tourist trap and, in my opinion a better use of my travel dollars, was the Da Nang Museum (entry fee đ20,000 VND/pp / $1.15 CDN). Historical and cultural artifacts with reasonably good signage. We arrived mid-morning and were completely alone for the duration of our visit (a little over an hour).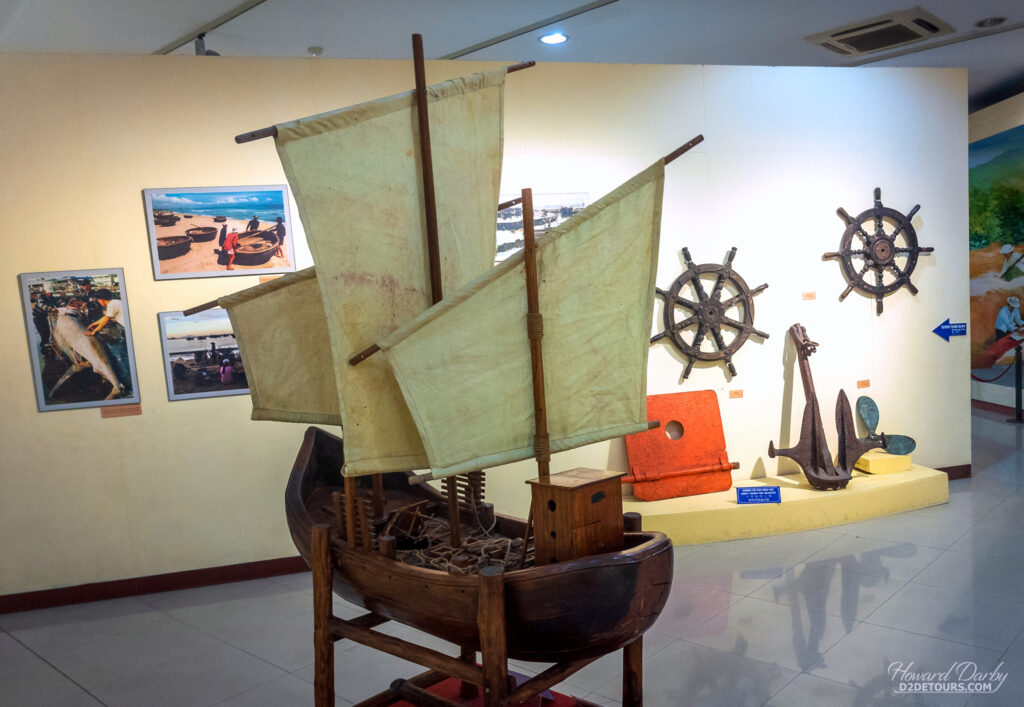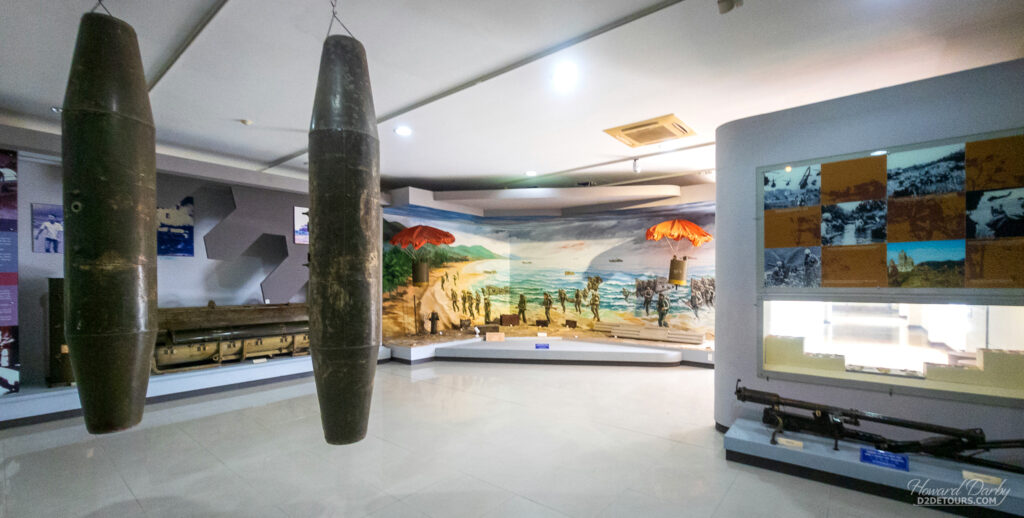 Hoi An: Roughly 30 km down the coast, south from Da Nang, is Hoi An, an old trading port along the Silk Route (15th to 19th century). The ancient quarter is an eclectic mix of architecture: Chinese shophouses and temples, French colonial buildings, the iconic Japanese Covered Bridge and Vietnamese merchant homes, many of which now house clothing and souvenir shops. It is VERY touristy, but enjoyable nonetheless. Just like Hanoi, we'd previously seen the recommended (and worthwhile) museums (Trade Ceramics, Sa Huynh Culture, Hoi An Folklore, Traditional Medicine and the Covered Bridge) so instead enjoyed meandering along the vibrant streets and loved the atmosphere after sunset.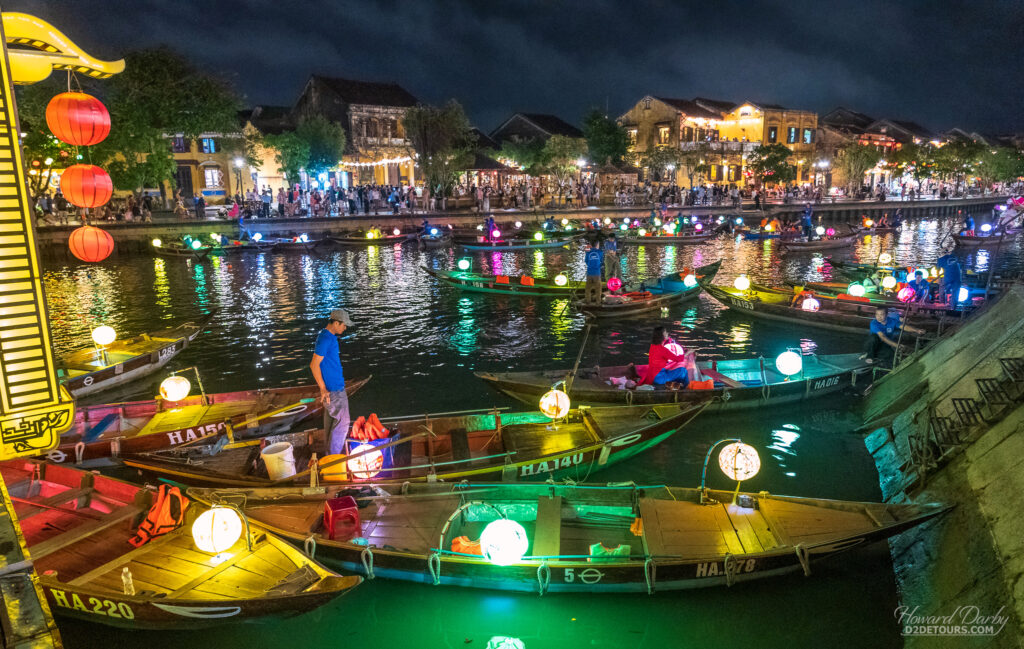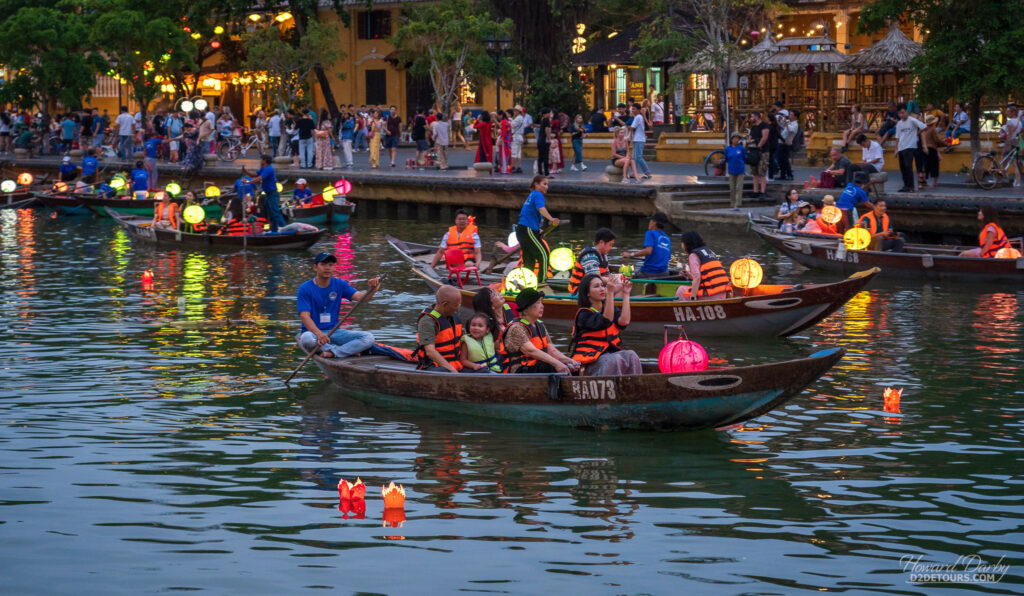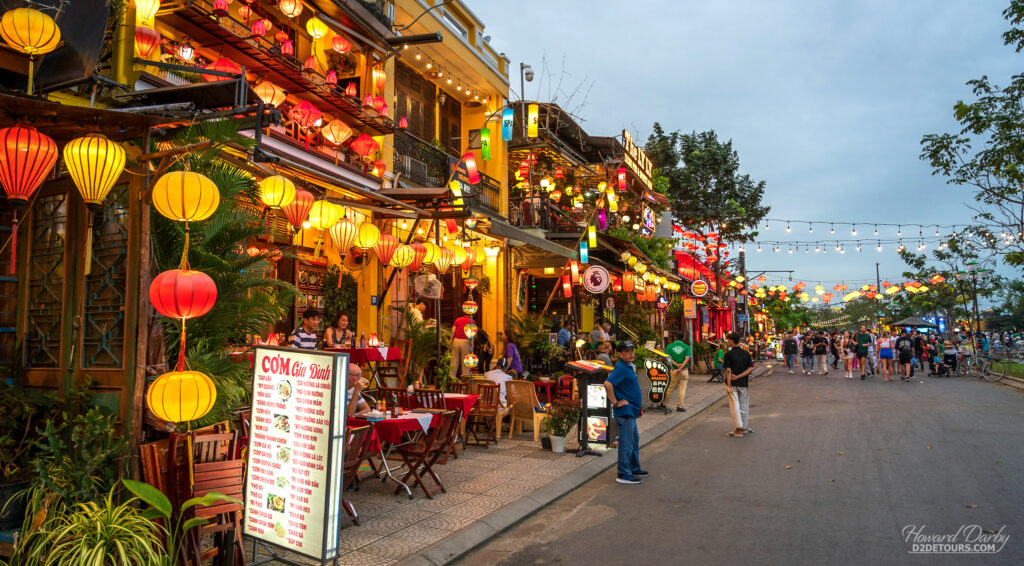 We did avail ourselves of the bicycles our hotel offered and headed out to see the rice fields between the city of Hoi An and the An Bang beach. Having bikes at our disposal was fabulous, but they were clearly not built for anyone taller than about 5'4" and it was an adventure sharing the road with motorbikes while dodging mud-filled potholes, dogs, chickens and the occasional water buffalo. It was definitely a different side of Vietnam. We stopped to admire an amazing tree carving and the artist came out to chat with us and show us a few of his other pieces – stunning workmanship.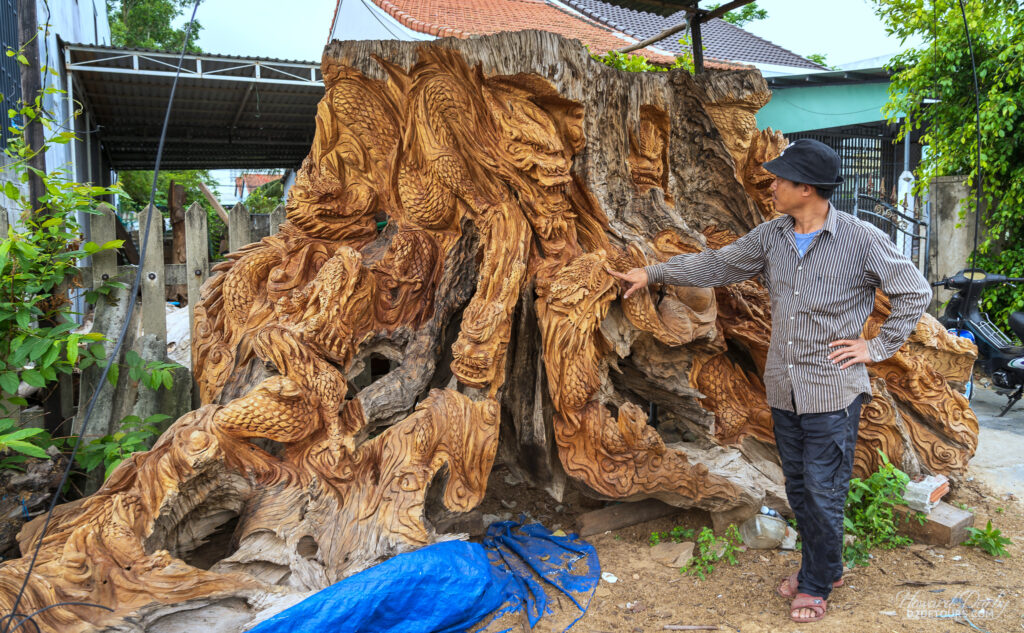 Just under an hour's drive west from Hoi An is the My Son Sanctuary, an important Champa temple complex built between the 4th and 14th centuries to honour the Hindu god Shiva.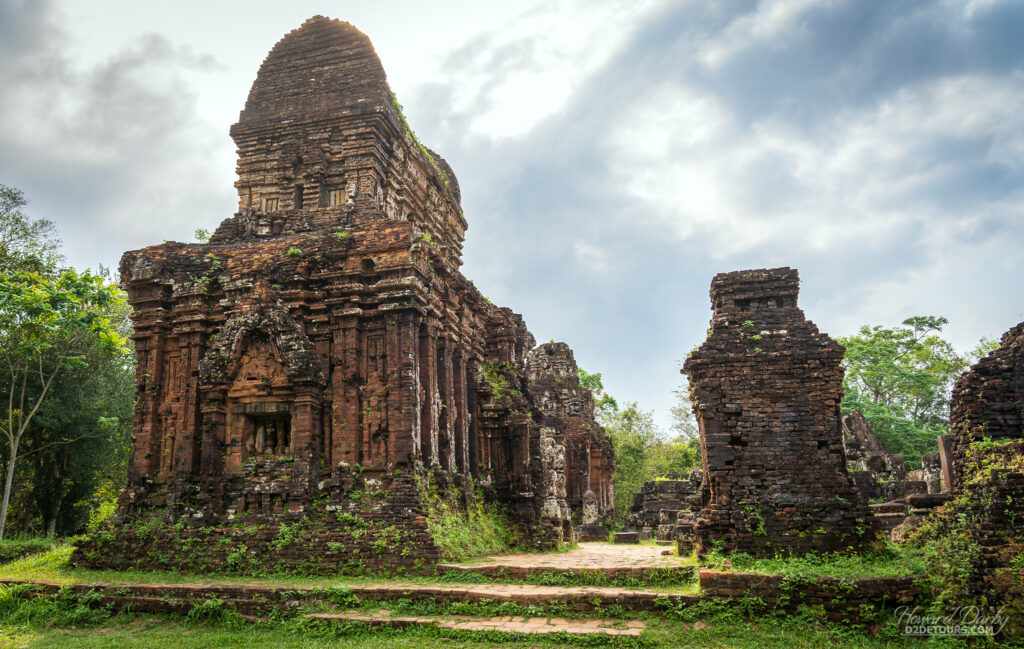 There are a variety of companies that will drive you to/from the Sanctuary, or you can pay for a tour with a guide. We opted to use a private driver, sharing the cost with friends we'd made last year in Croatia and with whom we crossed paths in Hoi An. Our portion of the transportation was $26 CDN and the entry fee to the Sanctuary was đ150,000 VND/pp ($8.75 CDN). A couple of hours is plenty of time to allot to a visit here. We arrived mid-afternoon (it closes at 5pm) and had much of the complex to ourselves. Reminiscent of the Hindu temple complex of Angkor Wat, though on a much smaller scale, many of My Son's structures are hundreds of years older. Abandoned for centuries, nature reclaimed many of the structures. In 1889 it was re-discovered though sadly much of the restoration work was undone during the Vietnam War when the Viet Cong established a base amongst the restored ruins and the Americans bombed the area (clusters of overgrown bomb craters are still visible in sections of the complex). A visit to the Sanctuary can be done from either Da Nang or Hoi An and is worth the drive.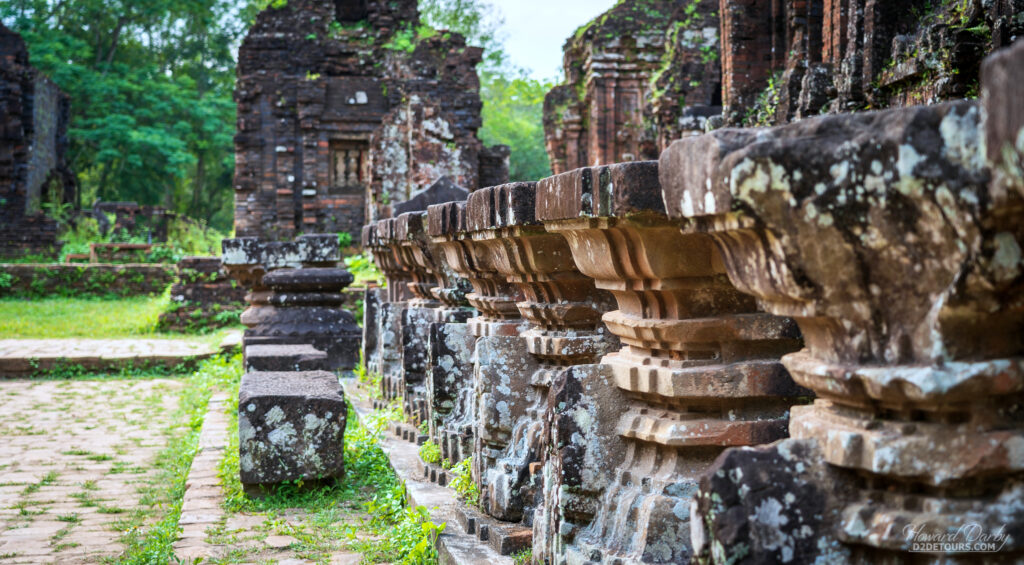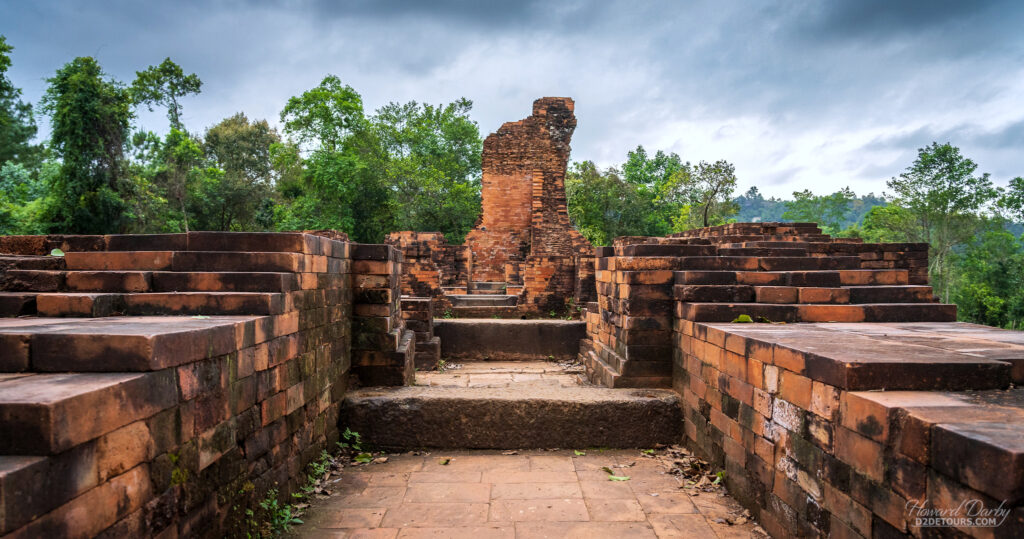 During our visit to Hoi An in 2017 I had the best massage of my life; it was the benchmark against which all future treatments were measured. The Pandanus Spa raised the bar. I was transported from my hotel to the spa by private car where I was greeted with tea and a foot bath. I had a 40-minute mineral scrub, followed by a 90-minute hot stone massage reducing me to a mass of blissful jelly. While waiting for the private car to return me to my hotel, I was served iced tea and fresh mango slices. The entire experience, including tips, was $48 CDN!!!
Us – We liked Vietnam, in particular Da Nang and Hoi An. The white sand beaches in both those locales are beautiful, the water is clean and pleasantly warm, the people in general are welcoming, and the whole country is a great place to be if you need to save a bit of money before or after you've splurged in places like Singapore or done some diving in Borneo and Indonesia (all of which are on our schedule in the upcoming months). We did decide that in this part of the world having a pool was a must-have for us, just like air-con and wifi! Off to Malaysia!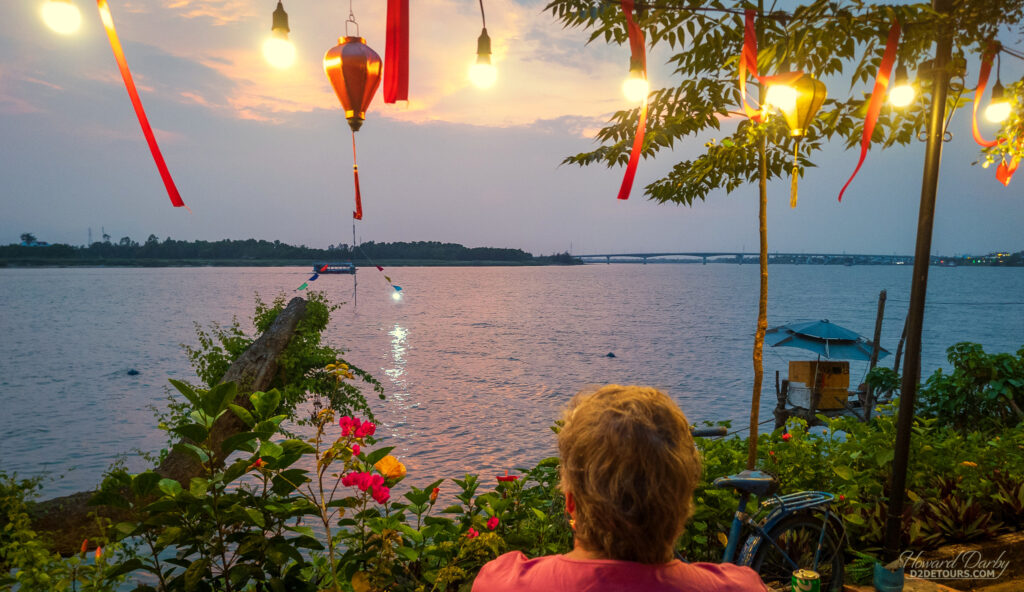 Restaurants – I like coffee but don't feel the need to start my day with a cup. That changed in Vietnam. Vietnamese coffee is divine. A robust coffee that almost tastes like it has a shot of whisky in it, sweetened with condensed milk – that's the way to start your day.
Bún (noodles) chả (pork belly), pronounced boon sha, is a traditional northern Vietnamese dish of small seasoned pork patties and bbq pork belly served alongside rice noodles and salad greens all of which is mixed together in bowl of broth.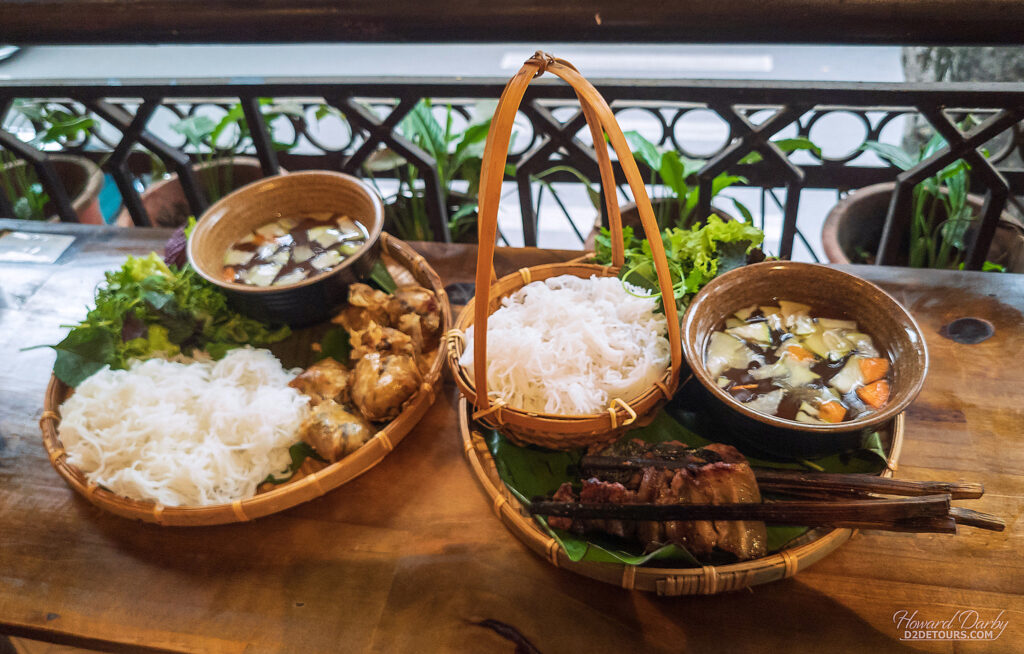 We tried it in several places in both Hanoi and Da Nang and the product served in Hanoi is, without question, the superior product (in fact the dish is commonly known as Bún Chả Hanoi). Both Bún Chả Đắc Kim and O Bún Chả served a tasty dish, but the view from upstairs in O Bún Chả made it the clear winner. The price of a dish varied between restaurants, and sometimes included a serving of nem cua bể (crab spring rolls, yummy). We paid between đ55,000 VND and đ80,000 VND ($2.85 CDN – $4.50 CDN) and it is a totally satisfying meal.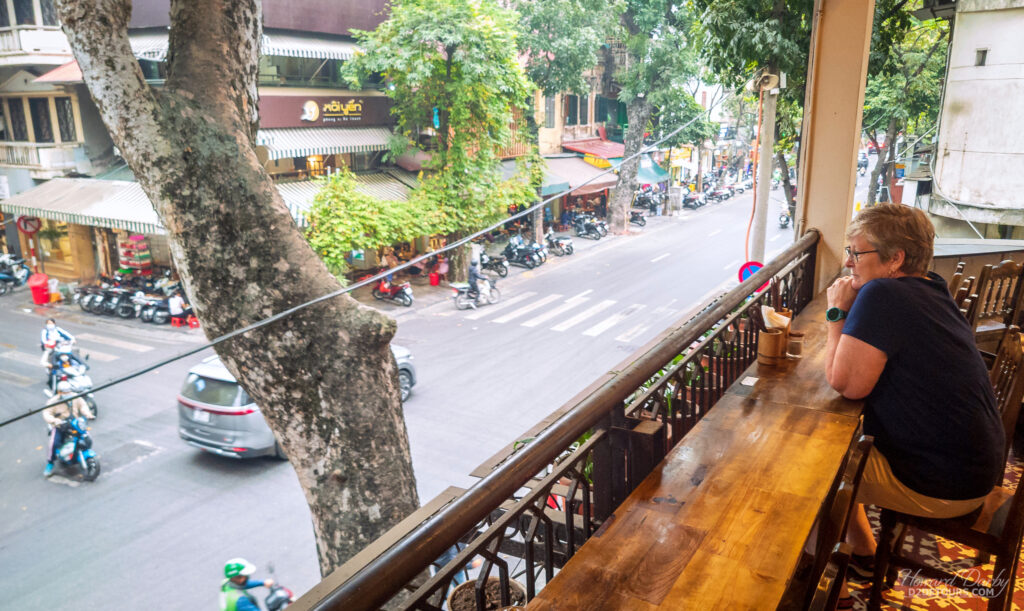 Indian food has never been one of our favourites, until now. Family Indian Restaurant in Da Nang was suggested to us and their food was amazing (over our 18 days in Da Nang we ate there five times!!!)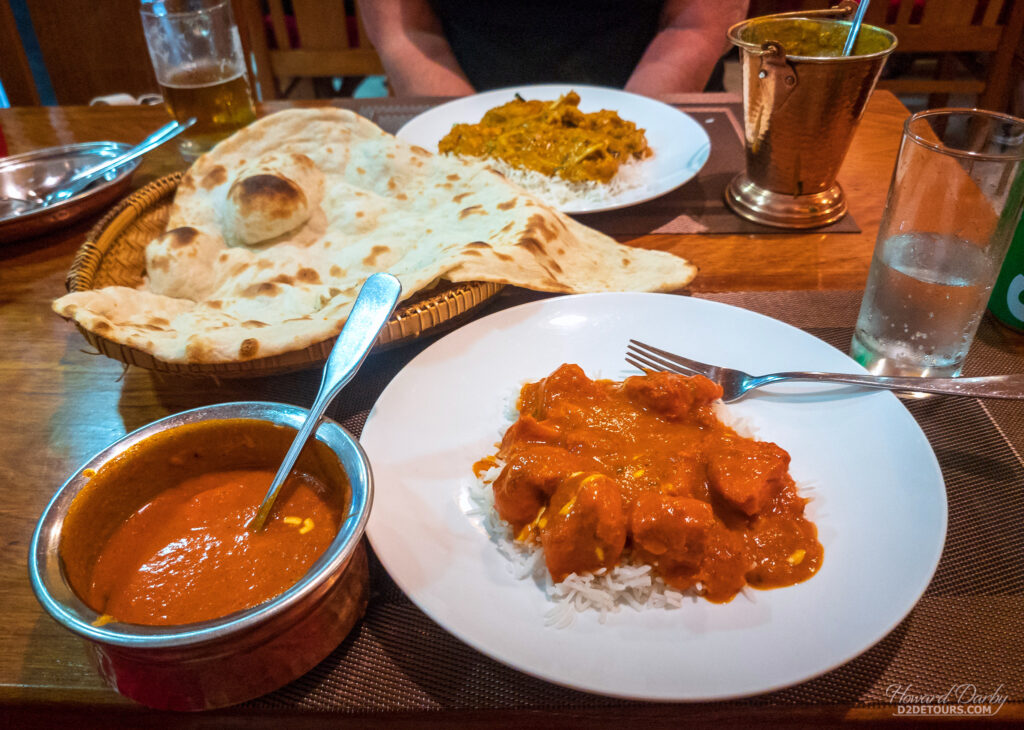 After our visit to Ba Na Hills we'd asked our Da Nang driver to recommend a good place to stop for lunch. He took us to Nhà hàng Bà Rô, an out-of-the way seafood restaurant popular with the locals (it was packed with people), and a total contrast to the rows of aquariums filled with live sea creatures that you find at the flashy restaurants along the beach front. Nhà hàng Bà Rô had tubs of the raw seafood, sold by weight. You picked what you wanted, chose a preparation method (they did have a menu to help with that) and when it was ready they brought it piping hot to your little table. So much flavour, felt very authentic and waaaaay cheaper than the beach restaurants.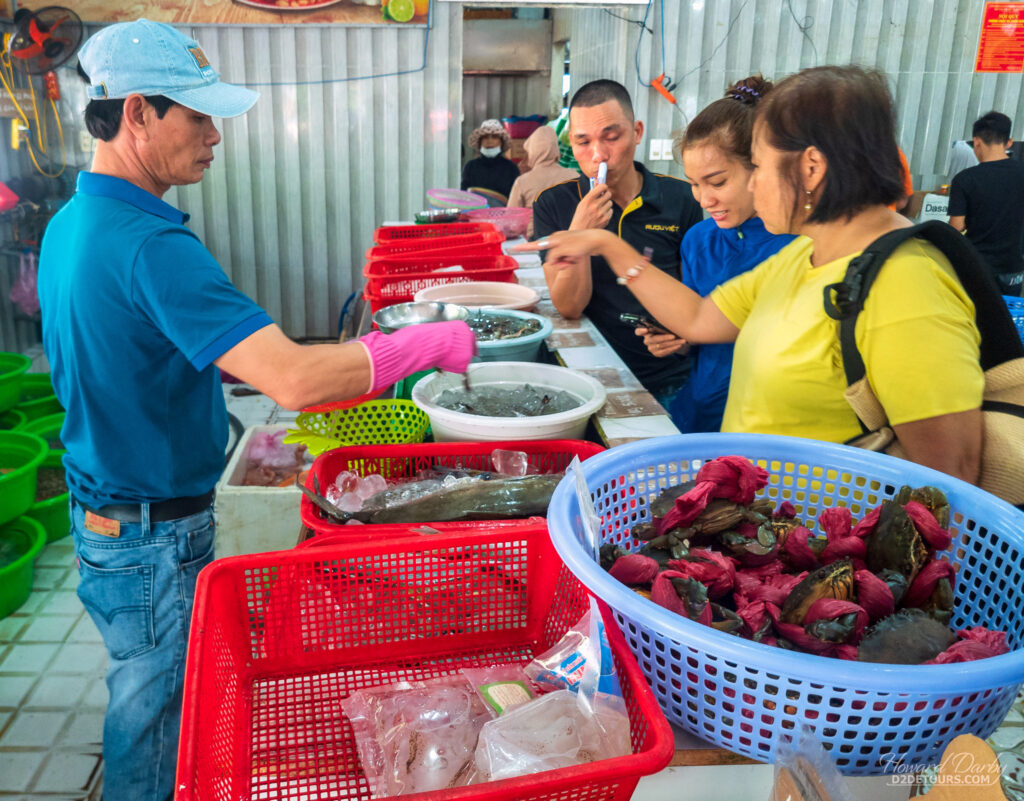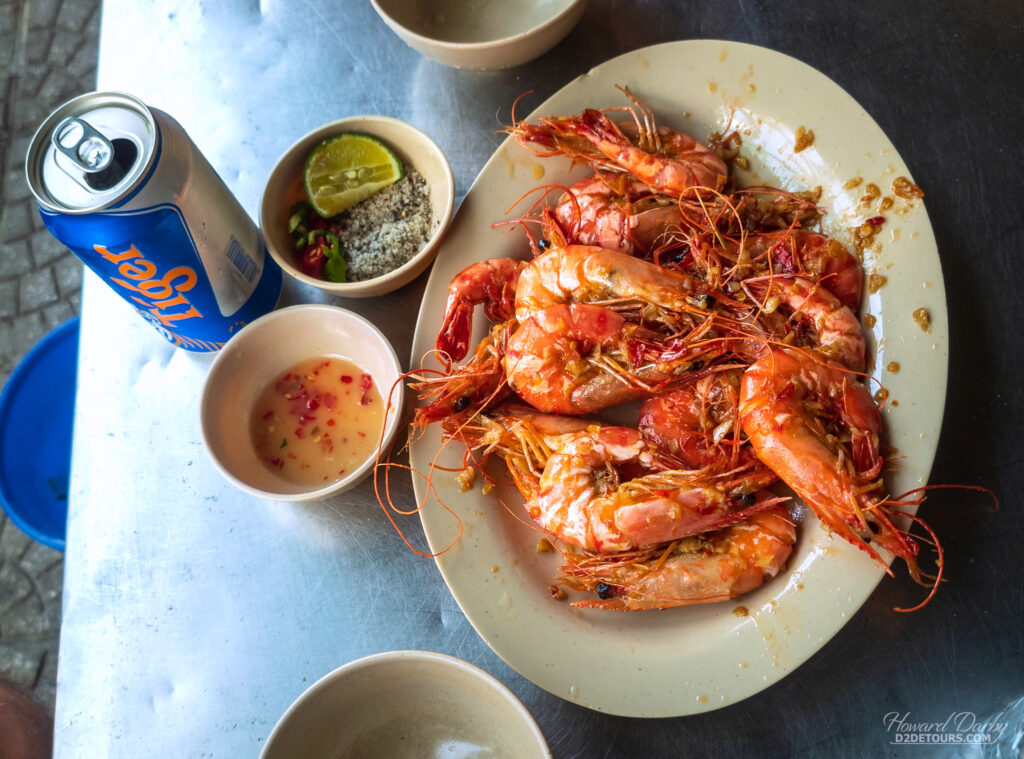 The White Rose restaurant in Hoi An has but two items on their menu: bánh bao bánh vạc (cauldron-shaped dumpling) and hoành thánh chiến (fried wontons). A Hoi An specialty that traces its roots back 130 years to a family of Chinese settlers, the French thought these translucent rice flour dumplings looked like flowers, hence the name White Rose. The recipe is a well-guarded secret and while there are a few restaurants in Hoi An serving their own version most are serving those made by a team of women working in the back of the White Rose restaurant. The steamed dumplings are filled with shrimp, garlic, spring onion, lemongrass and spices, topped with crispy fried shallots and served with a special dipping sauce of shrimp broth, chilies, lemon and sugar – OMG so good, we had to order a second plate.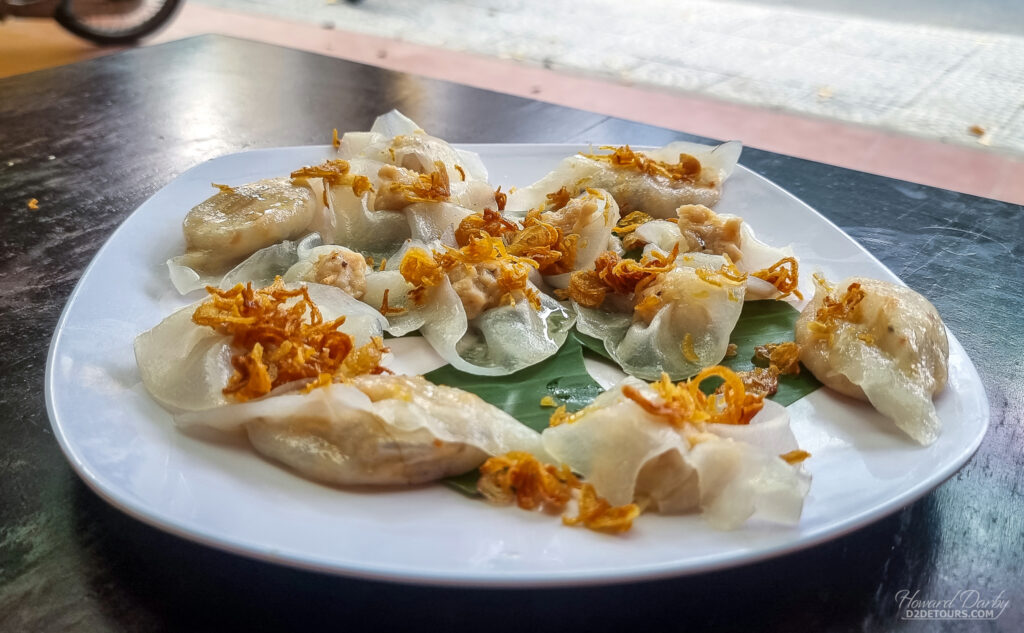 We also thought the restaurant's version of fried wontons filled with shrimp and topped with a sweet and sour tomato remoulade was equally scrumptious. Two plates of dumplings (13 dumplings to a plate), one serving of wontons and two cans of pop came to $16 CDN.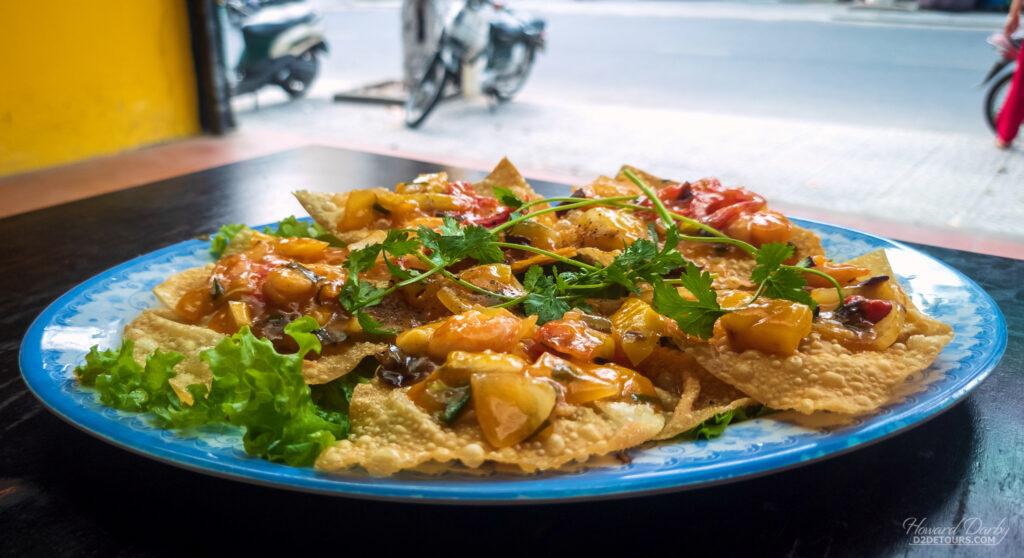 Lastly, we did an outstanding Street Food Tour while in Hoi An. The tour was free, you just had to pay for the food you sampled along the way, and like all free tours the guide hoped you were happy enough to give him/her a tip at the end. We were more than happy to give Huy a tip; he was delightful. Along with sampling several Hoi An staples, we got a bit of the food's history too! We started the tour with Bánh mì or Bánh my (bun mee) which literally translates to bread and typically refers to a baguette style sandwich.
They can be found all over Vietnam but nothing comes close to what you'll get in Hoi An. When the French colonized this country in the mid-19th century they brought with them familiar tastes from home, most notably wheat. The tropical climate in Vietnam, however, was not at all conducive to wheat cultivation forcing the French to import flour from Europe if they wanted to bake any of the bread products to which they were accustomed. World War I disrupted overseas shipments and Vietnamese bakeries began to incorporate readily available rice flour into the dough. The resulting baguette had a thin crisp crust with a light, fluffy texture, quite a contrast from the dense, chewy French version. After the French were ousted in 1954, the Vietnamese people continued baking bread and pastries but now they were free to custom the taste to suit their palette and the Bánh mì was born. The filling usually includes some or all of the following: pork, cucumber, pickled carrots, papaya, cilantro, fresh chilis, liver pâté, fish paste, mayonnaise, honey, butter, garlic. Breakfast versions with scrambled egg, or vegetarian versions using tofu, can be found too. Regardless of the filling, we were never disappointed with the flavours and the price was pretty hard to beat – between đ10,000 VND and đ15,000 VND ($0.57 CDN – $0.88 CDN). On the tour we had bánh mì from Bánh Mì Phượng, a small shop made famous by Anthony Bourdain.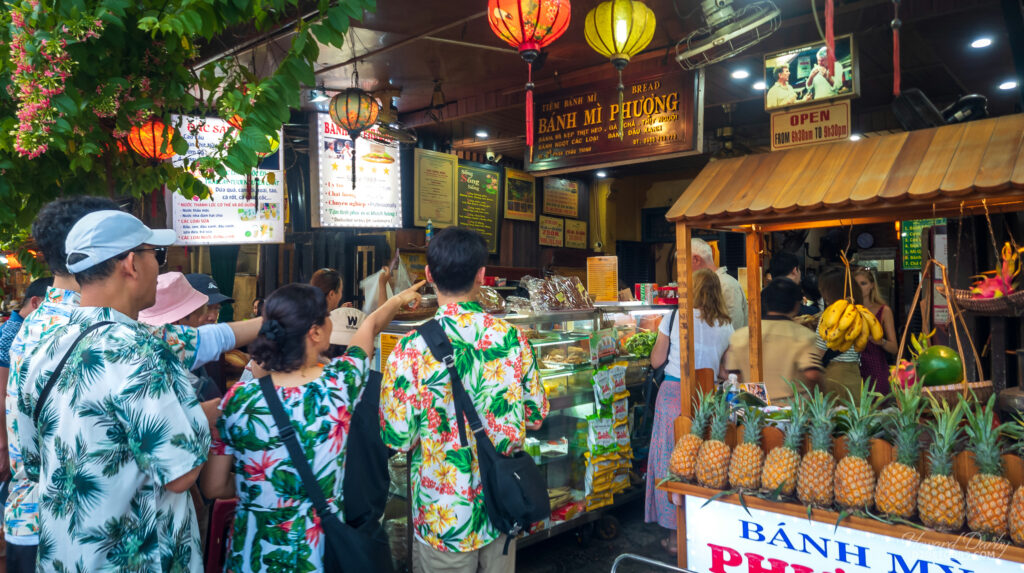 Immediately adjacent to this shop is the bakery which produces nearly all of the baguettes used in the bánh mì served in Hoi An – there was a constant stream of scooters stopping to pick up baskets of the baguettes.
After the bánh mì, we stopped for some true street food – pork skewers cooked on hibachis set up on the sidewalk.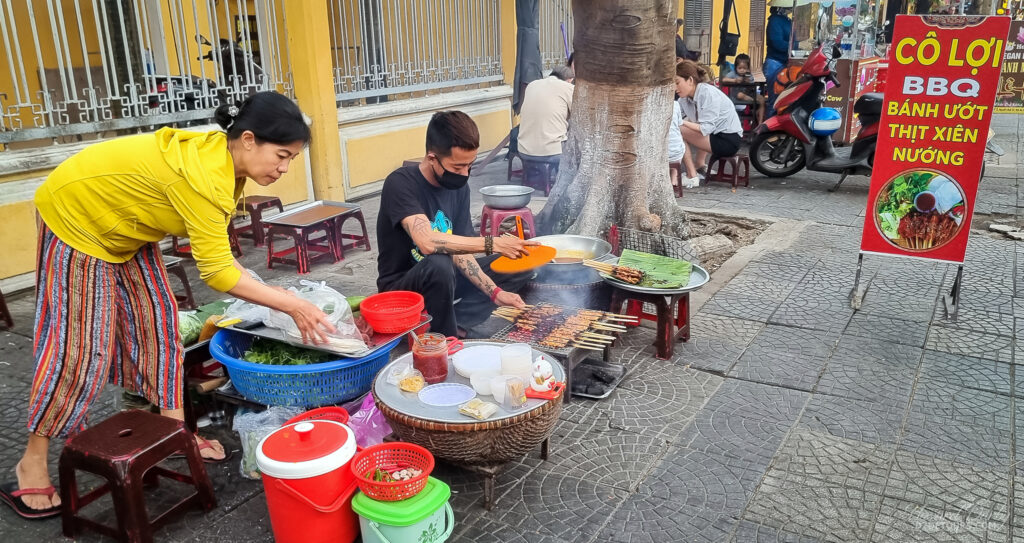 Apparently selling this type of street food is illegal and occasionally the police will conduct raids so we were told if our guide suddenly yelled "run" we were to grab stools, trays, food, etc. (so we could help save the "restaurant" owner's equipment) and head for the alley at the end of the block! Our time at this food stall was completely uneventful, but the pork rolls we self-assembled were delicious.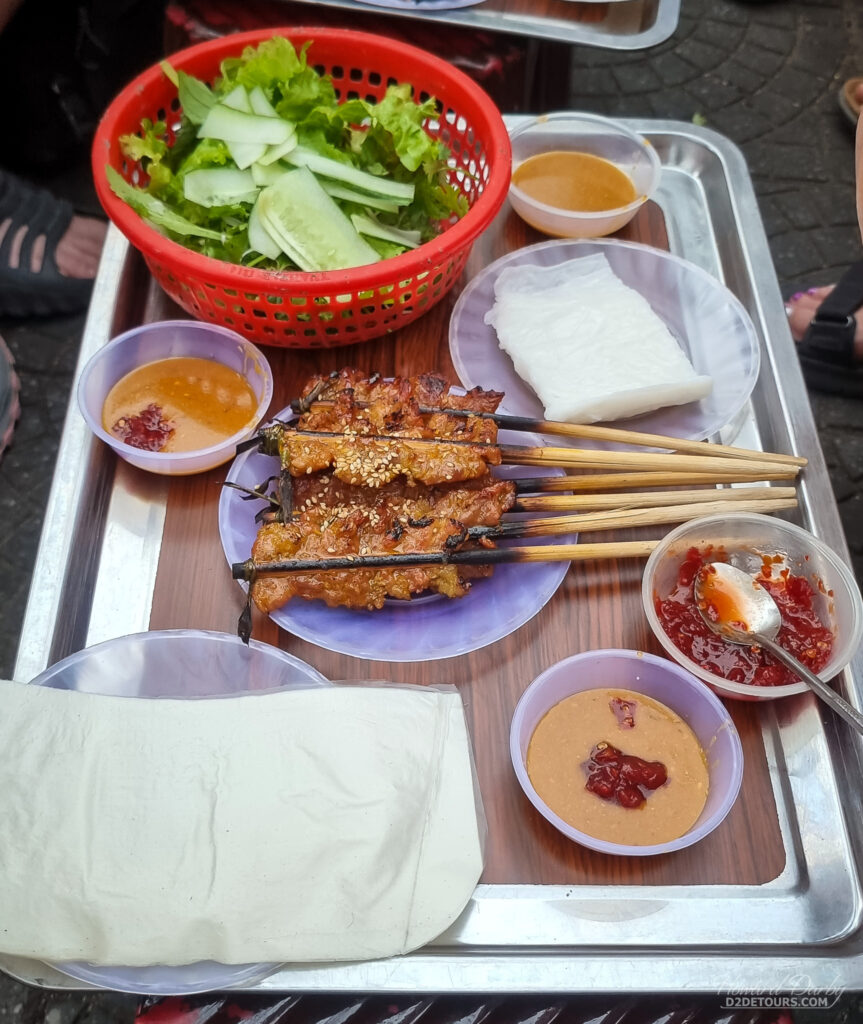 Other stops on the tour included black sesame pudding, cao lầu noodles (an authentic version of which can only be found in Hoi An because the noodles are prepared using water drawn from the Ba Le Well dug back in the 10th century), profiteroles filled with passionfruit cream, and fresh fruit. We finished the tour with full stomachs and our wallet was emptied by a mere $8.50 CDN (although we did give Huy a $40 CDN tip – worth every penny).
Speech – Unlike many of its neighbours, Vietnam uses Latin script, the use of which began with the arrival of Portuguese traders in the early 16th century. Portuguese missionaries in the 17th century continued to spread this written word, and with French colonization in the 20th century its use became compulsory, even remaining as the script of choice by the Viet Minh after the French left. As a spoken language it has fairly phonetic pronunciation although several of the sounds come from the back of the throat and are a bit tricky to master. In particular thank you, which is sort of a cross between cam on and gum on and if mispronounced is shut up – most definitely not the message you want to convey! Fortunately most of the people working in the tourist industry understand what we're trying to say, but if you find yourself speaking to a local out in the rice fields you might be met with a shocked expression.
sin chow – Hello;
tam biet – Goodbye;
cho toy hoi – Excuse me/May I ask;
dza/kong – Yes/No;
lam on – Please;
cam on – Thank you;
toy kong hew – I don't understand;
sin cho toy mot – Can I get one ____ ?
bao new tian – How much?
toy muon ka the – I want to pay by card;
toy dain too – I am from… (our hostess in Hoi An was most impressed when Howard used this phrase);
sin loy – I'm sorry.