We swapped hot, humid Vietnam for the hot and even higher humidity of Malaysia. Kuala Lumpur is just under a 3-hour flight from Da Nang, and we landed just as a massive thunderstorm was rolling in. That storm was a harbinger of the nights to come; spring in Malaysia seems to be characterized by sunny, hot afternoons giving way to evening thunder and lightning.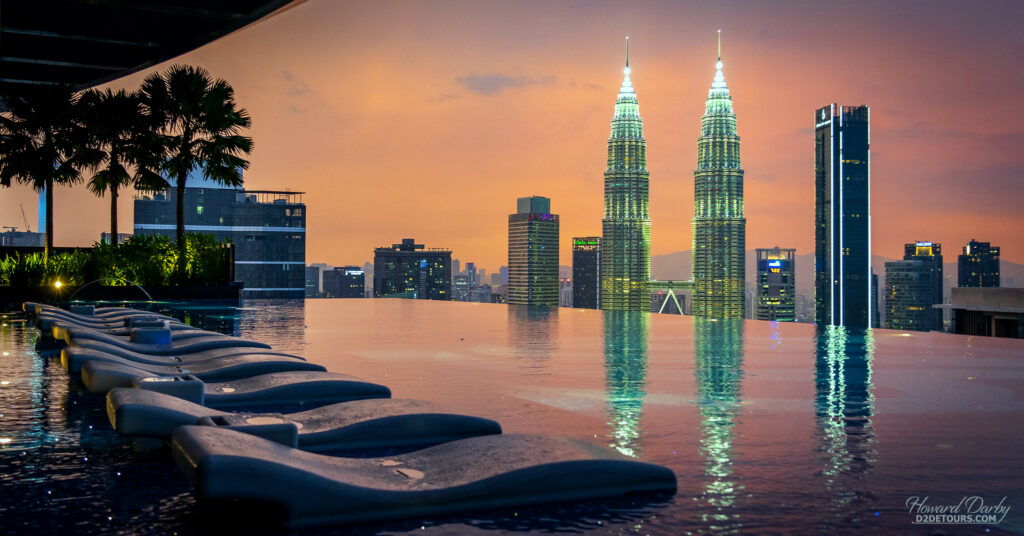 On our fifth day in Kuala Lumpur (or "KL" according to everyone in Malaysia), Howard came down with a nasty head cold which severely curtailed how much we were out and about in KL. He was vastly improved by the time we flew to the island of Langkawi, where we planned on doing some diving, but the day after arriving I, too, was in the grip of a cold. So needless to say, we didn't do nearly as much as we hoped during our ten nights on the Malay Peninsula and seven nights on Langkawi.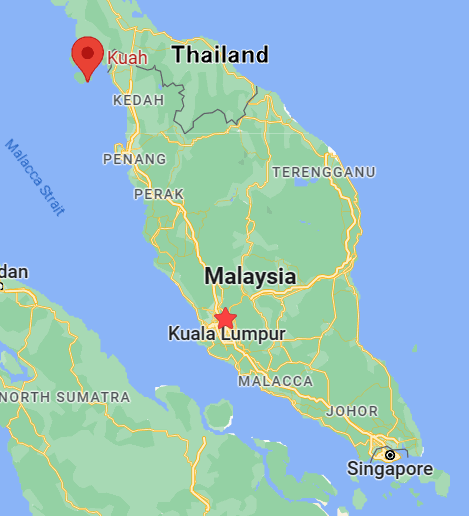 Dollars – We averaged just over $128/day Canadian ($95 USD / €86) for these 17 nights which was clearly a reflection of reduced appetites and lacking the energy to go out and do very much! That being said, I think Malaysia would be an economical destination and travelling by air between cities was shockingly inexpensive. Our flight from KL to Langkawi was $28/pp CND – the flight itself was only $12 but we each had to pay an additional $16 for baggage as although we have managed to reduce our belongings to fit into carry on luggage, most discount carriers in this part of the world have a weight limit for carry on (7 kg / 15 lbs total) and we just can't get that light – Howard's backpack alone, with camera equipment and electronics, comes in at 7 kilos.
Our Airbnb in KL, at $69/night CND, was spacious and well furnished, with an amazing rooftop infinity pool and ideally situated for getting about on foot or just a short Grab (SE Asia's version of Uber) ride, if necessary.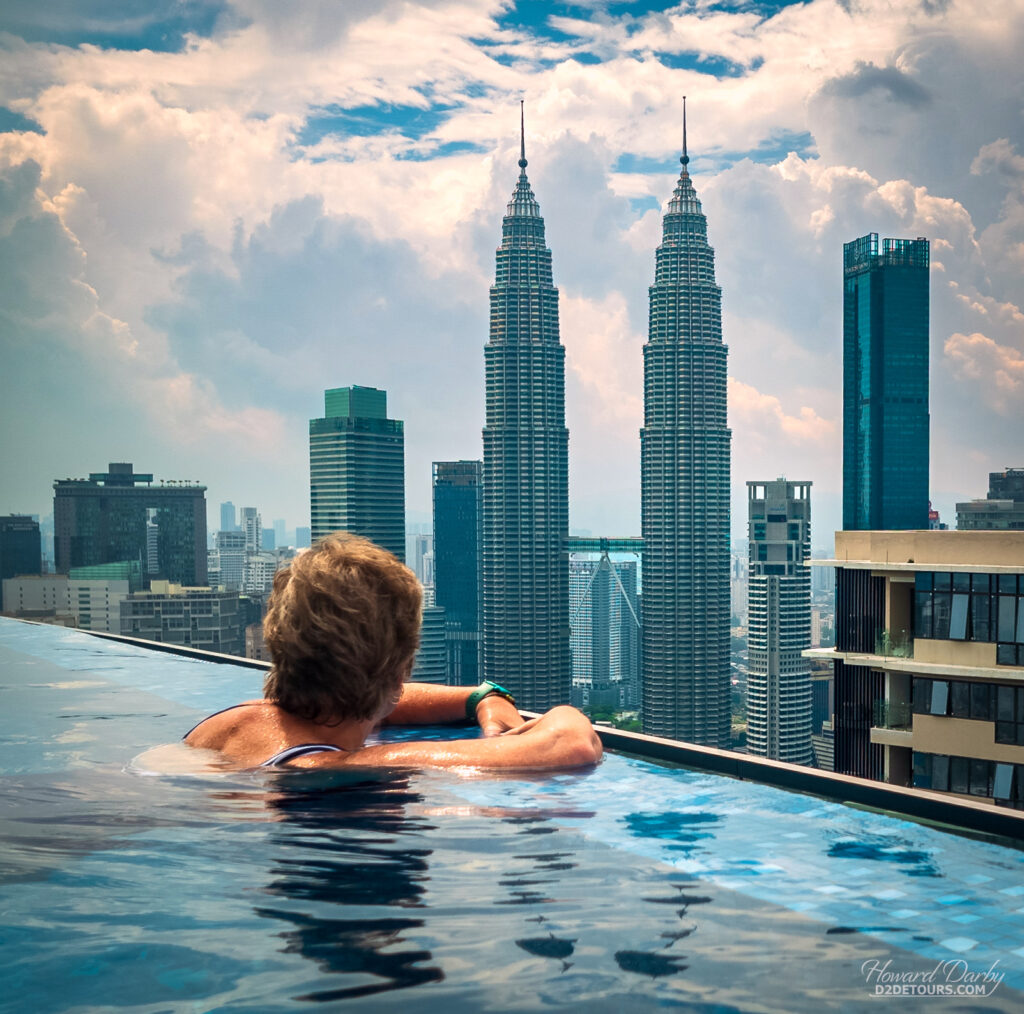 By the way, Grab is a very appealing way to get around in Malaysia. Not only does a car ride mean an air-conditioned reprieve, but as an oil exporting nation the government provides a substantial fuel subsidy. Thus, cheap gas (like 63¢/liter CND / $1.85 USD/US gallon cheap) means that savings is passed on to Grab passengers – our longest Grab ride (about an hour from the airport to our Airbnb) was only $23 CND!
Our hotel in Langkawi was a comfortable hotel room and very inexpensive ($41/night CND) but not in a particularly nice part of the island. We were in Kuah town and had picked the location for its proximity to the dive shop, but Kuah is dingy (it's on the industrial side of the island). We did have a sea view – you just had to look past the garbage-strewn field, and its pack of feral dogs, that was between our hotel and the seashore. Kuah may have been a bit sketchy, but the rest of the island is actually quite pretty, and the Pantai Cenang (beach) that was only a 20-minute Grab ride ($7 CND) from our hotel was great – powdery white sand and clean, warm water. I couldn't get over how warm the water was, it was like stepping into bathwater and we snagged a couple of shaded beach beds for only 40RM ($12 CND) where we lounged for a couple of hours, enjoying the view.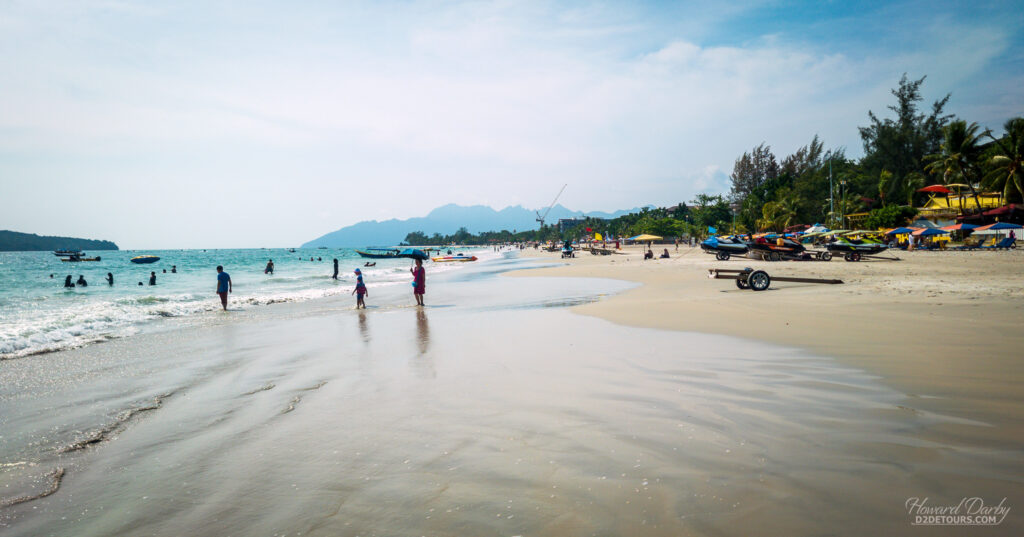 So what did we do in KL and on Langkawi when we felt up to it?
Kuala Lumpur – KL is a bright, modern city, full of soaring skyscrapers. In fact, the Council on Tall Buildings and Urban Habitat, a non-profit international organization recognized as the authority on the official height of buildings, ranks Kuala Lumpur in 8th place on its list of cities with the most buildings over 150 m (492 ft) tall. Hong Kong tops that list with 553 buildings over 150 m; KL has 154.
Perhaps the most iconic of KL's towers are the Petronas Twin Towers, which dominate the skyline and are stunning both day and night. An energy corporation wholly owned by the Malaysian government, Petronas was started in 1974. By the 1990s, its presence was being felt in the global oil and gas market, and construction of the towers was meant to reflect that growing status.
Excavation of the site began in 1993. The concrete necessary to lay the foundation (which was dug 30 m (98 ft) below the surface) was the single largest and longest concrete pour in Malaysian history – 13,200 cubic meters, poured continuously over 54 hours. The design is a series of interlocking squares which create an eight-pointed star representing the Islamic principles of unity, harmony, stability, and rationality. The towers were completed in 1998 and Petronas continues to occupy the entirety of one of the towers (88 floors). In 1998 these identical structures were the tallest towers in the world, each measuring 451.9 m (1483 ft) in height. While the towers can still claim to be the tallest twin towers in the world, as a single tower they have been dwarfed by the Burj Khalifa in Dubai, which is 828 m (2,717 ft) in height, and has 163 floors.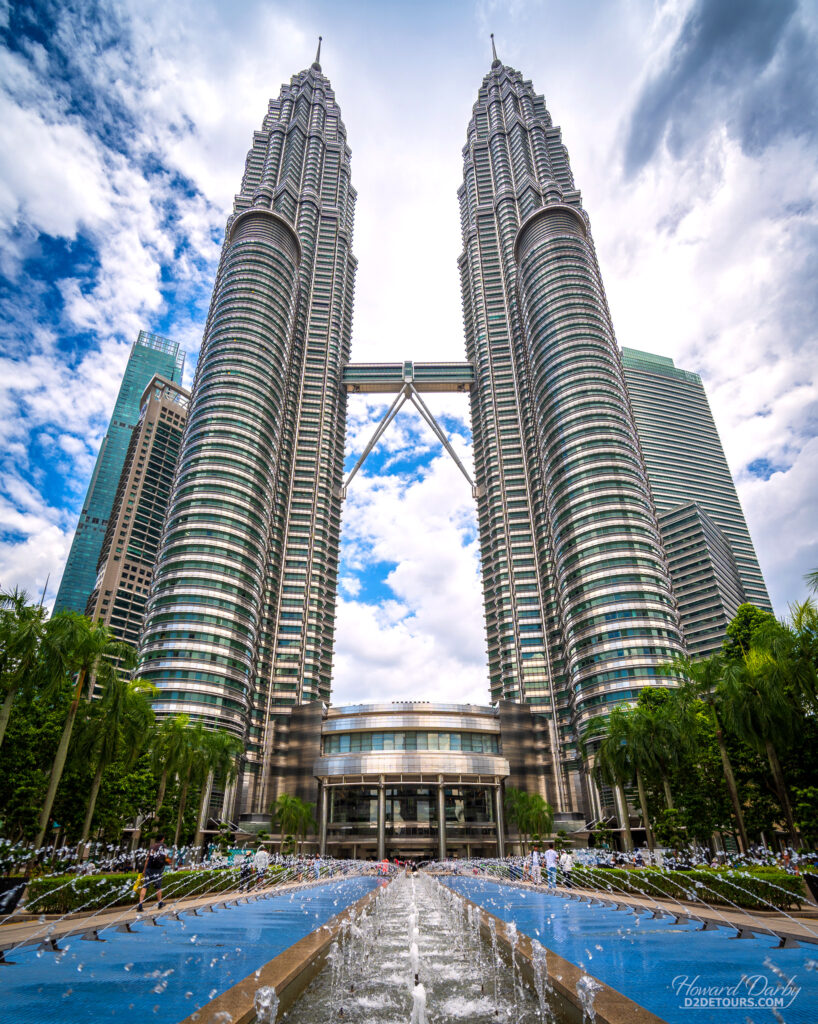 We were pleasantly surprised to discover several pockets of lush greenery amongst the towering steel and glass in KL. The KLCC Park at the base of the Petronas Towers was built to promote conservation and biodiversity. For nearly a century the horse racing track of the Selangor Turf Club occupied the site that was ultimately selected for the Petronas Towers. The track was relocated 30 km south but many of the rare trees and plants were saved and transplanted into the KLCC park. A further 66 species of palms and 1900 indigenous trees were selected for the park to attract local and migratory birds. The combination of foliage and numerous water features makes for a wonderful spot to escape the surrounding hustle and bustle.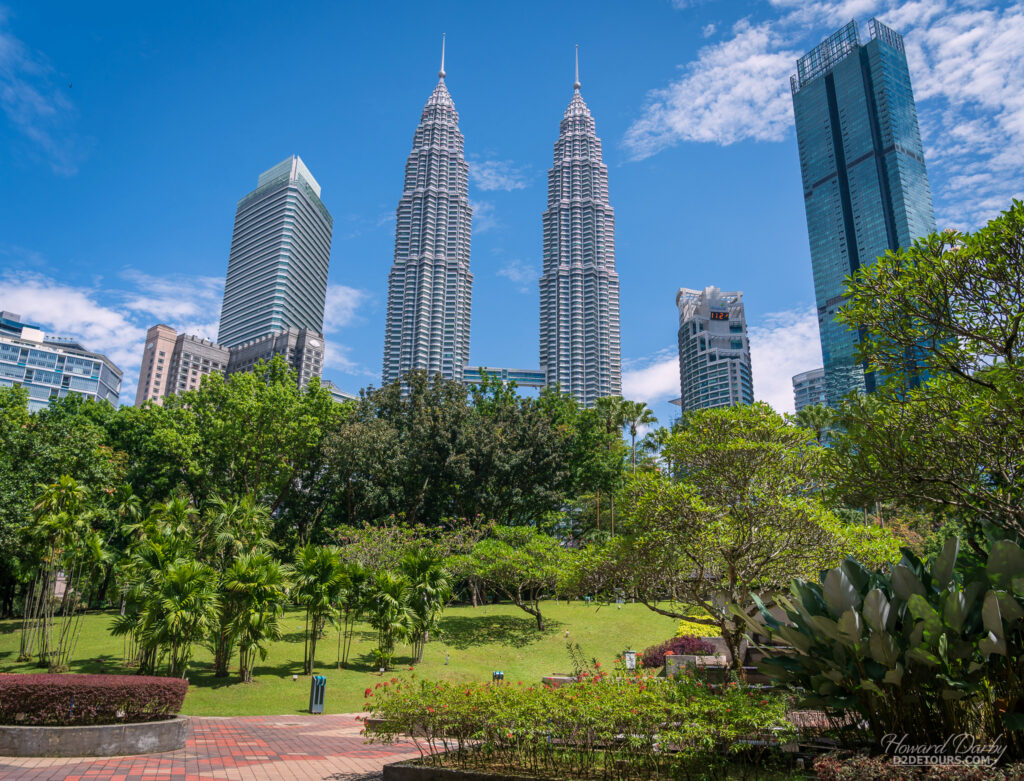 Another bit of nature within the city is Lake Gardens, a huge park (91.6 hectares) built around an artificial lake.
Hidden within the beautiful gardens and winding pathways is the KL Butterfly Park where I realized butterflies kind of creep me out. They might be pretty, but I did not enjoy having so many flitting about, in a confined space. We thought we might visit the KL Bird Park, a walk-in aviary which is also in Lake Gardens, but I was pretty sure if the butterflies made me uncomfortable, free-flying birds would completely unglue me. The Lake Gardens are free for you to wander, but the Butterfly Park does have an entry fee of 25RM/pp ($7.50 CND).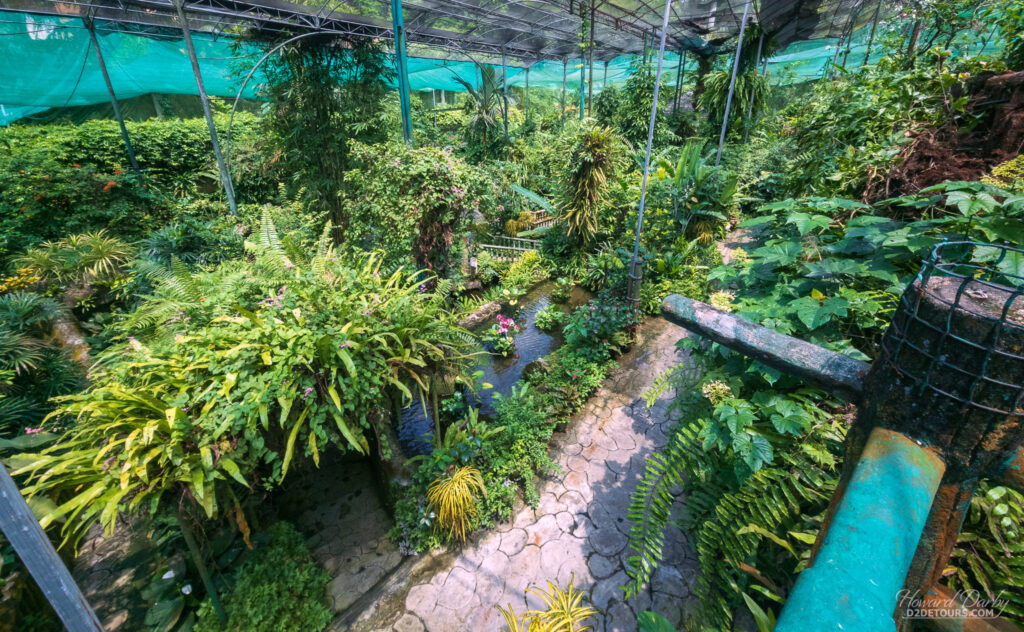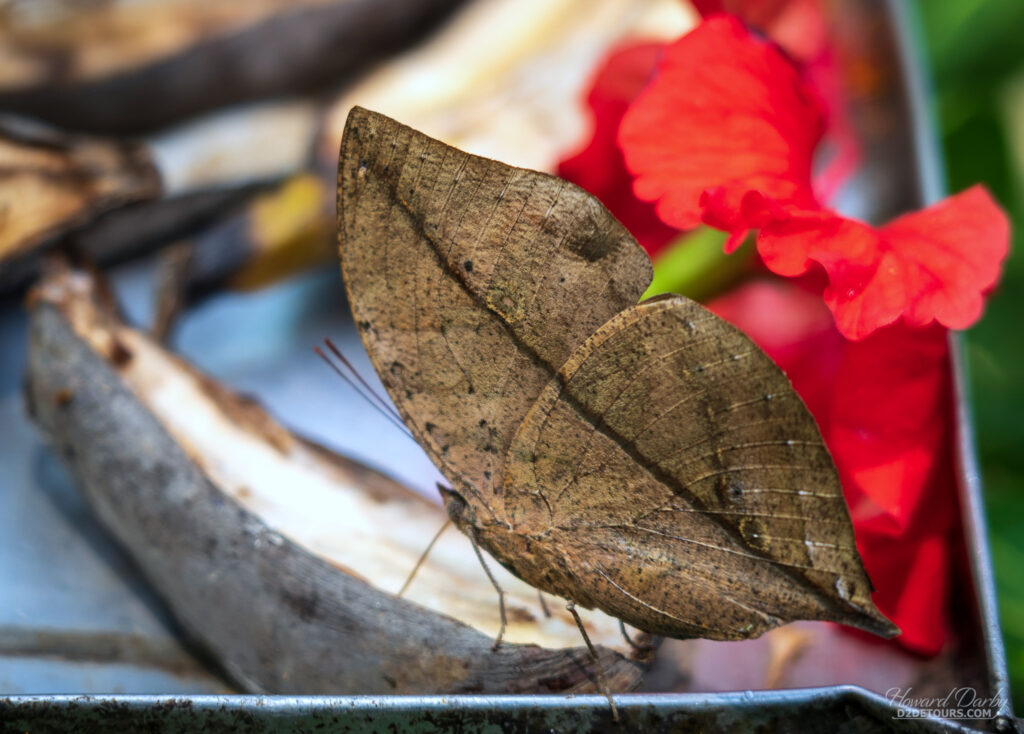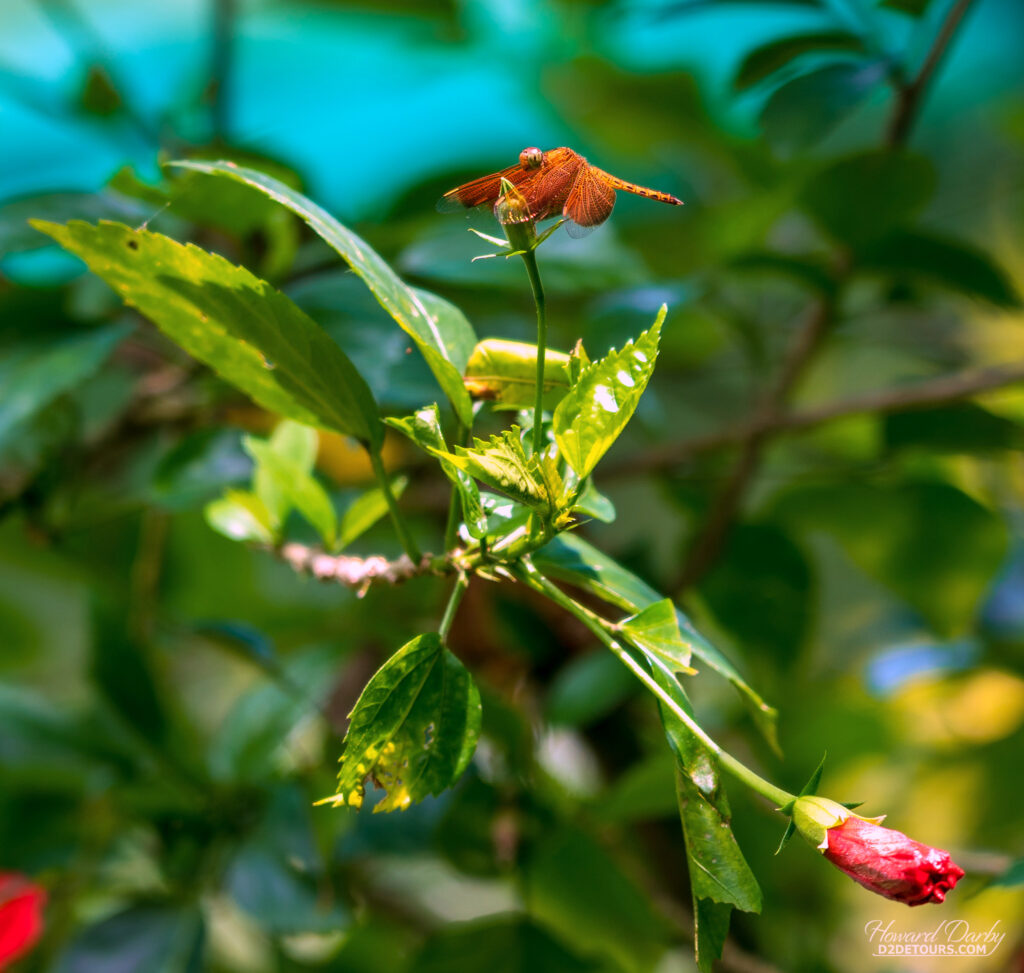 On the edge of the Gardens is the National Museum of Malaysia that only had an entry fee of 5RM ($1.50 CND) and was a very enjoyable (air conditioned) space in which to learn more about this country. We were especially intrigued with the enormous tin animals used as currency from the 15th century through the 18th century – and I thought loonies and toonies (Canadian $1 and $2 coins) weighed my purse down!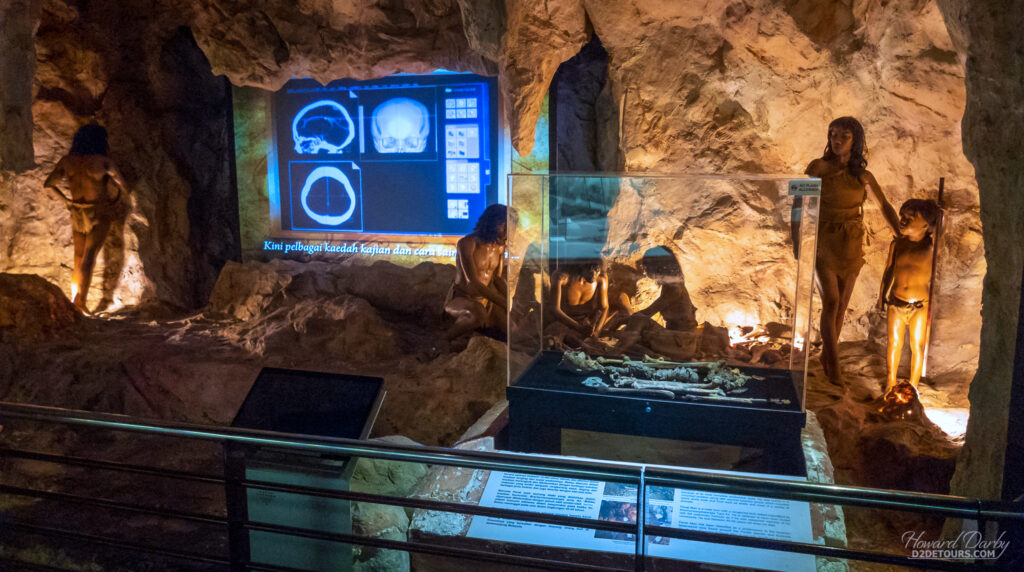 Despite a definite lethargy, we didn't want to leave KL without seeing the Hindu shrine at Batu Caves. The limestone caves themselves are ancient (millions of years old) and excavating bat guano from the interior (for fertilizer) was commonplace in the mid-19th century.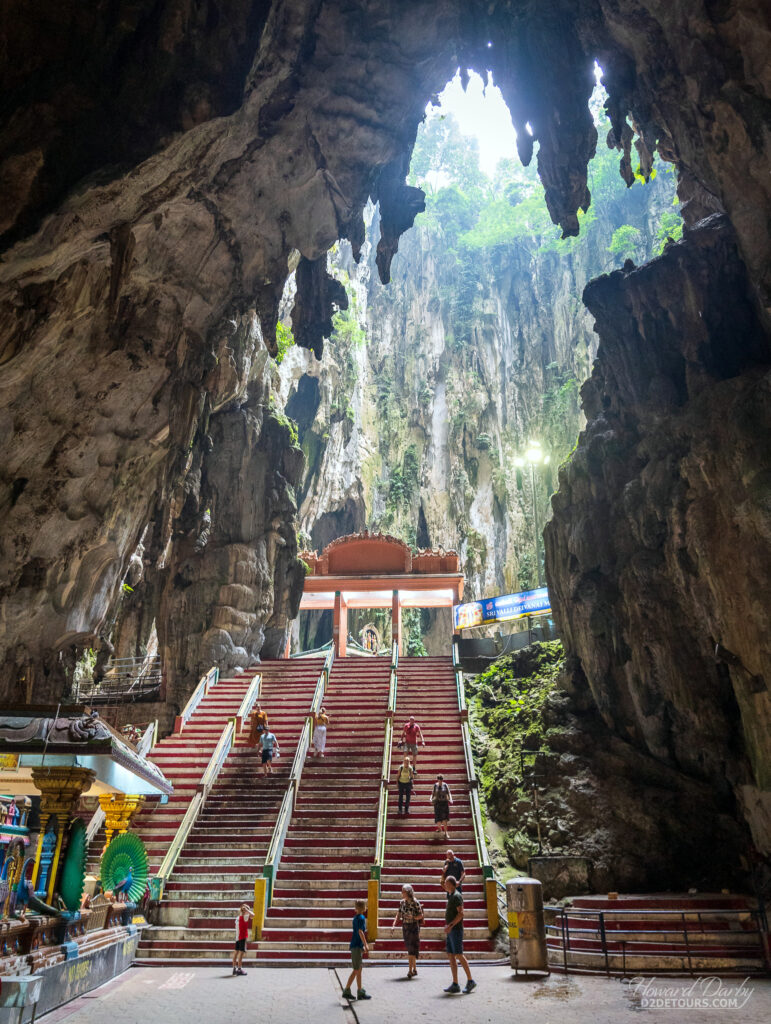 In 1890, however, a Tamil (Indian) trader was captivated by the shape of the entrance to the caves which reminded him of a vel (the divine spear associated with the Hindu god of war, Murugan) prompting him to dedicate the cave to Lord Murugan. The temple attracted, and continues to attract, annual pilgrimages by hundreds of thousands of devotees. By the early 1930s the wooden steps, which had only been erected a decade earlier, had been significantly worn down which led to the construction of a flight of 272 concrete stairs in 1940.
In 2018, the drab concrete steps were repainted creating a dazzling rainbow path to the Temple Cave entrance. These colourful steps, flanked by the massive (42.7 m / 140 ft tall) Tugu Dewa Murugga statue, are what attract the non-believers to the area and are undeniably Instagram worthy.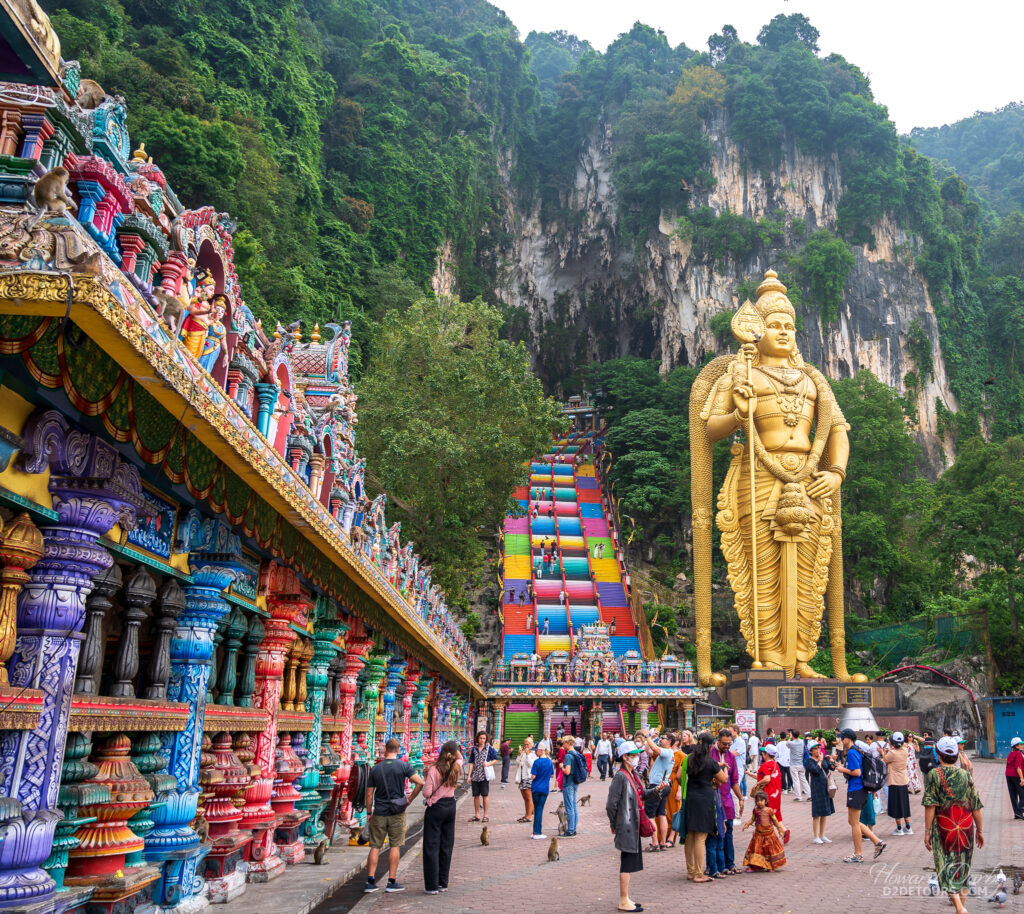 We exchanged high fives after managing to make it all the way to the cave entrance without passing out in the heat, plus avoiding the aggressive macaques who have laid their own claim to the site.
Langkawi Island – With both of us feeling the lingering effects of head and chest congestion, diving was out of the question, which really was the impetus for going to Langkawi. Our initial disappointment was alleviated somewhat when we realized that the Pulau Payar Marine Park was closed for annual conservation (something the dive shop website failed to mention) and current visibility was down to 1-5 m (3-15 ft) because of recent rain, so the dive conditions would not have been ideal in any event.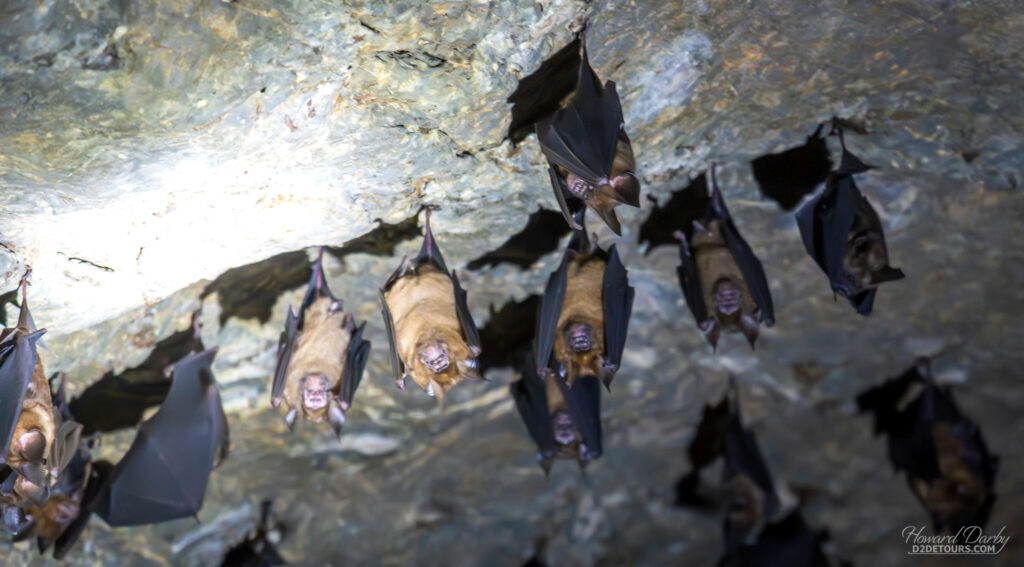 Once I was feeling a bit more energetic we looked for some surface water activity and spent half a day at the Kilim Geoforest Park where we visited the Kelawar (Bat) Cave and kayaked through the mangroves.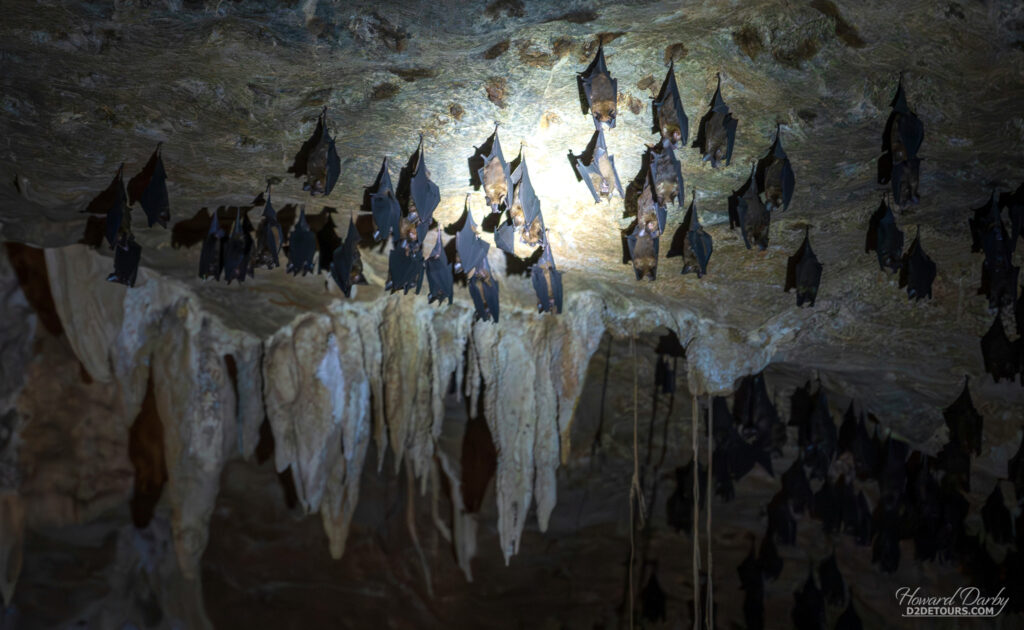 It is incredibly peaceful gliding amongst the flora and thankfully we didn't spot any tree snakes, just a few crabs skittering along the tree roots. The outing was 180RM/pp ($55 CND) which included park entry fees, guide, drinking water and a simple rice lunch.
We committed a bit of a rookie mistake when we planned our trip to Malaysia. The official religion of the country is Islam (64% of the population) and we landed smack dab in the middle of Ramadan. Buddhism is practiced by 20% of the population, followed by Christianity (9%) and Hinduism (6%). It really wasn't a problem in KL, which is quite cosmopolitan, but on Langkawi (and likely because we were not staying on the resort part of the island) we found many of the restaurants were completely shuttered or they closed early. When Ramadan ended and the three-day festival Eid al-Fitr (festival of breaking the fast) began, a fair number of restaurants remained closed as everyone was celebrating with family and friends. One of the locals described Eid al-Fitr as Muslim Christmas – finding dinner was occasionally a challenge!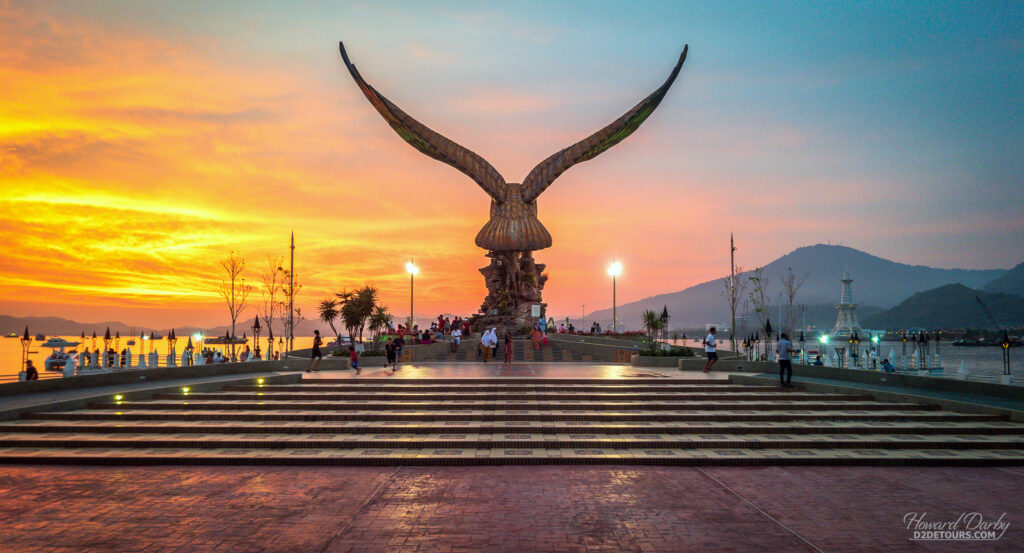 While the restaurants might have been closed on Langkawi, the duty-free shops were not. Along with the island's enticing beaches, Langkawi is known for its duty-free status, with chocolate and alcohol being most popular. The name brand chocolates like Hershey, M&Ms and Kinder were quite a bit lower than the prices we'd seen in KL (and sold in larger packages), but I think my perception of what constitutes good, cheap wine has been skewed. Several labels with which I was familiar (and these weren't great wines, in my opinion, they would range between $15-$20/bottle in Canada) retailed for $30ish CND in KL. Admittedly the price dropped by nearly half on Langkawi but when I'd been enjoying some very drinkable Portuguese varieties in the $7-$9/bottle range last year in the Algarve, I just couldn't bring myself to pay over $15/bottle for mediocre wine.  Besides, when the humidity is at 75%, and the outside temperature "feels" like 41°C / 106°F, red wine is not my beverage of choice.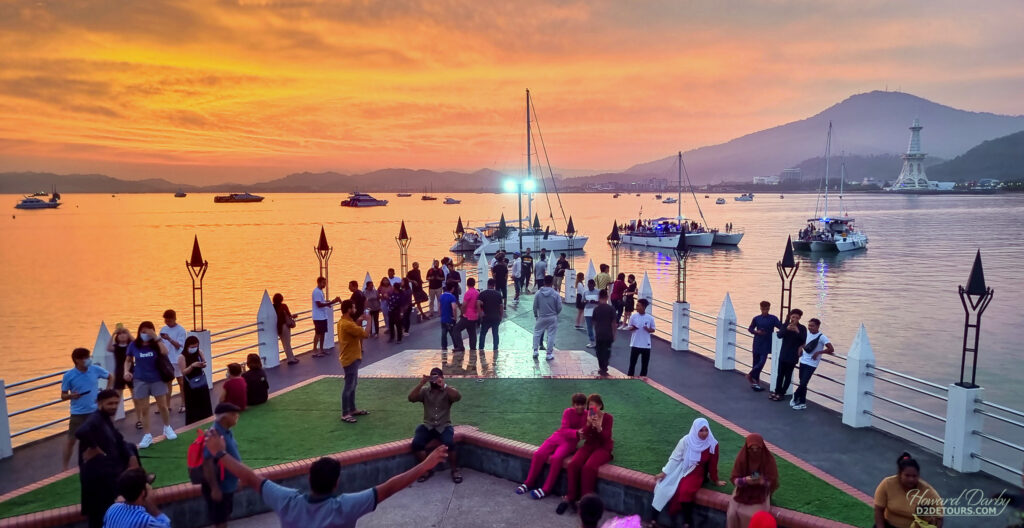 A silver lining to not feeling up to doing much was that we finalized our plan for the balance of the year, the goal of which was to get out of the heat and humidity sooner rather than later. Using our favourite tool for sussing out airfare deals (Google Flights) we noticed a great price on a direct flight from Bangkok to Stockholm (who would have ever thought enough people travel from Thailand to Sweden that it would warrant a direct flight!). So in early September, after visiting a few more countries on our list for this part of the world, we're trading heat and humidity for weather more in line with our constitution. We'll start in Sweden then head to Finland, Estonia, Latvia and Lithuania before spending a month on the Spanish coast. After Spain we are going to take our first repositioning cruise – only a handful of ports of call interspersed with multiple "at sea" days as many of the cruise lines are moving their fleet from summers in the Mediterranean to winters in the Caribbean. We'll spend a leisurely 14 days sailing from Barcelona to Tampa, Florida where we'll hop on a flight bound for Calgary for a quick visit with family and friends in early December.
But till then, we have several more months in SE Asia. Off to Penang, Malaysia!