Malaysia, and in particular the island of Penang off the NW coast of peninsular Malaysia, often pops up as a popular nomad/expat destination, so it has been on our radar for quite some time. As Canadians (along with the US and most European countries), we do not require a visa to enter the country and we can stay for 90 days which really makes it an attractive locale.
The British East India Company (BEIC) was established in 1600 CE to give British merchants access to the lucrative spice routes in the Indian Ocean. By the mid-18th century, in addition to spices, they were trading in cotton, silk, indigo dye, sugar, salt, saltpeter, tea, and opium. At that time their merchant ships accounted for nearly half of the world's trade. In 1786 the BEIC gained control of the island of Penang, establishing the port of George Town. From this foothold, they began to chip away at the ports on the Malay peninsula and by 1826 amalgamated Penang with Singapore (acquired from the Johor Sultanate in 1819) and Malacca (acquired from the Dutch in 1824) into a single entity known as the Straits Settlements, naming George Town as the capital. Fort Cornwallis was built to protect the George Town port from pirates, although its guns never did see any action.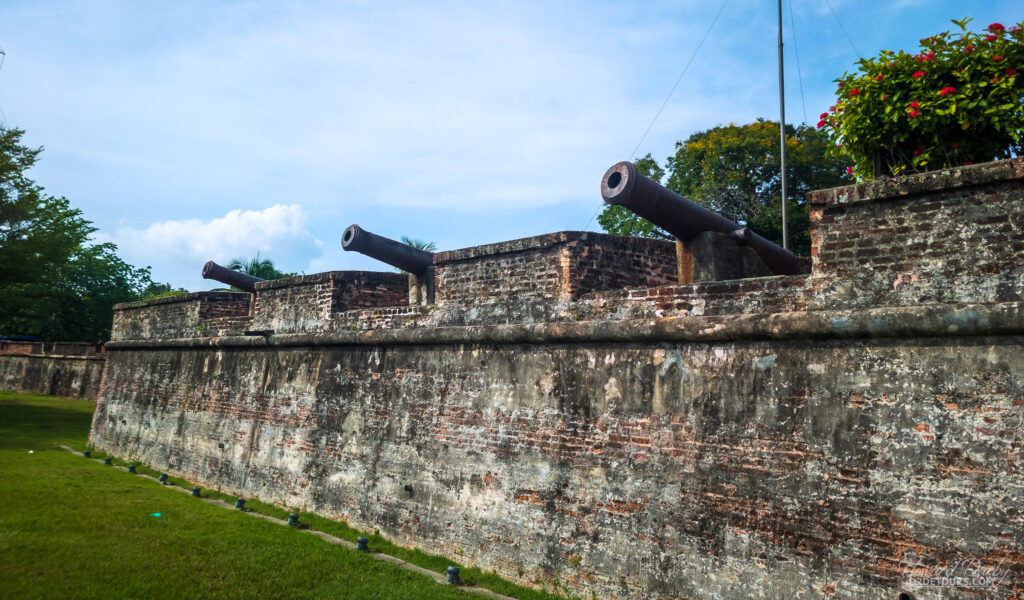 The BEIC was ultimately disbanded in 1874 and the British Crown stepped in to govern the Straits Settlements, adding this territory to the rest of the Malay peninsula already under British rule. British Malaya would remain a colony (albeit with a short period of Japanese occupation during WWII) until it achieved its independence in 1957 and the Union Jack was replaced with Stripes of Glory.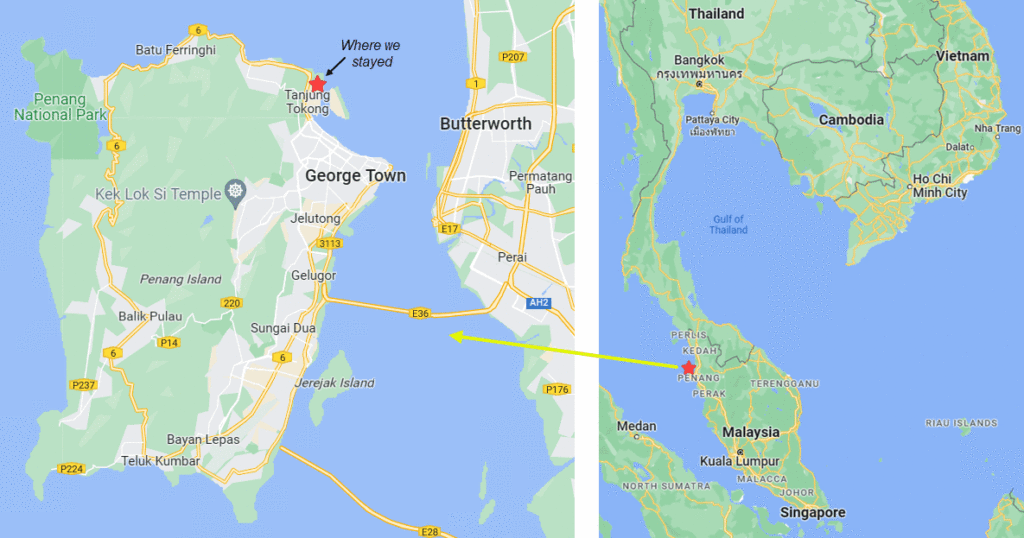 At a glance (and in particular if viewed from a distance), the Malaysian flag struck us as oddly similar to that of the United States, and both flags bear a very strong resemblance to the flag of the British East India Company. Given that the BEIC flag flew over the Straits Settlements for decades it's not surprising that it may have influenced the design of the Malaysian flag, but that it might have been connected to the composition of the flag of the United States seemed a bit tenuous. However, there are a few theories that make that exact connection. Many of the American colonists would likely have been familiar with the BEIC. Mutual dissatisfaction with the British government's tax policies have some people theorizing that the BEIC was perceived as a potential ally in the American War of Independence, and colonists may have flown BEIC flags in solidarity. Perhaps more compelling is a speech attributed to Benjamin Franklin in which he is believed to have said to George Washington that "While the field of your flag must be new in the details of its design, it need not be entirely new in its elements. There is already in use a flag, I refer to the flag of the East India Company." The Grand Union Flag, an unofficial flag flown in the new colonies from 1775-1777, certainly seems suspiciously similar to the BEIC flag. That a British company might have influenced the new nation's flag is not a widely held view, and very little credible written evidence exists to support such an assertion. Still …
Dollars – Malaysia is one of several countries in southeast Asia with the reputation of being budget-friendly for expats. Our 29 nights on the island of Penang certainly lived up to that reputation as we averaged $98/day Canadian ($72 USD / €67) over the duration of our stay.
Environment – In addition to being an attractive cost-saving destination, Malaysia has an equatorial climate with little seasonal variability – the average temperature is 26°C/79°F. April, May and June, however, are the hottest months with temperatures creeping into the 30s Celsius. This year (just like everywhere in the world it seems) April and May were unseasonably warm: 35°C / 95°F with humidity hovering around 80% so it felt several degrees warmer.
We stayed in a suburb of George Town, Tanjung Tokong, in a large, 3-bedroom, 2-bath unit looking out toward the Straits of Malacca. We rented the unit privately and were thrilled with the whole condo complex.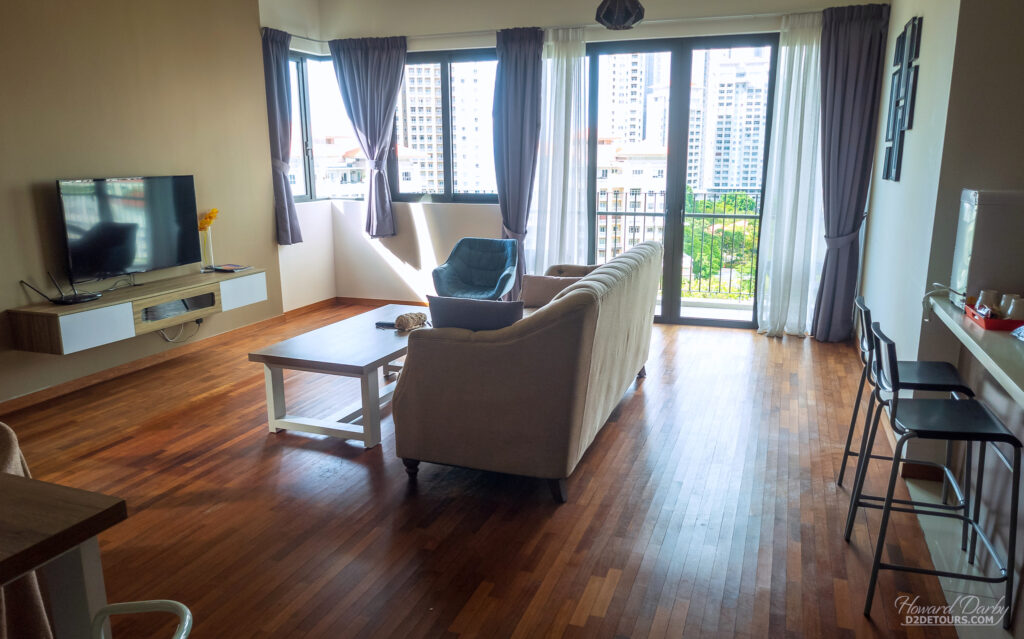 The pool area rivalled any 5-star resort, and we spent nearly every afternoon paddling about it, escaping the heat.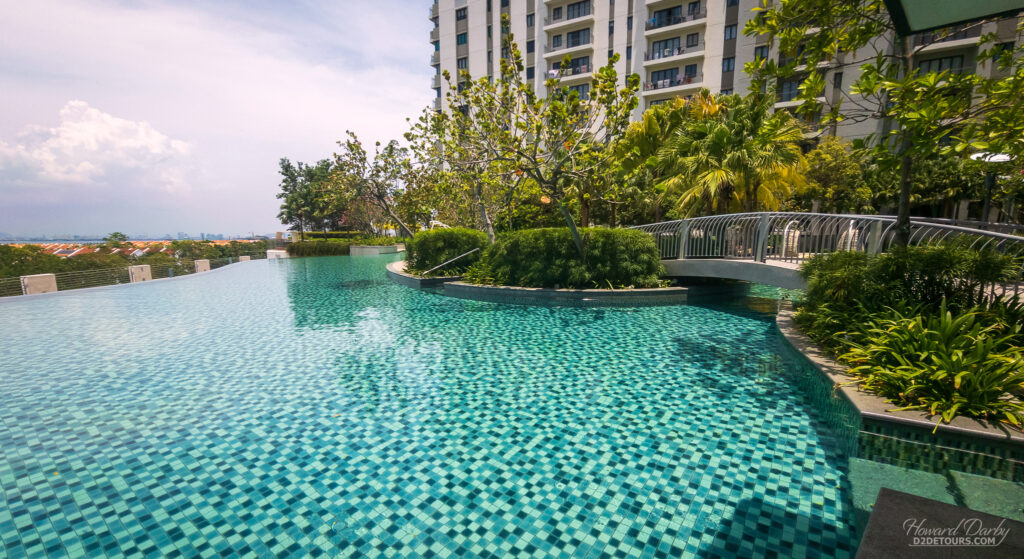 Although evening thunderstorms are frequent during this time of year they don't bring with them cooler temperatures, just spectacular light shows, which were often so impressive we'd stop watching Netflix and let mother nature mesmerize us instead.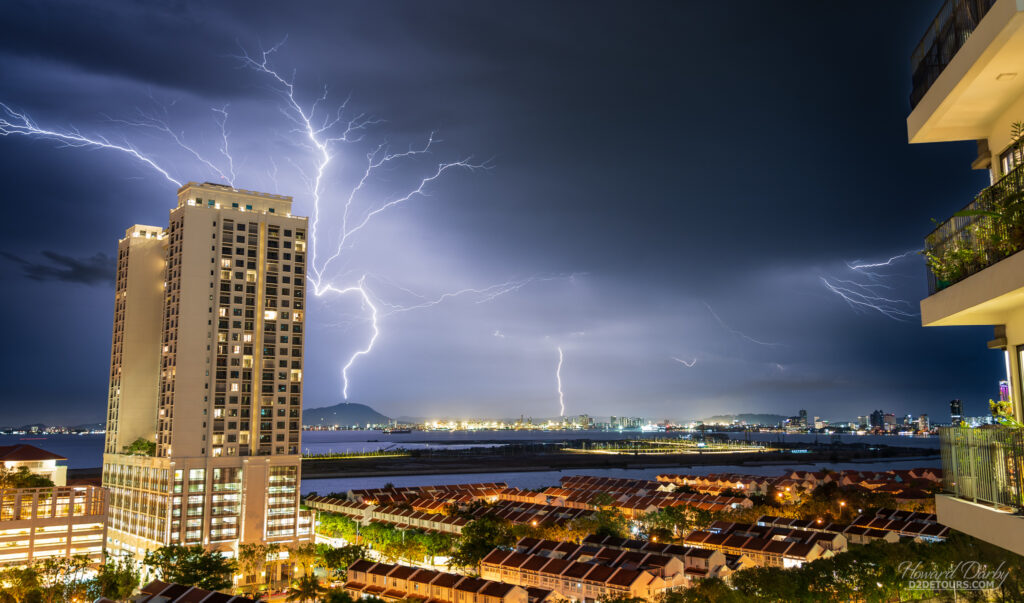 Tips, Tricks & Transportation – Given the high expat population in the George Town area, several supermarkets cater to that market. We really liked Mercató and Sam's Groceria – fantastic selection, nice produce and while the prices were likely high by local standards they certainly fell well within our budget. We did not care for the Lotus chain of stores. The prices may have been lower, but we thought the quality and selection was too.
I have decided I quite like public transportation – words I did not think would ever pass my lips. Likely because I'm not tied to a schedule so if the bus isn't running on time I'm not overly inconvenienced and I enjoy getting a glimpse of "real life" in a city as bus routes tend to meander through neighbourhoods. In George Town as the bus approaches your stop you need to stretch out your arm, in effect "hailing" the bus, otherwise they will sail on past. As you board, you let the driver know at which stop you will be disembarking (often we would just give a landmark) and then he/she will let you know the fare (which was generally only a couple of ringgit (.60¢ CA$); hard to beat that price!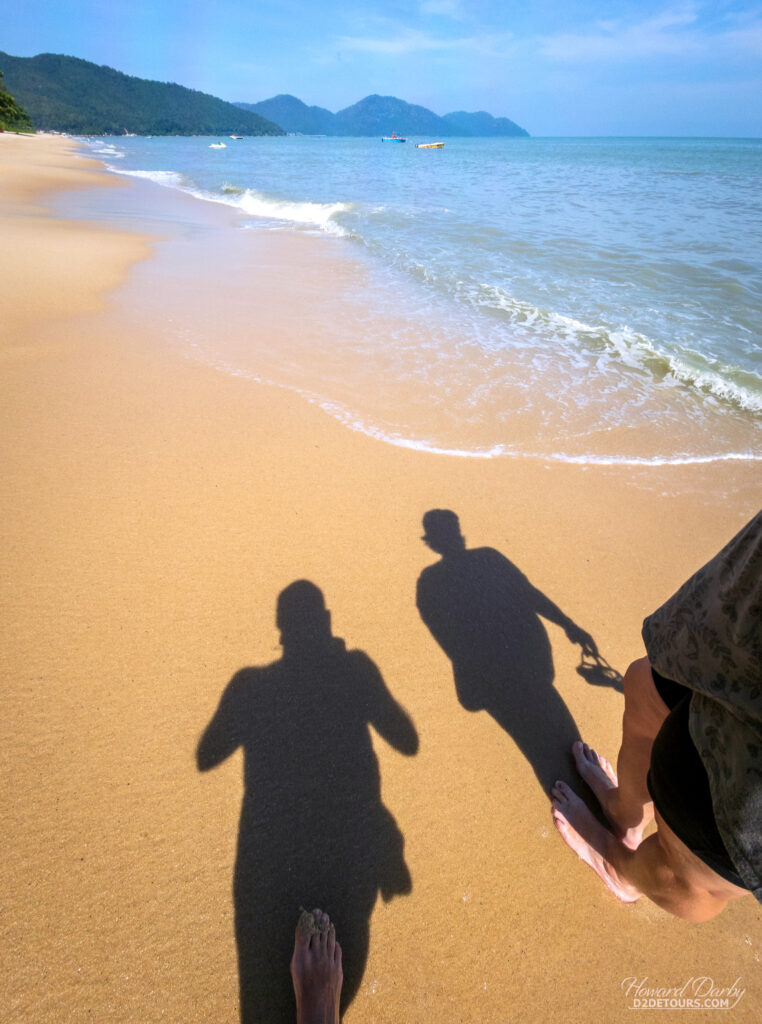 Although we were quite happy to ride the bus, a couple of times our destination was a bit awkward to reach so we opted for Grab (SE Asia's version of Uber). I continue to be impressed with Grab – drivers are friendly, cars are exceptionally clean, there are an abundance of drivers so wait times are pretty short (one or two minutes) and it's economical – the hour-long trip from our condo to the airport was $15 CAD.
Out and About – Penang isn't chock full of things to see and do, which we knew ahead of time, but we were quite happy to have a quiet month. Of course, there were still lots of opportunities for Howard to snap a few pictures.
In 2012, as part of the annual George Town Festival, the Lithuanian artist, Ernest Zacharevic, was commissioned to create six wall murals. His art has been a springboard for other artists to make their mark on the city, and some of the most inventive pieces of street art I've ever seen decorate multiple streets in the old town.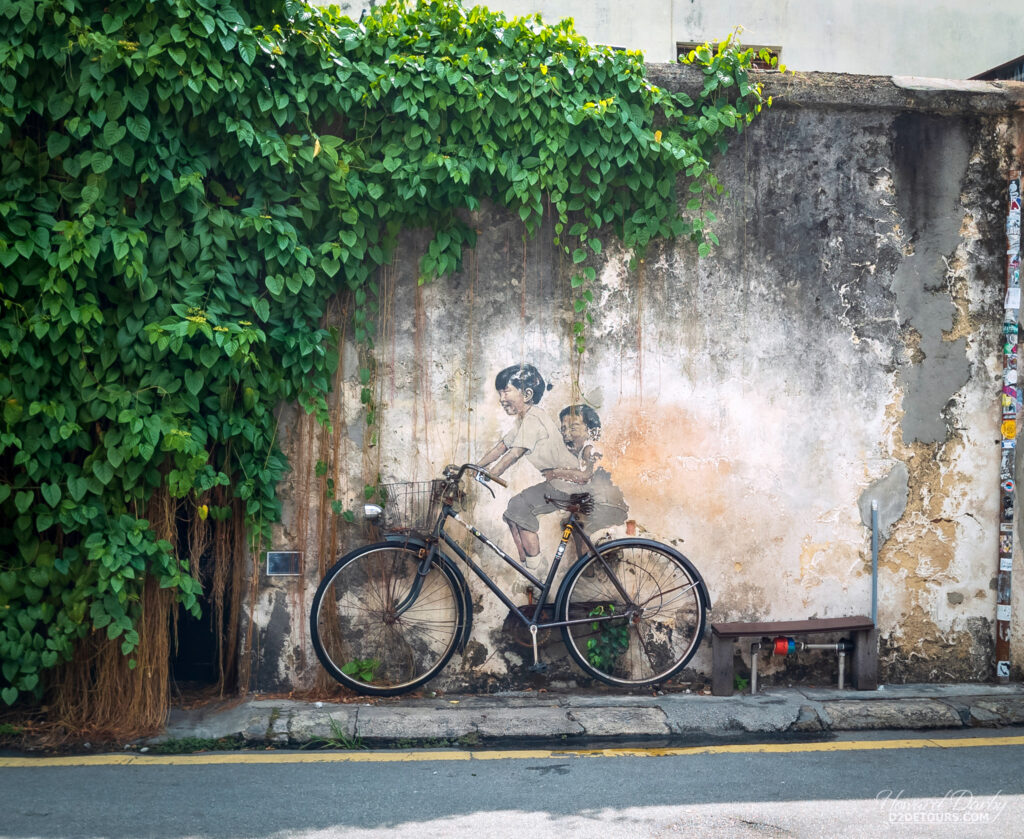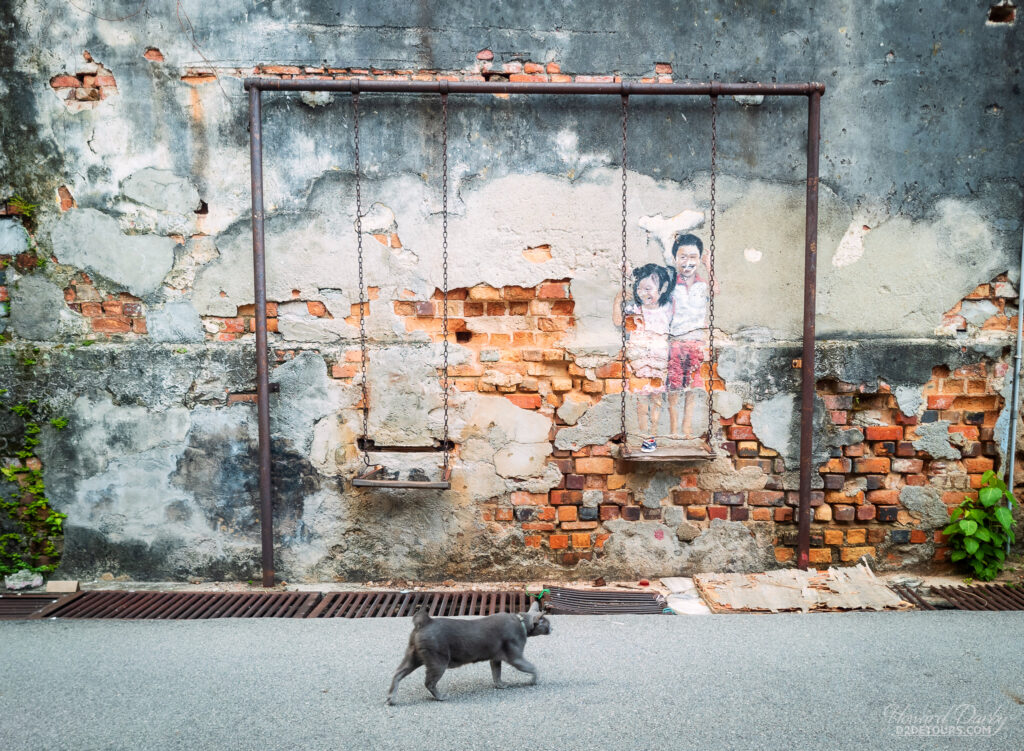 In the late 19th century, as part of a project to develop the quay side of George Town, five wooden jetties were constructed. Several different immigrant Chinese family groups (clans) took control of the jetties and began collecting fees from any merchant who wanted to use a jetty for loading or unloading cargo. These clan jetties not only served a commercial purpose but also became villages on stilts, each complete with their own temple and they continue to be occupied today (running water and electricity were introduced to the jetty buildings in 1957). While you can visit several of the jetties, you need to be mindful that they are private property; only the Chew Jetty is a true tourist destination as many of the lower floors of the homes along it have been turned into shops and restaurants.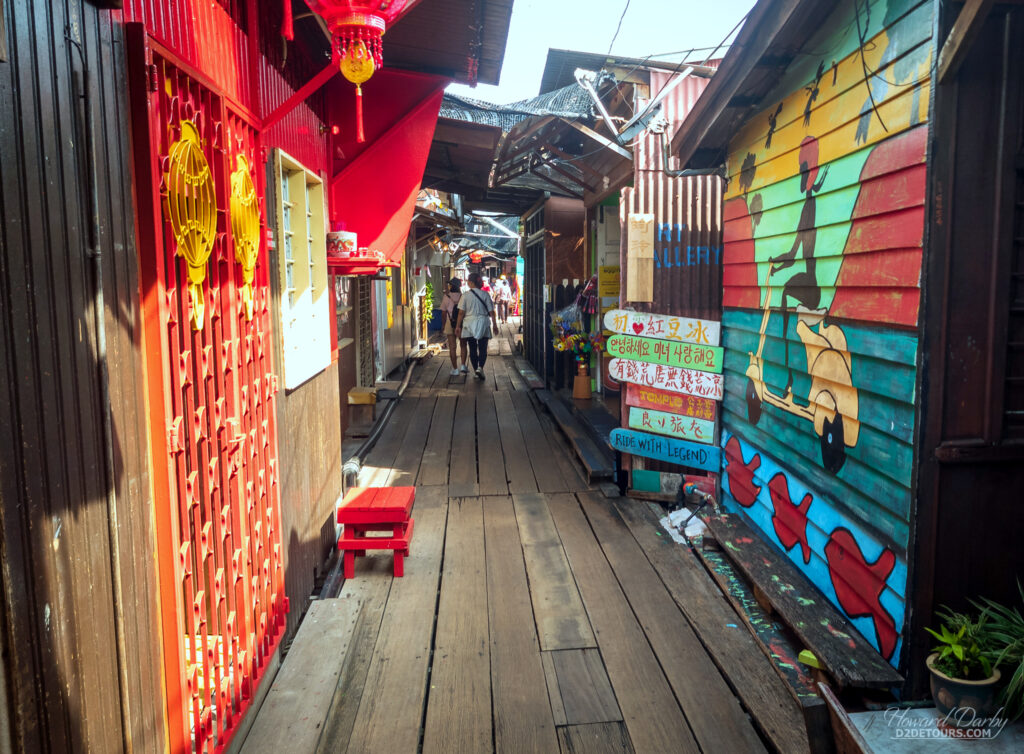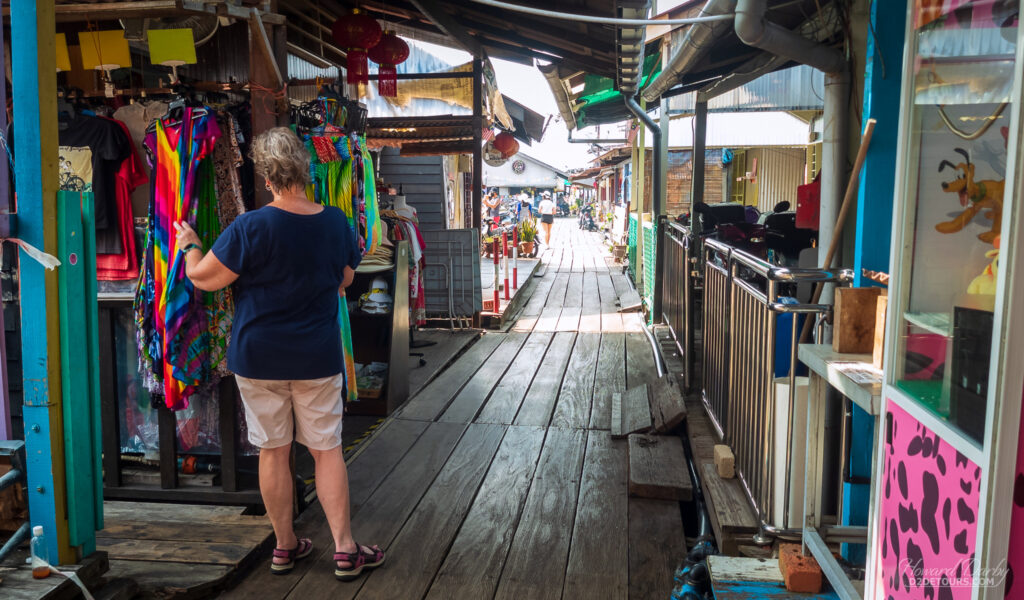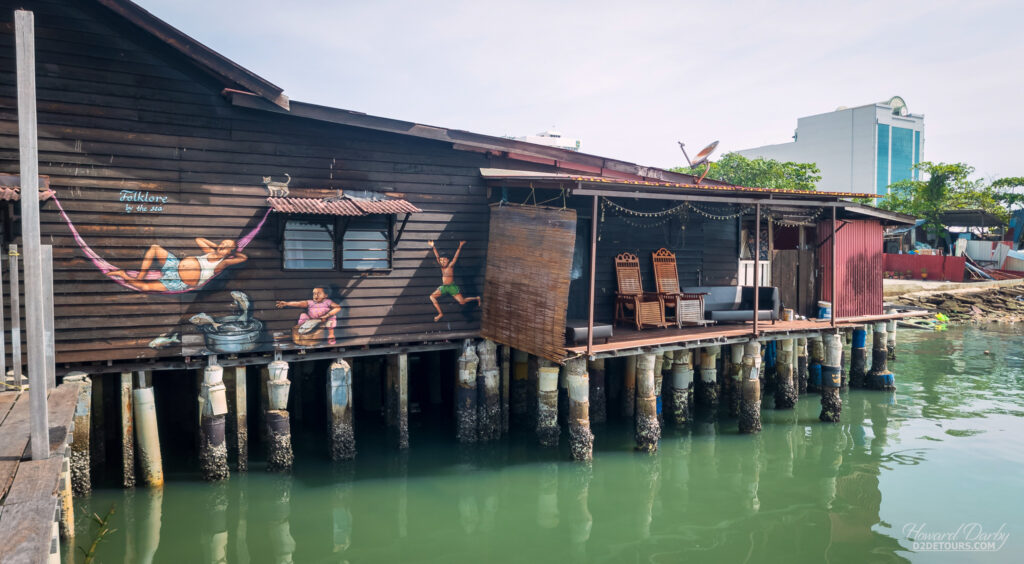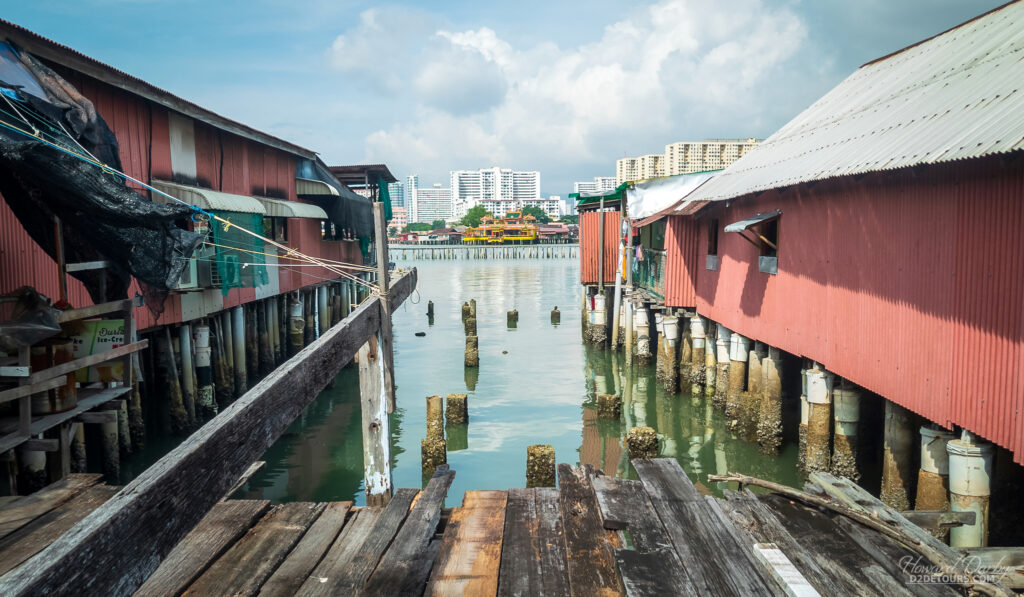 A short bus ride from our condo was the popular beach, Batu Ferringhi – white sand stretching for three kilometers. Unfortunately, the waters around Penang are not the cleanest and frequently suffer from jellyfish infestations, but the beach was nice for a stroll.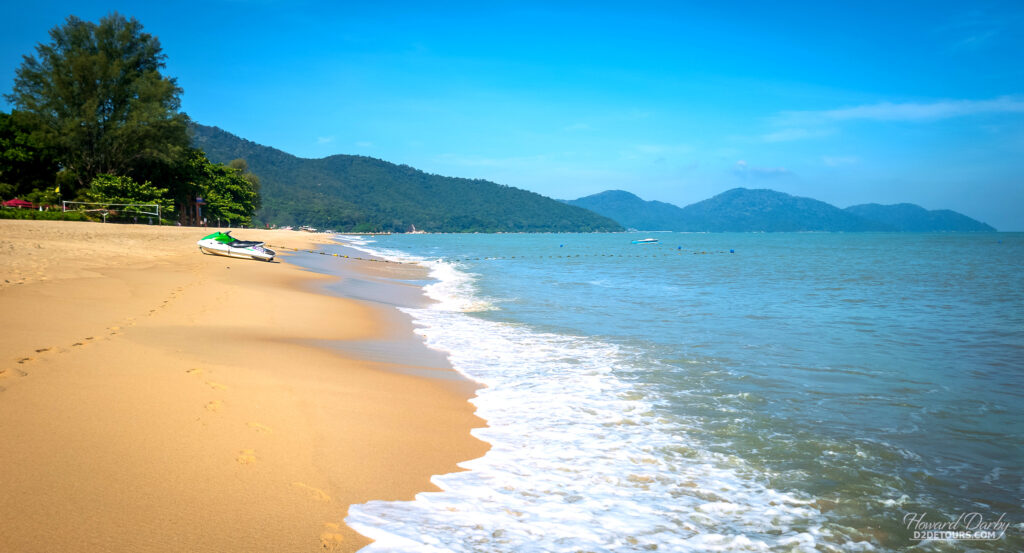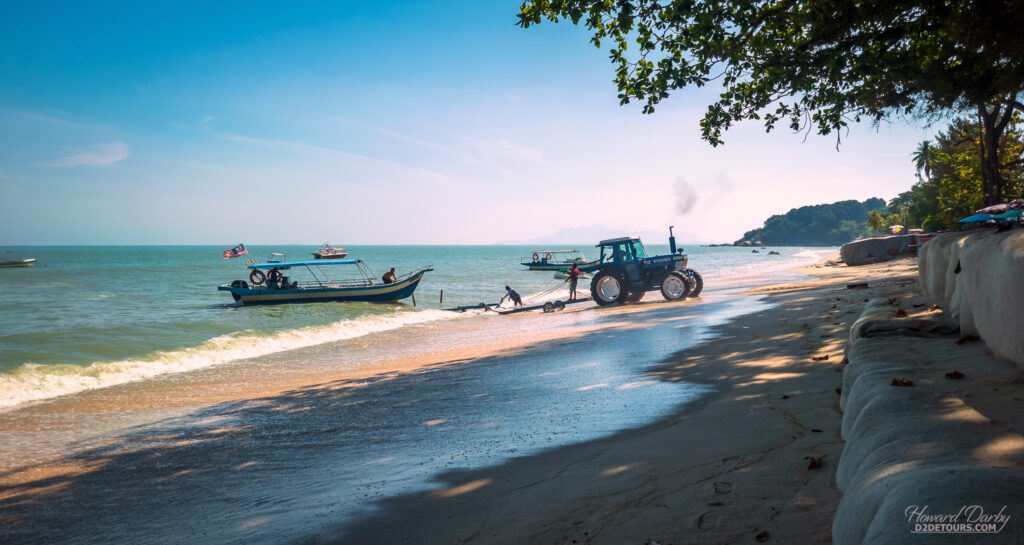 We also had some beachy bits within walking distance from our condo (near the Tanjong Tokong Tua Pek Kong Temple). Again not really suitable for swimming – I spotted one jelly fish and a rather large water monitor swimming amongst the boats – but pretty nonetheless.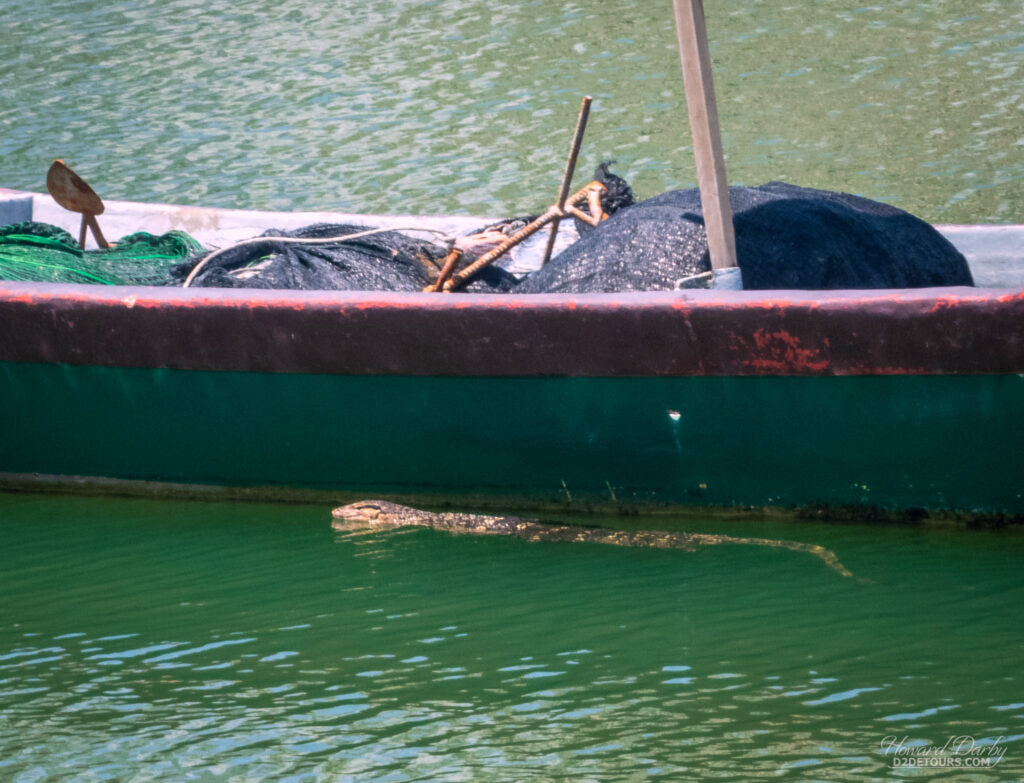 In contrast to the sun, sand and palm trees, we wandered past a WWII gun emplacement/pillbox (13 of these machine gun fortresses, in various states of decay, still dot the coastline of Penang) built by the British to defend against a Japanese invasion.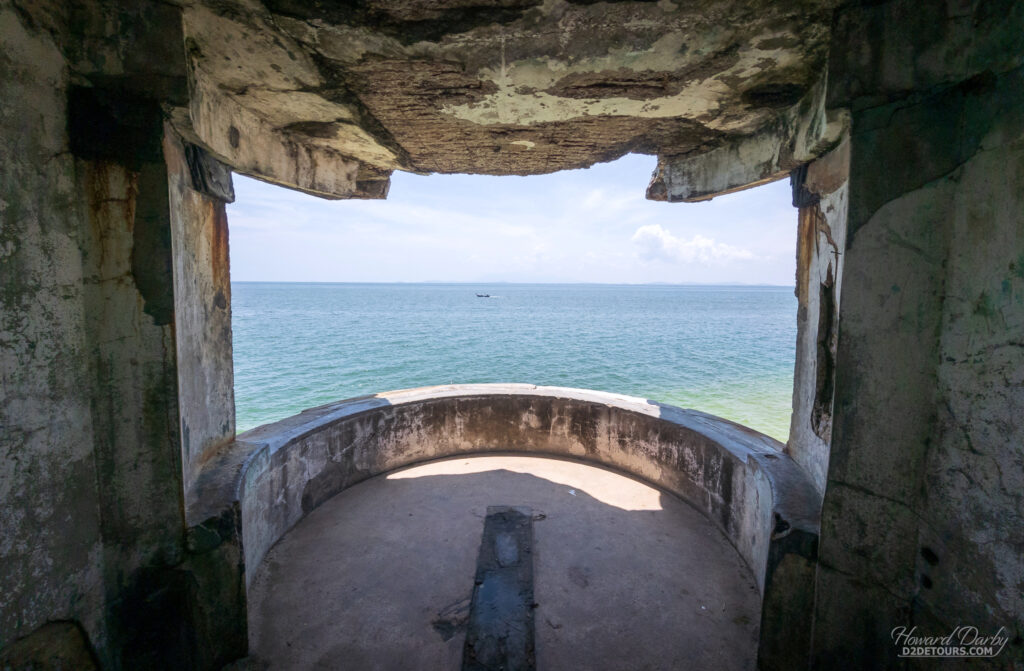 These defences didn't prove effective as Penang fell to Japan in 1941 and the harbour at George Town became an important submarine base for the Axis armies.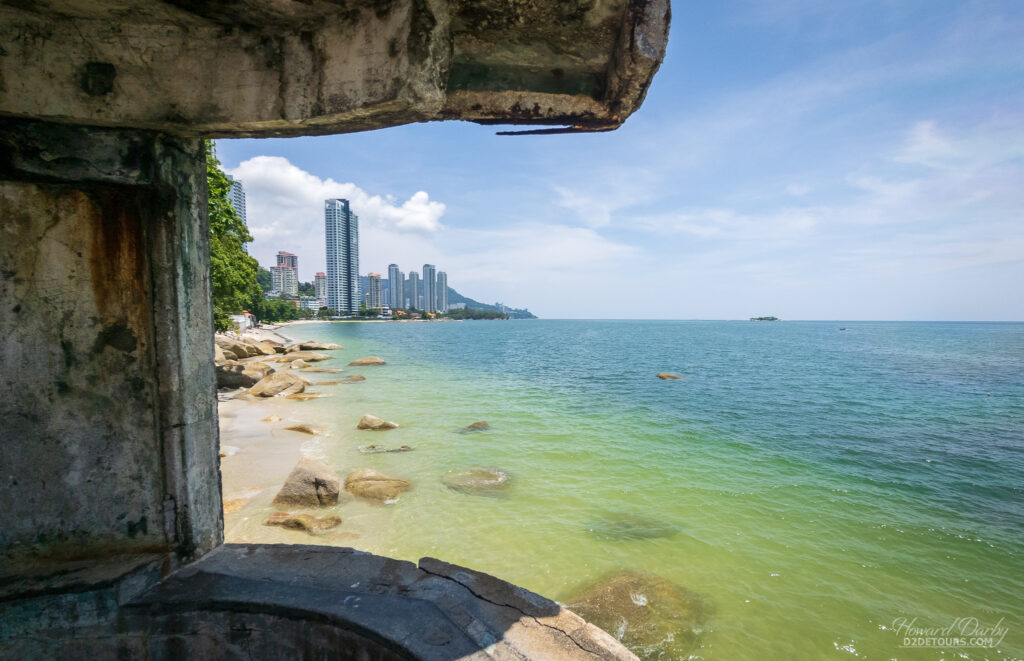 One of the holdovers from British colonization is the Penang Botanic Gardens, an English garden built in 1884 on the site of an old quarry at the base of Penang Hill. The grounds suffered a bit of neglect during COVID, and a couple of the green houses remain closed, but most of the hilly, paved path system is lovely. Lush greenery, with the occasional lizard scuttling through the underbrush and loads of macaques eyeballing the visitors. And it's free!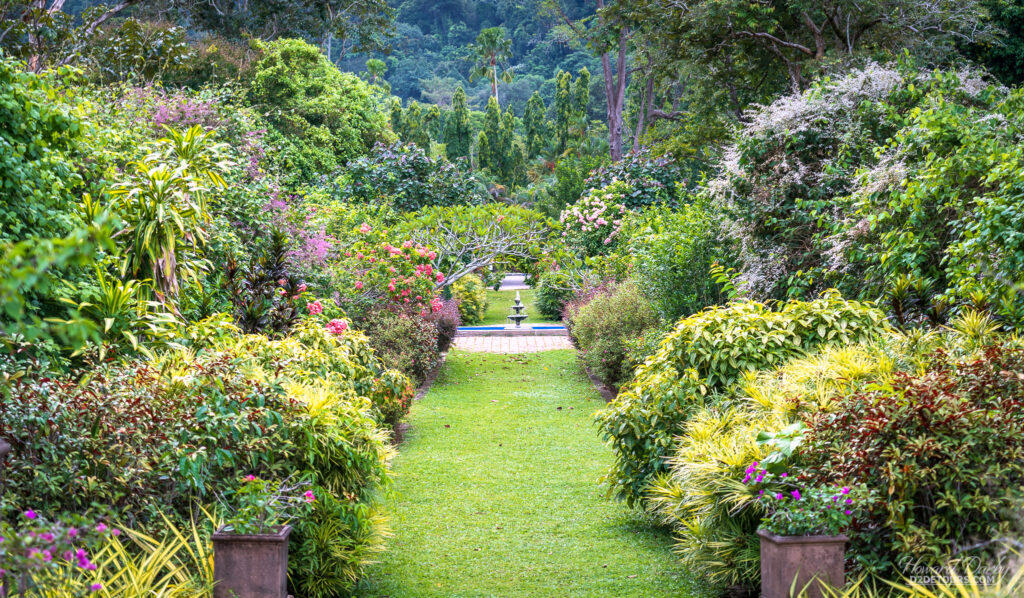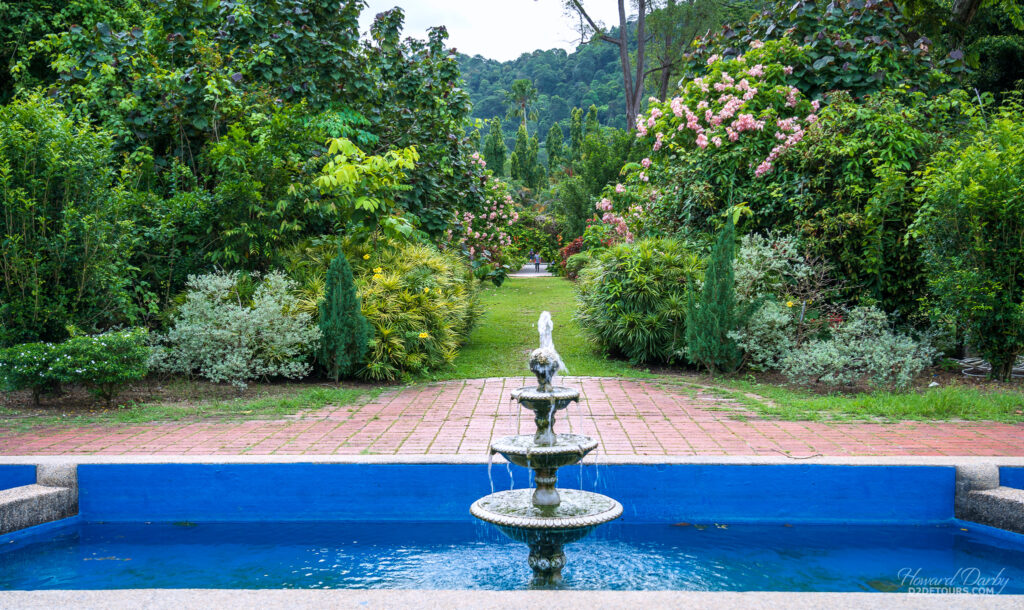 Around the corner from the botanical gardens is one of the oldest Hindu temples in Penang,  Arulmigu Balathandayuthapani Kovil, better known as the Waterfall Hill Temple. In 1800, a Hindu shrine was built at the base of a 122-meter waterfall located within what is now the botanical gardens (today you can only visit the waterfall with permission from the Penang Water Authority as in 1892 the Waterfall Reservoir was constructed). Concerns over water contamination lead to plans to move the temple. In 1915 the festival of Thaipusam was celebrated for the first time at a new hilltop temple. Significant restoration work has been undertaken on the complex over the last number of years and the temple you reach after climbing 513 steps is quite beautiful. The complex is open to the public from 6:45am to 9:00pm (closed between 12:15 and 4:30pm). We didn't enter the temple, but did appreciate hearing the soft chanting from within.
Us (our thoughts on the area) – The heat and humidity in this part of the world is a challenge. That being said, Penang is very pretty, its people are hospitable and the cost of living is extremely enticing. We wouldn't rule out coming back to this area, but topping our list of must-haves for any rental accommodation would be air-con and a swimming pool!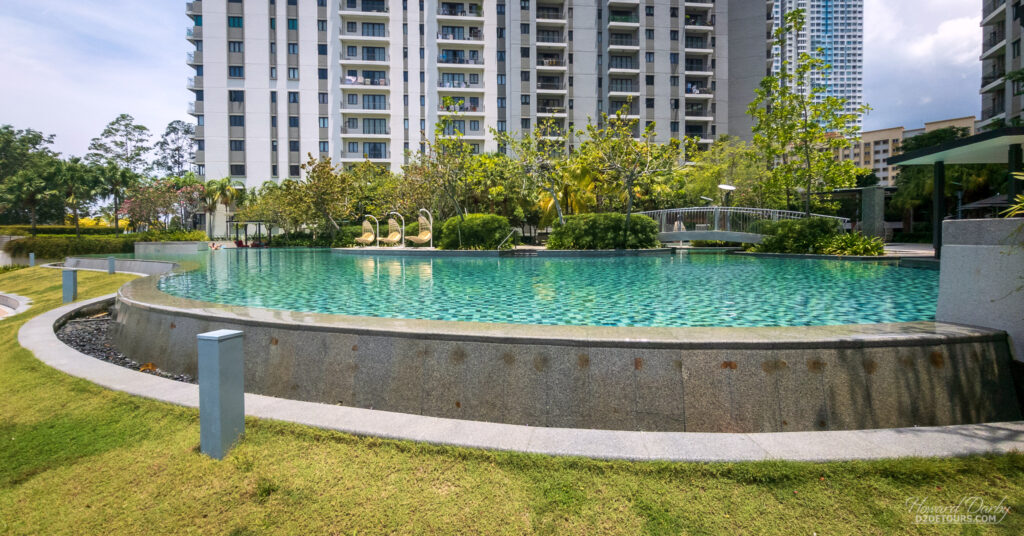 Restaurants – Malaysia's unofficial national dish is nasi lemak – rice steamed in coconut milk and pandan leaves, topped with sambal (spicy chilli paste), fried peanuts, anchovies, sliced cucumber and a hard-boiled egg and one of the best places to find it is at a food hawker stall (like a North American food court). The hawker markets are the ideal place to find cheap, delicious local food, and because a good chunk of the ethnic population in Malaysia is Malay, Chinese and Indian, the choices are extensive and delicious.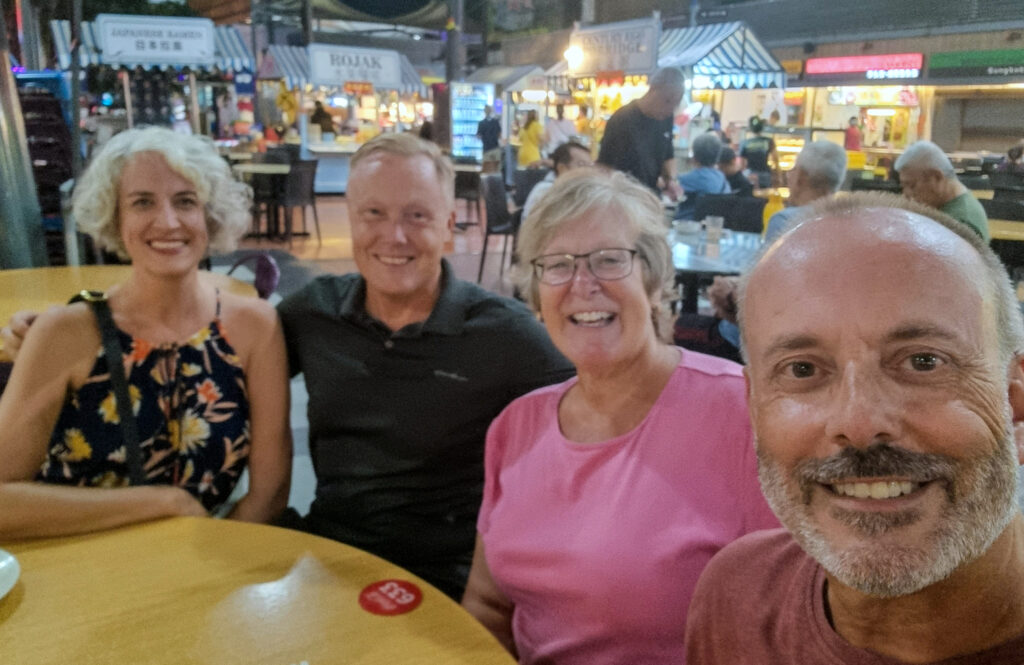 I confess, though, we ate a good many of our meals at home. We haven't had a home-cooked meal since we arrived in Japan back at the beginning of February and the selection of groceries at the Mercató and Sam's Groceria stores made it so easy to prepare several of our favourite dishes. Without question it was more expensive to cook for ourselves (my dinner at the hawker market was $4) but we savoured every bite of these familiar foods.
Speech – Malaysian Malay (or just Malay) is spoken by over 80% of the population but as a former British colony, English is widely understood. In fact, both Malay and English are compulsory school subjects. A few Malay words we added to our international vocabulary were:
Hello – Hello;
S'lah-maht ting-gahl – Goodbye;
Toh-long – Please;
Te-ree-mah ka-seh – Thank you;
Saa-ma saa-ma – You're welcome;
Yah / Tee-dak – Yes / No;
Saa-yah tee-dak faa-haam – I don't understand;
Bo-leh-kah ahn-dah ber-ba-han-suh ing-grees – Can you speak English?