We left picturesque Transylvania behind and headed for the biggest city in Romania – its capital, Bucharest. The "fastest" route from Brașov to Bucharest is the DN1 which is a single-lane highway used by cars, buses and transport trucks. Don't let the distance between the cities fool you (183 km), the bumper to bumper traffic crawled through town centers, frequently coming to a complete stop as pedestrians criss-crossed the road. It took us 4 hours to cover the distance.
Present-day Romania was originally separate provinces: Transylvania, Wallachia and Moldavia, each with their own historical story, although by the mid-16th century they were all under Ottoman control. As mentioned in our previous post, the Wallachia region has documented history with Vlad III (aka Dracula), despite the best efforts of the Transylvanian tourist bureau to convince you of their claim. In the mid-15th century, Vlad III built a residential palace and fortress (Curtea Veche) at Bucharest, which subsequent rulers continued to use, and Bucharest grew into an important political and commercial center before becoming the capital of Wallachia in the 17th century.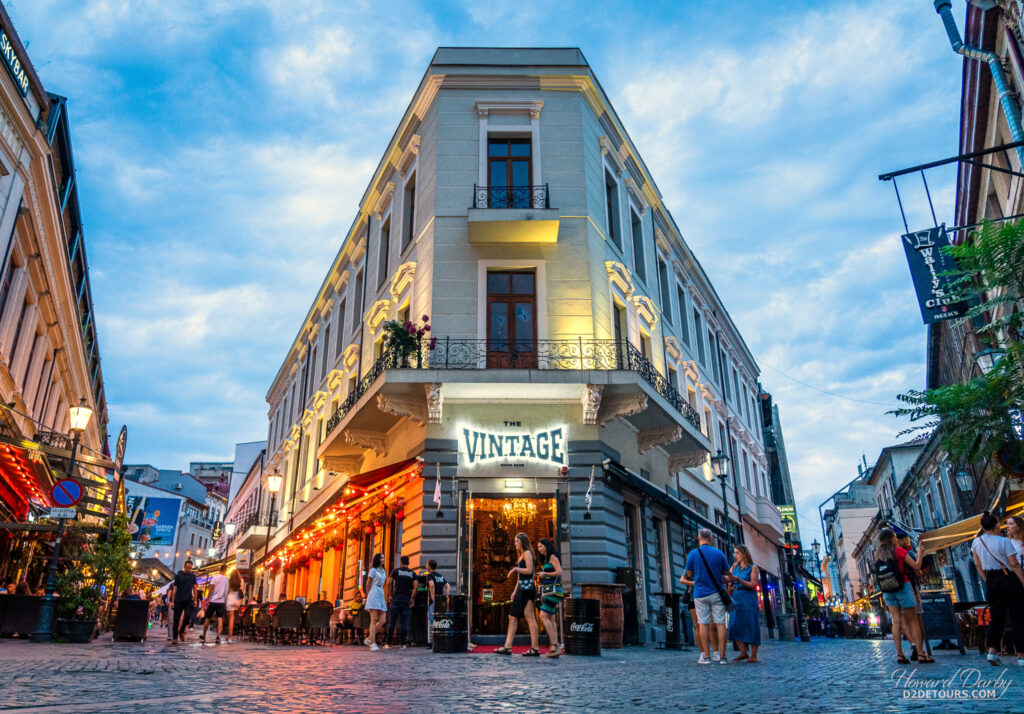 The three provinces of Romania ultimately gained independence from the Ottoman Empire around 1877/78 and in 1881, with the coronation of Carol I, were united as the Kingdom of Romania, with Bucharest continuing as the capital. During his reign, Carol I embarked on a period of rebuilding and brought over a variety of French architects to revitalize the capital with the result that Bucharest was dubbed "The Little Paris of the East." Sadly, Nicolae Ceaușescu destroyed much of that charm with his rebuilding projects in the 1980s. In particular, he had an entire historic neighbourhood razed to the ground, displacing thousands of residents, to make way for his vision of a Civic Center – wide boulevards, massive fountains and his Palace of Parliament. Fortunately, about thirteen churches were saved through the ingenuity of Eugeniu Iordăchescu, a civil engineer. Iordăchescu was watching a waiter manoeuvring through a crowd while balancing a tray of glasses and figured he could apply a similar technique to move buildings. He dug around and under the buildings, supported them on rails and rolled them to their new locations! St. John the New Orthodox Church was one of the churches salvaged and is now safely tucked behind several apartment buildings.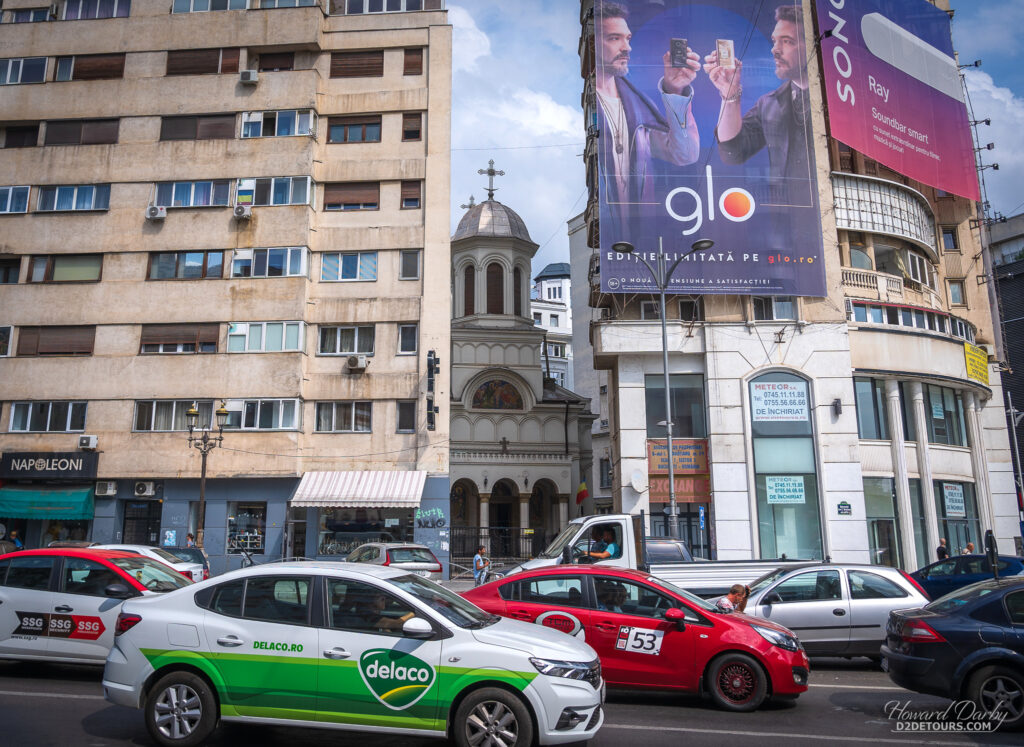 Dollars – We averaged about $109/day Canadian ($83 USD / €82) for  7 nights in Bucharest (and one night on the road) which works out to approximately $3,319 per month CAD ($2,488 USD / €2,486). The bulk of our expenses continue to be accommodation and car-related expenses.
This is not related to our costs, but I thought it was interesting. Notwithstanding its membership in the EU, Romania has its own currency, the Romanian leu, which is currently trading at 1 RON to 0.27 CAD. Romania joined the EU in 2007 and had targeted 2019 as the year they would adopt the Euro. That date was soon revised to 2024 and now the government has indicated 2029 would be the earliest it could meet the necessary criteria, which includes things like controlling inflation and long-term interest rates as well as the general state of their public finances.
Environment – We stayed in a very comfortable Airbnb outside Bucharest, in the town of Popești-Leordeni, although given urban sprawl there is no real delineation between the corporate limits. The area was originally home to the steelworks factory, Heavy Machinery Factory, Bucharest but is now a residential suburb. The Dimitrie Leonida metro station, which was an easy 1 km walk from our Airbnb, was initially built to transport workers from Bucharest to the factory; it now operates in reverse, taking commuters to their jobs in the city center.
Tips, Tricks & Transportation – We thought Bucharest had a great metro system. As mentioned above, the metro station near our Airbnb took us right into the city center and the Old Town of Bucharest. A round-trip ticket (or two single rides but you can purchase them together) was 6 RON ($1.60 CAD) and there are multiple ticket machines inside the station. If you don't have exact change for the machine (or the credit card reader isn't working) there were also manned ticket booths. Trains run roughly every 10 minutes and the platforms have a timer counting UP to when the next train will arrive. The "next stop" digital displays on the trains were in both Romanian and English, plus told you from which side of the train you should disembark, a nice touch.
In addition to the supermarket chains found in Transylvania (Kaufland and Carrefour), we found Mega Image stores in Bucharest, which were equally good, if not as large.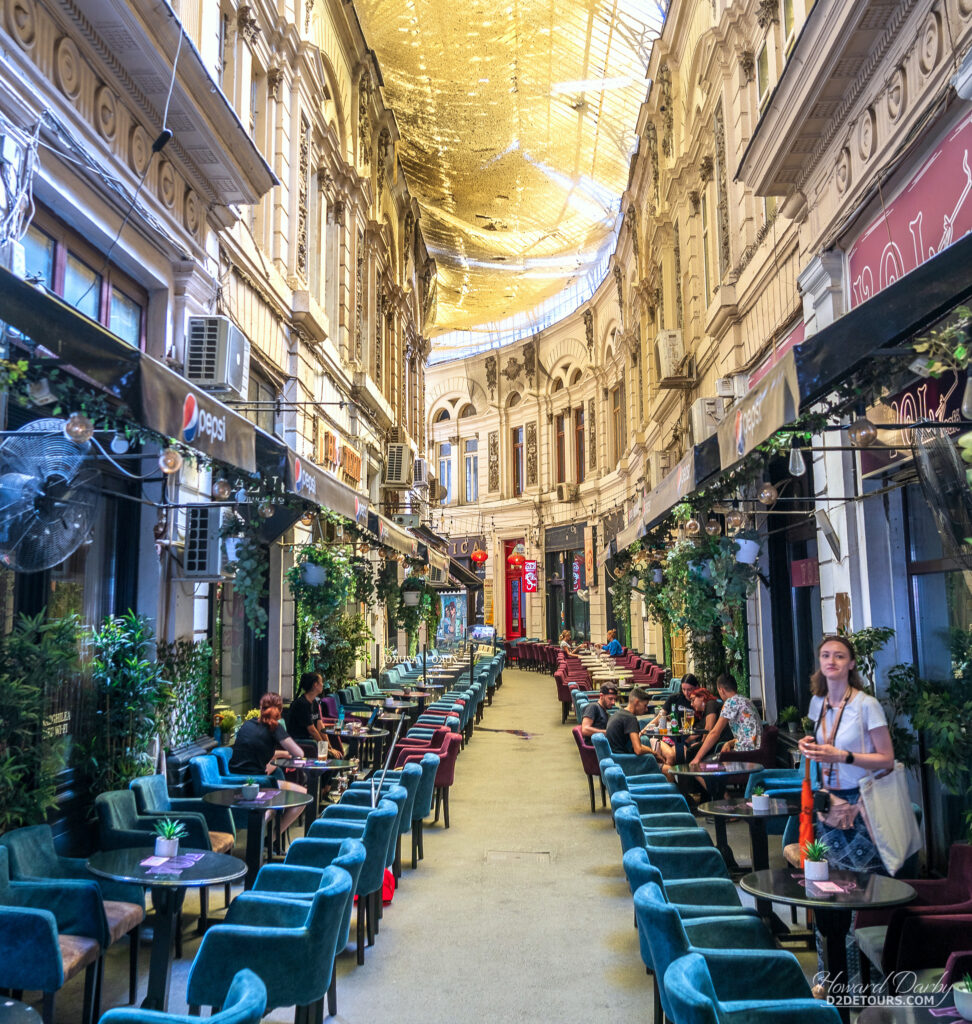 The Bucharest Ring Motorway, which sounds like a great way to navigate "around" the congestion of the City, has been under construction since 2017 (completion is slated for 2023/24) and in fact was an extremely slow and inefficient way for us to get out of Popești-Leordeni onto the highway to Serbia – we should have just gone through the City.
Out and About – We used this week to recharge a bit after moving about so much in Transylvania, but did take the metro in the heart of Bucharest on two separate occasions. The first trip was to see the Bucharest Fountain Show in Piata Unirii, which runs every Friday, Saturday and Sunday evening during the summer. Bucharest holds the Guinness Record for the longest choreographed fountain system in the world. It was fantastic! Starting around 9pm, the show runs for nearly 50 minutes with music from just about every genre, and it's free!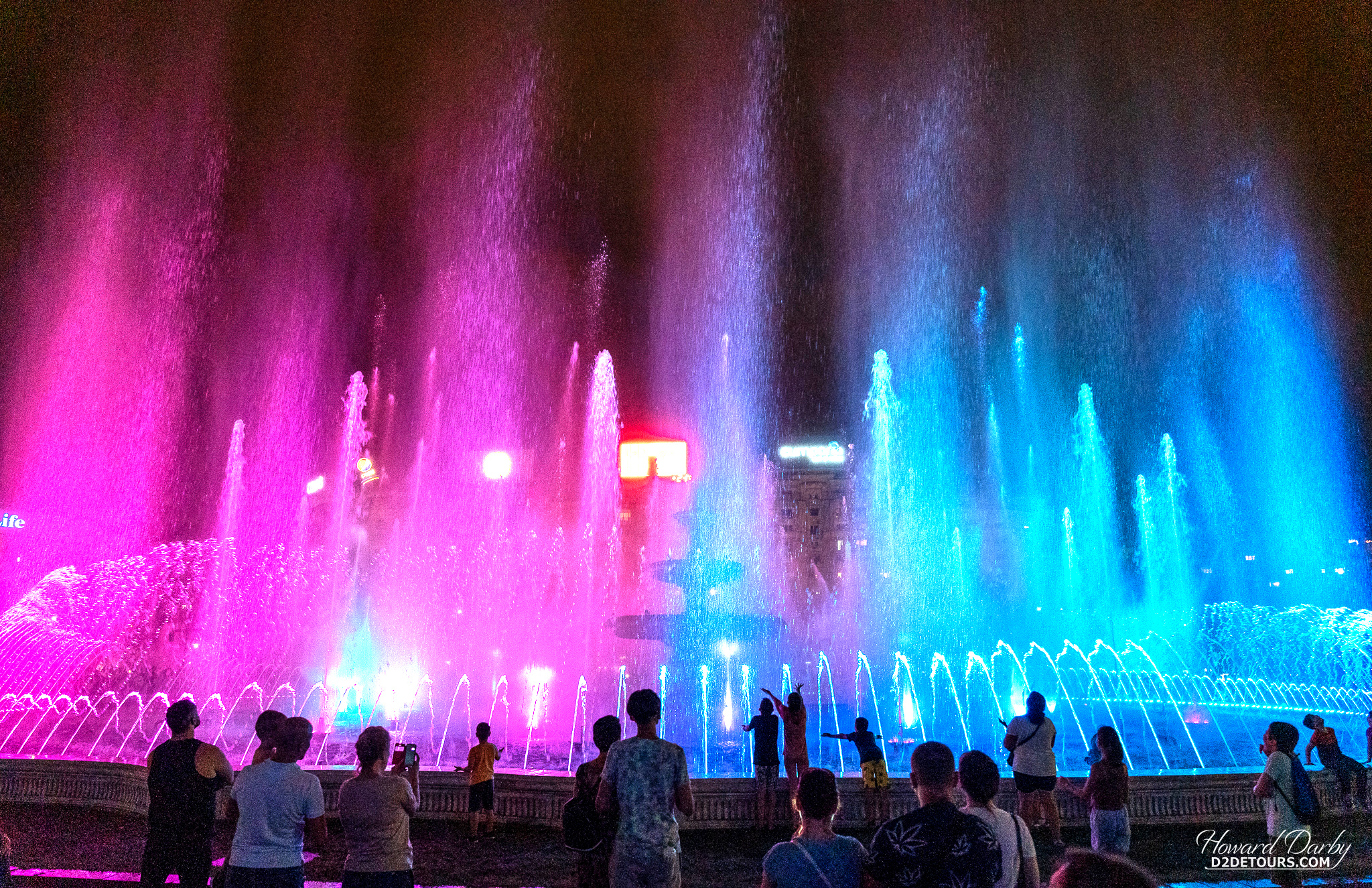 On our second trip into Bucharest we joined a free walking tour of the Old Town, which was definitely worthwhile and took us past some interesting sites.
Originally built as a monastery in 1724, the Stavropoleos Church is now a convent and houses the largest collection of byzantine music books in Romania. The Church, and surrounding buildings, have suffered damage from both man-made and seismic activity, but have been lovely restored beginning in the early 20th century.
What is believed to be the oldest religious building in Bucharest still in its original state is the Biserica Sfantul Anton (Church of St. Anthony), built in the mid-16th century. St. Anthony is the patron saint of lost things and, according to our tour guide, if you visit the Church on a Tuesday (and only a Tuesday) you can pray to St. Anthony for his assistance. Funnily enough our tour was on a Tuesday and sure enough, people were lined-up outside the church waiting to enter.
I don't think you could do a tour of Bucharest without some discussion of communism and Nicolae Ceaușescu and I will attempt to give you a very simplified summary of our tour guide's presentation. Initially a popular leader, over time Ceaușescu's rigid control over free speech and the media, his zero tolerance for opposition, some pretty audacious acts of nepotism, and his austerity policy in the 1980s led to his demise. The austerity policy was shocking. In 1981, Ceaușescu decided Romania would be the first country with no foreign debt. To achieve that goal over the next several years, he cut back on imports of raw materials and consumer goods and ramped up exports, including much of the country's agricultural and industrial production. Citizens were forced to cut their electricity consumption by 50 percent, indoor electric heaters were prohibited and people froze to death in their homes. Not surprising, with the resultant extreme shortages of food, fuel, medicine and just basic necessities, civil unrest followed. Ceaușescu's regime collapsed in December, 1989 only to be replaced by the Frontul Salvării Naționale, FSN led by Ion Iliescu, a former member of Romania's Community Party. In June, 1990 "the big anti-communism protest" began in University Square (the main demand of which was that no former member of the communist party should have any place in Romanian's new government). Over the course of several days (June 13-15) the demonstrations grew and things turned ugly when the government brought in "muscle" in the form of miners for the Jiu Valley who were under instructions to attack anyone who looked like an intellectual (ie: anyone with a beard and glasses – yikes). Iliescu prevailed over the demonstrators and remained a force in Romanian politics until 2004.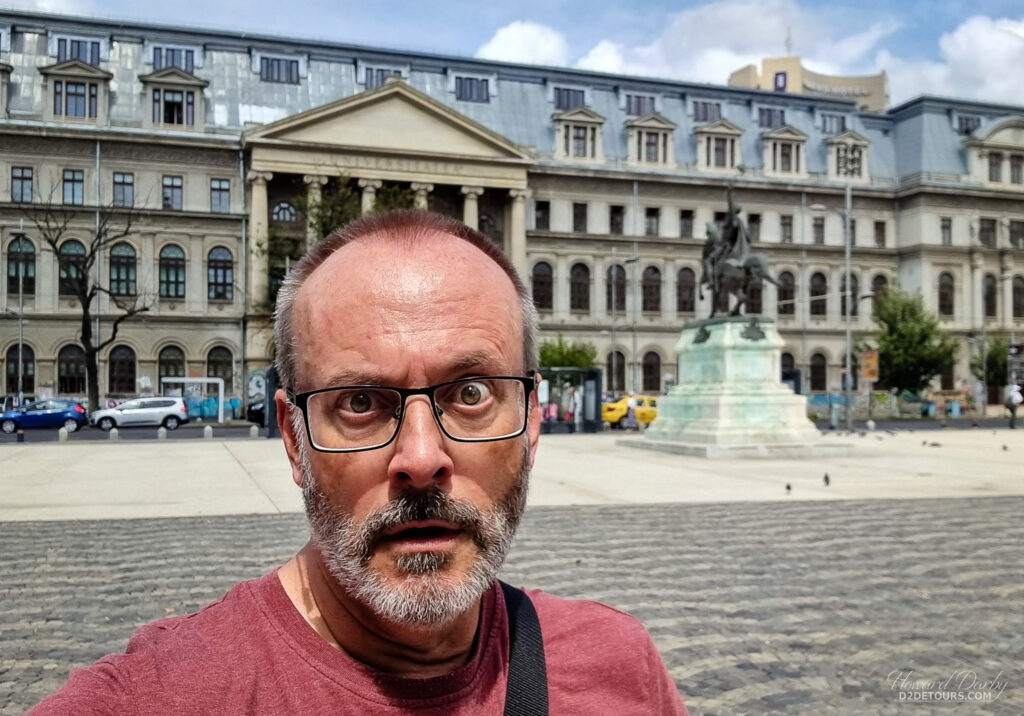 We've been doing pretty touristy things since we arrived in Europe so decided to simply go to a movie one day and found one that was being shown in English with Romanian subtitles. For the most part that worked beautifully except for the sections of the movie when the actors were speaking in Russian, Japanese or Spanish, which was also subtitled in Romanian!!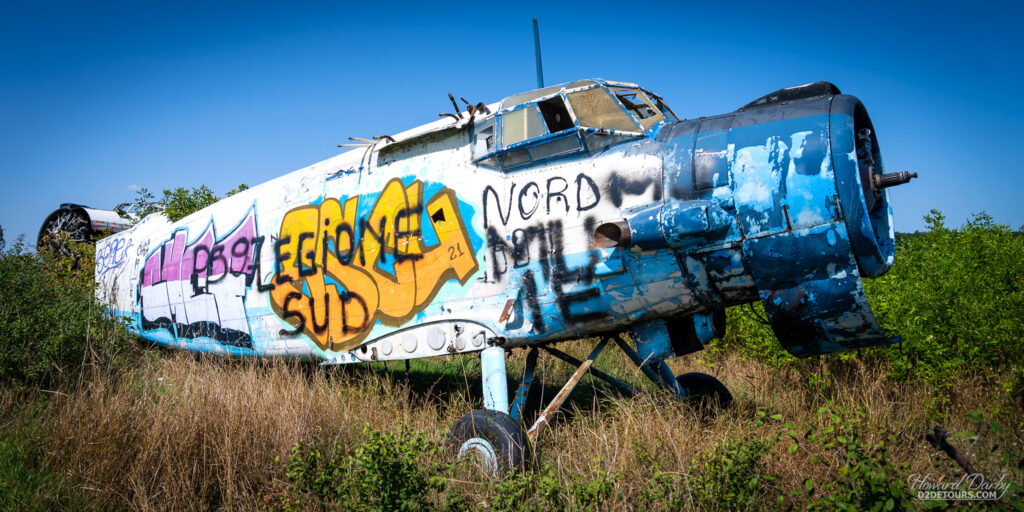 We had one final stop in Romania before we headed to Serbia, overnighting in Drobeta-Turnu Severin on the banks of the Danube and one of the border crossings between Romania and Serbia. Severin's claim to fame are the remains of Trajan's Bridge.

In 105 CE Trajan needed a way to get his soldiers across the Danabe to deal with a pesky Dacian King who had reneged on a peace treaty brokered a couple of years earlier. The structure consisted of wooden arches set on stone pillars and measured 1,135 m (3,724 ft) in length, was 15 m (49 ft) wide, and rose 19 m (62 ft) above the water level. It must have been astonishing in its day. Just a few blocks away is a full-sized, partial reconstruction of the structure that gives you a sense of its size. For nearly 1,000 years it was considered to be the longest arched bridge built. In 1972, construction of the Iron Gate I Hydroelectric Power Station raised the level of the Danube but the entrance pillars on both the Romanian and Serbia sides of the river were preserved. In addition to the bridge ruins, there are the remains of the Roman military base and an indoor museum on the site. Unfortunately, they only accept cash for tickets and we'd divested ourselves of nearly all our Romanian cash when we filled-up with gas so only had enough money for the outdoor archaeological park, which was 8 RON/pp ($2.10 CAD). The combined ticket was 28 RON/pp ($7.60).
Us (our thoughts on the area) – Of all the major cities we have visited throughout the years (and not just those we've seen during our retirement travels), I can honestly say Bucharest was our least favourite. Walking around the Old Town during the evening hours felt downright sleazy (Howard wasn't quite so harsh in his judgment) and very little of the hodgepodge of architecture was particularly compelling. In Bucharest's defense, the bleak, concrete construction favoured by the Soviets does tend to overpower any elegance that might have been left behind by the 19th century French architects. Off to Belgrade, Serbia.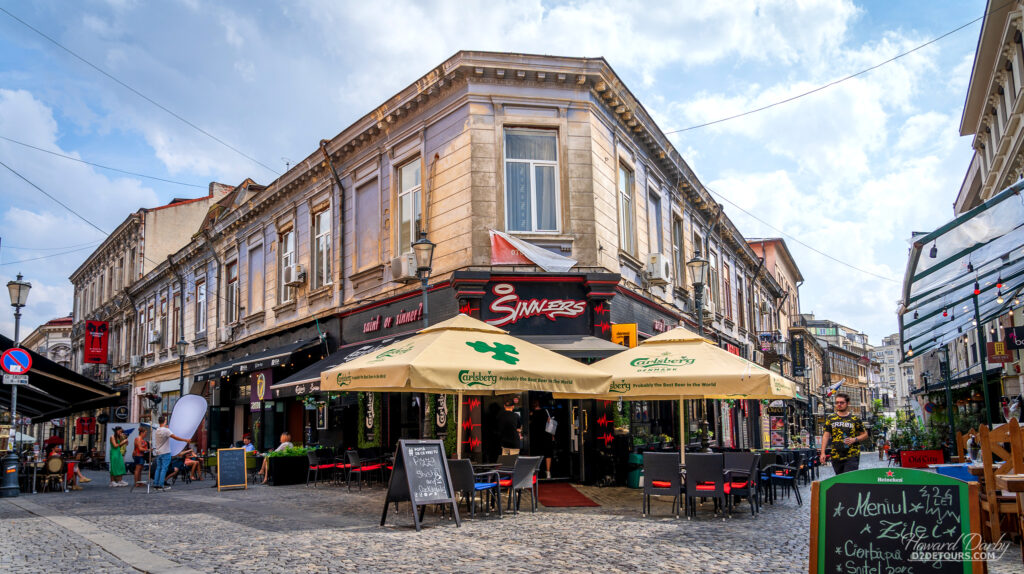 The French-inspired buildings that do remain scattered around the Old Town certainly do have impressive facades.
Restaurants – We thought restaurant prices in the Old Town were expensive (and quality didn't match the price) although we couldn't resist treating ourselves to some more Papanași.
Speech – Roughly one-third of Romanians speak some English, and it is taught in the public school system (from the primary grades through to upper secondary grades); the younger the person to whom you are speaking, the higher likelihood they will have a pretty good grasp of English.
These were the words/phrases we found most helpful to know:
Buon Giorno (Bwohn-johr-noh) – Good Morning (although it seemed acceptable any time of day);
Bună ziua (Boo-noh zi-ua) – Hello;
La revedere (La re-ve-de-reh) – Goodbye;
Te rog – Please;
Mulțumesc (Mool-tzu-mesk) – Thank you;
da/nu – yes/no;
Nu înțeleg (Nu in-te-legh) – I don't understand;
Cât costă? (Cat kos-tah) – How much does it cost;
Noroc! – Cheers (when drinking);
Scuze – Sorry or Excuse me.