Our bus ride from Plovdiv to Istanbul reinforced my new mantra, "just go with the flow". With her very limited English, the ticket agent at the bus station in Plovdiv let us know the bus was running about 45 minutes late and kindly let us leave our luggage in her office while we waited. She then made it her mission to ensure we got safely on the bus when it arrived. We could have used her help an hour later when the bus stopped in Haskova and we were rather unceremoniously told to get off the bus and directed to another one. We had understood it was a direct bus from Plovdiv to Istanbul however as the bus from Plovdiv only had about 10 people on board, we figured they were trying to condense passengers for the trip to Turkey. Immediately upon departure from Haskova we were asked to surrender our passports and we noticed the bus was driving down sketchier and sketchier streets with Howard and I both wondering if we were about to become a horror story plot line! We subsequently arrived at the bus line's garage as apparently one of the passengers had left some luggage on his previous bus and they were helping him retrieve it – that is customer service! After our passports were checked and catalogued they were returned to us for the border crossing. Apparently Covid does not travel by bus. Other than the agent in Plovdiv, who casually (in her broken English) asked if we had proof of vaccine, no one at the border crossing made any inquires about vaccines or PCR tests – it was a remarkably easy border crossing (my sleepless nights leading up to our departure as I worried about whether our mixed Astrazeneca and Pfizer vaccines were going to cause a problem were for naught, thankfully!).
Istanbul … where to begin. After the relative tranquility of Bulgaria, it was a bit of a shock to our senses, but wonderful nonetheless. The city of Istanbul spans two continents (Europe and Asia) with the Bosphorus strait running between the two and is home to 15 million people. We hail from Calgary, the fourth largest city in Canada (1.4 million) and it's hard to wrap your head around the fact that Istanbul alone is home to nearly half the population of Canada! I think you could spend months (years?) in this City and still not know all of its secrets, but to ensure you don't glaze over reading this post, I'll do a very condensed version of its history!
Byzantium, as it was originally known, was settled by Greek colonists more than 2600 years ago. Nearly 1000 years later, (330AD) the Roman emperor Constantine the Great took up residency in the City, renamed it Constantinople and set about (successfully) creating a city to rival Rome in wealth and importance. Given its strategic location between two continents and two major bodies of water (the Mediterranean and Black Seas) its fortifications were amongst the most sophisticated defensive structures in Antiquity. Portions of these ancient walls and gates (measuring 4.5–6m thick and 12-18m high in places) are still standing today. Despite being subjected to numerous foreign attacks, the City remained invulnerable for nearly 900 years before finally falling to the Ottoman Empire in the 15th century.  Constantinople then became known as Istanbul, which is similar to how local Greeks had been referring to it for generations – "eis tēn Polin" (to the City). Interestingly, Istanbul was not officially recognized as the City's name until 1930.

Dollars – We averaged about $89 per day Canadian ($70 USD / €60), which kept us under our $110/day budget for a total of $1,257 for fourteen nights in Istanbul. That extrapolates out to $2,694 per month ($2,134 USD / €1,815).
Our Airbnb, which accounted for half of our expenses, was a one-bedroom, small, apartment in the historic Fatih district. Only a short 5-minute walk (uphill) to the Grand Bazaar and Beyazit Tram Station. The Hagia Sophia, Blue Mosque and Topkapi Palace were also within reasonable walking distance, or a two-stop trip on the tram. The unit was not large, with only a small kitchenette, but had been renovated with new furnishings and had an air conditioner in the living room. The Wifi was a bit spotty, which occasionally affected the streaming quality on the Firestick, but not a significant problem. You can view the Airbnb listing by clicking here. At the time we booked, this was a brand-new listing (we were the second guests) and the host was offering a discount as an inducement to book.  We paid $45.74 per night Canadian ($36.22 USD / €30.82).
Our other main expenses were:
Restaurants (9 meals we ate out at a variety of sit-down and quick food places, plus a fair number of gelato treats);
Groceries (breakfast, snacks, several dinners and more baklava than I care to admit);
Transportation (bus from Plovdiv and public transportation in Istanbul);
Sightseeing (entry fees to Topkapi Palace and Istanbul Archaeological Museums); and
Turkish Visas – If you require a Visa to enter Turkey (and most nationalities do) the cost is $60 USD. With the conversion rate applicable on the day we received our Visas this worked out to $154.20 (CAD) and we averaged that cost over the full 60 days we plan to be in the country ($2.57/day).
Environment – Our Airbnb was located in the Beyazit neighbourhood of the Fatih district, the district historically known as Constantinople, just down the hill from the Grand Bazaar. During our first foray out into the neighbourhood we soon noticed that the streets were lined with shops all selling similar products. At the top of our street, all the stores were selling handbags, the shops right around our Airbnb were all selling fabric/leather or metal hardware for clothing (zipper pulls, buckles etc.), one street over was shoe store after shoe store. Prior to our new lifestyle, a street lined with shoe stores would have been my definition of heaven but, as we keep reminding ourselves, minimalism is our new refrain (one new pair couldn't hurt though, could it?) We learned that originally the individual streets of the Grand Bazaar were dedicated to specific professions and this type of organization continues today outside the Bazaar with streets and sometimes whole neighbourhoods devoted to selling particular items. Walking through the Karaköy neighbourhood was like visiting an open air Home Depot, with each shop specializing in different things like drill bits, saw blades, toilets, faucets, hinges, screws & nails, etc.
Not only in our area, but on other streets too, we would regularly see a man pushing a cart and calling out something in Turkish. Without fail, every single time I heard them, the "bring out your dead" chant from Monty Python and the Holy Grail would run through my head. I never could figure out what they were collecting here in Istanbul but it definitely wasn't garbage (or the dead) as garbage trucks came by every evening about 9pm to gather up any bags of trash the residents or businesses left in the gutter.
Feral cats are EVERYWHERE and it is clearly accepted practice for businesses or residents to feed them. The Pandora store even had customized bowls for them!
With over 3,000 mosques in Istanbul you can't help but hear at least one muezzin's call to prayer throughout the day. The Beyazit Mosque, an early 16th century mosque considered to be the archetype for later Ottoman mosque construction, was located at the top of the hill from our Airbnb and I quite enjoyed hearing the sunset (Maghrib) and last light of day (Isha) calls each evening.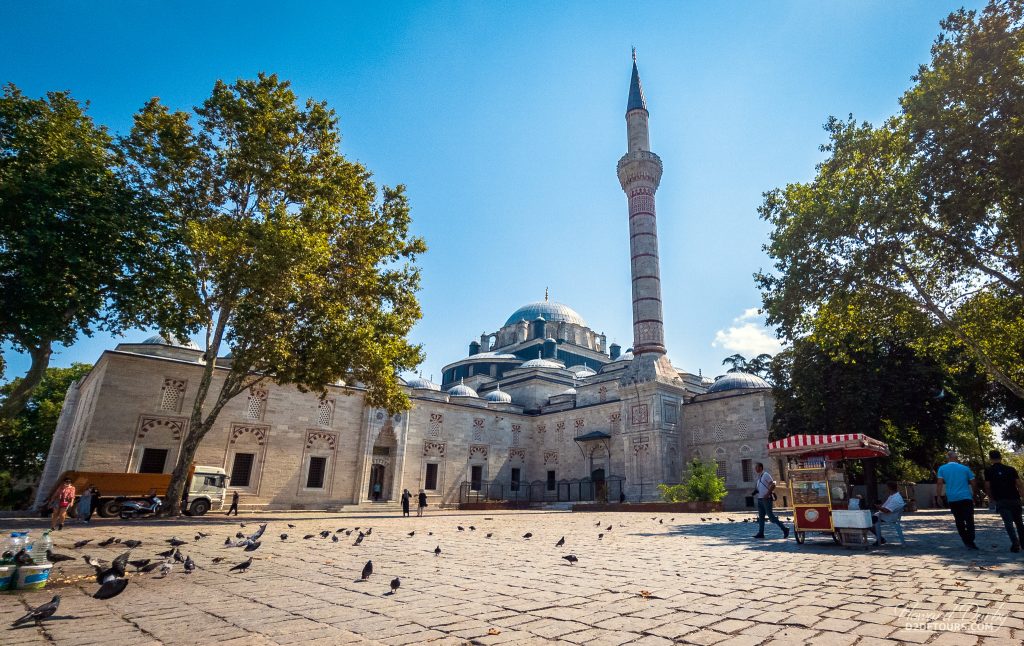 Tips, Tricks & Transportation – Depending on your nationality you will likely need a Visa for entry to Turkey, but they are easily obtained online with numerous sites offering them. I recommend, however, that you just go straight to the government website and apply through their portal. Provided there are no issues with your application, the Visa is granted instantly. Quick note, the website seems to indicate you can apply for more than one Visa at the same time – this never worked for me and I finally just did two separate applications and that worked perfectly. Though the application is online and you receive the Visa through email, you will need to show a printed copy of the Visa at any border crossing.
The transit system in Istanbul is ahhmazing!! No matter the length of your stay here, get yourself an Istanbulkart – Howard did a very thorough summary of the significant benefits of the card and we used it extensively.
We went back and forth on the merits of purchasing the Istanbul Museum Pass offered by the Ministry of Culture and Tourism and finally decided it wasn't going to be worthwhile. The cost this year (2021) is 360 TL ($55 CAD / $42.50 USD), which is not unreasonable for 13 museums, but the downside is that you only have five days from the date you purchase it to visit the sites affiliated with the Pass. We were not interested in all of the museums, and with two weeks in Istanbul definitely did not feel the need to rush around trying to pack the sites into such a short timeframe. The pass would have allowed us to avoid ticket booth lineups and go straight to entry gates (which on a hot day might be worth a few lira), but we found if you head to the busier sites (like the Topkapi Palace) close to the time they open, ticket lineups were not an issue. The Hagia Sophia and Blue Mosque do not have entry fees and, again, I would recommend you visit them in the morning to avoid crowds. One final note, be sure to check prayer times before you visit any mosque as visitors are not allowed to enter during those times.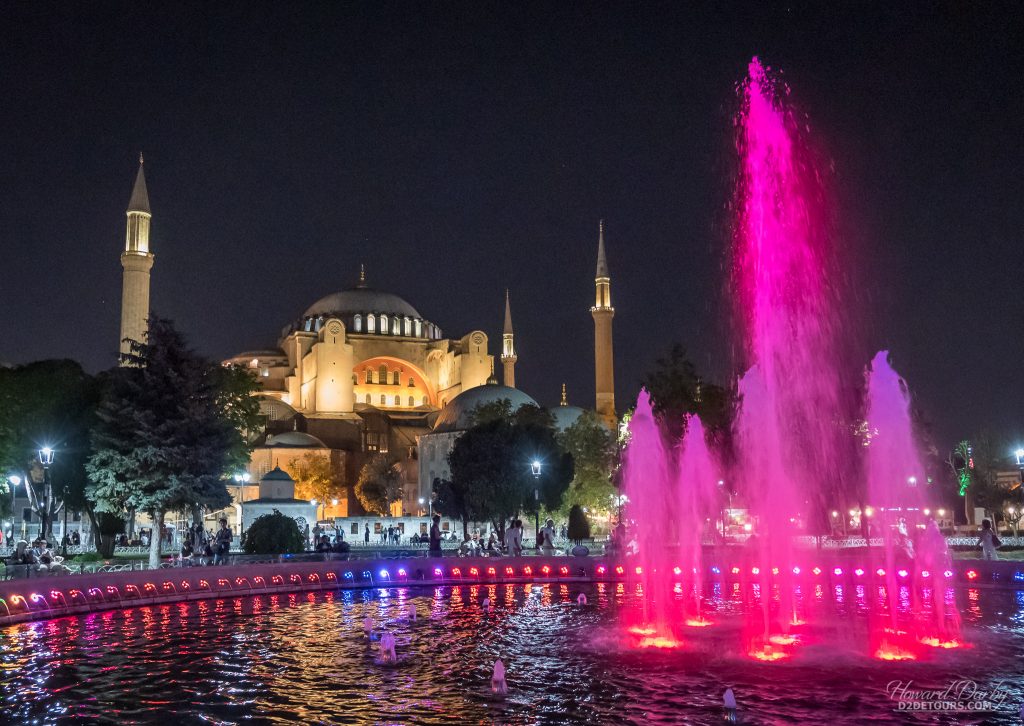 Grocery stores (supermarkets) vary in size and content, and are spread through the City. Bim stores and Şok Markets were a bit like small discount warehouses and sold most everything we needed. Lots of local stores sold fruits and vegetables and were easy to find on just about every street. Drinking alcohol is legal in Turkey, and we did see the occasional small store selling wine and spirits, but the prices were pretty steep (Bulgaria, I miss you, sigh). Lots of restaurants served alcohol and the hosts standing outside trying to entice patrons into their establishments often lead with the offer of "we have beer"!
Out and About – Istanbul is a bustling megacity, although we noticed lots of non-tourist business still close on Sundays. There are several iconic sites one should see on a visit to this City, but I think we enjoyed just wandering the streets, dodging carpet sellers, motorbikes, and cats, even more.
The Fatih district, where we were staying, is on the European side of Istanbul. The Asian side of the City has a very different feel to it, much more modern and definitely worth a visit. You can get there on the Marmaray metro line (5 minutes under the Bosphorus strait) or by ferry (10-15 minutes on the Bosphorus) and the Istanbulkart works on either mode of transport. We did it both ways but preferred the ferry – it was like an inexpensive mini-tour.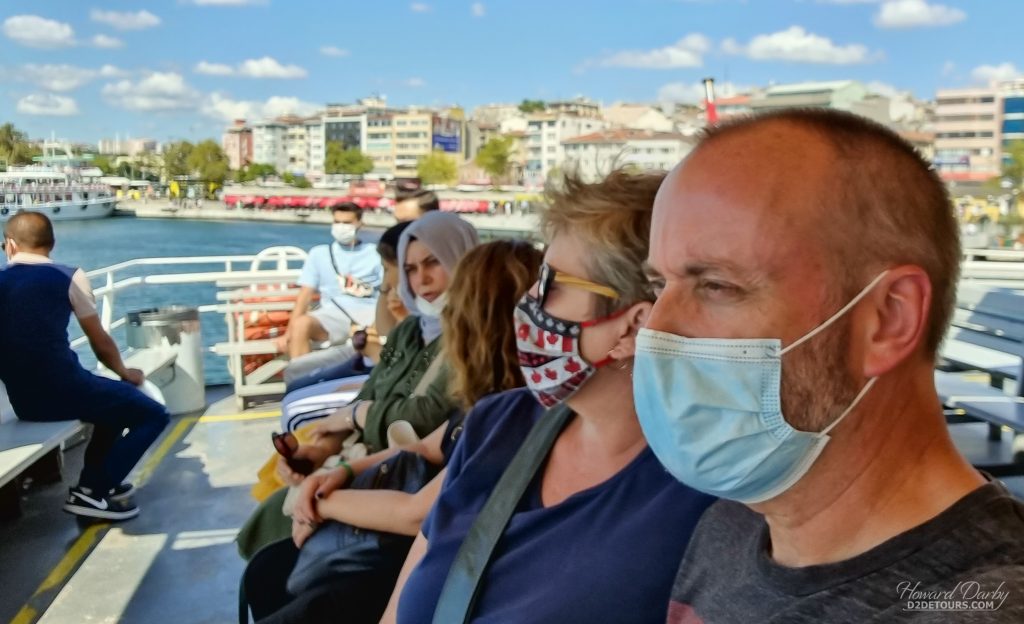 I should note, other than a definite weakness for shoes, I am not a shopper, and the Grand Bazaar was a claustrophobic experience from which we quickly exited. The architecture was interesting but the volume of people (especially during Covid) was not enjoyable.
Of the "must-see" sites in Istanbul, the Hagia Sophia, Blue Mosque and Topkapi Palace feature prominently, however the standout for me of all of the tourist venues were the Istanbul Archeological Museums. More than a million artifacts from Assyrian, Hittite, Egyptian, Greek, Roman, Byzantine and Ottoman civilizations are housed in three separate buildings on the outer grounds of the Topkapi Palace and with an entry fee of only 60 TL ($9.50 CAD) I was surprised at how few people were visiting – I think I counted 15 people, including us, during the two hours we were there. The Museum of the Ancient Orient was an interesting collection of stone statuary, Egyptian artifacts and several glazed brick panels from Babylon. The Tiled Kiosk (kiosk is a Persian word for a small garden pavilion), built in 1472 as the Sultan's private getaway from palace life, now houses lovely examples of turkish tiles and pottery but the sarcophagi and funerary stelae in the Archaeological Museum were particularly impressive and, in my opinion, an absolute Istanbul "must see"!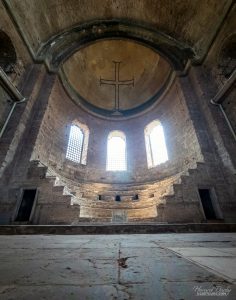 The Traditional "Must-See" Sites:
Constructed between 1460 and 1478, the Topkapi Palace was the main residence and administrative headquarters for the Ottoman sultans, now it is a museum. The collection includes, among other things, clothing, weapons, clocks, miniatures, religious relics, and did provide a glimpse into palace life. Unfortunately, several sections were not open and honestly I thought the entry fee was overpriced (200 TL / $30 CAD). I did learn a new word though, electuary – a medicinal substance mixed with honey or another sweet substance and the different ornate, porcelain dishes used to serve electuaries to the sultan were quite beautiful. Entrance to the Hagia Eirene (Irene) is included in the Topkapi ticket as it shares the Palace's outer courtyard. There is absolutely no signage in the church to explain its history or purpose but a quick google search told us it was one of the few churches not converted to a mosque, instead serving as an arsenal and museum. Today, because of its excellent acoustics, it often serves as a concert hall. In some respects I found this empty church with its musty atmosphere more interesting than Topkapi Palace.
During the course of its 1,500 year history, the Hagia Sophia has been a church, a mosque and until very recently a museum (in 2020 President Erdogan had it reverted back to a mosque). Columns from the Temple of Artemis in Ephesus, one of the seven wonders of the Ancient World, were used at one point to reinforce its interior walls and it was the seat of religious and political power until the Ottoman conquest. It was typical of the Ottomans to turn the largest religious structure in a conquered city into a mosque and the Hagia Sophia was no exception. Depictions of the human form in religious buildings is forbidden by Islamic law but interestingly, the mosaics in the Hagia Sophia were not destroyed but simply plastered over allowing them to be uncovered when the mosque was turned into a museum. Apparently now that it is a mosque again, the offending images are covered during prayer but remain visible for tourists otherwise.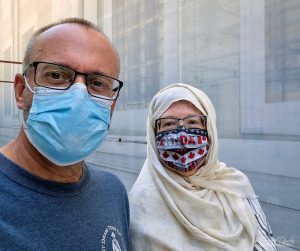 Years later, the Blue Mosque was commissioned by Sultan Ahmet I as a compliment (rival?) to the Hagia Sophia – it was built directly in front of the Hagia Sophia! Historical tidbit: Sultan Ahmet I was the first royal to break with the Ottoman practice of fratricide marking the end of that tradition. Appropriate attire is required for anyone entering a mosque (men should have their knees covered, although this was not enforced and women must cover their knees, shoulders and head, this was strictly enforced). As I was setting about arranging my head scarf to enter the Blue Mosque a gentleman popped out of nowhere and tied it for me all the while chatting about how he had a carpet store and would meet us after we'd finished at the mosque so he could show it to us. To our surprise, in the mass of people exiting the mosque he spotted us and tried to lead us away to his shop. While I was very appreciative of his scarf tying skills, we did not want a carpet. To our great disappointment, the Blue Mosque is still undergoing restoration work (it has been since 2017) and the interior was almost completely covered with scaffolding hiding all of its beautiful blue tile work.
Howard had the Rüstem Paşa Mosque on his list of potential sites to see in Istanbul and it served as a wonderful replacement for the Blue Mosque. It has similar tile work and no one was there, likely because it is very difficult to find with virtually no signage. The first two pictures below offer our tips on how to find and enter it. From the square in front of the spice market (first picture), go to the right and around to the northwest corner of the mosque. From there you should see the stairway I've marked with an arrow, head up those stairs and you'll find the entrance of the mosque. It is beautiful inside, peaceful and worth finding.
Us (our thoughts on the area) – New York may be known as the city that never sleeps, but I think Istanbul could be a contender for that title too. We arrived a bit later than expected from Plovdiv (well after midnight) and our Airbnb host insisted it was not a problem to take the Metro from the bus station to meet him and he was right. The streets (and the Metro) were alive with people, stores/restaurants were open and the City was humming. Regardless of the time of day, I never felt uncomfortable walking around, although I was careful to dress conservatively (capris or skirts that covered my knees and no sleeveless tops) but we saw lots of women in short shorts, sundresses and pretty revealing tops. I suspect as long as you stay in the touristy areas, you probably won't get hassled. Istanbul is full of energy with plenty to see and do but two weeks was the right amount of time for our stay. Generally speaking I think we prefer smaller cities, and that's likely why I loved the view from our Airbnb, looking down the narrow cobblestone street to the Sea of Marmara, the illusion of peace and quiet. Off to Ephesus and Pamukkale!
Restaurants – So many food choices here, some great, some mediocre. Small, fresh-squeezed orange juice shops are sprinkled throughout the streets, 25 TL / $3.75 CAD for a 1.5 litre bottle of the best juice I have ever tasted. We kept a constant bottle in our fridge. Grilled corn-on-the-cob vendors are all over the place, 5 TL / $0.75 CAD for a dry, rather tasteless cob. Small pide (Turkish pizza) restaurants dot the street corners, they were a bit hit and miss, but always an economical choice for lunch (around 12 TL / $1.75 CAD). Baklava shops also line the streets, we tried several and were never disappointed, however we agreed Güllüoğlu  (about a block from the Karaköy ferry dock or two blocks from the Karaköy tram stop) was the best and worth visiting more than once. The prices varied between shops but even the biggest box we selected from Güllüoğlu (10 pieces) was only 58 TL / $8.75 CAD and worth every sticky bite.
Our favourite restaurant was Mivan Restaurant Cafe ($59 CAD, including tip, for appies, main course and dessert). I really do not like lamb but I'd read that in this part of the world it has a completely different (and better) taste from what we are familiar with in North America, so I tried it – nope, still yucky. The rest of the meal was excellent though, including kunefe for dessert (shredded filo pastry, soaked in sugar syrup, and layered with cheese, served warm – delish!) Every restaurant wants to serve you tea (on the house) to finish your meal, which I enjoyed, but Howard, having grown up with British parents, can only stomach it if it's served with milk and sugar.
Speech – English is widely spoken in Istanbul and signage is generally Turkish/English. When we spoke, restaurant waiters often tried to guess where we were from with Germany being the frequent guess – one waiter thought Howard was Italian but I was American???
Useful Turkish words to know are:
Lütfen ("lute'fen") – Please;
Teşekkür ederim  ("tesh'querr ed'err'im") – Thank you (Mersi worked too);
Merhaba ("mare'haba") – Hello;
İyi akşamlar ("ee ak'sham'lar") – Good evening;
Hoşçakal ("hosh'cha'kal") – Goodbye;
Evet ("ev'et") – Yes;
Hayir ("hi'ear") – No;
Ne Kadar? ("nay ka'dar") – How much does it cost;
Hesap, Lütfen ("hes'up, lute'fen")  – The bill, please (in a restaurant);
Giriş – Entrance / Çıkış – Exit (visually these were useful to know);
Özür dilerim ("ouz'ur dill'ear'im") – I am sorry (Pardon worked too)!