Kyoto Prefecture (a prefecture is analogous to a province or state) has a population of 2.61 million people, with just over half of those people living in the city of Kyoto, one of the oldest municipalities in Japan.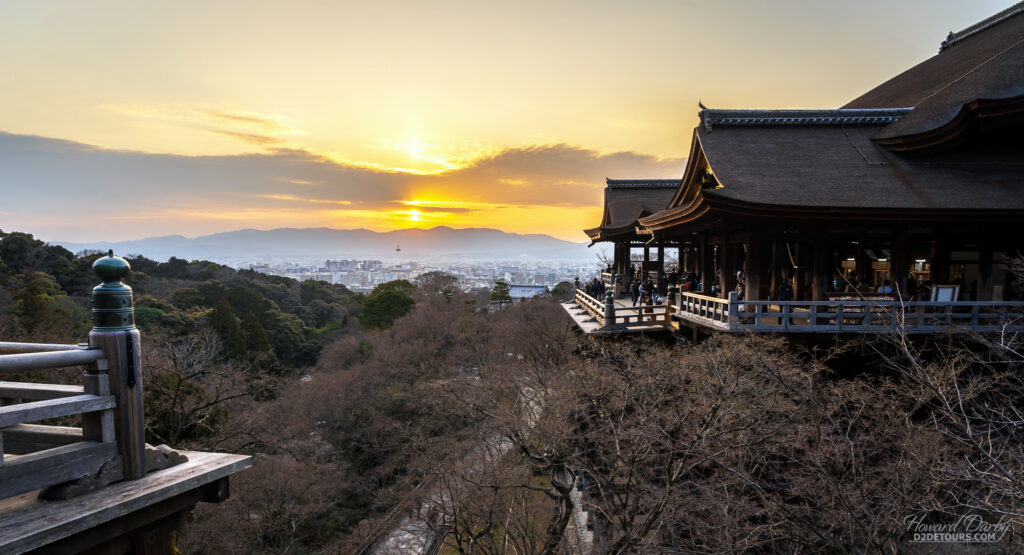 While the mainland has quite a lengthy history of China encroaching on its neighbours, simple geography shielded Japan from full scale invasion. Instead, over the centuries, they willingly embraced many aspects of Chinese culture. Buddhism, Neo-Confucianism, architectural style, governance, language, eating habits, rice and tea cultivation, music, arts and literature all reflect a level of Chinese influence. That influence began to wane during the Heian Period (794 to 1185 CE) as Japan's cultural identity matured.
In 794 CE, the emperor moved his court to the city of Heian-kyō (peaceful capital) which would remain the capital of Japan for more than a thousand years, and where the Japanese would hone their architectural and gardening aesthetic. While Heian-kyō may have been the epitome of harmony, that tranquility did not extend to the surrounding countryside. Over the years various clans (nobility that did not have a hereditary claim to the throne) had been amassing significant wealth (and land). They were continually (often violently) vying for positions of prestige within the imperial court and, with the resulting political sway, were methodically chipping away at the emperor's authority. The Genpei War (1180–1185) pitted the two most powerful clans against each other and paved the way for the Kamakura shogunate to seize control in 1192, leaving the emperor as merely a symbolic ruler in Kyoto (the capital).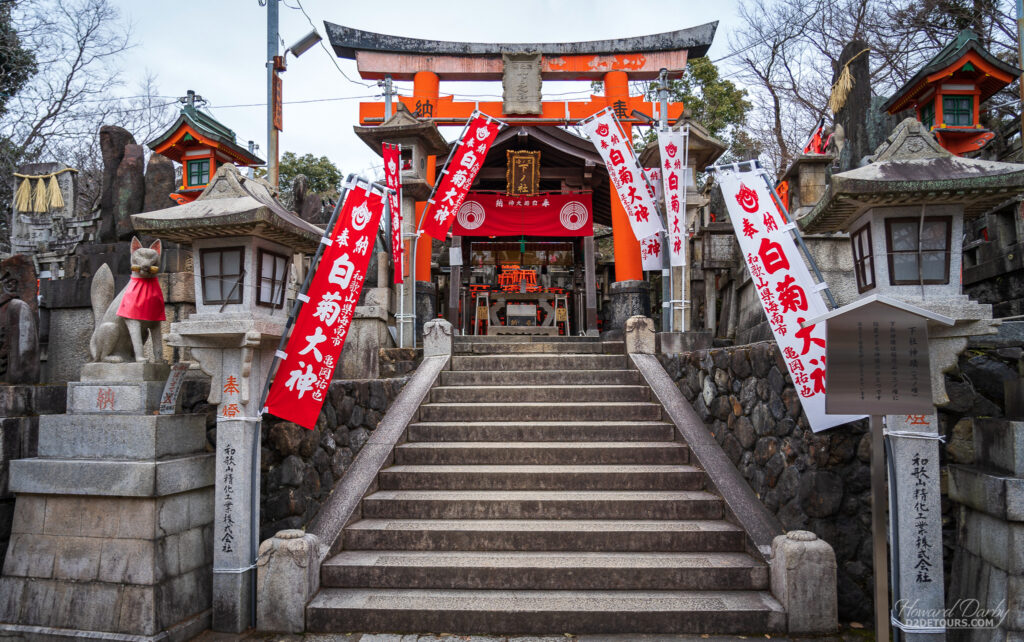 During the Pacific War, which began on December 7, 1941, Kyoto was largely spared from the intense fire bombing campaign that destroyed so many other Japanese cities. Interestingly though, it was at one point the number one target for dropping the atomic bomb. Henry Stimson, President Truman's Secretary of War, was firmly convinced that destruction of such a culturally important city would negate any chance at a reconciliation with the Japanese and he persuaded Truman to select another site. As a consequence, the historic section of Kyoto has numerous prewar buildings with tiled roofs and wood siding weathered to a rich dark brown. And in an effort to maintain the historic vibe there are strict building codes that limit the height of buildings in that section of the city. Still, Kyoto is not opposed to progress. It was the first city in Japan to have electric street cars (1895) and the video game company Nintendo is headquartered there.
Dollars – We averaged just over $216/day Canadian ($158 USD / €150) for our 7 nights in Kyoto, although this is not a completely accurate reflection of what it would cost to spend several days in this city. There are a number of Fast Draw clubs in Japan, and Howard is friends with many of their members. One of them, Yoshikazu "Brute" Ueno and his wife Lapis who live southwest of Kyoto in Uji, kindly acted as tour guides for us one evening and the following day, taking us out for dinner and lunch and insisting they cover the entry fees at several sites we visited – it was incredibly generous of them. Quick note on the Transportation portion of our budget. It probably seems ridiculously high and that's because it includes the cost of the Shinkansen (bullet train) from Tokyo (roughly $280 CAD).
Environment – We stayed in the Resi Stay Nishijin ($98 CAD/per night). It was perfectly located for accessing public transportation – the northbound bus stop was directly outside the hotel entrance, and stops for southbound buses were just across the street, and slightly down the block. We opted for one of their larger rooms (with a sitting area and small kitchen) and were really comfortable. It's a bit of a strange check-in process. Their reception office was a short walk from the main Kyoto train station and you had to first stop there to register and get instructions for getting to, and into, the hotel. In pre-COVID times they had a shuttle which would take you to the hotel, however now you have to arrange your own transportation; we took the bus. In hindsight, we should have called an Uber. The bus was crowded, we had luggage and it was an awkward, uncomfortable 20 minute ride – we took an Uber to the train station when we left Kyoto.
Tips, Tricks & Transportation – We relied quite heavily on buses in Kyoto. Much like trains in Japan, the bus system is a well oiled machine, although they weren't always precisely on time which is more a reflection of unpredictable street traffic than a flaw in the system. Buses are boarded in the middle and you pay as you exit from the front. Regardless of the distance, the fare is ¥230/pp ($2.30 CAD) paid by way of an IC card or exact change. If you haven't read our post on Tokyo, more detailed information on IC cards can be found there. Be prepared to stand. The buses are not large and if you do happen to luck into a seat near the front of the bus many of those are marked as priority seating. We noticed lots of young people would sit in them, then instantly jump to their feet when anyone with gray hair stepped aboard (we sat in them too, if the bus wasn't full).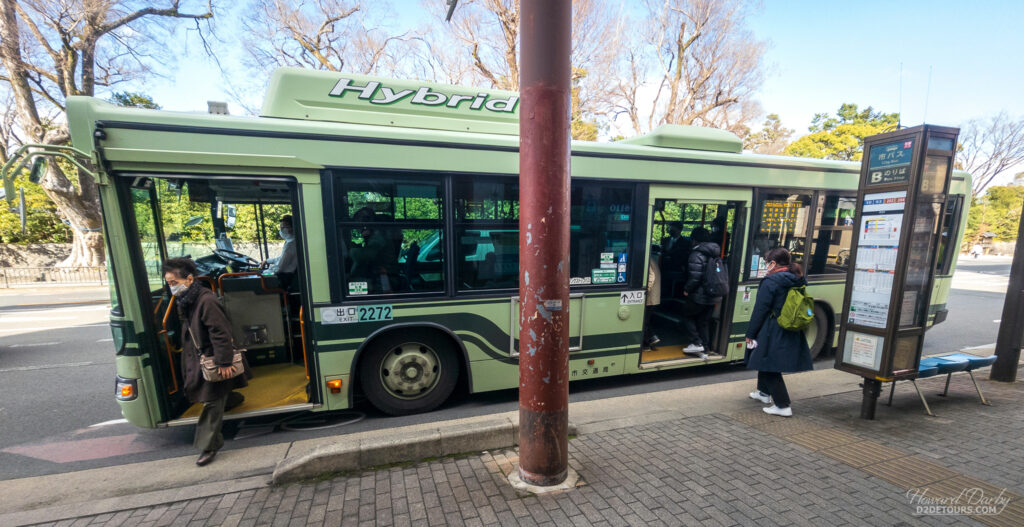 Gift giving is an important part of Japanese culture. It is somewhat complicated, situationally dependent and can be quite a formal affair. If you are given a gift, accept it with both hands and wait until later to open it. If you are giving gifts to a family, it's considered rude not to get everyone a gift. And they don't need to be expensive gifts, it struck us more as "it's the thought that counts" rather than how fancy the gift was. It's also customary when you receive a gift to give a gift (of lesser value) in return. Fortunately, as tourists the expectation on us to partake in this cultural practice is fairly low though a much appreciated gesture. Temiyage is a "thank-you" gift. Food or drink or something from your home country are ideal choices for this type of gift. Be aware that you should avoid giving any gift that comes in a set of 4 or 9 – these are unlucky numbers. The Japanese word for four is shi which also means death, and the Japanese word for nine is ku, which also means suffering. Gifts that come in pairs are considered lucky. We gave our hosts in Uji almonds from California (where we had been prior to heading to Japan) and a set of two placemats and coasters I'd made using fabric we thought was somewhat representative of Canada. It was very fortuitous that we spent several weeks with my parents in California so I could avail myself of my mother's sewing machine!
Out and About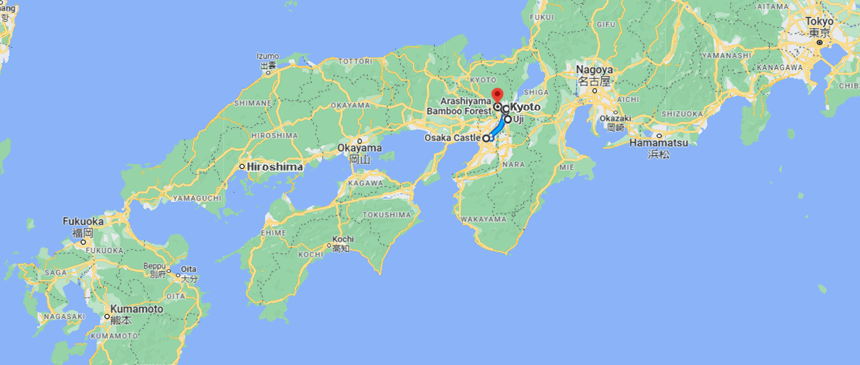 Kyoto
Fushimi Inari Taisha, dedicated in 711 CE to Inari, the deity of rice, is probably the best known of the more than 400 Shinto shrines in Kyoto.
The shrine grounds abound with statues of Inari's messenger on earth, kitsune (the fox), but it is the thousands of vermillion coloured torii (gates) wending their way up through the forest of Mt. Inari that draw the tourists. The vivid orangey-red colour is believed to ward off evil spirits, and traditionally has been used for shrine pavilions and torii to denote the boundary between the sacred and the ordinary. The Romon Gate (circa 1589) stands at the entrance to the Fushimi Inari shrine complex with the main hall directly behind. At the very back of the grounds is the entrance to the Senbondorii (thousand gates), the torii-covered hiking trails going up the mountain.
All of these gates are the result of donations by individuals and businesses as appreciation for Inari answering their prayers. Depending on the size of the gate, donations range from ¥180,000 ($1,800 CAD) to ¥1.3M ($13K CAD). Each gate is inscribed with the name of the donor and the date of donation. As you climb the trails the density of gates does diminish, slightly. It's about a 30-45 minute ascent to the halfway point up the mountain, the Yotsutsuji intersection, which offers an impressive overview of Kyoto. At this point the trail splits into a circular route up to the top of the mountain. I thought I heard that the climb from the entrance of the shrine to the summit of Mt. Inari was the equivalent of 80 flights of stairs yet I couldn't find a definitive answer anywhere. Despite the lack of corroborating evidence, my calves believed it was 80 flights of stairs. Few people continue the climb from the Yotsutsuji junction to the top which definitely allowed Howard to capture some fabulous pictures. Entrance to the shrine complex is free.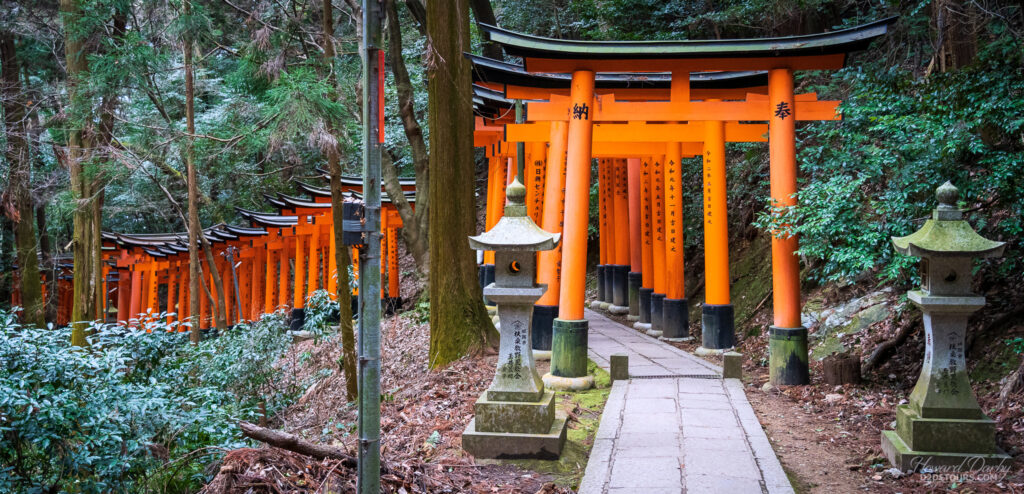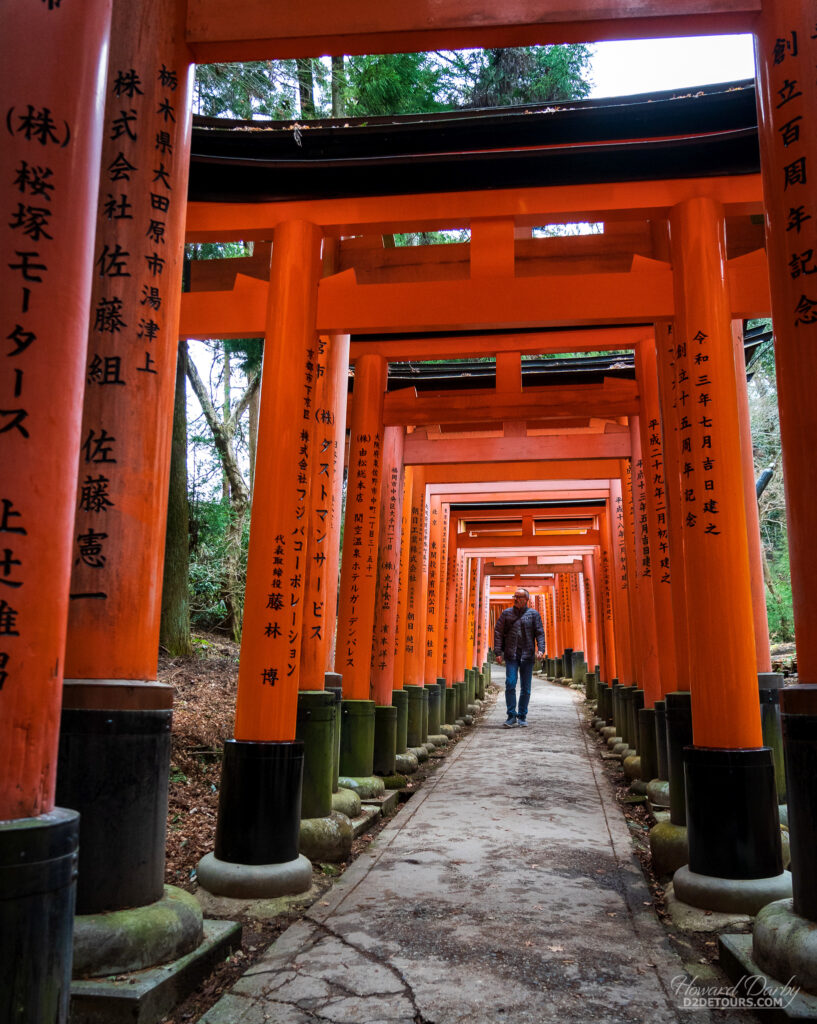 We wandered through the five, narrow blocks of Nishiki Market enroute to Kiyomizu-dera Temple.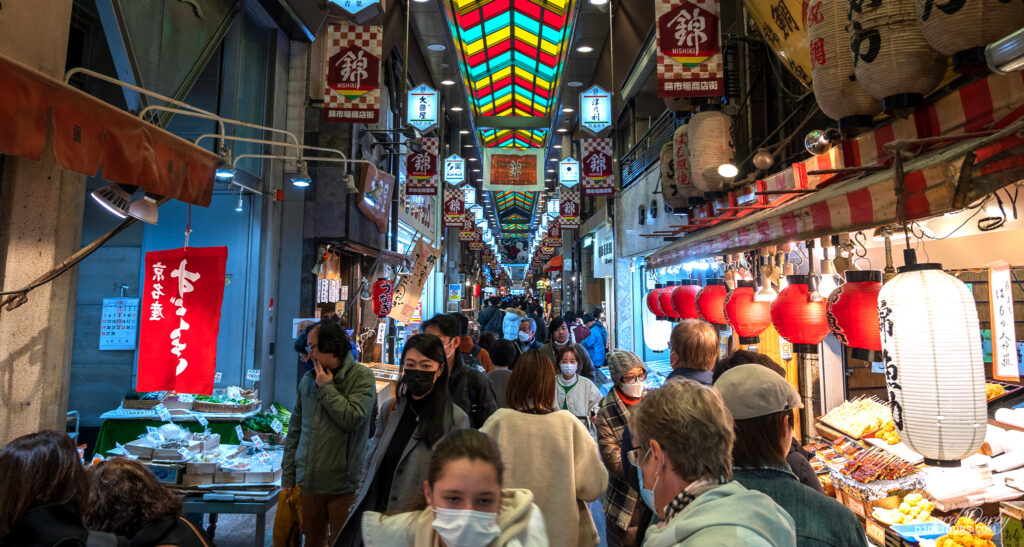 There are more than a hundred shops and restaurants lining the market street and we stopped for a skewer of the largest prawns I think I've ever seen. The proprietress stressed (more than once) that we must step to the side and eat our skewer right by her stall – it is considered extremely rude to eat food while walking down the street.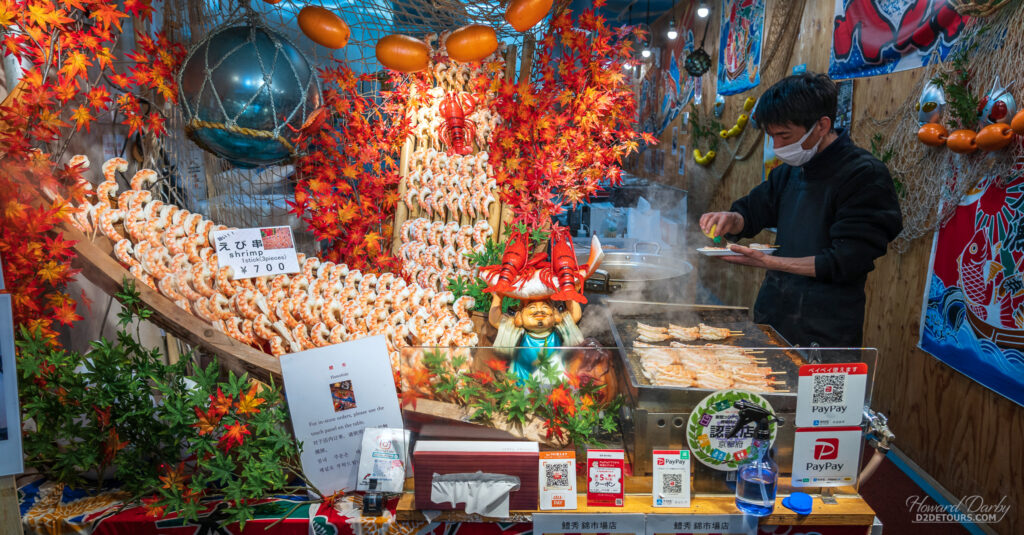 There are over 1,600 temples in Kyoto. Kiyomizu-dera Temple (pure water monastery) is a 778 CE Buddist temple dedicated to Kannon, the deity of mercy and compassion. An Edo Period (17th century to late 19th century) tradition held that if you survived the 13-meter (43 foot) plunge off the temple's veranda your wish would be granted.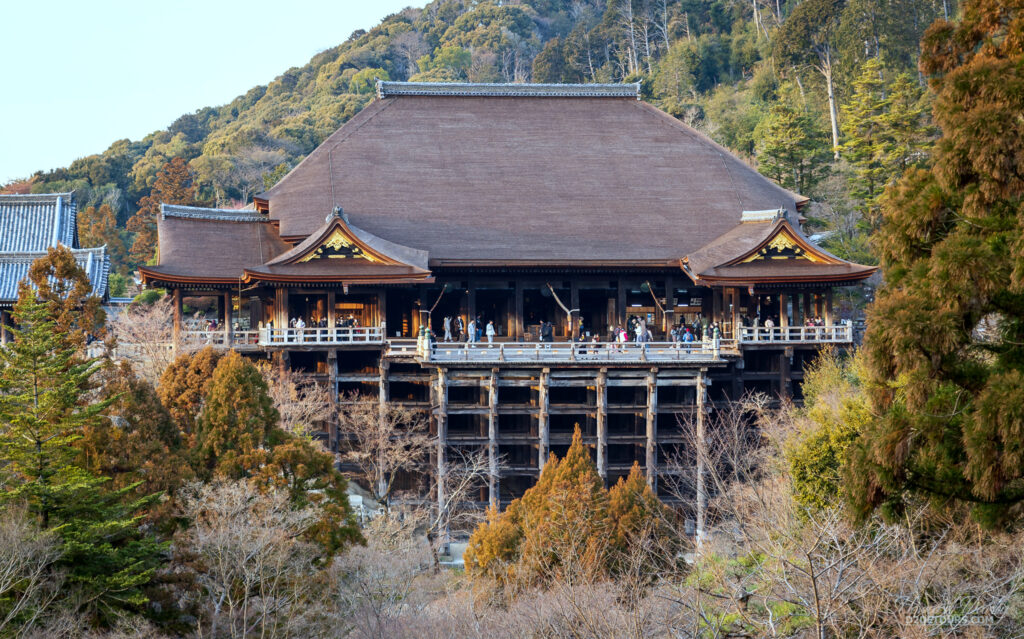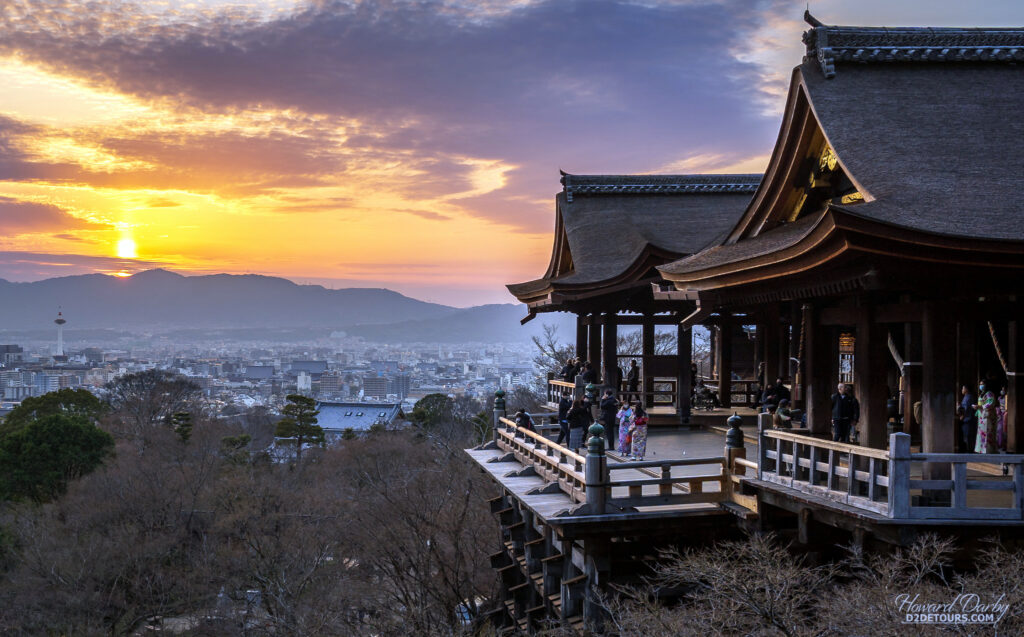 The practice was prohibited in 1872 but not before 234 jumps were recorded with an 85% survival rate! Stone is rarely used in temple construction. Wood is  preferred and while that type of material makes a structure more likely to withstand an earthquake, it renders it very prone to fire. Kiyomizu-dera has been ravaged by fire on five separate occasions with the buildings seen today dating from 1633 CE – the veranda, with its unique system of interlocking joints, was constructed without the use of a single nail!The shop-lined streets of Sannenzaka and Ninenzaka are a lively walk up to the temple. Entrance to the complex is ¥400/pp ($4.00 CAD).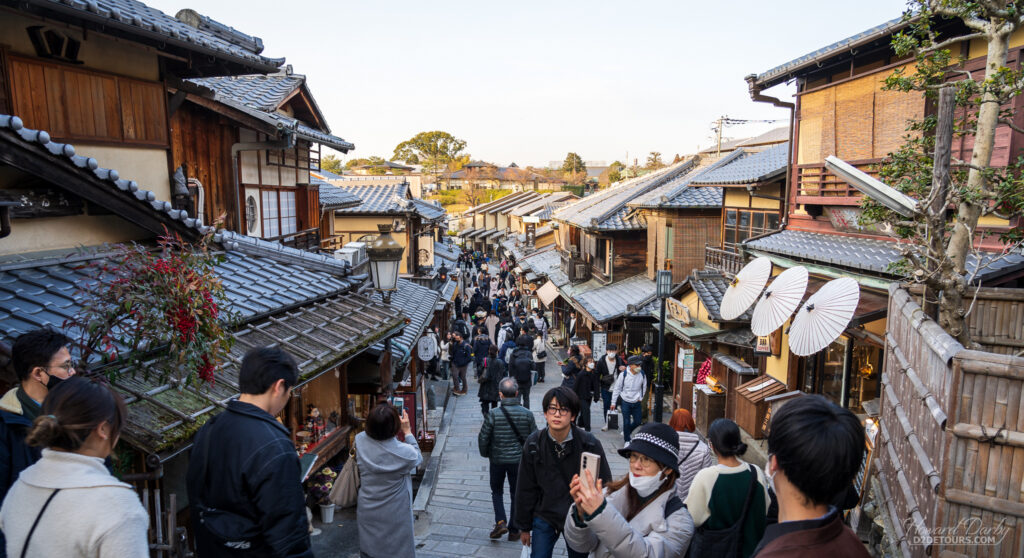 We tried to visit the Imperial Palace, which was a 20-minute walk from our hotel, only to find it was inexplicably closed that day, so we carried on (by bus) to the Arashiyama Bamboo Forest. The wind rustling through the towering grass (technically bamboo is giant grass rather than a tree) causes the stalks to bump against each other creating an eerie clacking sound; it's a bit otherworldly.
We walked back to our bus stop along the Katsura River, stopping to sample some Japanese gelato. It wasn't as good as the gelato we've had in Italy or Croatia but the triangular shaped cone was definitely one of the better flavoured cones I've ever eaten.
Uji
The small city of Uji (population 184,000) is an 18-minute train ride from Kyoto station. It is the tea capital of Japan. In the late 8th century, Buddhist monks studying in China brought tea leaves and seeds back to Japan and by the early 9th century the beverage had gained incredible popularity with the imperial court. While active tea cultivation may have begun in Kyoto, Uji perfected the process and by the 12th century was producing a superior product. The museum in the community center (Chazuna) within the Ochatoujinomachi Historical Park (entrance fee ¥600/pp / $6.00 CAD) was a worthwhile stop to learn more about the history – the video explaining the labour intensive drying process alone was worth the price of admission.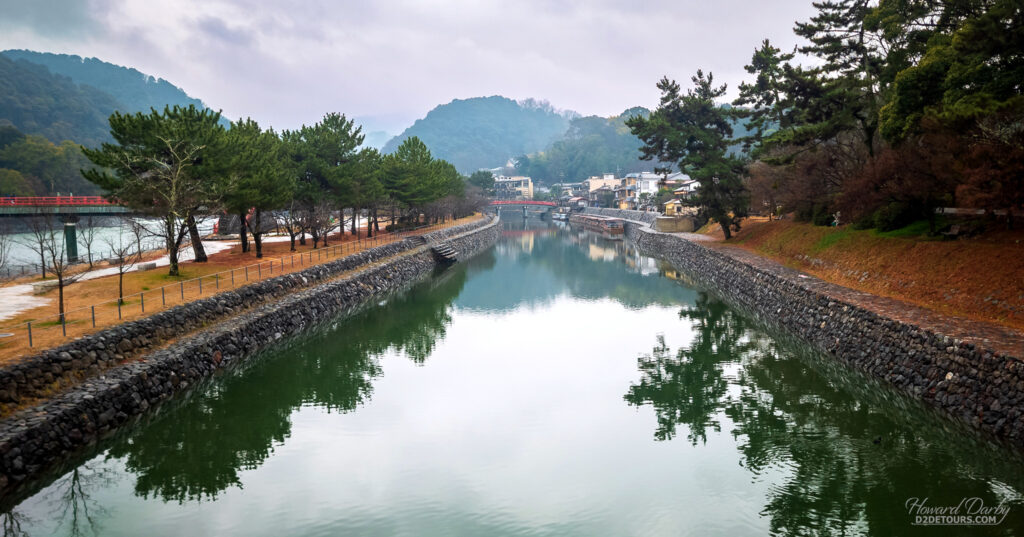 Byōdō-in (Temple of Equality) was originally built in 998 CE as a rural villa for a high-ranking member of the imperial court before being converted to a Buddhist temple in 1052 CE. It has exquisite symmetry. The Phoenix Hall at the center of the temple is depicted on the 10 yen coin and while many of the buildings on the grounds have succumbed to fire damage over the years, the Hall has never been destroyed.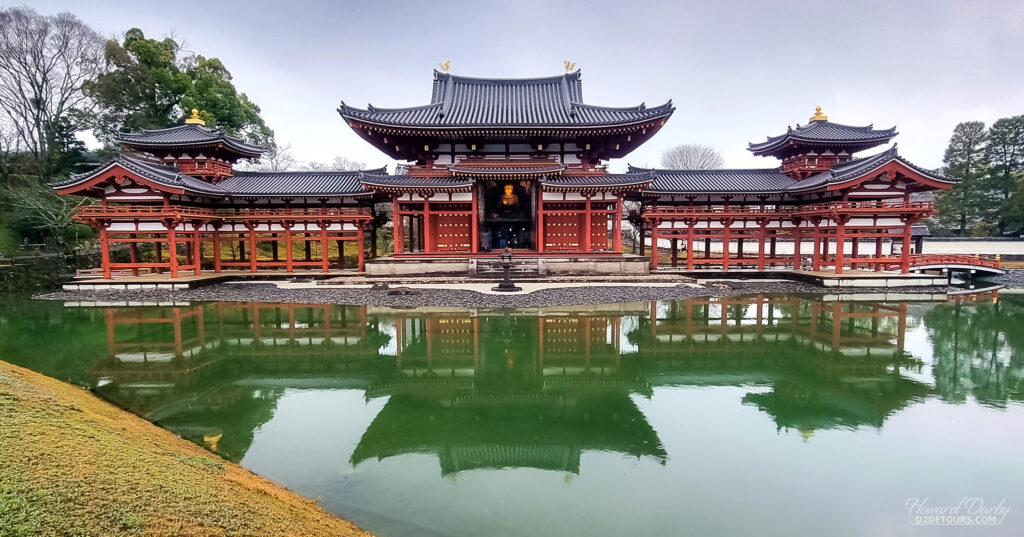 The Hoshokan (museum) on the grounds displays many of the original artifacts from the temple, in particular the carved Bodhisattvas – the only set of Buddhist statues still in existence from the 11th century. The entrance fee is ¥600/pp / $6.00 CAD with an additional ¥300/pp if you want to walk through the Phoenix Hall (which is sometimes closed if there is inclement weather). Photography is prohibited inside the Phoenix Hall and the museum.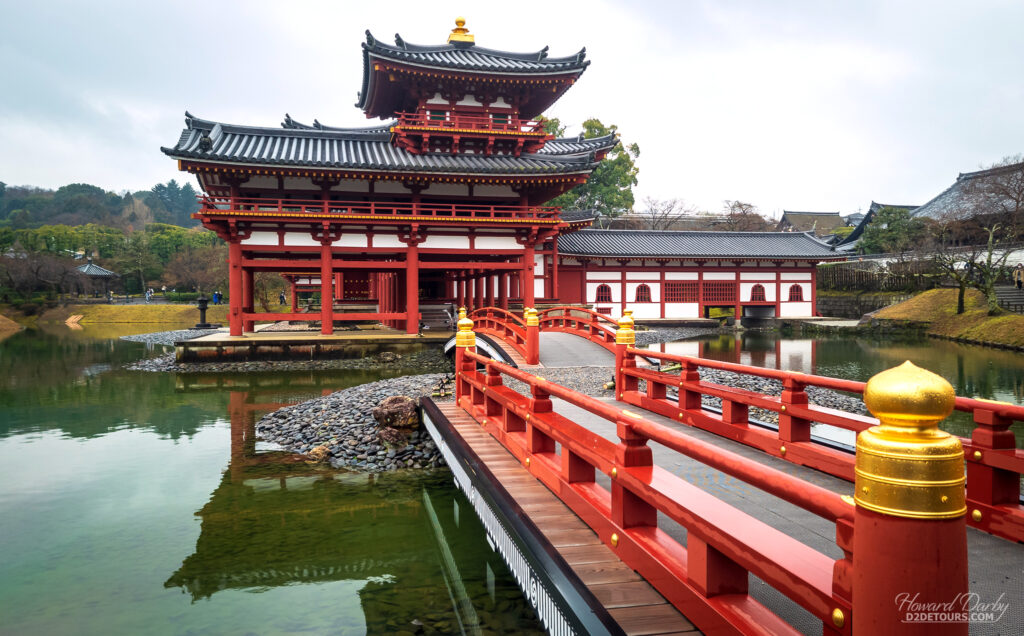 Osaka
We did a day trip from Kyoto southwest to Osaka. We purposely didn't take a bullet train, which would have only taken about 20 minutes, instead choosing the Keihan Main Line which is an express train with a few stops. It was slightly less expensive, with the added benefit that we could use our Suica cards for the fare, and although it was just over an hour-long trip it dropped us right near the Osaka Castle, our destination goal.
Japanese castles are nothing like the medieval stone fortresses with which most Westerners are familiar. I think they have very elegant lines, right down to the slight swoop in the moat walls.
Beginning as simple stockade-like enclosures guarding strategic ports and crossroads, by the 16th century they had evolved into estates of daimyos (feudal lords) who tried to intimidate their rivals through the grandeur of their holdings. The tenshu (keep) is the highest point within a castle complex, with each floor defined by tiled eaves. The castle grounds at Osaka cover roughly 61,000 square meters (15 acres) with multiple gates and turrets in addition to the tenshu. In the 16th century it was considered to be the premier castle in Japan. Being a wooden structure constructed on a stone base it will not surprise you to learn that lightning sparked several damaging fires. More fires caused by skirmishes during the Meiji Restoration in 1868 (when the last shogun resigned and imperial rule was restored) very nearly destroyed the castle, leaving what was left to continue to crumble over the ensuing decades. An initial reconstruction, using concrete, was completed in 1931. A further restoration project completed in 1997 returned the castle to its former majesty. Housed within the tenshu is an excellent museum, well worth the ¥600/pp ($6.00 CAD) entrance fee – it is free to just walk around the grounds.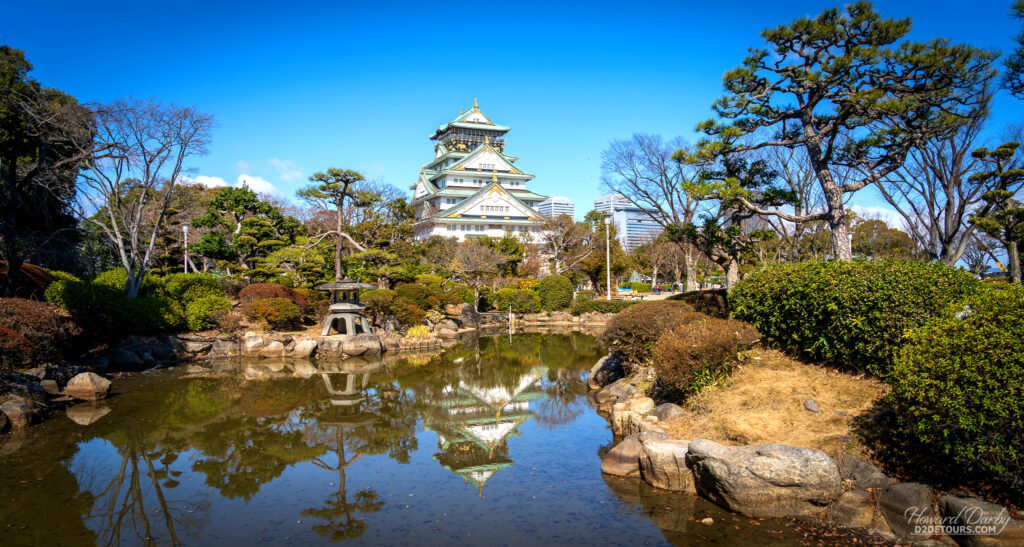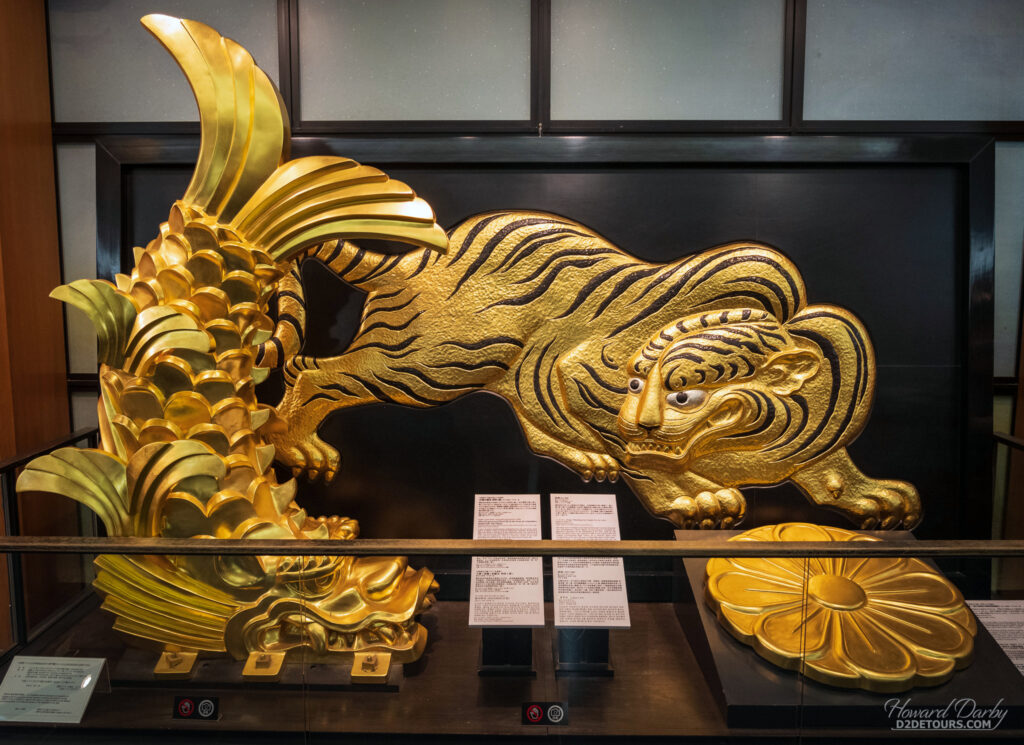 We hopped onto the subway near the Osaka castle and stopped to walk through the Dotonbori District. Dazzling, electronic billboards line this two block stretch running along the canal – it's a fantastic spot for sunset and night photography!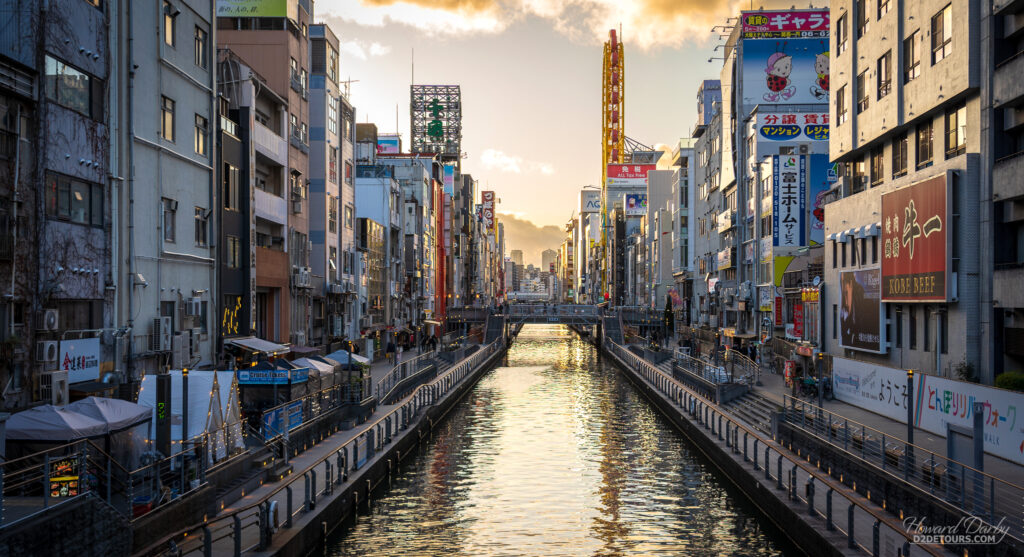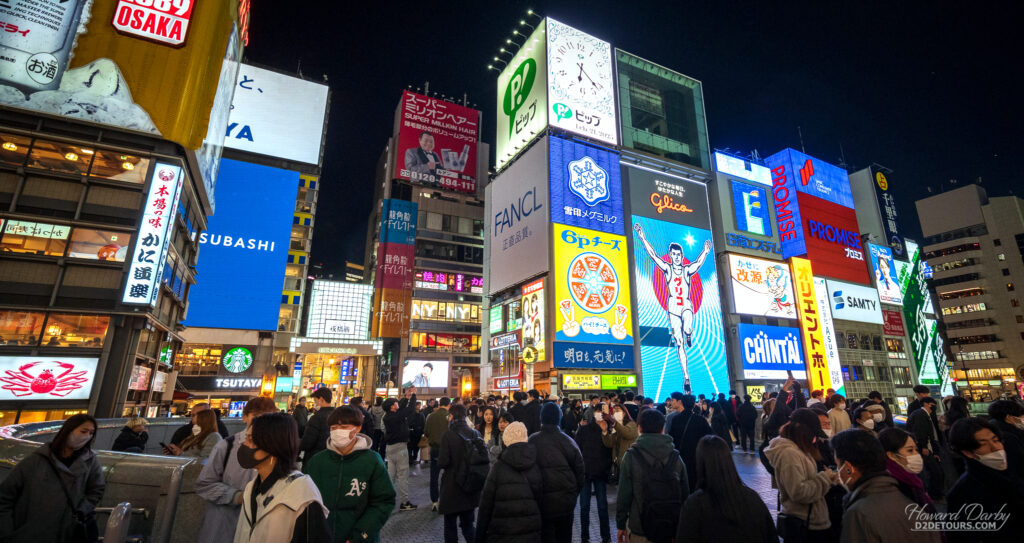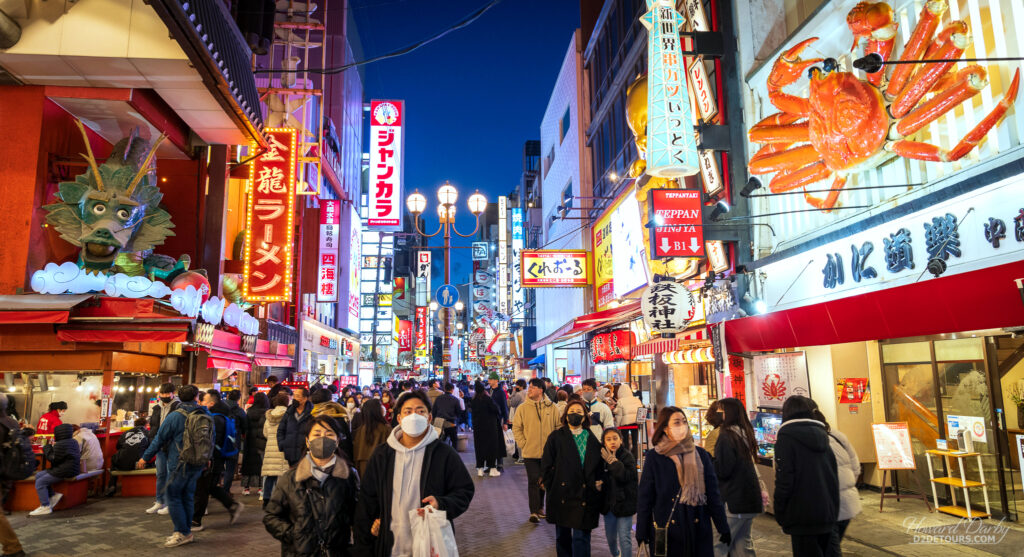 Us (our thoughts on the area) – Kyoto is a busy city though no where near the scale of Tokyo. We thoroughly enjoyed our week there, although I felt like we only scratched the surface of interesting things to see and do – we might just have to come back sometime in the future; I wish it weren't so darn hard on the budget! From Kyoto we're off on a bit of a road trip – Okayama, Hiroshima, Kumamoto, Nagasaki and Fukuoka, which is going to be hideously expensive in terms of transportation costs but were all places we wanted to visit during our time in Japan.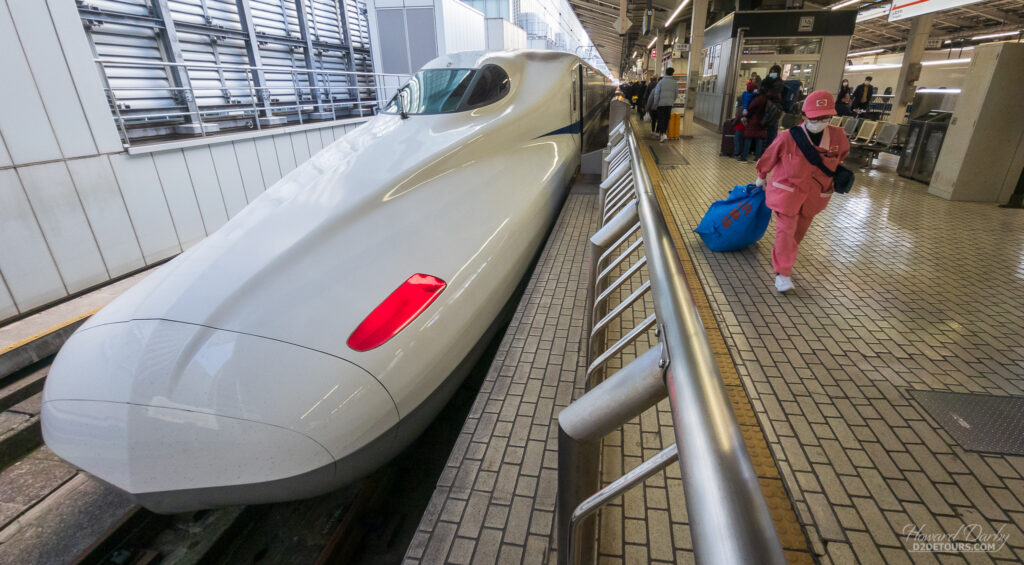 Restaurants – We met some fellow nomads in Kyoto and shared a delightful evening drinking saké and sampling small plates of food at Kurakura. This izakaya, the literal translation of which is "stay saké shop," has been operating just outside Kyoto station for the last 30 years! The owner/chef was charming and his English was pretty good, good enough that he was even joking with us a bit.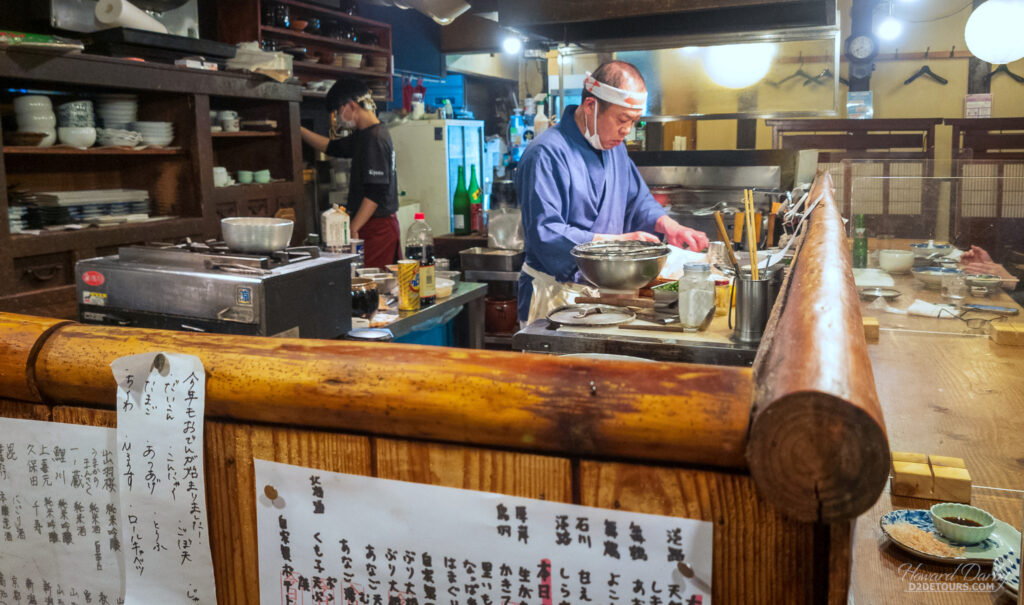 In my ignorance I thought sushi was an all-encompassing term for a Japanese style of cuisine. I now understand that sushi (sour rice) is prepared with vinegared rice, and while it may include raw fish it also includes cooked seafood, seaweed and vegetables. Sashimi (pierced fish) is always served alone and is raw fish or meat thinly sliced with wasabi to add a bit of zing or it may be dipped in soy sauce. Sashimi is typically served as a first course, although when accompanied with a side of rice and miso soup makes a very satisfying main course. Our hosts in Uji treated us to two extraordinary meals. The first night we had a sashimi dinner at Kien where the culinary skills of the chef were on full display in front of us.
As he was grating fresh wasabi (a very spicy horseradish native to Japan) he explained they use shark skin graters as the fine, sandpaper-like surface of the shark skin gives the grated wasabi a smoother flavour. You still only want an itty bitty bit of the wasabi, but freshly grated as it was, it didn't cause my eyes to water like I've found in the past. Our sashimi meal at Kien consisted of bluefin tuna, amberjack, monkfish liver, sardines, squid, wagyu beef, duck, two types of miso soup; we were stuffed to the gills.
The next afternoon we had ujimaru at Tatsumiya. Thirty different taste sensations beautifully arranged bento box style, wrapped in a bamboo skin.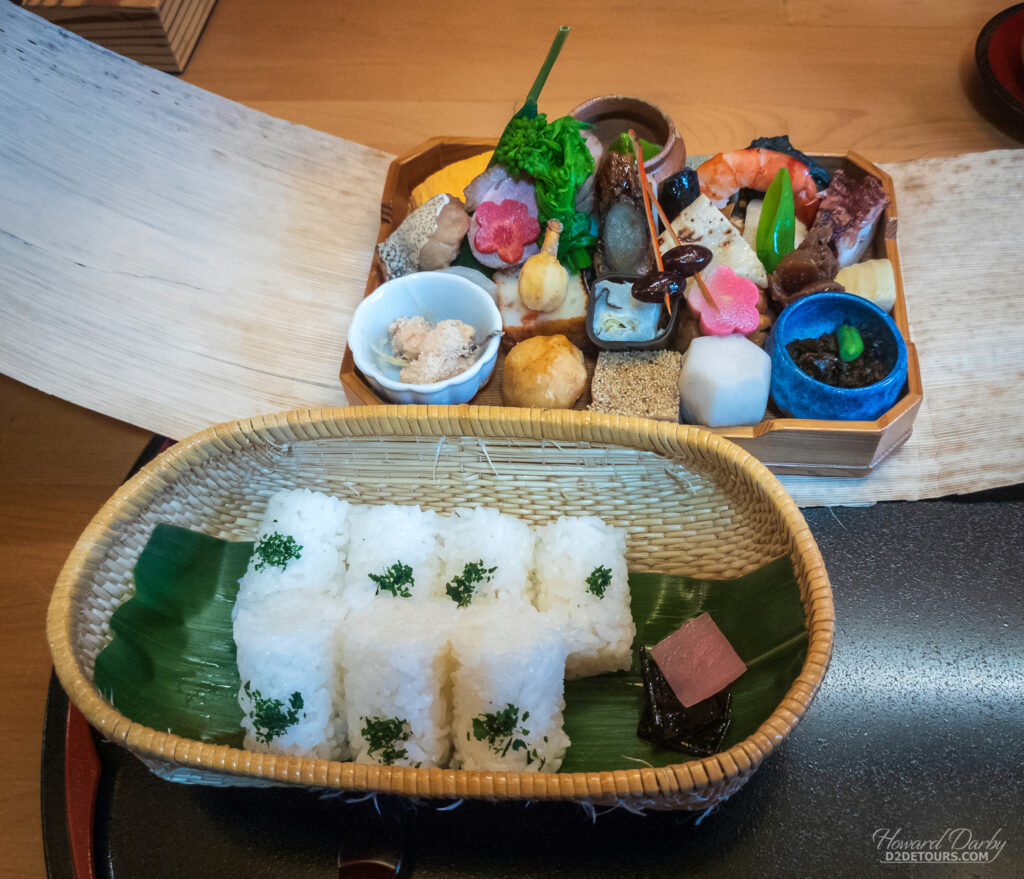 The fish, seafood and vegetables were prepared Kyoto style, meaning steamed or grilled, and other than the octopus, prawn and snail, which were readily identifiable, I have no idea what all we ate, but what a meal! Tatsumiya began as a tea retailer in 1840 before converting to a traditional Japanese restaurant in 1913. Shoes are removed at the door and we ate horigotatsu style – a low counter with a recessed floor so we didn't have to sit with our legs tucked up underneath us and the floor had heated mats, which was wonderful on a chilly, rainy afternoon.
Brute and Lapis, our hosts in Uji, went above and beyond in showing us around their city. They spoke very little English (although their English was more extensive than our Japanese) and we sat through both meals with Google Translate open on our phones. It's an odd way to have a conversation and pointed out how imprecise our speech patterns can be as often the translation would result in a quizzical expression and we'd have to try again. Brute and Lapis own a western bar called Fluorite so if you're ever in Uji drop by and say howdy.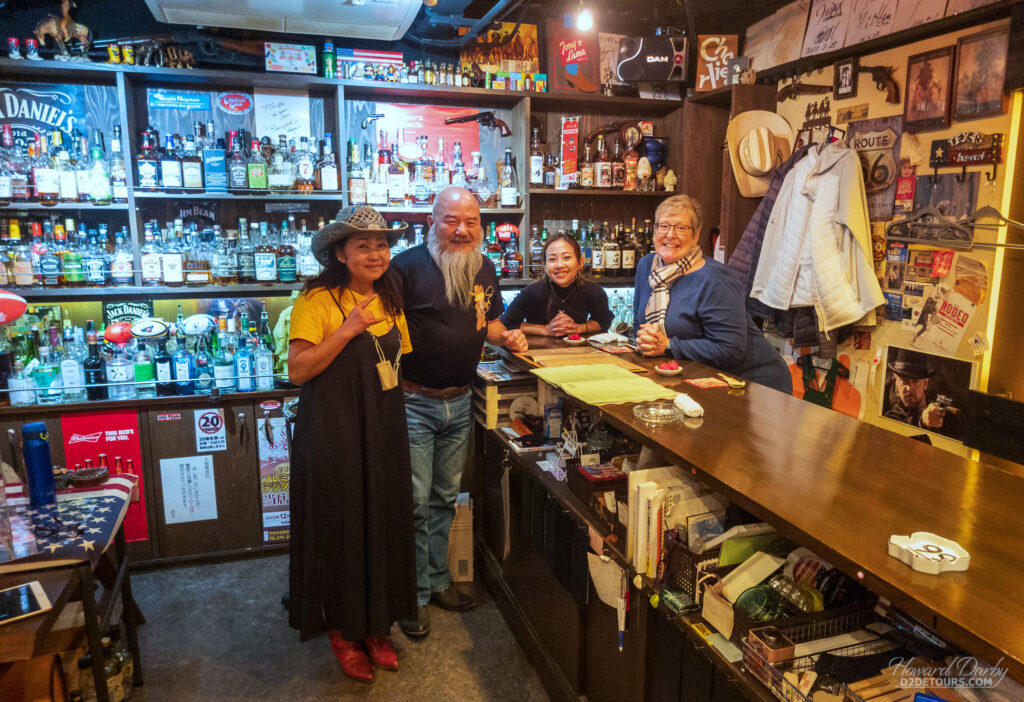 Speech – Not everyone speaks English, nor does all of the signage include an English translation, but we found that anything you need to be aware of as a tourist was clearly indicated in English. And a significant number of people did have some grasp of English, which when combined with a few pantomimes meant we had no trouble communicating. Plus we found the Japanese people exceptionally kind and they all seemed to genuinely want to help us.
Konnichiwa (kōn-ni-chi-wa) – Good afternoon (technically should only be used up until about 5pm);
Konbanwa (kōn-ban-wa) – Good evening;
Mata ne (mah-tah-neh) – literally "See ya" (saying goodbye is rather confusing and very dependent on the situation. Sayounara definitely shouldn't be used; it has a sense of finality to it, like you will never see the person again. Mata ne seemed like the best compromise for tourists);
Kudasai (koo-da-sigh) – Please;
Arigatou (ah-re-gah-toh) – Thank you;
Arigatou gozaimasu (ah-ree-gah-toh goh-zah-ee-mahs) – Thank you very much;
Hai (hi) – yes (the Japanese are uncomfortable with a harsh "No" and try to avoid using it in conversation);
Wakarimasen (Wa-ka-ri-ma-sen) – I don't understand;
Eigo o hanase masu ka (E-i-go o ha-na-se mahs kah)? – Can you speak English;
Tetsudatte kuremasen ka (tets-u-det kur-e-mah-sehn kah? – Could you help me;
Sumimasen (soo-mee-mah-sehn) – Excuse me;
Gomen nasai (go-men na-sai) – I am sorry.