Straddling the equator is the third-largest island in the world, Borneo. The tiny Kingdom of Brunei sandwiched between the Malaysian states of Sabah and Sarawak (both of which historically belonged to the Sultanate of Brunei) combine to occupy about a quarter of the island situated in the Northern Hemisphere. The rest of the territory lying in both the Northern and Southern Hemispheres belongs to Indonesia.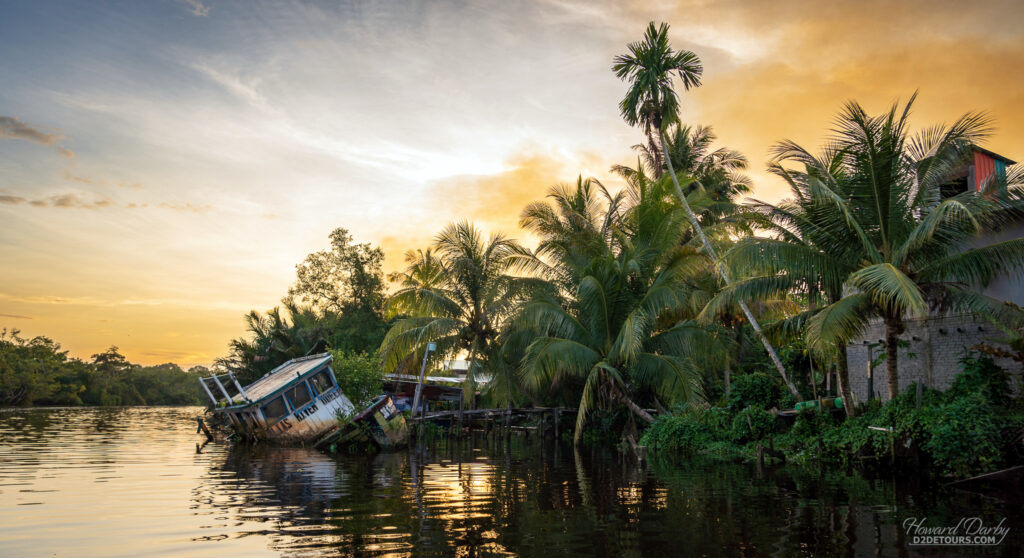 Sabah was traditionally a tribal culture. There is some evidence of trade with China in the 7th century but the majority of their external interactions were likely with the area of modern-day Philippines as references to the "land below the wind" (Sabah lies south of the typhoon-prone Philippines) have been found in that region. The earliest written notation of the area being something more than a loose collection of tribes appears in the early 15th century when the Sultanate of Brunei began expanding its territory and brought the tribes into the fold. Sabah would remain a part of Brunei until the Europeans arrived. In the late 18th century, the Sultanate, for a small fee, ceded Sabah to the North Borneo Chartered Company (NBCC), a joint trade venture between a German businessman and two British brothers. The German couldn't convince his government to invest in the enterprise forcing him to withdraw his participation, and leaving NBCC, with Brits at the helm, to manage the territory. NBCC maintained their sovereignty until 1942 when much of southeast Asia and the western Pacific fell to Japan. After WWII, Sabah became a British Crown Colony. In 1963, along with Sarawak, Singapore and Malaya, they declared their independence and the Federation of Malaysia was created.
The state of Sarawak had a similar but slightly different route to British colonization. The oldest homo sapien skull unearthed in Southeast Asia (dated from roughly 38,000 BCE) was found in the Niah Caves near the border with Brunei, along with tools, pottery, jewelry and boats. Fragments of Chinese ceramics dating between the 8th and 13th centuries point to Kuching likely being a trade hub. Much like Sabah, in the 15th century Sarawak was part of the Bruneian Empire and Kuching continued to be an important port – 16th century Portuguese cartographers mention Cerava as a seaport on Borneo. In the early 19th century antimony ore was discovered in the region. The Brunei Sultanate felt it was entitled to a large share of the profits from this lucrative commodity and raised taxes. Civil unrest soon followed. The Sultan struggled to quell the uprisings and sought the assistance of James Brooke, a British "adventurer" (mercenary?) born and raised in India. Brooke had served in the Bengal Army, the military arm of the British East India Company, but was forced to resign his commission due to injury. Five years later, with an inheritance of £30,000 ($6.6M CAD in 2023 currency) in his coffers he bought himself a ship and set sail for adventure. The details of why his particular brand of assistance was sought are a bit vague (he has been criticized for his methods of suppressing piracy) but nevertheless the rebellion was crushed and in 1841, at the age of 38, Brooke was made Rajah of Sarawak (aka the White Rajah). The Brooke family (James had no children of his own so his first successor was a nephew) ruled until 1946 when Charles Brooke, lacking the funds necessary to rebuild after the Japanese occupation during WWII, was forced to cede their territory to the British Crown. The Brooke dynasty were rather paternalistic rulers and worked to ensure the Sarawakians were not exploited for their natural resources (ore, gold, rubber, oil). They incorporated many of the customs of the Malay monarchy into their style of rule and created an advisory board of local Malay chiefs to provide guidance. They were responsible for creating important infrastructure (a hospital, school, judiciary) and as colonial rulers their legacy is viewed relatively positively.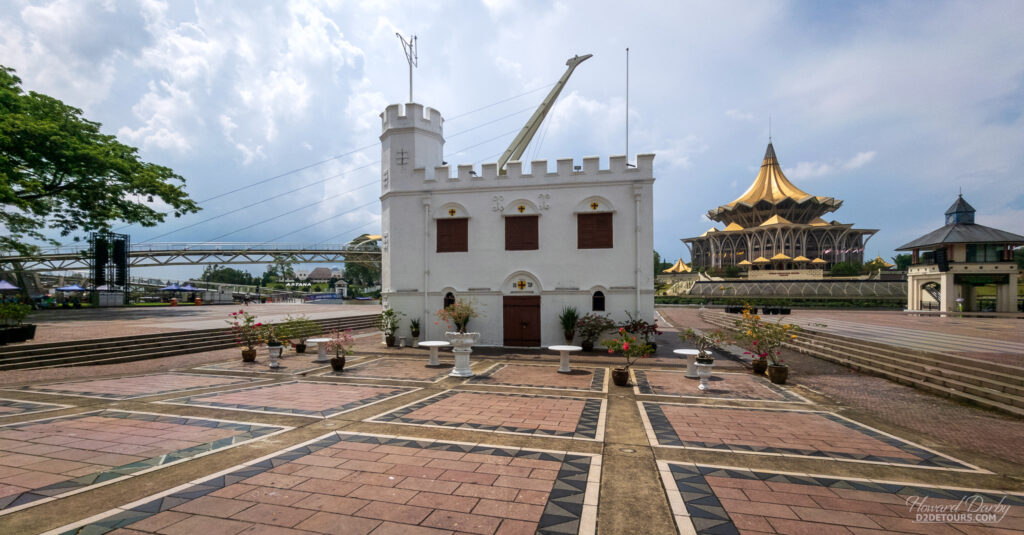 Dollars – We noticed, in general, groceries and accommodation in Borneo were slightly higher than peninsular Malaysia (Kuching in particular was on the pricey side), although eating out was probably on par. We divided our time between Kota Kinabalu in the state of Sabah (7 nights) and Kuching the capital of the Sarawak state (5 nights), averaging just under $173/day Canadian ($131 USD / €120) over the duration of our stay. Had we not done some diving, and a couple of excursions into the jungles of Borneo, our average would have dropped down closer to $134/day CAD ($101 USD / €93).
Environment – Because we were diving during our stay in Kota Kinabalu we opted for a place close to the Jesselton Point Ferry Terminal from which most of the dive boats depart. The unit itself was nothing special, but it was clean, had a bit of a sunset view, and was well-located for restaurants, markets or a bit of sight-seeing and at $59/night CAD, fit our budget.
We struggled a bit finding something appealing in Kuching and finally settled on a unit a bit outside our desired nightly rate (it was $85/night CAD) but it was right on the river which afforded us a pretty spectacular view and the area was very walkable. The building felt like it had some old-world charm so I was quite surprised to learn it was actually new(ish) construction from the mid-1990s.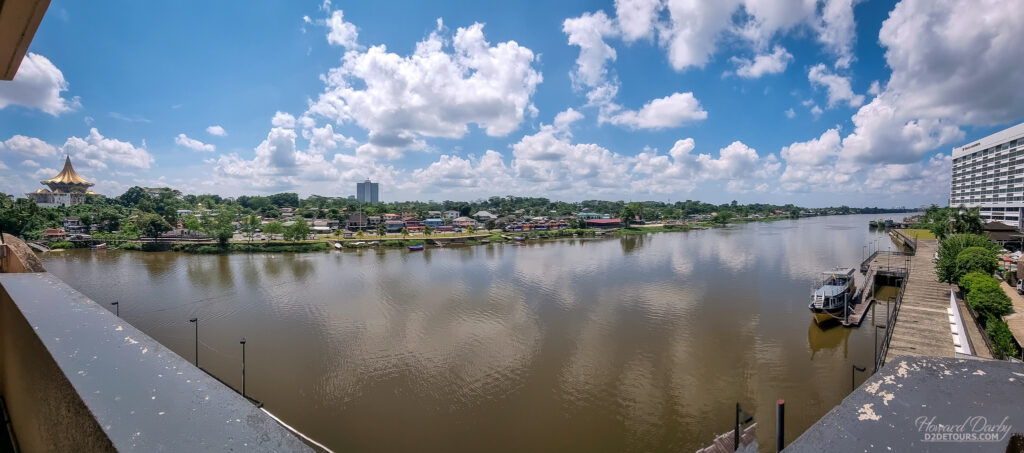 Tips, Tricks & Transportation – Despite being part of the Federation of Malaysia, Sarawak has maintained a certain degree of autonomy. Although we were flying directly from Kota Kinabalu, Sabah to Kuching, Sarawak (both part of Malaysia), we had to pass through immigration. Our passports already had an entry stamp for Malaysia from when we landed in Sabah from Singapore, but got a second stamp for entry to Sarawak, and upon leaving Kuching for Bali we got a single all-encompassing stamp for exit from Malaysia. Fortunately, notwithstanding this bit of border weirdness whatever your visa status for Malaysia is (as Canadians we can enter visa-free for a period of 90 days), it also extends to Sarawak, so immigration wasn't a problem, just unexpected.
When in Kuching you may want to take advantage of the electric bus service that meanders through the city, with multiple stops at various points of interest. You can download the app from their website at https://kuchingmetro.my/ .
Out and About
Kota Kinabalu

The capital of Sabah is Kota Kinabalu (often shortened to KK), a modern coastal city surrounded by rainforest. Under the governance of Charles Jessel, the fishing village Api-Api, with a natural harbor sheltered from the wind, became a major NBCC trading post and was renamed Jesselton. In 1967, soon after Sabah gained its independence from British colonial rule, Jesselton was renamed Kota (fort/town/city) Kinabalu in honour of the nearby, sacred, Mount Kinabalu, although it was not granted city status until 2000.
The Gaya Street Sunday Market is more geared to locals versus tourists, and while there were certainly many stalls selling souvenirs there were more stalls selling potted plants, pets, everyday clothing, kitchen tools, fruits and vegetables. It was an interesting stretch of streets to wander.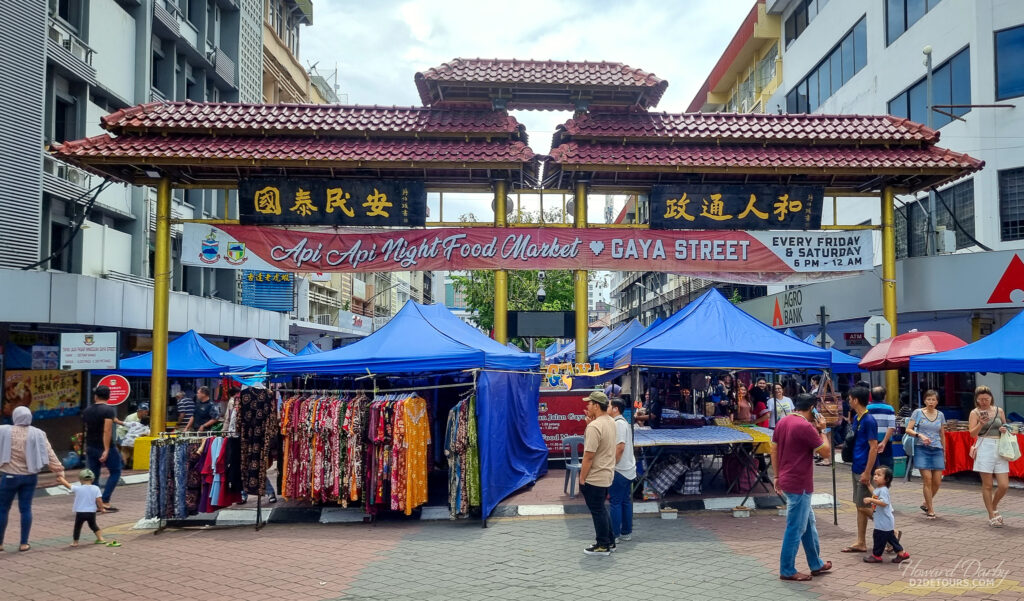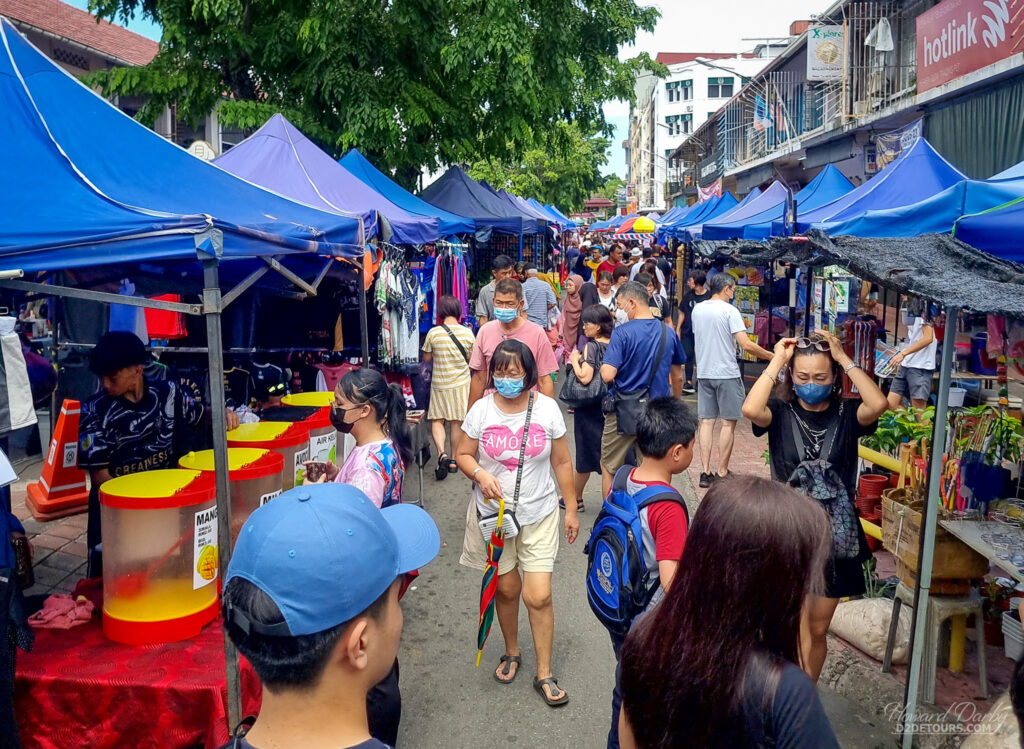 We had two very specific things on our "to-do" list for KK: diving and monkeys. The proboscis monkey with its distinctive nose is endemic to Borneo and lives mostly in the mangrove forests along the island's coastal areas. We joined a tour through Amazing Borneo ($58/pp CAD) to cruise along the Klias River hoping to spot these odd looking primates.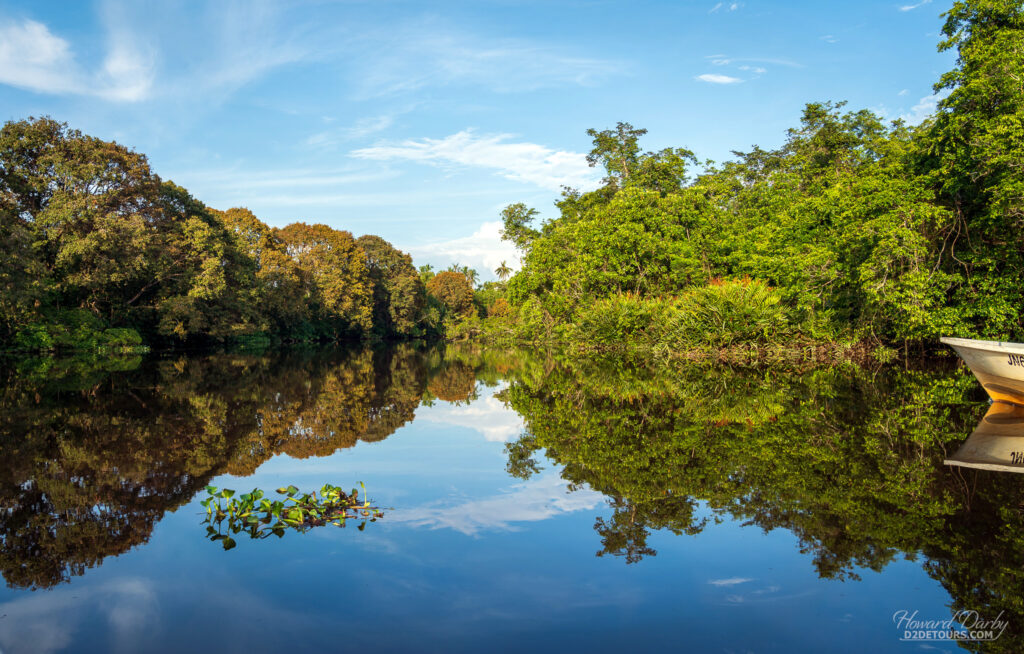 The Klias wetlands are 112 kilometers from KK so doing this as part of a tour made sense and the package included round-trip transportation from our Airbnb (two-hours each way), dinner (a Malaysian buffet) and two river boat rides (one to spot monkeys at dusk and then after dinner to see fireflies). The monkeys are fairly shy but our guide did a tremendous job spotting them, and as the boat would glide up to nudge the base of the trees the males would usually chirp their displeasure at our intrusion and then turn their back to us – but Howard still caught some great pics!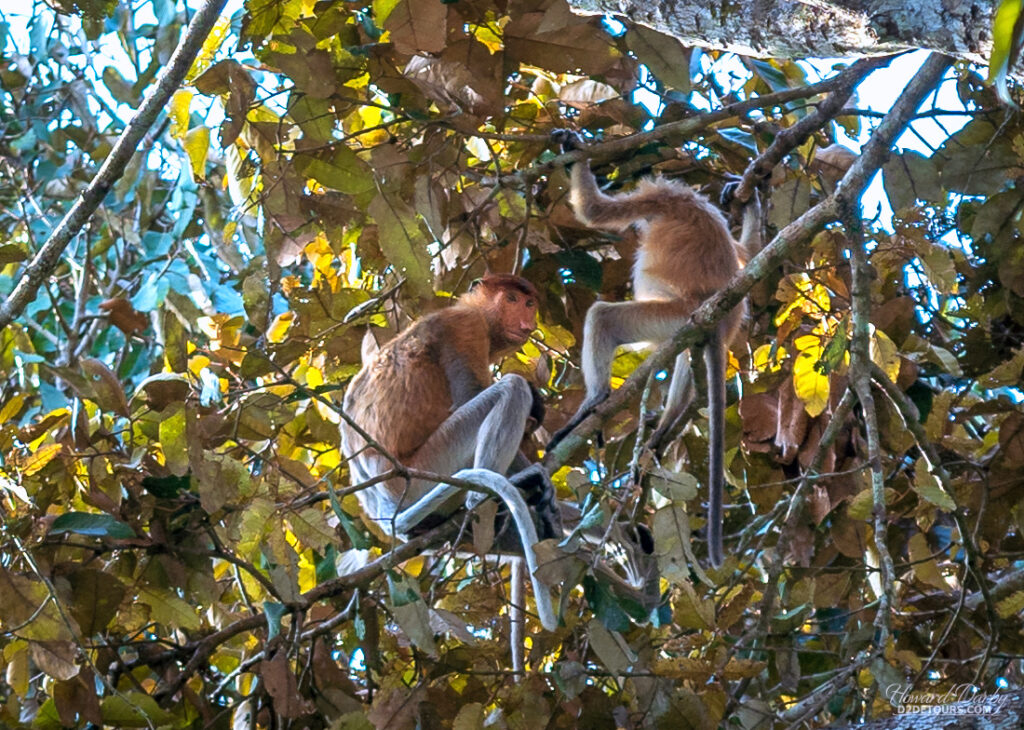 In addition to the proboscis monkeys there were some langurs leaping between branches and one lizard snoozing. After dinner we headed out on the boat again to see fireflies which sadly don't translate well to pictures but just imagine mangroves full of twinkling Christmas lights and you get the idea – quite magical.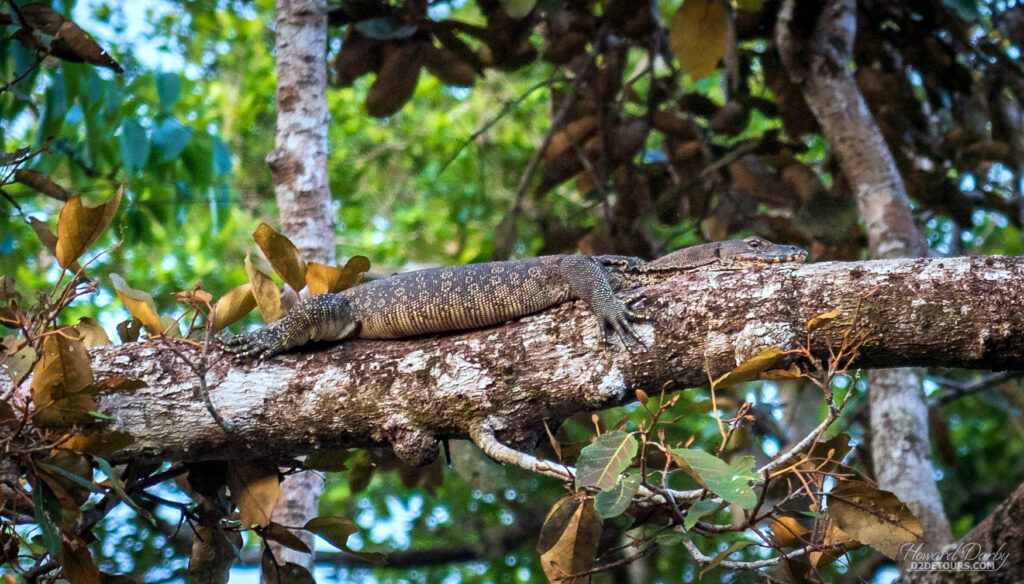 Diving in Borneo was our other must-do. Borneo has some of the best diving in the world with multiple locales from which to choose. We did one day of diving (three separate dives) within the Tunku Abdul Rahman Marine Park and they were fantastic – excellent visibility, lots of fish, healthy coral and the water was sooooo warm – 30°C/86°F – which is heavenly when we're used to summers at Lake McGregor where the water was 21°C/70°F at its warmest. We dove with Scuba Junkie KK and highly recommend them. They were attentive throughout the day, well organized, equipment was in great shape and only $108/pp CAD, including a delicious hot lunch!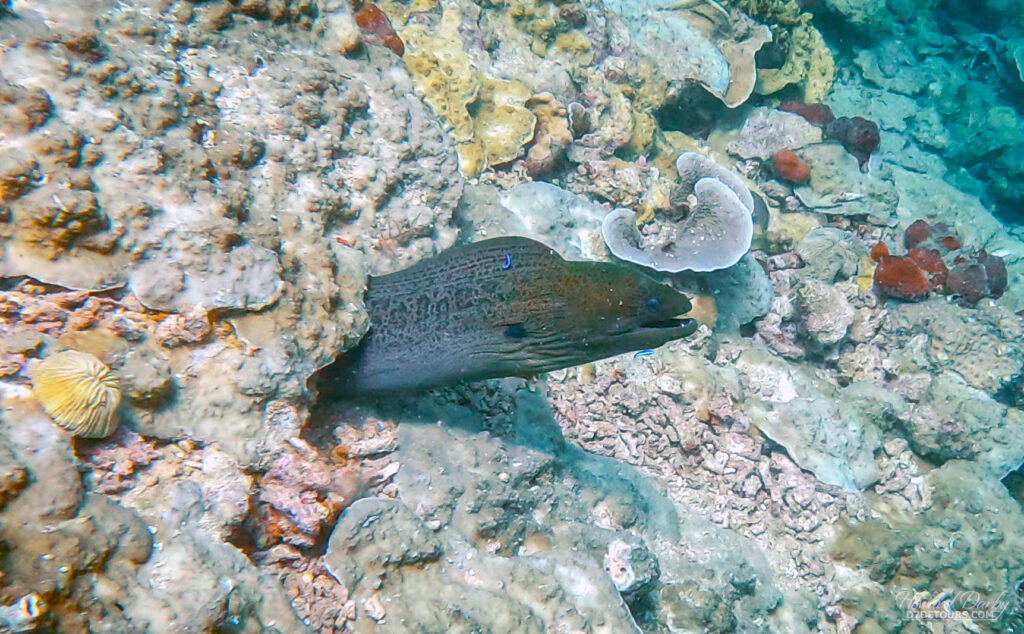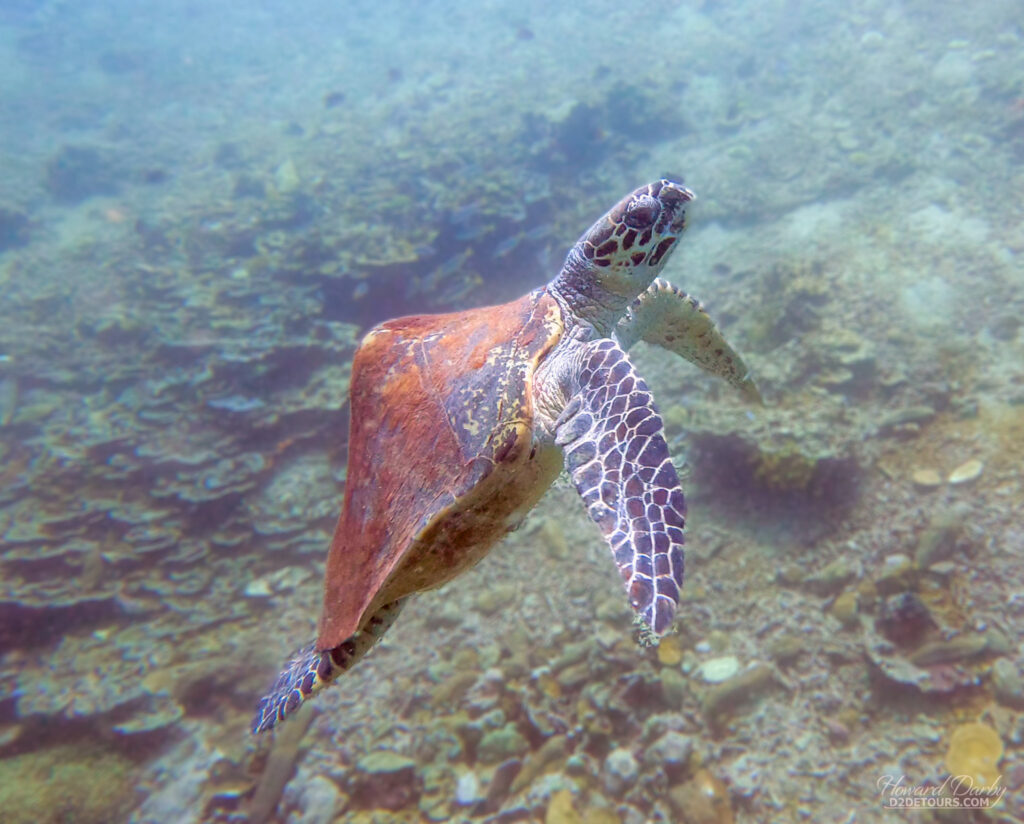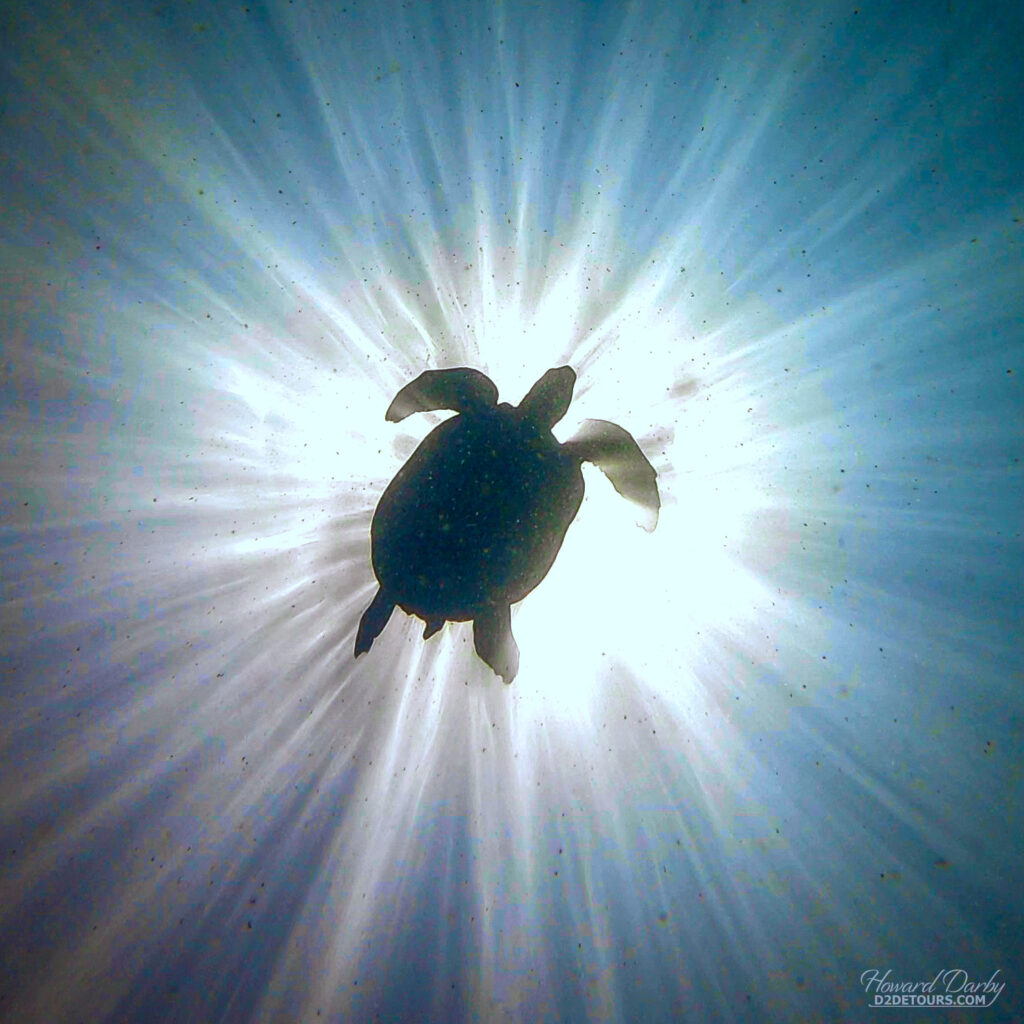 Kuching
Kuching is similar to the Malay word for cat, and ask anyone in the tourist industry and they will tell you the city got its name because of a miscommunication between James Brooke and a local tribesman. When Brooke inquired as to the name of the settlement he appeared to be pointing to a cat and accordingly was told the thing he was pointing to was kucing (pronounced KuCHing) and thus legend was born. True or not, the citizens have embraced the kitty; several massive statues can be found around the city, manhole coverings sport an image of a feline, and there's even a cat museum.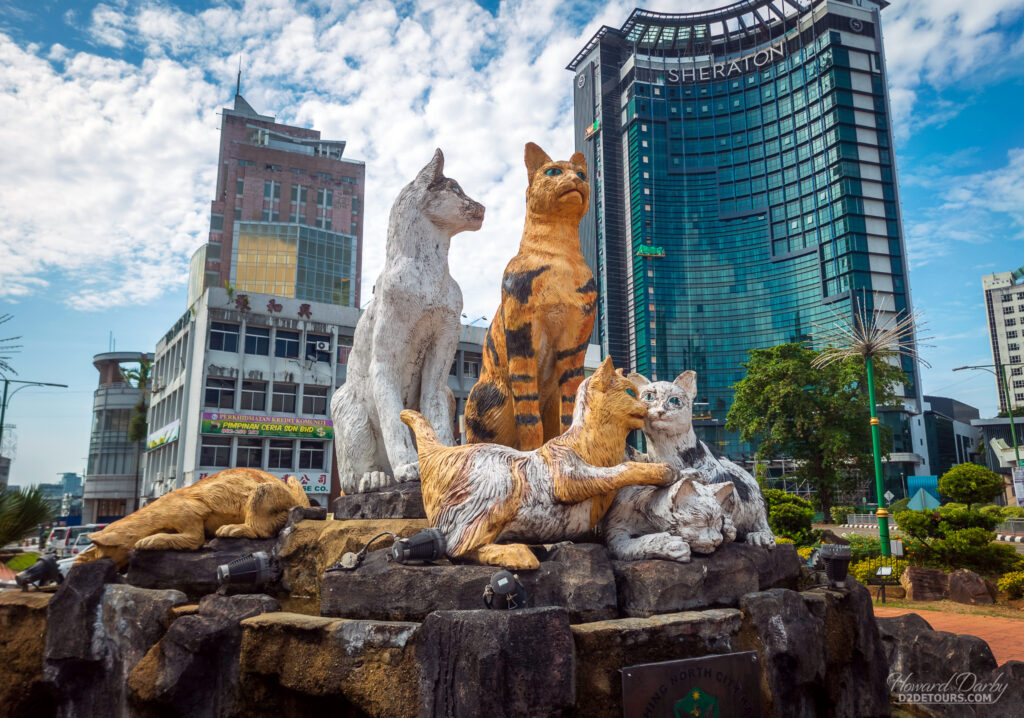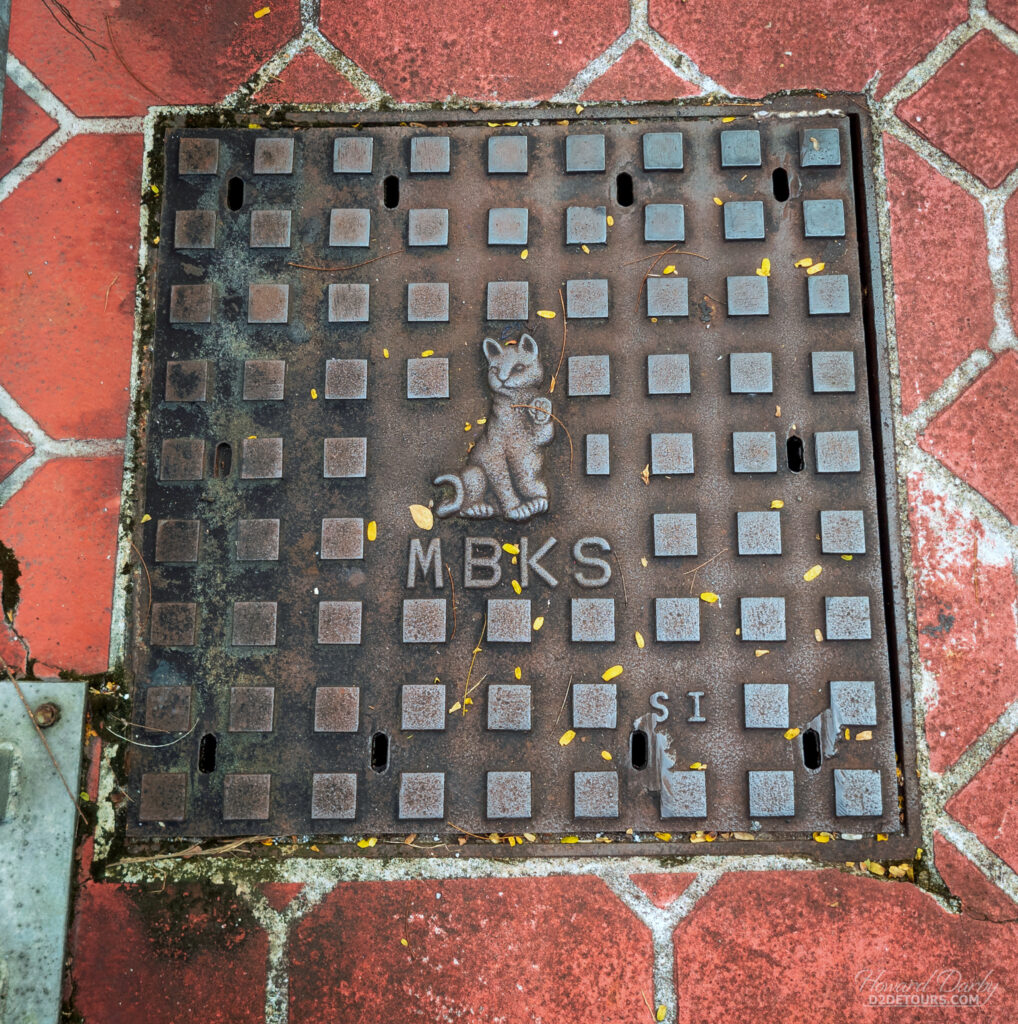 A museum of another type is the recently opened (March, 2022) Borneo Cultures Museum housed within a beautiful building. It is clear significant funds have been devoted to the project, but as a foreigner it's a rather pricey place to visit. There are three prices for admission: Sarawakian 10 RM/$2.85 CAD, Non-Sarawakian 20 RM/$5.70 CAD and Foreigners 50 RM/$14.25 CAD – Howard's grey beard worked in our favour and we both got in as seniors, half the regular foreigner rate, which made it slightly more palatable. I suspect no museum in Borneo would be complete if it didn't include something about headhunting. The indigenous people of Borneo, the Dayak, were animists. They believed that everything, not just people but plants and animals too, possessed a life force and the human head was the repository for much of that energy. Different tribes had different reasons for taking/possessing a human head, but generally it was power, protection and occasionally a rite of passage. The practice was eradicated early in the 20th century but it did see a short revival during the Japanese occupation. The Borneo Cultures Museum is well-thought out, but unfortunately the lighting is such that the display descriptions were often very difficult to read, still we learned a bit and that's always a win.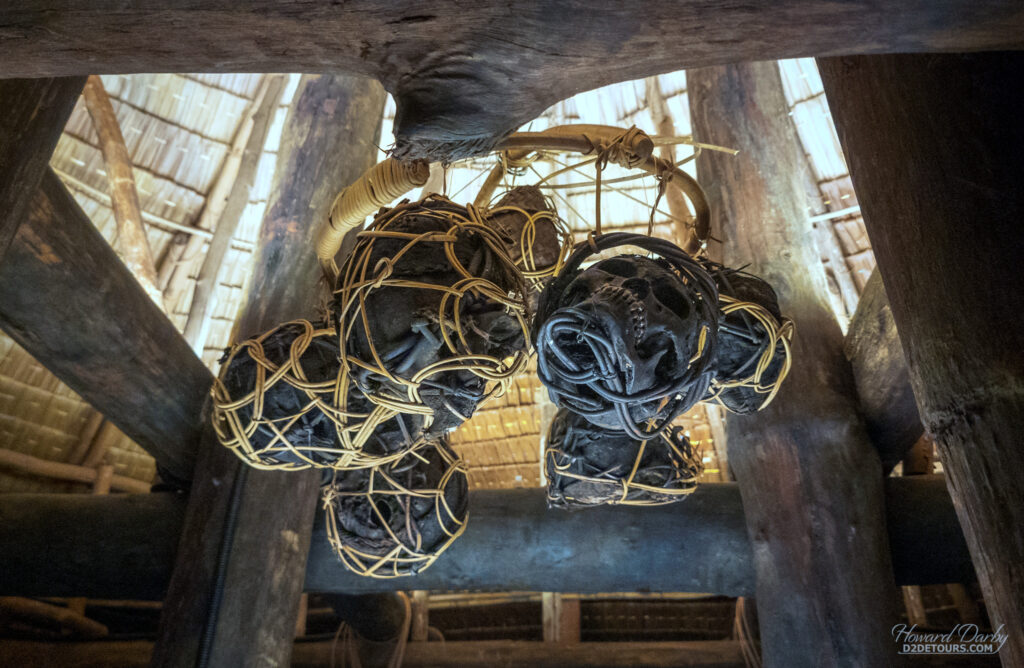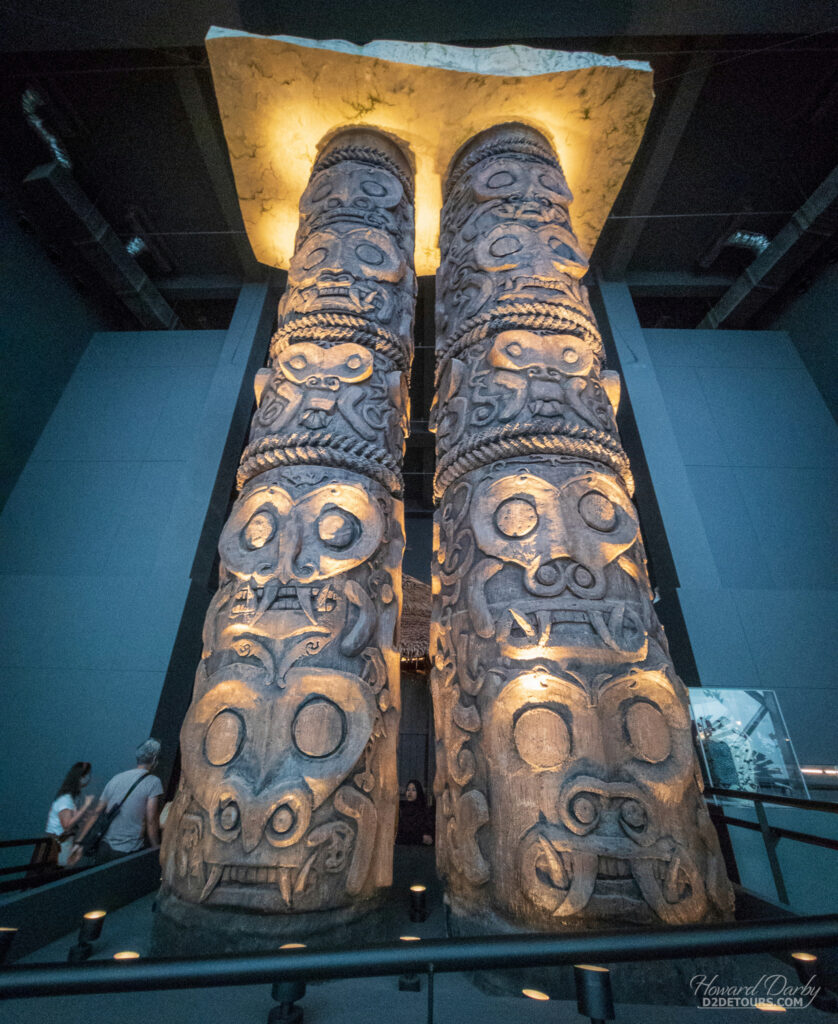 Another stunning building is the Sarawak State Legislative Assembly. Sunshine glints off its golden roof during the day and at night – WOW! The nearby Darul Hana Bridge is also striking, both day and night, in fact the whole riverfront is visually appealing.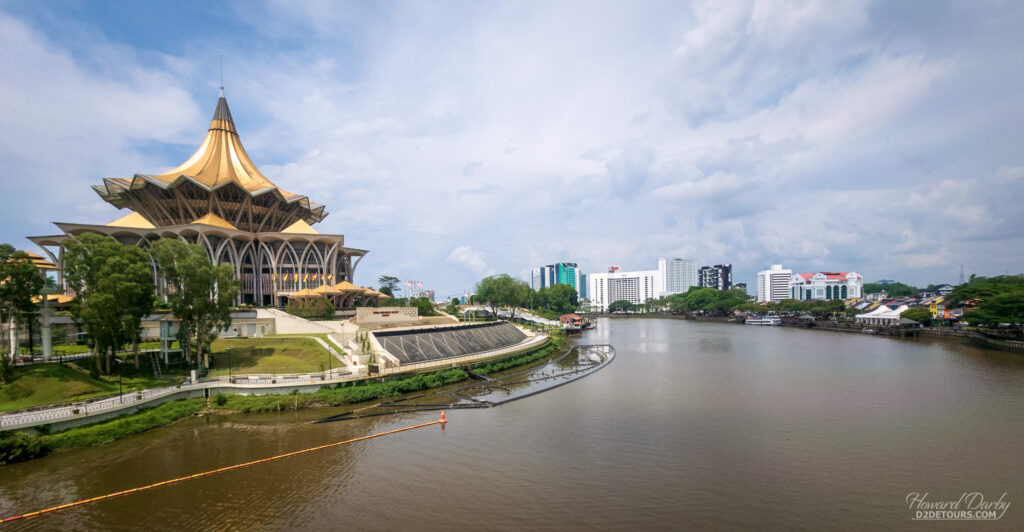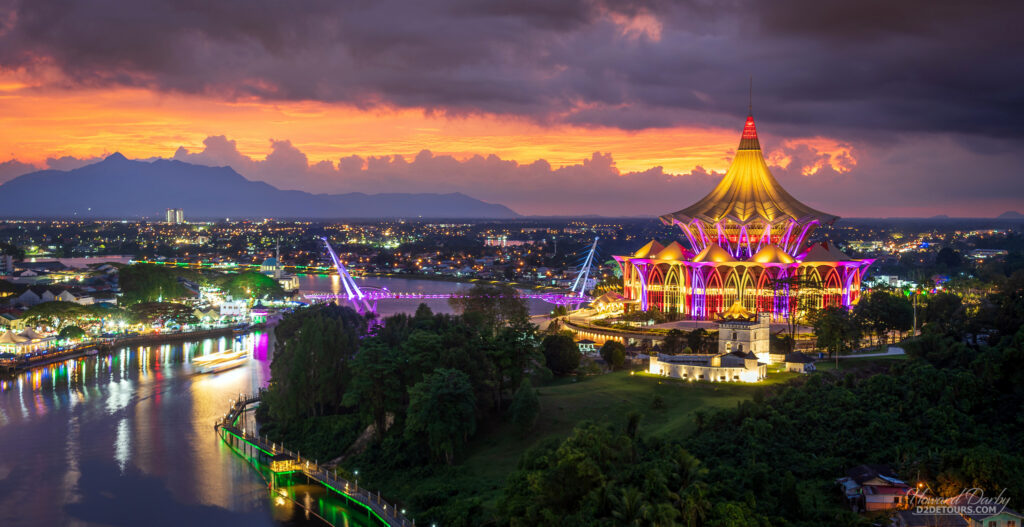 I've saved the best for last, in my opinion. There are two species of orangutan in the world, both critically endangered due to habitat loss: the Sumatran Orangutan found on the Indonesian island of Sumatra and the Bornean Orangutan endemic to, you guessed it, Borneo. There are some legitimate ecotours available if you want to see wild orangutans but these tours are generally over one or two nights in rustic conditions. I don't do particularly well living with nature – there is a reason we "camped" in a fifth-wheel trailer – so I was more than happy to visit semi-wild orangutans at the Semenggoh Wildlife Center, just outside Kuching. The 653 hectare reserve is a protected sanctuary and rehabilitation center but is not actually fenced, so the inhabitants are free to roam giving birth and foraging in the forest. The "semi-wild" status is because the park rangers do provide twice daily feedings which is often necessary when fruit is not in season and affords visitors the best opportunity to see these gorgeous creatures. There was one elderly male partaking of the free fruit at the main feeding station with another hanging out in the trees above us, but not interested in the food.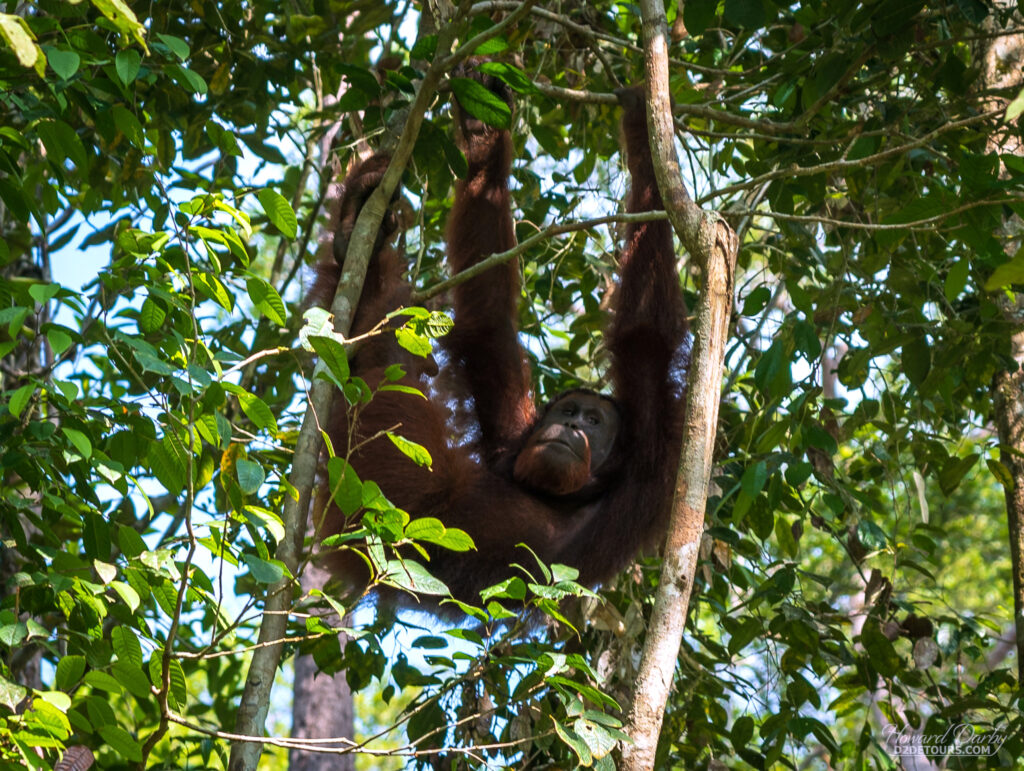 The real highlight was the juvenile, mom and newborn baby in the trees along the road. It was amazing watching mom grabbing the food being tossed up to her, cracking coconuts open on the tree trunk and having her elder offspring clamber down the tree to grab food right out of her mouth. It was such a remarkable experience that we almost didn't notice the heat – actually hot doesn't even begin to describe what it was like to stand in the rainforest, in the middle of the afternoon without even a hint of a breeze; we both looked like we'd been standing under a shower the way our hair and clothing was plastered to our bodies, gross, but totally worth it.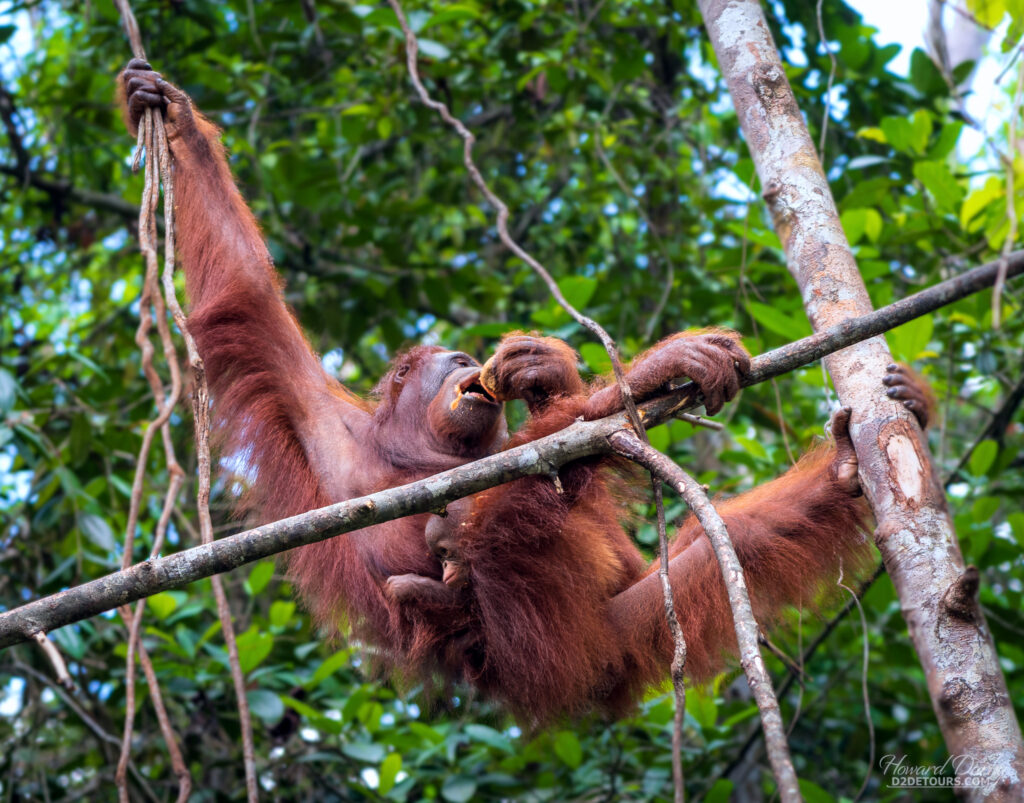 The Wildlife Centre (entry fee is only 10 RM/$2.85 CAD) is about 20 km outside of Kuching and although it looked like there was a public bus out to the park, it was an hour long ride and we wanted to ensure we got there in time for the afternoon feeding so opted for a Grab (SE Asia's Uber), which was only $8 CAD. We figured we'd take a Grab back too but couldn't get any cell service at the park. Thankfully, as we stood there dripping sweat trying to figure out what the heck we were going to do, the bus pulled up. This may have been the nicest bus we've ever ridden. In 2019 the Sarawak tourism ministry put a single electric bus into service as part of a government initiative on sustainable development. The program was extremely well received and in 2021 the 26-stop route was increased to 54 stops with four buses operating daily along the route between the State Legislative Assembly and the Semenggoh Wildlife Centre. The last bus of the day is at 4pm when the park closes and it sits outside the park gate for several minutes to ensure people have time to catch it. The buses are air-conditioned, with wifi, and FREE!
Us (our thoughts on the area) – Borneo was an interesting spot and the diving is exceptional, but I don't know that we would recommend it as a "must-see" destination. If you are in Malaysia, it's an inexpensive flight from Kuala Lumpur to either KK or Kuching (about $55 CAD one-way on AirAsia) and the chance to see the orangutans and proboscis monkeys up close was pretty unique, but to our mind it's best for a quick visit, not some place we would want to base ourselves for an extended period of time. Off to Bali!
Restaurants –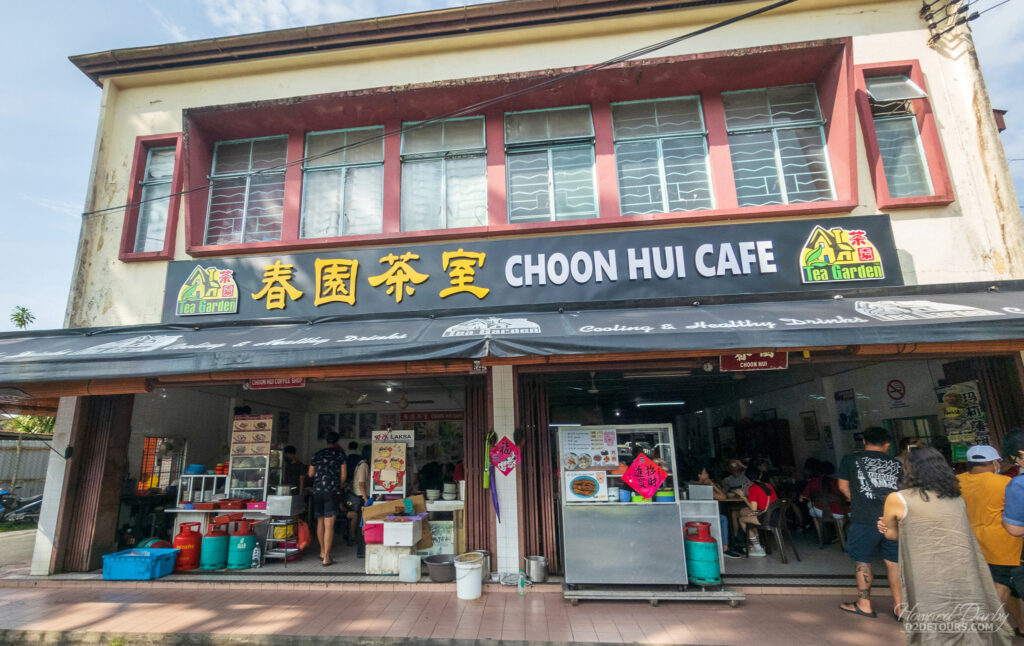 Laksa in Kuching has a distinct flavour, and the family-run Choon Hui Cafe on Ban Hock road may just serve the best version. Theirs is a closely guarded recipe that has been handed down through the generations and when Anthony Bourdain sampled it, he dubbed it the "breakfast of the gods." His word for the broth was complex and I can't think of a better descriptor.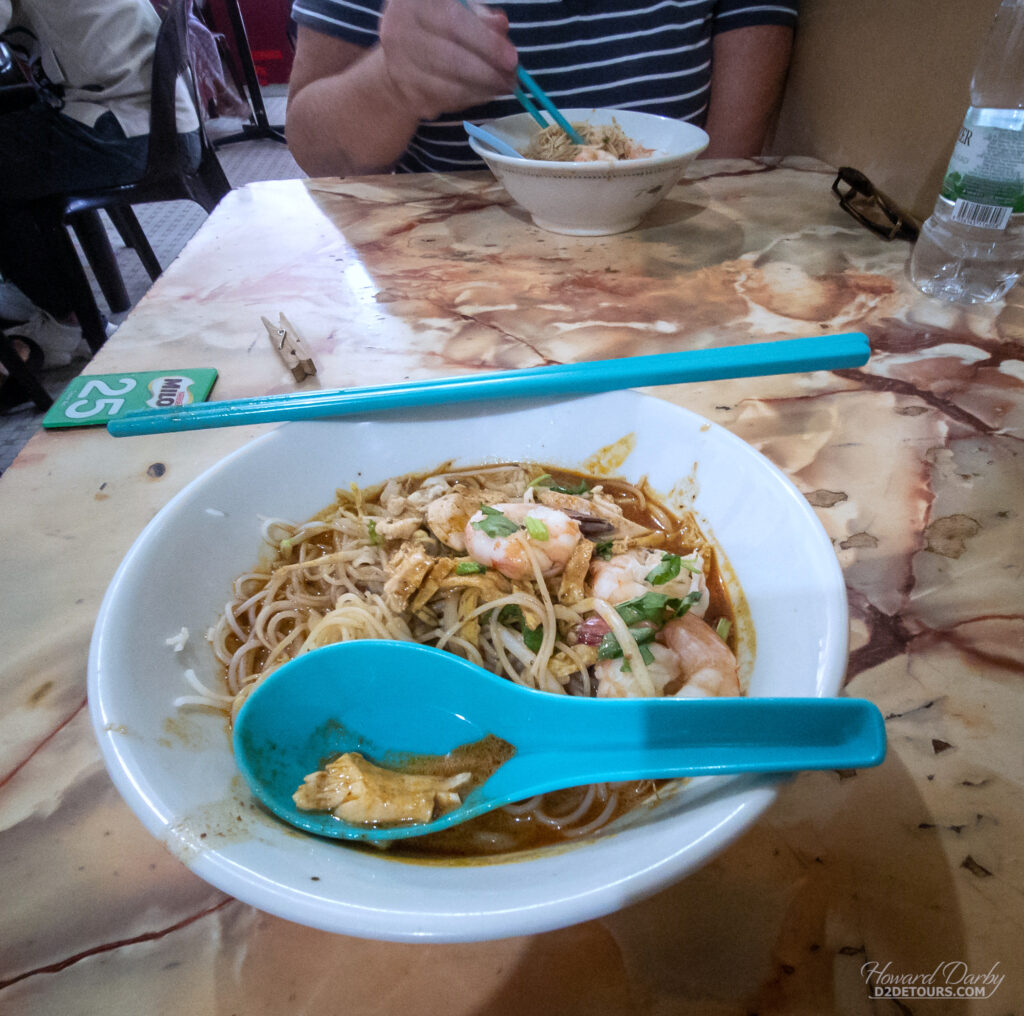 I understand close to 20 different ingredients (spices, chilis, nuts and seeds) are combined to season the coconut milk broth. It is sweet and savory, rich and velvety smooth with just the right amount of spice to bring a bead of perspiration to your upper lip. Chicken and shrimp are simmered in the broth and it is all served over a bed of rice noodles. Oddly (to a Canadian) this is a breakfast dish and the cafe is only open from 6:30am to 11:00am Tuesday through Sunday. A rather different restaurant organization, the cafe has four stalls at the front, each cooking something different. People are milling about at the front of the establishment, waiting to pounce once a table is vacated. Once you are seated, note the table number and have one person head to the laksa stall to place your order.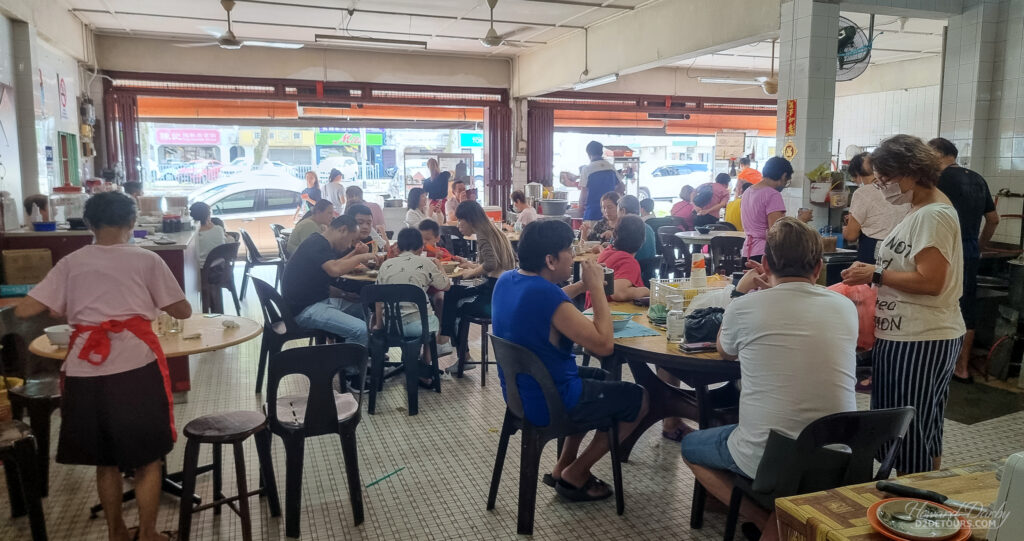 Once your order is ready, it will be delivered to your table, paying at that point, and don't be surprised to wait 20 minutes or more after ordering. There is also someone circulating amongst the tables taking beverage orders. Our meal, two medium bowls (we thought that was the perfect serving size), plus a bottle of water each, amounted to $7 CAD and was scrumptious, so good we went back for more the next morning. Much to our disappointment the laksa cook was absent so we had to settle for one of the other breakfast noodle dishes which was okay, but our taste buds were set on laksa.
I splurged on a bottle of wine in KK (I have not had any wine since we left California in February – SE Asia is not really "wine country"). We were getting a few nibbles in the supermarket near our Airbnb and they were offering wine samples in the small liquor section at the front of the store, something I've never seen in other stores, likely because Malaysia is predominantly Muslim. The agent was just so darned proud that he could offer me a Californian wine (I suspect he thought we were American) that I couldn't resist making his day by buying a bottle (and spending nearly twice what the same bottle would cost in Calgary), which I then enjoyed in a mug since there weren't any wine glasses in our Airbnb (oh, and I got a free corkscrew too!)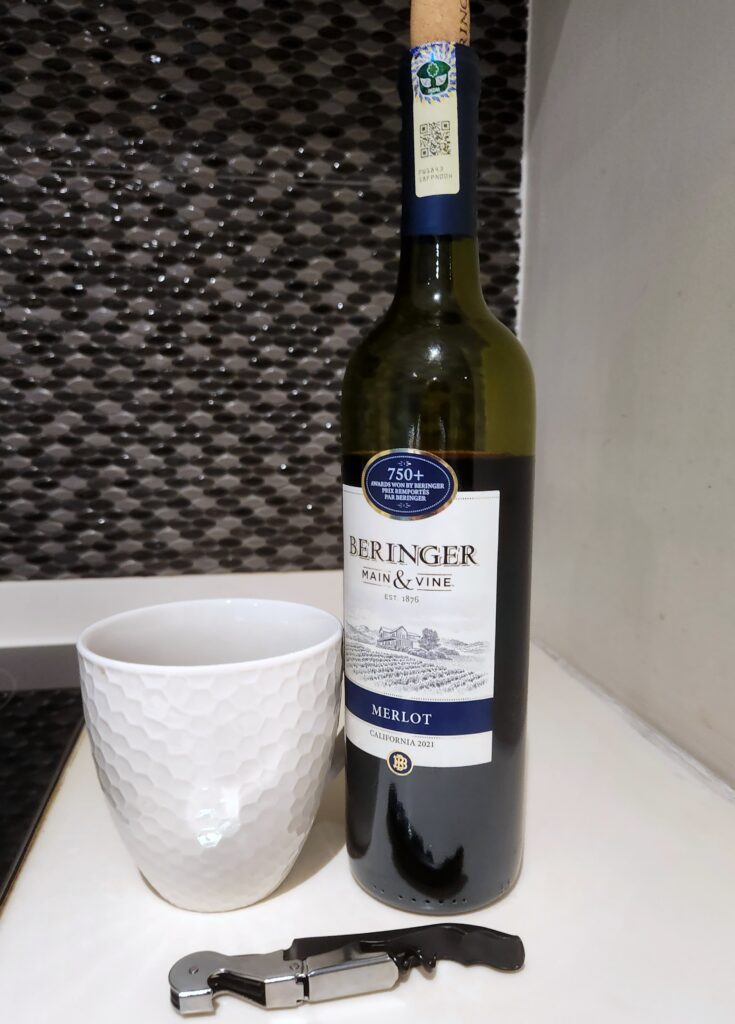 Speech – Malaysian Malay (or just Malay) is spoken by over 80% of the population but as a former British colony, English is widely understood. In fact, both Malay and English are compulsory school subjects. A few Malay words we added to our international vocabulary were:
Hello – Hello;
S'lah-maht ting-gahl – Goodbye;
Toh-long – Please;
Te-ree-mah ka-seh – Thank you;
Saa-ma saa-ma – You're welcome;
Yah / Tee-dak – Yes / No;
Saa-yah tee-dak faa-haam – I don't understand;
Bo-leh-kah ahn-dah ber-ba-han-suh ing-grees – Can you speak English?