Originally we planned to spend a week in Plovdiv before heading to the coastal town of Burgas where we understood there are some very good wrecks for diving. After speaking with several people on a few tours in Sofia (all of whom did not make Burgas sound very appealing) we decided instead to extend our stay in Plovdiv. This was a teachable moment for us. We have always been travel planners who didn't really "fly by the seat of our pants," however I think we will have to embrace that concept with our new lifestyle. Because we are planners, we had booked accommodation in Burgas, as well as our bus trip from Burgas to Istanbul, and lost a bit of money cancelling both.
Like Sofia, history is everywhere in this cultural capital of Bulgaria, and we instantly succumbed to Plovdiv's charm.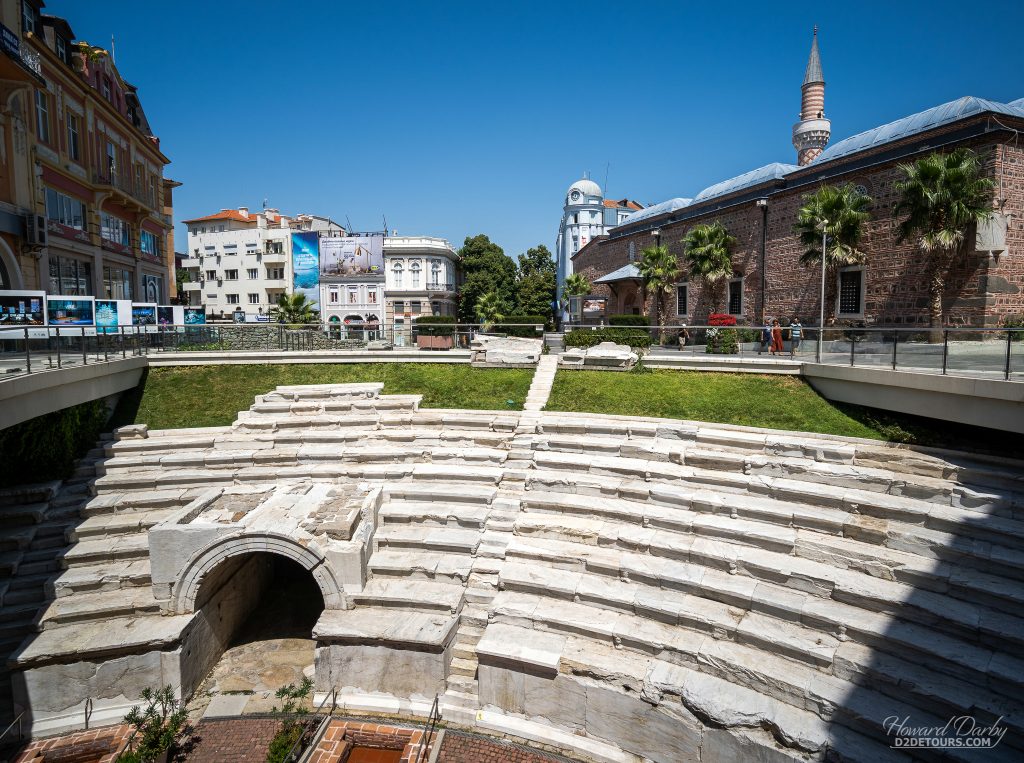 Plovdiv claims to be the oldest continuously inhabited city in Europe, with continuous being the operative word. There is evidence of neolithic settlements dating back 6000+ years but archaeological evidence of continuous settlement dates back only 4000 years. The City (and Bulgaria itself) has been occupied/ruled by Thracians, Persians, Greeks, Celts, Romans, Goths, Huns, Slavs, Turks, and the Soviet Union, creating a cultural melting pot. A little historical sidebar here on the Thracians. They settled in the Balkan Peninsula, northern Greece, and Turkey, and we see reference to them throughout history (Spartacus, The Iliad, Metamorphoses), however, they were multiple tribes, each with their own tribal identity, rather than a single unified kingdom. More notably, they did not have a written language and, consequently, everything we know about them is based on archaeological interpretation or hearsay. Even the descriptor "Thracian" was simply a Greek word used to identify the indigenous people.
Not surprising for a city as old as Plovdiv, it has been known by numerous names. An early Thracian settlement was called Eumolpia. In 342 BC when the City was conquered by Phillip II of Macedon (the father of Alexander the Great), he renamed it Philippopolis in his own honor (that seems to be the name you see most through recorded history). At one point the Thracians regained control of the City and translated Philippopolis into Pulpudeva. During Roman conquest it was called Trimontium and following the fall of the Roman Empire the Slavs referred to it as Populdin. Plovdiv is first mentioned in the 11th century although during rule by the Ottoman Empire it was known as Filibe, with the name Plovdiv being reinstated after the City was liberated in the late 1800s – yeesh.

Dollars – We averaged about $88 per day Canadian ($70.29 USD / €59.90), which kept us well under our $110 per day budget, for a total of $976 for our eleven nights in Plovdiv. That extrapolates out to $2,662 per month ($2,126 USD / €1,812).
Our Airbnb accounted for half of our expenses. It was a one-bedroom apartment on the north edge of the Kapana district within walking distance of all the city sights we wanted to visit. The building was from the communist era and not particularly inviting, but the unit had been renovated with new furnishings and air conditioners in both the living room and bedroom (very much appreciated in the heat). It also had great Wifi and a smart TV, so we could easily stream news and the Olympics on the Firestick, which kept us entertained when we weren't out exploring. You can view the Airbnb listing by clicking here. We lucked into a bit of a deal on this unit because the place we had originally booked with this owner became unavailable and she offered us this unit (which was in a better location) at the same rate as our original booking. At the time we rented, with the weekly discount, we paid $41.34 per night Canadian ($33.01 USD / €28.13). By the way, you may note an extra $27.02 in the Accommodation total for our expenses; this reflects the fee for cancelling our Burgas Airbnb.
Our other main expenses were:
Restaurants (three sit-down meals, and a few other meals from casual establishments with sandwiches, wraps, soups or other simple fare);
Sightseeing (entry fee to the Philippopolis Theatre and our car trip to the Shipka area);
Groceries (breakfast, snacks and a few dinners); and
Transportation (bus from Sofia and taxi to our Plovdiv Airbnb).
Environment – Plovdiv is often referred to as the City of the Seven Hills, although only six hills remain as years ago the stone from Markovo Tepe was excavated for use in city construction, including paving many of the streets. The Old Town, situated on three of Plovdiv's hills, Nebet Tepe, Dzhambaz Tepe and Taksim Tepe, has a storybook quality to it with stone streets winding their way past beautiful architecture from the Bulgarian Revival period (1770 to 1900) and is home to several archeological sites.
We stayed in the Kapana district below the Old Town. Five centuries ago the area began as a trade centre for blacksmiths, tailors and other craftsmen, but over time deteriorated. By the 1990s it had become a parking zone full of dilapidated houses and not the place you wanted to find yourself after dark. In 2013 Plovdiv was successful in their bid to host European Capital of Culture 2019 with one of their cultural projects being the restoration of the Kapana district. Patterned after Paris, it is a lively area of cobblestone streets lined with shops, restaurants and galleries – we loved it!
Perhaps the most endearing legacy of the revitalization of the Kapana district was the "To Those Born Today" project by Alberto Garutti. The maternity wards in Plovdiv hospitals all have a button linked to the street lights in Kapana and every time a baby is delivered, they press the button causing the street lights to slowly flicker for approximately 30 seconds; a beautiful concept.
Tips, Tricks & Transportation – An interesting idiosyncrasy we had read about was how Bulgarians shake their head when saying Yes or nod for No. While we didn't notice it a lot – if anything we found their body language to be rather quiet – we did see it occasionally. It's helpful to listen to the words accompanying the head movement to be sure you are getting the correct message – Da/Yes, Ne/No.
Just like Sofia, the tap water is potable in Plovdiv, and as the City is surrounded by several mineral springs, drinking fountains dot the streets with cold water to fill your water bottle, which for us walking about in the 40° heat was a godsend!
The Tuesday Market (which is open everyday) was a good choice for fresh, seasonal fruits and vegetables. It's not nearly as extensive as the Woman's Market in Sofia but the vendors actually want you to pick and bag your own produce, which was a nice change. There doesn't appear to be a website for the market but you can find it using Google Maps. Billa stores are again the best place for general groceries. There was a small one in the middle of the Kapana district, and a superstore about a kilometre east of our Airbnb.
We used the Karat-s bus line for our trip from Sofia to Plovdiv (approximately a 2.5 hour trip) and booked our tickets online through the English version of their website. We could have bought our tickets at the bus station the day we left, which might have made things easier for the bus driver who was having a very difficult time deciphering our English ticket, but we weren't confident the ticket agent would speak English or if seats would be available if we left it to the last minute (the agent did speak some English and the bus wasn't full, bear in mind though, that could change in a post-Covid world). As it was, it was confusing enough at the terminal with the departure placard at the Karat-s ticket booth indicating Plovdiv buses left at 12:00 and 12:30 although our ticket said 12:10! We were quite relieved when a bus pulled up with a big sign on the front showing 12:10 София – Пловдив (which Google Translate confirmed for us was Sofia – Plovdiv – gotta love Google Translate!). Be sure you arrive at the bus station with time to spare as the bus pulled away from the station at precisely 12:10. Very comfortable ride in an air conditioned, modern bus. We had been told not to take the train as both the cars and the track are communist era leftovers meaning a slow, uncomfortable trip … plus no air conditioning.
The bus station in Plovdiv was not within walking distance to our Airbnb so we grabbed one of the taxis waiting out front. Not the most pleasant experience. He stopped several blocks from our Airbnb, making it clear he was not going any further, and then shorted us on our change – I guess he was just self-tipping?
Notwithstanding the ridiculous cost of car rentals at the moment, we wanted to do a day trip from Plovdiv to see some recent historical sites. We were running under budget, so splurged. Once rental agencies have brought their pool of cars back up to pre pandemic numbers it will be interesting to see if prices come back down or whether they decide the market can bear these charges and will keep them at this level. In any event, we rented through Top Rent A Car. Great website for booking your rental with English speaking agents at the pick-up kiosk and brand new vehicles. We had read some terrible reviews of local discount rental agencies offering lower prices but then doing a bit of a bait and switch once you actually picked up your car. None of that with Top Rent A Car.
Out and About – The first thing we did to acquaint ourselves with the area was join the Free Plovdiv Walking Tour, which is operated by the same company who offered the Free Sofia Walking Tour. The tour guide was extremely knowledgeable and clearly enjoyed taking tourists around the City he loves. I should mention that while the tours are absolutely free, donations are more than welcome and we have consistently "tipped" the guide 20 BGN (10 BGN/each) which is comparable to museum entry fees.
There are various Roman ruins spread throughout the City, some have been excavated like the remains of the Forum, and some you just stumble across as you round a street corner.
Located in the Old Town is the most impressive Roman archeological site in Bulgaria, the ancient Theatre of Philippopolis constructed near the end of the 1st century AD. There seem to be a variety of explanations on how the remains were found (some urban legend, some more plausible), however they generally agree it was only recently discovered in the late 60s/early 70s, then following restoration opened to the public in the late 70s/early 80s. It has excellent acoustics and is used regularly for plays, concerts and public events. Originally it would have accommodated approximately 6,000 spectators with the excavated area now holding upwards of 3,500 people. There is a small entry fee (5 BGN / $3.75 CAD) if you want to enter the theatre itself, which isn't necessary as you can get a very good view of it from the surrounding roadway, but we thought it was more than worth that price to actually sit on history.
The other significant archeological site in Plovdiv is the Roman Stadium of Philippopolis (free to visit). Constructed in the early 2nd century AD it is massive in size (240m in length, 50m wide, with a seating capacity of 30,000), however only the northern corner of the structure at Dzhumaya Square has been excavated with the rest of the stadium running under Knyaz Aleksandar I Street, the main pedestrian area in the city center. Invariably we had these ancient sites all to ourselves!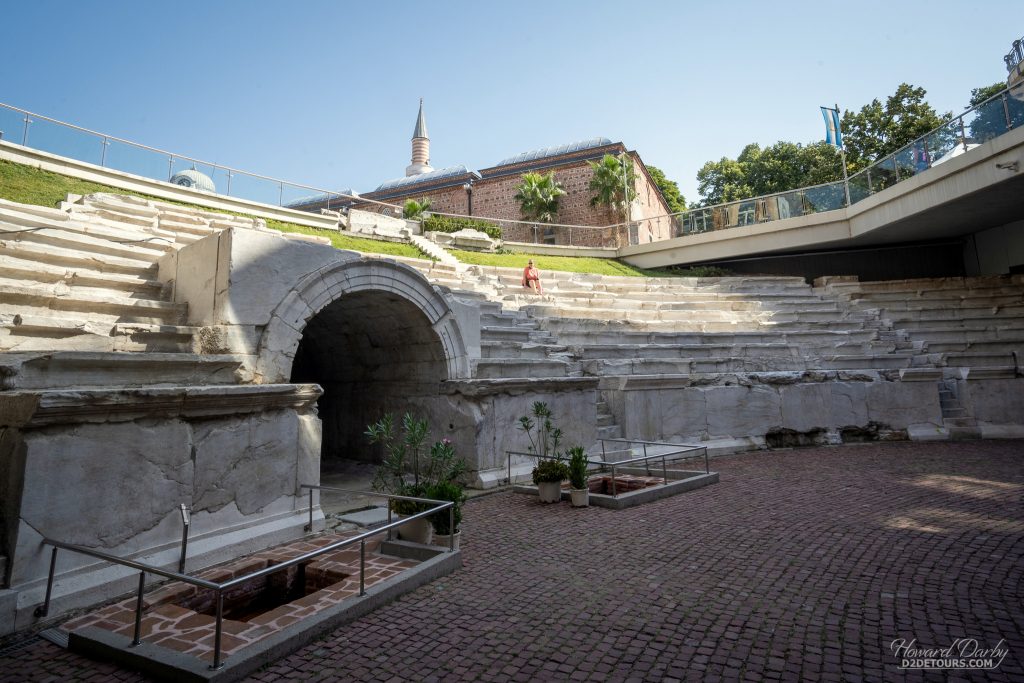 Little tidbit from our guide on the Walking Tour. Romans used a very specific formula when they constructed these types of public buildings. Stadiums were designed to hold 50% of a city's population, theatres should hold 10%, with libraries only big enough for 1% of the population. The Roman's believed this breakdown was an accurate reflection of their citizens' predilections – probably not far off what we still do today.
At the southern end of Knyaz Aleksandar I Street is the Tsar Simeon Garden. Lovely green space with benches throughout and a large fountain area at the end. Here the Singing Fountain light show is held at 9:30 every Thursday, Friday and Saturday night during the summer (about 15 minutes in length) and well worth a visit.
I'm so glad Howard has no reservations about driving in foreign countries, especially when they drive on the right side of the road, as it often affords us the opportunity to get off the beaten path. On our day trip from Plovdiv we drove a couple of hours north to the Buzludzha Monument (also known as the Monument House of the Bulgarian Communist Party) built on Buzludzha Peak, near Kazanlak. The top of the peak was leveled to provide a stable foundation, then 70,000 tons of concrete were hauled up the mountain to construct this mammoth structure! Built between 1974 and1981 it commemorates the 1891 socialist movement which led to establishing the Bulgarian Social Democratic Party, the precursor to the Bulgarian Communist Party and while the exterior may be dull and drab, the interior walls were apparently fully decorated with glass mosaics. Maintenance on the site ceased with the 1989 fall of communism in Bulgaria and entry to the building is now prohibited due to the hazardous conditions inside. It's a rather eerie place. In 2015, the Buzludzha Project Foundation was formed with the intent of restoring the building to its former glory, though funding has posed a problem.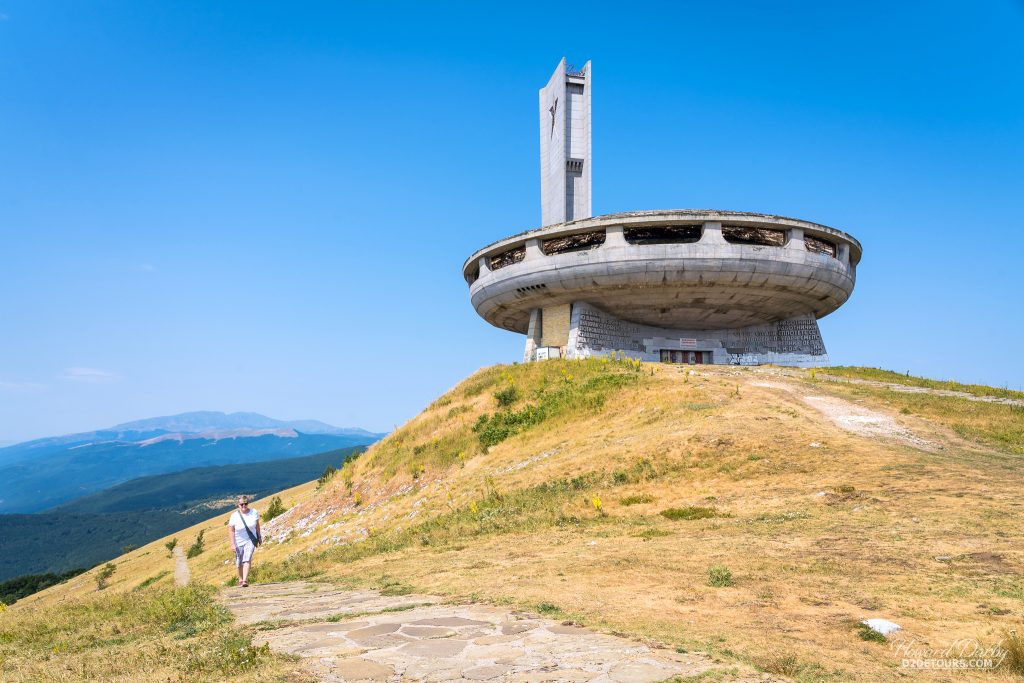 Farther down the mountain, rising from the ground, are giant hands holding torches – another monument to socialism.
From Buzludzha we drove west toward Shipka on a narrow, tree-lined road on which we were never able to drive faster than 30kph because of the extent and depth of the potholes! Other than this one stretch of road, the highways were very good. Fortunately, we met almost no oncoming traffic and could easily, albeit slowly, maneuver our way through this obstacle course, to arrive at the Liberty Memorial (Shipka Monument) on Shipka Peak which commemorates victory in the Russian-Turkish Liberation War (1877-1878) and liberty for Bulgaria after five centuries of Turkish occupation. Standing 32.5 meters high, with 890 steps leading up to the top, this monument is visible for miles.
Our final stop on this road trip was the Memorial Temple of the Birth of Christ, or more commonly known as the Shipka Memorial Church. Consecration of the Church in 1902 coincided with the 25-year anniversary of the four Battles of Shipka Pass during the Russian-Turkish Liberation War. The bells, the heaviest of which weighs 12 tons, in the 53m high bell tower (which was unfortunately covered in scaffolding for restoration work during our visit), were cast from cartridges collected after the Shipka Pass battles. The entire church is a gorgeous structure.
We've created this video of our time in the Shipka region to help capture the magnitude of these monuments:
We've created a separate post with more pictures of these sites that you can view by clicking here.
Us (our thoughts on the area) – We both thought we could be comfortable living in Plovdiv (at least during the summer/early fall), although we agreed we would need to take some language courses! The Cyrillic alphabet and Bulgarian language bear no resemblance to the Latin alphabet and English language so it is somewhat disconcerting having absolutely no idea what is written on signs and store fronts, or being said by a store clerk. As a purely theoretical exercise, we looked at some short term, fully furnished rentals near Kapana and found a few very nice 1 and 2-bedroom units running between $400 and $700 CAD per month. The cost of living, by North American standards, is incredibly low, the area in and around Kapana is eminently walkable, there are lovely green spaces and we felt welcomed. Bulgaria has been an intriguing country to visit. We knew virtually nothing about it and other than a short trip to Vietnam, it was our first real exposure to a country with a communist history. In short, it has been an eye opening, thoroughly enjoyable start to Nomadic Life. Off to Istanbul, Turkey!
Restaurants – Kapana is lined with many pedestrian-only streets full of restaurants with lovely outdoor seating on the cobblestones. English menus were never a problem as most of the restaurants had English translations below the Bulgarian text. Our favourite restaurant was Aylyakria (we ate there twice). A little on the pricier side, but worth it. I recommend the cold carrot soup and the pulled pork sandwich. Happy Bar & Grill restaurants are everywhere and always packed with patrons. It is a chain of restaurants located throughout Bulgaria, Spain and the UK with the first one opening 26 years ago in Varna on the Black Sea coast. It has a very extensive menu, and while not gourmet level, the food was good and the service friendly.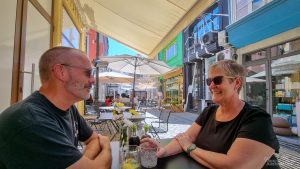 Lots of street food vendors throughout Plovdiv. Donars/gyros are very popular, often being sold by Turkish or Arabic immigrants. The unique feature of a Bulgarian donar is that it is stuffed with french fries. Chicken is the most popular filling (beef or lamb versions can also be found) and is a great, inexpensive, very filling lunch or light dinner.
More wine notes. I am not a wine connoisseur by any stretch of the imagination, but generally find drinking "cheap" red wine is harder than drinking "cheap" white or rosé wine so I upped my wine budget to try a 10.99 BGN / $8.30 CAD bottle of Mavrud. The Mavrud varietal is an ancient grape native to the Balkan region, with the highest concentrations of vineyards found around Plovdiv. It is often blended with Merlot (or less frequently with Cabernet Sauvignon) and is described as medium bodied, similar to Malbec. The bottle (or two) I tried were just Mavrud, not a blend, and were very good.
According to a contemporary Bulgaria proverb, "A psychotherapist can help you but rakia is cheaper" so naturally I had to try some. It is a rather strong drink distilled from fruit, similar to  Italian grappa or Japanese sake and served as an apéritif. Commercially produced versions have 40% ABV (which translates to 80 proof in North America) with homemade versions often topping 60% ABV! In the summer it is served chilled and the apricot version I tried was served over ice, which was probably a good thing as it helped to dilute it. It won't replace wine as my go-to-beverage, but was interesting to try.
Speech – More people seemed to speak English in Plovdiv than what we found in Sofia, nevertheless, these basic words were still useful:
Molya – Please;
Blagodarya – Thank You;
Merci – Thank you (we only heard this occasionally, usually from younger people);
Dobro Utro – Good Morning;
Dobar Den – Good Afternoon;
Dovizhdane – Goodbye;
Ciao – a casual way of saying Goodbye;
Govorite li Anglijski? – Do you speak English (I often just said "Anglijski?" and either received a yes or no in reply);
Da – Yes;
Ne – No;
Kolko Struva? – How much does it cost;
Smetkata, Molya – The bill, please (in a restaurant);
Voda – Water;
Izvinete Me – I'm sorry.
The Intrepid Guide has an excellent list of 120 useful Bulgarian phrases, along with pronunciation.
Additional pictures from our time in Plovdiv (click to enlarge):